Defense Mechanisms and Giving My Son More Credit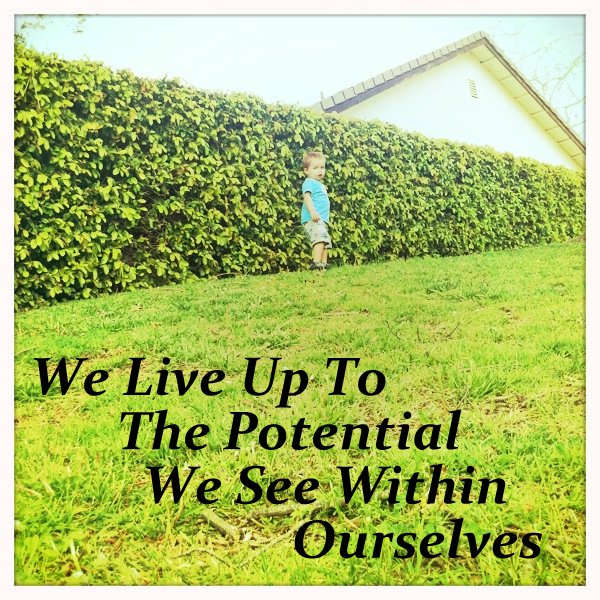 Waiting on the trash man…his favorite day of the week.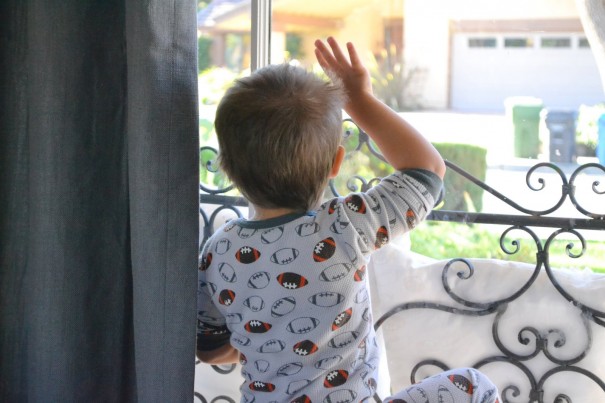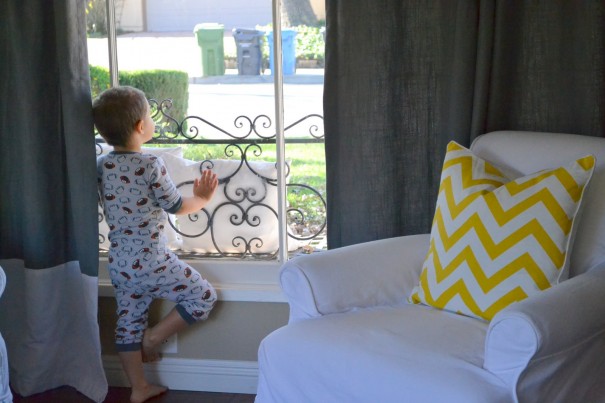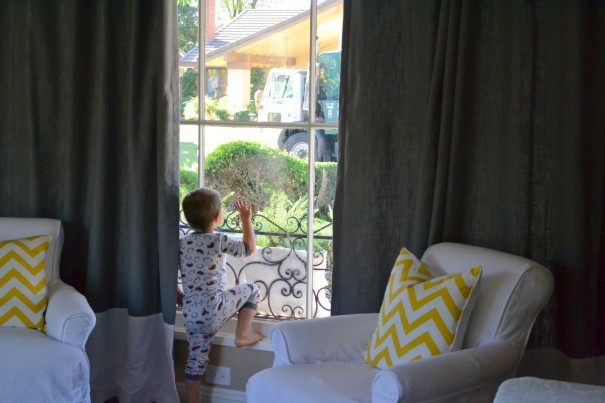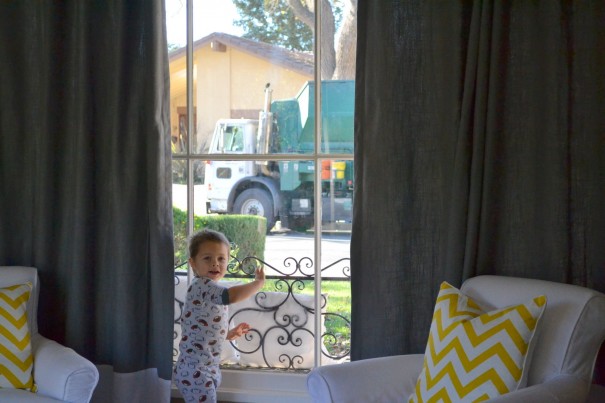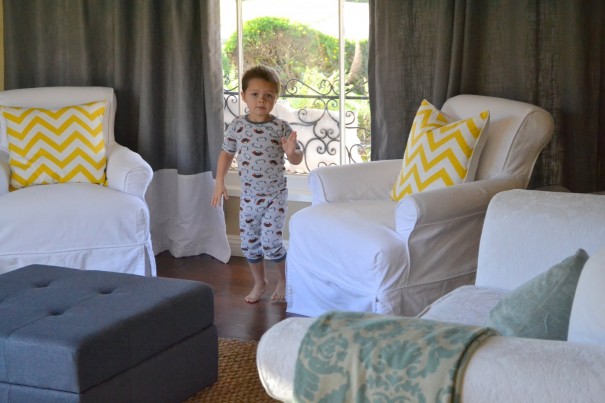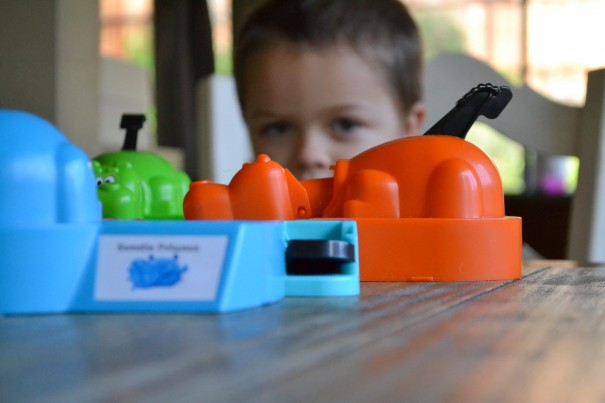 A wise person I know recently pointed out a defense mechanism I exercise a bit too frequently.
Self criticism.
Putting myself down before others get the chance to.
Nothing too serious. It's not like I hate myself.
It's more like I'm trying to protect my heart from anything negative others may think about me.
Like when I constantly point out to my friends that I'm terrible at returning phone calls, or emails, or texts. Or my inability to make a time commitment because having appointments and scheduled activities on the calendar gives me anxiety. I find myself hurrying to say something like, "Don't mind that I'm not wearing makeup and still have my pajamas on"…before the other person has a chance to think "wow, she looks like a train wreck today". Because I would rather put the negative thought in their head before they have the chance to think it on their own. And while the negative self-talk generally only points out minor flaws of mine, I realize that even on a small level, self-criticism adds up….it can take its toll.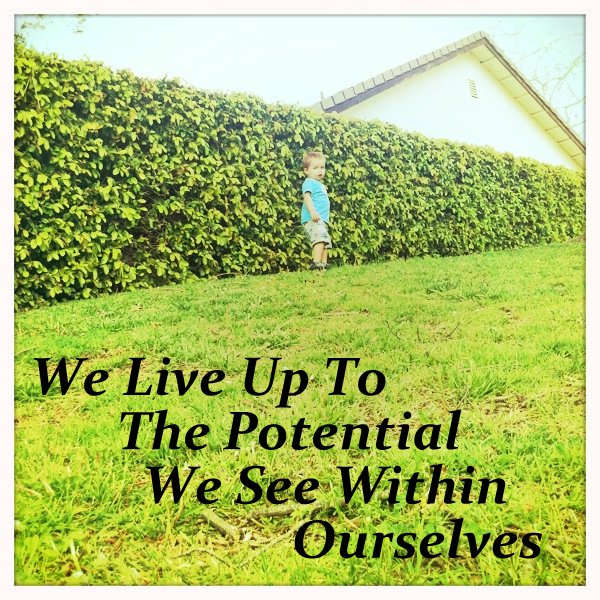 We live up to the potential we see within ourselves.
And painting a picture of the worst version of ourselves diminishes that potential of who we're meant to be…of who we're working to become.
I received a slap in the face today…
When I realized that I was imposing this defense mechanism onto my son.
When I realized I was focusing on what I perceived to be his shortcomings, rather than having faith in the best version of him.
When I realized I was underestimating the boy I know he is capable of being.
Today was a big milestone for the Wes-man. In my church, when kids reach a certain age at the new year, they graduate from their nursery Sunday school and move into a "big kids" class called Sunbeams. These toddlers are expected to transition from sitting on little square carpets with their legs criss-cross-apple-sauce, where they eat gold fish crackers and fill up coloring books…to a classroom full of elementary school aged children sitting in large fold out chairs, speaking in complete sentences and learning about Jesus.
It's a pretty big jump for a three year old.
And I'm a bit ashamed to say that I didn't have great expectations for Wesley's first day. I happen to be a leader in Wesley's Sunday school program, and over the past 4 weeks we have been slowly immersing the children into the new classroom setting for only about 15 minutes at a time, in preparation for the new year when they would be expected to sit still for the full hour. Each week these 15 minutes have felt like hours to me, as Wesley clung to my waist, whined in frustration and refused to follow any instructions from the teacher giving the lesson. As hard as I tried, I didn't see how this transition was going to be successful.
Knowing today was the big day, I spent the entire morning agonizing…bargaining…attempting to come up with some reason I could give to other Church leaders about why Wesley should stay with the younger class for another year. He just wasn't ready. And he seemed so much younger than the kids he would soon be associating with. I wanted to protect him. Shield him from this overwhelming experience. An experience that I didn't think he could handle.
After a morning of wrestling him into church clothes…
And explaining and RE-explaining to him that he couldn't wear his Thomas the Train shirt to church…
And nearly dragging him to his car seat kicking and screaming…
Well, let's just say I wasn't any more convinced on the success of this transition.
I grumbled into church, whined to a handful of my friends who politely pretended they weren't sick of me agonizing on this topic, and did my best to take deep breaths in preparation for the coming hour.
To some of you reading, I may sound like a ridiculous parent. Overkill. Drama. Making a mountain out of a mole hill. But for those of you who have been reading along here for a while, you know how much of a trial these small milestones can be for my little guy. (see here, here, here and here). Change is tough on him. And therefor tough on me. Even the tiniest moderation to life as he knows it can send him into a tailspin of frustration…and forces me into an ultimate trial of my patience. So I guess you could say I was dreading the aftermath of what would likely result from today.
Class was about to begin and I knew if Wesley was going to have any chance of making it through the next hour without a meltdown, I was going to need to make myself scarce.
I finished escorting other children to their classrooms and then settled in to a nook in the back of the room where I wouldn't be seen from Wesley's vantage point. I fidgeted, resisted the urge to pull, and said a prayer in my heart.
And then I looked up…
Just in time to see my not-so-little-anymore boy walk into the room holding his sweet teachers hand.
He was cautious. Quiet. Observant.
I watched his eyes dart back and forth as he searched for me amongst the crowd.
I ducked down lower and peaked at him through a crack in between the chairs.
He searched for me a moment longer and then he looked up at his smiling teacher…
Smiled back at her…
Let go of her hand…
and sat in his little chair ready for class to begin.
And that was it.
Just like that, he was ready.
My jaw hit the floor.
Was this really happening?
Tears welled in my eyes and my chest gave that Momma twinge.
The twinge from the part of my heart that will always belong to him.
I watched the remainder of the hour long class from between the crack in the chair.
And I beamed as all the big kids gave Wesley a high-five at the end of class.
"Way to go Wes, you're a big guy now!" "Will you sit by me next week?"
He didn't respond. Just tilted his neck back as far as it would go as he looked up at their kind faces and smiled back at them.
Now let me be clear.
He was by no means an angel.
He's three years old for goodness sakes.
At one point he had gotten out of his chair and was completely laying down on the floor in the middle of the lesson…
Until another teacher came and picked him up and gently placed him back in his seat while the other children giggled.
And there were about a half dozen other similar incidents.
But there were no tears.
And there were lots of smiles.
As my heart swelled from the back of the room, I couldn't help but feel overwhelmed with the important Momma-life-leson staring me right in the face.
This wasn't about Wesley.
This was about ME.
Clearly, he was ready.
The last hour had proven that.
It was ME who wanted more time.
It was ME who wanted him to stay my baby for just a little while longer.
It was ME attempting to orchestrate a world that would continue to cater to the routine and lifestyle he has grown accustomed to.
When in reality, that's not how the world works.
Things don't always go our way.
And it's my job as his Mom to introduce him to these new experiences,
rather than shield him from every opportunity to step outside of his comfort zone.
But not only that…
Even as my heart beat with pride, I couldn't help but feel a bit of guilt creeping in.
I hadn't given Wesley the credit he deserved.
I underestimated who I knew he was capable of being.
I assumed the worst, rather than expecting the best from my son.
And that was a sucky realization.
I wasn't reflecting the strength and confidence I needed him to show in that classroom.
But luckily for this regretful Momma, it didn't matter.
Because today, Wesley was strong enough for the both of us.
Today he was my example.
Today he reminded me that it's my job to be a champion for my children.
To have more confidence in them than even they have in themselves.
Because in the future, there will certainly be days when their confidence falters…
and they will have their doubts…
And on those days, when they look in my eyes searching for comfort and answers,
what they see staring back at them sure as heck better serve to restore their confidence
and remind them of all the greatness they are capable of.
Our children are ALWAYS smarter than even we imagine.
It's our job to make sure they know it.
Even if they're only three years old…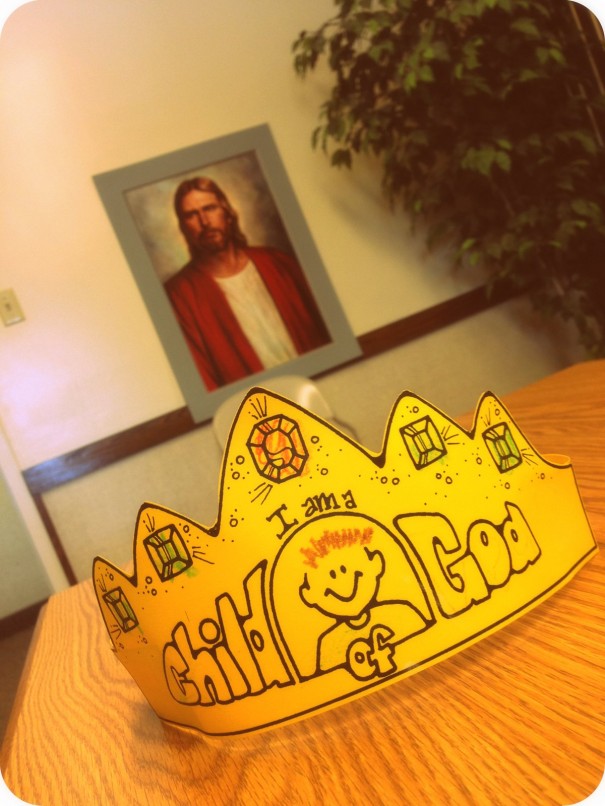 colored by Wesley today. age 3. my big boy.