Lil W Scheduled for Surgery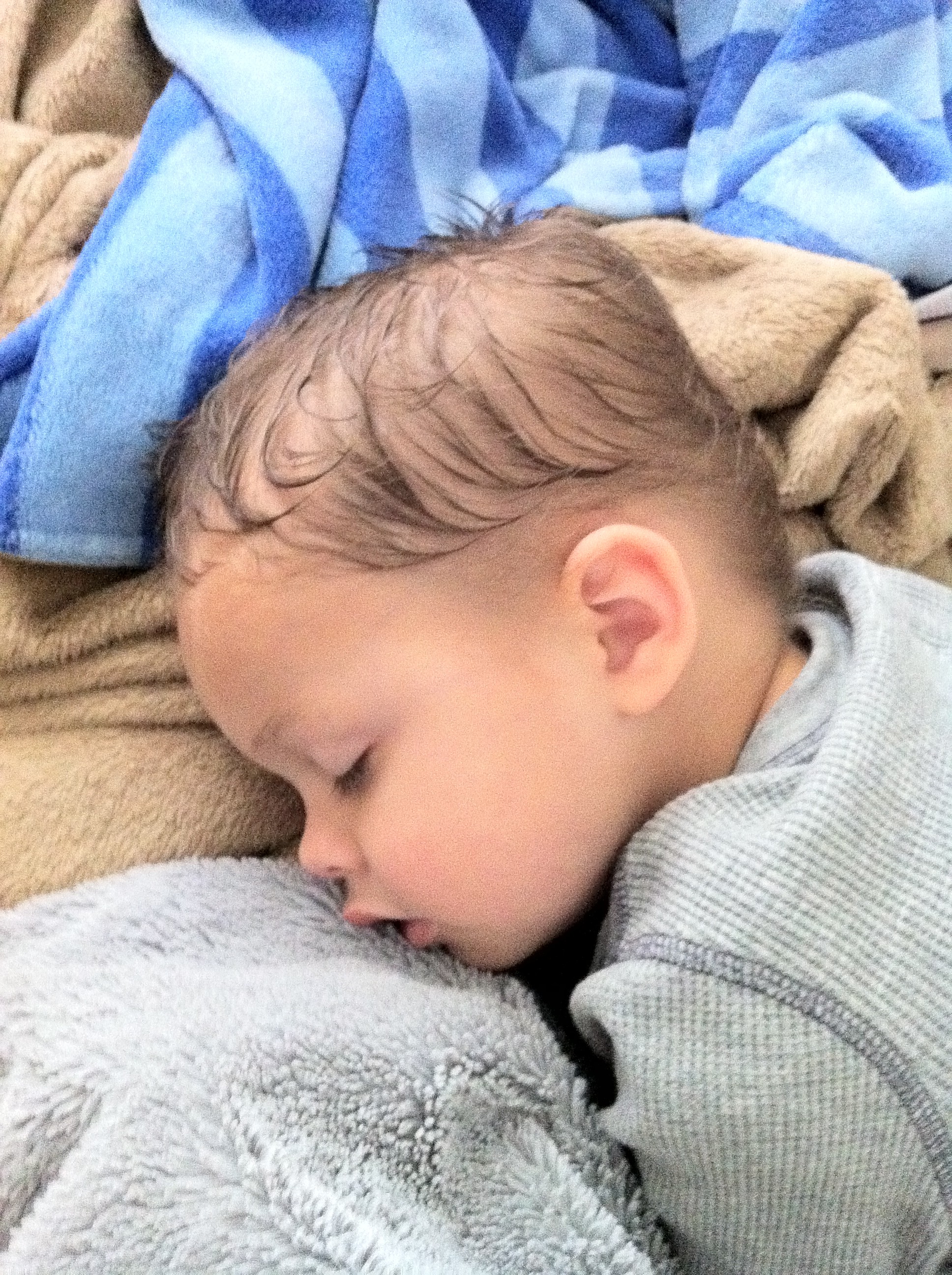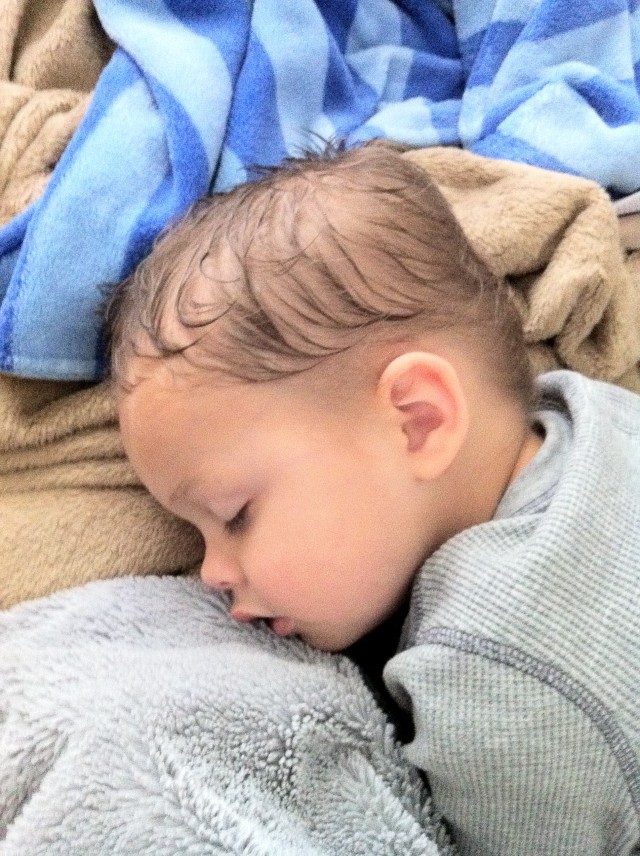 This is what sleep is like for my little babe.
Sweaty. Mouth open. Restless. Snoring. Tossing. Turning. Moaning.
With frequent bursts of hysterical crying.
This behavior has always alarmed us.
But it's also all we have ever known.
Pretty much since birth, Lil W has been a "difficult" sleeper.
Never having slept through the night in his 2.5 years of life.
I've read every book.
Taken every piece of advice.
Attempted every method with diligent obedience to all the "rules" of sleep training.
No results. Nada.
For a period of about 8 months, we discovered Lil W had sleep apnea when we heard his breathing suddenly stop for nearly 10 seconds at a time, multiple times throughout the night. It scared us to death–and resulted in the lil guy snuggling in bed with us every night so we could monitor his breathing.
Eventually, (by his 2nd birthday), the sleep apnea seemed to subside, but the erratic night time behavior continued.
Per our doctors suggestion, we attempted a sleep study.  But a baby who isn't even comfortable sleeping in his own home, is hardly going to cooperate with electrodes stuck all over him in some clinic.
Frustrated, tired and overwhelmed–Ben and I agreed to take a break from all the doctors visits and  attempt to make the best of our situation.  Sadly, we accepted that awaking nearly a dozen times a night to tend to our restless toddler was a fact of life in our home.
But then, about 2 months ago, I began to panic.
With another baby about to join our family, we certainly couldn't survive sleepless nights tending to TWO crying kiddos.
We needed a solution.
A girlfriend of mine suggested the book, Healthy Sleep Habits Happy Child.
I began reading it and was immediately drawn to a chapter about  sleep apnea and snoring.
It basically said, NONE of the sleep training methods will work until you fix your kiddos snoring and apnea.
Wait just a minute.
You mean to tell me I'm not a failure?
This isn't all my fault?
I didn't necessarily create this problem?
I'm not the reason he can't sleep through the night?
There may be an actual medical problem here?
I was both concerned and relieved.
Sure, he may have an actual problem.
But at least with a diagnosis, we could begin to find a solution.
How refreshing!
And why hadn't my pediatrician addressed these possibilities?
We bypassed our pediatrician and went straight to a highly recommended pediatric ENT.
After a 90 minute evaluation (in an office filled with toys, games, slides, and even a puppy) the doctor informed us that Lil W would need to have his adenoids removed–and possibly his tonsils.
Finally an answer.
I felt like a million pounds had been lifted from my shoulders.
There was now a light at the end of the tunnel–hope that we would overcome this sleepless period of our lives.
But as Ben and I drove home in silence, I had more time to think.
And become suddenly overwhelmed…and emotional.
I turned around to look at my giggling toddler watching Curious George in the back seat.
Then I turned to Ben, my eyes filled with tears.
And that's when I saw it.
My fear reflected on his face.  Tears clearly being held back.
We were thinking the same thing–worrying about the same risks.
I grabbed his hand, gave three squeezes, and reminded him that long term, this would be best for our family.
I reminded him how important a quality night sleep is for a growing toddler.
I reminded him how much peace this could bring to our home.
How much less Lil W would get sick.
How much happier our lil guy would be.
How he needed to be strong so Lil W would know everything was okay.
He just nodded in silent agreement.
Because this was one of those moments of parenthood where you're at a loss for words.
One of those moments, where you just need to be strong, trust you've made the right decision for your kiddo, and have faith.
This was one of those moments when you become completely consumed with the love you have for your baby,
where it becomes completely evident that they are the center of your universe,
and the thought of them in any sort of pain turns your stomach in knots.
Lil W is scheduled for surgery on Friday morning.
And I imagine Ben and I will have several more "silent moments" leading up till then.
Followed by all the ice cream and popsicles and coloring books and toy trucks and Pixar movies our Lil W desires.