Lady With the Glasses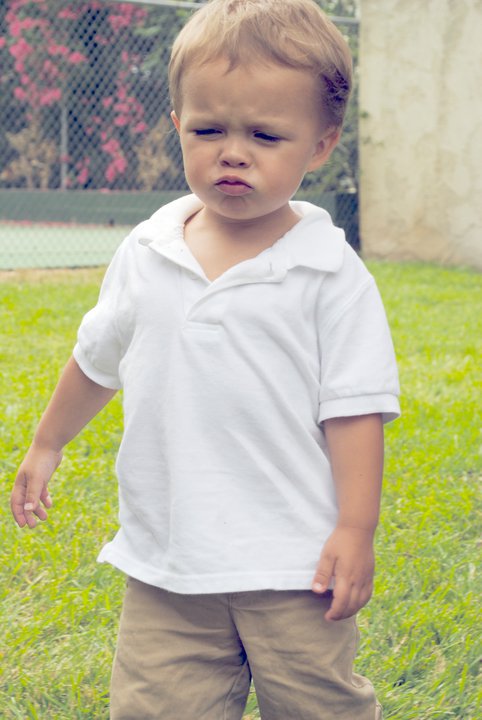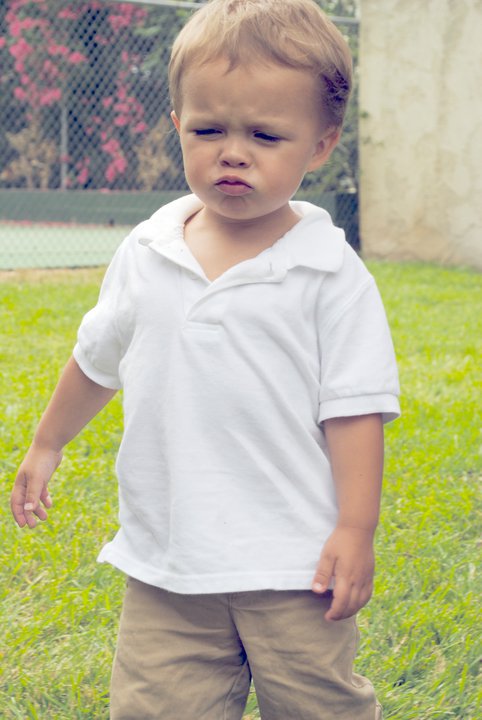 Do we even risk it?
My Mom asked as we pulled out of the shopping center.
It was nearly noon.
We were both hungry and anxious to try the infamous Olas taco place around the corner from the outlets. I turned back and looked at Lil W in his car seat.
Me: Well, he's been good so far.
Mom: Yeah, but do we push our luck?
Me: I'm pretty hungry, and I could go for a crunchy taco.
Even as I said it, I knew no taco would be worth what Lil W would likely put us through
in our attempt at a nice lunch out.
Mom: Alright,let's just go for it.
I selected a table on the empty patio in the 90 degree heat
in hopes of avoiding the disapproving looks of others enjoying their lunch.
My mom went inside to order while I attempted to finagle Lil W's wriggling body
into a sticky high chair.  Naturally, he wasn't having it.
W: Truck, Truck. Touch it?
He said while spreading his legs as wide as he could to prevent me from getting him into the seat.
Me: We can look at the trucks aaafter lunch.
And then the whining started.
And the back arching.
And the spilled cup of ice.
And the pushed over chair.
And the plate of food nearly dumped on the floor.
And the high pitched squeals.
And the foaming at the mouth.
Ok, so he didn't foam at the mouth, but he might as well have.
W: Up-eee, Up-eee. Out. Out.
Me: We're not done eatting yet.
I had only taken one bite.
More squealing followed by some kicking and screaming.
Just when I had decided to ignore him for the remainder of the meal,
I caught a glimpse of a woman sitting on a nearby bench watching the scene unfold from behind her expensive black shades.
And so I did what I always do when I fear my "energetic" child is upsetting those around him.
I released him from his hi-chair, ignored my yummy tacos, and pulled him away to have a "talk" with him in private.
Me: Look at Mommy.
Lil W turns his head.
Me: I said, look at Mommy.
He glares.
Me: We do not act that way.You need to eat your lunch and sit still, do you understand?
I'm nearly positive he shakes his head no.
I take a deep breath,
walk over and hand his squealing body over to my mom.
Me: I can't take it right now. See if he'll listen to you.
I go inside with the excuse of getting more salsa.
I adjust my wrinkled shirt and wipe the sweat from my forhead
just in time to see the lady with the sunglasses step up to the salsa bar next to me.
I'm still flustered.
The last thing I need are her looks of disgust or disaproving words.
She pulls her shades onto her head and looks me in the eyes.
Oh boy, here we go, I think to myself.
Lady: I want you to know that you're doing a great job.
Me: Excuse me?
Surely I did not hear her correctly.
Lady: You're doing a great job. You're a fabulous mother. I can just tell.
I stare at her, silent, mouth slightly ajar.
Did she not just witness the melt down, my lack of patience, and the disaster zone that was once a plate of rice and beans?
Lady: It's supposed to be hard. This stage will pass. You're doing great, so don't be so hard on yourself. Besides, he's adorable.
My eyes fill with tears.
I want to hug her, maybe be her new best friend.
But I can only muster up a muted thank you as I turn and take my salsa to the table.
I sit down, take a deep breath,
look at Lil W who is now happy as a clam with his chips and salsa,
and I can't help but chuckle.
I look over my shoulder.
The lady with the glasses glances over and winks.
I smile back, a bit more sure of myself thanks to her kind words.
And at that very moment,
I vowed to say something nice to at least three strangers this week.
You never know the impact your words may have.
Thanks sunglasses lady.
That was just what I needed.