how to: beach waves for short hair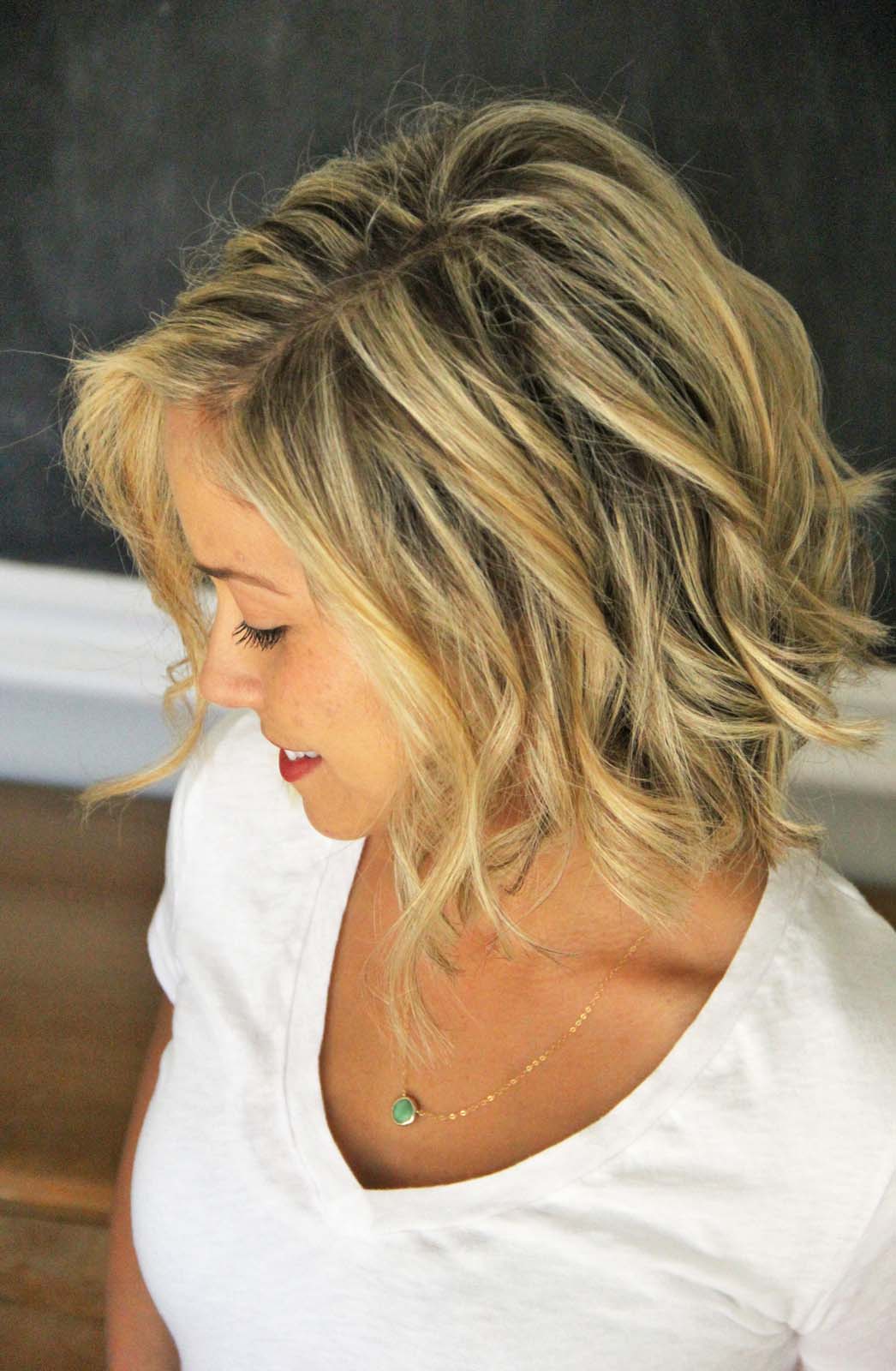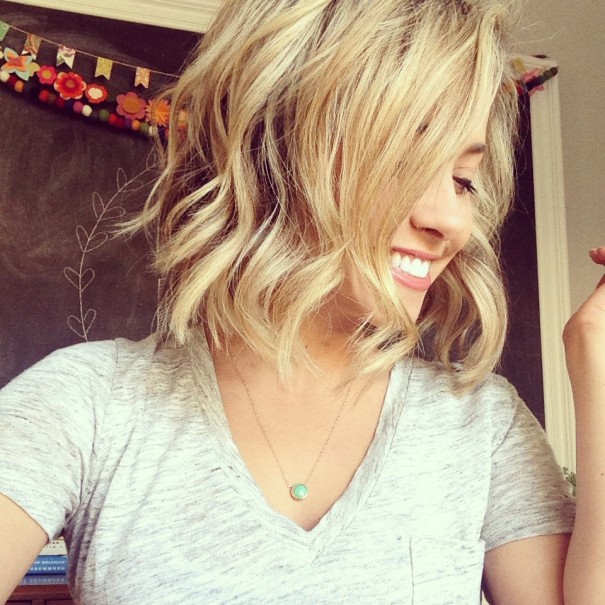 Necklace c/o: Wrenn Jewelry

I recently posted about my adventures in chopping off all my hair for the first time in 15 years.  Not sure what came over me, because then I went and had my bestie Brittney cut off several more inches. Brittney gives a MEAN haircut and she's also incredible at styling the best beach waves.  I went in with a photo of Kendi for inspiration and I left Brittney's chair completely thrilled with my new wavy do.  BUT…there was something about my new short hair that I didn't anticipate.  I had imagines wearing it in loose, casual, wavy curls everyday this summer.  But when I went to curl it with my curling iron a few days later I was stuck with a poofy, wonky, golden girls-ish disaster.  And then, and hour later my hair was back to being stick straight. Ugh. It turned out that curling short hair wasn't as easy as I had expected.  When I posted the above pic on instagram many of you seemed to be having the exact same trouble curling your short hair. So I called Brittney and I begged her to teach us her ways so that I could be happy with my new style.  Brittney taught me that the secret to beach waves for short hair is a HAIR STRAIGHTENER, not a curling iron!  I've since practiced and almost perfected this technique for myself.  And today Brittney is here to teach us how its done. Yay Brittney, we love you!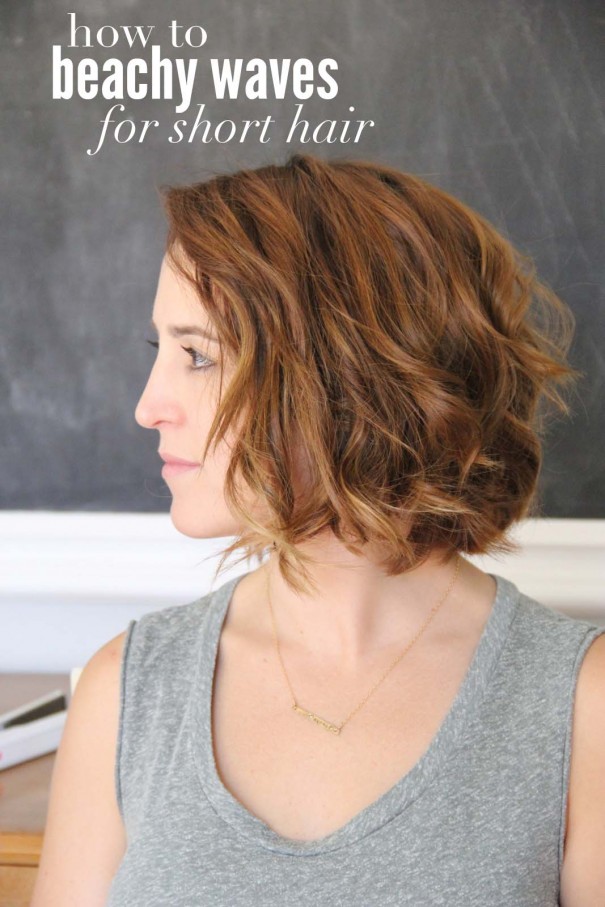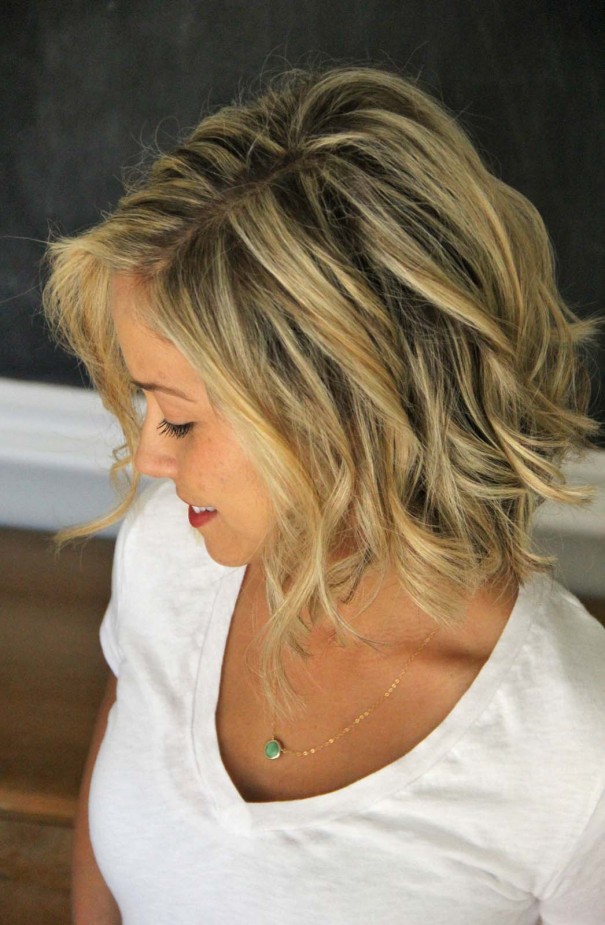 Necklace ℅: Wrenn Jewelry
Below you will see how Brittney styled this look on my friend Lacey and on me.  Brittney has also put together a video for us that walks through the details.  I suggest watching the video and then taking a look at the photos and reading the tips and product recommendations below  to tie everything together. Remember, the key technique with this look is that you are BENDING the straightener around the hair rather than curling it–this will make mores sense after you watch the video.  NOTE: we are NOT video production specialists by ANY means, as you are about to see. you have been warned.
ALSO: Because we are NOT video production specialists, watch this super helpful video to see how this girl achieves the beach wave look.  It's a good one to watch because you can see how she styles the look on herself rather than someone else doing it.  Also, she divides her hair into sections before curling whereas Brittney takes a more organic approach–so do whatever is easiest for you.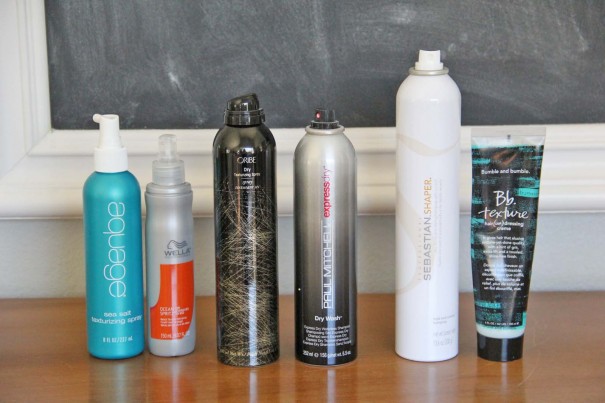 Aquage Sea Salt or Wella Ocean Spritz. Brittney gives 3 ways to use the product.  1. using a sea salt spray at your roots when your hair is damp will give your root a little lift and texture when it dries. 2.  it is also great using sea salt spray if you have natural curl or wave–wash your hair at night, spray generously with sea salt spray and sleep on a towel (if your hair is really long or thick you may want to twist or braid it before you sleep on it. Then in the morning you can use this method to curl any pieces that didn't dry right. 3. After you've curled your hair, if it looks too "styled" you can use this on the dry hair to grit it up.
Oribe Dry Texturizing Spray. A fantastic product to use to make your hair feel thicker and fuller and to keep it from sticking to your head.  If your hair is thick this will give it some lift to help from feeling bottom heavy.  It can be used to substitute dry shampoo. It smells fantastic and it really transforms the hair!
Paul Mitchell makes a fantastic dry shampoo at a respectable price point.  I've found dry shampoo that is less expensive, but often the smell is too strong for me and I don't feel like you get much powder spray. I've also used more expensive, like Bumble and Bumble which is my favorite–but its almost double the cost.  This is good middle ground. It's especially great to use dry shampoo for this style if your hair gets a little oily, especially around your hair line.
Sebastian Shaper is a fantastic, workable hair spray.  It doesn't get sticky and helps give hold.
Texture by Bumble and Bumble or Brilliantine by Bumble and Bumble. Both of these are great if you hair has fly aways that need taming.  Just put a small amount in your hand and rub into your hands well before touching your hair. When you apply to your hair touch it lightly at first and gradually work it in.  It is wonderful because the finish is not greasy at all.
Healthy Sexy Hair has a leave in soy conditioner. The down side is the bottle often breaks.  The upside is Brittney keeps buying it anyway because it is THAT good.  You can transfer it to another generic pump bottle.  This puts moisture and topical vitamins into your hair.  Use it when damp for detangling. It's also great to use to soften any pieces that might have too much sea salt spray or to revamp and rework second or third day hair.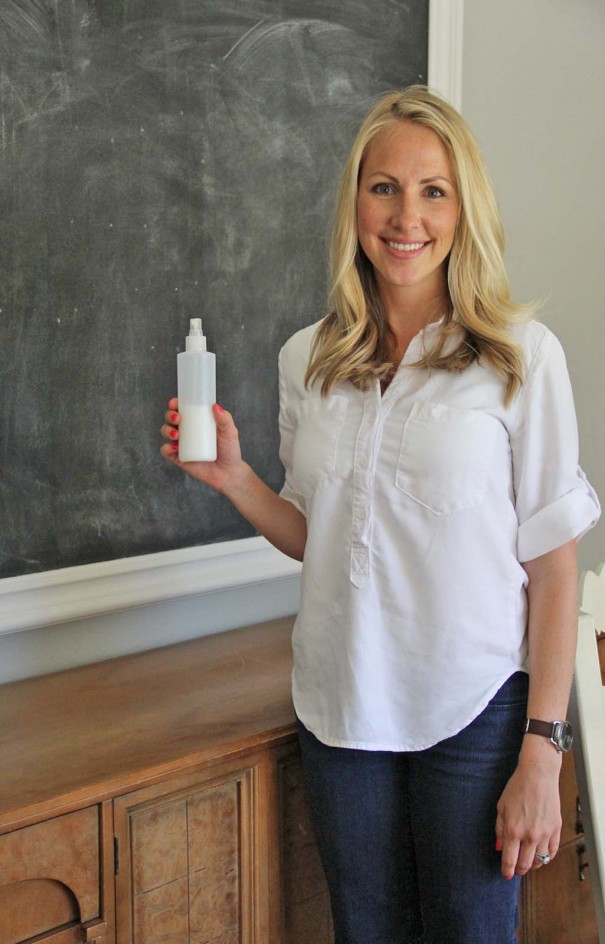 Meet Brittney. And Lacey, our second hair model for the day.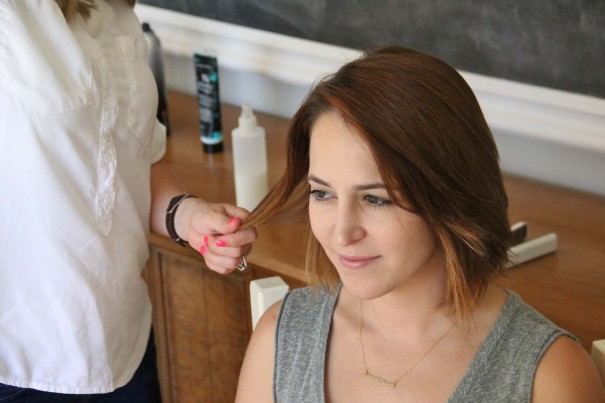 TIPS: Start with dry hair–preferably hair that has some styling products in it.  Use some dry shampoo before you begin if you didn't wash that day and your hair is a little oily. Spray hair with a workable hair spray.  Then take one inch to one and a half inch sections starting in the front of your face on either side.  Clamp a 1 inch flat iron on medium to medium/high heat near the scalp and twist the flat iron 180 degrees. NOT 360. You should be twisting/turning the flat iron toward the back of your head (and away from your face). Then pull straight down at the tips.  Re-clamp and twist at the base again if more lift is needed at the root. Work your way toward the back/center of the head. Follow these same steps starting at the front of the opposite side and work your way back to the center.  Spray with hairspray and allow to cool.  Shake curls out and separate them and follow up with finishing product.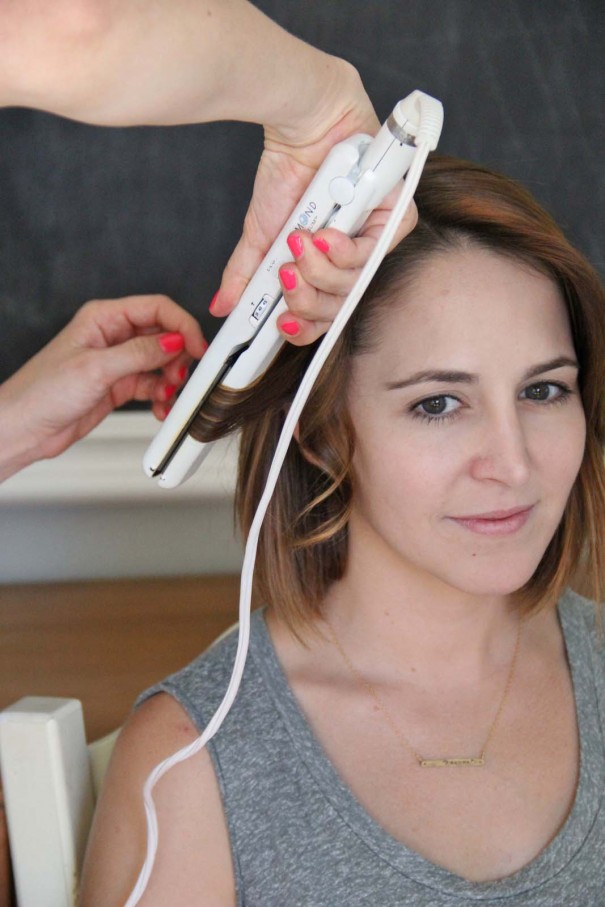 Here are Brittneys recommendations for a good flat iron:
1. either titanium plate or ceramic plate. Not metal. Make sure it isn't just plated because eventually it will rub off and you will be left with metal spots. Metal swells and shrinks with heat and over time this causes tiny cracks to form in the plate. Your hairs can get caught in these tiny cracks and it will pull and damage your hair. Also, metal heats un evenly so there will be hot spots.
2. make sure it has a heat guage. Preferable with degrees (ie 200-450) but numbers (ie 1-25) will work too. If it just has Hi, Low and off it is usually too hot on the high setting, and too low on the low, so you'll use the high setting and it will be damaging. about 300 degrees would be good for fine to medium hair and about 350 would be good for medium to coarse.
3. look to find a beveled edge. so the edge of the plate should not be square it should be slightly round. This helps with curling.
Here are a few she has used: she likes the long cords that you will get when buying professional grade flat irons.
Here, here and here.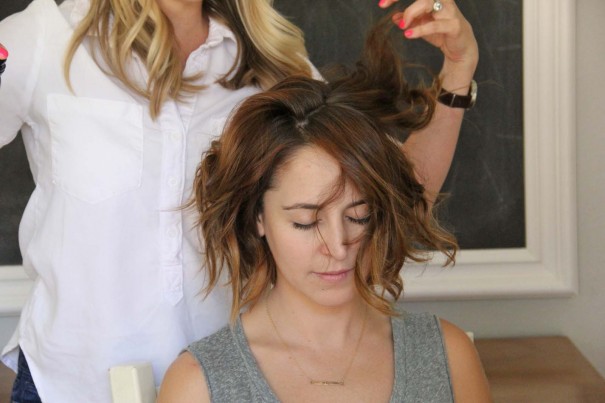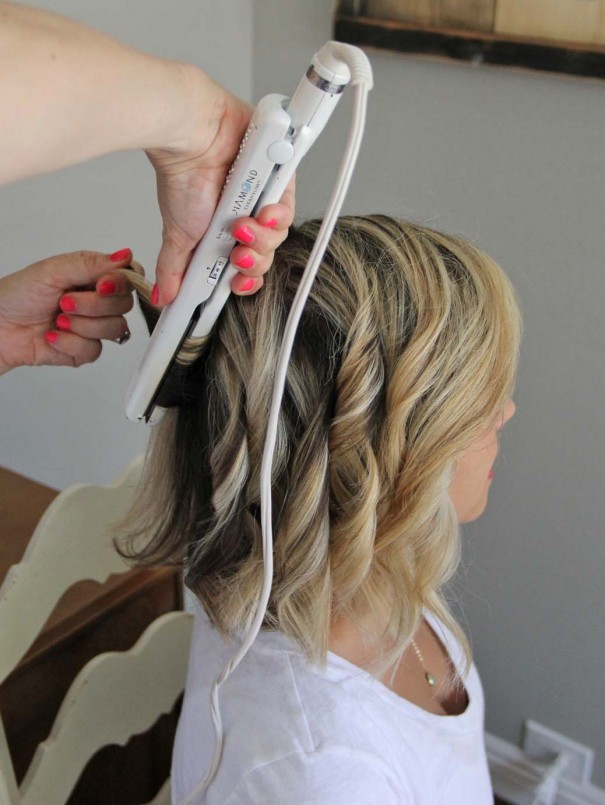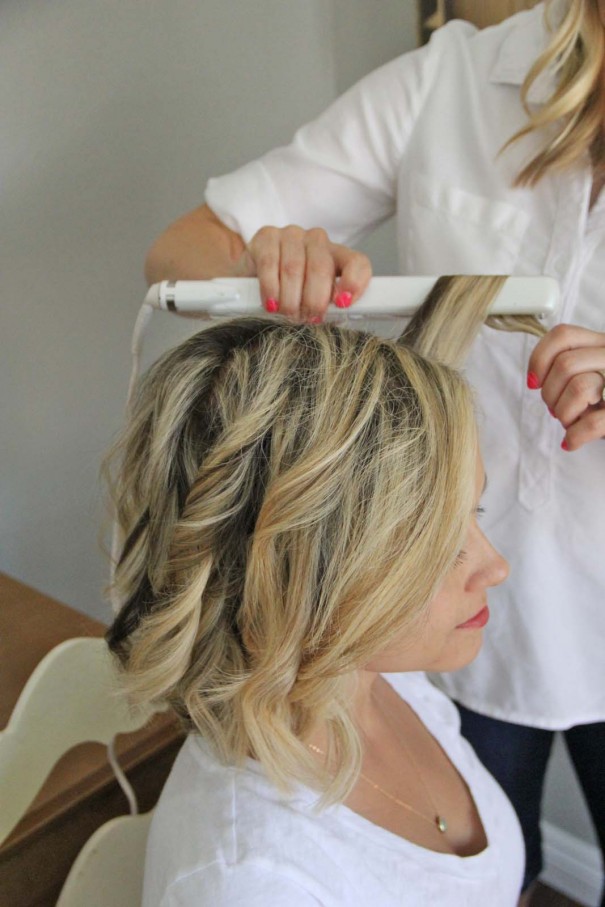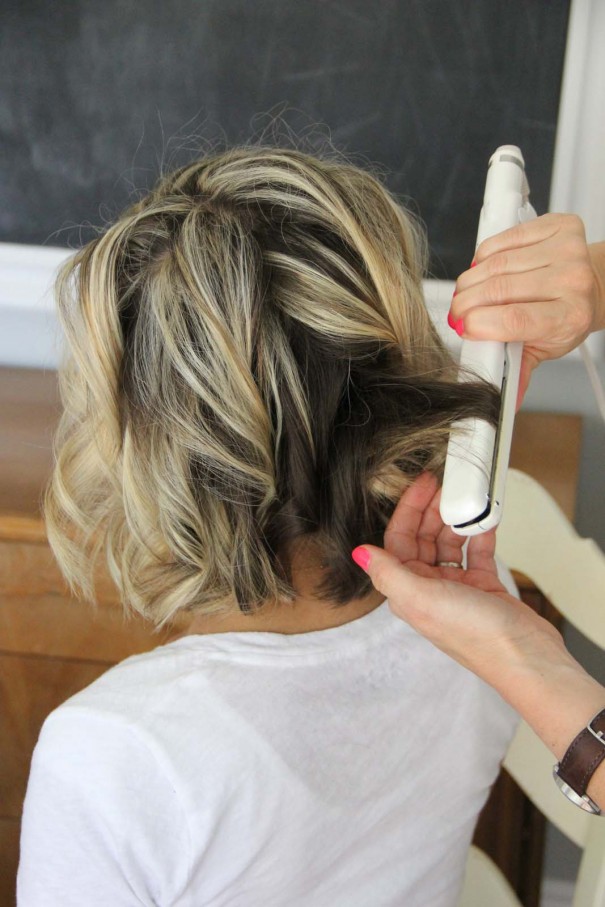 These back pieces are so short that you really are just bending them slightly to create the wave.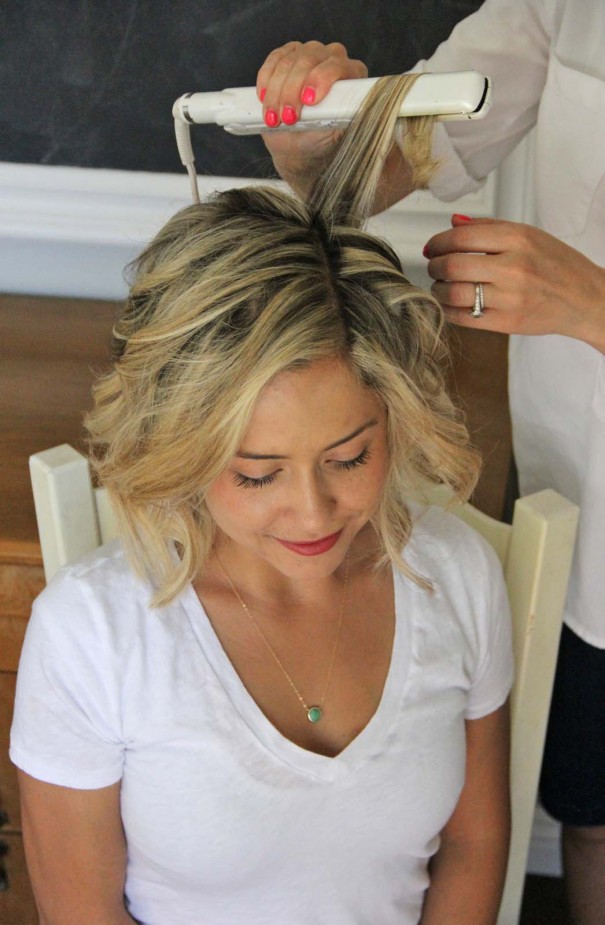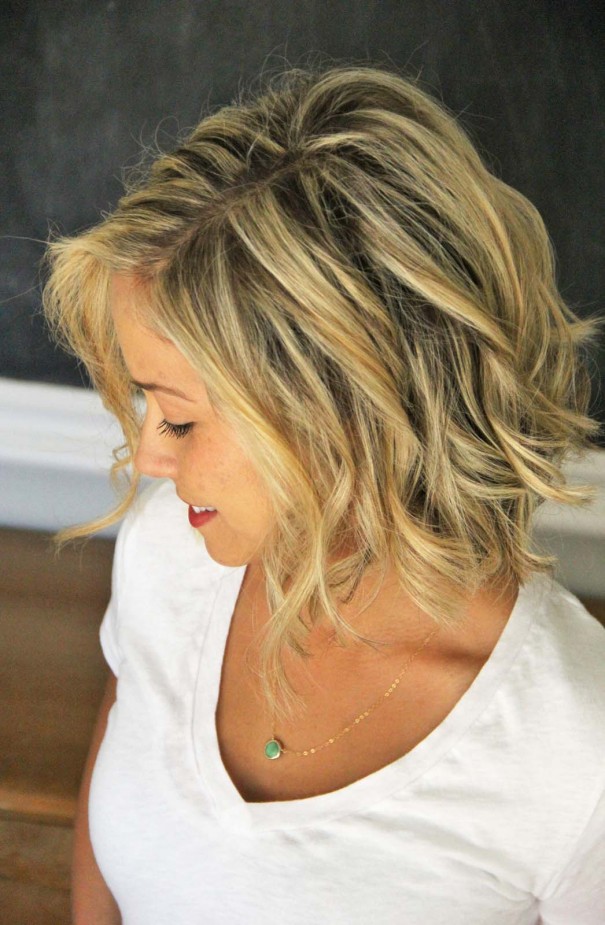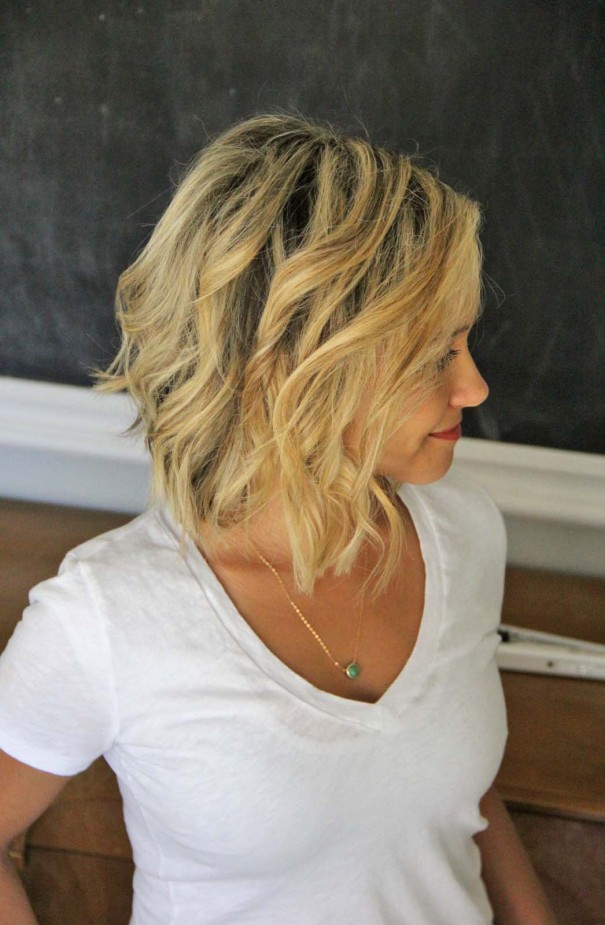 Check out some more hair tutorials here.