how to get rid of cowlicks and add volume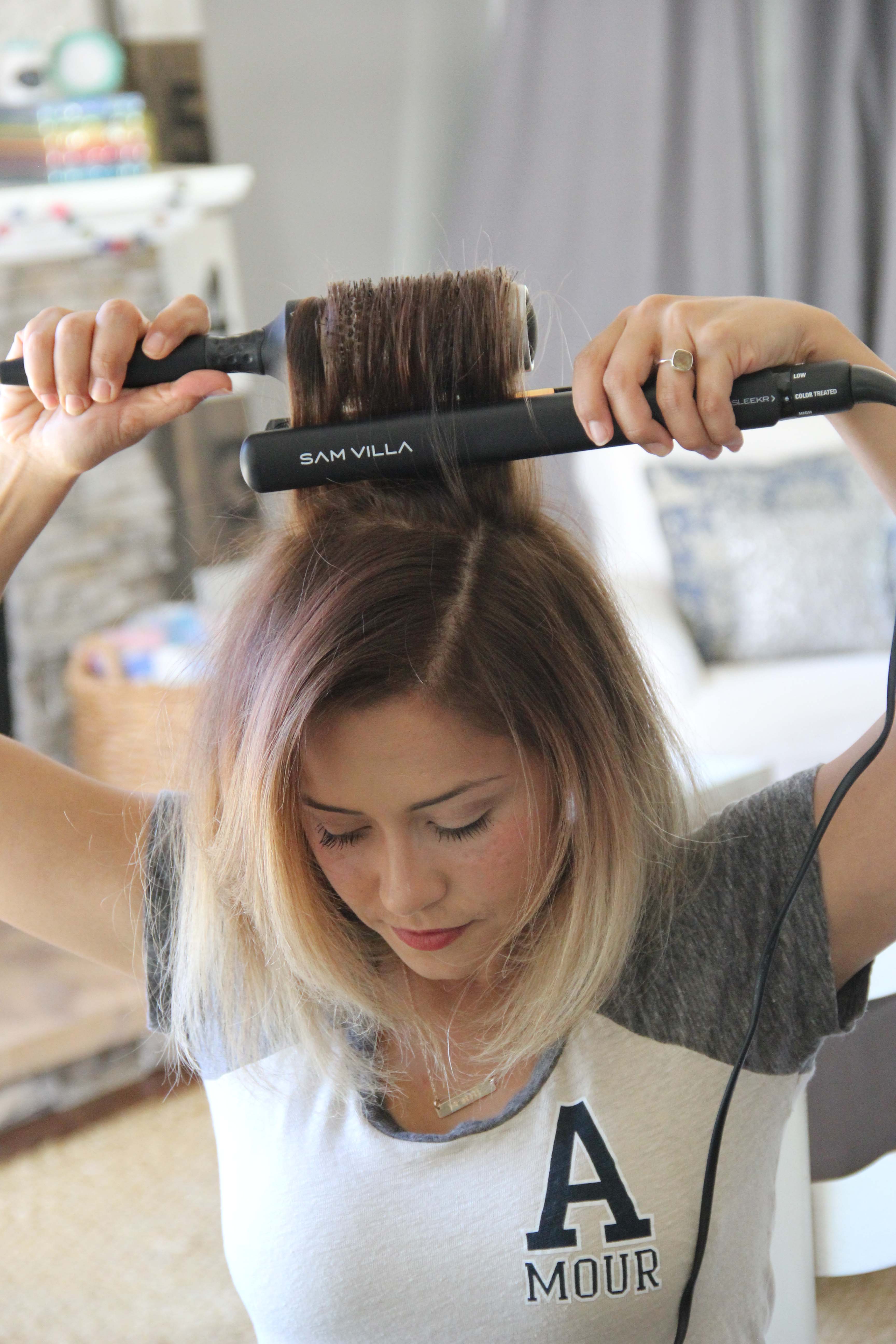 I've spent most of my life as a blonde. But every few years or so I can tell that my hair needs a break from the bleach. Fried blonde is not a good look on me and I was starting to reach that point. So while blonde is by far my favorite color, every couple years I darken up for a bit to give my hair a chance to get healthy again. I always love it when I'm sitting in the chair at the hair dressers…then I get home and start to panic at the person I don't recognize in the mirror. But it's only hair right?!
Anyway,  this is a bit random, but I thought I would write a post about how I get rid of my gnarly cowlicks every morning (actually, every morning that I wash my hair) and how I use a flat iron to add volume.  Because of my hair pulling, I have really unruly cowlicks in the areas where my hair has grown back in–mostly on the crown of my head and the two spots on the side of my forehead.  And since cutting my hair short, I have noticed weird flipage that happens at the ends of my hair–if I don't blow dry and flat iron them then one side flips out and the other side flips under.  Needless to say, allowing my hair to air dry is NOT a pretty picture.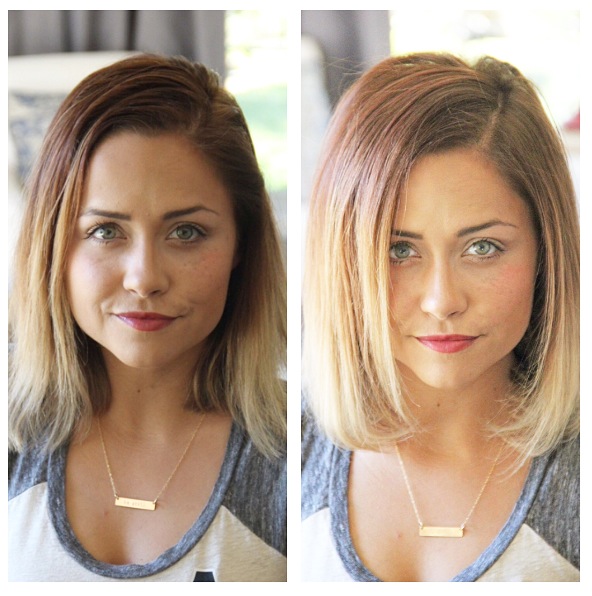 Here is a before and after picture.  The left is the beginning stages of my hair air drying–it only gets worse the more it dries.  Left is after I blow dry and flat iron out the cowlicks.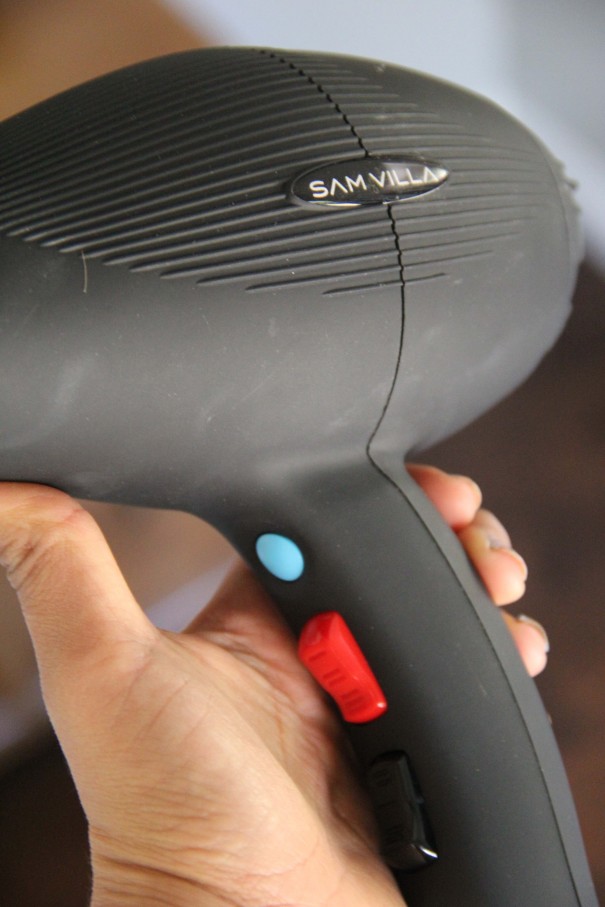 For as long as I can remember, I've always used an inexpensive drug store blow dryer that usually only cost me $19.99 or so.  I use it for a year or two until it starts to smell like burnt hair and begins to spark. Then I toss it a spend another $20 on a new one.  A blow dryer is a blow dryer is a blow dryer–so I thought.  BUT THEN…then Sam Villa sent me a new flat iron and blow dryer and I learned that there is positively a difference in the end result of your hair based on the quality of your tools.  What a difference I saw with the new flat iron and dryer!  My hair had less fly-aways,  was smoother, had more volume and never got too hot (thus minimizing damage).  AND it dried way quicker than with my drugstore dryer–and since I hate taking the time to dry my hair that was the biggest perk of all!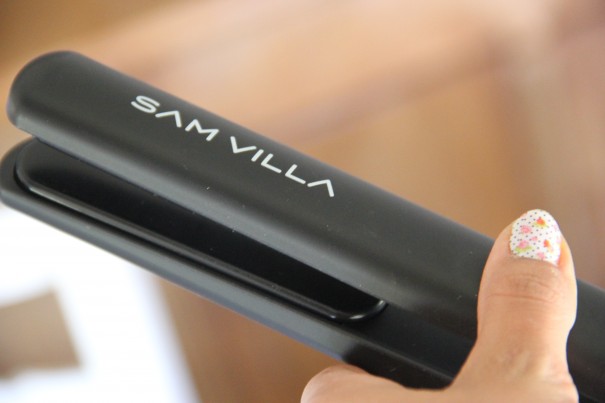 Here are my daily tools for blow drying out my cowlicks and using a flat iron to achieve a sleek bob style:
Ionic Hair Dryer (on sale in August)
Sleekr Straightening Iron (on sale in August)
1.5″ Thermal Styling Brush (this is the key to volume!)
Wet Brush (the most amazing de-tangling brush ever)
Paddle Brush (it feels like an incredible scalp massage)
Thermal Protectant Spray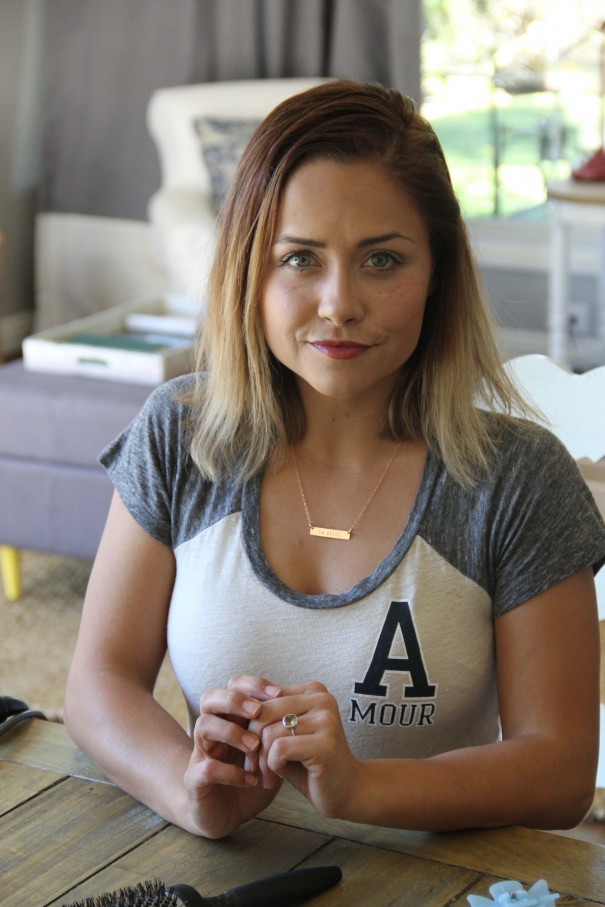 First I spray my hair with a heat protectant to minimize damage–this one is my favorite. I blow dry my hair in sections, starting with the very underneath portion first.  Sidenote: I always love the way my hair dresser blow dries me out–but I have never been able to get the hang of the round brush.  But then I watched closely on my last visit and I learned the round brush secret–LET THE HAIR COOL! So use the blow dryer and round brush to get the hair dry–then when the section of hair is dry remove the heat and leave the round brush in until the hair cools–then remove the round brush slowly.  If your hair is ultra-fine you can even use a light-hold hair spray to help it keep its volume.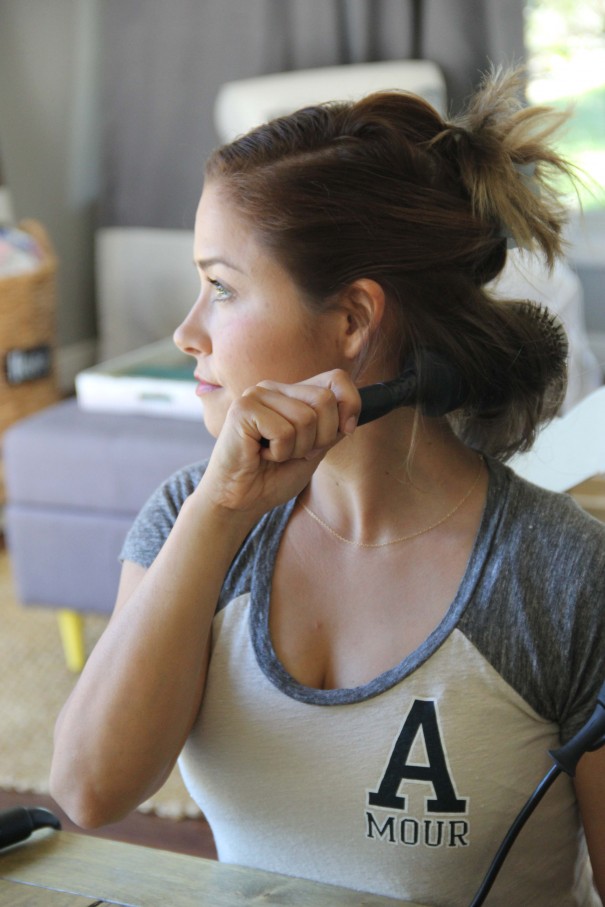 First layer of hair complete. Extra smooth with added volume.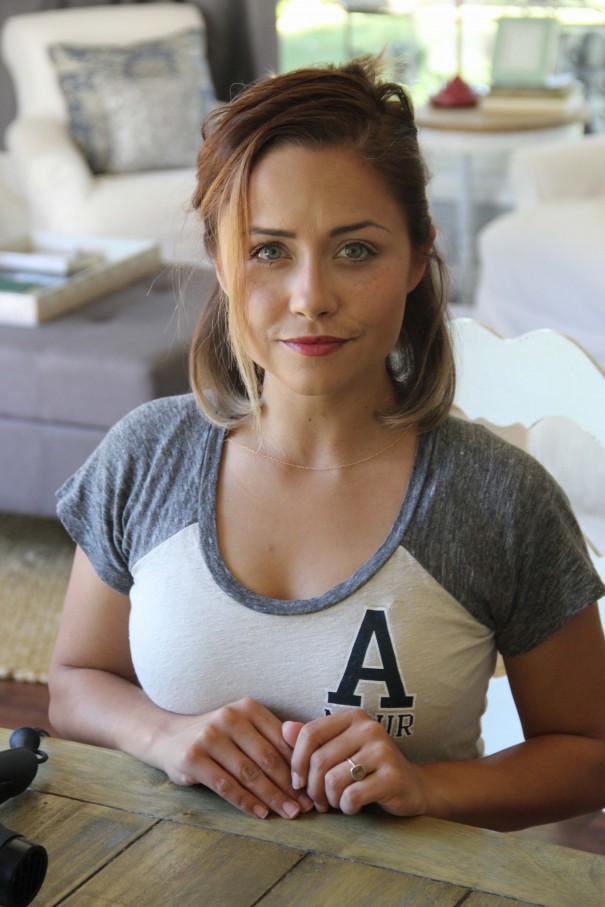 I repeat the exact same process on the next layer of hair.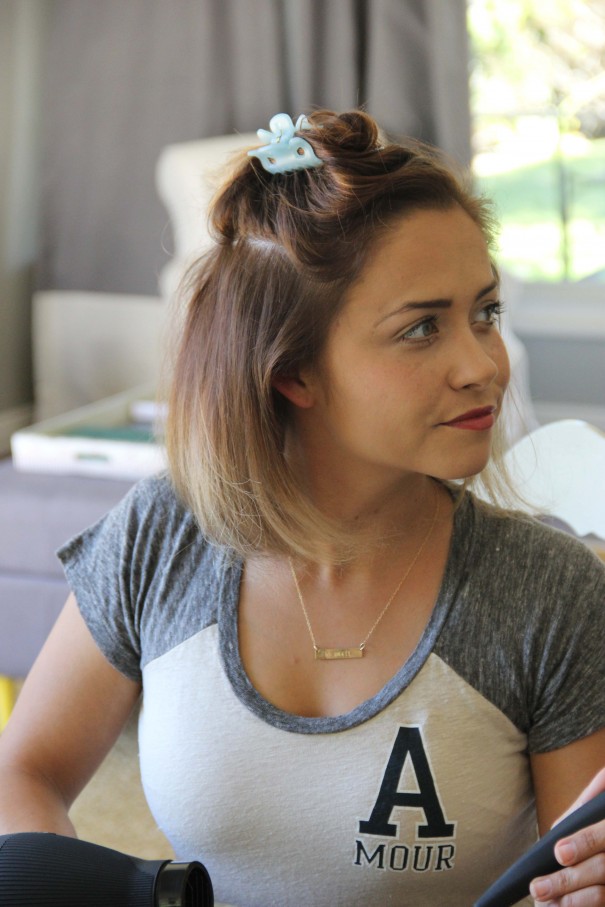 Then I pull down the final (and most important) top layer of hair to dry.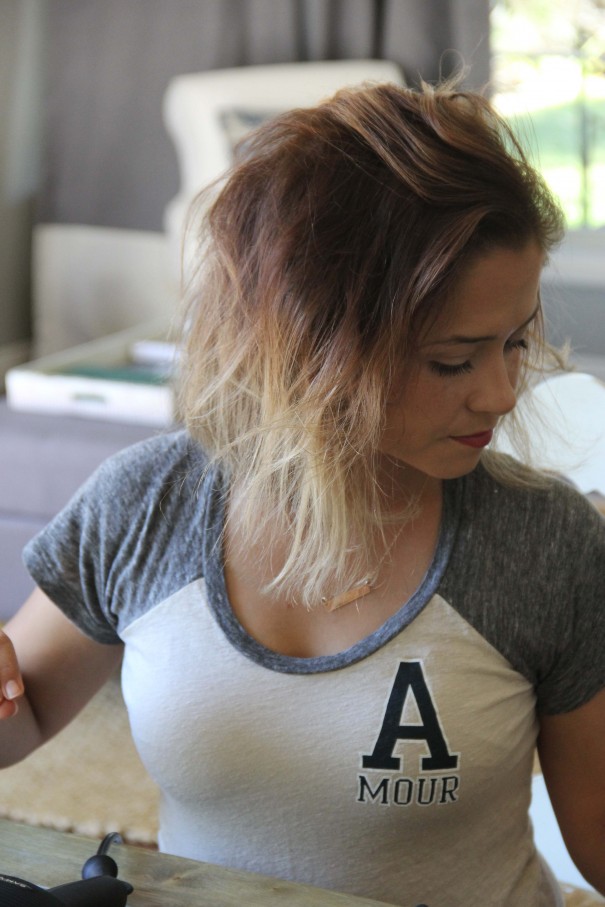 I begin by separating the crown portion of my hair from the rest and starting there.  This is my biggest problem area as far as hair thinning and cowlicks and it usually has no volume.  I follow the same steps above on my crown.  Only I let my hair get a bit hotter once dry and I leave the round brush in longer to give it extra hold.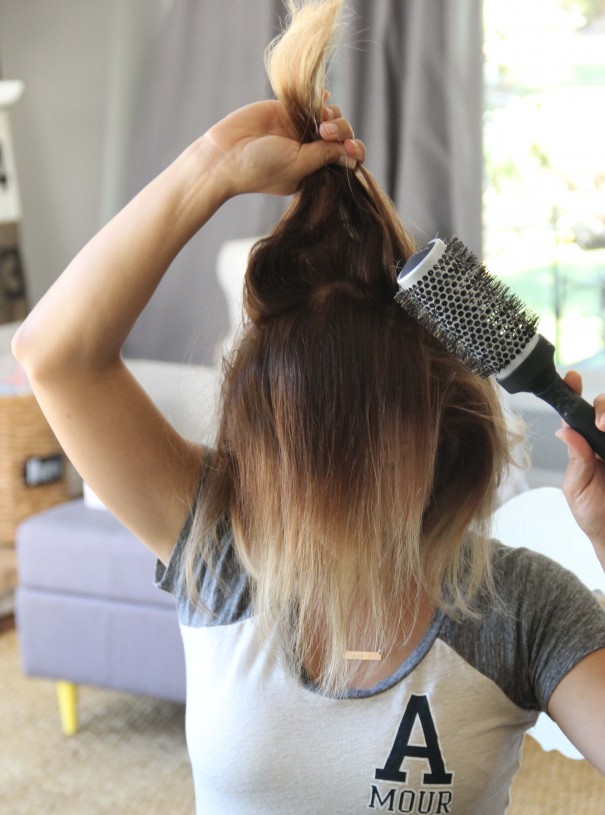 I continue to blow dry my hair in sections moving toward the front of my hair using the same technique of letting the hair cool before removing the round brush.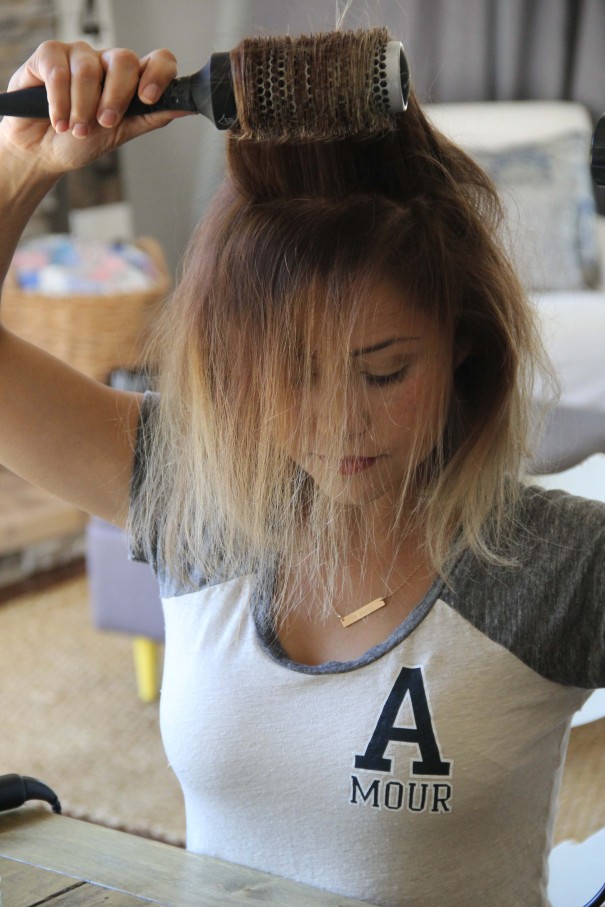 I use my hand to feel the hair and brush to know when it has cooled so I can release the hair slowly.  If you remove the hair when it is still hot it will lose its volume.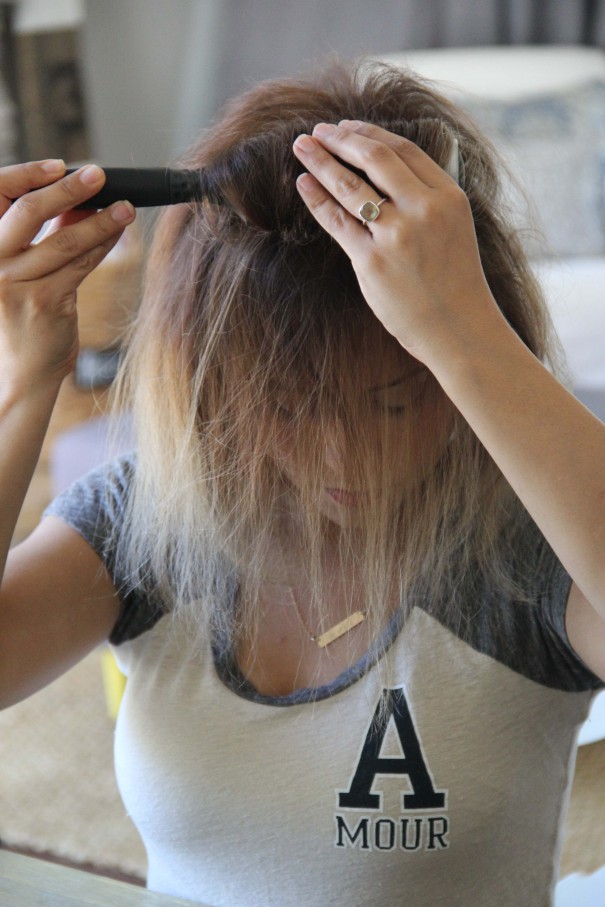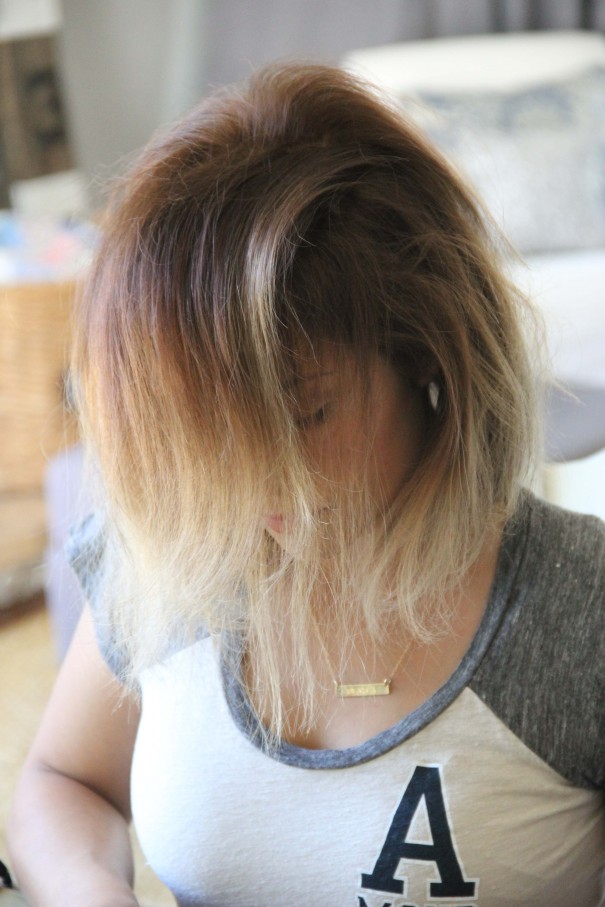 Now I focus on some of my target cowlick areas around the front and I round brush as closely to my scalp as possible to remove them–blow drying in a forward motion towards my face the who time.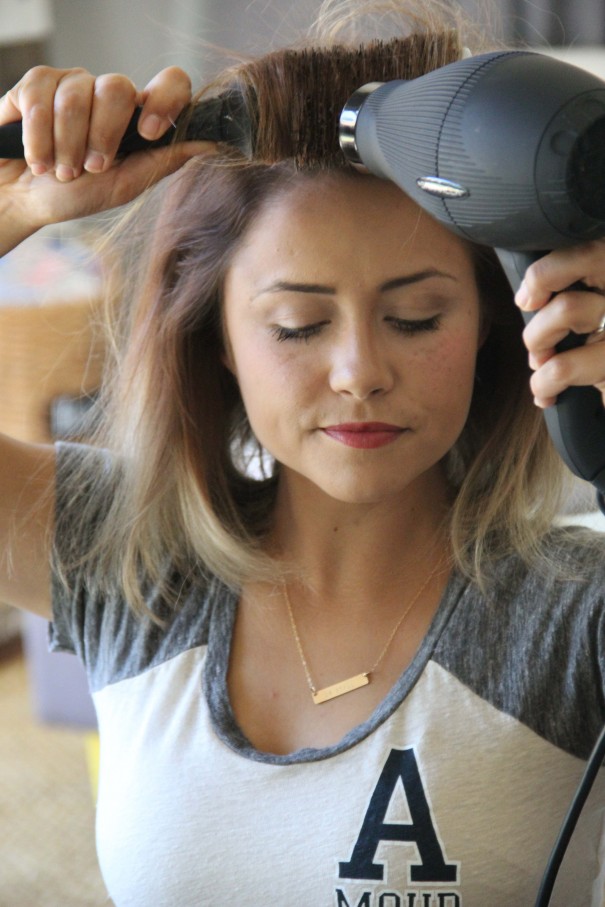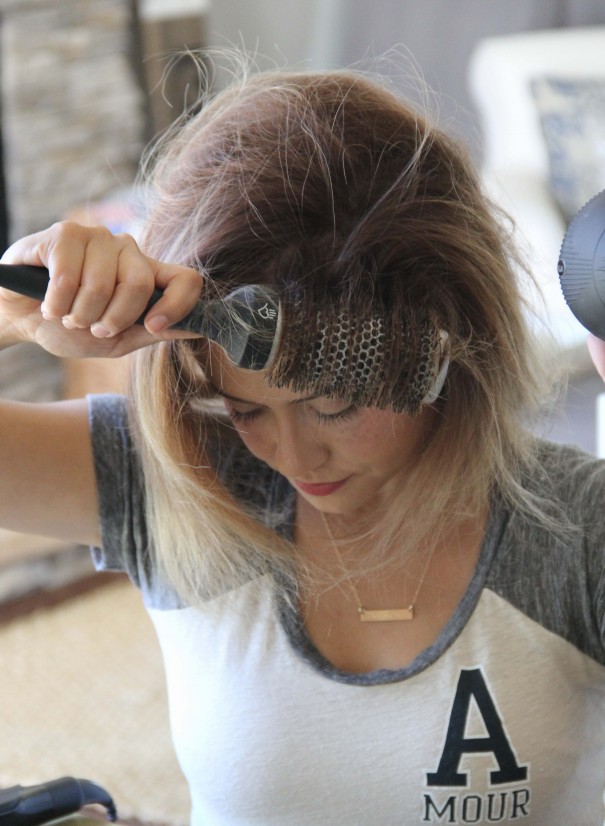 Once my hair is all dry, I run the paddle brush through it a few times and get ready to use the flat iron. I was shocked when I learned that I could use a flat iron to get volume in the crown of my hair–I always thought I was losing volume the more I flat ironed my hair–but not with this technique.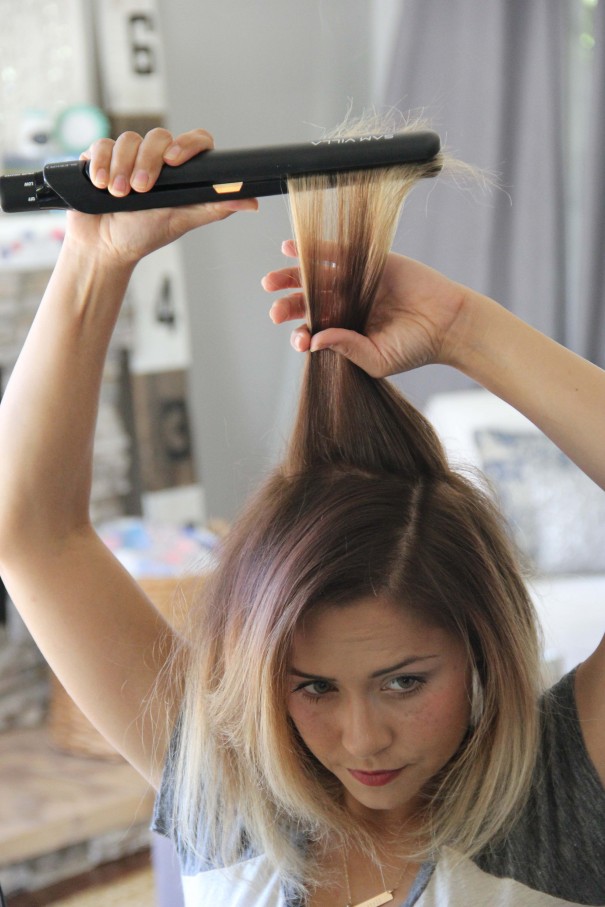 First, I run the flat iron through the crown of my hair 2-3 times until its pretty hot. Then I immediately roll it up in the thermal styling brush–leaving about 1.5-2 inches between my scalp and the iron.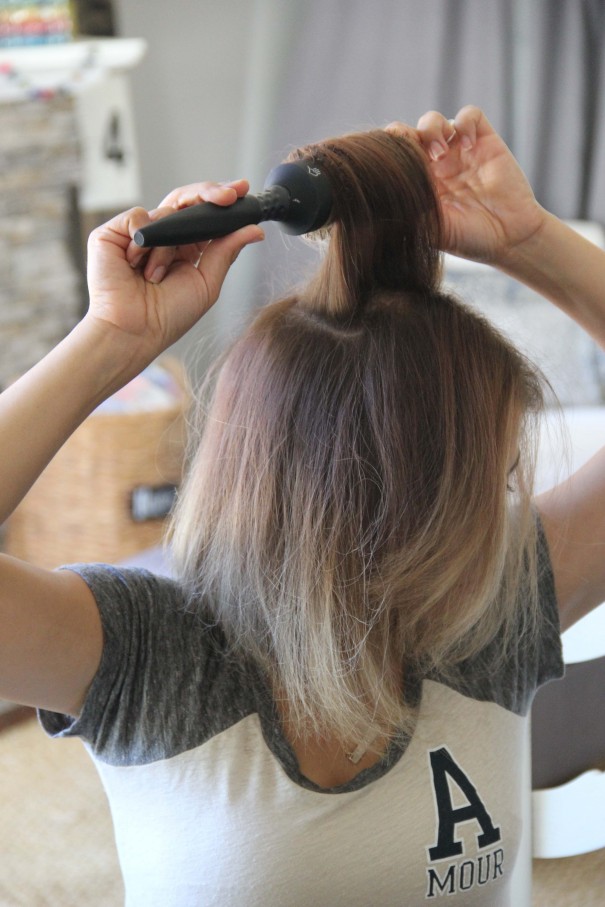 Then I use the flat iron in my hair just below the brush.  I slowly move the brush and the flat iron through the section of hair at the same time.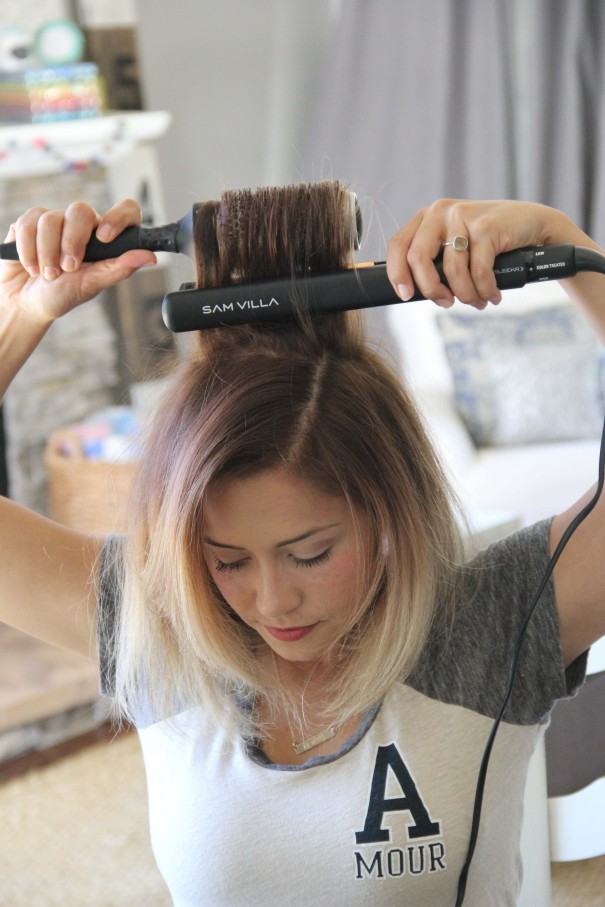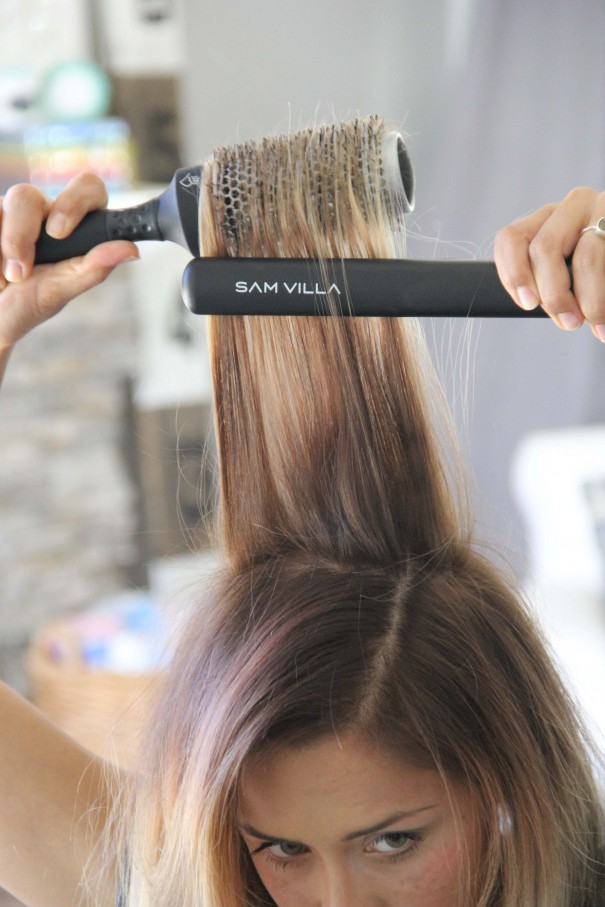 Next, I pull the flat iron through the ends of my hair and quickly (while the hair is still hot) I roll it back up in the thermal brush all the way to my scalp.  Then I hold the brush in my hair until its no longer hot to the touch.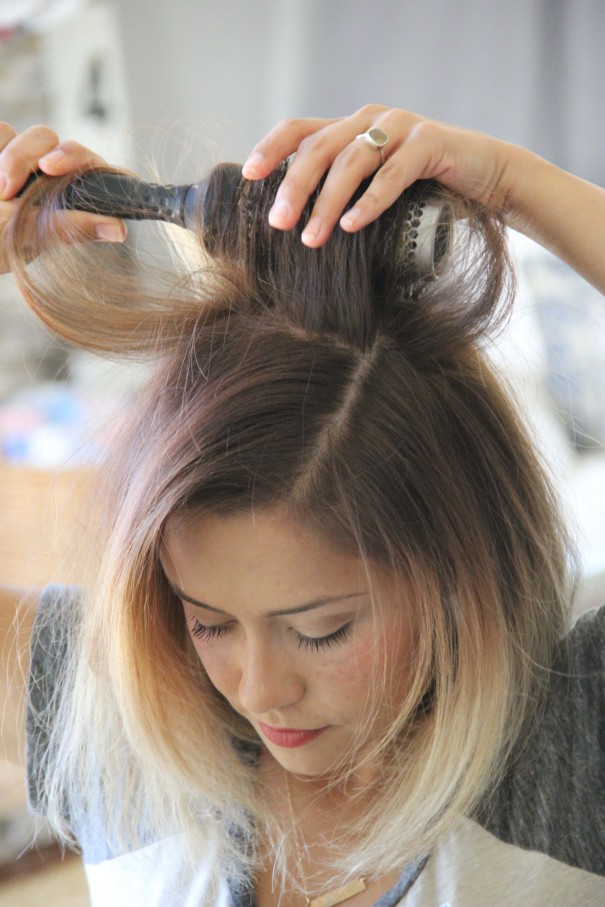 Then I give it a quick spray and slowly release the brush.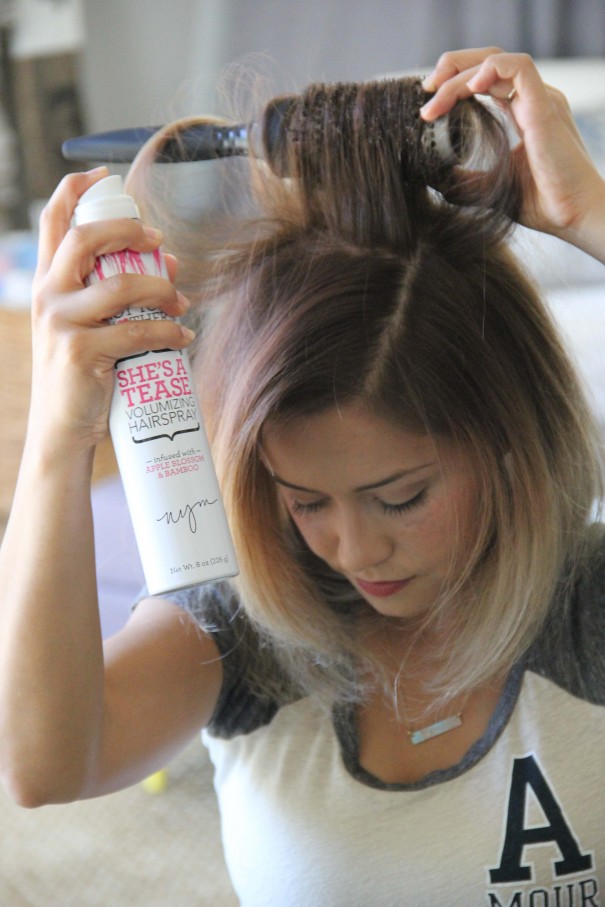 HELLO volume!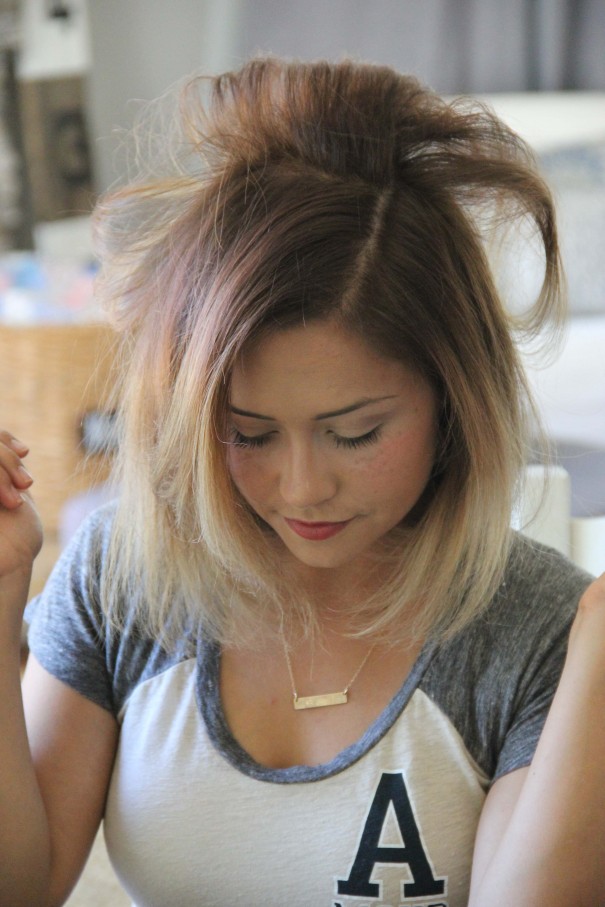 To minimize damage and maximize volume, I try not to flat iron every square inch of my hair.  So now I just focus on the ends and ironing them so they don't flip out.  Then I flat iron the sections of hair around my face and bangs area (another cowlick prone area).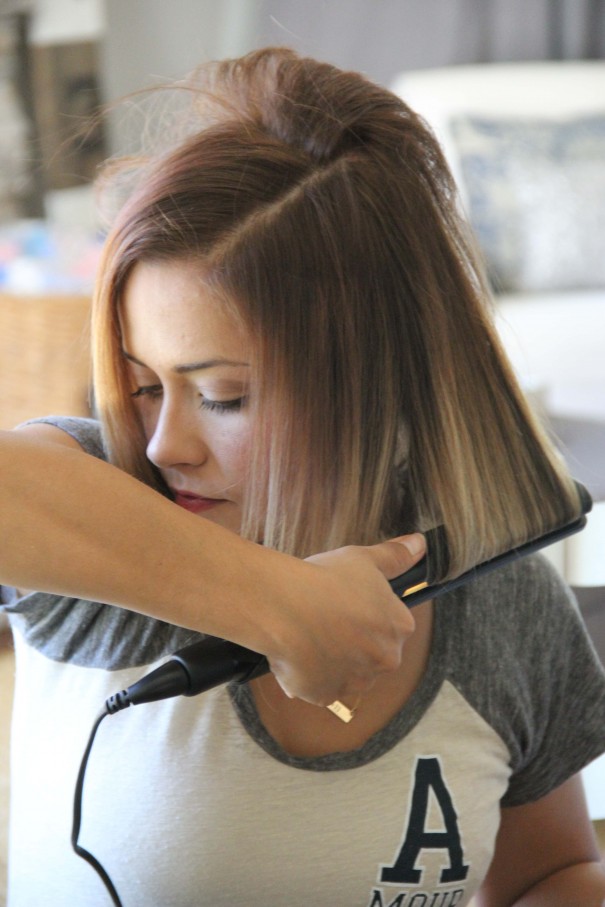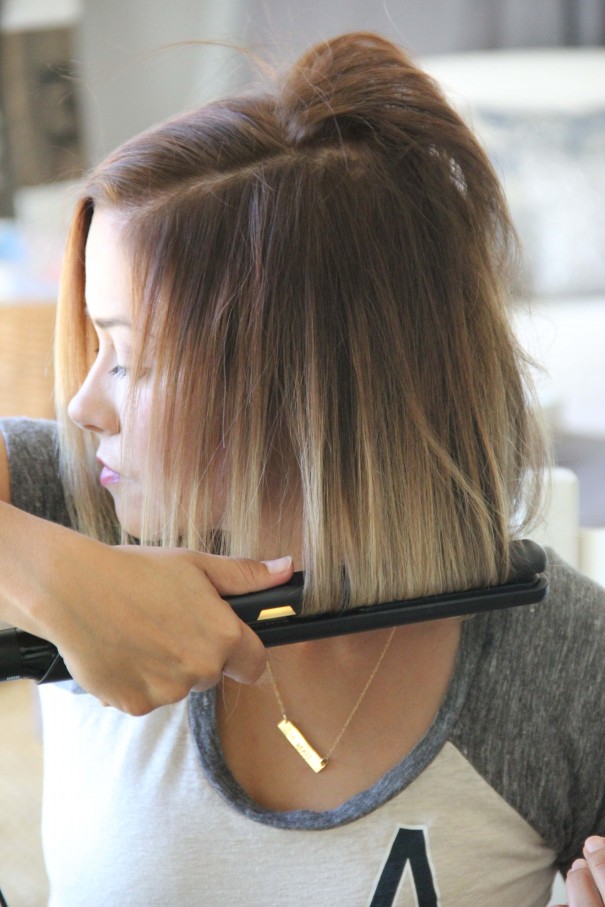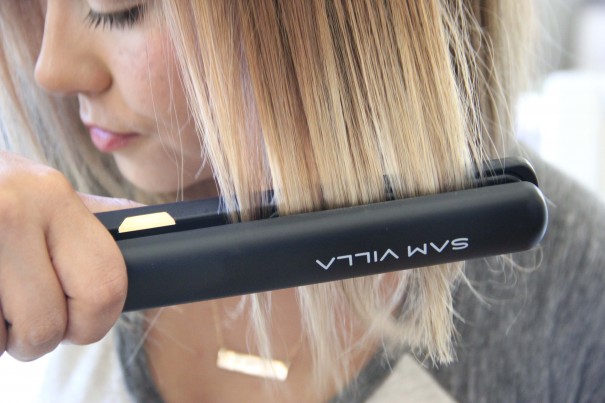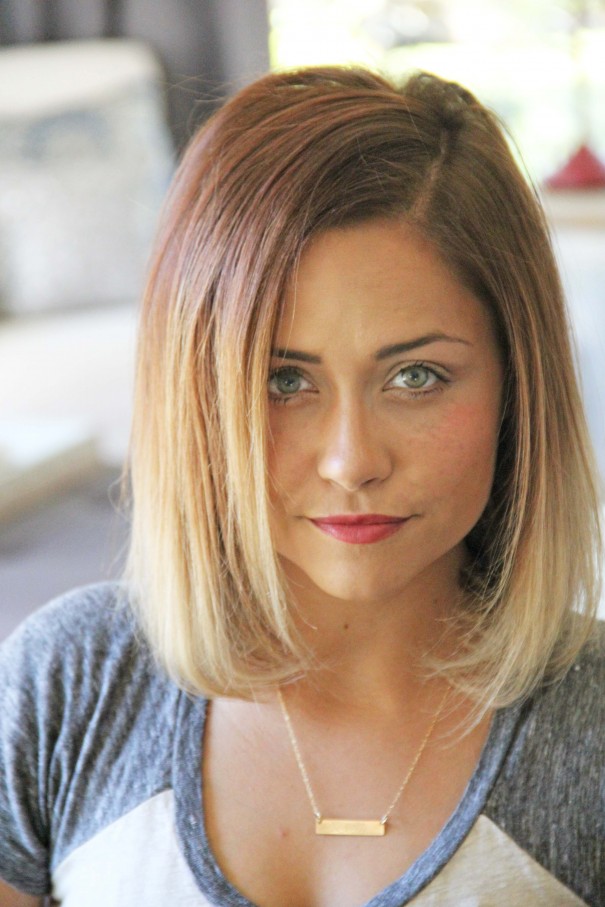 You can watch a SUPER helpful video tutorial of this technique here:

To watch how I use a flat iron to create beach curls in short hair, check out this video post: