Sawyer's Big Boy Room Tour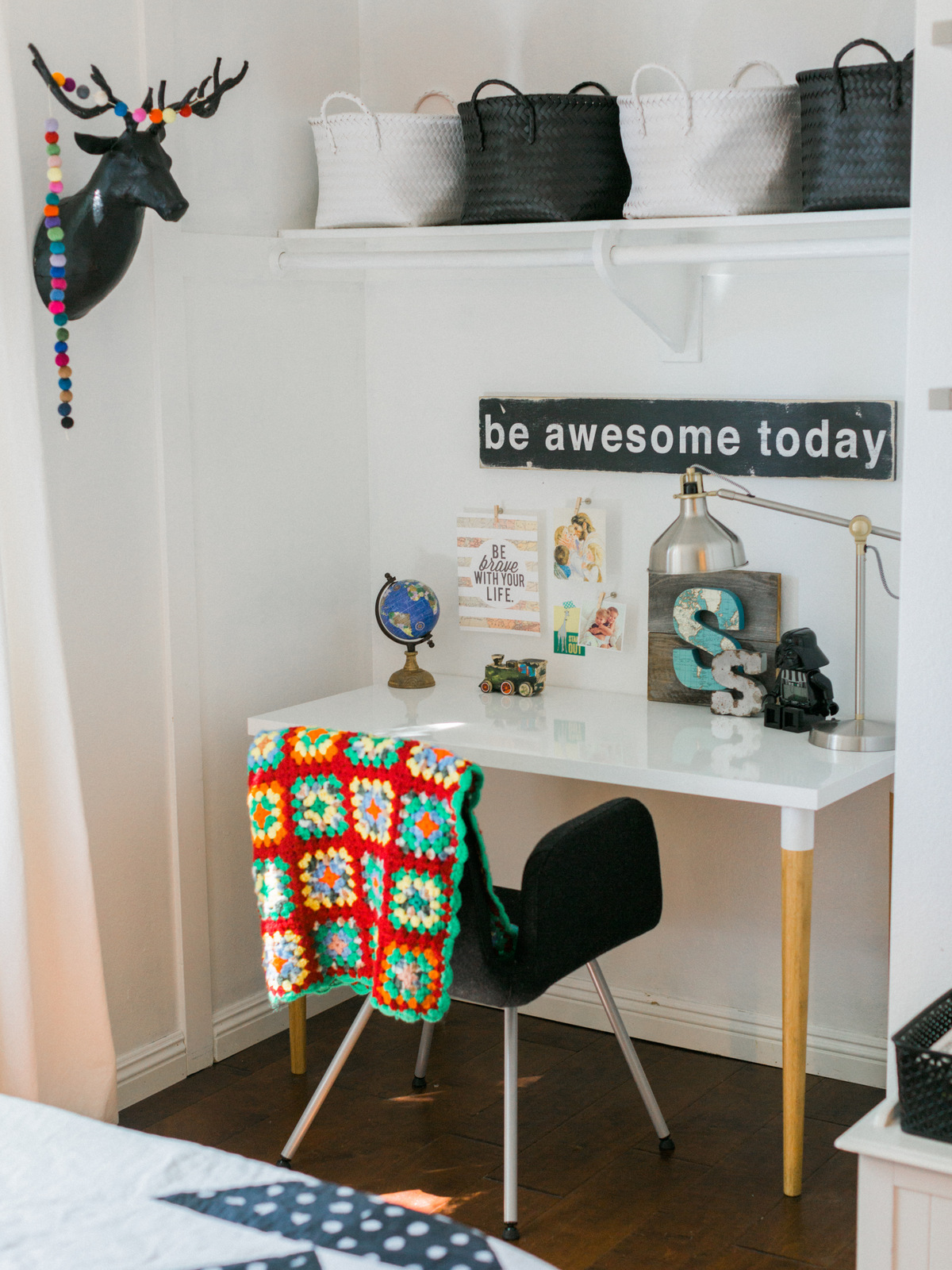 A BIG thank you to Erik Hokom of AshAndErik.com for photographing Sawyer's big boy room.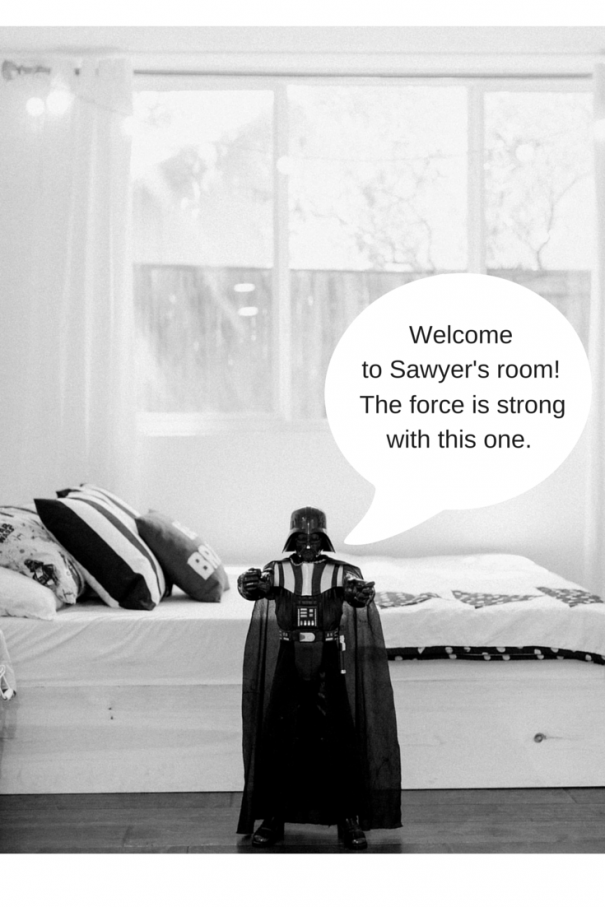 I'm so excited to be sharing Sawyer's big boy room today.  It just might be my favorite room in the house.  When we first moved into our home about 3 years ago we were more focused on settling in and discovering our "home style" before making any changes.
So we kept the house as it was, unpacked our stuff and began hanging decor on the walls.  Sawyer's room was the first we settled into. Only a few months old at the time, his nursery was littered with baby stuff, pops of color and lots of whimsy. While the room was cute and cheerful, it still felt a bit dark to me. You can see Sawyer's nursery here.
Flash forward a few years and I'd like you to meet Impulsive Ashley.
It's both my greatest asset and my achilles heal.
I woke up one morning with the itch to re-do Sawyer's room…right that minute.
So I painted it all white.
Clean slate.
Except then I also decided I couldn't handle the carpet anymore.
So…..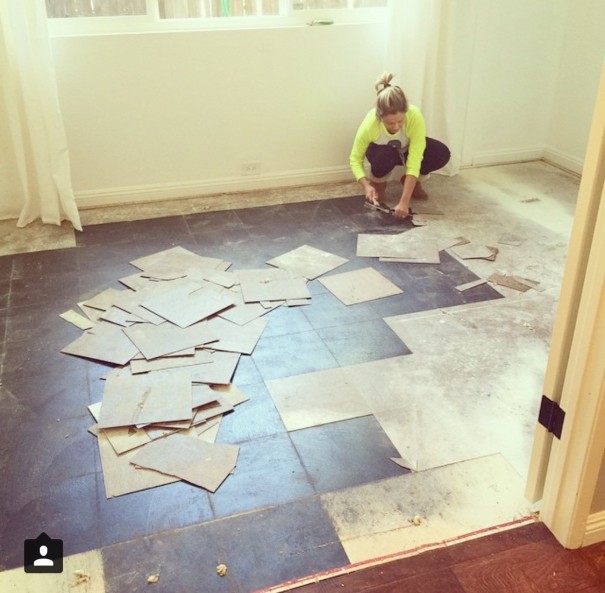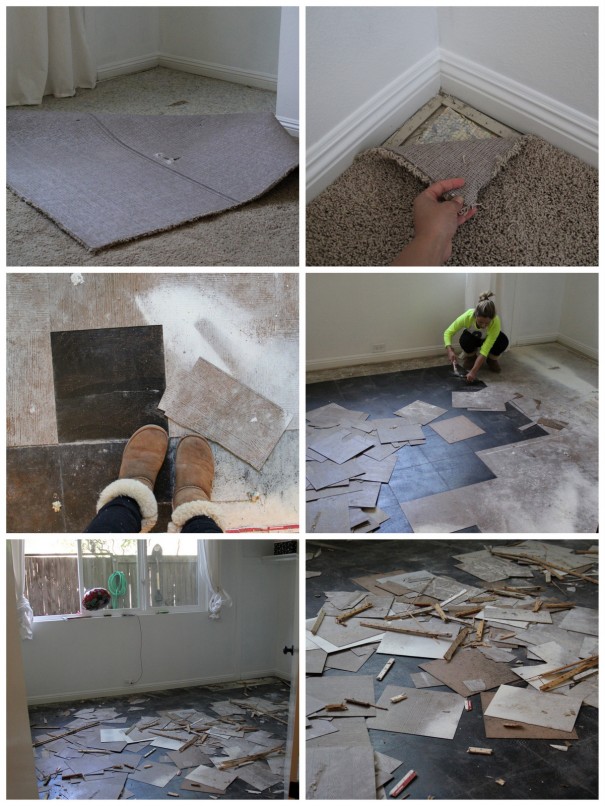 When I ripped up the carpet I discovered that the floor was covered in 40 year old linoleum.  It came up pretty easily with a hammer and screw driver.  Luckily we found the exact same hardwood floor as the rest of our house on mega clearance at a warehouse, we just had to drive to pick it up. Score!
I had three goals in mind when putting together Sawyer's room:
Neutral and bright: I had to keep in mind that he is growing up fast (sniff sniff)–I wanted his room to have a neutral foundation so I can make small changes as he gains new interests.  Right now, his interests are dinosaurs and Star Wars.  So I gave him a basic template room that will allow me to switch out kiddo accessories as he gets older.
Organized and functional: Tiny toys with a million pieces are the bane of my existence. So one day, while the kids were out with Dad, I gathered all the toys that were making me crazy and I got rid of them.  I only kept the toys they played with every day. And you know what? They didn't even notice!  I separated his toys by category and put them in their own bins.  This way when Sawyer wants to play with trains, he can ask me for the train bin.  This method has also helped when I'm teaching Sawyer to pick up his own toys.
Inexpensive and personal: Ikea is my answer for all things awesome at a low price. So much of what you see in this room is from Ikea: desk, chair, shelves, lamp, bins. The personal touches are made up of trinkets and designs from some of my favorite handmade shops.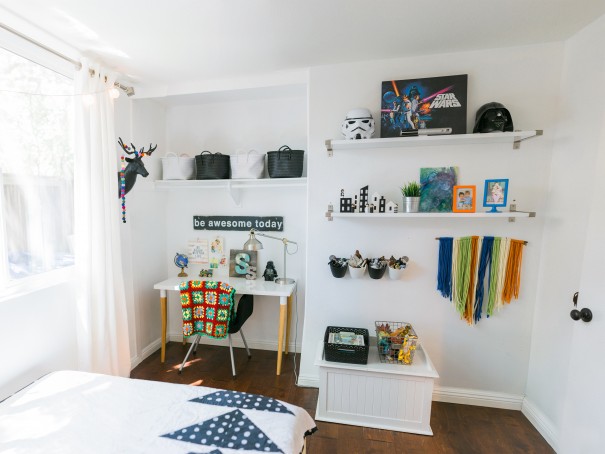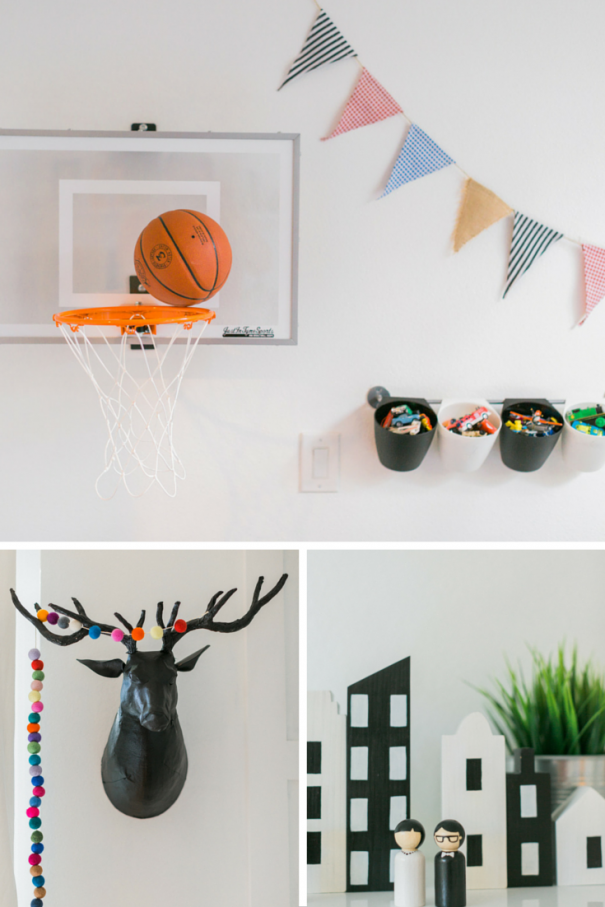 We ripped out the closet doors and turned this into a little work station.  
Be Awesome Today  //  S sign // Be Brave print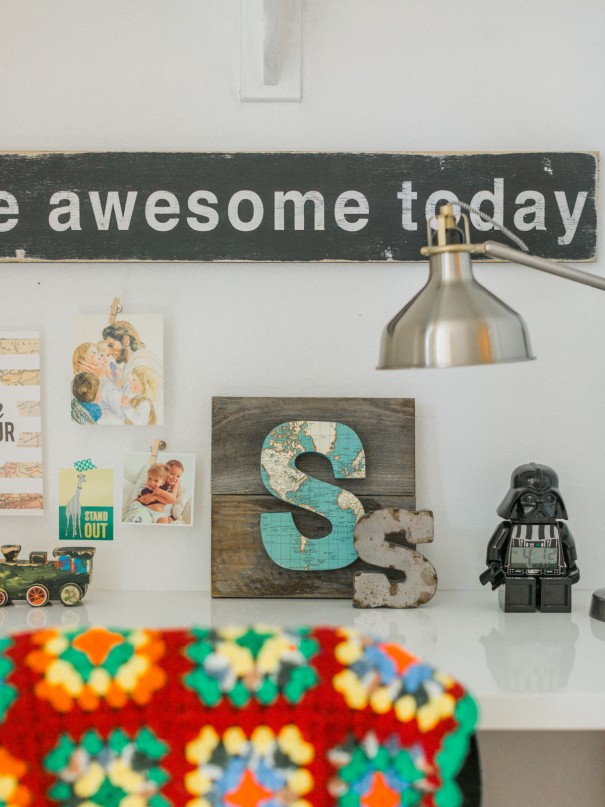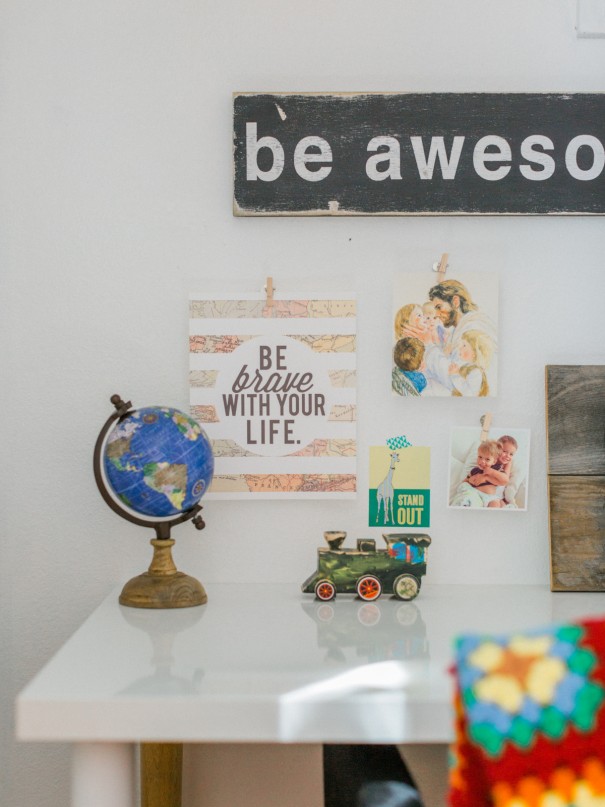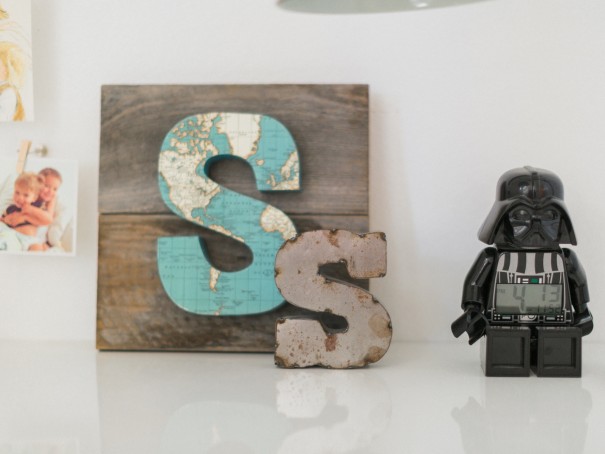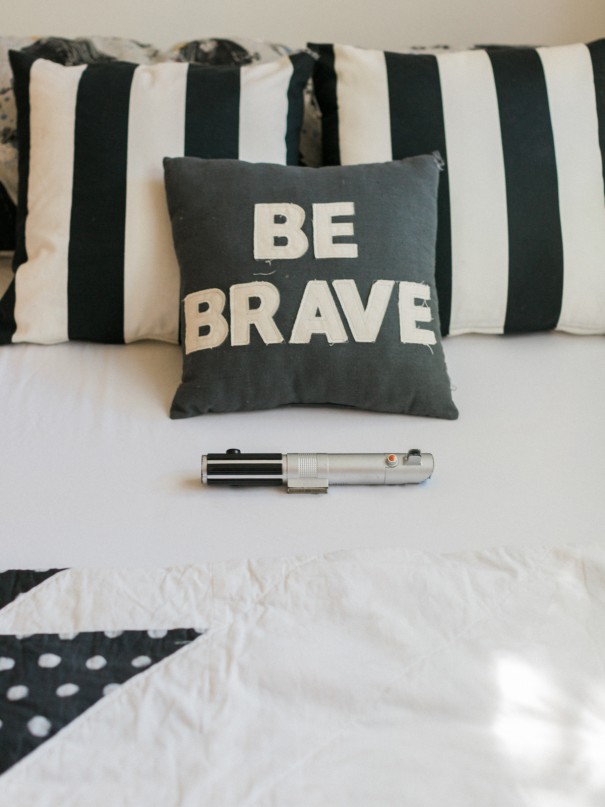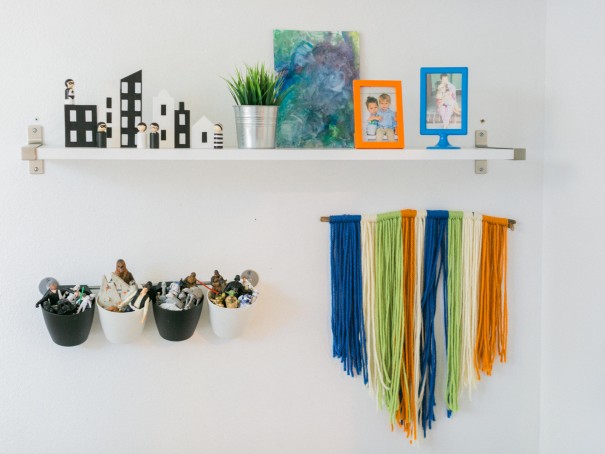 String Art Tutorial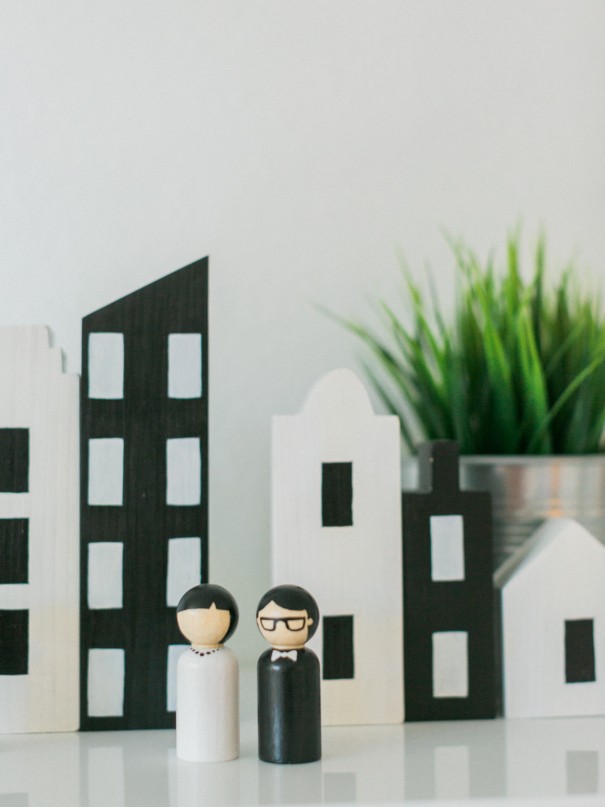 Wooden Toys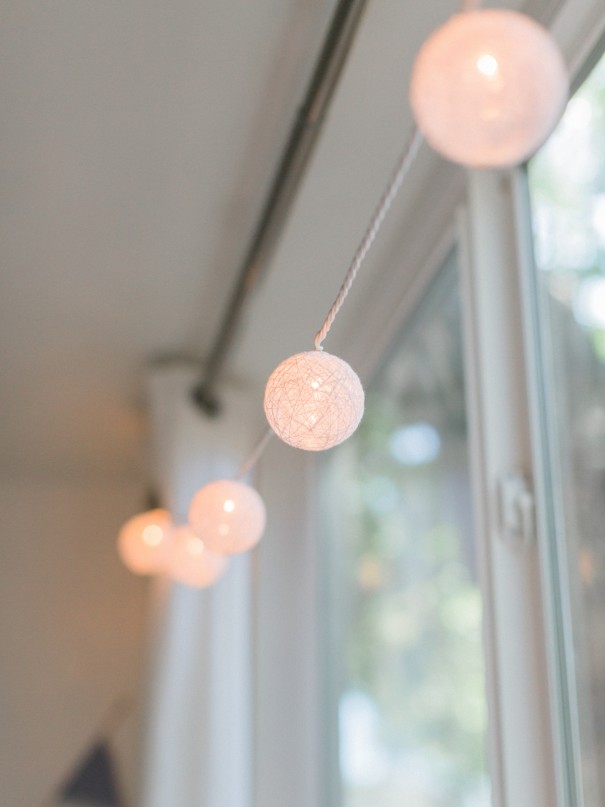 String Lights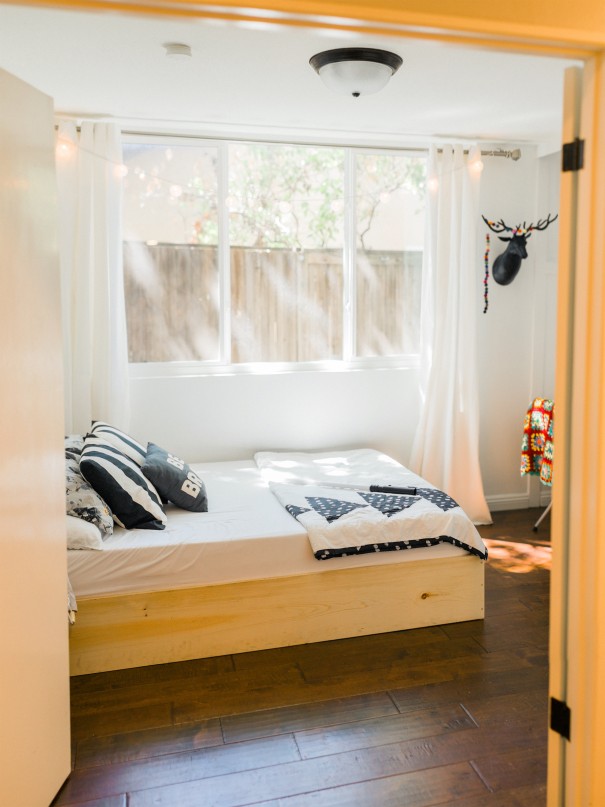 Sawyer is a little guy so his bed needs to be low to the ground.  In fact, the mattress and box spring are right on the ground.  The side of the mattress was making the room look "unfinished" so I found this tutorial and I built this simple bed frame in literally 15 minutes.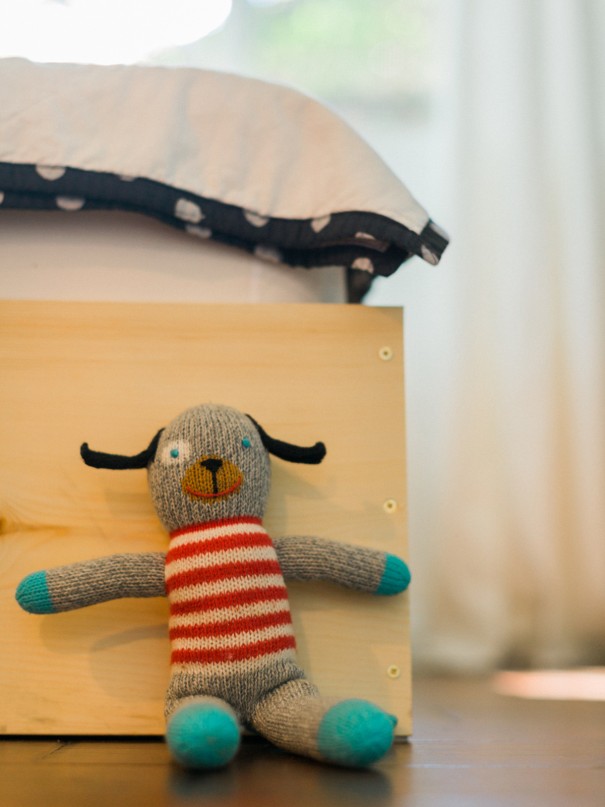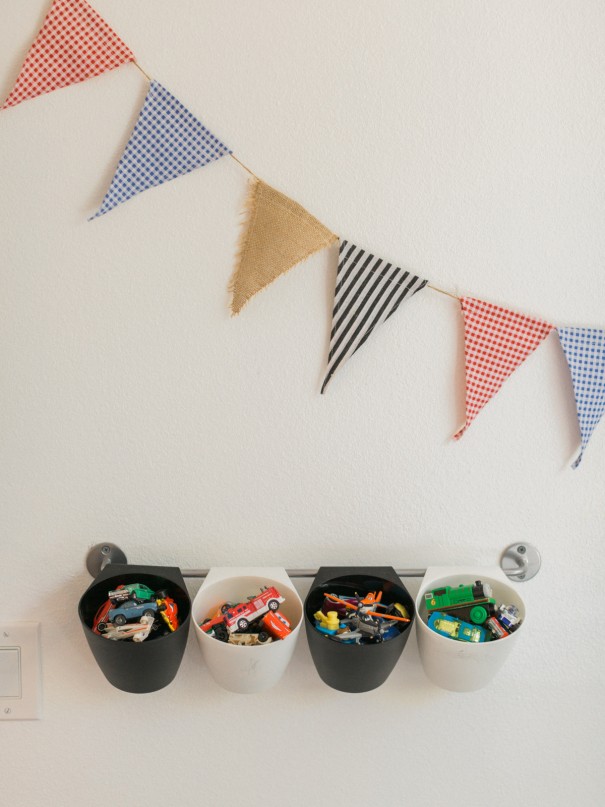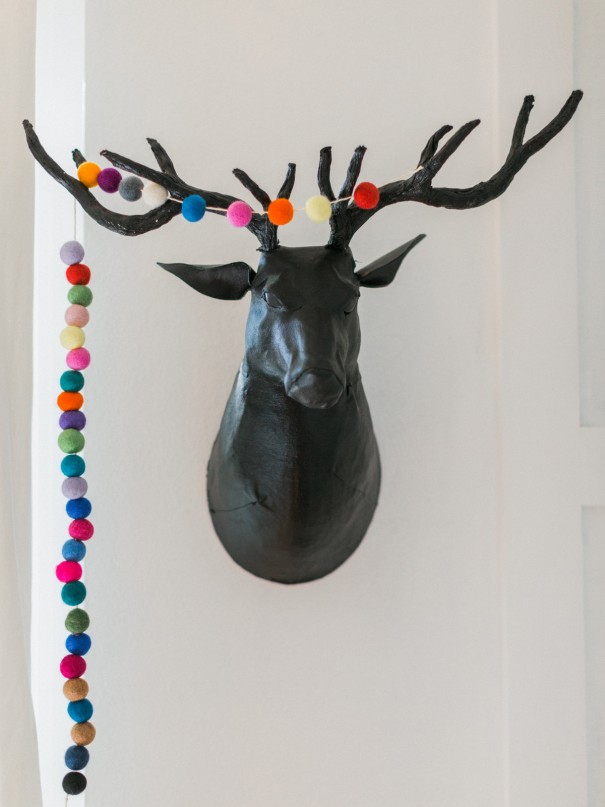 My sweet neighbor was getting rid of this deer bust, so I took it off her hands and gave it a fresh coat of spray paint.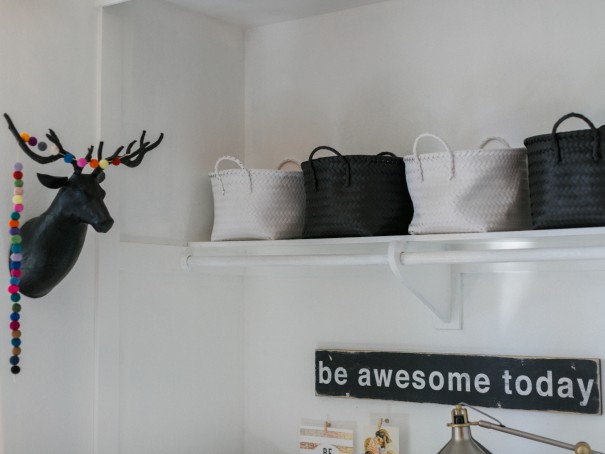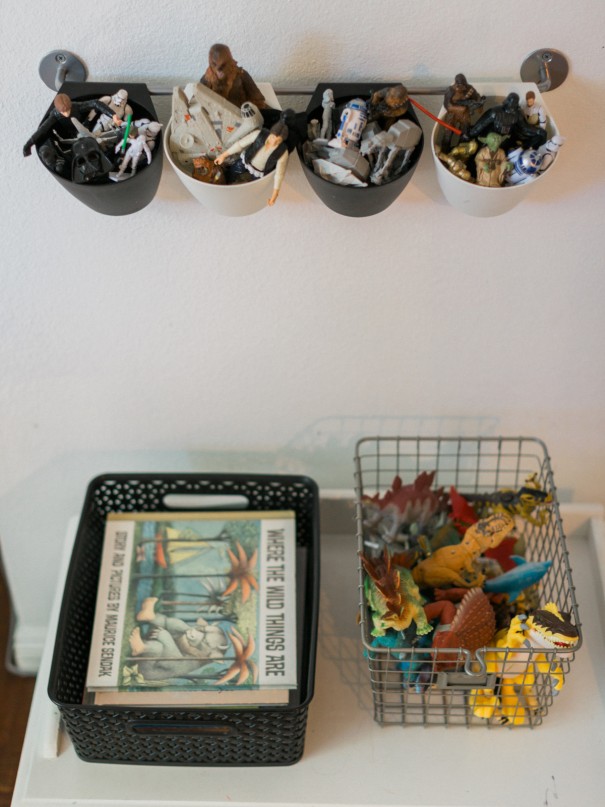 The hanging bins are from Ikea–so perfect for tiny action figures and toy cars.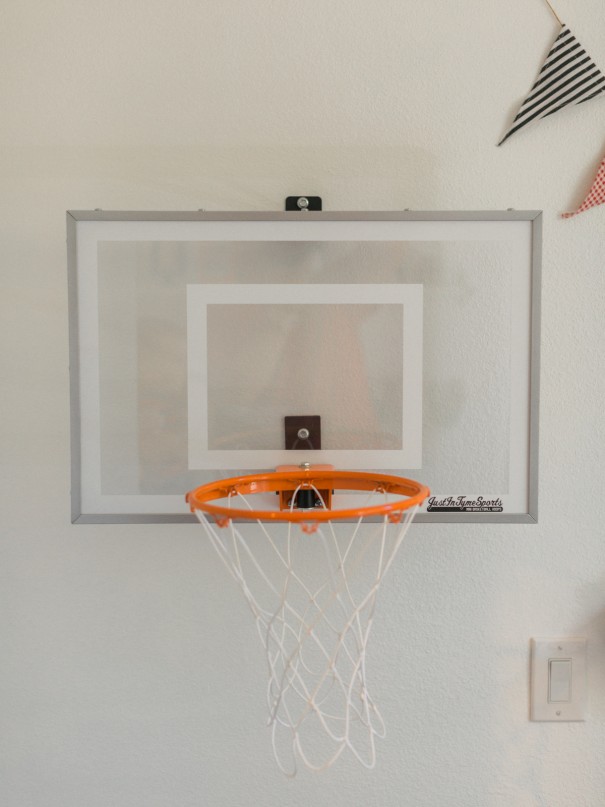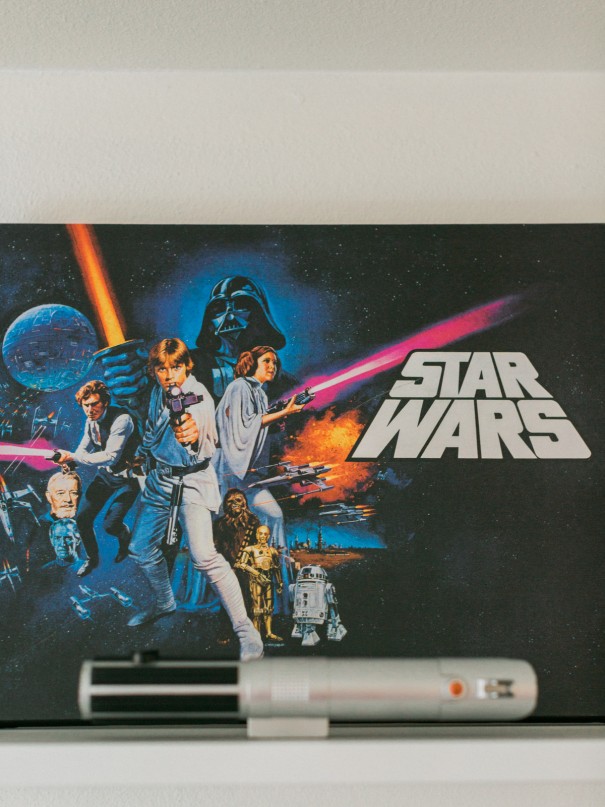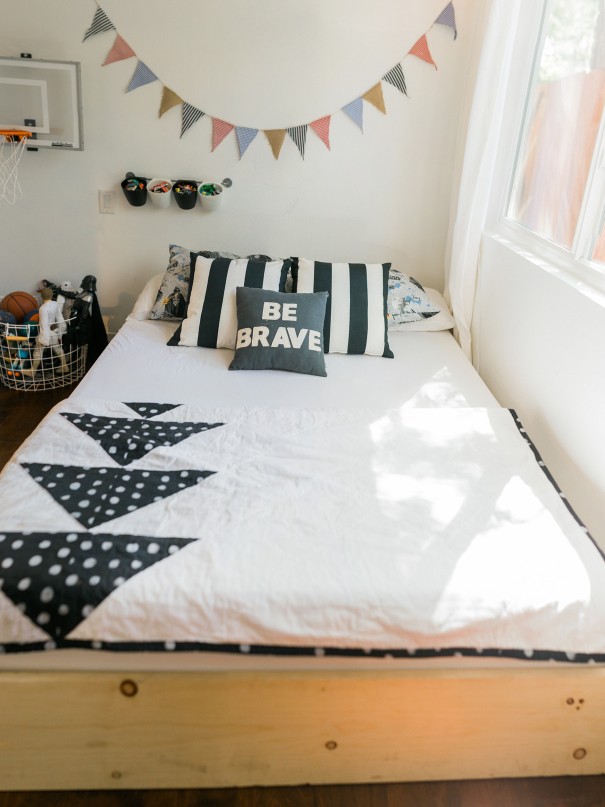 This bedding is reversible (black and white stripes on the other side).
Star Wars sheets found here.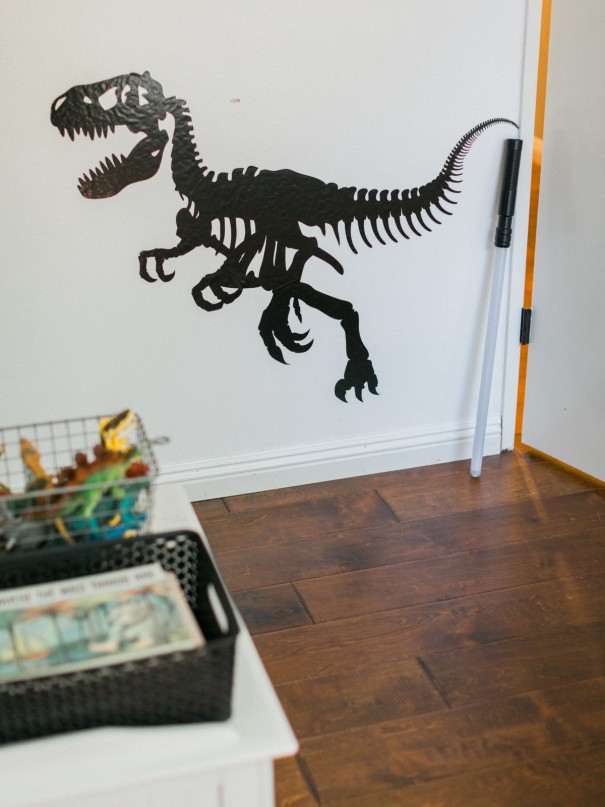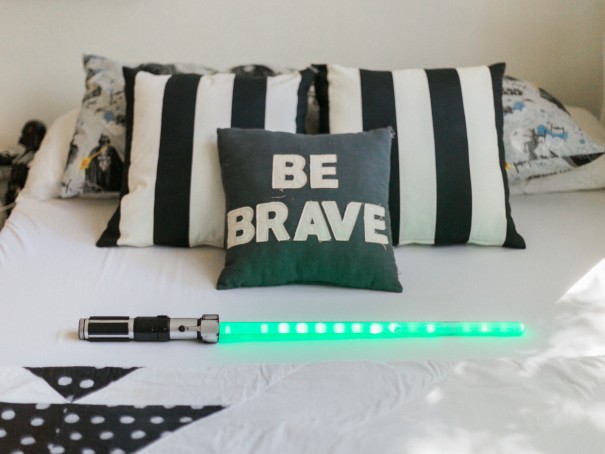 The Be Brave pillow came from the clearance bin at Michaels.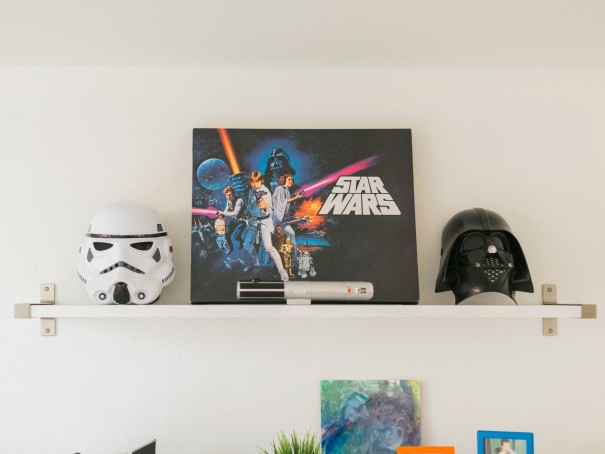 Another BIG thank you to Erik Hokom of AshAndErik.com for photographing
Sawyer's big boy room.
You can find Erik on Instagram: @hokomphotography
And facebook: Hokom Photography