Sawyer's Baby Nursery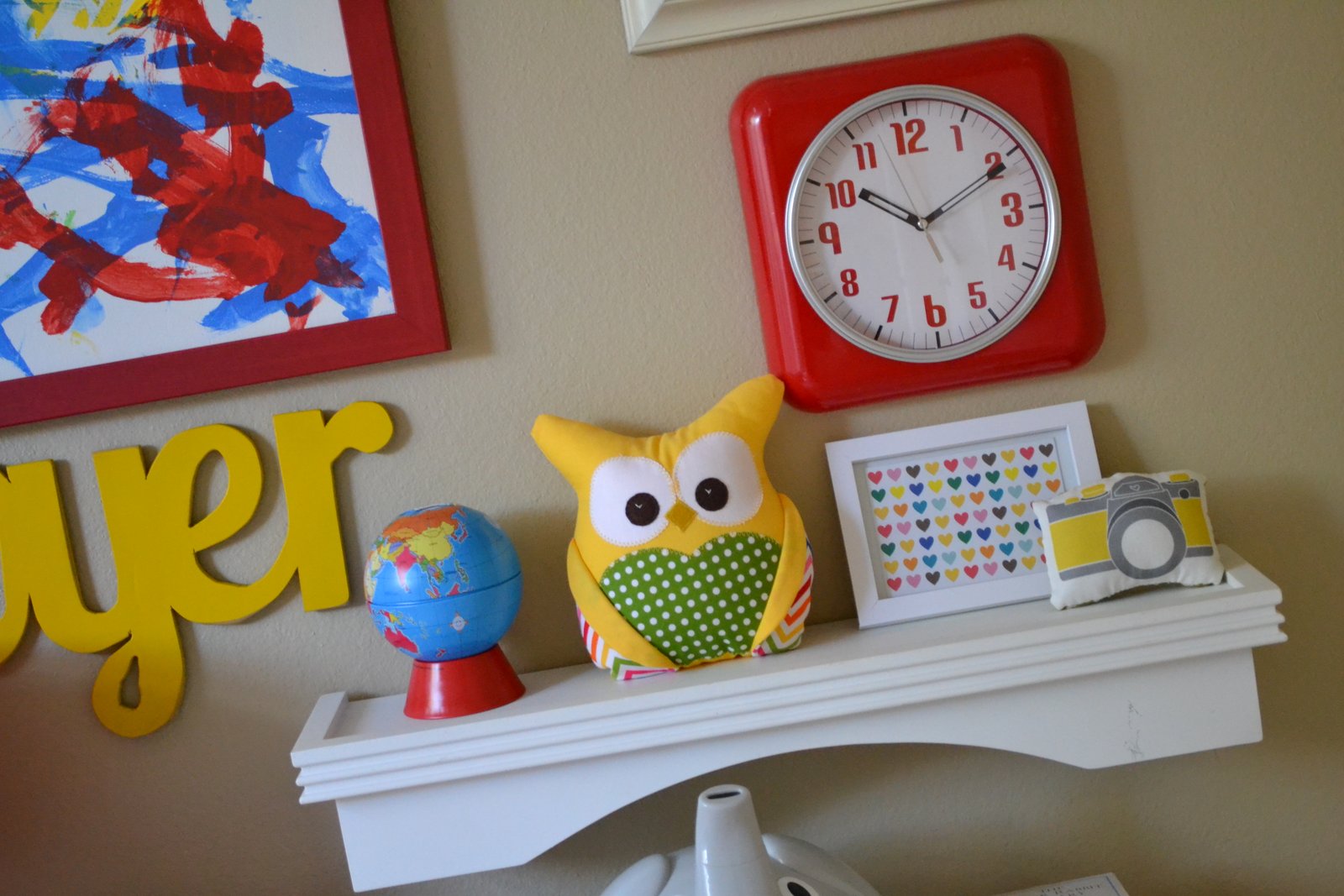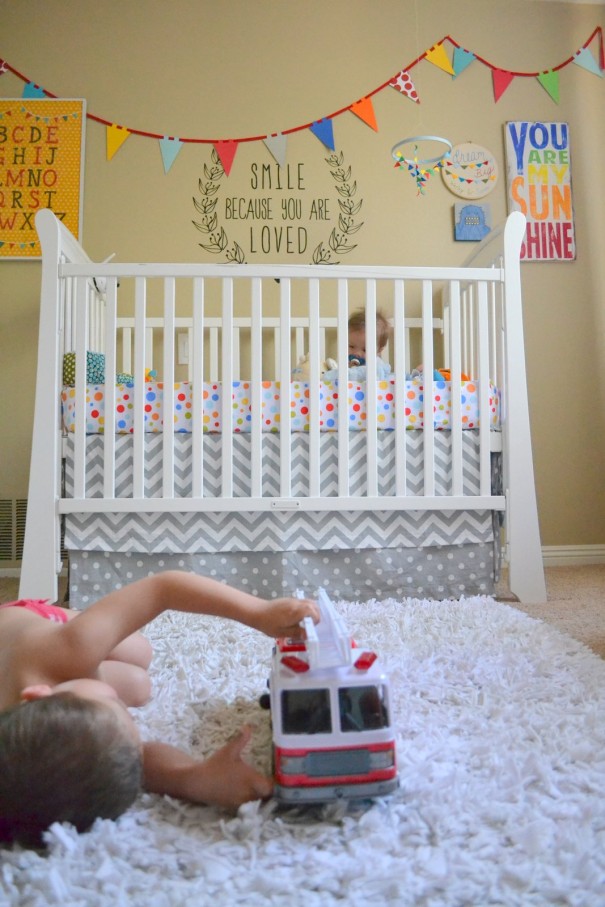 Sawyer's room is a special place for our little family. When we moved into our house just before Christmas, his room was the first and only one to be unpacked and decorated before the holidays.  So it became a refuge of sorts. Our place to hang out. A place that felt like home.  There's no particular theme–just a room full of things that bring happiness.  We love handmade in our home–and we especially love supporting businesses that put their heart and soul into their creations. Perhaps that is why I'm in my happy place in this room–because the majority of what I've used comes from artists that I know and love. Many of you have sent emails asking about particular items, so I've put together a post showing you where everything is from. Let's take a closer look, shall we.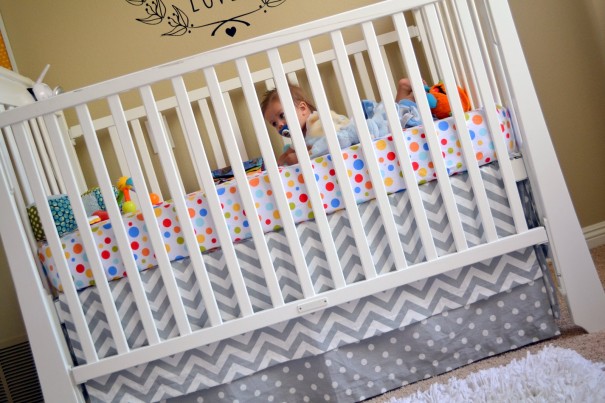 This new crib bedding was all custom designed by Drawstring Studios.  They have a bunch of awesome stuff in their shop, but the best part is that if you don't see exactly what you're looking for you can chose any fabric from anywhere and they will make you a custom order. So when I stumbled on this fun polka dot, primary color fabric by Michael Miller, I knew I had to have it as a crib sheet–they made it happen!  The crib skirt is perhaps my favorite.  It is two tiered, and the bottom tier is removable for when Sawyer grows and I need to lower the mattress.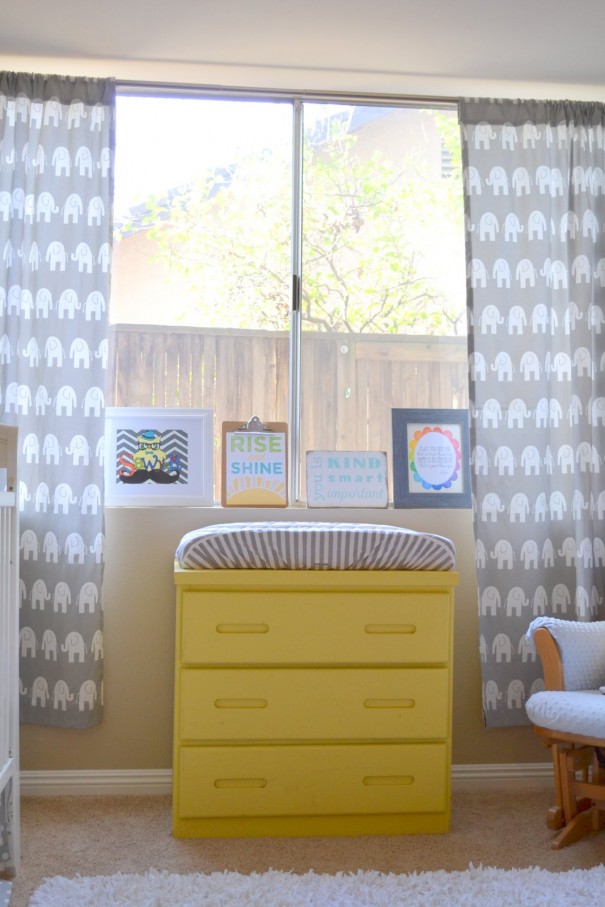 These sweet curtains were also made by Drawstring Studios.  They were designed to reach the ground in my previous house, but the windows are super high in our new home so they are up off the floor a bit.
SPECIAL OFFER: Drawstring Studios will be including one of these super soft, adorable and completely custom t-shirts (or onesies) from La Fille Tees for free with your purchase from their shop. Offer can be used on Curtains (not sale items), Nursery Sets, and/or crib skirts (Shirts up to $18 value). After your purchase, Drawstring will contact you get customization details for your kiddos shirt.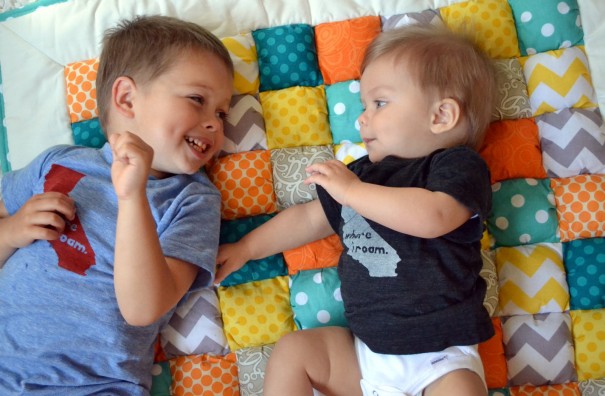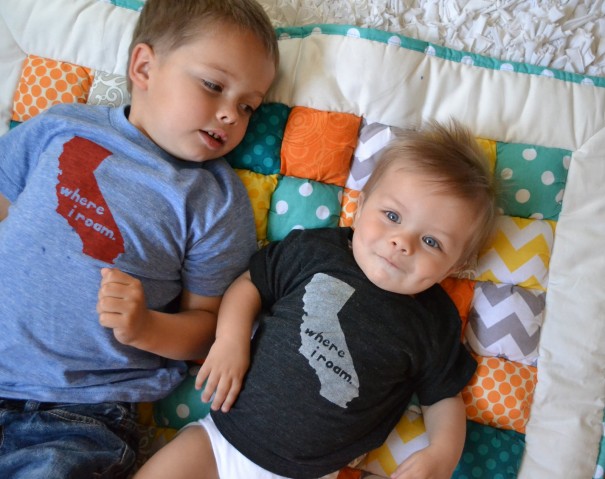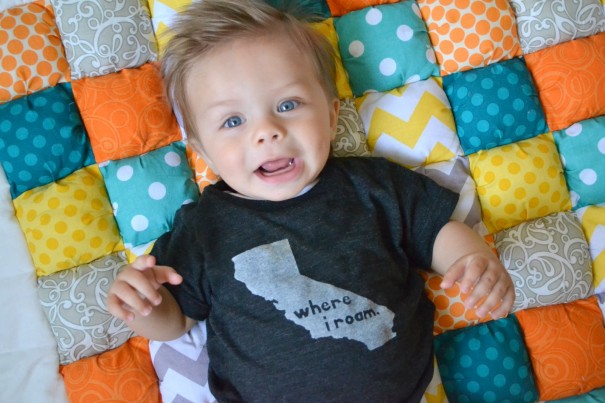 Puff Quilt: c/o Honeybear Lane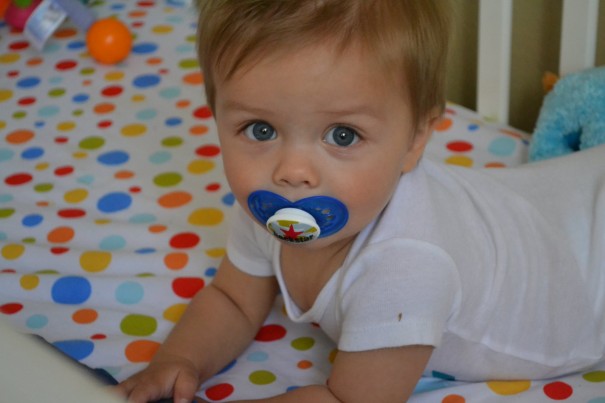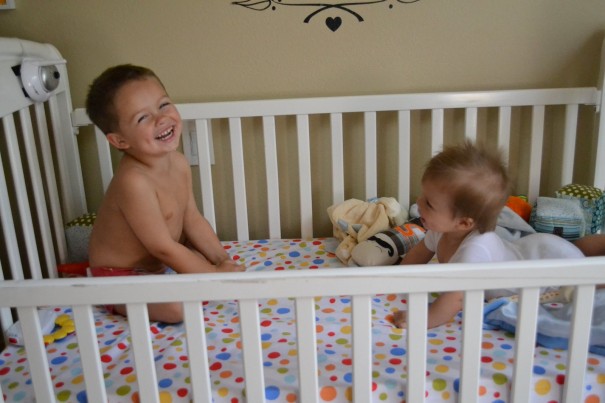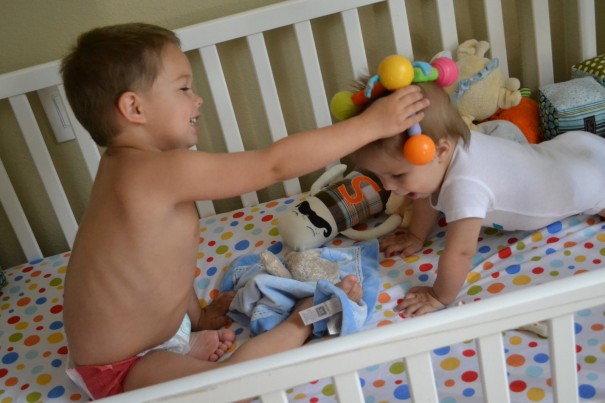 Crib play sessions are a regular occurrence around these parts.  Wesley never liked to be in his crib, and I'm determined to teach sawyer that his crib is a safe, comforting and fun place to be.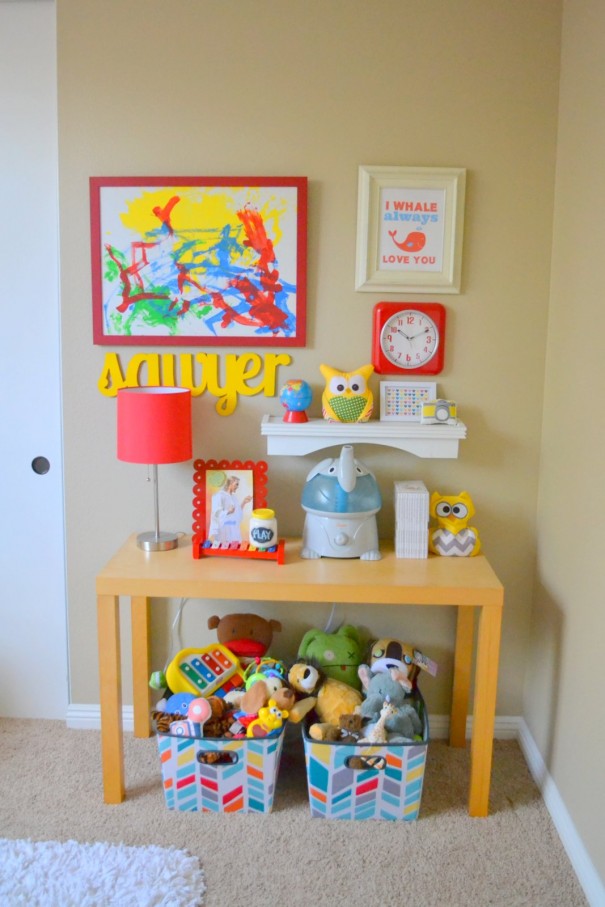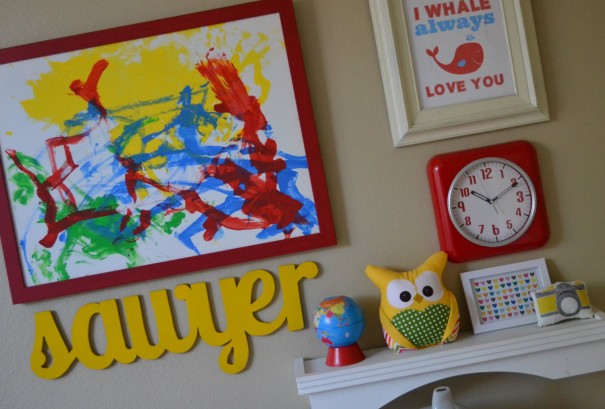 Owl // Globe // Plush Camera // Sawyer Sign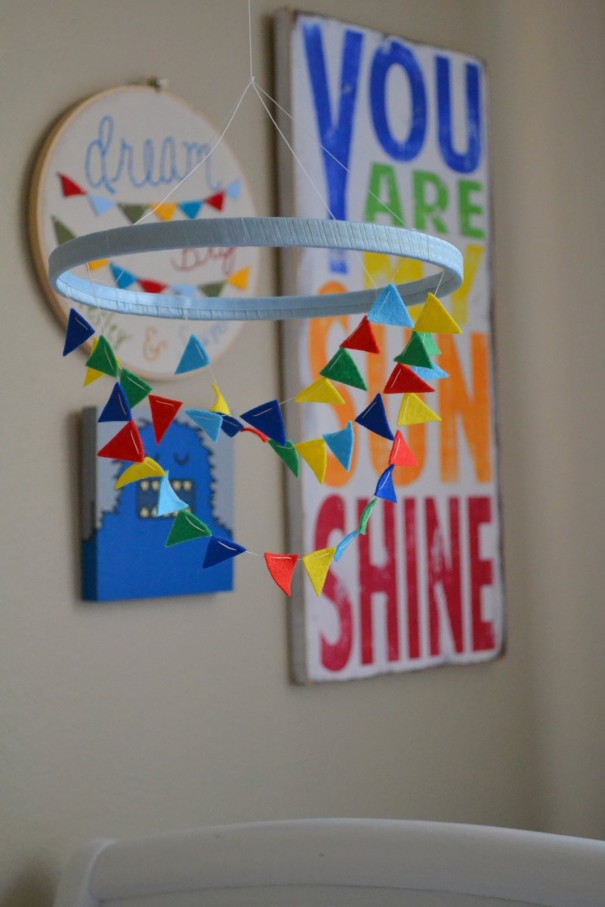 Mobile // Blue Monster // Hoop Art // You Are My Sunshine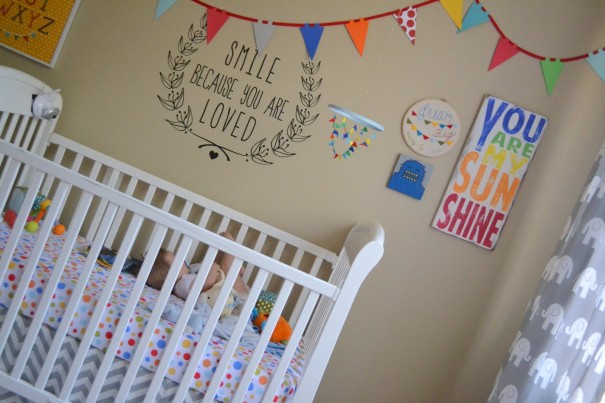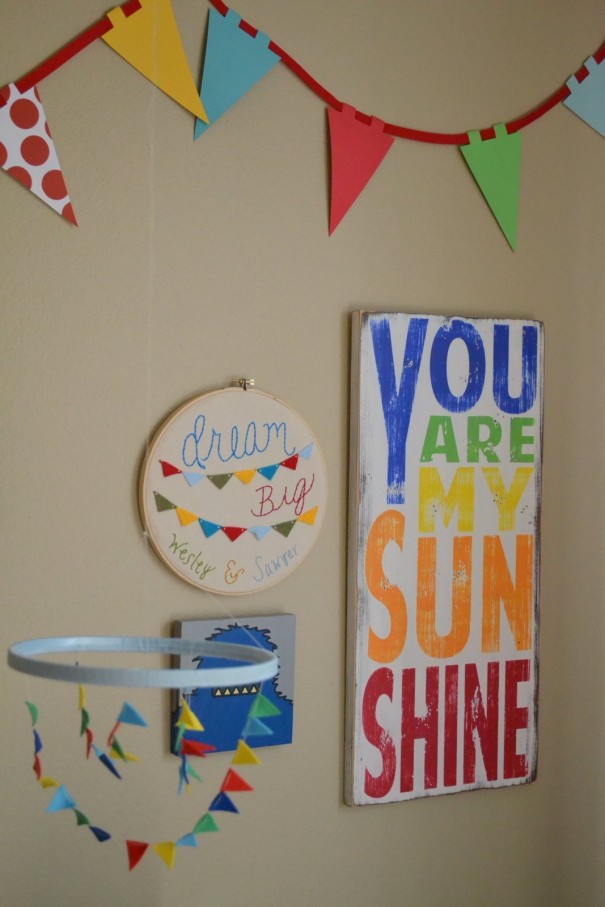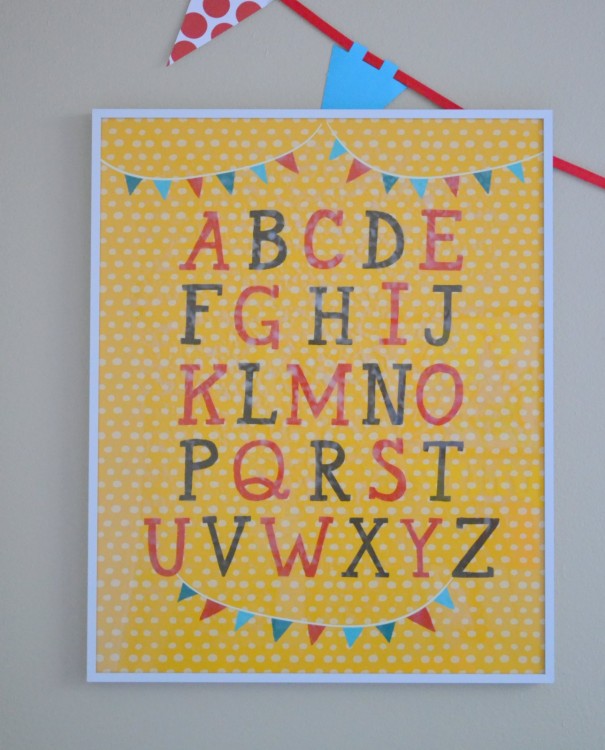 Alphabet Wall Art: c/o Land of Nod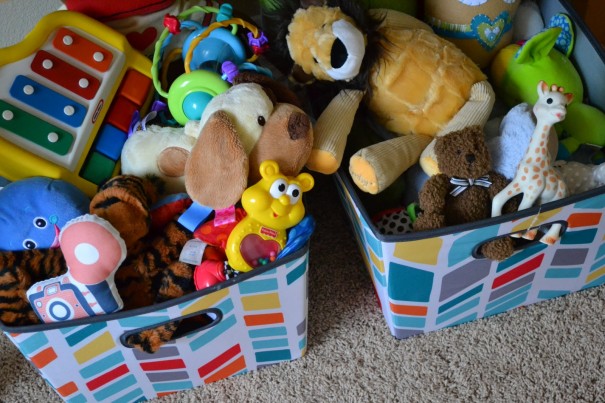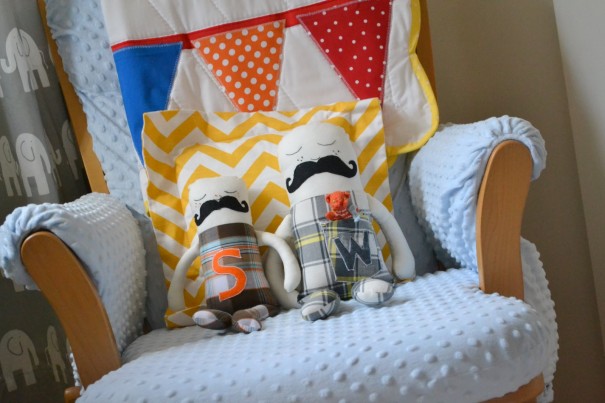 Pillow sewn by my Grandma. Flag Banner quilt sewn by my Mother-in-law.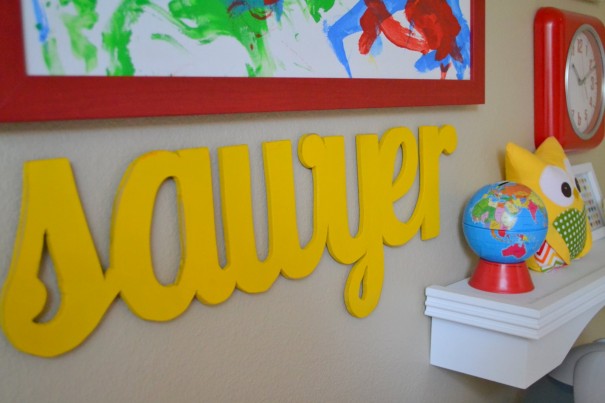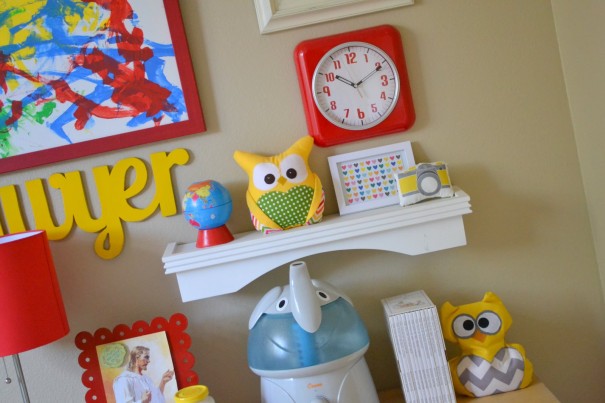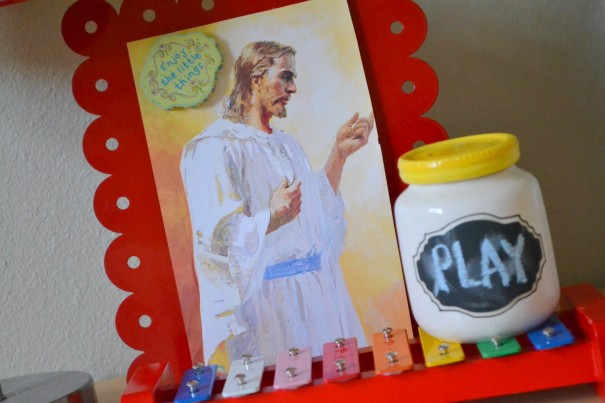 Canister from Anthro.
Bottom Owl Bookend // Camera // Sawyer Chevron Painting // Sophie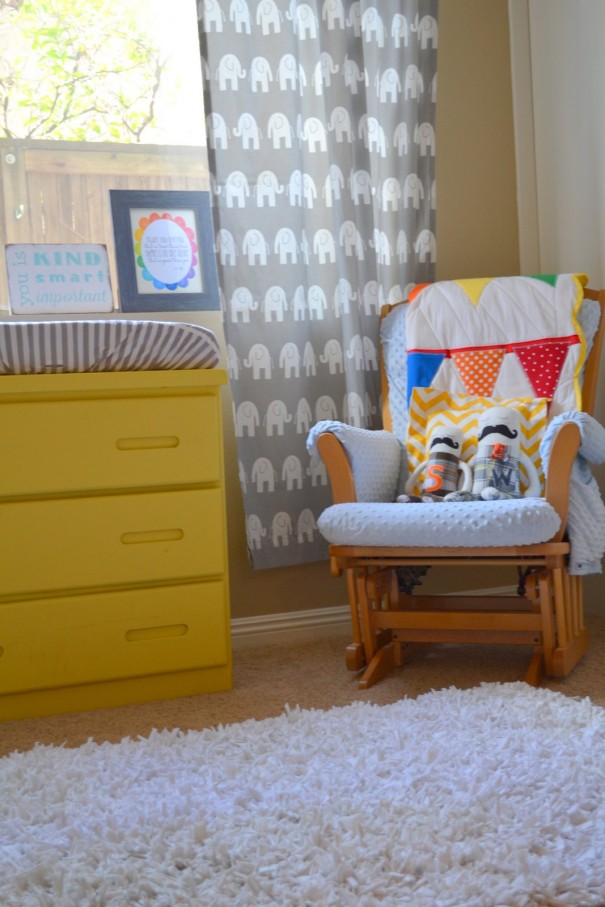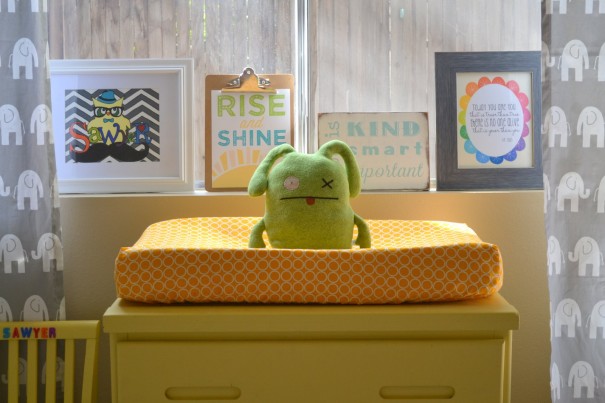 Changing Pad: c/o Drawstring Studios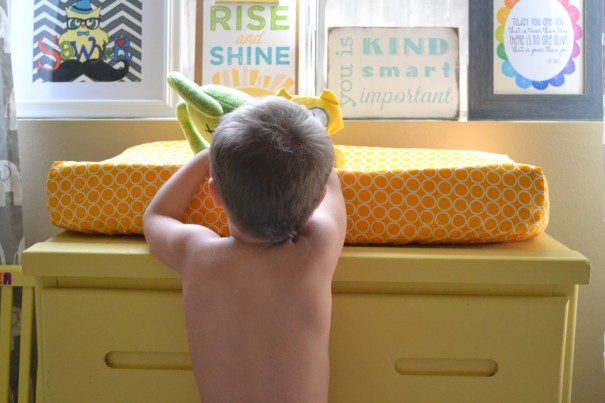 The boys have some items that are my special favorites. Those things they cuddle close or play with every day. Here are some of those things: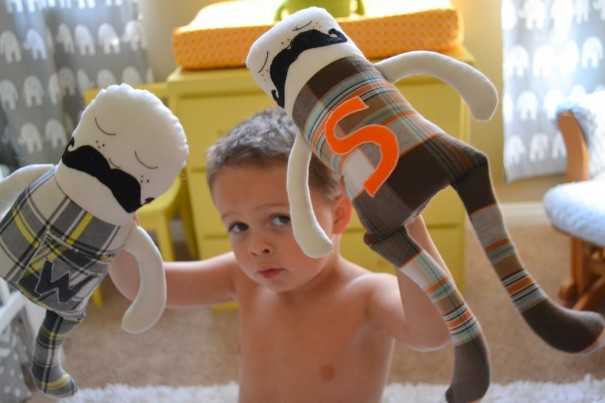 Little Dude Dolls Made from the boys shirts: c/o Aubrey Plays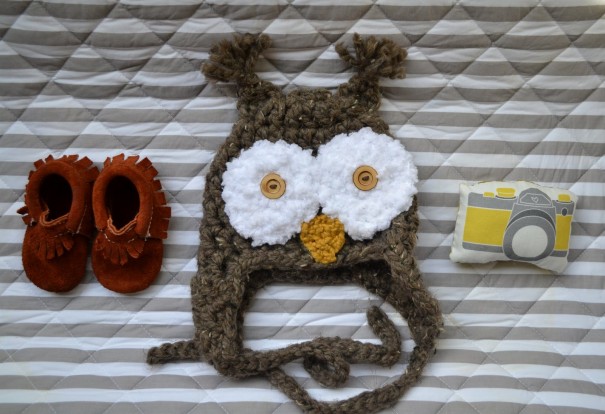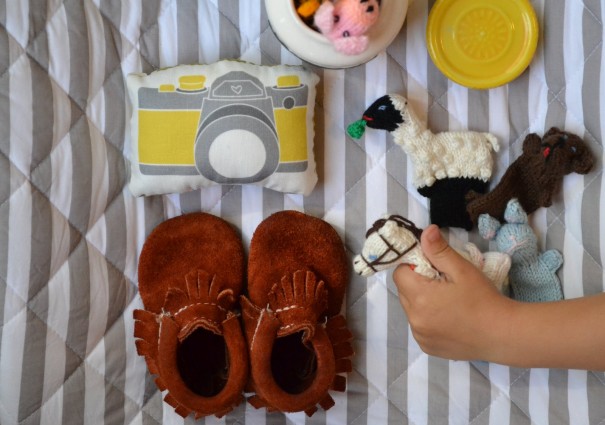 Finger Puppets from Wesley's Grandma Jan–from England.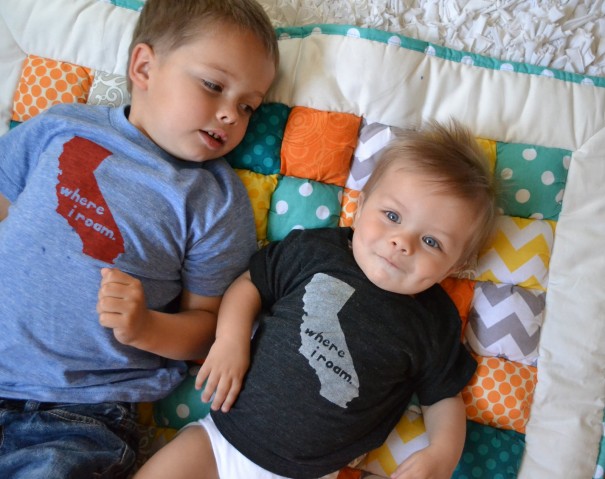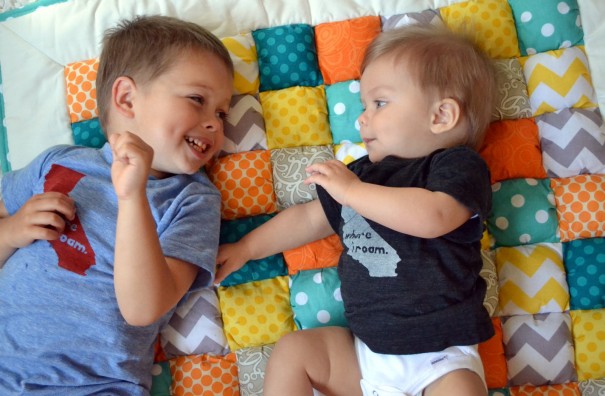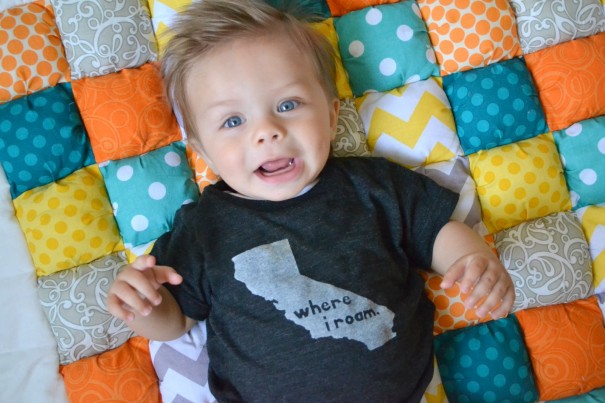 Complete Vendor List: 
Pennant Banner: made using my Silhouette
Large Mustache: cut out of stiff felt by a friend
Crib: Babies R Us
Crib Skirt: c/o Drawstring Studios
Crib Sheet: c/o Drawstring Studios
Elephant Curtains: c/o Drawstring Studio
Orange Changing Pad: c/o Drawstring Studio
Rocker: hand-me-down recovered by my Grandma
Chevron pillow: made by my Grandma
Alphabet Wall Art: c/o Land of Nod
Dream Big Hoop Art: Beautiful Blendings
Changing Table: Garage sale and painted yellow by me
Striped Changing Pad: Land of Nod
Quote Wall Art: Livy Love Designs
Sawyer Owl and Chevron Painted ArtworkS: c/o Myles of Luv
Sawyer Wood Cut Out: c/o Trisha B
Blue Monster Painting: c/o Mod Tots
Globe Bank: Land of Nod
Rug, Red Lamp, Red Clock, Storage Bins: Target
Yellow Kids Chair: Garage sale and I added buttons to spell Sawyer
Puff Quilt: c/o Honeybear Lane
Mobile: c/o Mia's Ukulele
Large Wall Decal over crib: c/o Wallums (use code: littlemissmomma to get 15% off for a limited time)
I am so grateful to all the sweet people who sent me goodies for Sawyers room.
They bring smiles every day!
____________________________
If you are interested in having your product featured on LMM, get details on the Ultimate Awesome Ad Space here (only 3 spots left).