Whatever Craft Weekend Part 1: The House, Swag & Crafts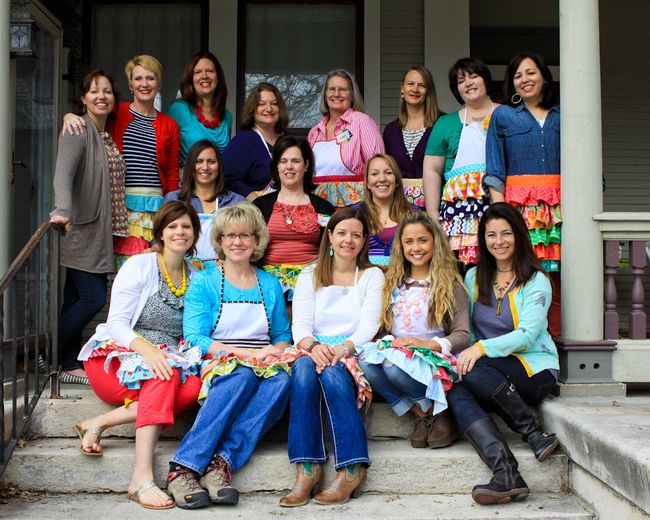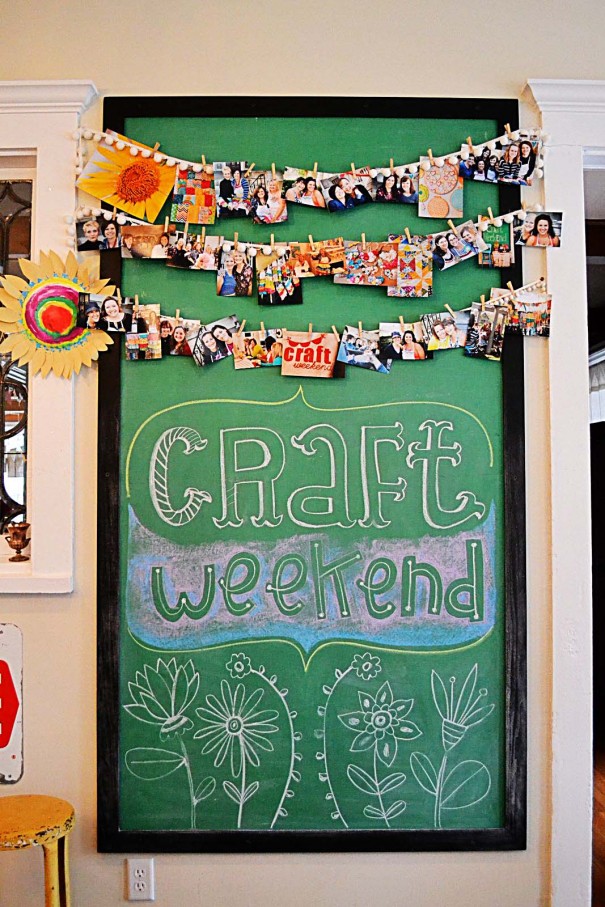 You guys, I don't even have words to describe this past weekend that I spent in Kansas at the Whatever Craft Weekend. I've attended many "events" and "activities" in my day, but this…THIS has been hands down my best experience yet.  Not a single detail was missed.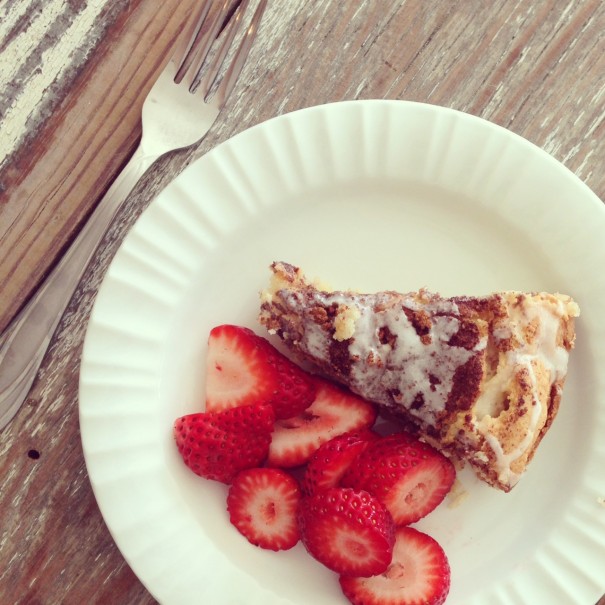 We enjoyed several yummy-beyond-words meals made with love by this girl and were encouraged to embrace our creativity through several inspiring crafts by this girl. We were pampered to say the least (we weren't even allowed to put our dirty dishes in the sink!). Best of all, we were amongst friends–many of whom had been strangers only days earlier.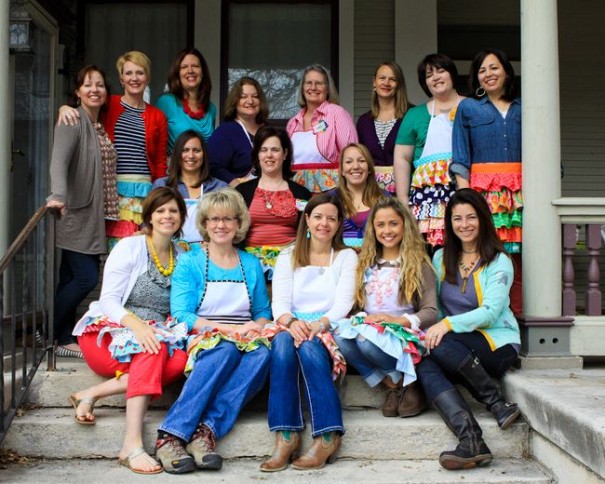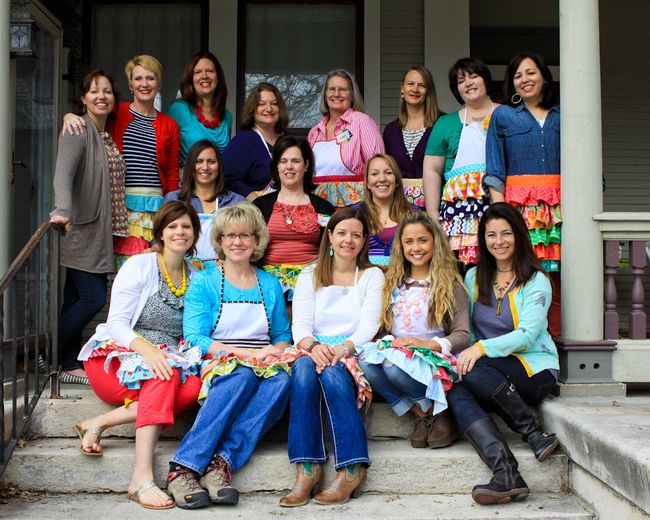 Group Photo Cred to Meg.
I was lucky enough to be able to fly out with my dear friend Mique.  We arrived in Kansas (never thought I'd type those words) on Friday afternoon, were greeted by Meg at the airport, and drove to what would quickly become the most charming and inspiring home I have ever set foot in.  The Craft House–oooohhh, ahhhh.  For more photos of the craft house, check out this post. It was a bit overwhelming as I walked from room to room gawking over all the happiness.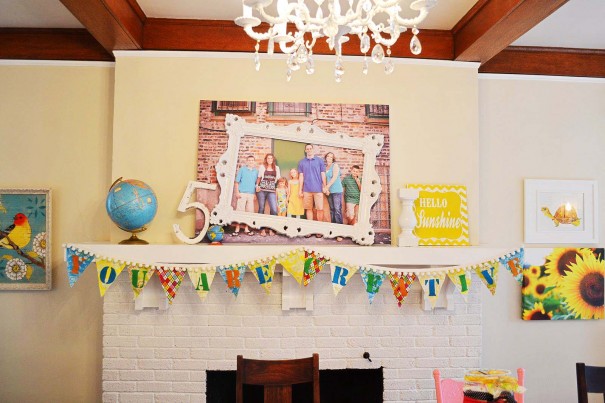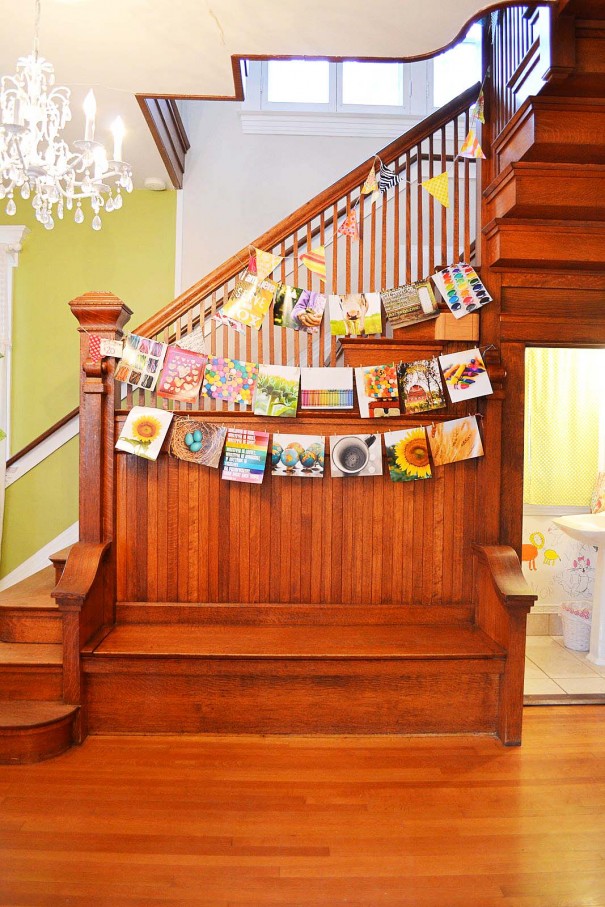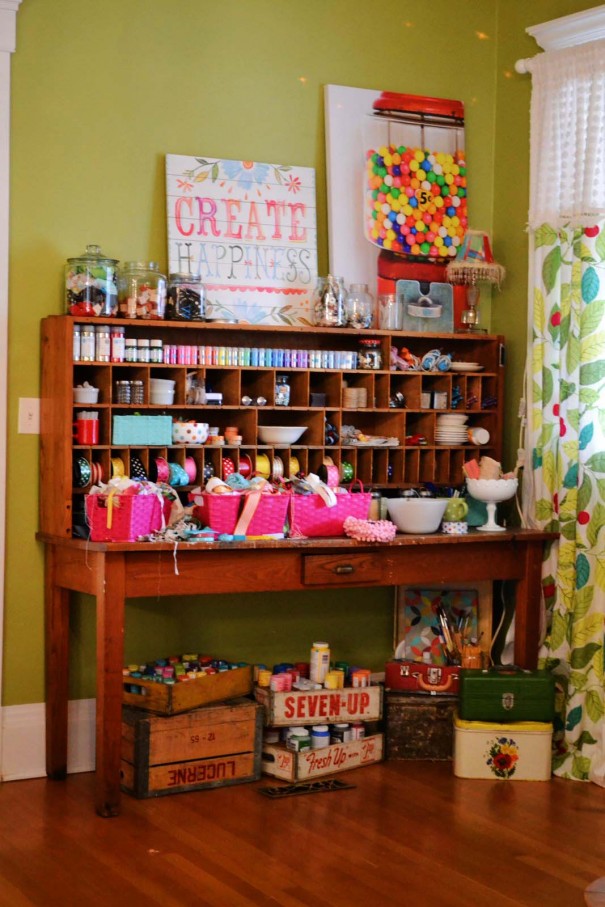 That awesome gum ball canvas is available in Meg's shop–in case you adore it as much as I do.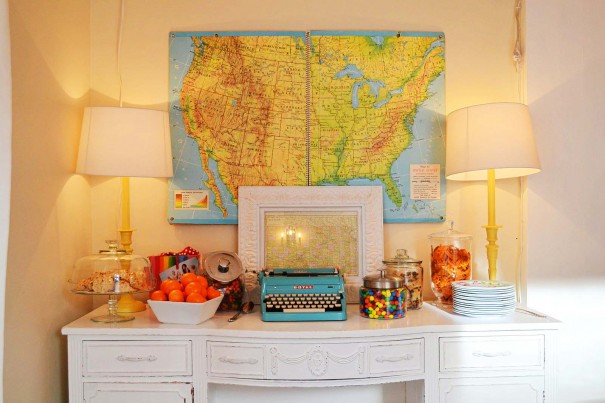 Some midnight snacks. Craft fuel food.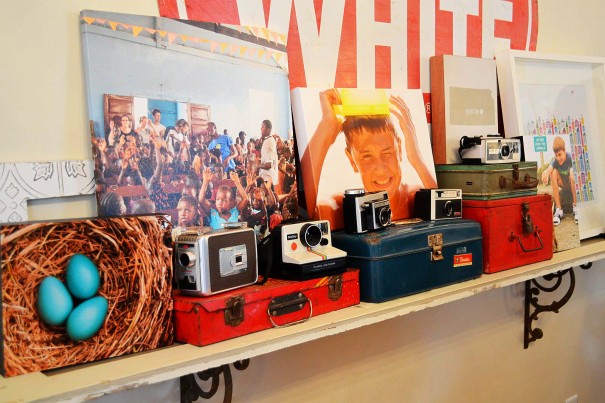 With every turn there was something new to be discovered.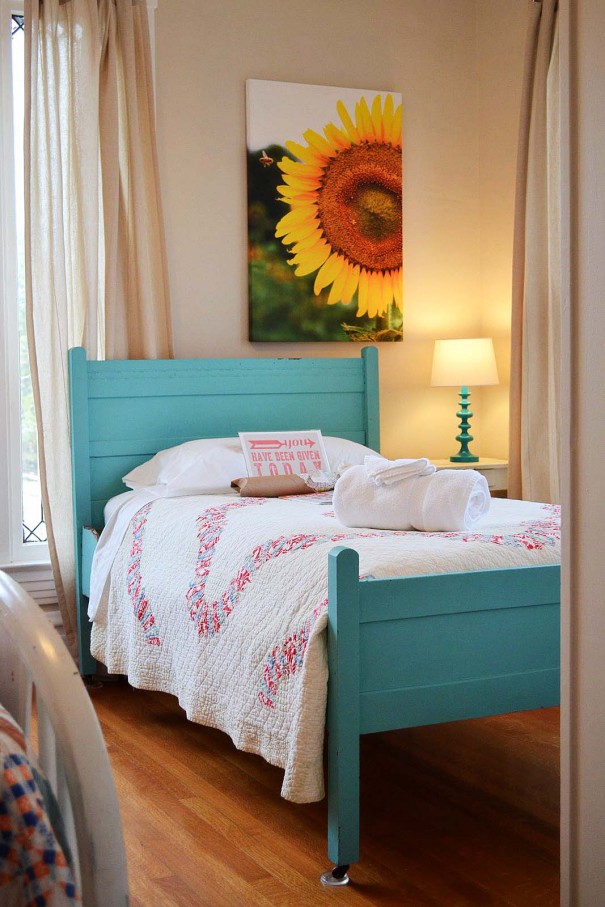 This sunflower canvas is also in Meg's shop.
Notice that little bee to the left of the flower–perfection.
After checking everything out downstairs, we ran up to see where we would be sleeping.  I had no idea it could only get better. Here was the room I stayed in with my pals: Mique, Kristi and Heather. We giggled every night until 3 am…yep, 3 am.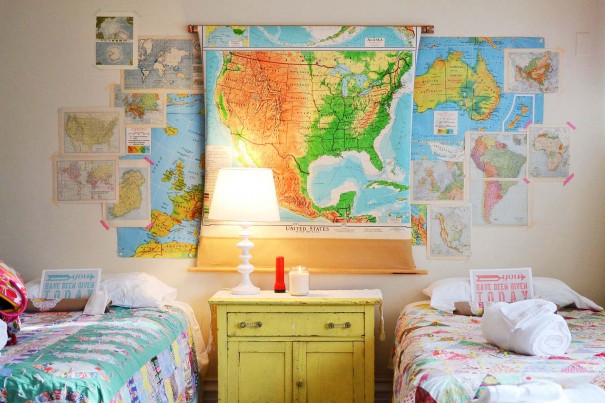 Every bed had a vintage quilt and there was the best swag waiting on our pillows.   I get giddy just re-living these moments as I type. Details on all the swag will be posted on Meg's blog–but I can vouch that it was all awesome.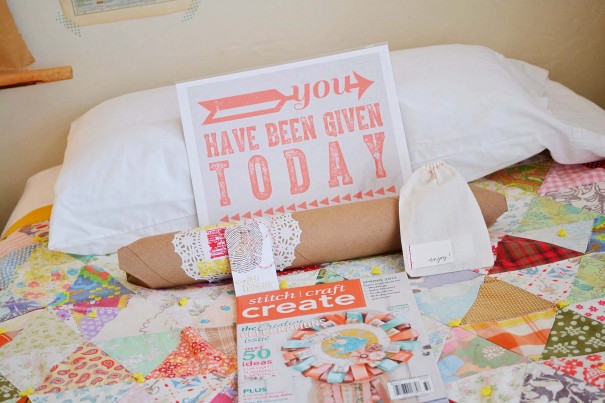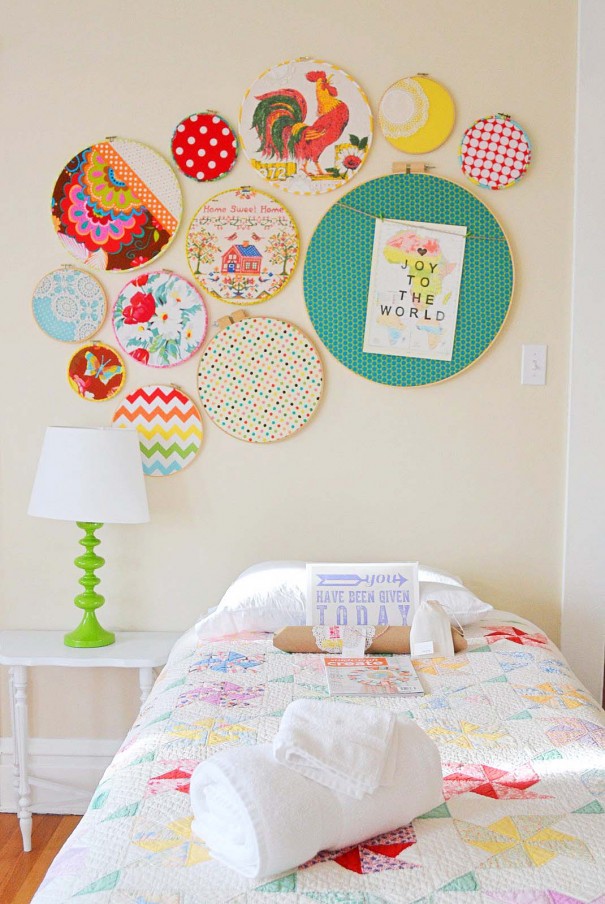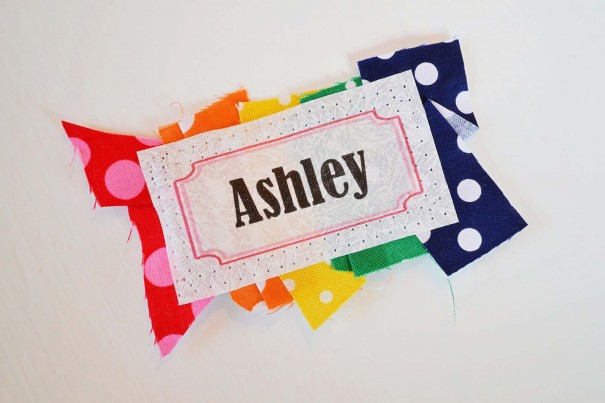 My name tag was waiting for me at my designated craft area downstairs.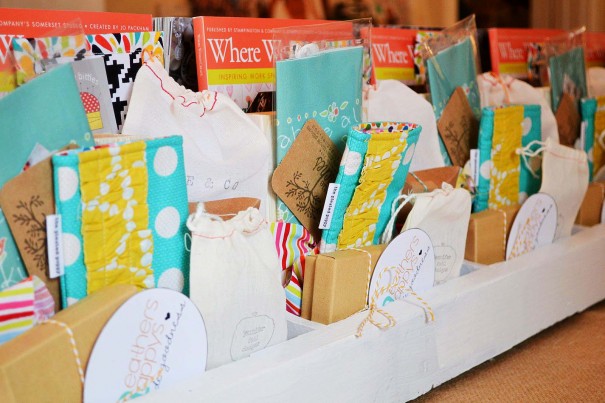 And there was even MORE swag waiting for us in the craft area.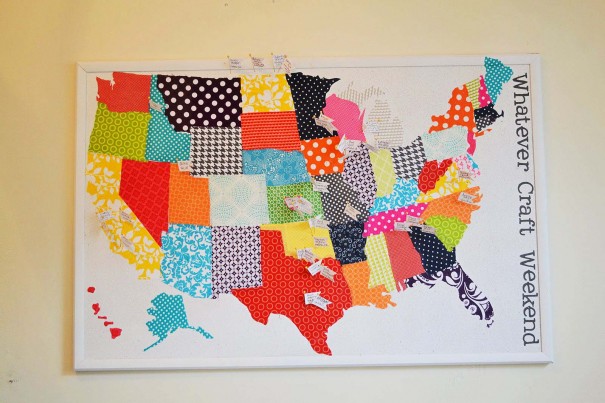 This sweet map shows where all the past attendees have traveled from. I'm so bummed that I forgot to add my own flag.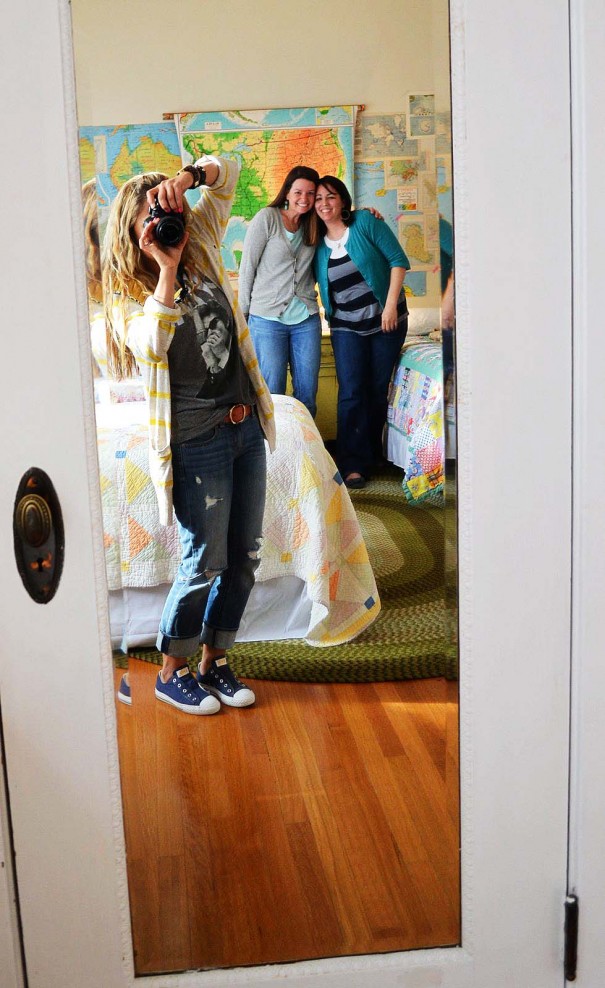 Day One: airport and apron day.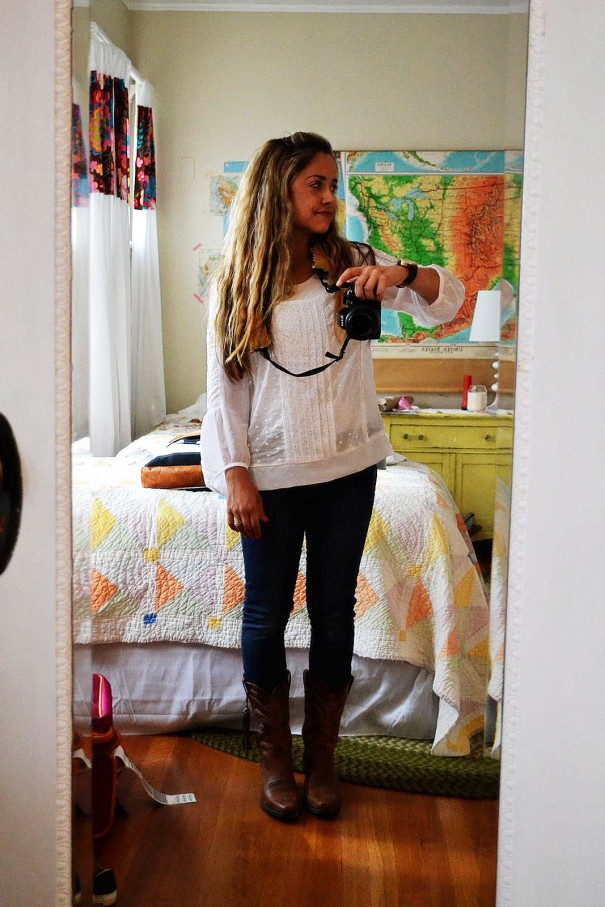 Day Two: antiquing, barn sale and crafting day.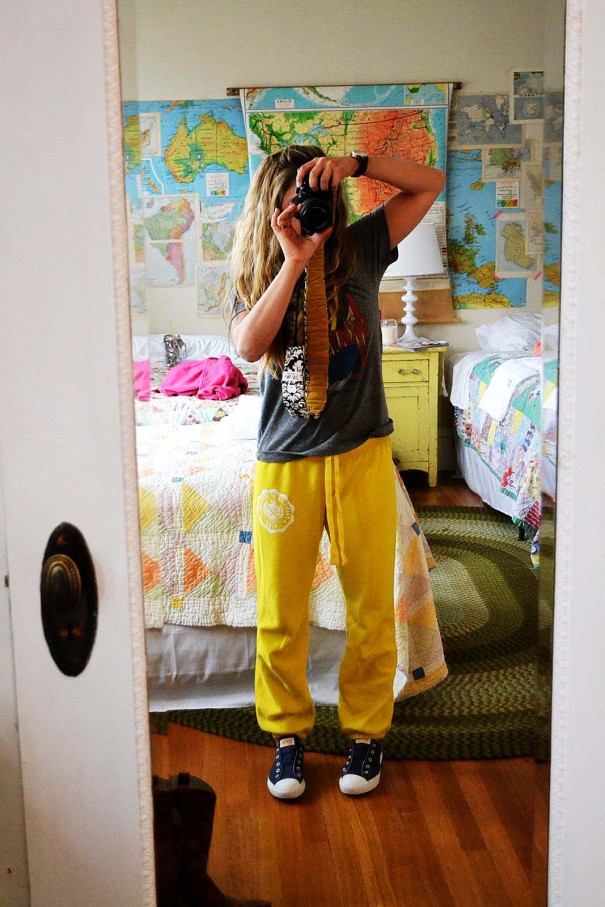 Everyday: sweatpants and wolverine shirt day (my crafting attire). Comfiness encouraged in the craft house.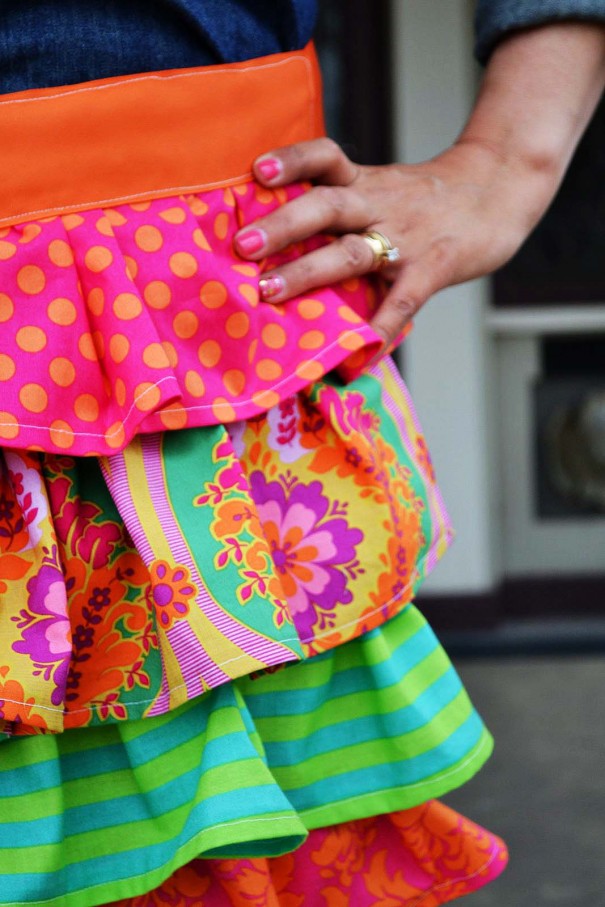 The first night is spent making the infamous ruffle apron.  Above is Miques–it's incredible, like her!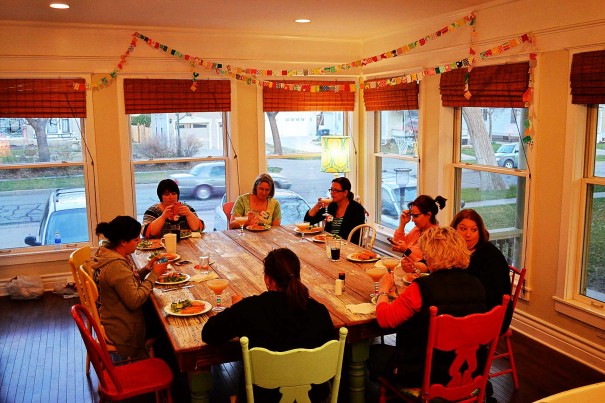 This is a closer look at the massive, stunning, barnwood kitchen table where we ate our meals.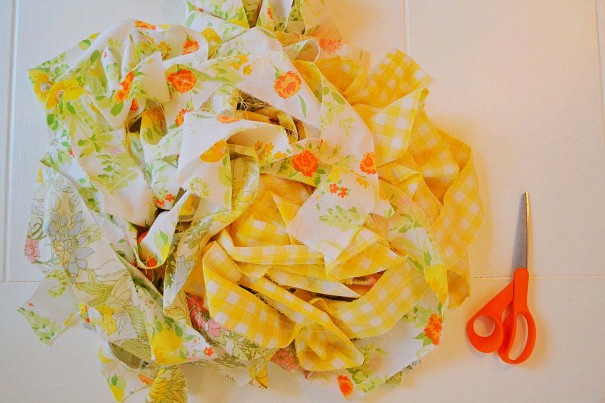 And here are the beginnings of a creation I made for my bedroom out of vintage sheets.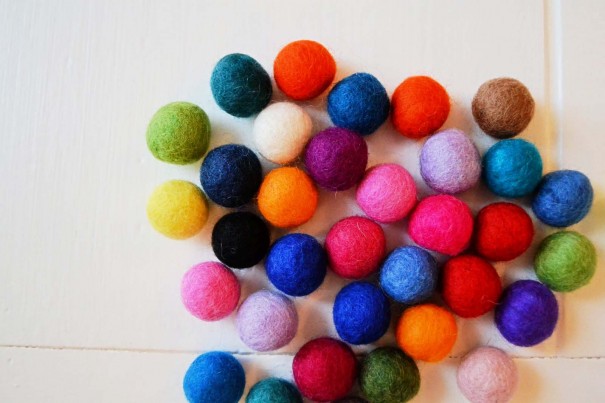 I made a fun garland for my fireplace with these felt balls from Felt Foxes.
There were many more crafts, I was just too in the "craft-zone" to remember to take pictures.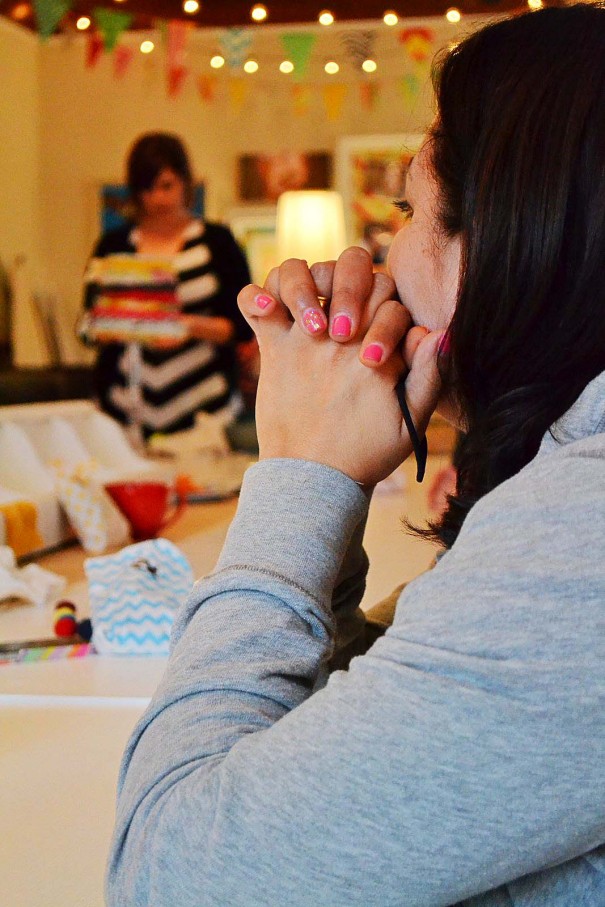 Mique watching Meg teach us how to make a flower from old tee-shirts.
On the last day we all put on our aprons and took pictures before the treck home, sigh…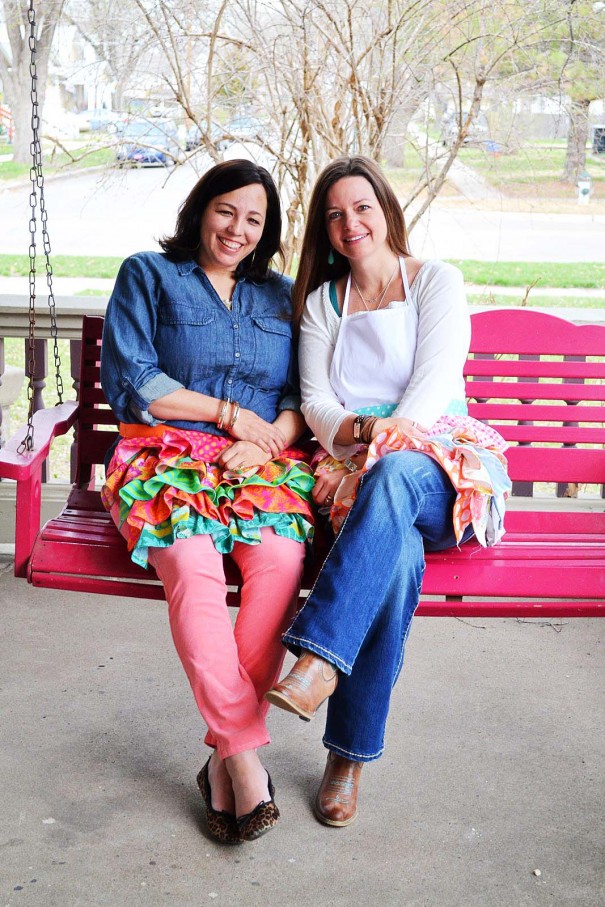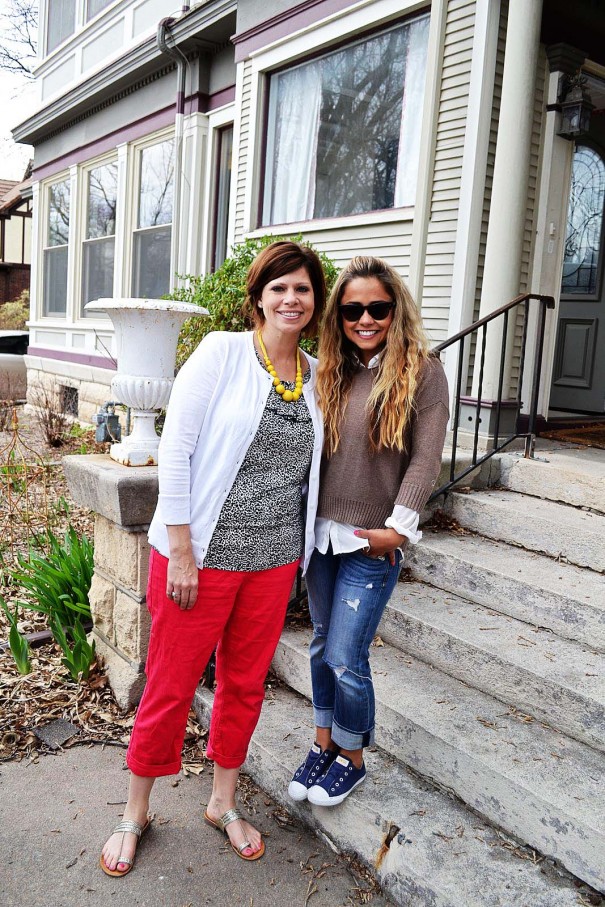 Meg, Me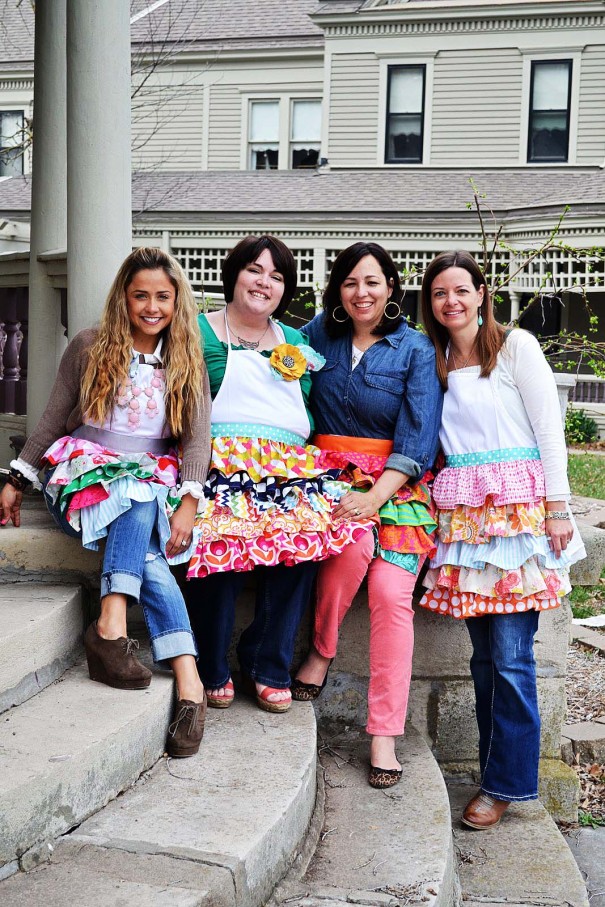 The roomies: Heather of Whipperberry, Mique of Thirty Handmade Days, Kristi of Barn Owl Primitives.
I know y'all have heard me gush about Mique's blog and Kristi's shop–but I've got to tell you that you will be equally impressed with Heather–her blog is bananas.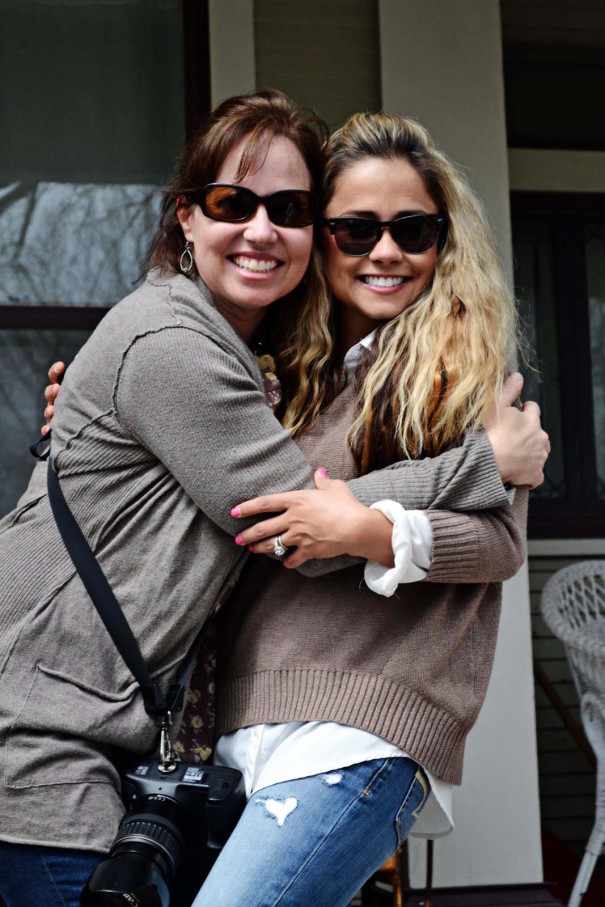 Pam Garrison, Me.
This gal, Pam…let's just say she inspired me.  Her motto: embrace the imperfections of our creative process.  Her crafting philosophy is also a life philosophy–and I love that.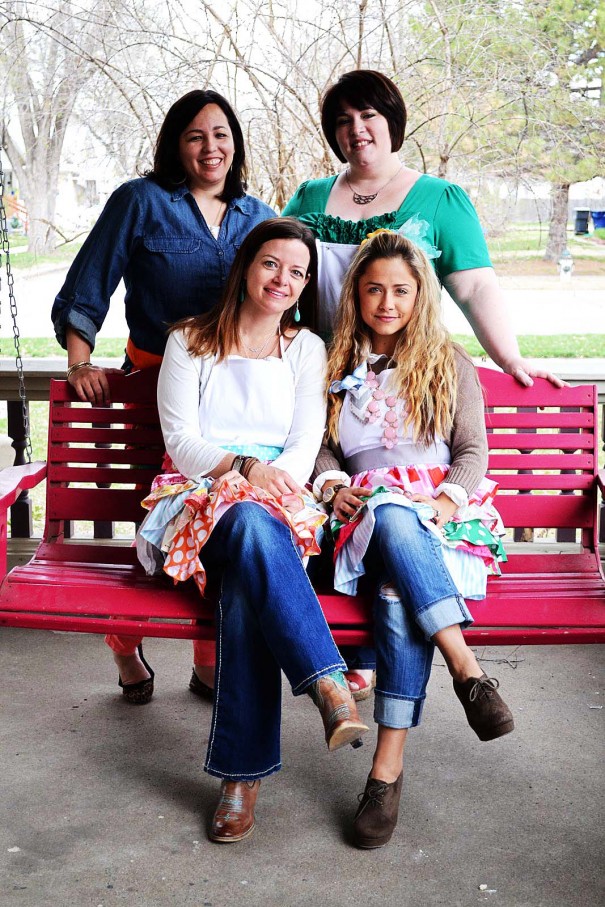 More roomie pics.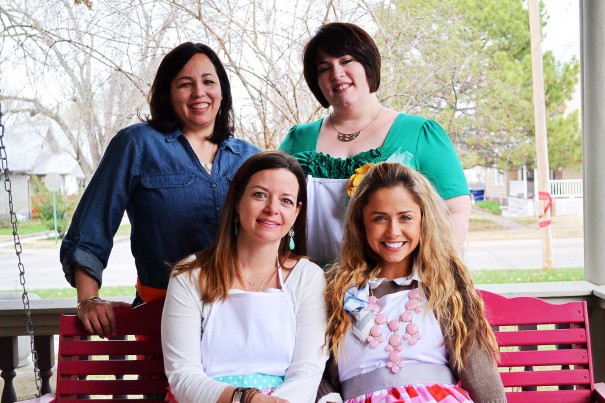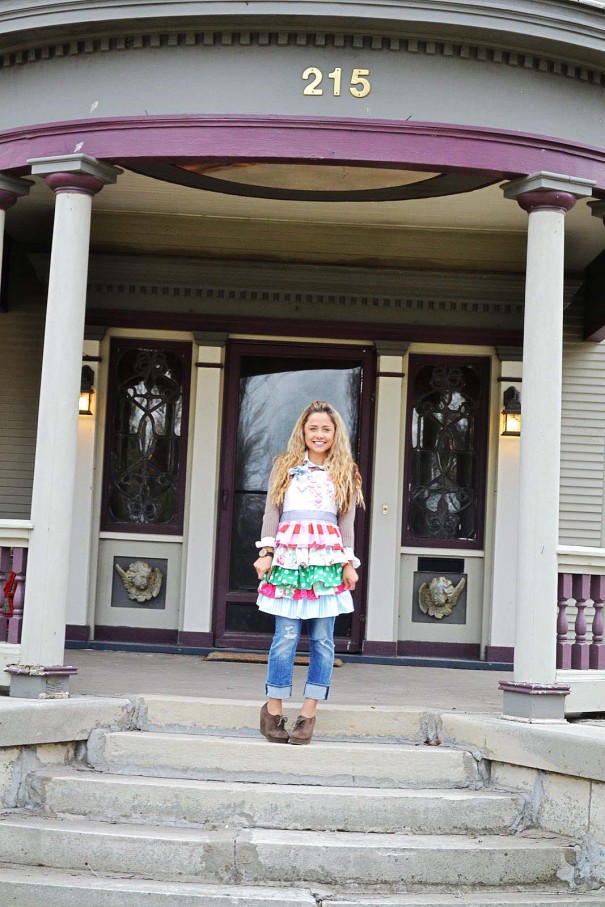 And a closer look at my ruffle apron, out front of the craft house.
Stay tuned for Part Two–the post about our Barn Sale, trip to a dairy farm and an antiquing outing.
A BIG BIG thank you to my pal Kristi for giving me this opportunity–meeting you in person was just what my life needed. Now move to Cali will ya?!