Wellness Kitchen: BEST Chicken Tortilla Soup Recipe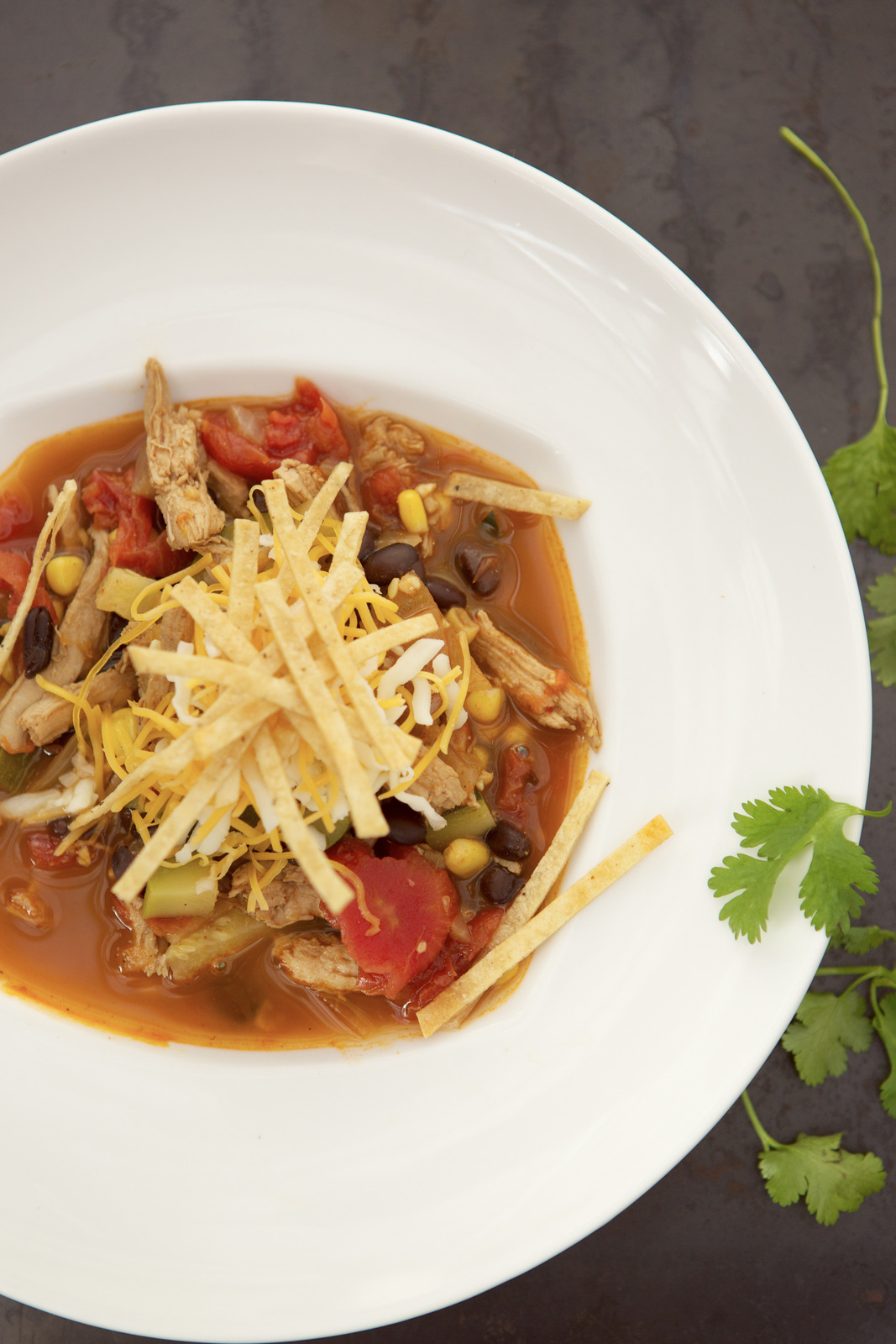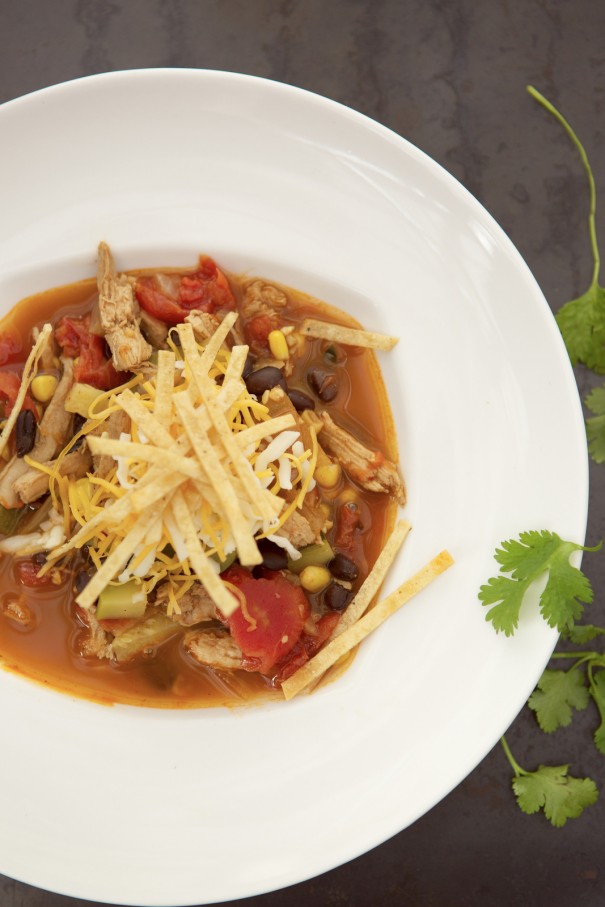 BEST Chicken Tortilla Soup Recipe
The BEST chicken tortilla soup recipe by Paulette Lambert and the Wellness Kitchen at the Four Seasons in Westlake Village.
Author:
Paulette Lambert, RD, CDE
Ingredients
2 boneless, skinless chicken breasts, cut in half
6 cups organic, reduced-sodium, fat-free chicken broth
1 tablespoon olive oil
1 medium red onion, diced
1 tablespoon minced garlic
2 teaspoons ground cumin
2 tablespoons ground chili powder
1½ cups frozen corn kernels
1 (15 ounce) can Mexican style chopped tomatoes
2 (15 ounce) cans black beans, rinsed and drained
4 organic corn tortillas
olive oil cooking spray
sea salt
2 medium zucchini, cut into ¼" dice
2 tablespoons chopped fresh cilantro
½ cup shredded low-fat jack cheese
Instructions
Preheat oven to 400 degrees.
To poach chicken; place chicken breast in saucepan, cover with 2 cups chicken broth, and place over medium heat until just boiling. Turn heat down to simmer and simmer for 10 minutes. Remove and place on cutting board to cool. Slice or shred into bite-sized pieces. Reserve poaching liquid.
Meanwhile, in large soup pot, heat olive oil. Add onion, garlic, cumin, and chili powder. Saute until onions are soft (add 1-2 tablespoons water if necessary).
Add the poaching liquid plus the remaining 3 cups of broth, corn, tomatoes, and beans. Bring to a boil, then reduce to a simmer for 5 minutes.
Meanwhile, stack tortillas together and slice in ¼" thin strips. Place in a single layer on a baking sheet. Lightly coat with cooling spray. Season lightly with salt. Bake for 8-10 minutes or until crisp. Set aside.
Add cut-up chicken, zucchini, and cilantro to soup and simmer for 2 minutes. Adjust seasonings if needed.
To serve, ladle soup into serving bowls and top with tortilla strips and shredded cheese.
Variation:  Rather than make my own chicken, I bought an already cooked rotisserie chicken from the grocery store.  Also I added sliced avocado to the top of each serving (yum!).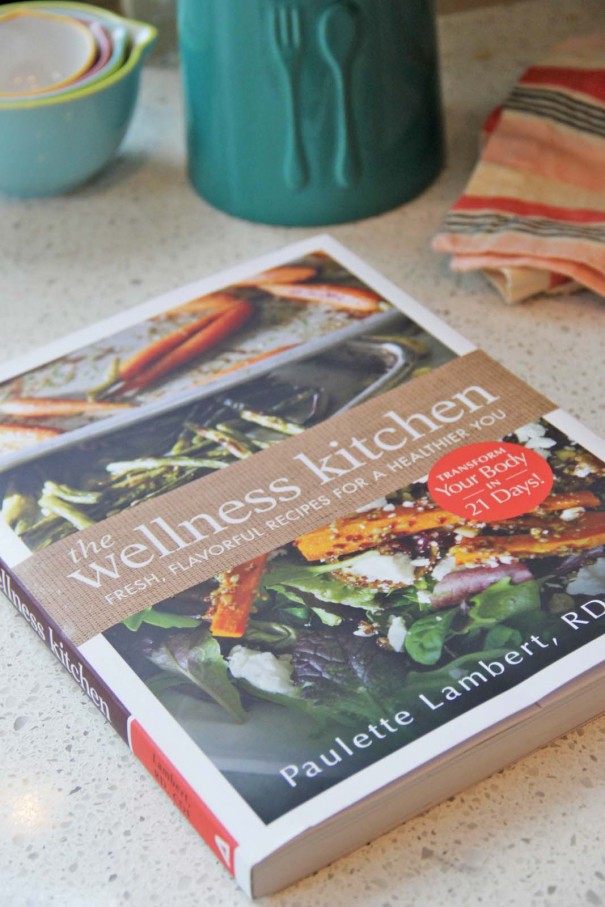 Our kitchen is finally on the verge of being finished since the
Mold Saga of 2015
.  And today marked the first time I was able to make a home cooked meal in two months.  Plumbing is back, appliances are working, counter tops installed–all the necessities to get cooking again.  I nearly cried tears of joy, seriously!  I know it seems completely silly, but I'll tell you what…I hope I'll never take my kitchen and the ability to prepare family meals for granted again!
It seemed only fitting that my first home cooked meal should be from the Four Seasons Wellness Kitchen cookbook by Paulette Lambert RD, CDE.  I had the pleasure of meeting her and attending one of her classes during our stay.  This woman knows how to cook and just might know everything there is to know about nutrition! All of her recipes are so healthy and completely delicious.  I have dogeared countless pages and can't wait to give some more a try.
But this Chicken Tortilla Soup!! Wowza! Mind blowing good, if you ask me.  I have never tried to make tortilla soup in the past. I'm happy to say that after trying Paula's recipe, I'll never need to find another one! So so so yummy you guys–and the perfect way to usher in the fall season.