The Mold Saga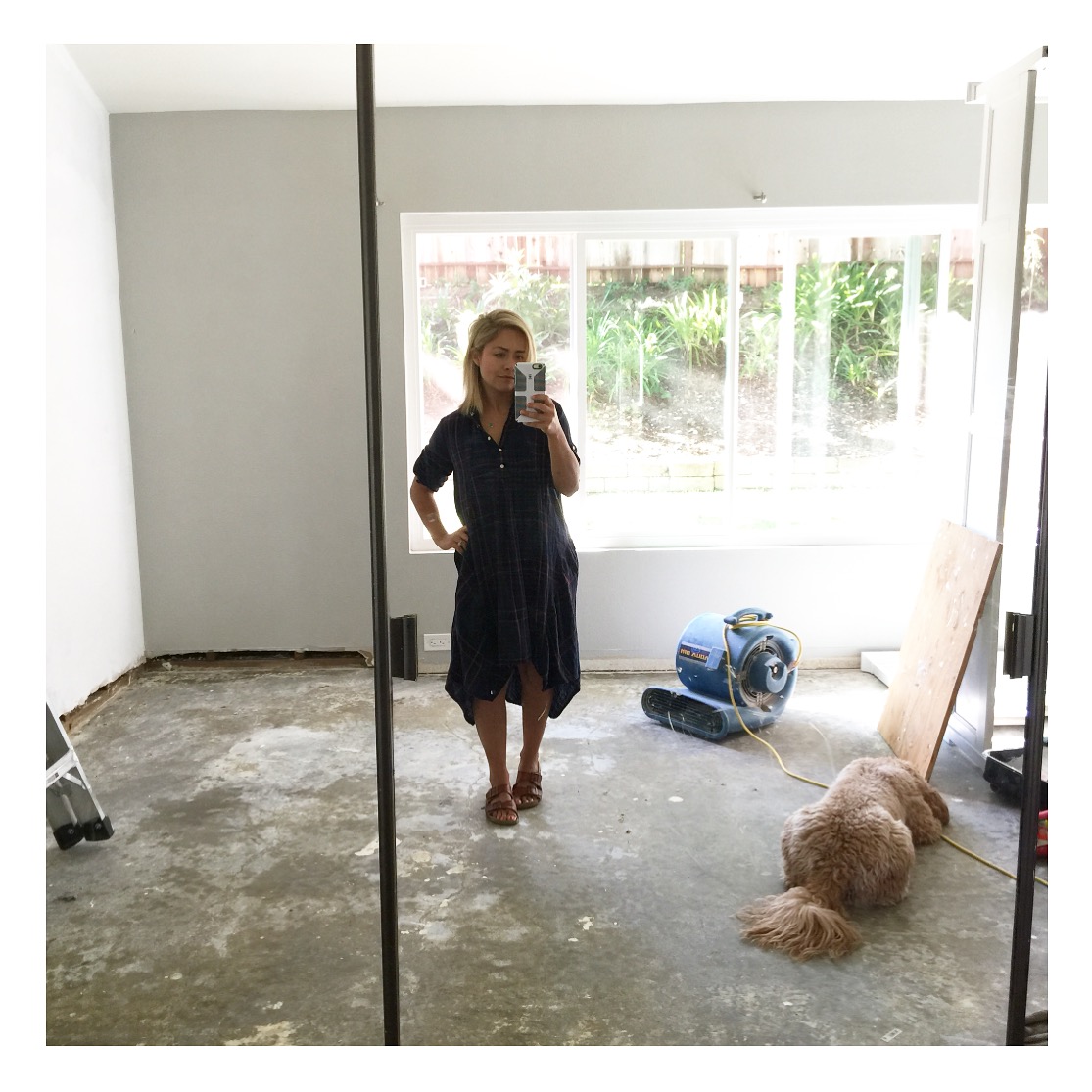 You guys.
If you've been following along on Instagram for the past month then you probably know the saga about finding mold in our home. If this is news to you then you're about to get the entire stinky scoop.
A while back Ben kept complaining about a mildew smell over by his side of the bed–he was having trouble sleeping because of the odor but for some reason I could barely smell it.  You must have left a wet towel on the ground too long, I kept telling him.  About a week passed before I could smell it too.  The floor wasn't wet and there were no visible signs of water damage anywhere–strange.  Confused but determined to discover the source of the smell, we pulled back a corner of the carpet.  There was still no visible mold or water damage but the smell was now 100 times worse.  Something was wrong and we couldn't get that stinky carpet out of our room fast enough.  We immediately pulled all the furniture out of our room and began to rip out the carpet.  It wasn't until we reached the other side of the room (strangely, the side of the room with no mildew odor) that we pulled back the carpet to reveal mold. Not a ton, but enough to freak a person out.
We panicked–quickly put the carpet back down over the mold, got out of the room, shut the door and called a mold inspector to come over immediately.  The inspector came by and determined that the mold was not toxic and so long as we wore masks we were okay to remove it ourselves.  He said it likely hadn't been there for long (sigh of relief) but that we should dump all the carpet and cut out the bottom half of the dry wall all around the room to get out all the moisture.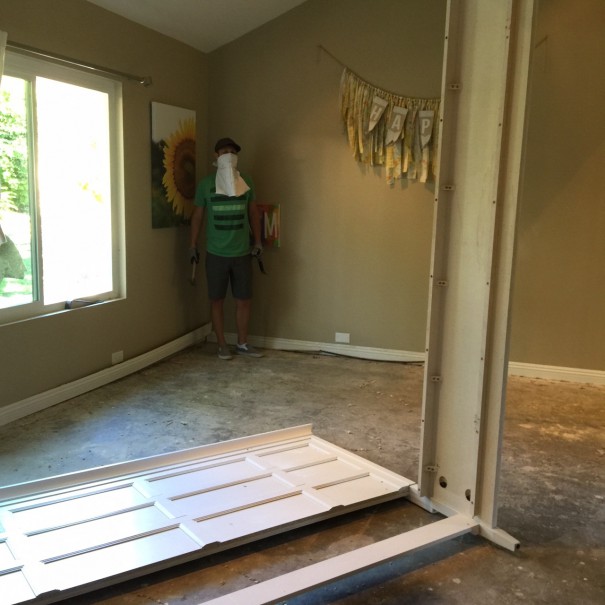 Needless to say, this entire process took weeks because we had to wait for the concrete to be completely dry before we could lay floor again, and the moisture reading was unusually high every time they came to test.  Meanwhile, we were sharing bunk beds with our kids in the other room and getting dressed from our dressers out in the garage–not fun.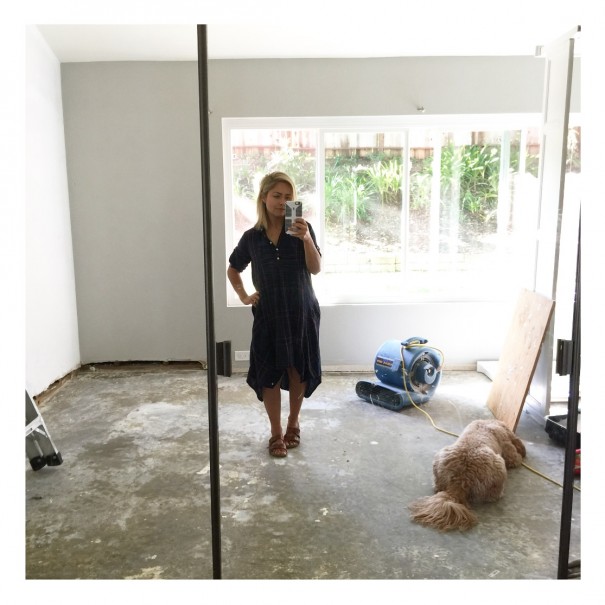 The day before we were scheduled to have floor laid back in our room and a return to normalcy, Ben noticed a strange smell in the kitchen.  We had become like mold blood hounds over the passing weeks.  I smelled it too and we quickly got to work sanitizing everything in the kitchen and the cupboards to see if the smell would go away (because, again, there were no visible signs of water damage).  Every dish and cup and pan was sparkling clean, but the smell was still strong.  In a moment of frustration Ben hammered into the bottom of our kitchen cabinets where the smell was the strongest…and out flew water and mold–even more than the bedroom.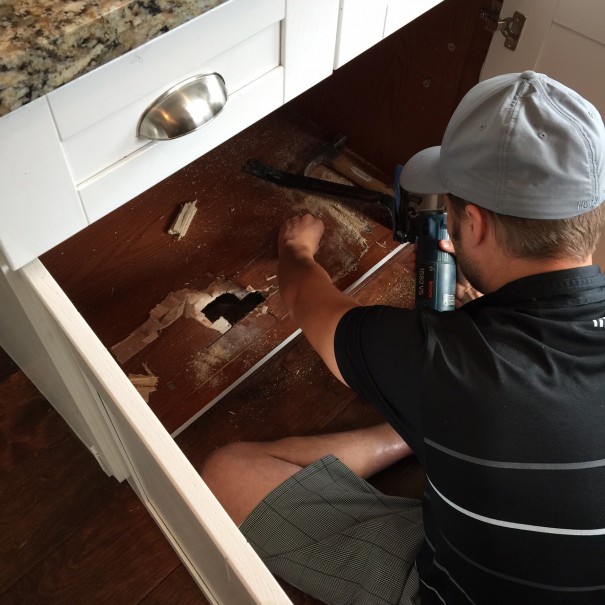 By some miracle, I didn't cry.
I just laughed.
In fact, I've been laughing a lot.
And not even that crazy lady whose about to lose her mind cackle…
but rather a sane, trying to see the humor and best of the situation kind of laughter–which isn't quite like me.
Long story short,  plumbers discovered a leak in a hot water pipe below our slab under the kitchen.  The mold grew very quickly because the water temperature was so hot and seeping in slowly like steam. Yuck!  Since discovery of the mold, half our house has been tented and all of our possessions packed away in boxes.  Our entire kitchen has been demolished and flooring ripped up throughout most of the down stairs.  There is still so much work left to do before we can move back in.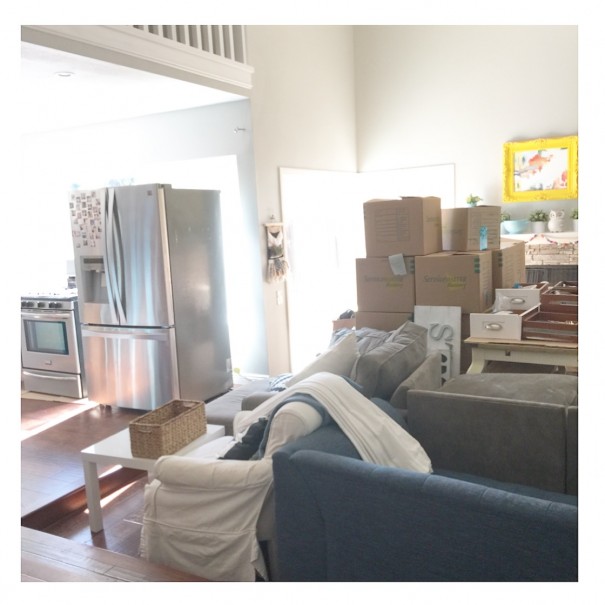 In the meantime…
We've been settling into hotel life.
Our first week was a bit rough.  We stayed at a hotel that shall not be named and the experience was just "bleh". Perhaps, because they saw us as long term guests it seemed they forgot about us–towels not restocked, housekeeping skipped, trash cans left filled, no warm smiles or "how are yous".  And when you're trying to keep life as normal as possible for your children…and do homework and pack lunches and eat dinner and do art projects and live every day "non-vacation" life from a hotel, you can use all the support you can get.  We were hanging on by a thread while still trying to maintain a "count our blessings" attitude.
And then we caught a break.
We called our friends at the Four Seasons and they welcomed us with open arms (literally, open arms–they were waiting for us in the lobby with a big hug).  To say the kids were excited is an understatement.  So while life is anything but normal or predictable or consistent right now, we're doing our best to treat each day like an adventure.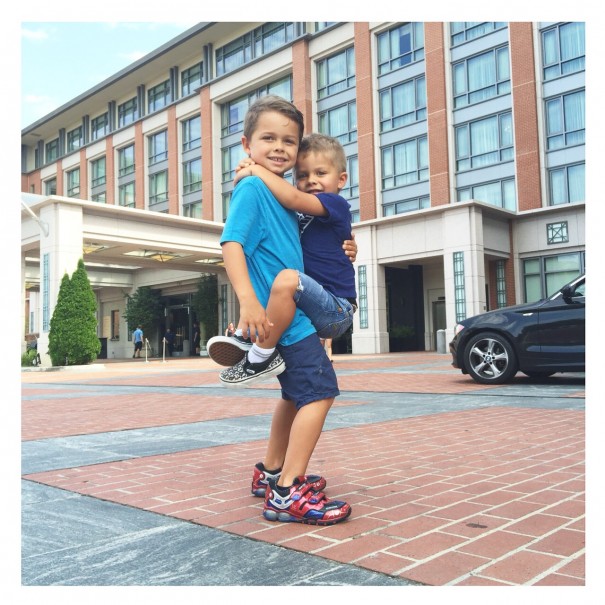 And I've got to say, our positive attitudes combined with the overflowing hospitality and warmth has made this adventure one our family will never forget.  Also, I've gotten really good at rotating through the same two pairs of pants all week…
Stay tuned as I document our Mold Saga Adventures…