This Is My Year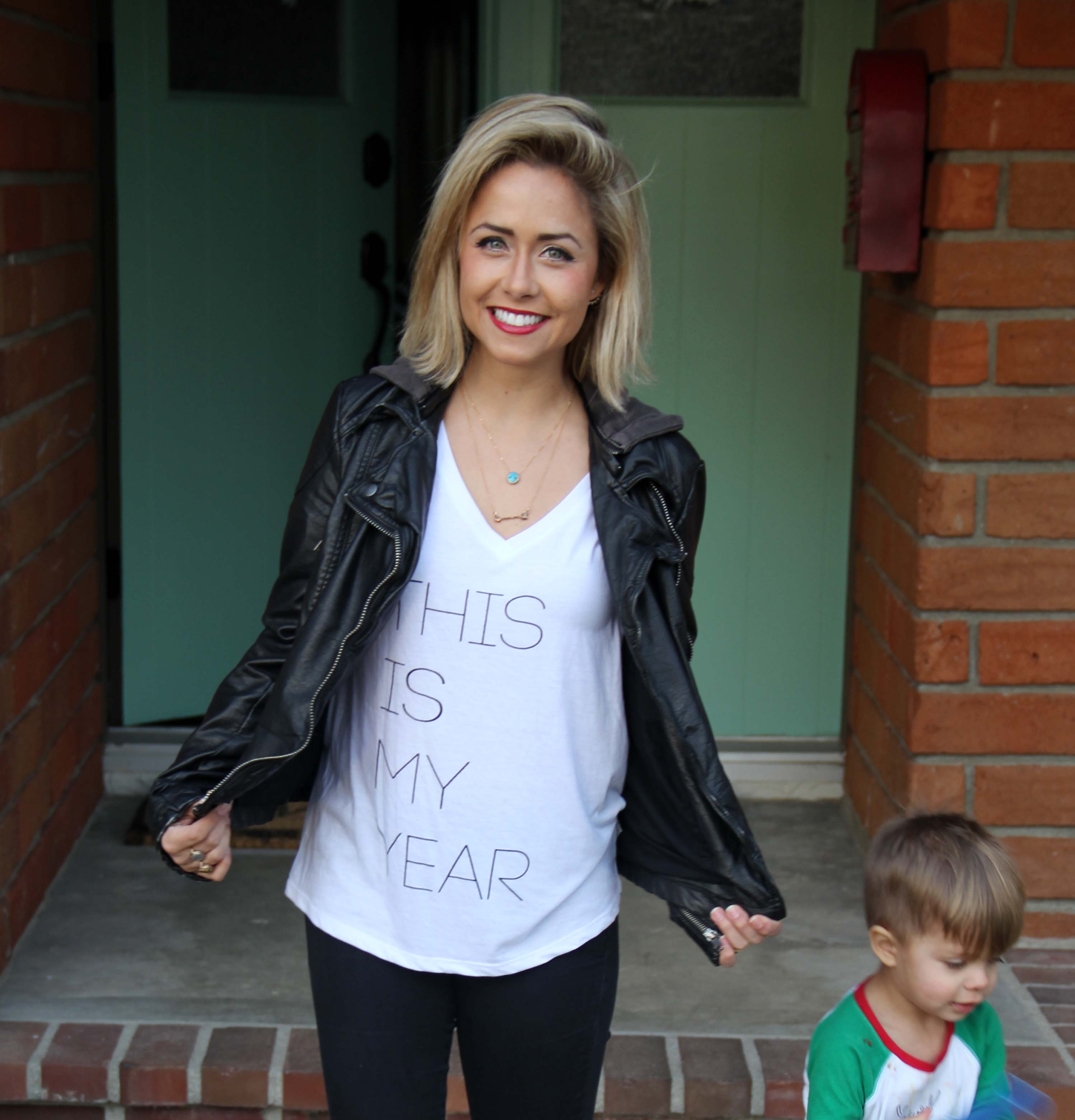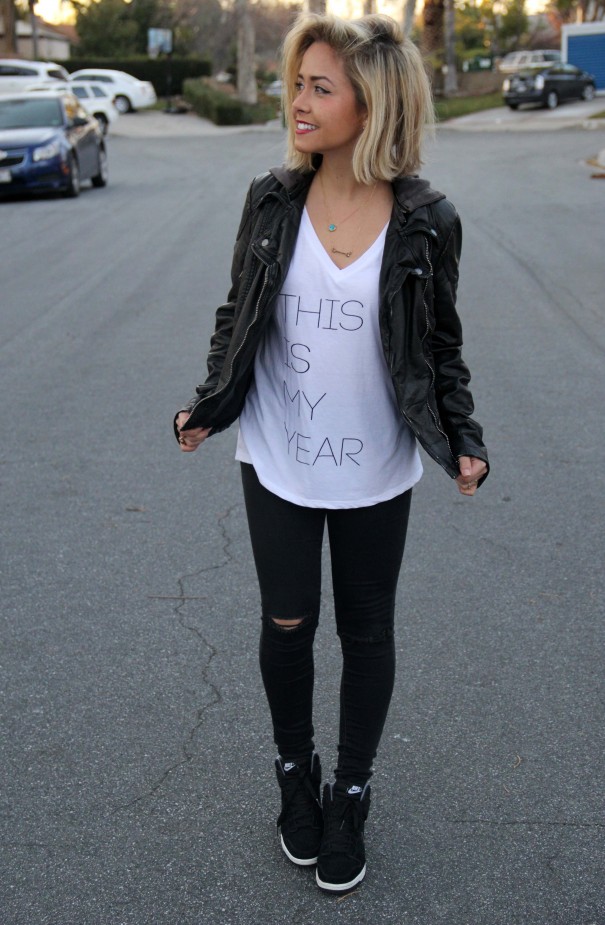 Shirt c/o: The Shine Project
Get 10% OFF with the code: missmomma10
Shop here. I'm wearing a small and I love the loose fit.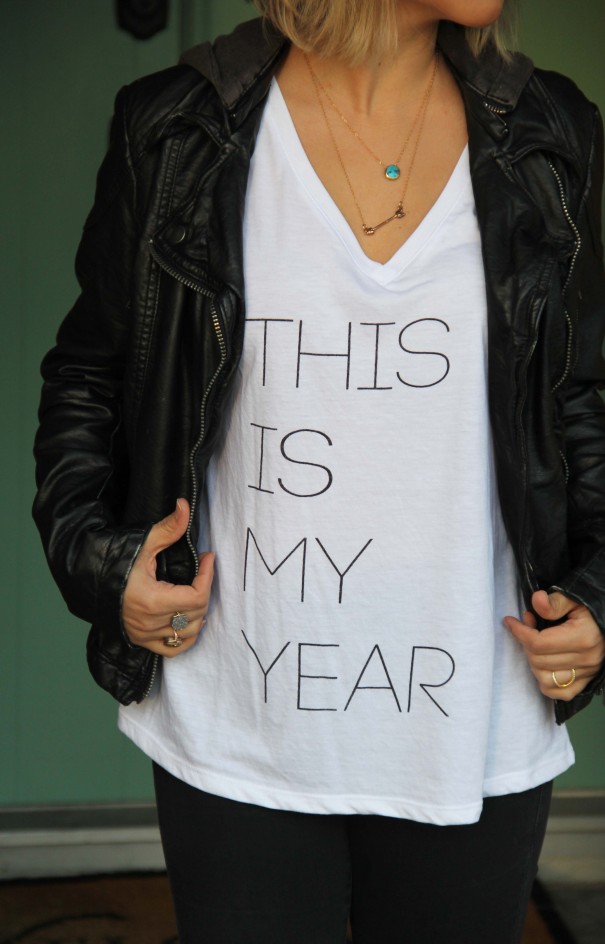 Necklace and rings c/o: Wrenn Jewelry
Arrow necklace c/o: Lisa Leonard
Jacket: Free People (runs small so order a size up) here or here
Pants: Topshop
Shoes: Nikes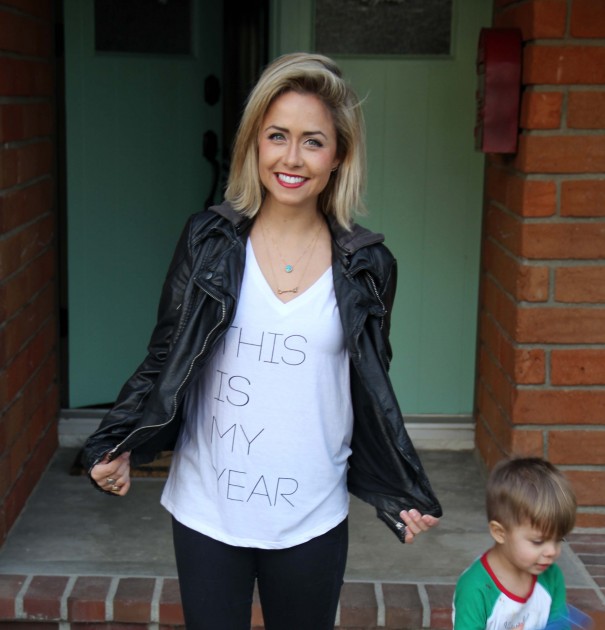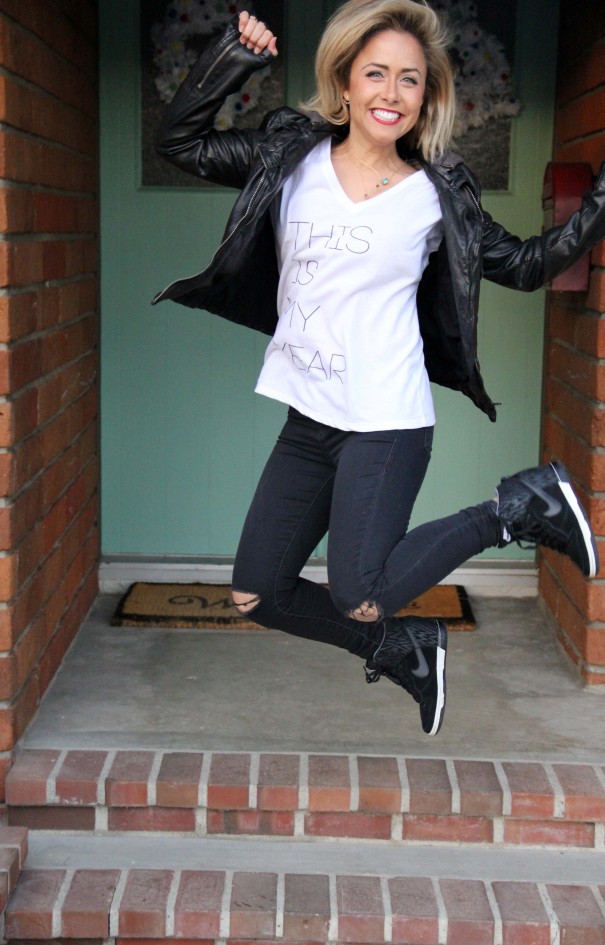 I'm big on goal setting and vision boards and words of affirmation and resolutions.
I see it as a promise I'm making to myself–a promise to always try to be better.
From an early age I was taught about the power setting a goal can have on helping us stay the course and persevere through trials. Every year on New Years Eve, my mom and stepdad would sit us down at the kitchen table with an index card, a pen and some highlighters.  We would write the new year at the top of the card followed by 3 of our individual goals for that year.  There were more years than not that I grumbled about this activity–viewing it as more of a chore than a privilege.  But there was always the promise that my parents would take my index card to work and laminate it for me. Something about lamination was a strong motivating force for me as a kid. Oh how I wish I saved those index cards over the years.
Have I achieved every goal I've ever put on paper? No.
Have I ever given up, thrown in the towel, called it quits? Yes.
Have I sometimes disappointed those I love and myself along the way? Surely.
Because that's life.
And as I've said before, life is messy.  And imperfect.  And full of opposition and trials.
But navigating through those trials with hope and faith in the bigger picture is what has given me purpose.
My dear friend, Ashley of The Shine Project, recently shared some words that resonated deeply with me:
"Social media is full of the best moments of people's lives and I'm grateful you share them with me. But behind successes are moments of struggle, and right now on my blog I'm sharing with you three times this past year where I almost gave up. They are being celebrated today because, dang it, I feel strong for overcoming them. And you should feel strong and celebrated for overcoming your storms too. That's why 2015 is our year. We've been prepared, we've learned how to better navigate through trial, and we're going to shine our way through the darkness that sometimes comes." -Ashley LeMieux
I know New Years resolutions bug many people–because why should we wait for a special date on a calendar to start making positive changes in our life?  And I agree–we shouldn't wait.  We should be setting goals and building dreams every day.  But that can be hard, and tiring and often unrealistic to maintain such motivation and will power throughout every day of the year.  For me, there is something powerful and almost magical about dreaming big at the New Year.  Because so many people across the world are celebrating and committing to positive growth at the very same moment, I feel so much more connected and uplifted by those around me.  So many of us, at the exact same time are having hope for a brighter future–are making commitments to be better.  And when I sit down to put my goals on paper, I am strengthened by this connection we share.
The Shine Project is right.
This is my year.
This is our year.
Happy 2015 friends!
Learn about the fabulous cause that these t-shirts support at The Shine Project.  And join everyone on Instagram and tag #theshineproject #thisismyyear so we can see what you've overcome and what you're going to accomplish in these next 12 months. 2015 has been waiting for you. You can follow The Shine Project on Instagram here.
Remember, 10% OFF this shirt with the code: missmomma10.