Gold Baby Shower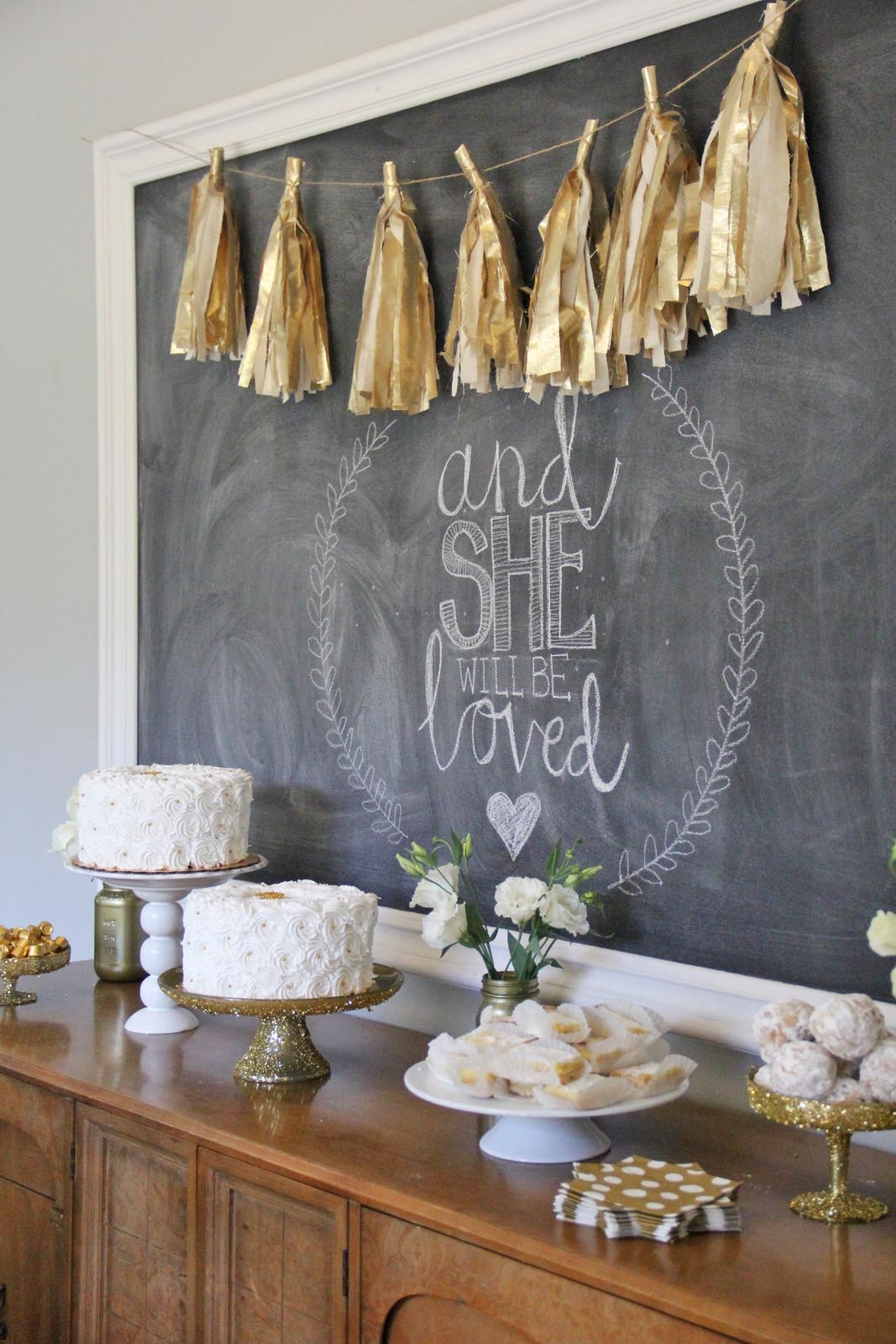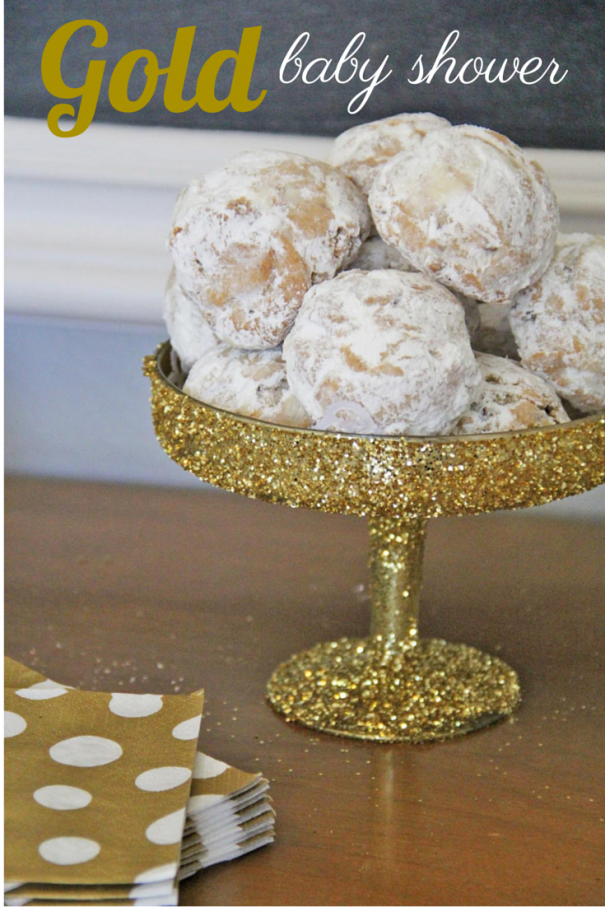 Lacey's baby shower was so very special to me.  Business partner, bestie, honorary sister–this gal has my heart.  And so do her children.  To see her happiness and to see the smiles on the faces of those who love her most made for the best day.  It was an honor to host along with 2 of her other dear friends and her beautiful momma.  I'd throw down a party with these gals any day.  But enough of the gushy stuff and on to some of the details of the shower.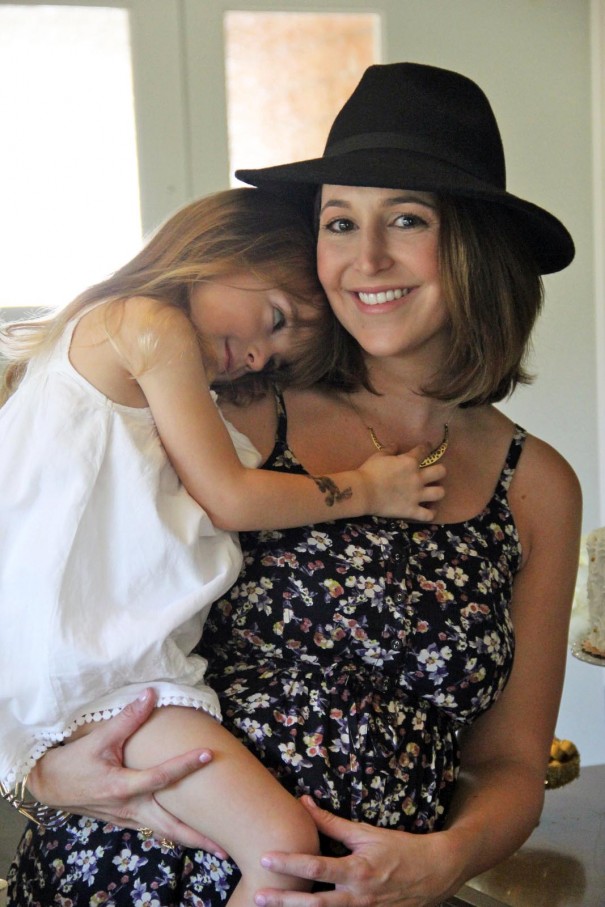 If you know Lace, then you know she LOVES gold (even before it got cool again, lol).  Where I'm a bit more whimsical and haphazard, Lacey is more classy and refined.  This shower was a marriage of our styles.  I googled "gold baby shower" and stumbled upon this gem by Pottery Barn.  Their party immediately became my inspiration.  You guys should really check out this section of their site–they have so many awesome party ideas and DIY's.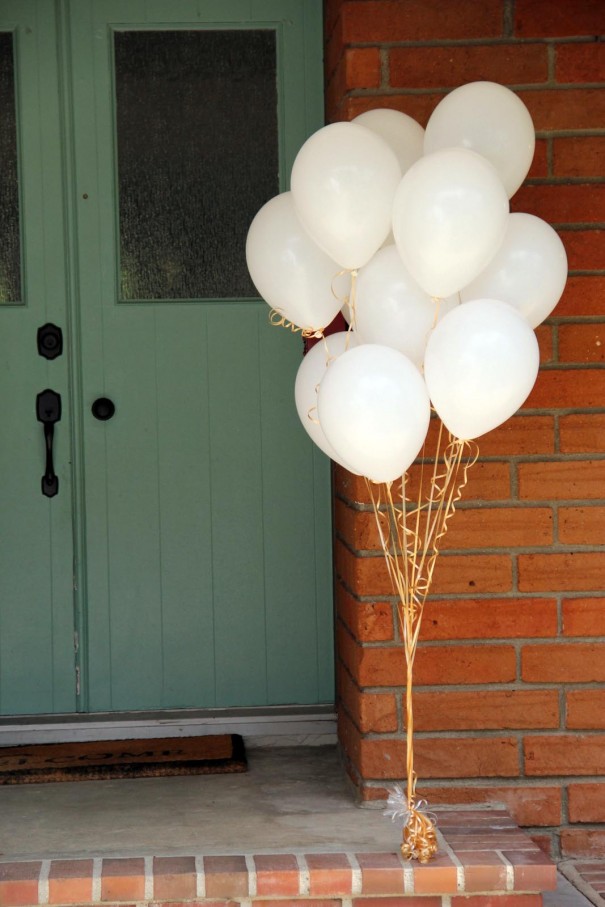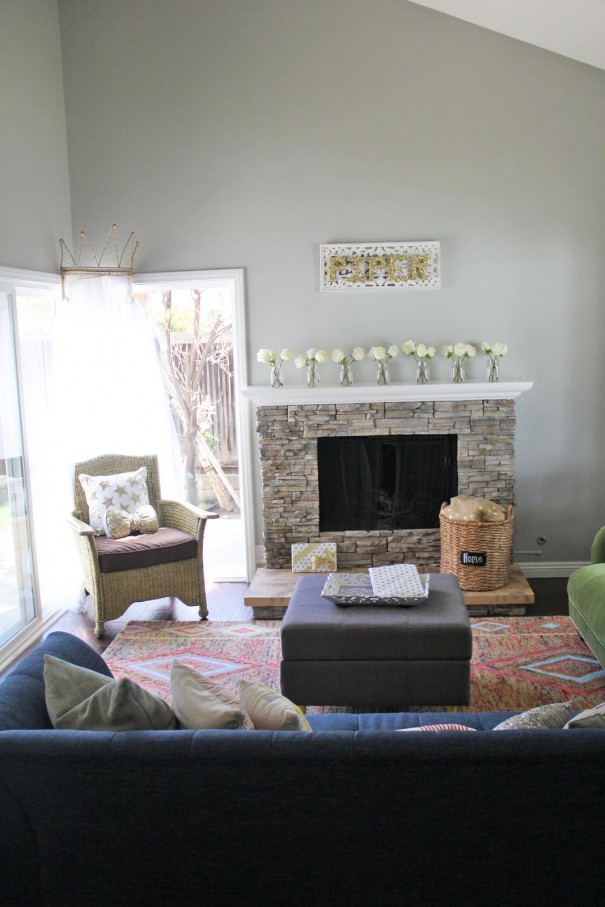 I'm bummed because I wasn't able to get a good shot of my favorite part of the shower–the "mom-to-be" chair.  Lacey's mom bought the beautiful crown with tulle draping and we hung it over this chair that I spray painted gold.  Then I stole these gold pillows from Lacey's house to accent the chair.  This is where she opened all her presents.  Crown found here.  Pillows found here.  And now Lace can use the crown in the baby's room.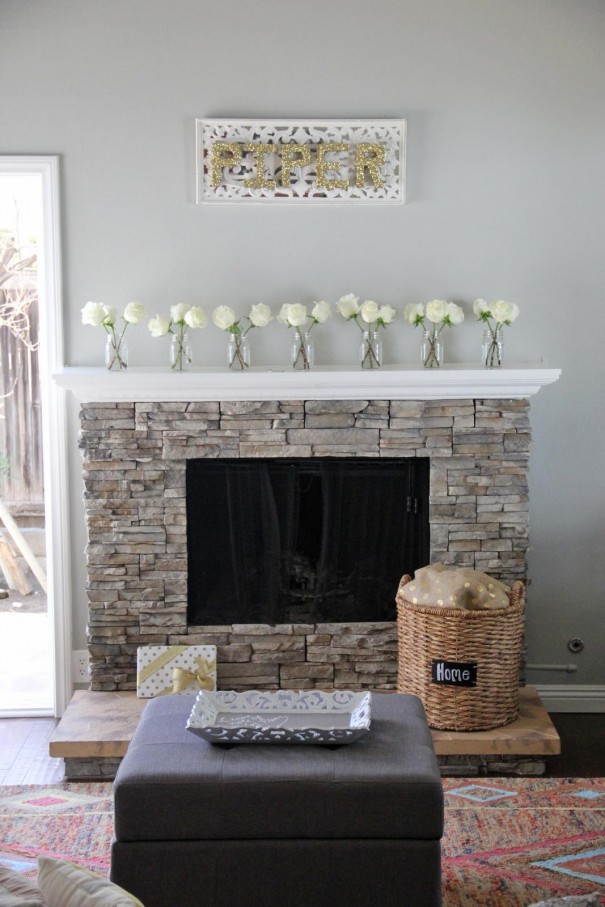 I used to have this white mirror on my mantle.  I got cardboard letters from Joanns and I spray painted them gold.  Then I covered them in Elmer's glue (the kind that comes in a spray paint can).  Then I poured gold glitter on them and used a hot glue gun to attach them to the mirror.  I would recommend searching places like Home Goods for a cool board or mirror to mount letters for a similar project.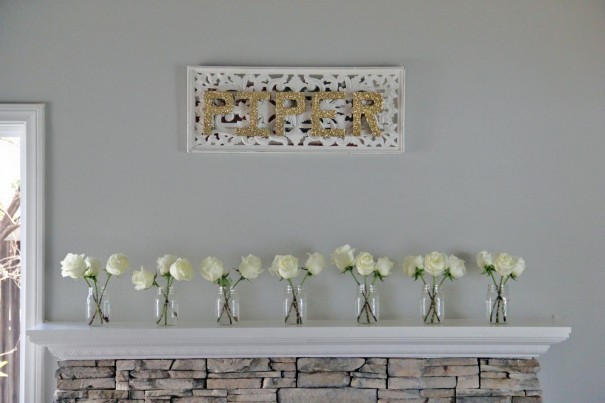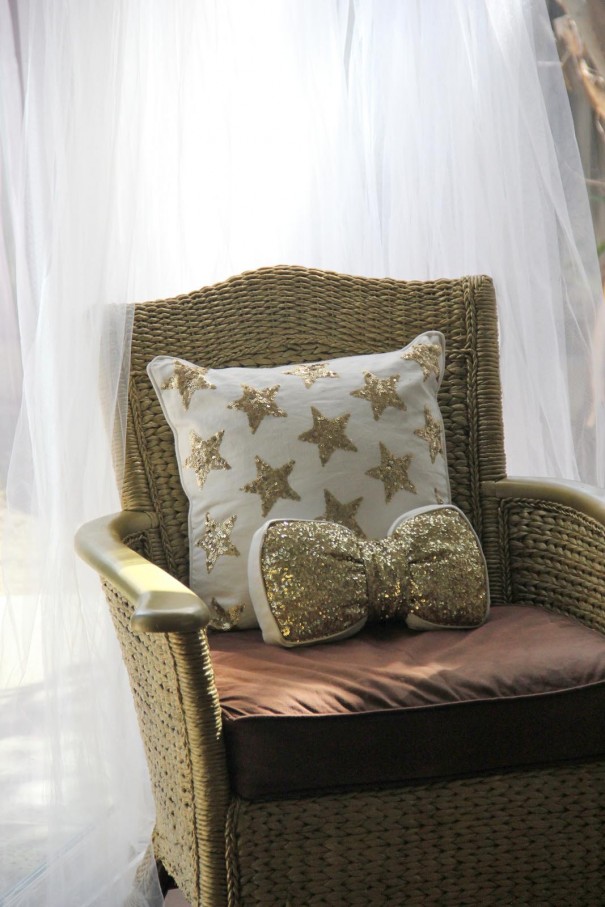 This chair was once a shabby brown wicker color before I had the nerve to cover it in gold spray paint.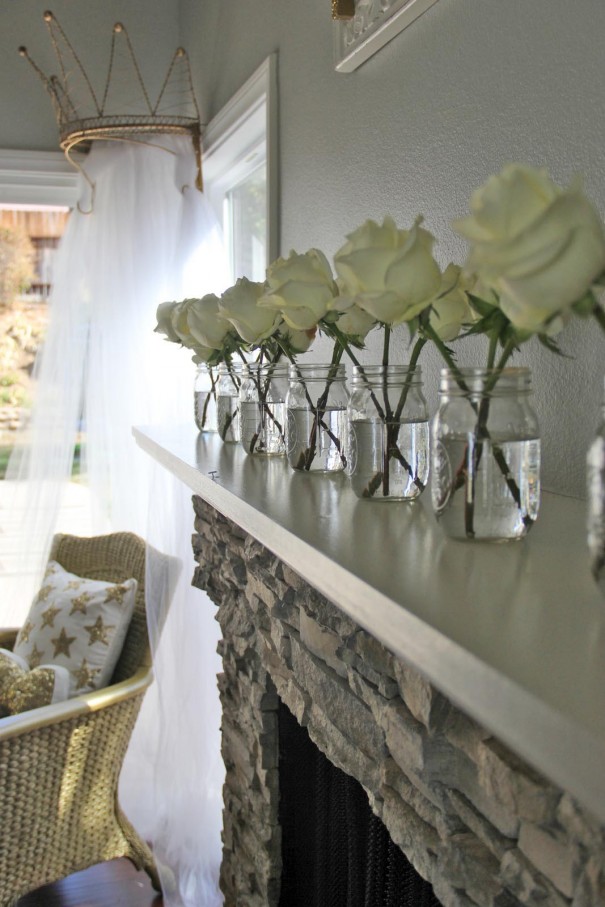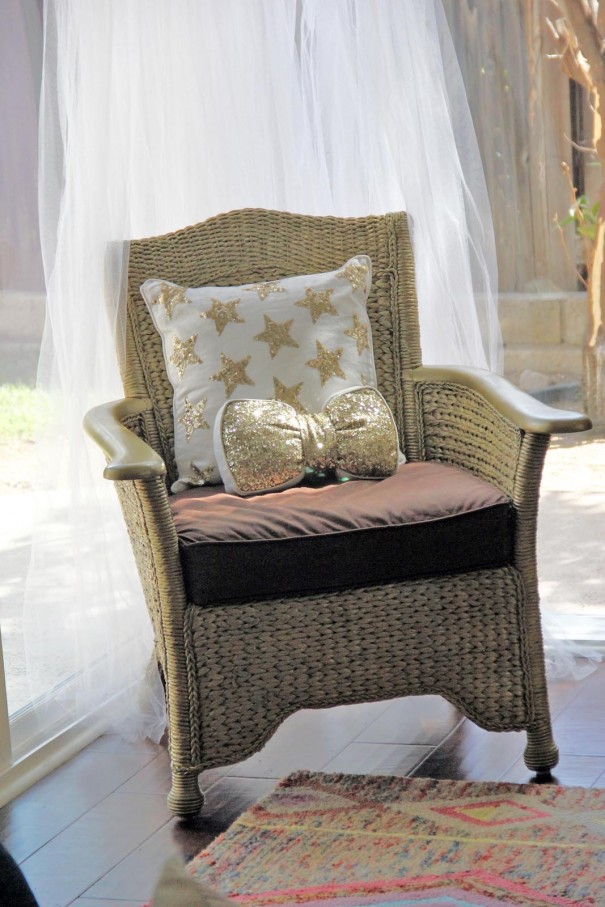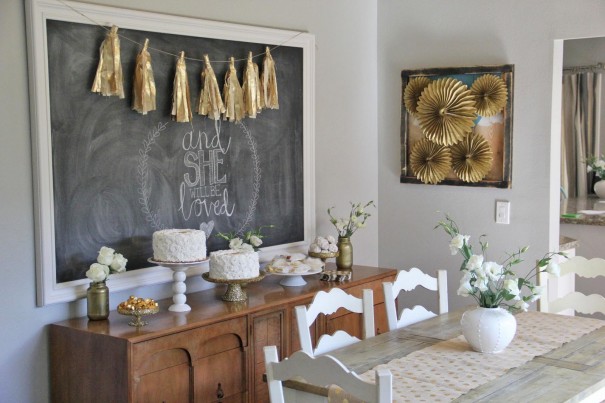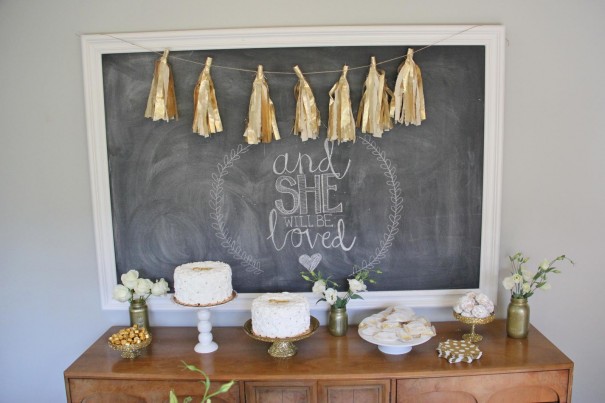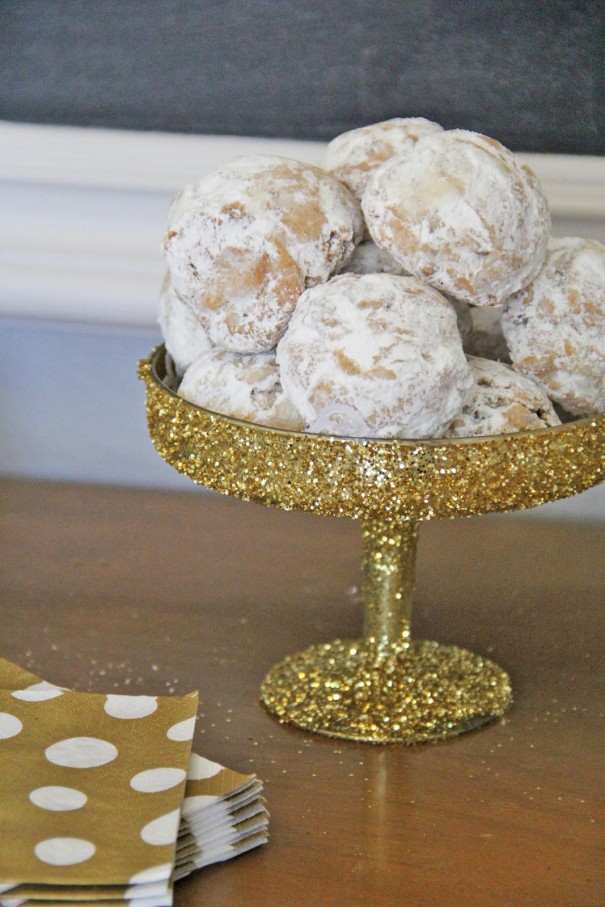 I used the same method on these dessert stands that I did on the gold letters.  Except I didn't add glitter or paint to the inside of the jar so that it wouldn't get transfered onto the food.  Certainly this isn't a long term solution for these platters because they are very difficult to wash–so I would recommend only doing this with trays you don't mind ruining or some you pick up at the dollar store. And the glitter WILL shed–but I took a deep breath and wrote that off as a bit of "whimsy" to the decor.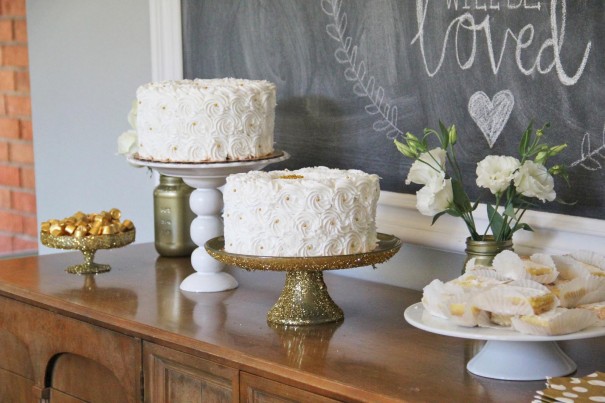 The cakes were made by the fabulous bakery, Valley Bakery in Oak Park–and they were divine as well as stunning.  We also served lemon bars, rolos and wedding cookies to keep with the all-white and gold theme.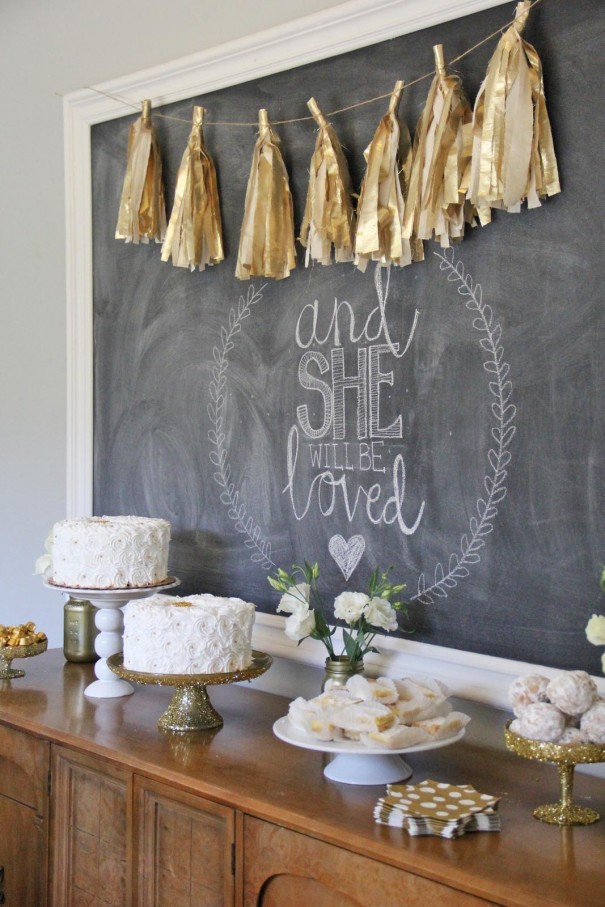 I wasn't able to find one particular tutorial that worked for me when making the tassel garland so I ended up coming up with a method on my own.  I'm thinking of creating a tutorial, but for now this one is helpful and has similarities with the technique I used.  The rest of the decor we kept simple with gold (spray painted) and clear mason jars filled with white flowers spread throughout the house.  Flowers are a simple way to carry a theme through the whole house while only having a few focal points of decor (mantle and dessert table).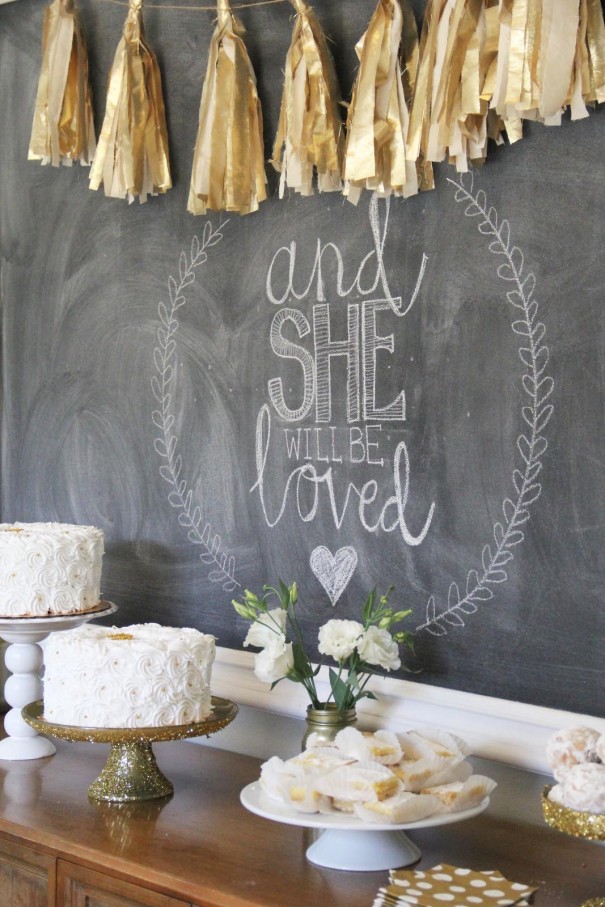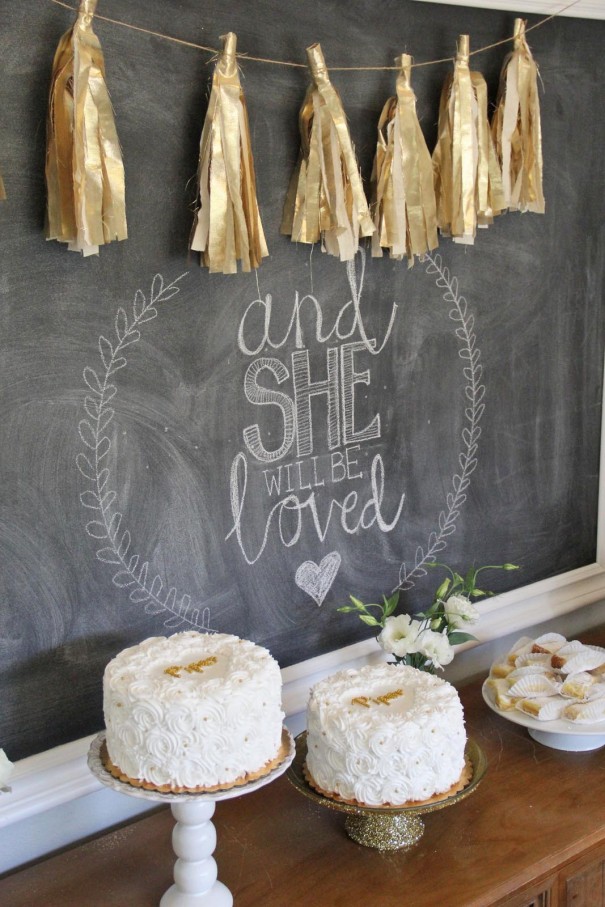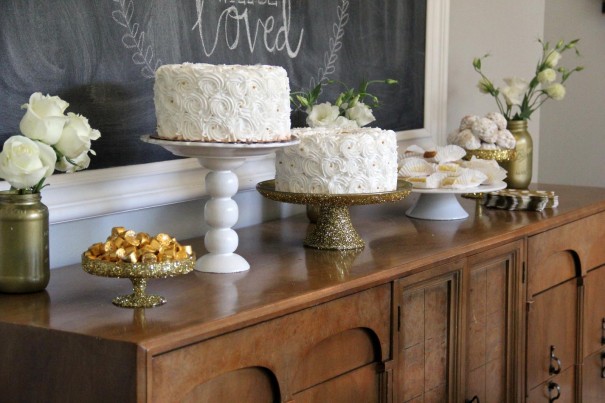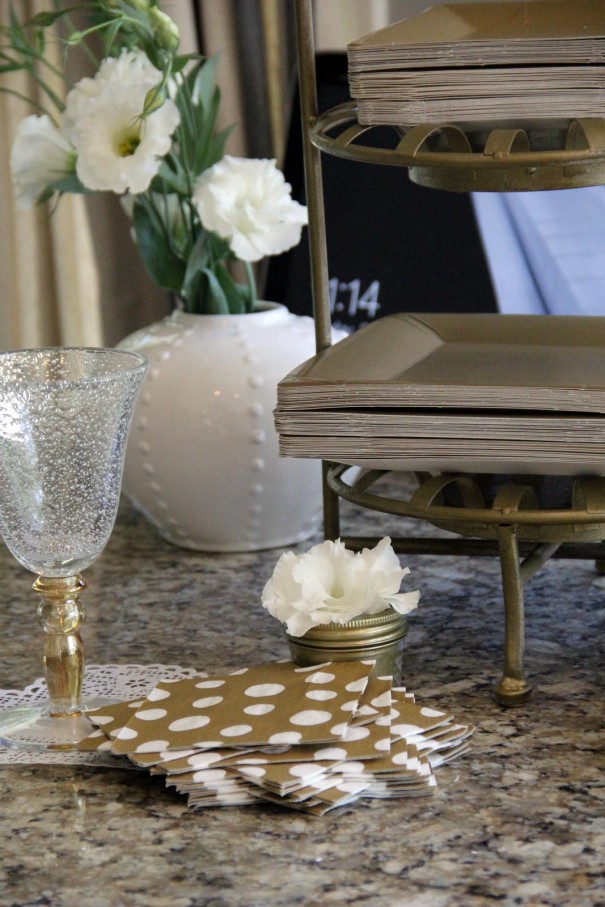 The Momma got her very own special goblet to drink from.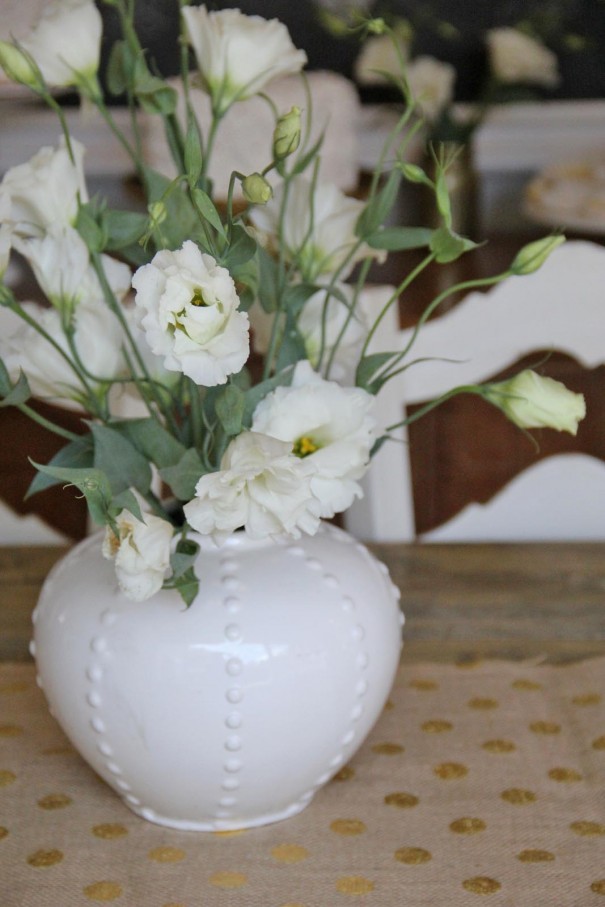 I cut an 18 inch wide strip of gold polka-dot burlap for a simple table runner.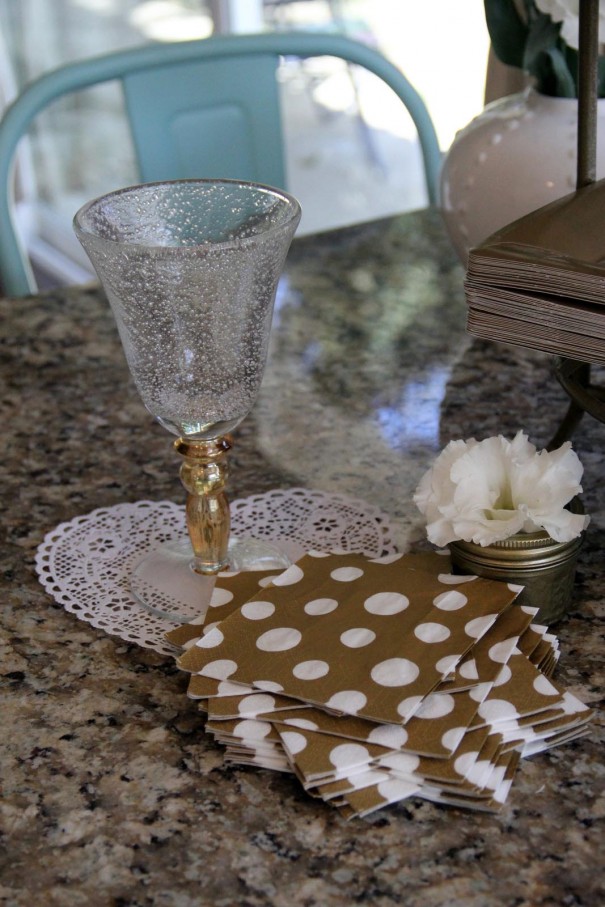 Polka dot napkins from Paper Source.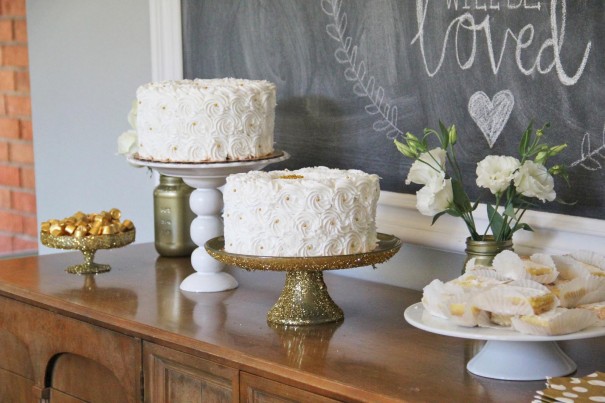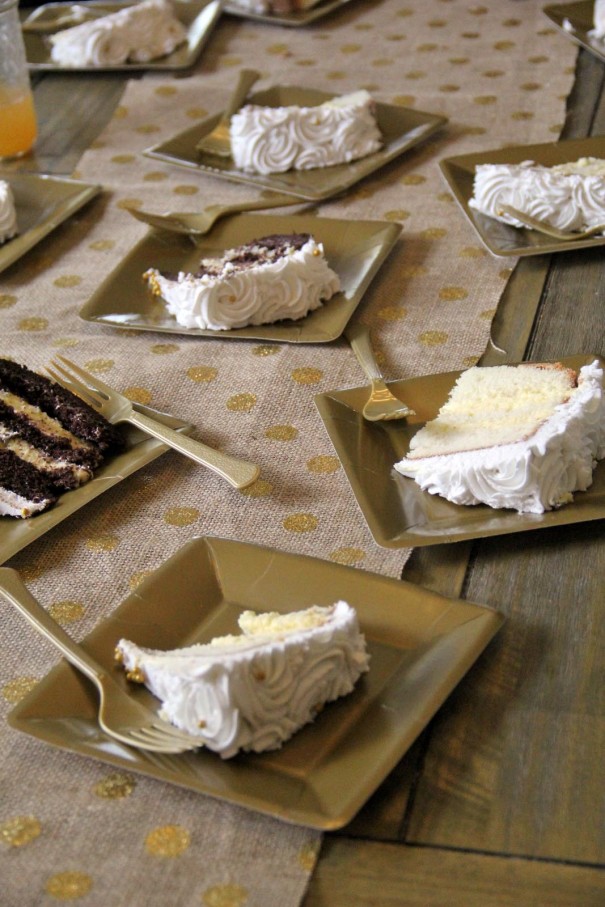 Gold plates and utensils from Party City.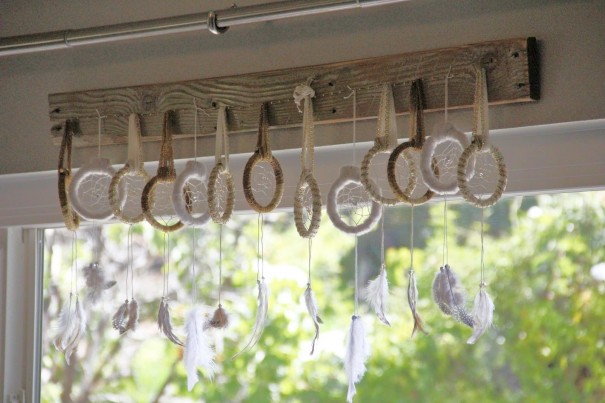 Jen used her talents to make these mini dream catchers as party favors and everyone died over their awesomeness. I made this dream catcher display using a piece of pallet wood that I spray painted lightly and sanded down to distress.  I then hammered several gold nails in a row to hang the dream catchers.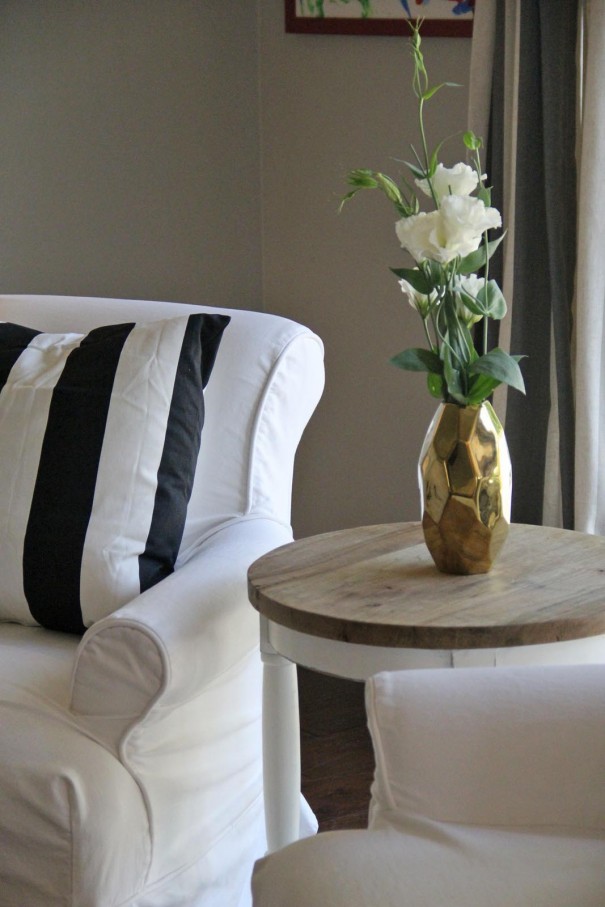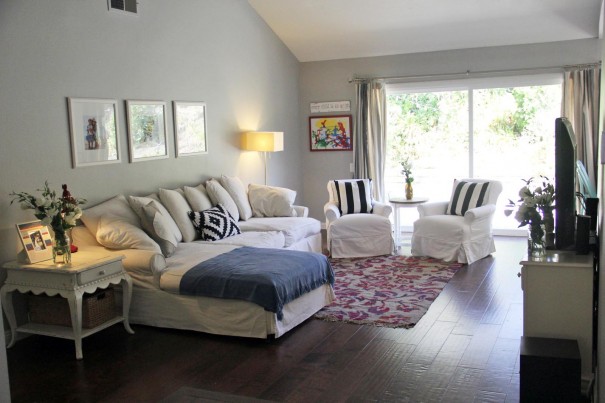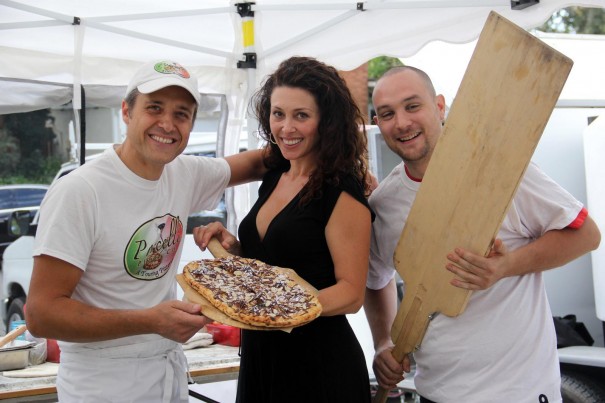 The food! Oh the FOOD!  There was a lot of stress relieved because Lacey's mom sprung for the most amazingly delicious catering by Porcelli Pizza Co. Fresh appetizer platters with the most yummy cheeses and fruits, hand tossed salads, stone fired pizza and even a Nutella pizza (yes, I'm serious).  I'm not exaggerating when I tell you this is some of absolute best pizza I have ever had.  Above is the beautiful couple behind this amazing food and service: Valerio and Brooke.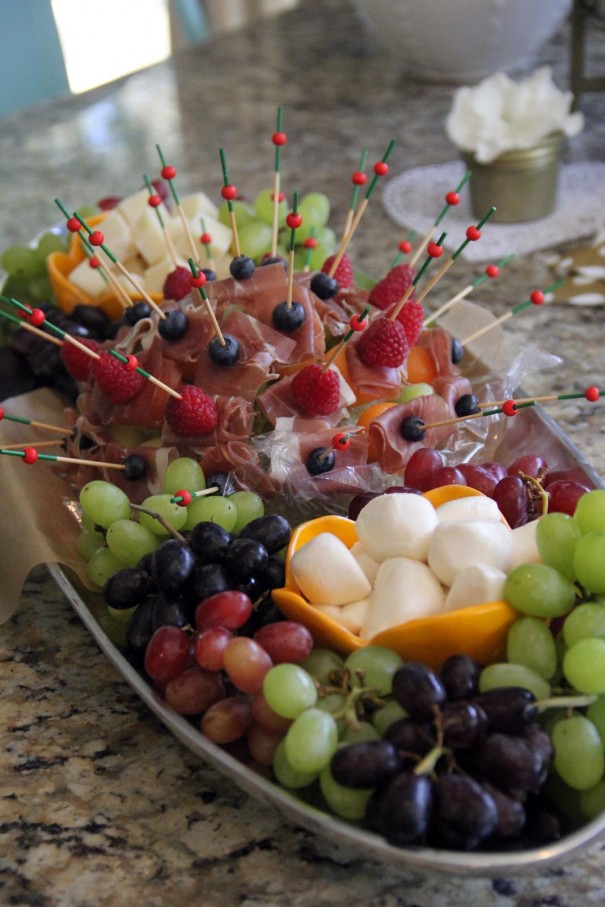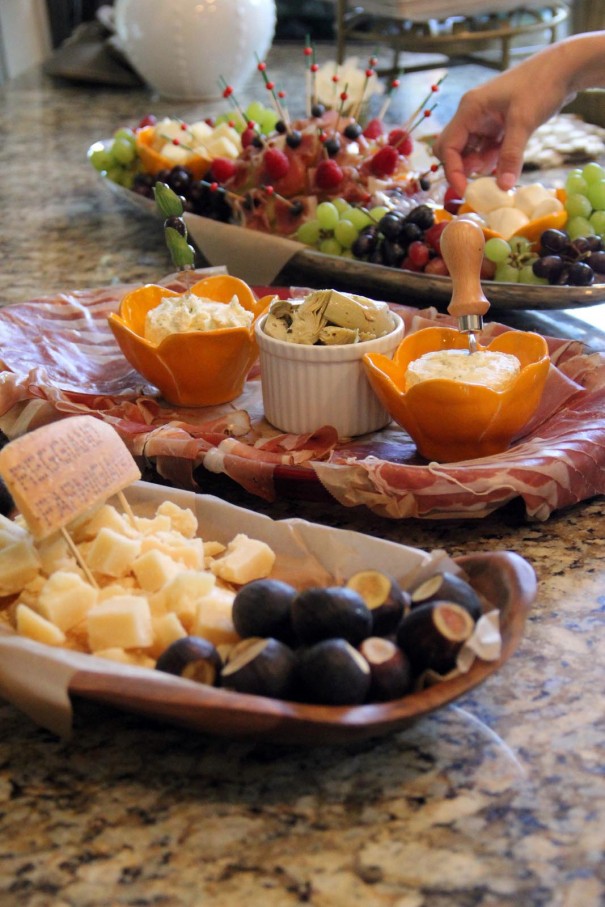 Turns out I'm a BIG fan of figs!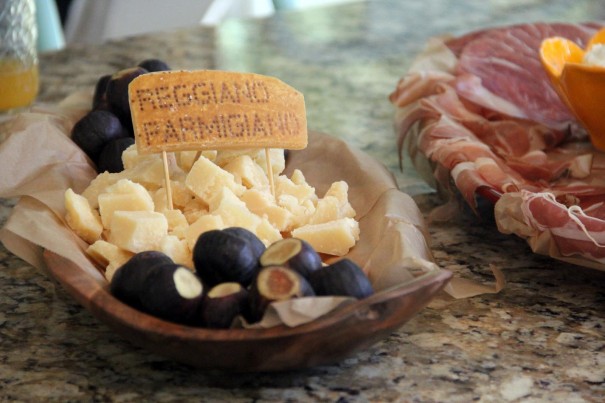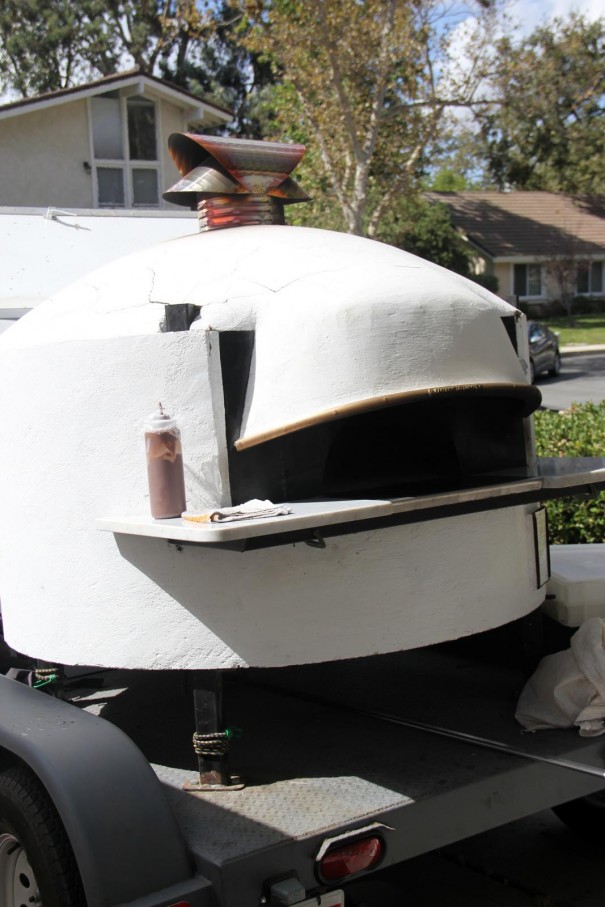 How cool is this stone pizza oven?!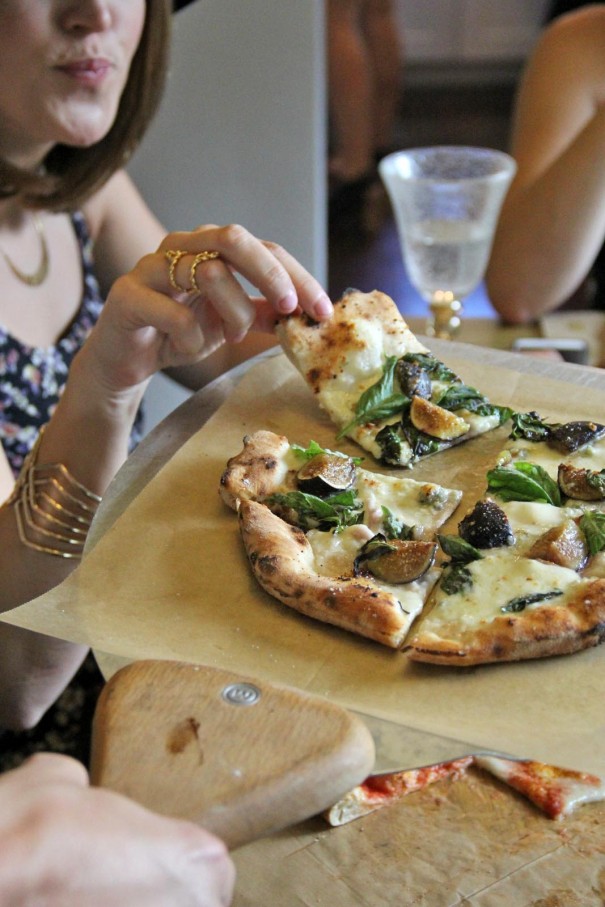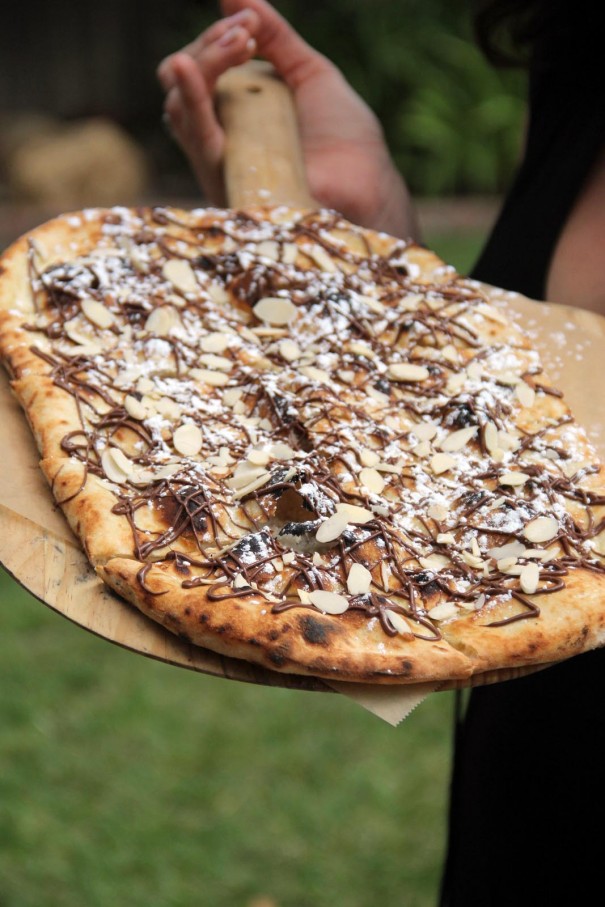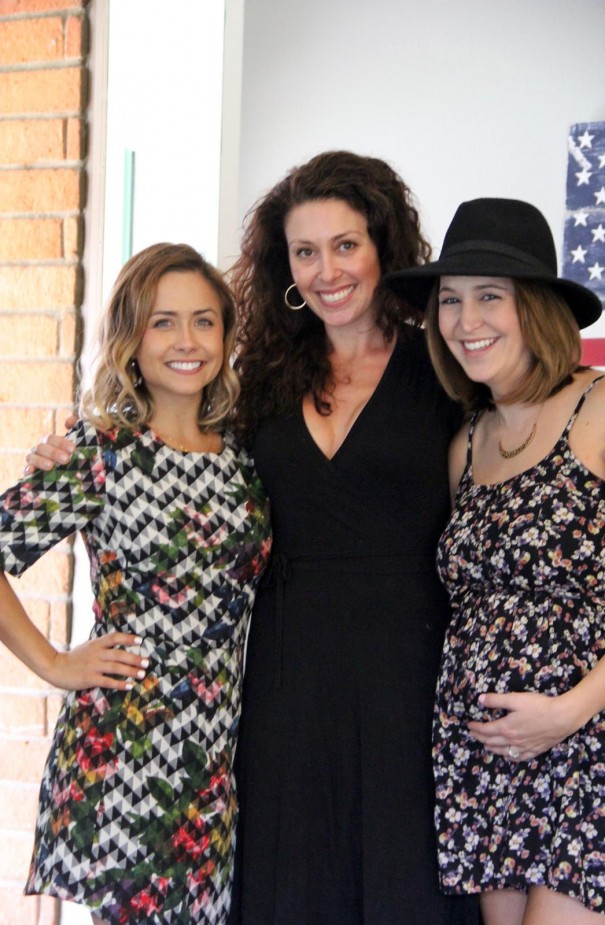 My dress is from here.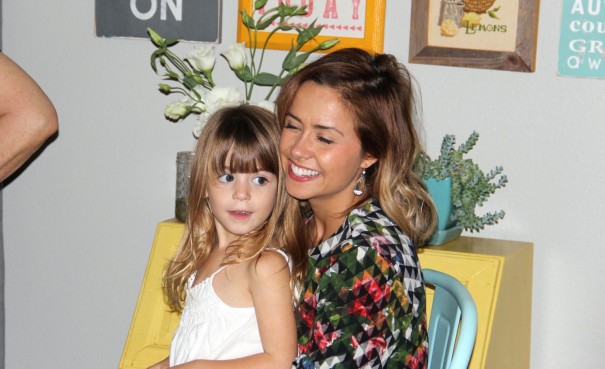 Me and Lily, the big sister.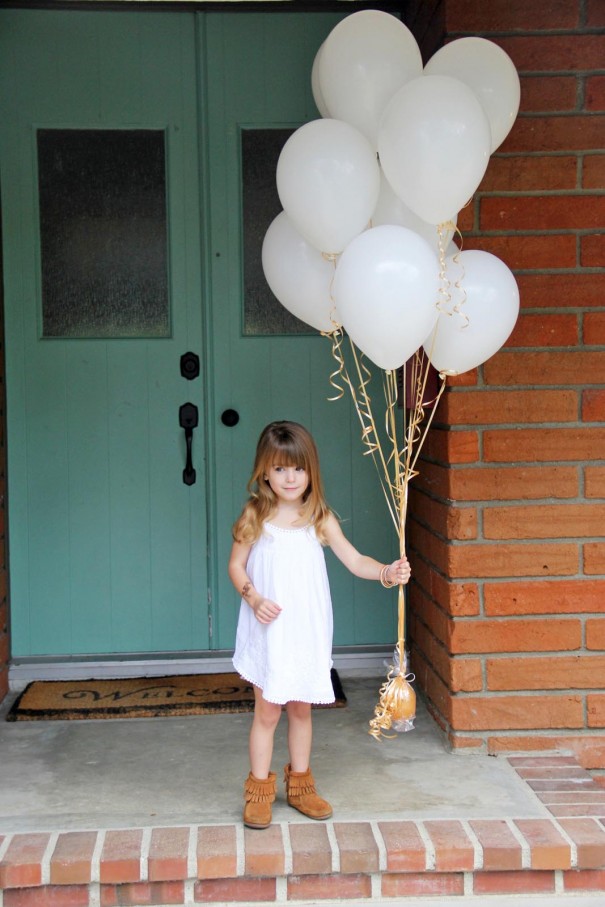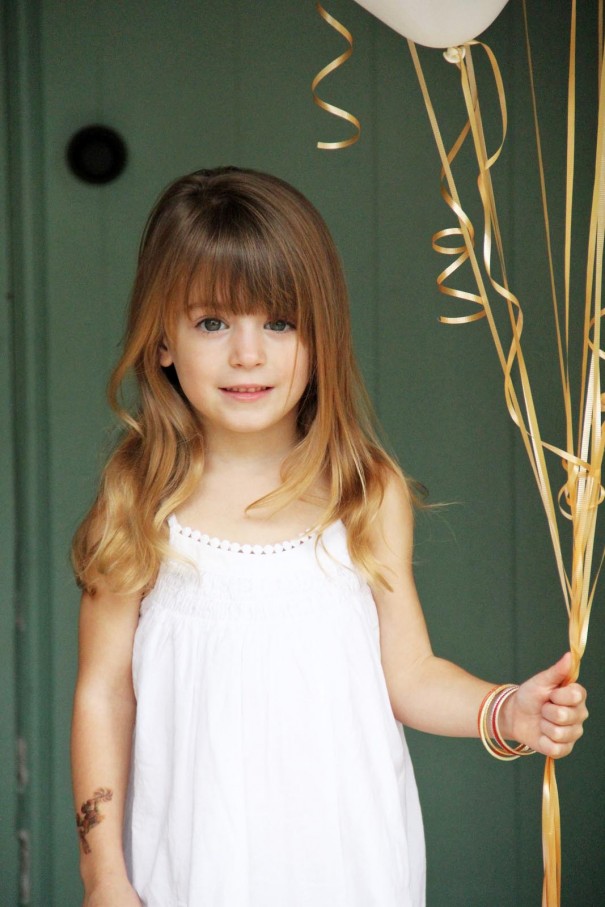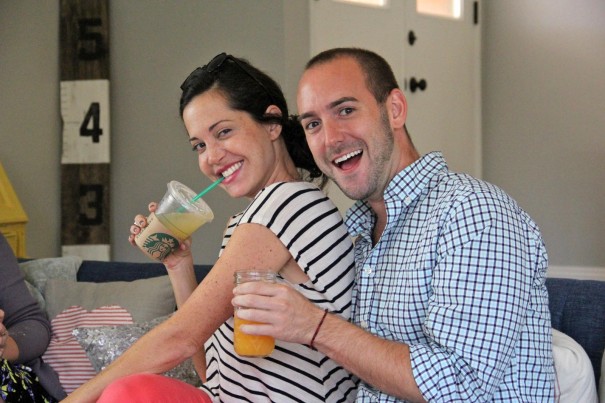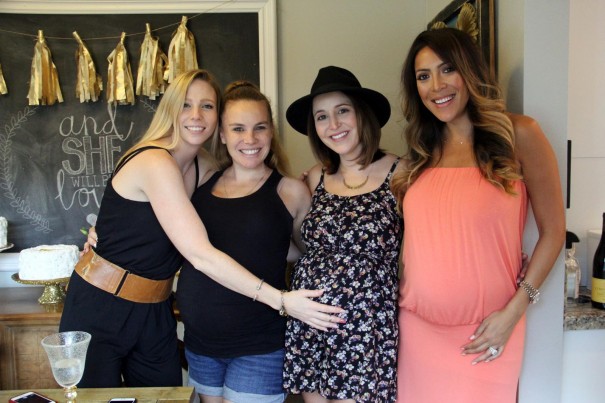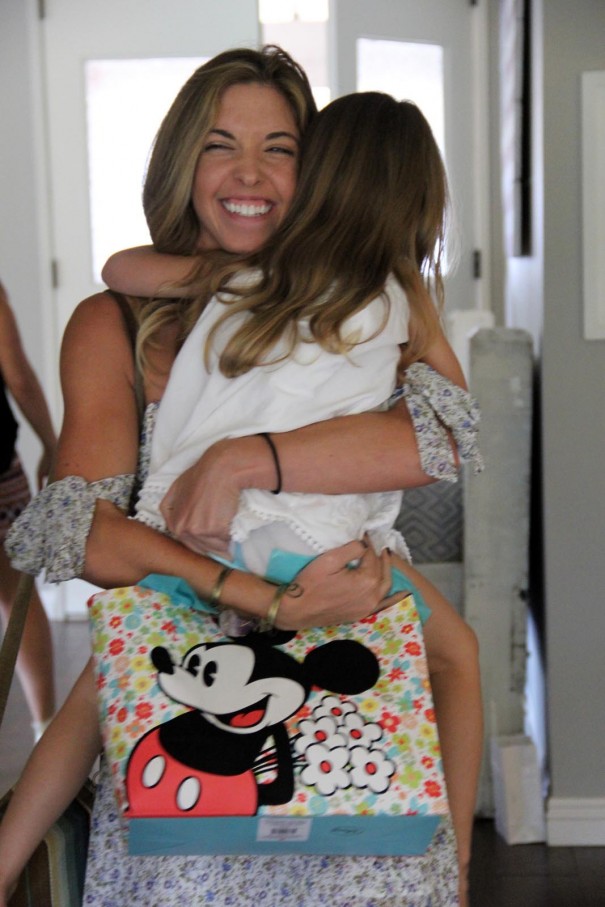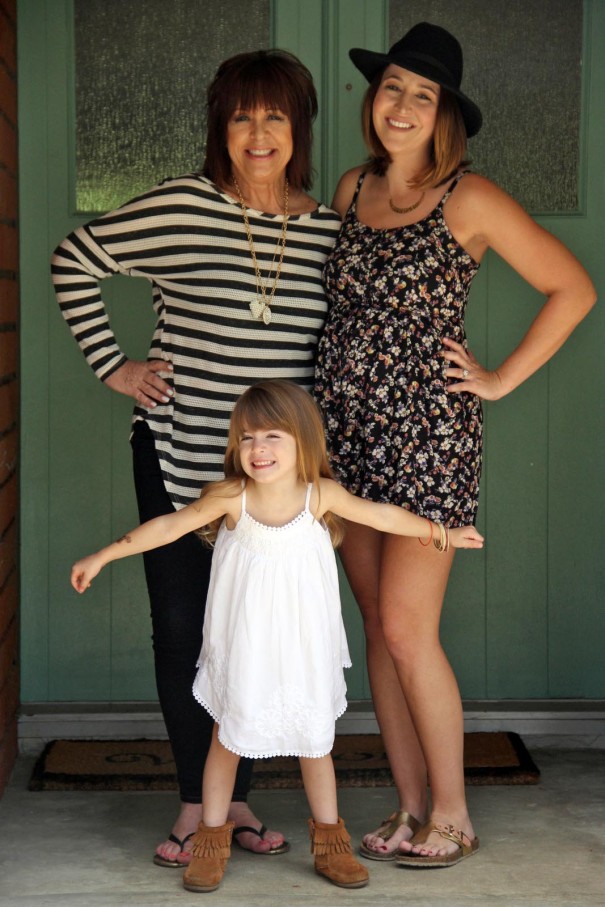 Three generations of beautiful, talented gals.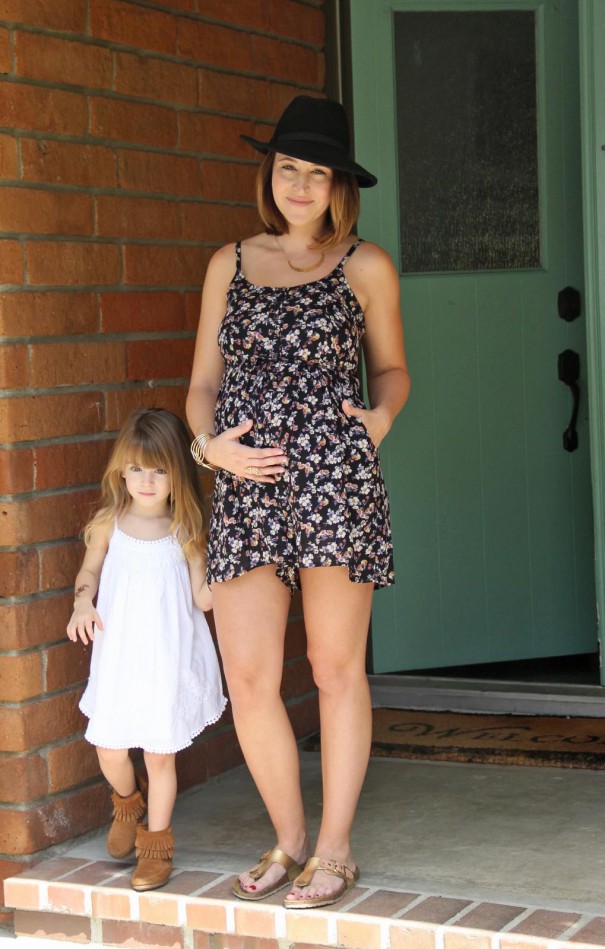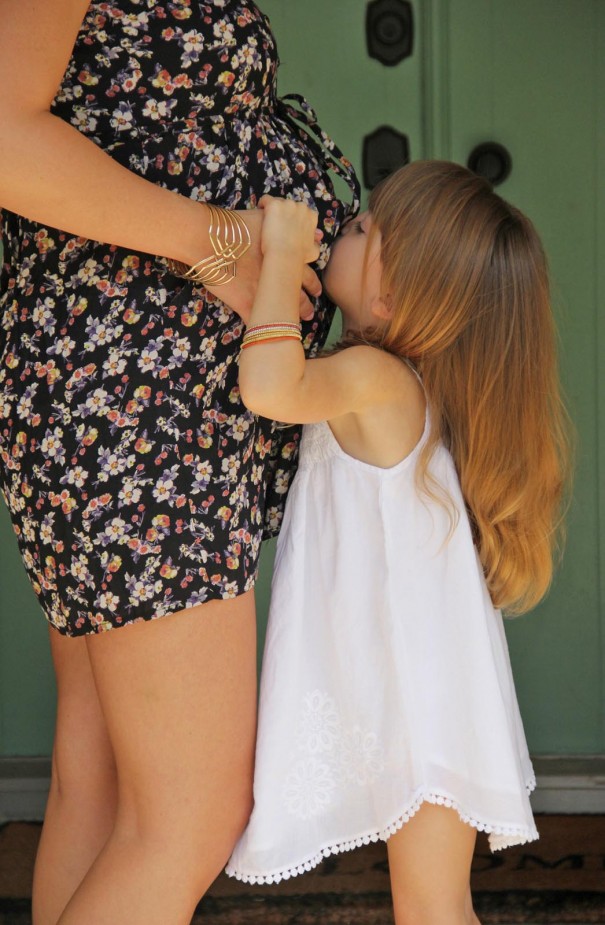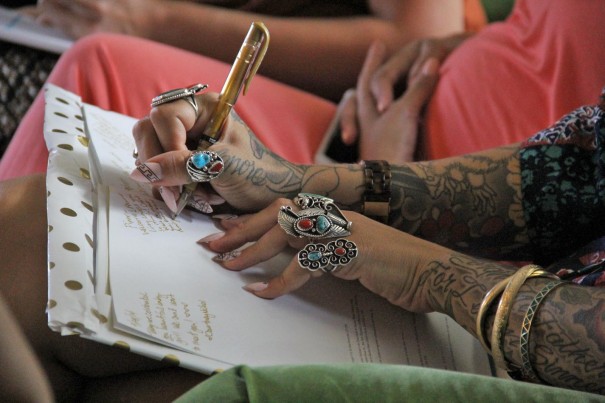 We passed around a baby book where all the guests signed a note to Piper.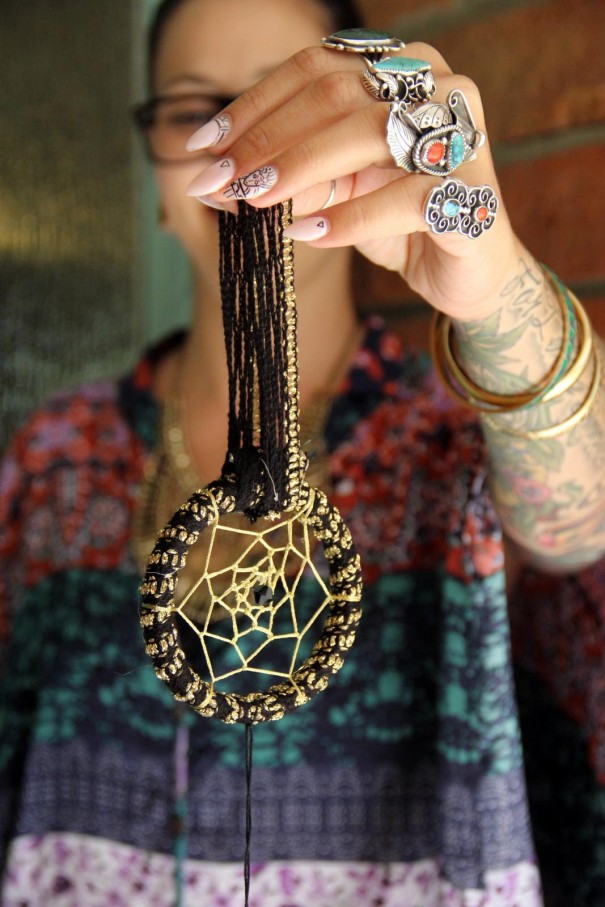 Here is a little peak at the beauty of these dream catchers.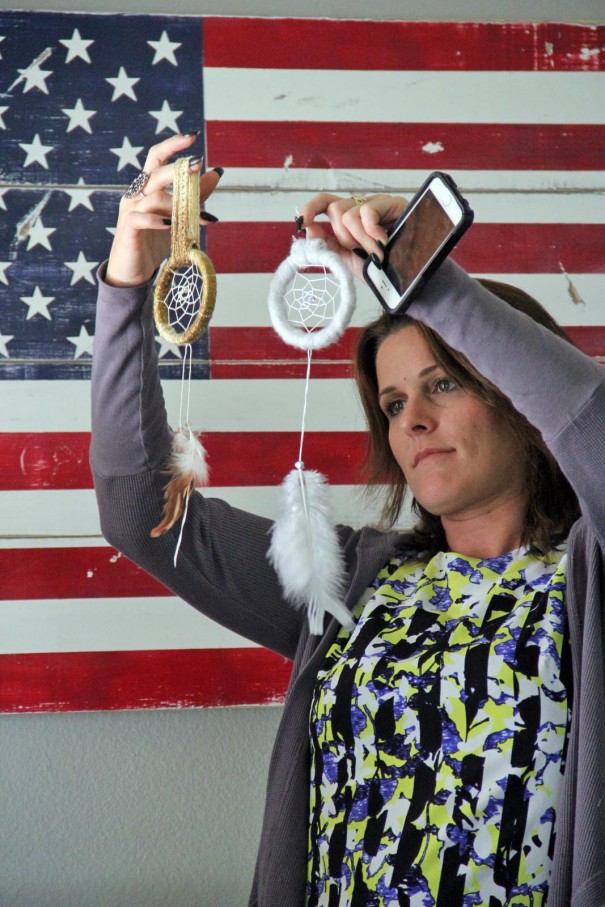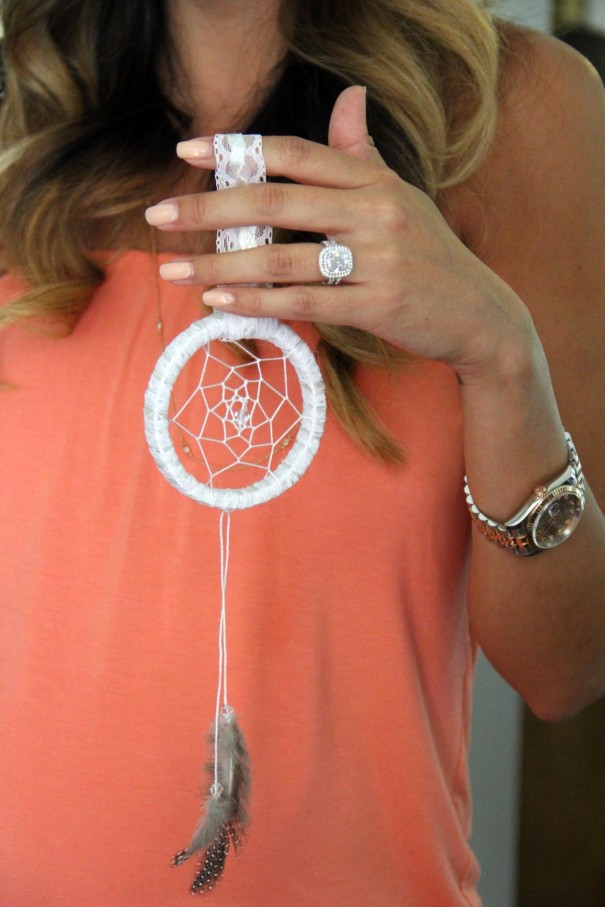 That ring though.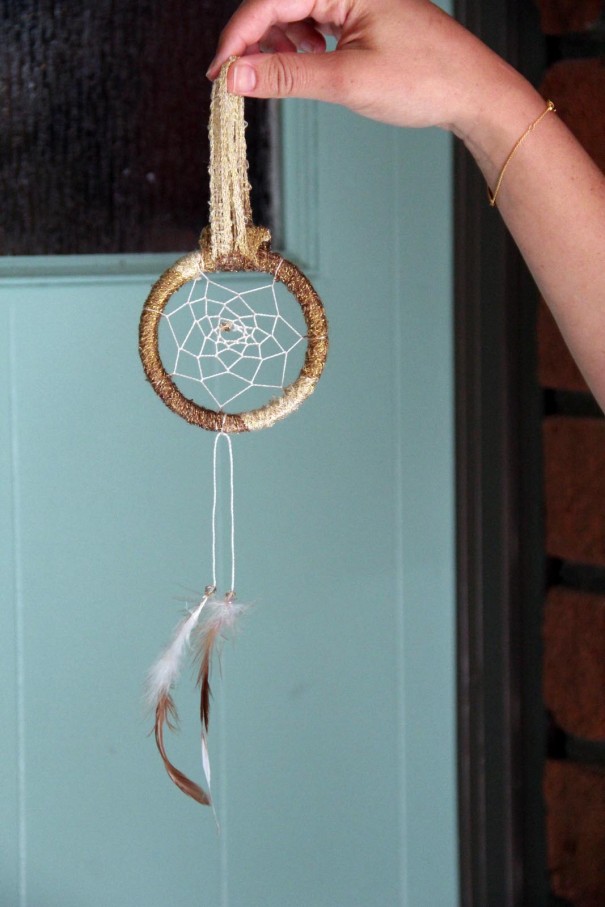 And that's the gist .  Our golden baby shower.  I love that it can be unisex and that it departed a bit from the traditional "baby-themed" shower–perfect for a second-baby baby shower, ya know. We love you Piper!