DIY Dollar Store Striped Cake Stand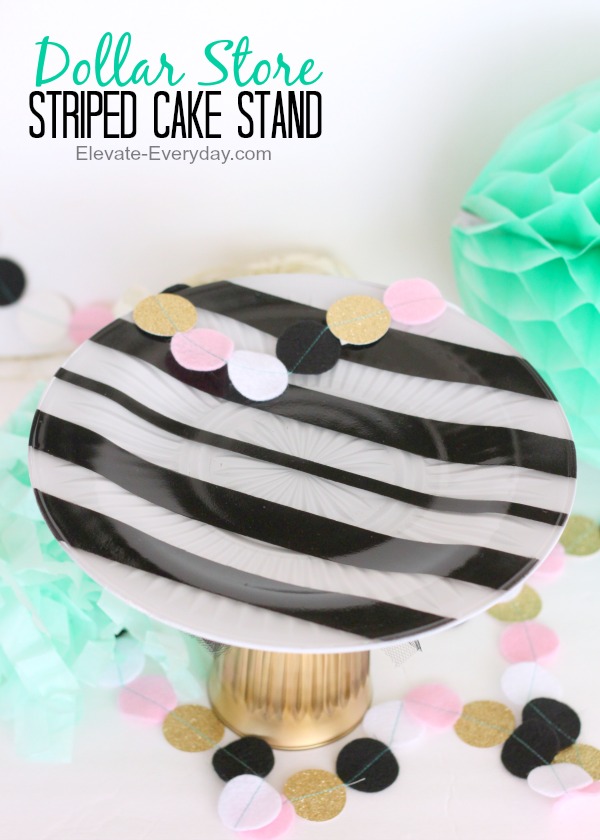 Two of my favorite gals in all the world have come together to start a fab new blog called Elevate Everyday.  These ladies hold a special place in my heart and it's an honor to host their guest post today. I think it would be so fun to make a bunch of these cake stands in different sizes for a dessert table.  Thanks for spending the day with us Summer and Jen!
….
Hi there! I'm Summer, one half of The Elevate Everyday Blog. My partner in "blogging" crime Jen and I began Elevate as a 1 day mini Conference in Newport Beach, CA and just combined our blogging efforts launching Elevate-Everyday.com. We blog about DIYs and crafts, recipes, style and everyday life. Our hope is that browsing around our site will inspire others to elevate the simple details of their everyday lives. Big thanks to Ashley for letting us take over her blog today! We are so grateful for the opportunity to introduce ourselves and share a quick and easy tutorial that you can knock out during nap time for about $2.
But first here are the top 5 facts you should probably know about us:
1. We are real life BBFs who first connected over an email about HTML coding (so cliché we know lol)
2. We only get to see each other about 4 times a year, but we talk on the phone probably 500 times a year
3. We love dessert almost as much as we love our kids…all six of them between the 2 of us
4. We are happiest when we have so many things on our todo list that it makes our heads spin
5. We would LOVE to meet you all in person at the Elevate Blog Conference next year! Keep an eye on our social media for more details to come.
Now that you've got the skinny on us, let's get to crafting!
Here is what you are going to need:
The plates are from the dollar store and I had the painters tape and spray paint on hand (white & black in satin and gold metallic). Make sure you get the gorilla glue that says glass on it. The regular super glue does not say glass.
First turn your glass plate over and give the bottom 2 good coats of white paint. Painting the bottom gives it the look of milk glass and makes it more scratch resistance since the paint won't be on the serving surface. Let dry completely and finish with a coat of clear gloss spray paint for protection.
Next turn your glass cup over on a paper plate and trace around the top. With a pair of scissors cut out the circle and place the plate securely around the top of the glass. This will protect your cup from over spray.
Stand over the top of your glass cup and spray paint the INSIDE with the gold paint. Give it 2 coats and then follow with a coat of clear gloss to protect. I also turned it over when it was dry and did the same with the bottom of the base of the glass.
Now that your plate is dry on the bottom, turn it over and tape off your lines with painters tape. Start from the middle so it will be even on both sides. Spray with 2 coats of black paint and remove tape immediately. This photo shows the first piece of tape I removed and what it will look like with the lines. I used a baby wipe to clean up any over spray that got under the tape. Once its dry finish with a coat of clear gloss paint.
Using the Gorilla Glue, secure the base of the glass to the bottom of the plate, place a book or something heavy on top and let set for 60 minutes. Make sure to read the instructions on the glue. This one said to wet both surfaces to activate the glue. And then you are done! These make really great gifts to keep on hand for last minute occasions or to give in a gift exchange.
I love how painting on the bottom and on top gives the design such dimension.
I had to make a batch of white and dark chocolate chip cookies to put on display since they matched.
Thanks so much for letting us hang out today and we hope you'll stop by and say hello. Here is where you'll find us:
Facebook / Instagram / Twitter / Blog
And if you happen to be in the Southern California area on Nov. 22nd you might want to come to our annual Favorite Things Gift Exchange Party at The Printed Palette Clothing Shop! Click HERE for more details and to register.
Candy Corn Felt Bunting / Vintage Circus Birthday Party / General Conference Cinnamon Rolls