Hawaii Part 1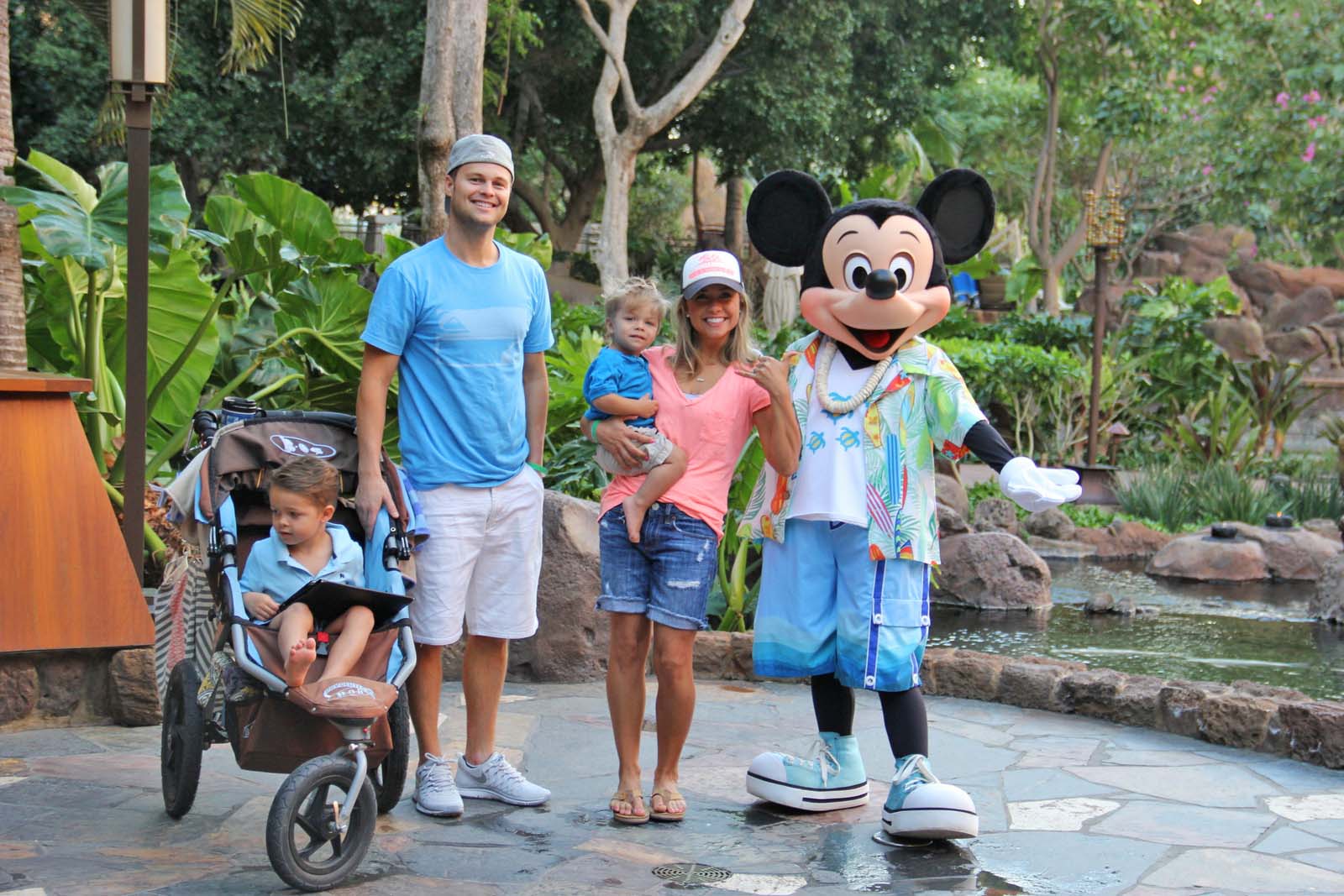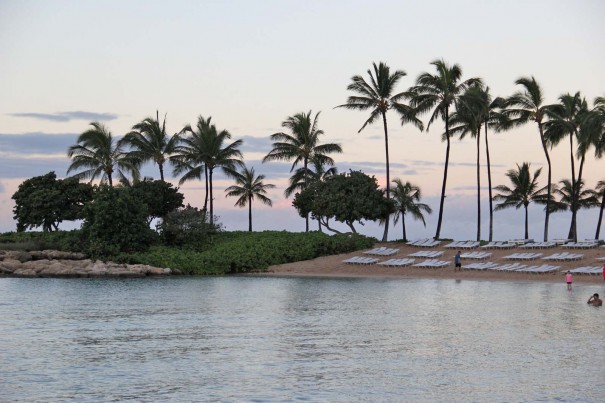 Oh you guys, this really was the most fabulous vacation.  Ben had never been to Hawaii and I hadn't been since I was 15 years old and my best friend at the time invited me to go with her family to Maui.  It was the trip of a lifetime and I have always been so grateful to her parents for giving me that incredible opportunity.
Flash forward 15 years, and you want to know the coolest part?  That BF of mine from over a decade ago…yeah, well now she's my neighbor–and we're right back where we left off.  Except now we're both moms, raising kiddos along side one another. And every now and then I get a little choked up when I think about how far we've come, how much we've grown and how lucky we are to be moms together.  But I'm getting off topic.  Because I haven't even gotten to the cool part yet–Lacey and her family came to Hawaii with us!
Normally I would spare you guys all the details and just share a round up of photos from our trip, but many of you have been asking about our experience at the Disney Aulani Resort so I thought I would share just a bit more about our vacation.  Click here to read about our travel experience to Hawaii.
We arrived just before sunset on Sunday evening and after a long day of travel the kids were pretty tired so we took a quick walk around the hotel grounds and then put the kids to bed.  Because we had two families and we would be in Hawaii for over a week, we decided to stay in one of their 2 bedroom Villa rooms.  It had 2 master bedrooms (one for each family), a full kitchen, washer and dryer and a family room.  Food in Hawaii is insanely expensive.  So we ended up going to Costco, loading up on their yummy pre-made meals, and cooking a lot from our hotel room. I would highly recommend making a Costco and/or Target trip like this–saved so so so much money. Because of the washer and dryer we were also able to pack much lighter and saved $$ because we didn't have to pay for extra baggage on the flight.
For those expecting the Disney Aulani to look like Disneyland, you'll be disappointed.  The resort and decor are not heavily Disney themed at all. In fact, really the only "Disney" would be the characters who are always walking around the resort (Mickey, Minnie, Stitch, Goofy, Chip & Dale).  We were told Donald was there too, but we didn't see him in the 8 days we were there so it was highly suspect. So while there weren't Disneyland-ish amusements around every corner, the grandeur and majestic beauty left no doubt that the resort was yet another Disney masterpiece.
Because of the time difference, both boys were wide awake at exactly 4am.  They are early risers as it is, but this was a new record.  And even though I would have been happy with another 3 hours of sleep, their early rise turned out to be one of the most magical moments of our vacation.
We spent the early hours walking the grounds of the resort in our pajamas. We were literally the only guests of the hotel who were out and about. The concierge took this photo of us–look how dark it still is outside.  Then, while it was still dark, we made our way down to the beach.  It was perfectly warm out as the boys danced in the water in their little undies and we watched our first Hawaiian sunrise.  Yes, I may have shed a subtle tear or two.  It was in that moment that I realized just how much our little family needed this escape, together, with no distractions from the busy world we live in.  It was perfect.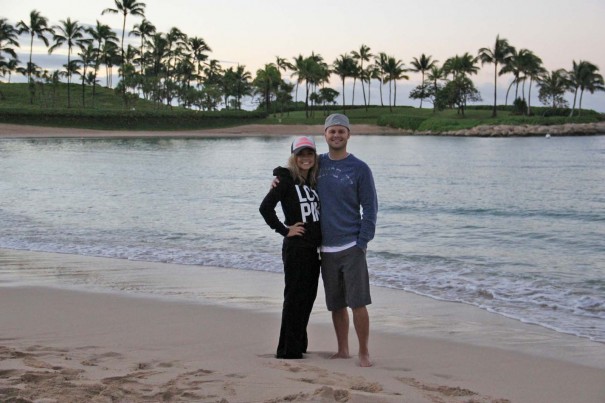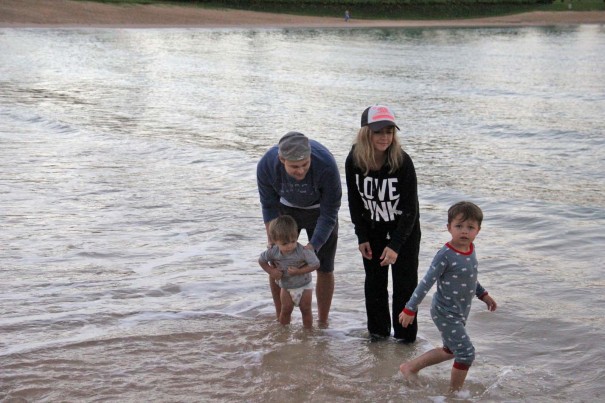 This photo is hilarious to me. I can't look at it without laughing.  Just look how Wesley is positioned exactly like Big Foot! And yes, I believe in Big Foot.  Another story for another day. I hope we can still be friends.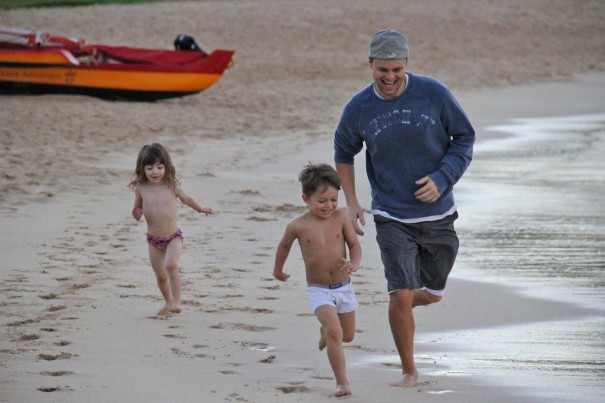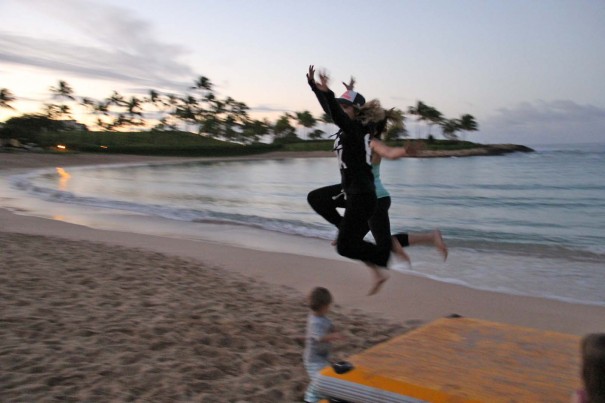 Out of 8 days, 3 were rainy–not a big surprise for a February trip. But even in the rain we were able to relax and enjoy ourselves.  We rented movies, colored, played hide and go seek, swam in the rain, ate pizza and cuddled.  And then, on the other days when it wasn't raining we spent our time at the beach and the pool.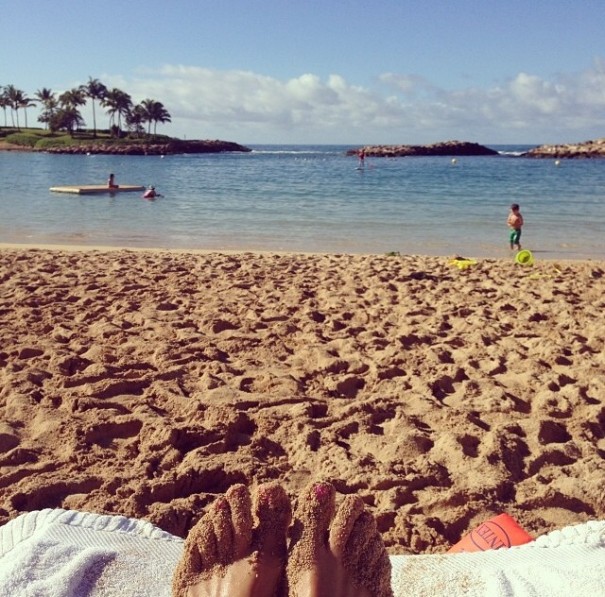 The Aulani has built a private lagoon for its guests.  This was fantastic for our family because it meant there were no waves and therefor no reason for this anxious mom to worry about her boys getting swept away by the ocean.  I was able to put floaties on them and then not stress out.  The hotel is also known for their incredible water slides, lagoon, splash pad and children's pirate ship water play area.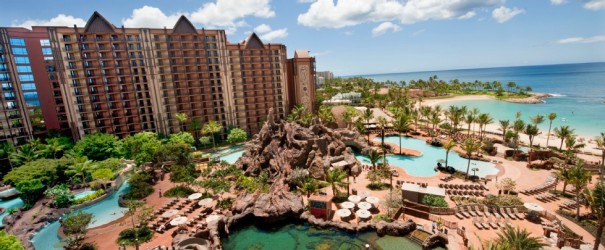 On the beach days we built sand castles, kayaked through the lagoon, swam and played on these fun blow up platforms they had out in the water.  We didn't try snorkeling though–we will next time when the kiddos can swim.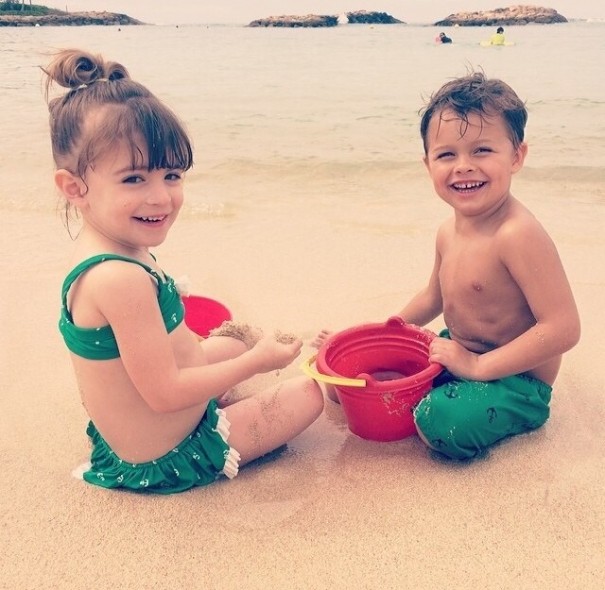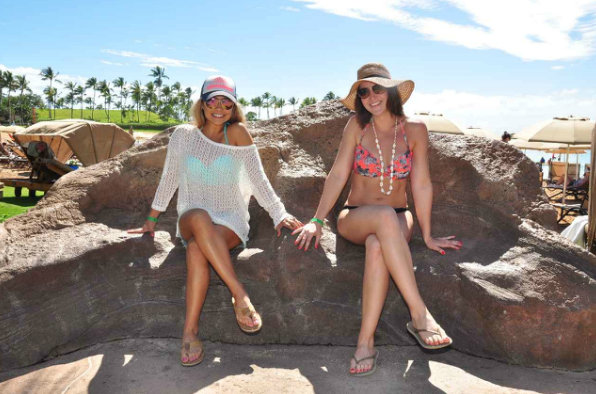 Hat and cover up details here.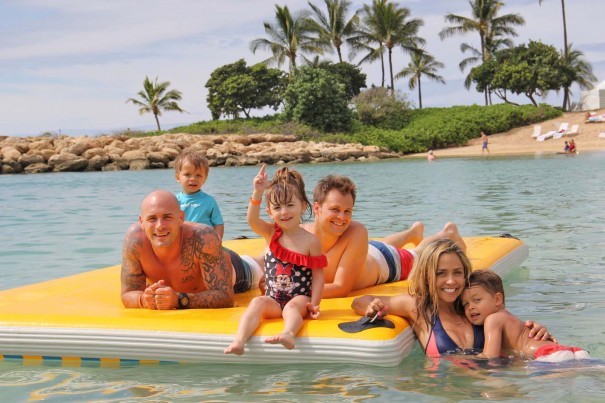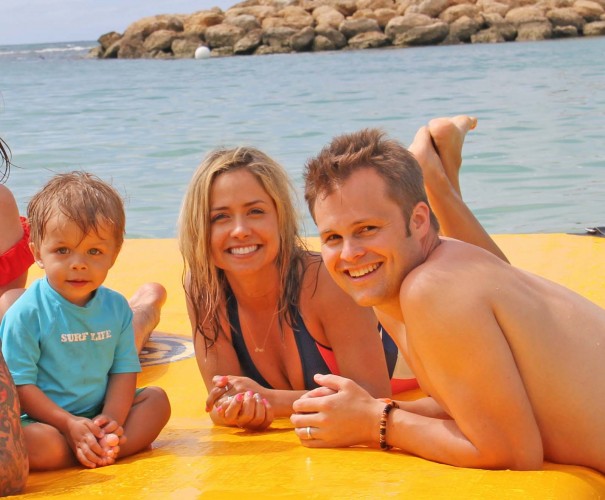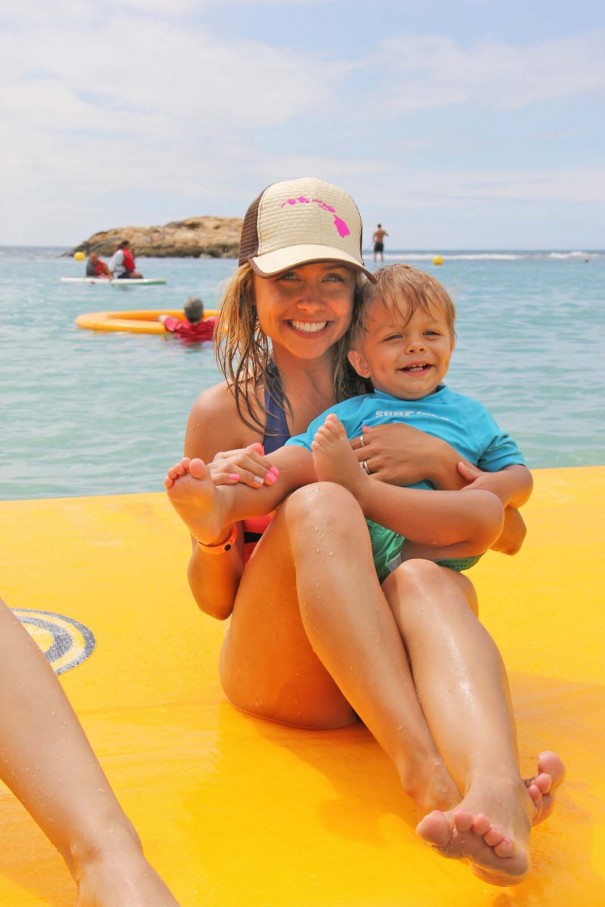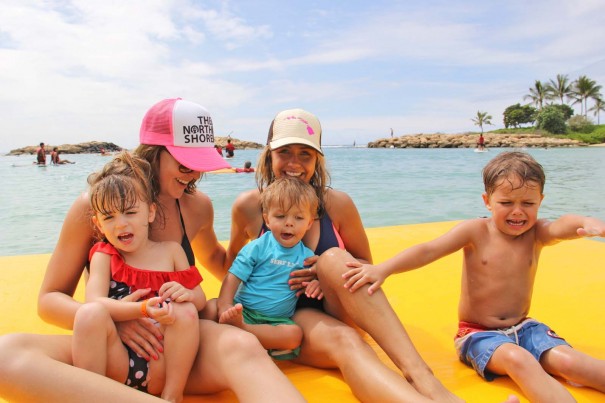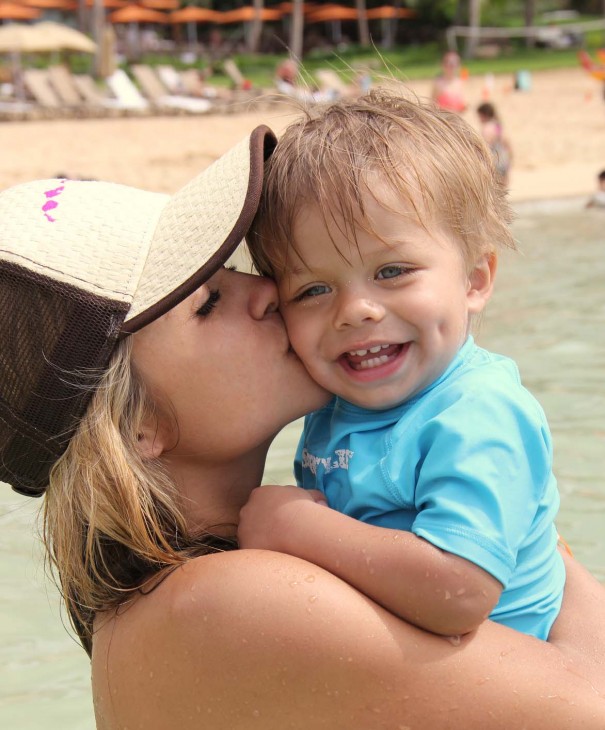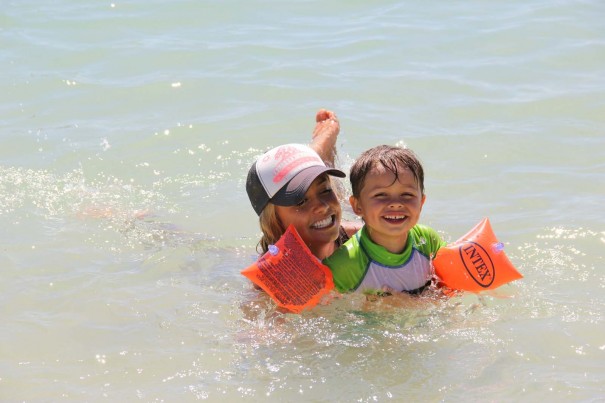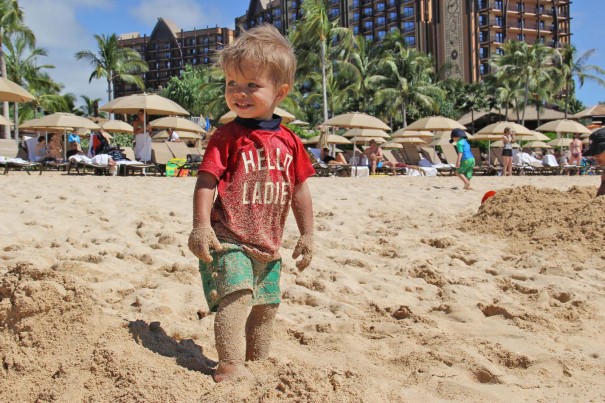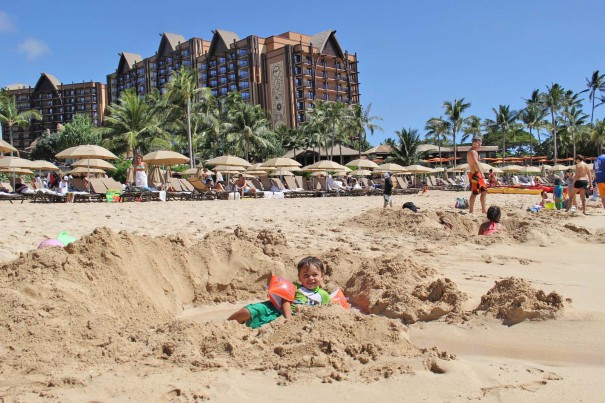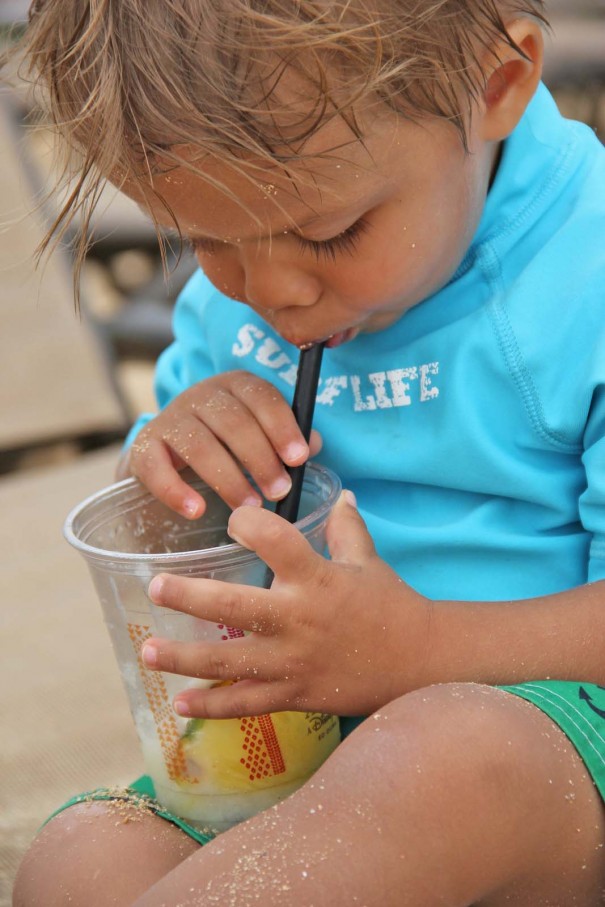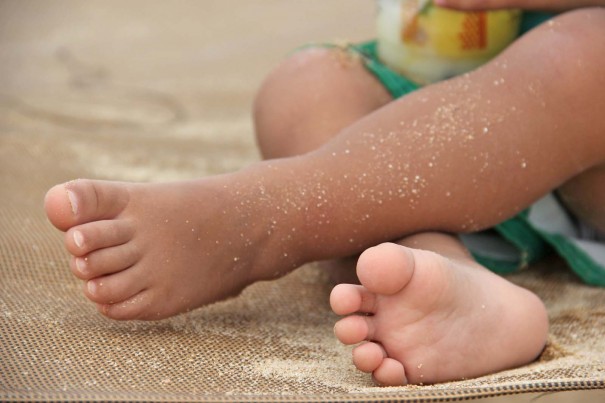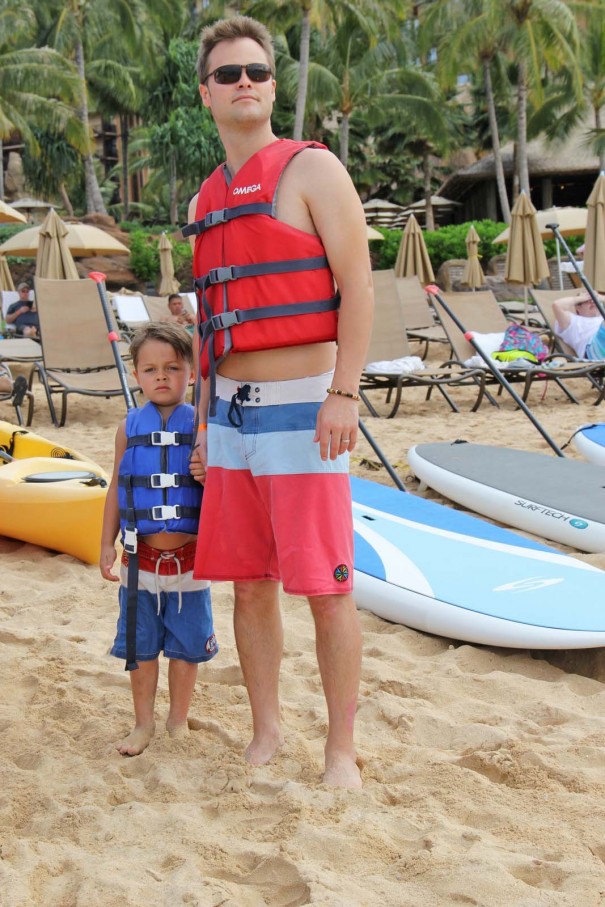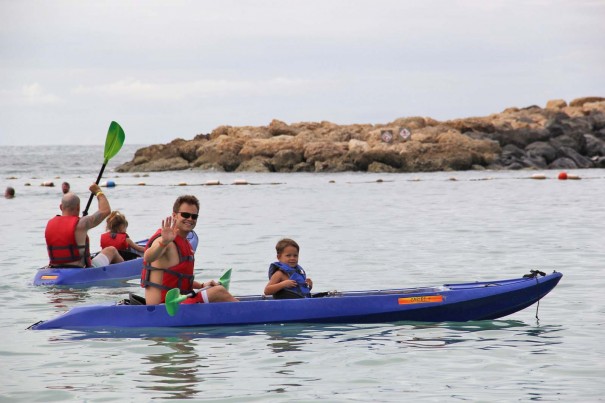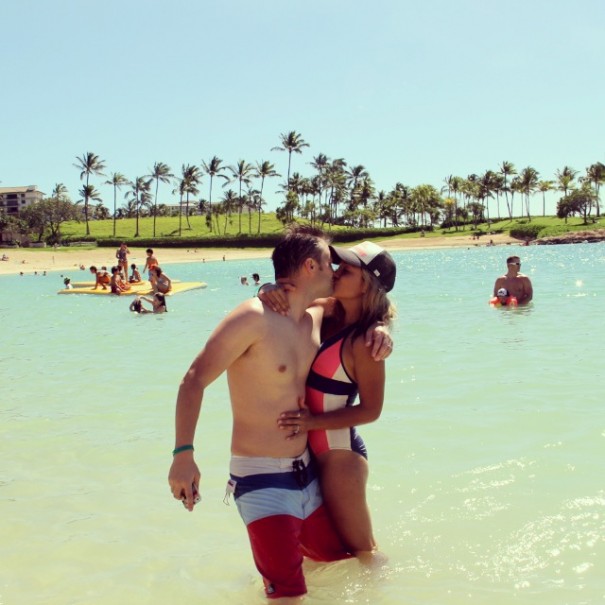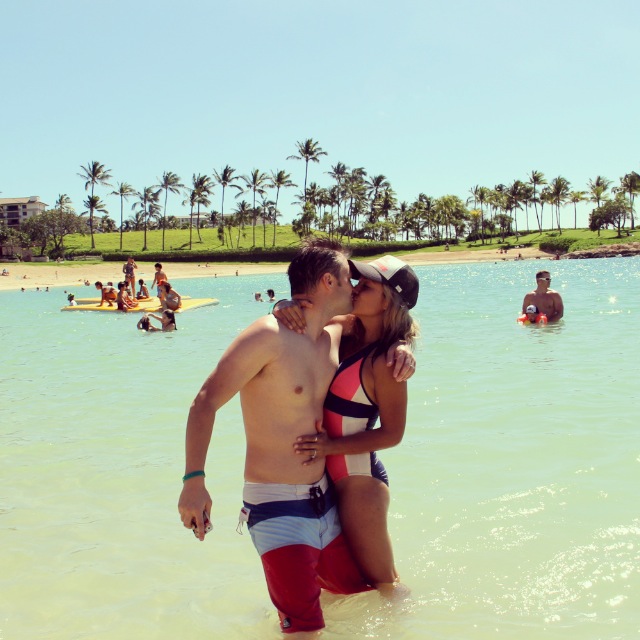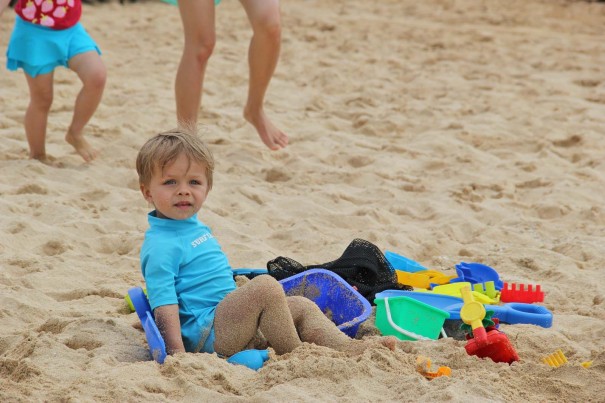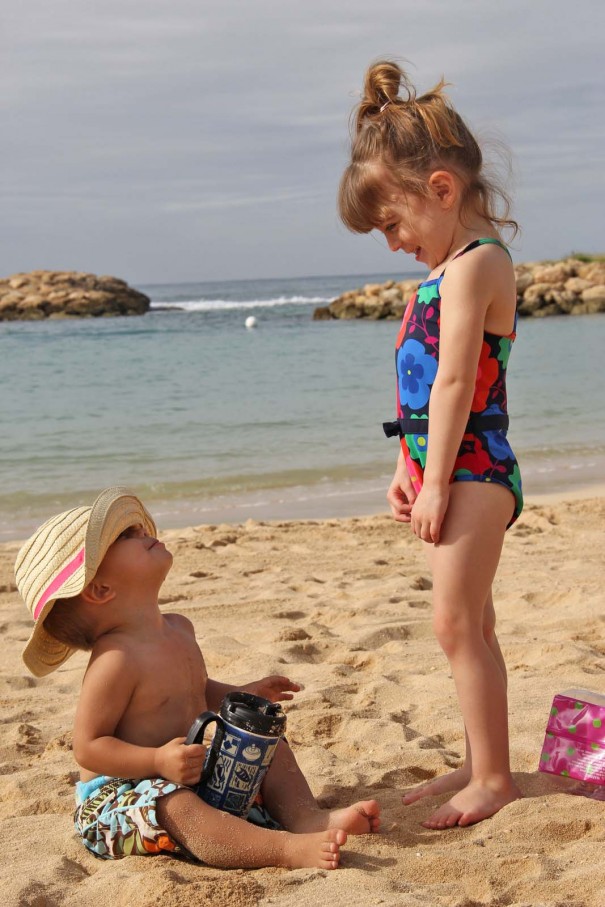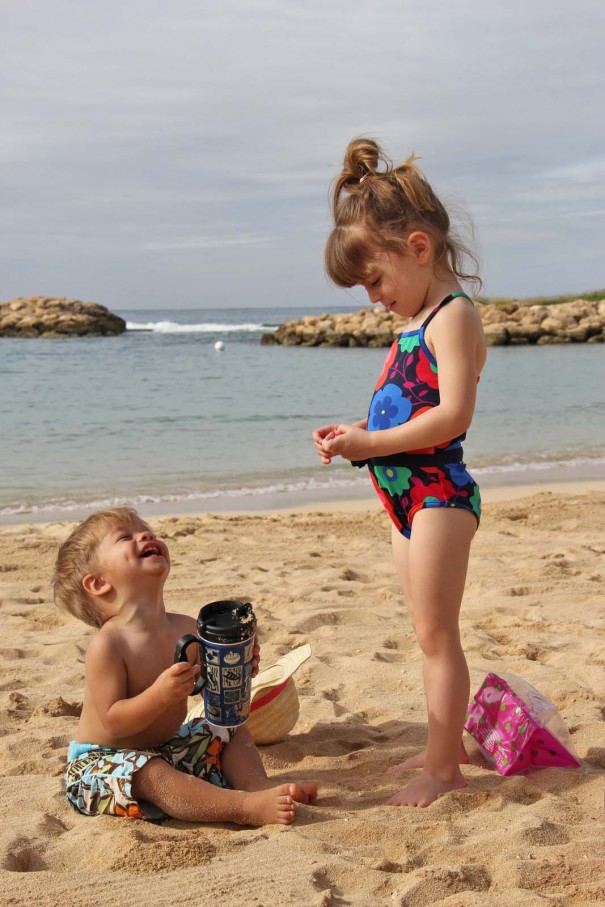 On Monday morning we did the character breakfast…and once again my Momma nerves crept in.  While my boys LOVE watching their favorite characters on television, seeing them in real life has been a bit terrifying for them.  We decided on doing the character breakfast on one of our first days in hopes of warming them up to the idea of having the characters around for the rest of the trip.  Our breakfast was scheduled for 9:30, but because our kiddos were up at the crack of dawn we were able to get in at 8:00.  This ended up being such a blessing!!! At 8:00 am there was hardly anyone there.  We had the character experience practically to ourselves–which was perfect in giving the boys an ample amount of time to warm up.  It started off a bit rocky with shouts of terror and climbing up the side of Mommy's body…but then, after Wesley met Goofy everything took a turn for awesome! I'm almost certain that Goofy must be some sort of occupational therapist in real life because he had such a special way of getting kids to relax and not be scared.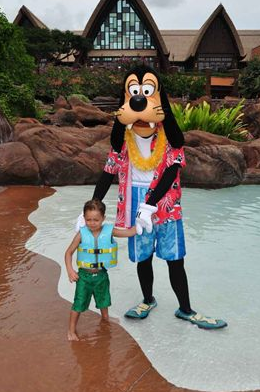 This character breakfast was another one of those "magic moments" of our vacation.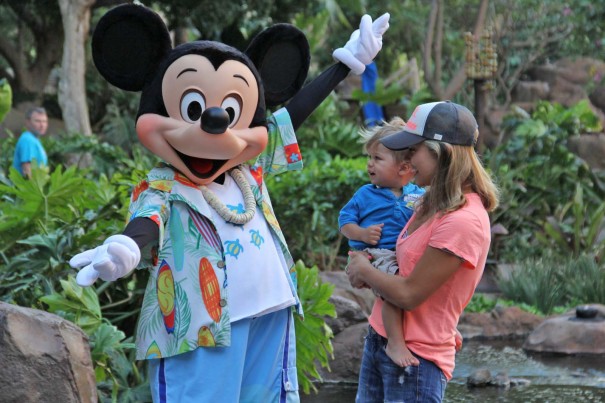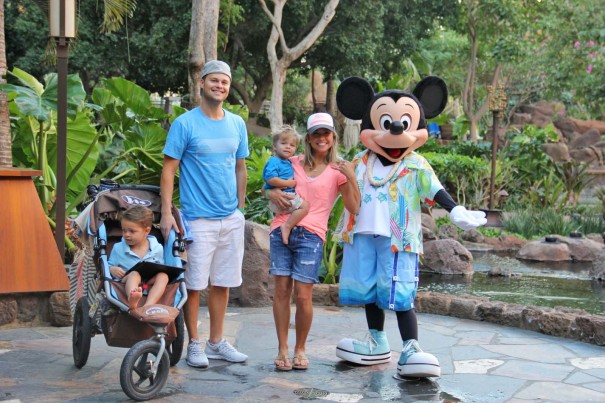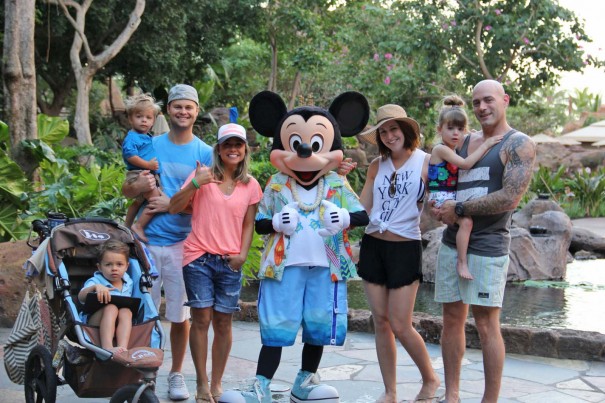 The Aulani also has Aunty's Beach House, a kids club filled with Disney dress up clothes, arts & crafts, movies and an amazing play yard. The characters will even stop by and play with the kids.  Our kids weren't too keen on being dropped off but we did stop by and take the dress up clothes for a spin.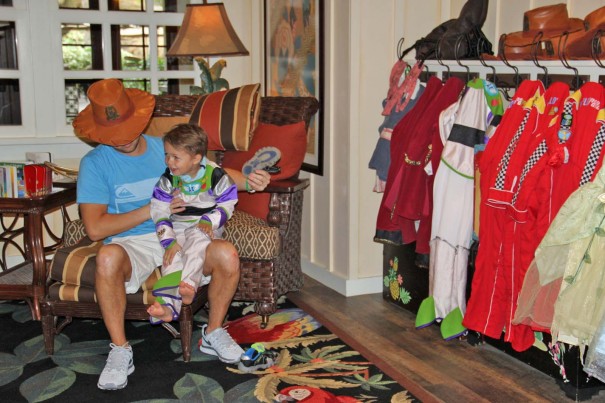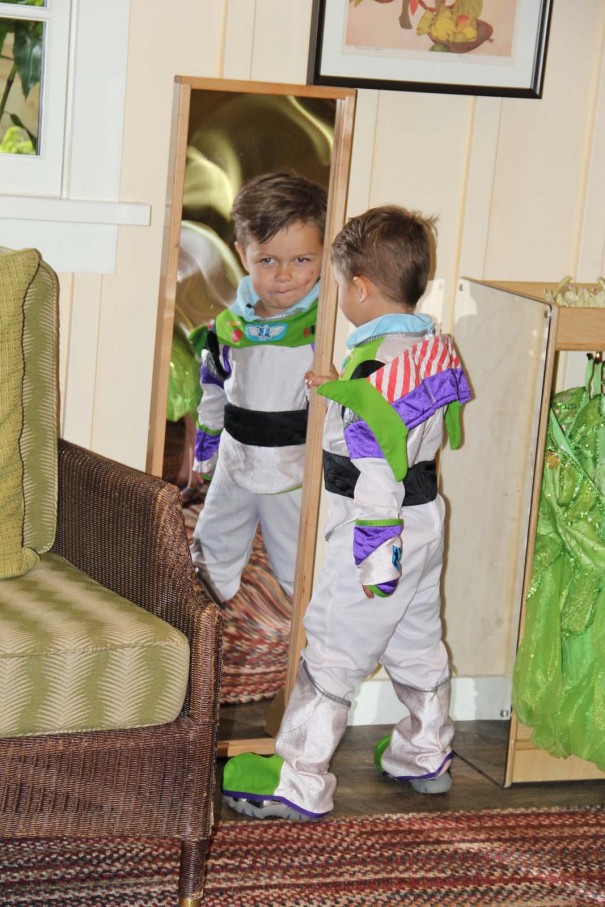 Mostly, we could be found at the beach–it was the most self-entertained my kids have ever been.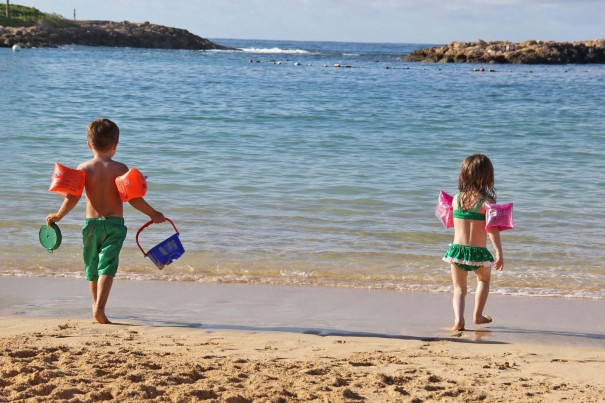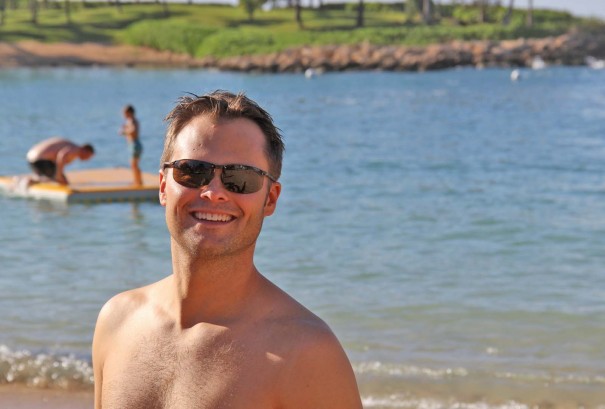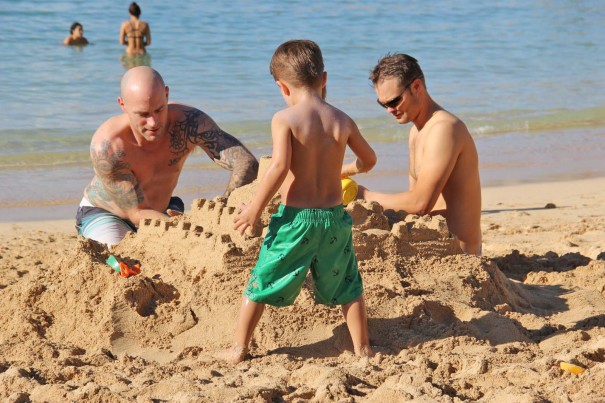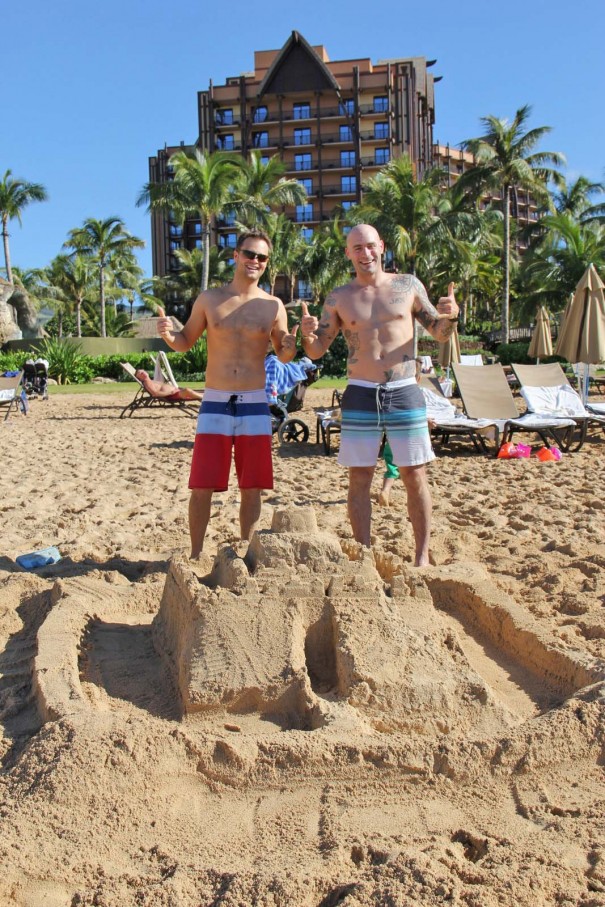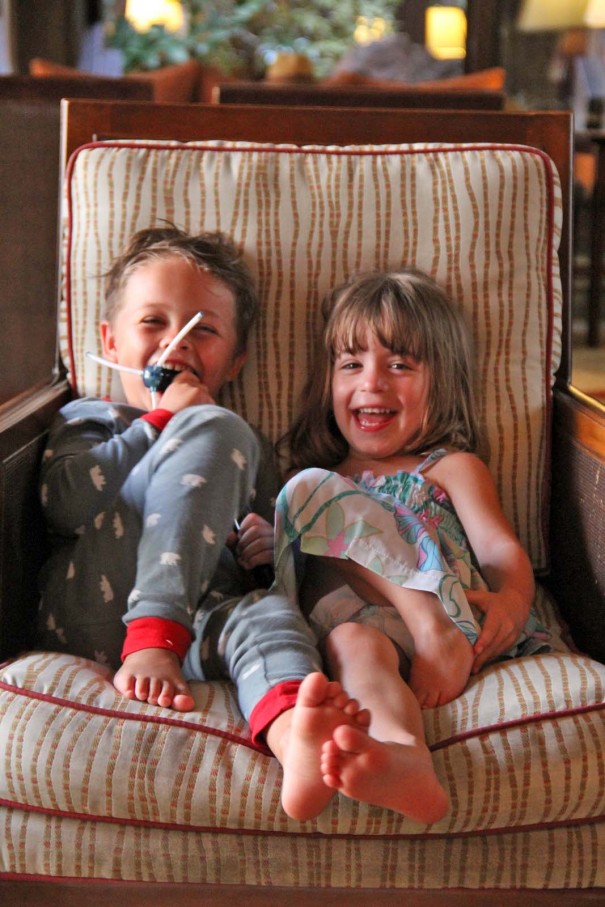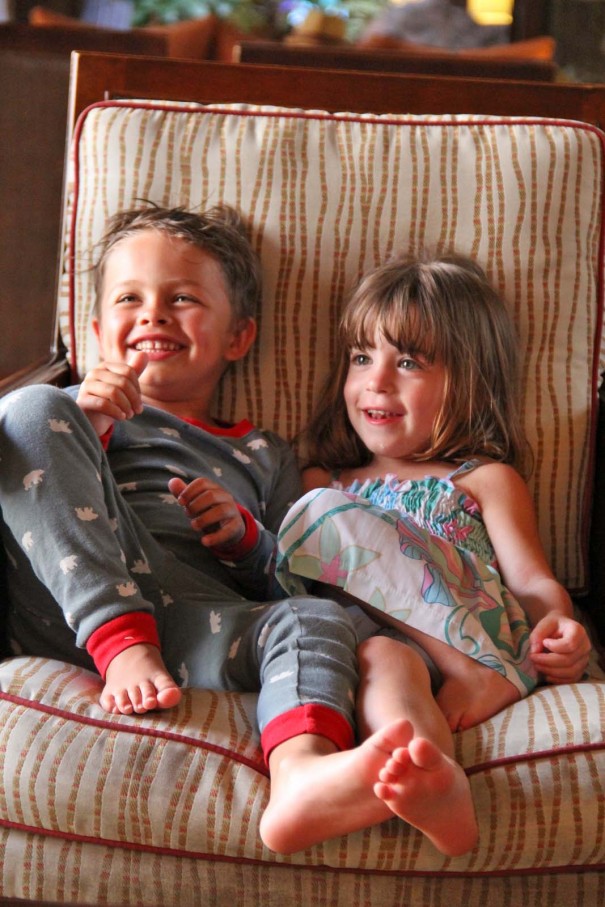 We had a few days where we rented a car and explored the island a little bit.  I'll share our days spent around the North Shore in my next post.
Until next time Aulani, until next time.