Our Family Computer Corner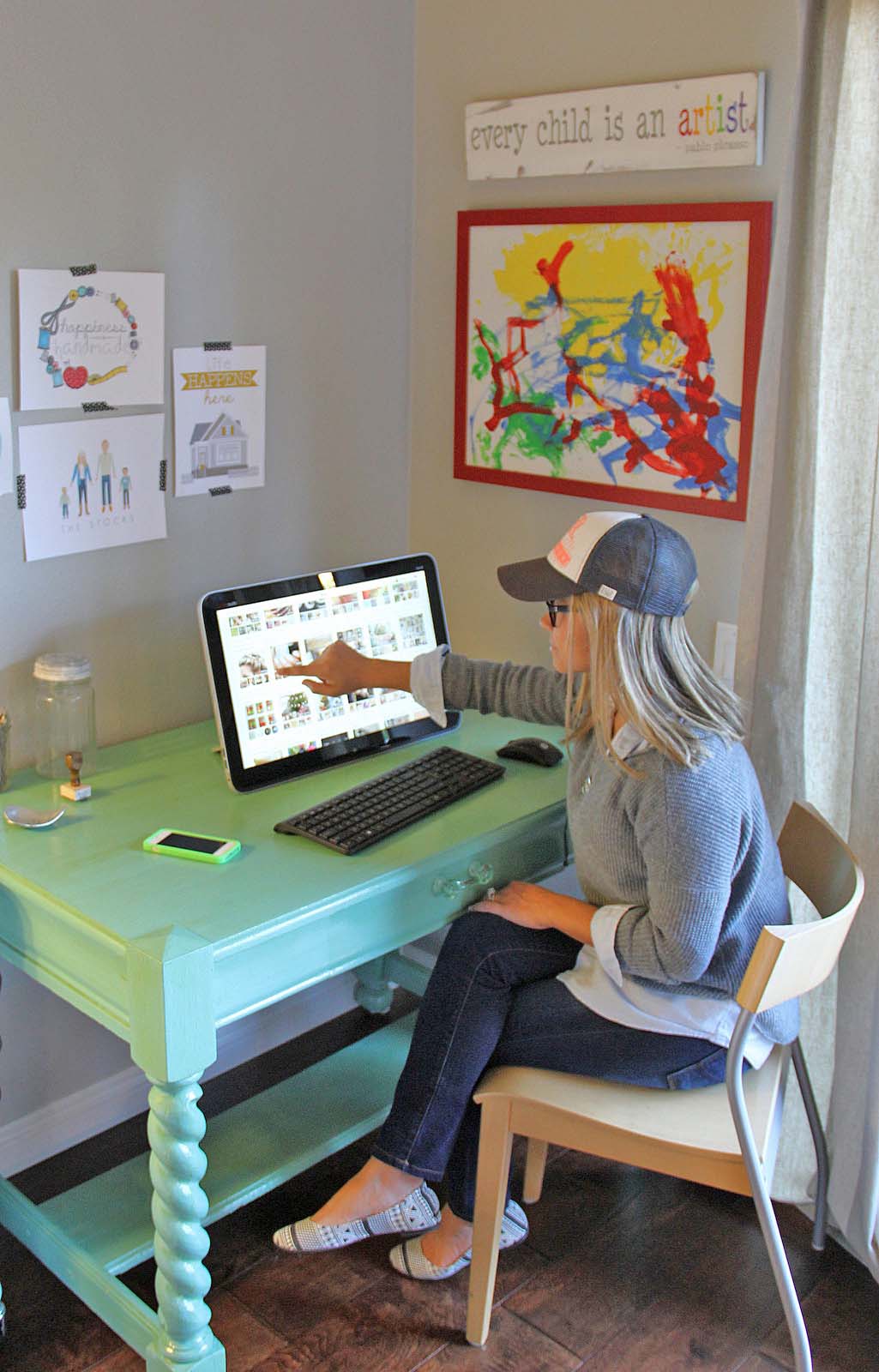 A big thanks to Intel for sponsoring today's post about our new Intel All-in-One PC! #IntelAIO
It has always been important to both Ben and me that we keep the family computer out in the open–an area that we can always be aware as the boys work on their projects or are on the internet.  Even though the boys are still young, we want them to get accustomed to having the family computer in a common area. So there is this little corner in our family room, adjacent to our kitchen, that I have turned in to a small work area–a place for the computer and printer to live.  And let me tell you, this area has been an eye sore of epic proportions–the place in the house where the dust bunnies have taken up permanent residence. It's been a dark mess of tangled cords, a bulky computer, stacks of magazines and cumbersome printers.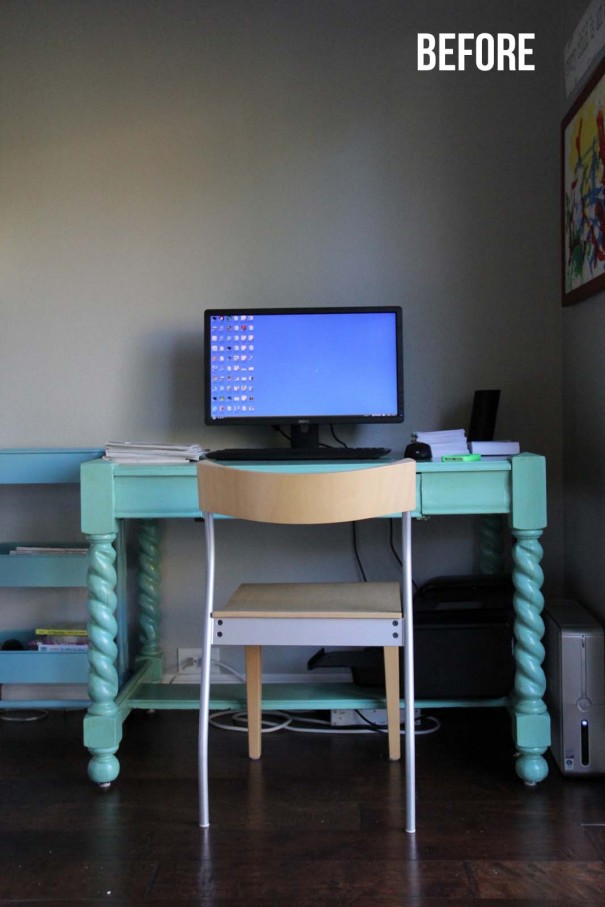 Please note all the jumbled cords and clunky computer tower. Bleh.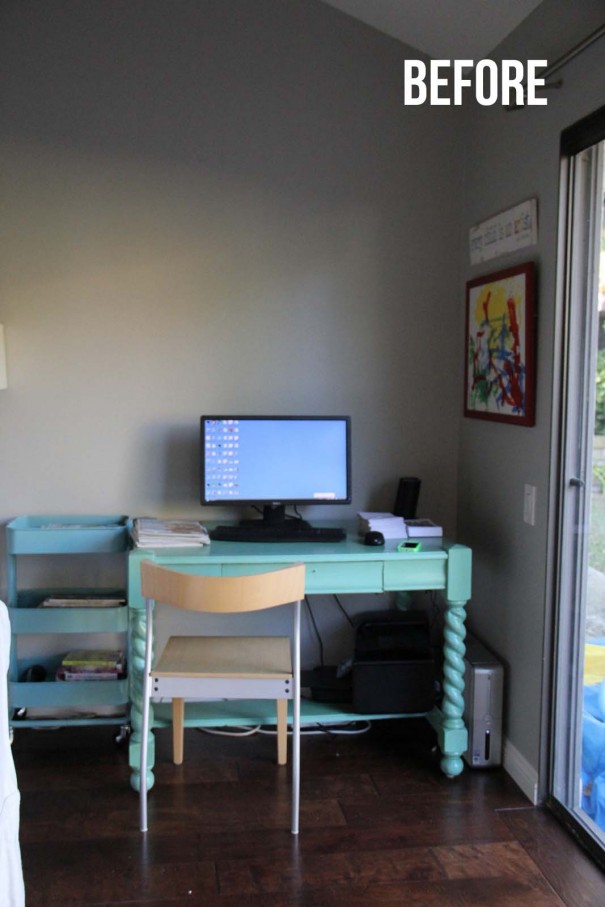 It needed a mini face lift–a clean look.
When the folks at Intel were nice enough to send me the new Intel All-in-One-PC to take for a spin, I thought this would be a great time to spruce up our little computer corner.  Clutter and cords are a big pet peeve of mine.  So when the new All-in-One arrived with a single power cord and no massive tower I was overjoyed.  The screen and monitor have merged to become one slim, lightweight system. Goodbye standard desktop tower–HELLO sleek, modern design!   Look at that you guys–NO chords!  I attached the single power cord to the back of the desk leg with an adhesive velcro strip so that it isn't even visible.  Even the keyboard and mouse are wireless!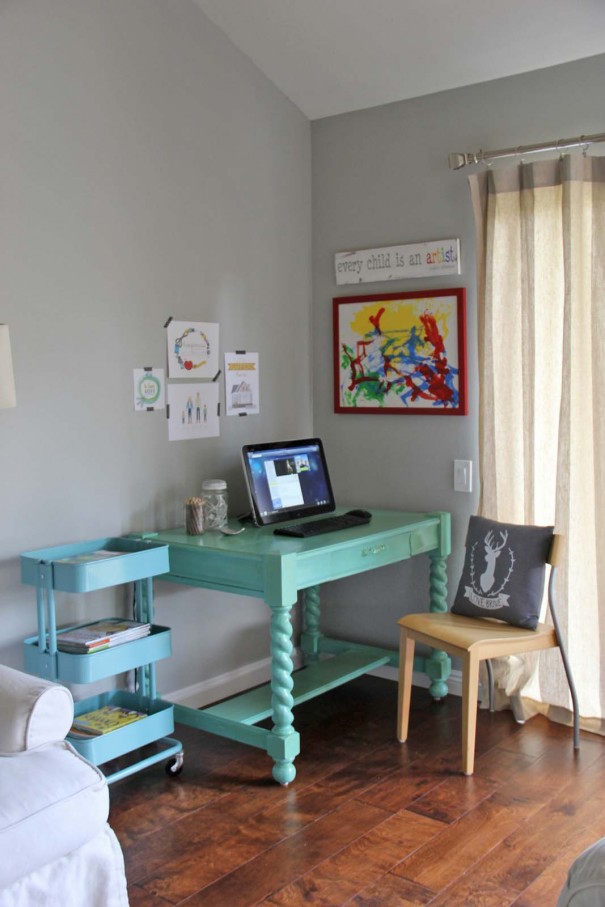 Here's what I've been loving most about our Intel All-in-One PC:
An all-in-one PC – The screen and monitor have merged to become one slim, lightweight system, setting it apart from the standard desktop tower. If you're finding your monitor plus tower clunky and cumbersome, then a sleek all-in-one PC may be right for you.
Portable all-in-one PC – A portable all-in-one PC easily moves from my kitchen for recipes, to the family room for movie night—or even to the office to tackle big projects.
Built-in wireless connection, speakers, and webcams
Easy setup – No tangled of cords that comes with the traditional desktop towers I've purchased in the past. With just one power cord, the all-in-one PC is easy to set up and cuts down on clutter.
Wall-mountable or move from room to room – This PC has found a home in every room in our house.  We've watched movies in bed, used it to read recipes in the kitchen and played games with the kiddos on the couch.  Ben even tried to convince me to take it with us to Hawaii.
Tangle-free – A wireless keyboard and mouse.
Touchscreen –  I'll say it again, touchscreen!!!! How rad is that?! And, the kids are a lot more comfortable using touchscreen rather than a keyboard.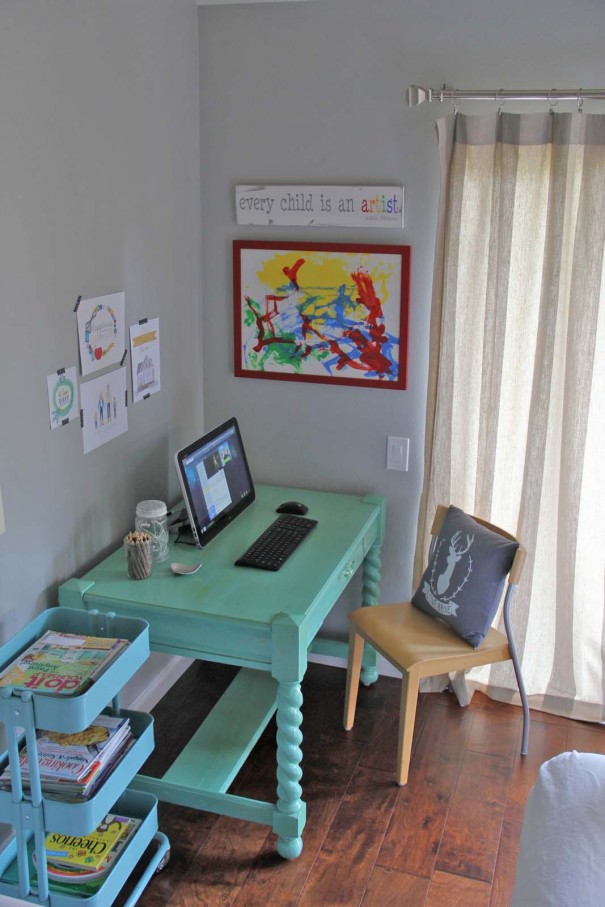 If you're wondering where the printers disappeared to….I sent them off to the garage.  They're both wireless so I decided to set up a printing station using this old butcher block.  I can't believe it took me so long to think of this! I'm so much happier with them out in the garage and out of sight and  reach of curios toddler fingers!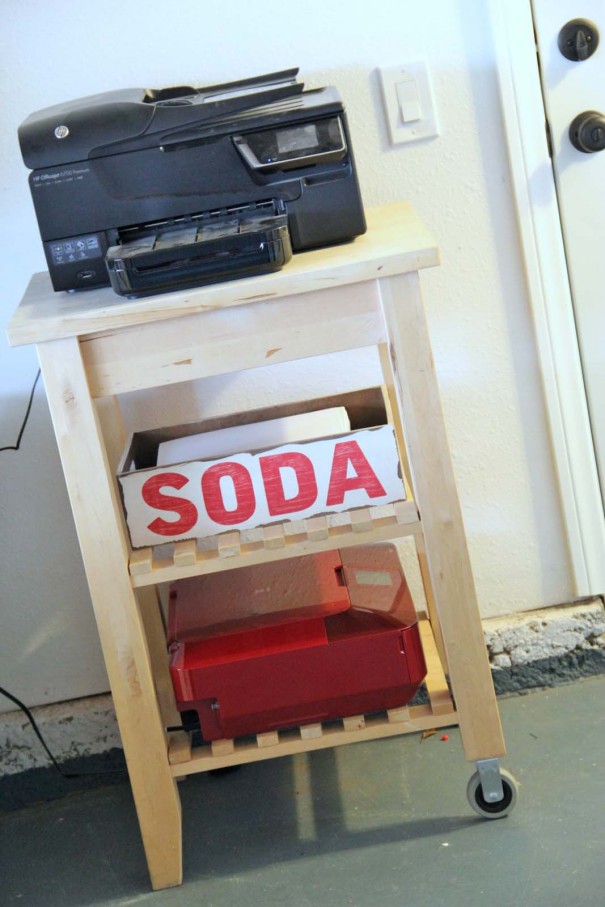 I couldn't commit to having anything above the desk so I had fun putting up some of my favorite prints by artists I love.  I just used washi tape to put them up so that they can be easily removed when I am ready to frame and hang.  Shop prints here, here, here and here.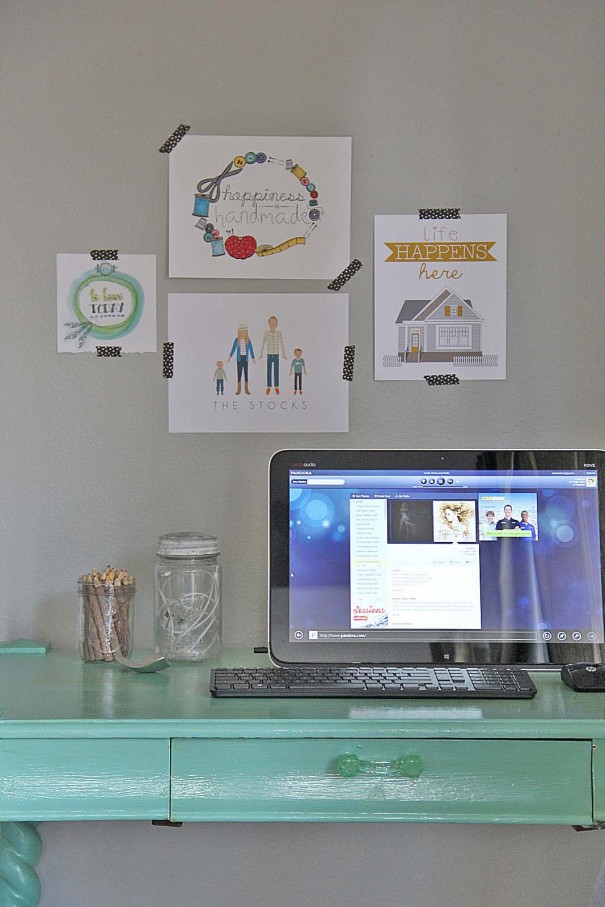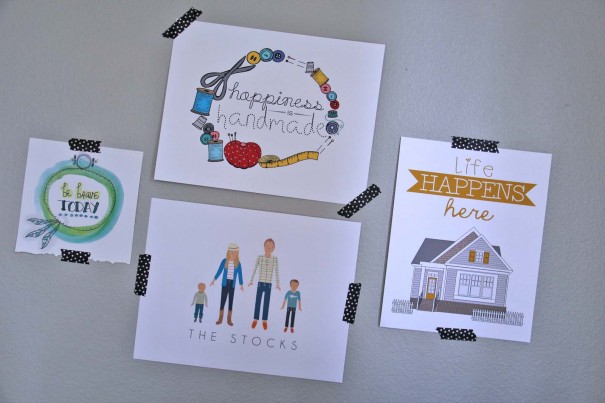 I have been in love with this Ikea turquoise caddy from the moment I saw it.
It is my favorite way to organize the clutter of magazine I just have to save.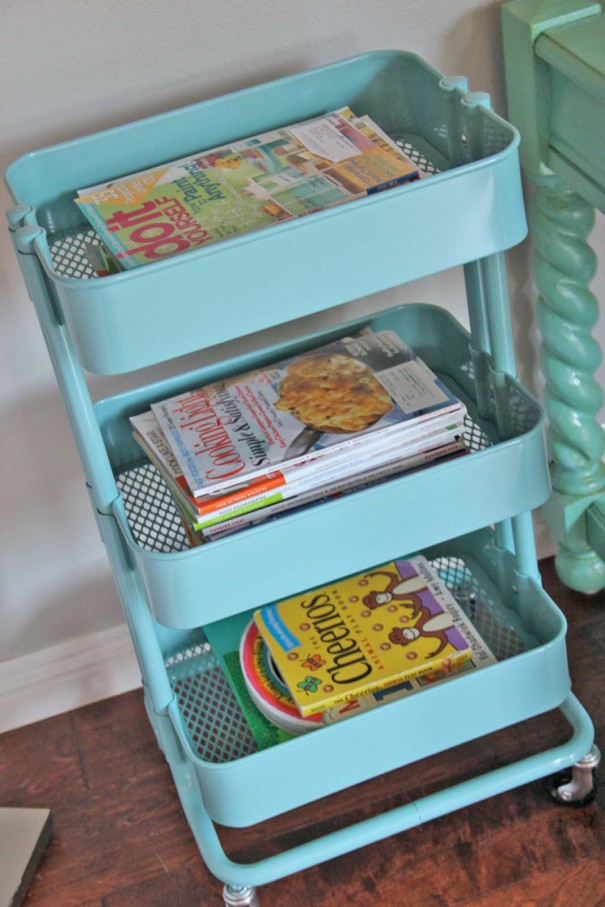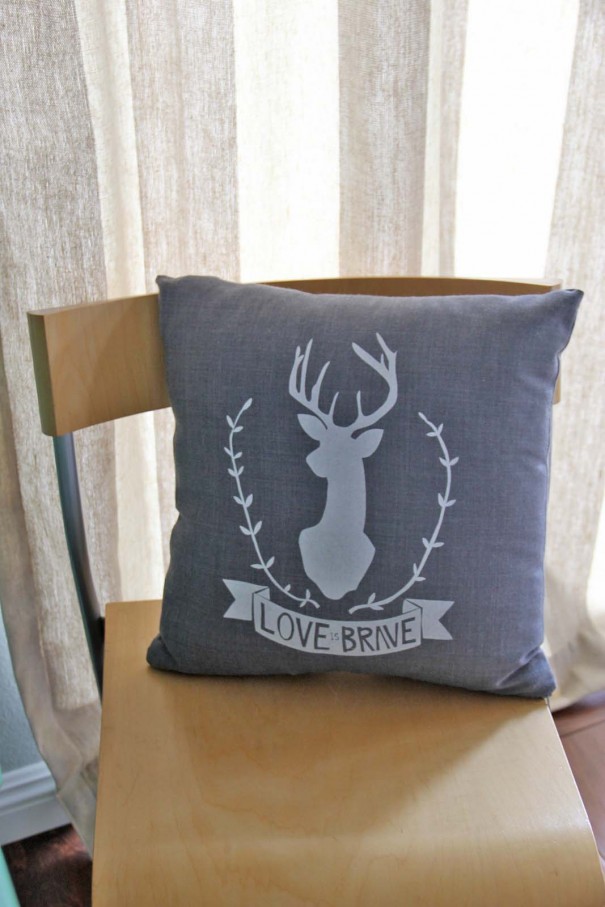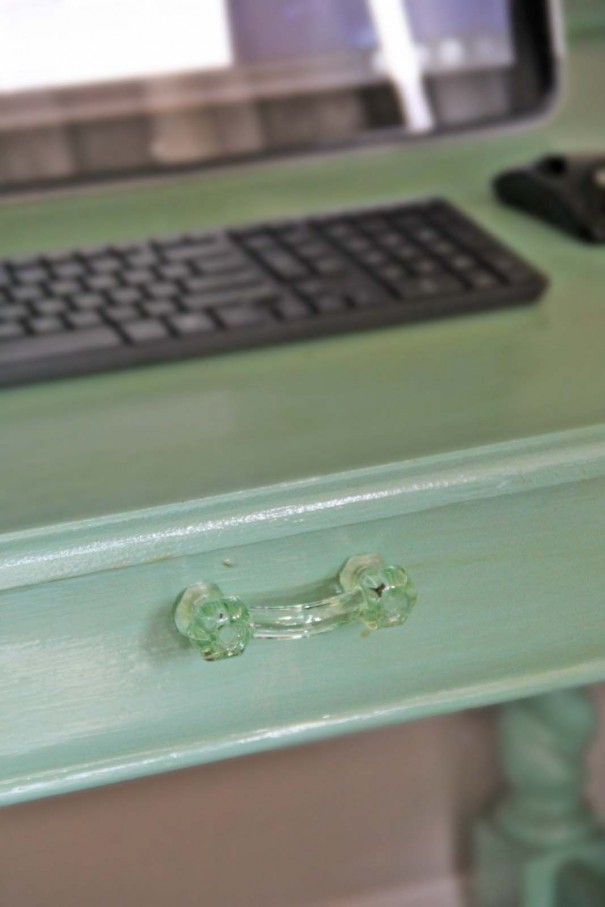 I feel like we have so many cell phone cords and I can hardly keep track, so I keep the extras I find lying around in this antique mason jar that I got at WCW.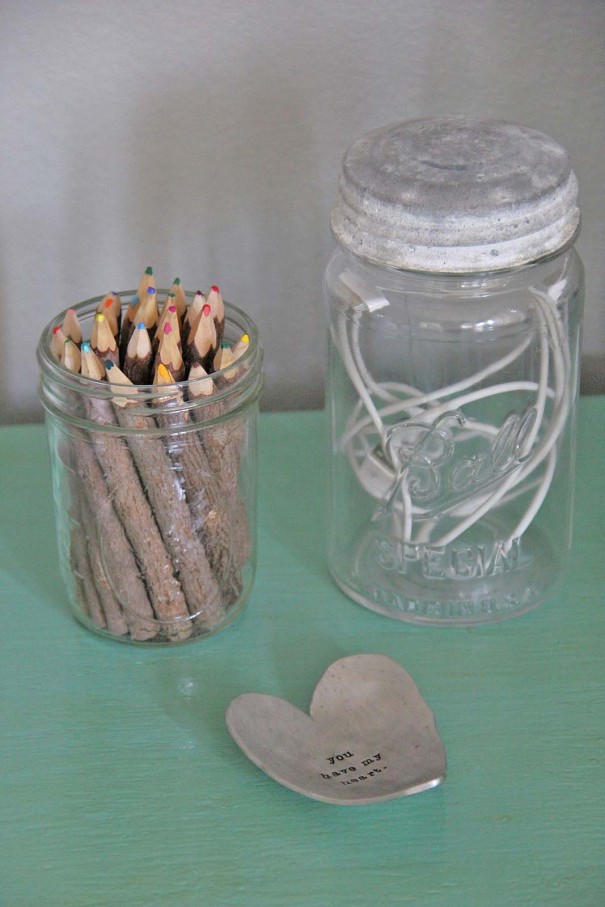 Colored pencils. Because why not.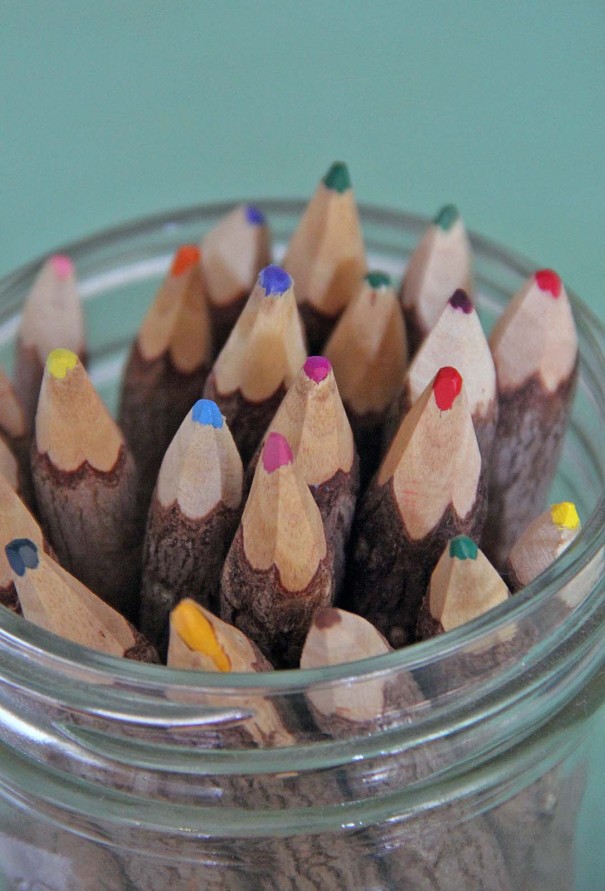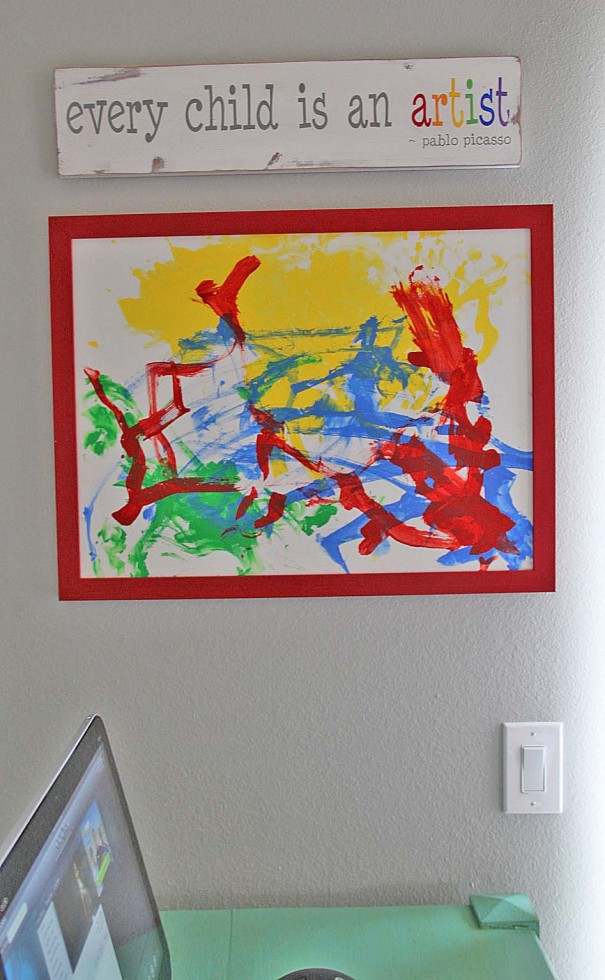 My favorite artwork by Wesley when he was two and my Picasso sign from Barn Owl Primitives.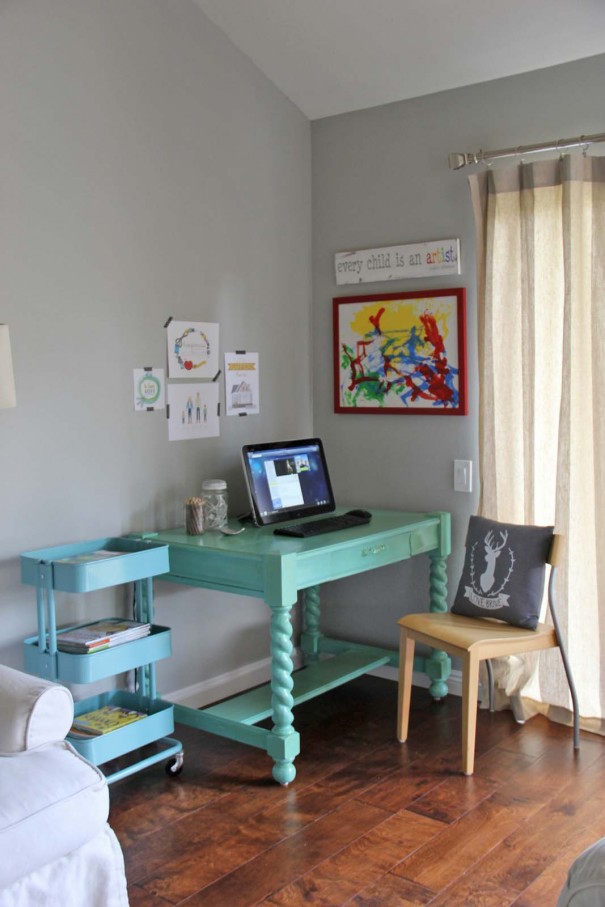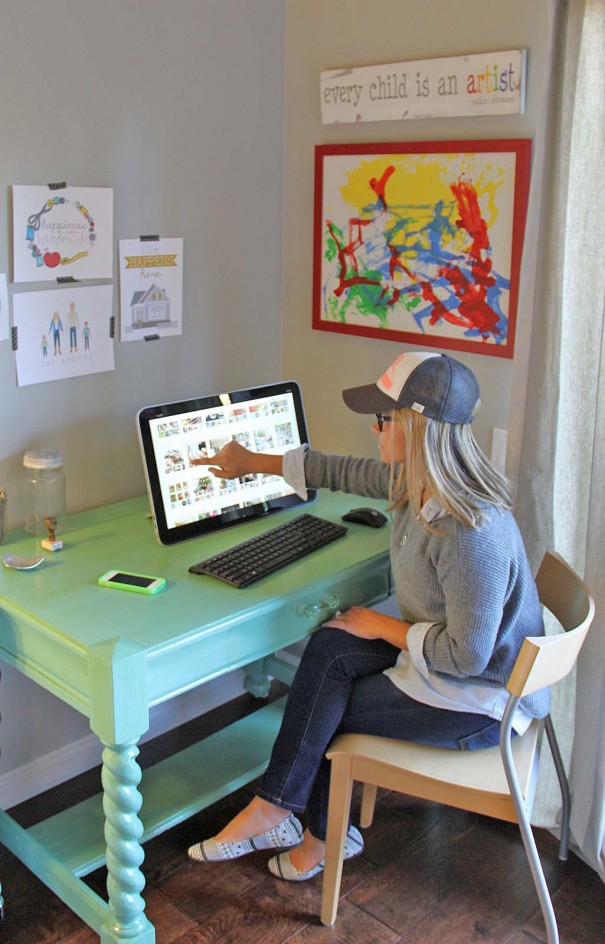 A little touchscreen Pinterest action going on.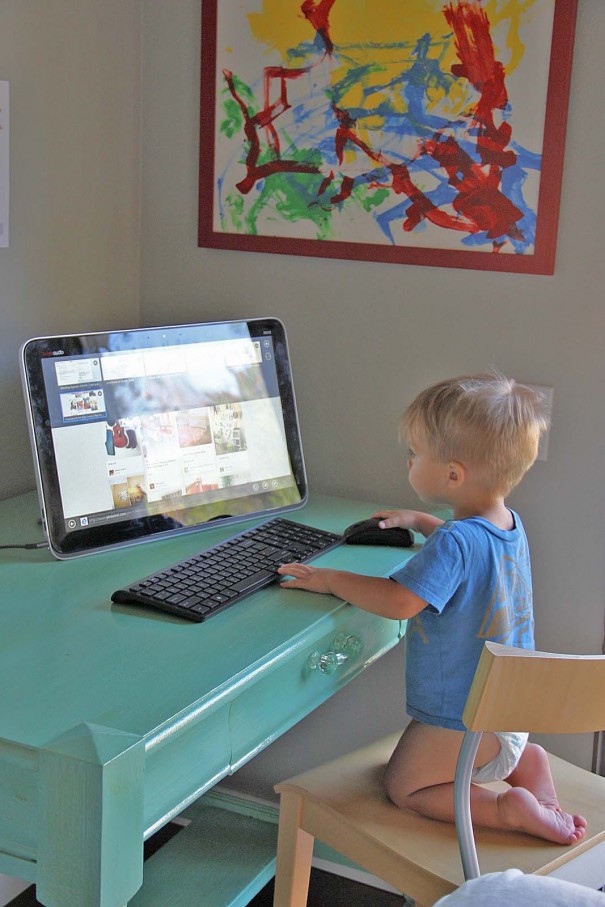 #spon: I am in a partnership with Intel. Through this partnership I gain access to content, product, or other forms of value.
Thank you for supporting the sponsors that support our family.