I'm Finally Gonna Do This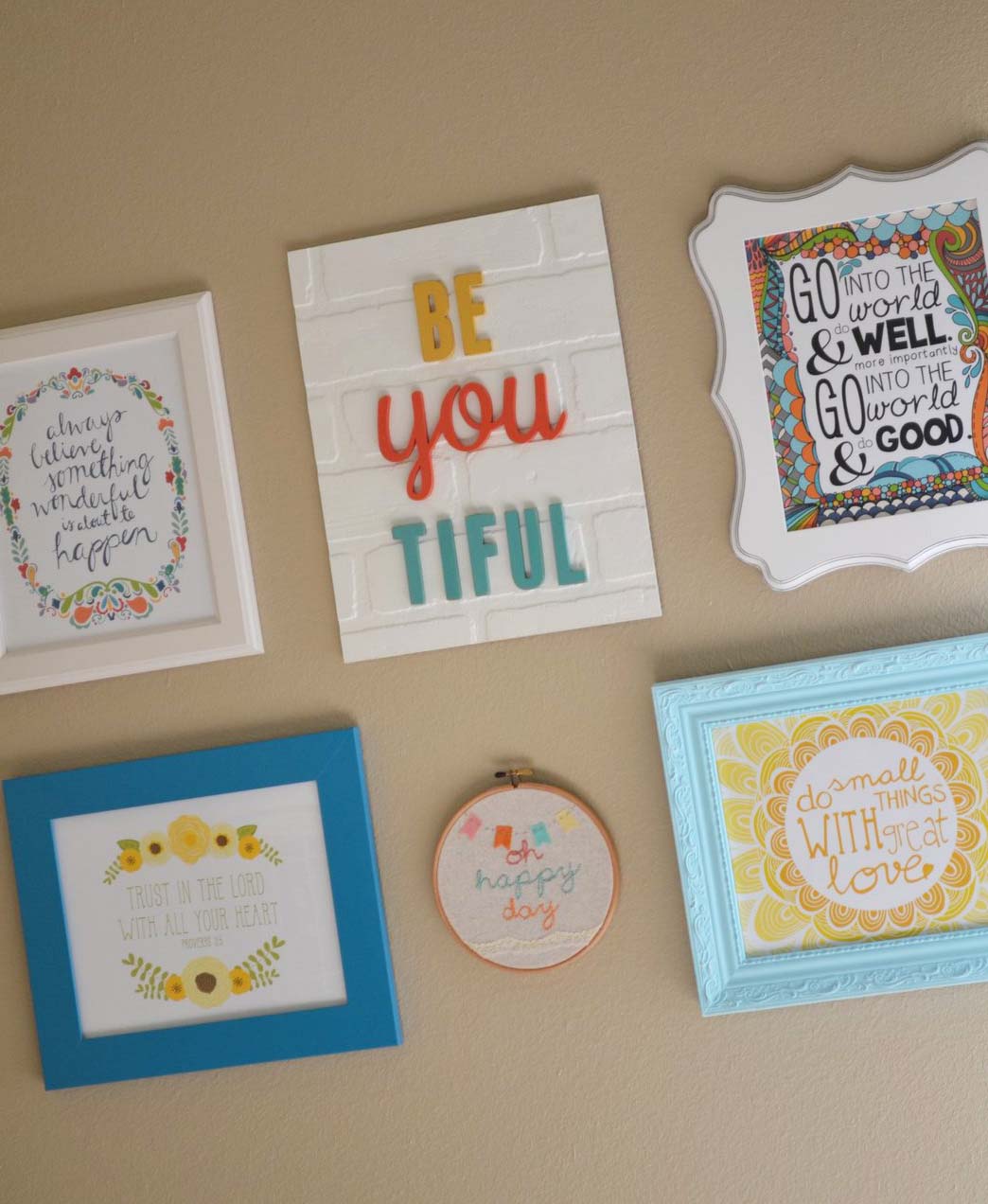 Growing up, my bedroom was my sanctuary.
My safe place.
To study.
Read.
Paint my nails.
Talk with friends on my pink "Clueless" phone.
I had a mom, aunt and grandma who made sure my room was always decorated to reflect whatever random phase of adolescence that I was going through at the time.
There was the New Kids on the Block room.
Then the Phantom of the Opera room.
The Roxy surfer bedroom.
The hippy room with a lava lamp, black lights and neon peace signs.
And then the "sophisticated" big-girl room with a purple satin bed spread and a lamp with dangly purple jewels.
Despite being a teenage girl and soccer player with stinky shin guards,
my room stayed fairly organized and smelled somewhat decent.
It was a retreat, a happy place.
Flash forward 10ish years, and for some reason I cannot seem to get it together when it comes to our master bedroom.
We've moved 4 times since being married, and somehow, every time,
every room in the house ends up getting decorated EXCEPT for our bedroom.
A picture is never hung, a theme never selected, improvements never made.
It just sits there…collecting laundry.
When we moved into our house in November, I decided that making our bedroom a retreat needed to be a priority.  It has taken me 8 months, but I finally got started this past weekend. "Formal" bedrooms just don't fit our family.  I'm into rooms that inspire. A bedroom that helps our family start the day off on a positive note. Nothing fancy–just "us".  So this weekend, I pulled out some of our favorite pieces that I've been collecting over the months and years and I broke some ground.
But here's the thing–I still have so much more I want to do.  
Like how I have grand plans of repainting the entire room a semi-dark gray color with white trim.
And how I want to paint the legs of our bench a pretty turquoise color.
And I still need a fun area rug.
And how I still need to find the perfect, small armchair for the corner of the room just under the "inspiration" wall.
Oh yeah, and how I want to find some eclectic pillows that will bring some new colors into the room.
So if you know of the perfect chair, or paint colors, or pillows–then please link to them in the comments section because I need a little push to take the next steps. 
Here's what I have so far–stage 1: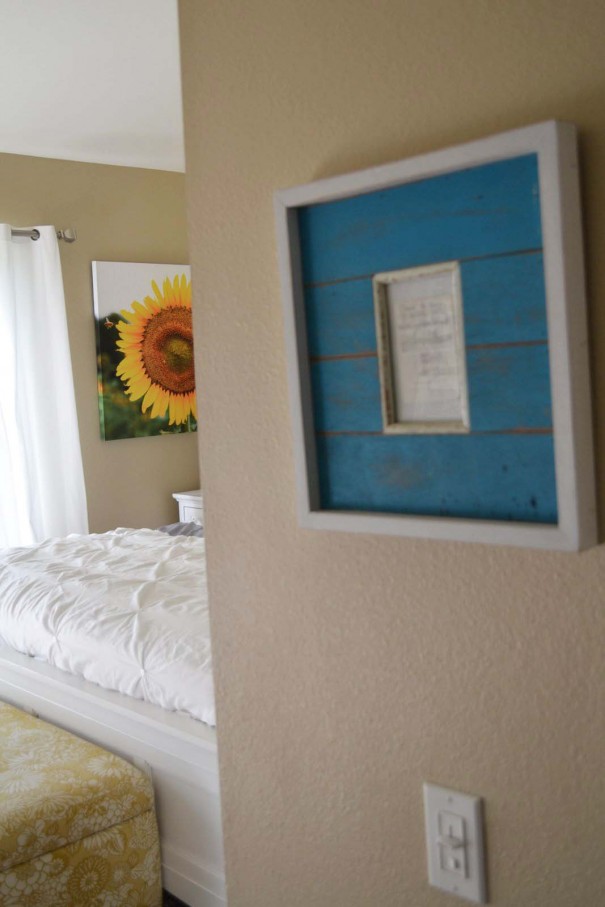 There's a story behind this frame.
It means a whole lot to our little marriage, which is why it's the first thing to see when you walk in our room.
You can read that story here.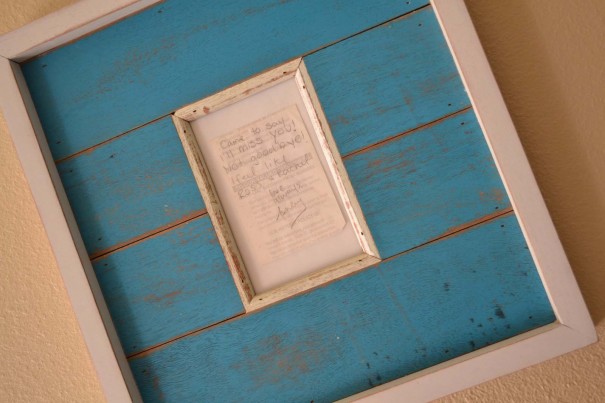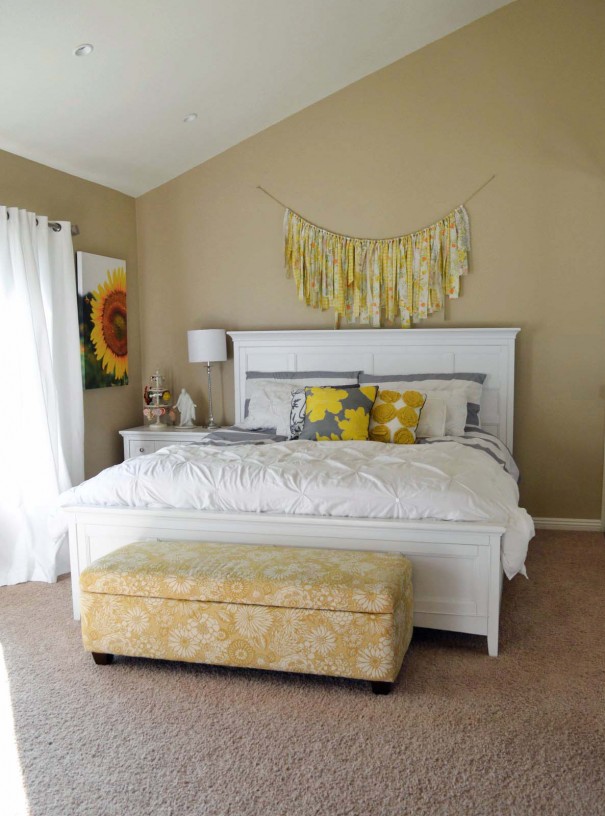 Ben has "issues" with the number of pillows I keep on the bed.  And he especially has "issues" with tripping over said pillows when I throw them on the floor at bedtime. So for the sake of keeping the peace, we invested in this storage bench to keep the pillows in at night. Win-win.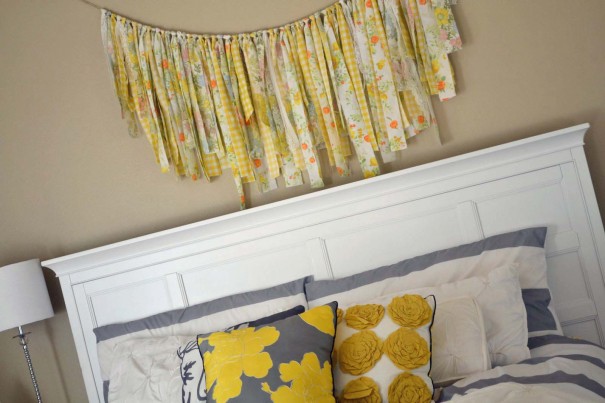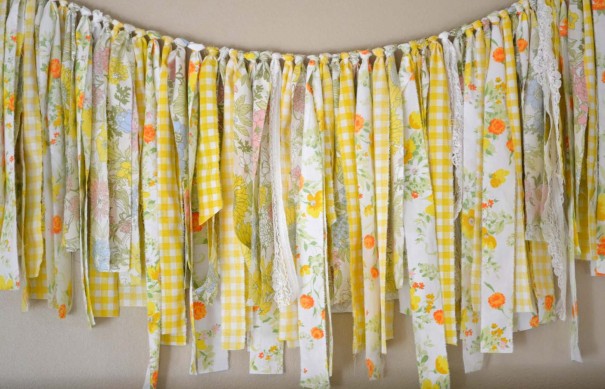 Tutorial for this garland here.  In California, we are limited to what we can hang over our beds because of possible earthquakes.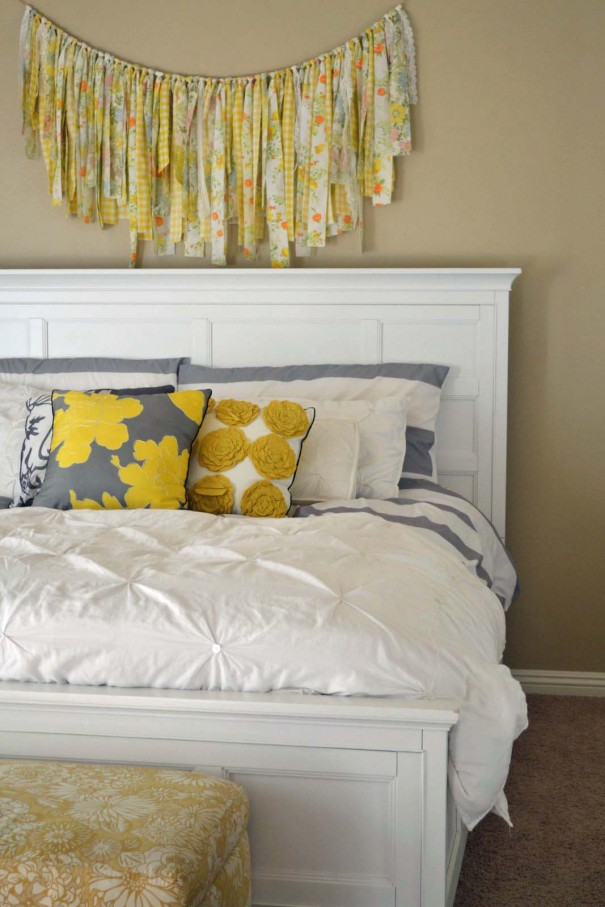 White comforter from Target: similar // Striped Duvet cover and Striped pillow cases from Target: similar here and here // Throw Pillows all from Target a long time ago: similar here // White Curtains: Pottery Barn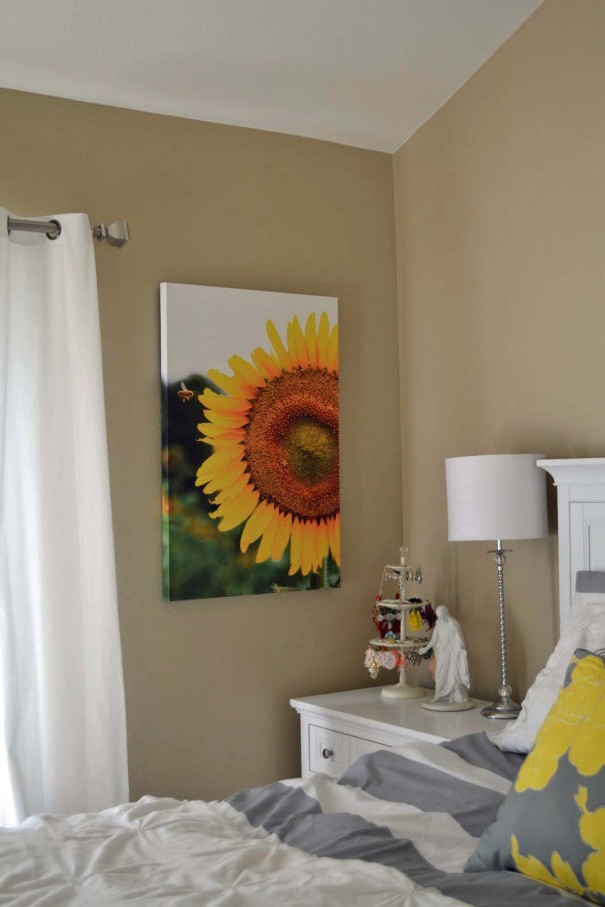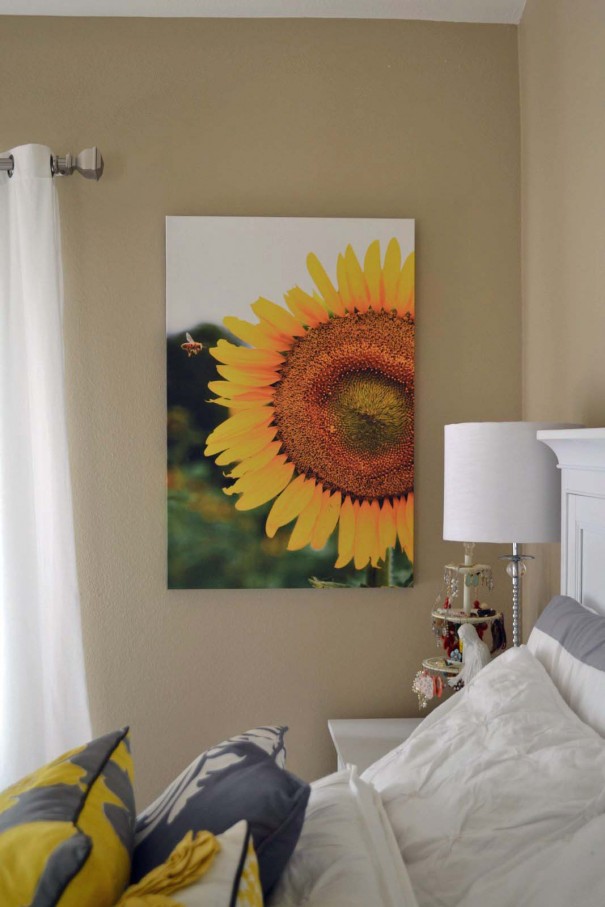 I'm completely smitten over my Bee In Flight artwork by Meg Duerksen.  It reminds me of one of my favorite weekends ever. Not to mention it's stunning and I have a thing for sunflowers.  And the bee, oh that bee. In mid flight, headed towards beauty. This bee is the first thing I open my eyes to every morning, and it's the perfect reminder to just keep going because there is beauty ahead.
I took a photo of this canvas when I first visited the Whatever Craft House several months back. I knew one day I needed on of my own.  Here is the canvas from the craft house–and yes, this photo is making me wish my bed set was turquoise: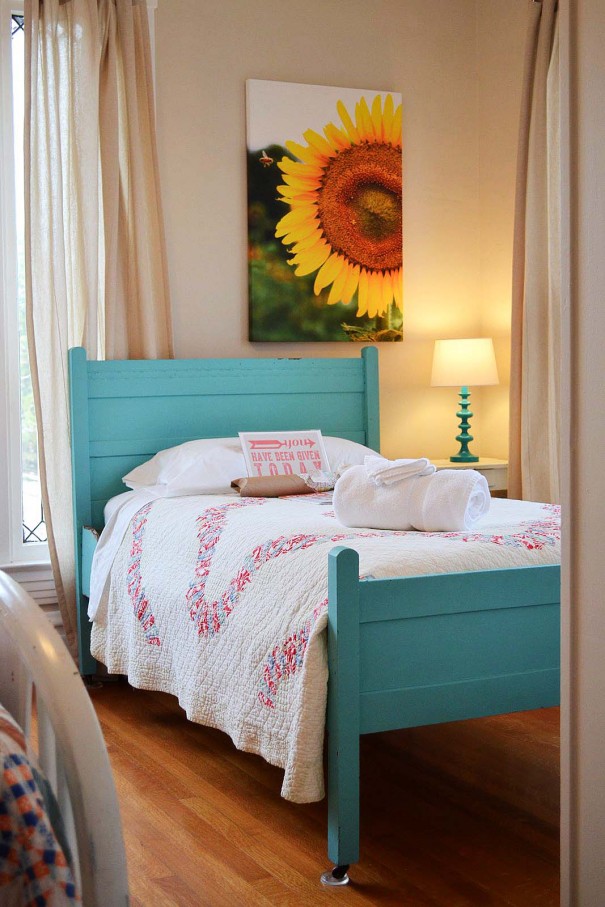 Also, from Meg's place: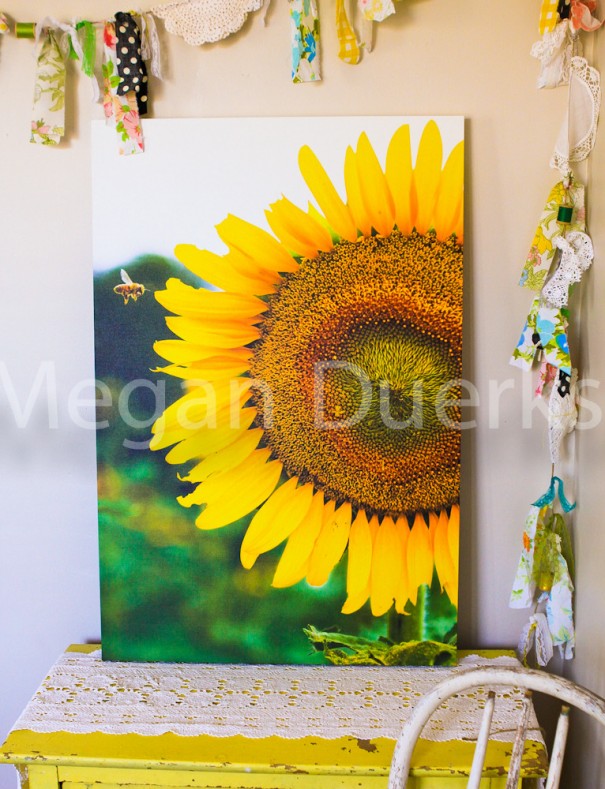 Simply perfect.
I'm also pretty sure that I would be perfectly happy if my home were decorated completely with Meg's photography.  See what I mean: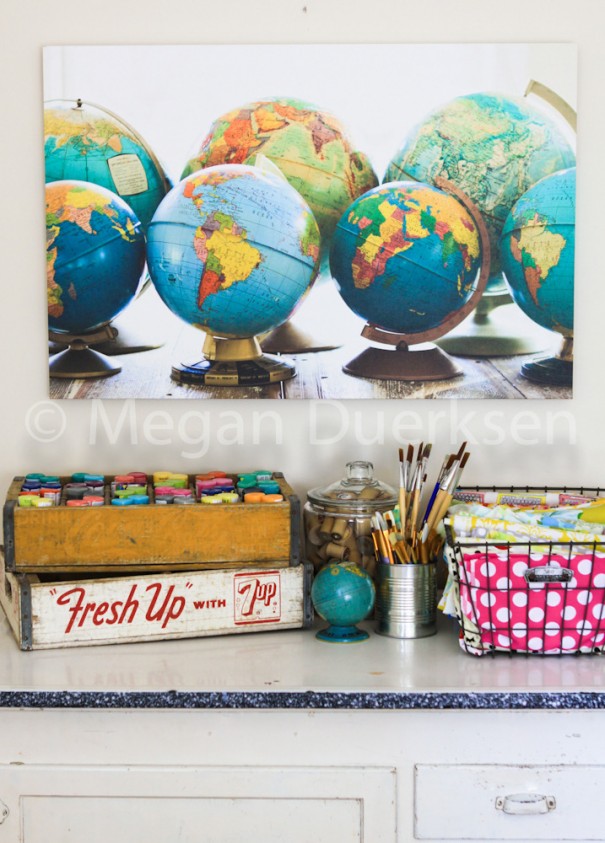 Globes canvas, I'm thinking for my living room.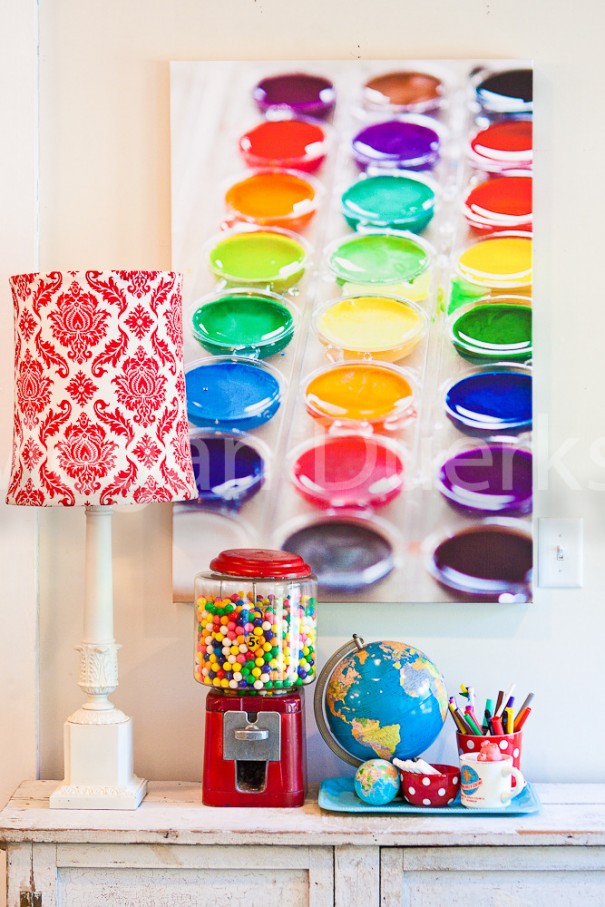 Watercolor canvas, for the playroom we don't have.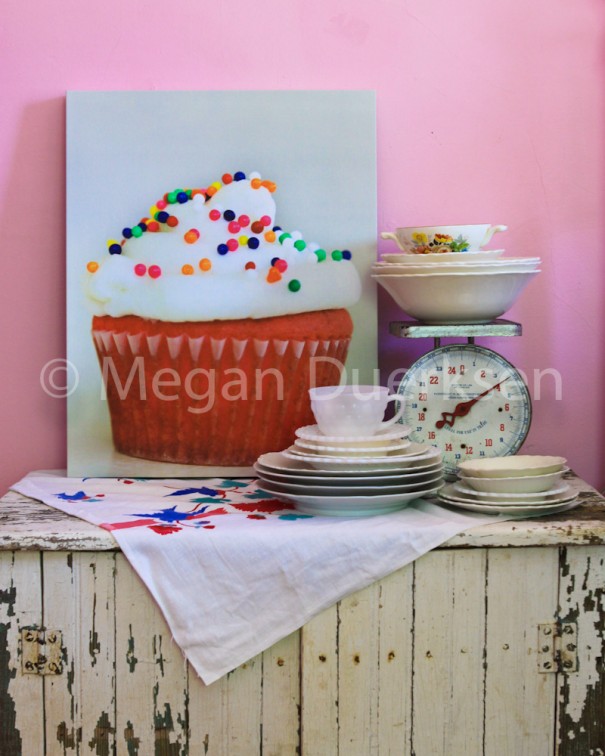 Cupcake Canvas, for the dining room.
These are all on my wish list–along with this one.
Now, back to stage 1 of our bedroom:
This is the beginning of our inspiration wall. Ultimately, I want it to go from floor to ceiling. Still working out the logistics of curious baby hands.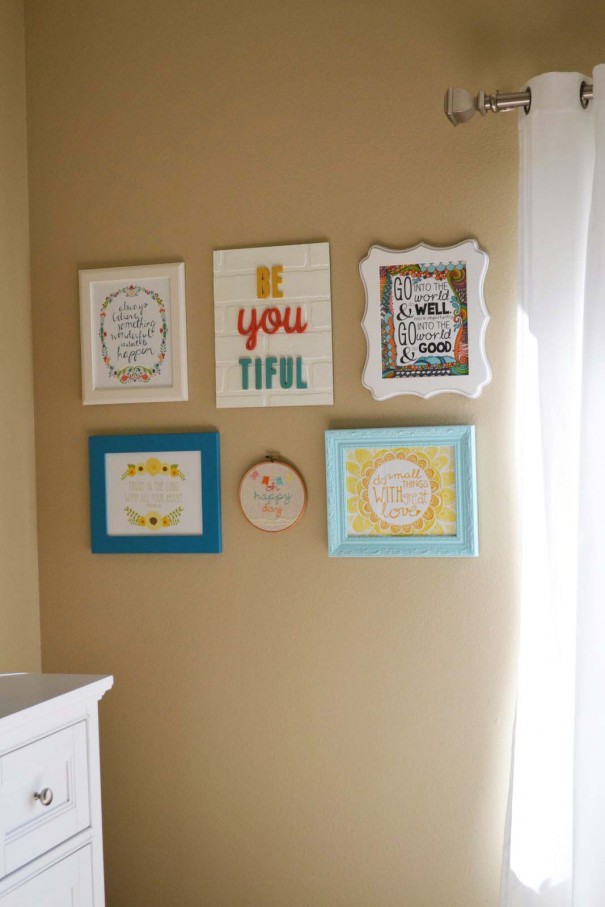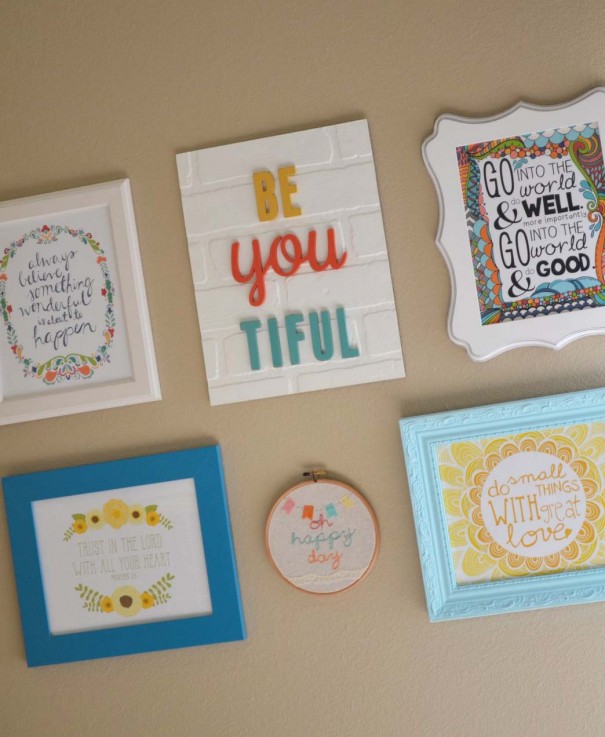 Our BE YOU TIFUL is from the lovely Evie Ivy. And can I tell you how hard it was to not order every sign in her shop. Take a look and you'll see what I mean. My hoop art is from my pal Nat, from Take the Cannoli.
And the prints–the prints that make my heart soar.  That inspire me. That keep me grounded. And remind me what matters. These prints (ALL of them) are the handy work of Lindsay Hopkins of Pen & Paint.  This girl is talented. And it's an honor to have her pieces in my home. Next on my wish list to her shop is this and this one from Lilo and Stitch.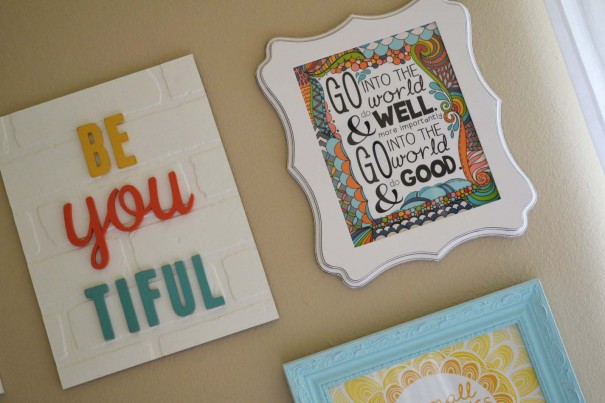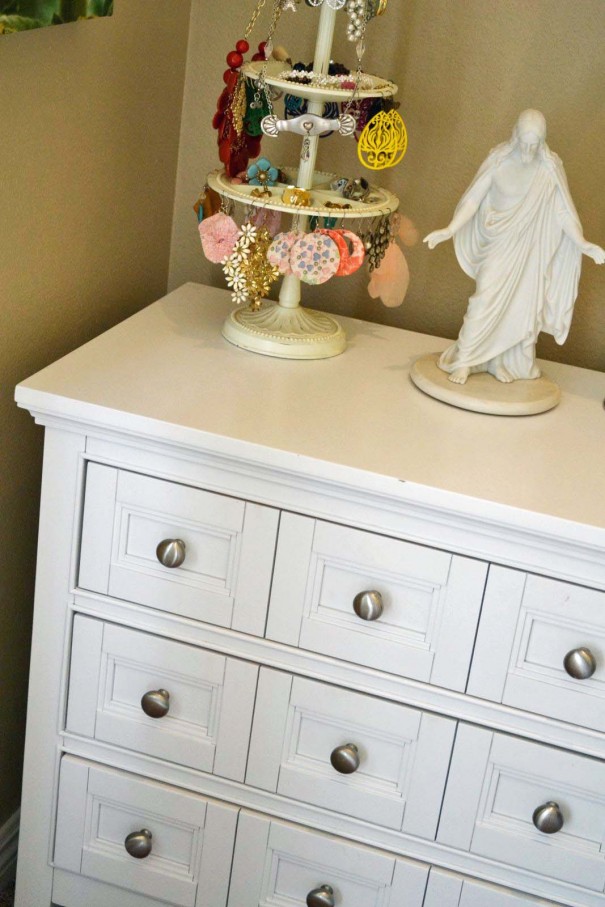 And that's all for now.  Phase two will involve convincing Ben that we do in fact need a "reading chair" for the corner–even though we both know it will end up being a "laundry chair".  Also, please explain to him why we still need an area rug even though we have carpet–because he thinks I'm a nut.