Sucking in My Postpartum Tummy with Jockey and Rachel Zoe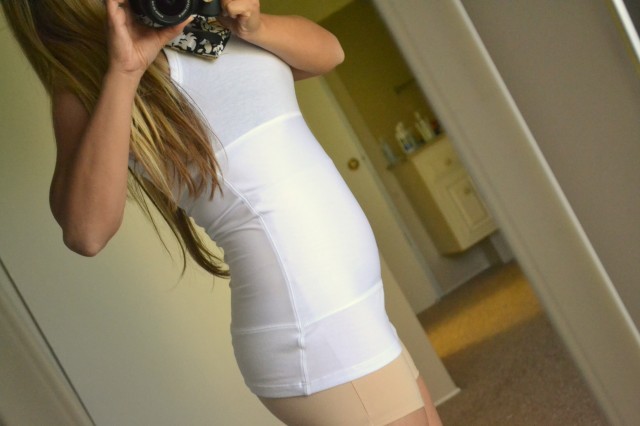 NOTE: This post contains multiple up-close photos of my postpartum muffin top. You have been warned.
So here's the thing. After giving birth to baby Sawyer almost 3 months ago, my entire midsection area has been…
How shall I put it?
Lumpy.
Squishy.
Saggy.
Bloated.
It certainly hasn't helped that nursing has resulted in a feeling of extreme hunger at nearly all hours of the day, and my mass consumption of carbohydrate-rich food hasn't done my waistline any favors.
And I'm tired.
Too tired from middle-of-the-night feedings and adjusting to life as a momma with more than one kiddo to find the energy needed to get off my bum and get the exercise I need.
But I'm trying to cut myself some slack.
I'm trying to listen to my body.
Give it the rest I feel it's asking for.
Allow it to recuperate after a very long and exhausting pregnancy and equally exhausting c-section and hernia surgery.
But in the meantime, while I'm resting…
it would be nice if I could fit into my clothes…
without having to invest in an entirely new wardrobe.
It would be nice if I could get that top button of my favorite jeans to close,
or that zipper on my sleek skirt to go all the way to the top,
or if a view of my profile didn't make me look like I was still three months pregnant.
Yep, that would be nice.
And this desire to have some semblance of my former pre-pregnancy body back is why I nearly jumped for joy when I was given the opportunity to review a brand new line of shapewear and intimates from Jockey and Rachel Zoe. Jockey and Rachel Zoe partnered together and announced a selection of curated products as Rachel Zoeís ìMajor Must Havesî from Jockey. It was like Christmas morning when my package arrived. Included for me to try were:
The Strappy Tank, with a 3-panel design to smooth out bulges and love handles
The Slip Shaper, with a cotton spandex bodice designed to wear under dresses and skirts
A pair of Tummy Shorts, designed to eliminate the dreaded muffin top
And a pair of Boyshorts and Bikini Briefs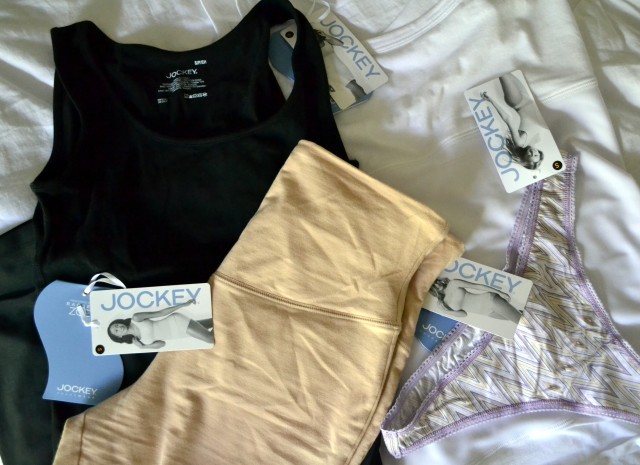 I can't believe I'm about to do this, but here it goes…An up-close and personal look at my postpartum baby belly (stretch marks included).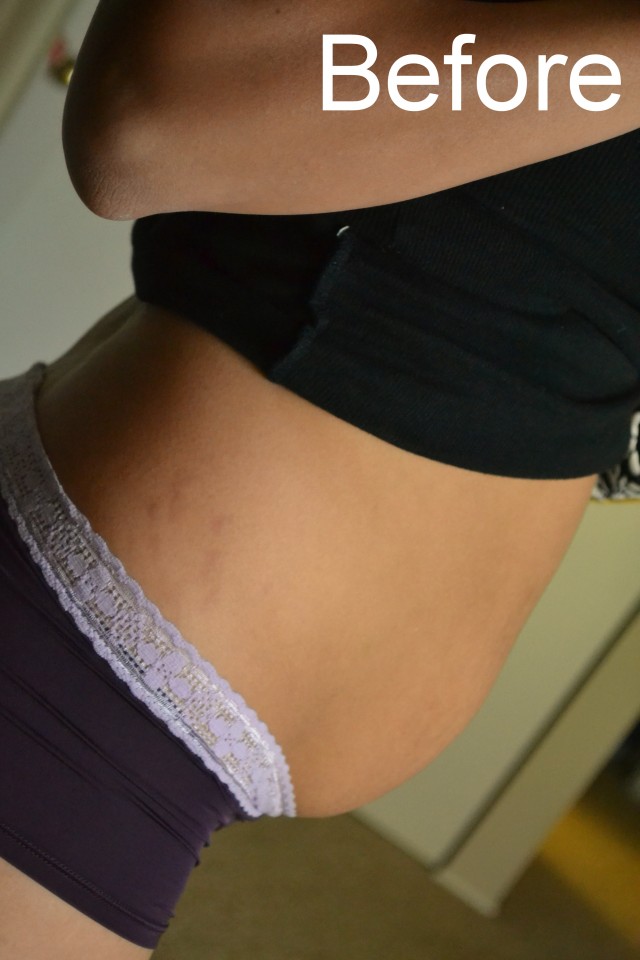 Yep, that's a zoomed-in pic of my postpartum muffin top. And those are the adorable and incredibly comfortable boy shorts by Jockey, in purple with light lavender accent lace. Below is the after…after I slipped on the Tummy Short.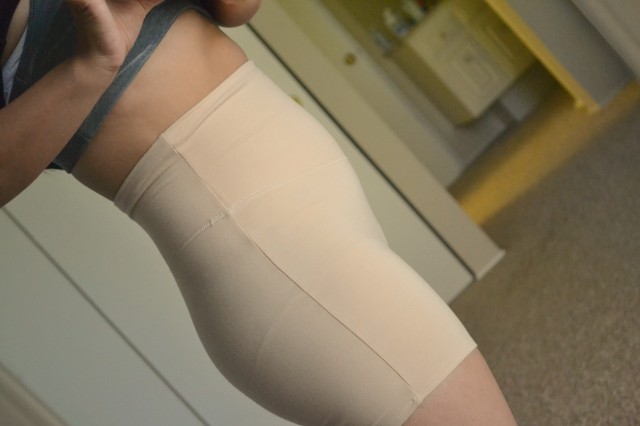 My waistline easily shrunk as soon as I put these on. And the best part: I didn't feel like I was suffocating, like I was being squeezed alive. Nope, I could actually breathe in these…and bend over…and pick up my babies with ease and comfort. The material is a soft cotton spandex that makes the Tummy Short both comfortable and effective at sucking in my muffin top–because as mom, I need to be able to move around while also feeling my best.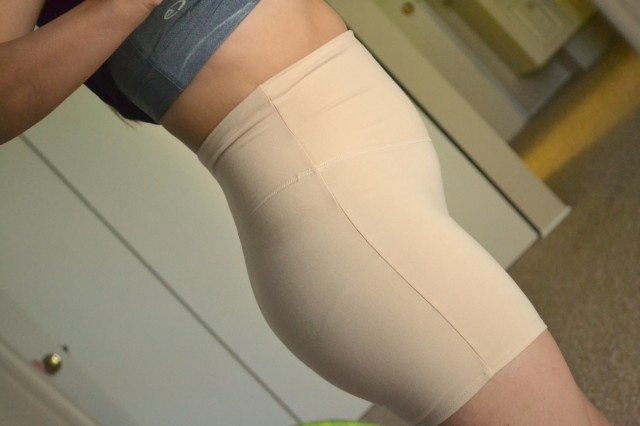 Next I tried on the Strappy Tank, perfect for wearing under my everyday t-shirts. Because I'm nursing, this shirt was a particular favorite. The tummy portion was tight and slimming while the chest portion was loose and comfortable—that way I had easy access to nurse at a moment's notice without having to remove my entire undershirt. Not to mention, there is nothing less flattering on me than a completely smashed-down chest.
Lastly, I tried on the Slip Shaper, which also has a cotton spandex bodice…and I fell in love. I wear a dress to church every single Sunday, and as of late, I've only had about three dresses in rotation while I wait for the others to fit again. Once I tried on this piece and saw how it smoothed out so many of my "bulges," I instantly knew of a handful of dresses that I could start wearing again. And Ben always loves when I find a reason to NOT go shopping for more clothes. The bottom of the Slip Shaper has additional spandex so that it will never roll up while you wear it, another must for a mom on the go.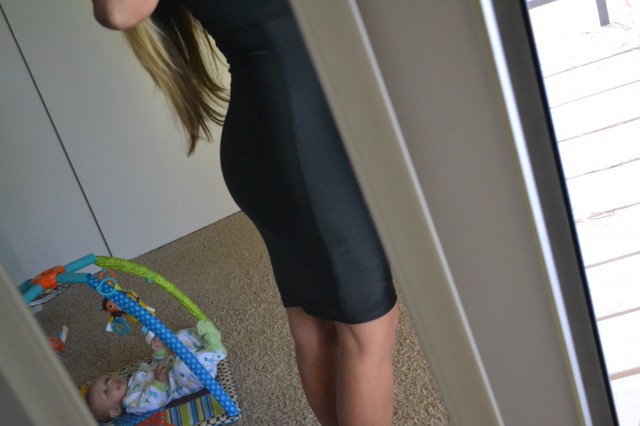 And now to another belly shot, and my favorite pair of jeans. I love these jeans, but a bit of muffin top and love-handle spillage has prevented me from wearing them since I had my baby. Not any more, again thanks to the Tummy Short.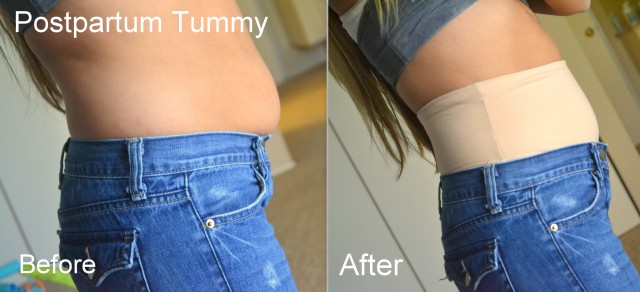 Here are a few of the qualities that stood out to me regarding the new Jockey shapewear:
The pieces didn't dig into or gouge my skin.
The items I received reminded me that what you wear underneath your clothes is just as important as what you wear on the outside. This shapewear helped me create a smooth foundation to build my outfit upon.
Curve-control makes me a happier person, a better wife and a more fun momma–bottom line.
And did I mention the fabric was actually breathable?!
If you would like to flatten your muffin top and smooth out your lumps like me, then you can find Rachelís selection of Jockey†shapewear and intimates now in a variety of major retailers, Jockey outlet stores, and on Jockey.com.
****Also, leave a comment here telling me about a time when you wish you had been wearing shapewear and you'll be automatically entered into a random drawing for a $100 Jockey gift card!**** The winner will be notified by email.
Rules: No Purchase Necessary.†No duplicate comments.
You may receive (2) total entries by selecting from the following entry methods: (a) Leave a comment in response to the sweepstakes prompt on this post, (b) Tweet (public message) about this promotion; including exactly the following unique term in your tweet message: "#SweepstakesEntry"; and leave the URL to that tweet in a comment on this post, (c) Blog about this promotion, including a disclosure that you are receiving a sweepstakes entry in exchange for writing the blog post, and leave the URL to that post in a comment on this post,(d) For those with no Twitter or blog, read the official rules to learn about an alternate form of entry.
This giveaway is open to US Residents age 18 or older. Winners will be selected via random draw, and will be notified by e-mail. You have 72 hours to get back to me, otherwise a new winner will be selected.
The Official Rules are available here.
This sweepstakes runs from 11/7 to 12/6.
Be sure to visit the sponsor's brand page on BlogHer.com, where you can read other bloggers' reviews and find more chances to win!