Introducing Chores to Young Children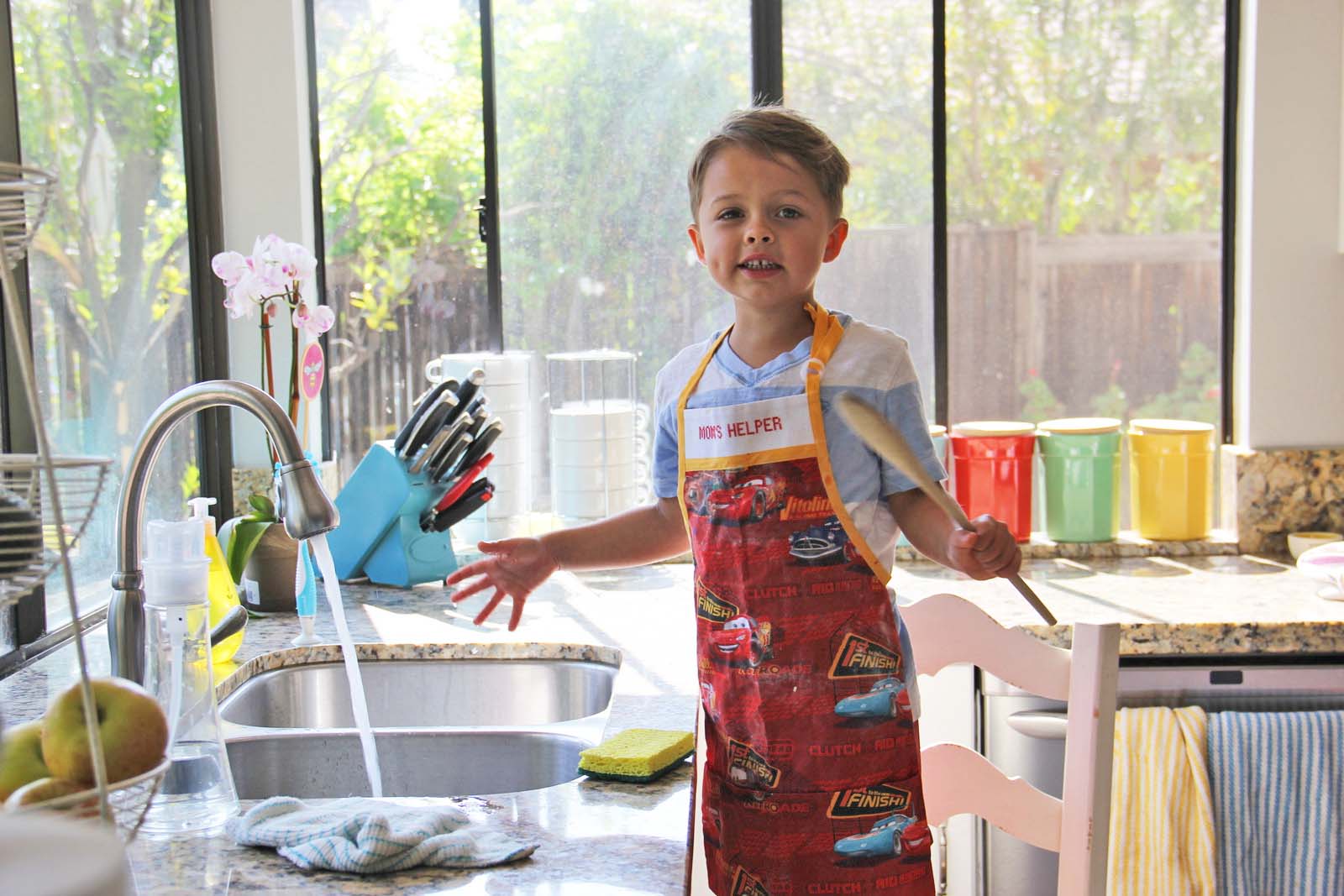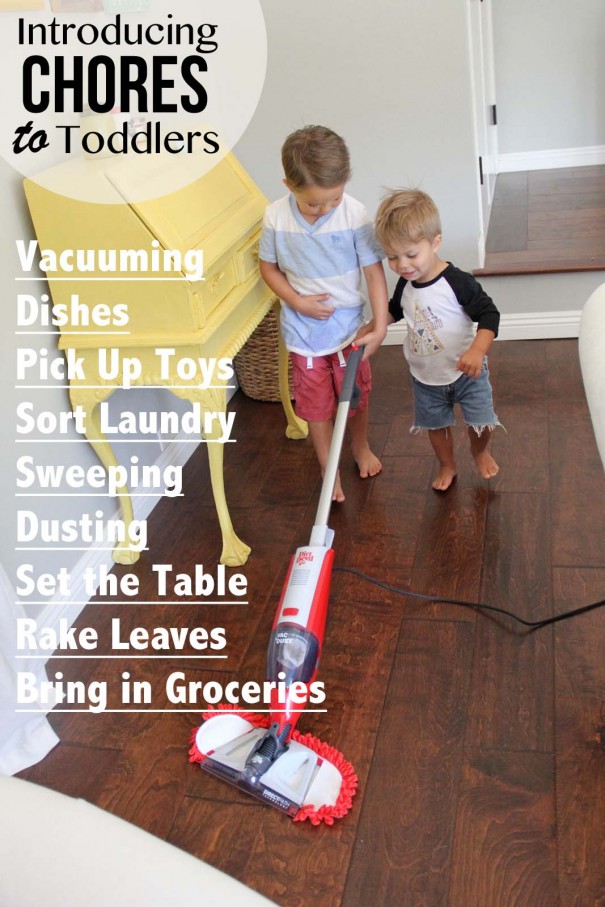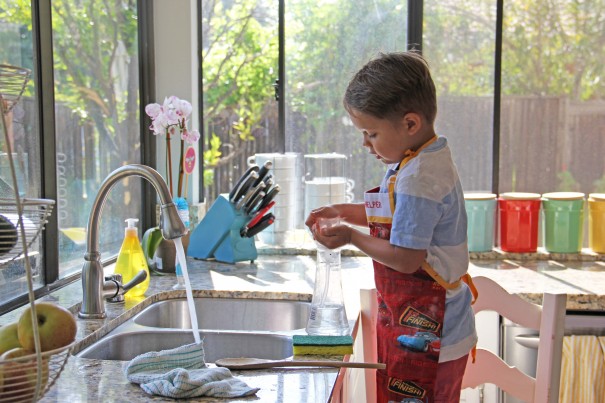 The floors are freshly swept.  The room smells of lavender. The dishwasher is running.  Things are in order. All is good in the world. I walk through the house with an extra spring in my step, because a clean house always puts a smile on my face.  Then I take another step…crunch…another step….crunch. I look down and see goldfish crackers scattered all over the floor, a half dozen of which have just been crushed to smithereens under my feet.  I look over at Sawyer who has a sheepish grin spread across his face and a bag of goldfish in his hand.  He giggles. I take a deep breath, fight the urge to scold him, then scoop up his tiny body and tickle him until he gives the belly laugh that melts my heart.
I'm a boy mom. And that means mess. And chaos. Buckets of toys turned upside down.  Sandbox sand dumped from shoes onto the rug.  Chalk footprints trailed through the house.  Food crumbs wiped onto my favorite throw pillows. Toilets unflushed (gag). Dishes piled up. And of course, the aforementioned smashed goldfish cracker remnants found in every room of the house (and in the sheets of every bed in the house).
Every morning when we wake up, our home is in order. Toys are tucked away in their organized bins, dust bunnies have been swept up, dishes have been washed, and laundry has been folded.  Actually, that's not true. Laundry is my weakness, and most of the time it's being worn straight from the dryer. But the rest of those chores, they need to be done in order for me to get a decent nights rest.  Starting the day with a sink full of dishes can cast a shadow over my day and I like a fresh, clean start each morning when we wake up.
However….
After only an hour of being awake, our home inevitably looks like this: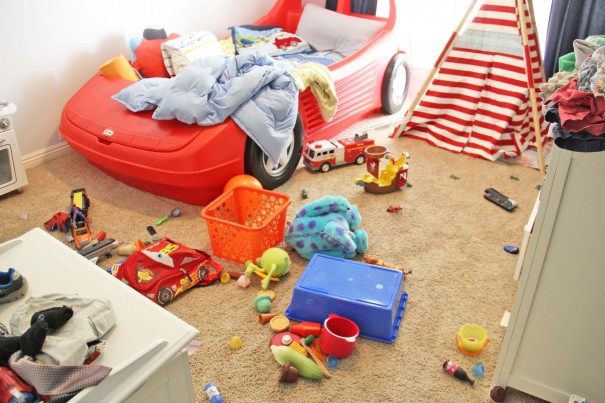 And even when I sweep every day, by the afternoon the floors look like this: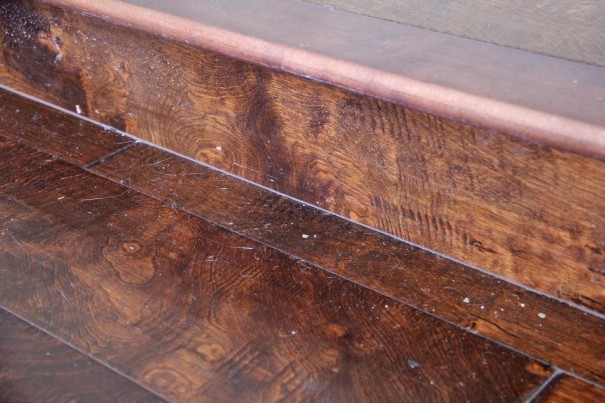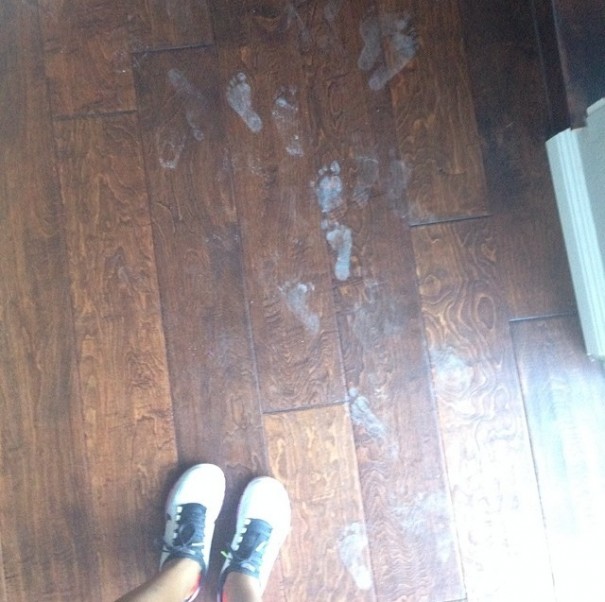 This last year has taught me that if I'm going to keep my sanity over the next 18 years,  these boys need to learn some basic chores.  But they're still young. And compliance for tedious house work will not be well received unless I find a way to make it fun.  So that's what I've tried to do.
First, we blast country music or the Frozen sound track and have a dance party in the living room–you know, to get things started.  Then we bust out our "Mom's Helper" apron and get to work. We whistle while we work too, that helps. I figure I need to get as much goofiness in as possible now, before the "eye-rolling" stage of adolescence kicks in.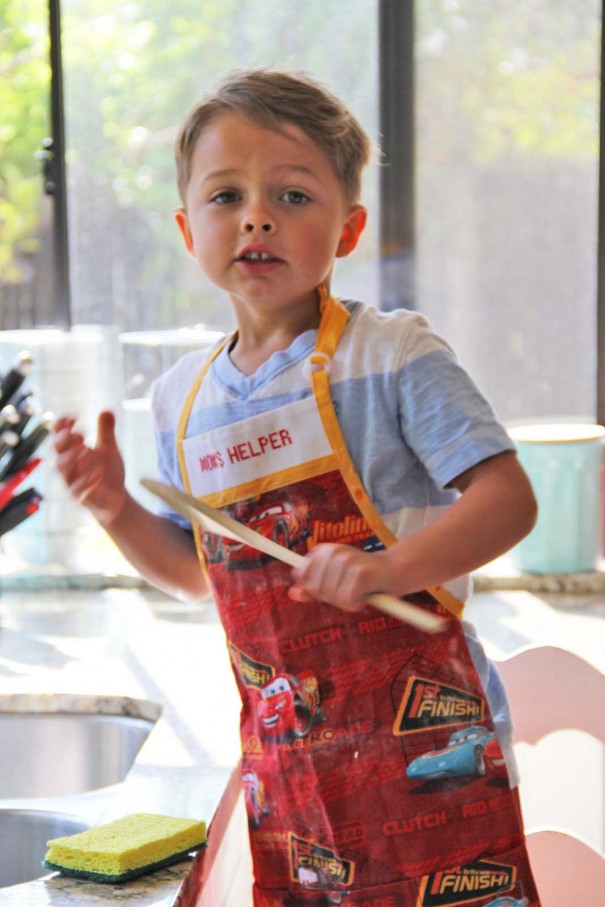 Now, is Wesley good at dishes? Absolutely not. But with his favorite music blaring, his mom smiling, and a sink full of bubbles, he's learning that this chore thing isn't half bad.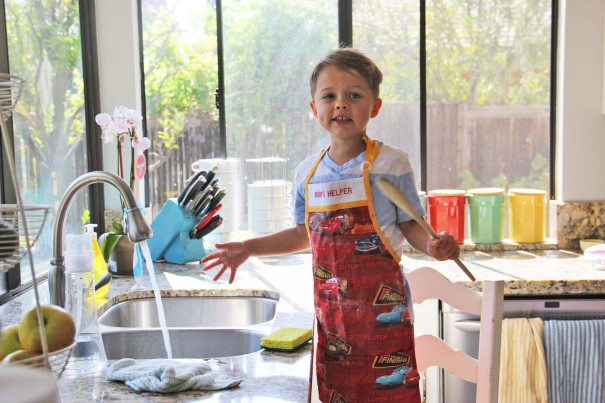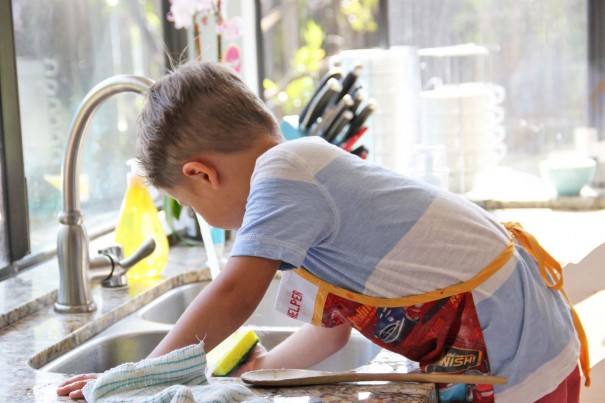 Dirt Devil recently gave us to the opportunity to take their Vac+Dust for a test spin, giving me the perfect opportunity to add vacuuming to their "Mom's Helper" activities.  Our "everyday" vacuum is too heavy and bulky for the boys to maneuver on their own–but the Vac+Dust is the perfect size and lightweight for them both–not to mention it's a breeze for me to use as well.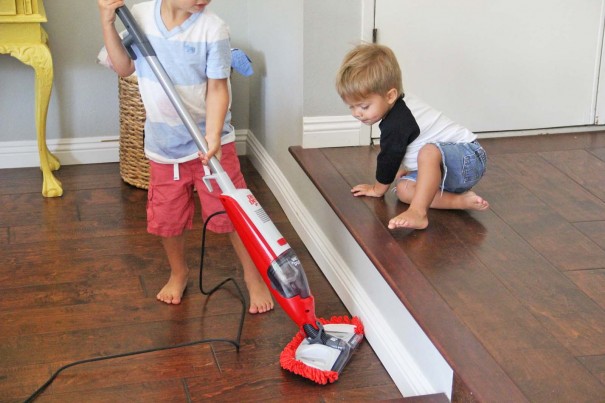 The Vac+Dust has Direct Path™ Technology (super powerful suction) which allows the boys to pick up a ton of dirt even with their less than stellar  vacuuming skills. It also has SWIPES™ with DirtLock Technology™ which simultaneously cleans hard floors AND baseboards. Did you hear that?! BASEBOARDS too! And the pad is washable. This vacuum is a clean freaks best friend, trust me.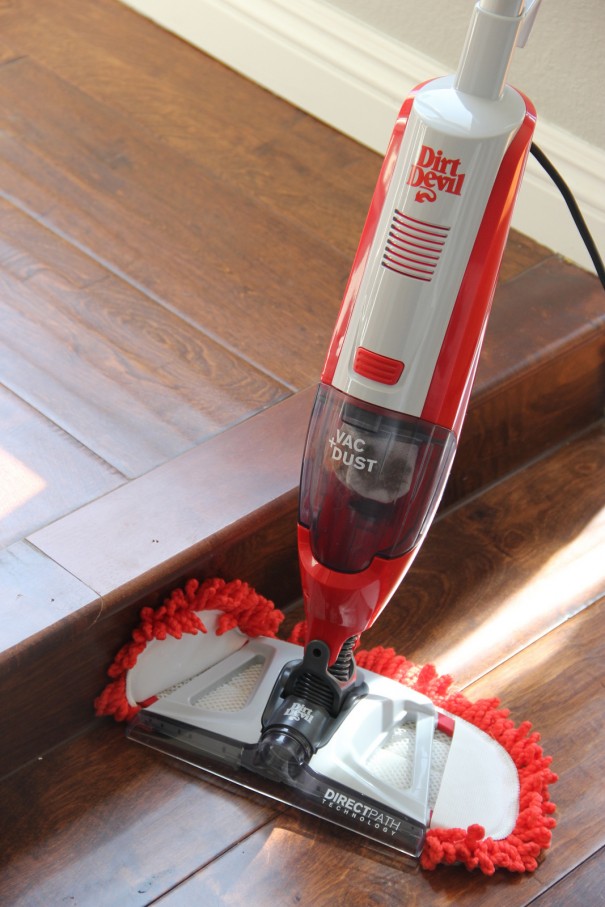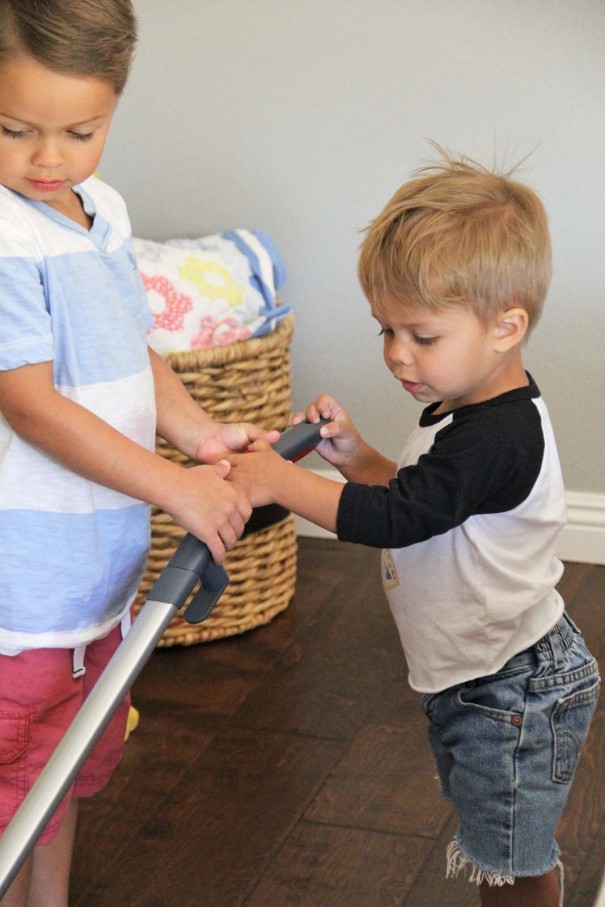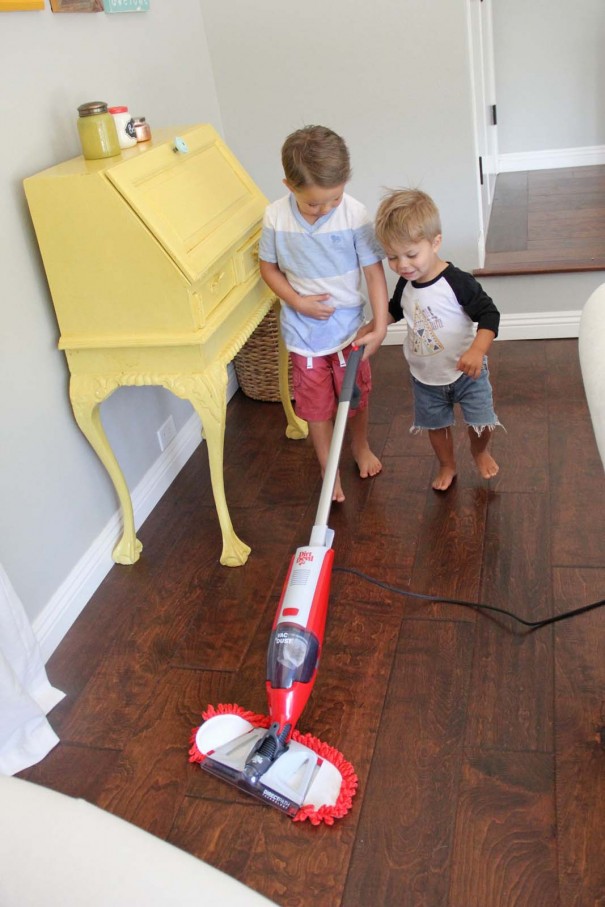 Additional "clean up" ideas for young kiddos:
Toy clean up:  I bought a 14 pack of small plastic bins from Costco and I have divided up the boys toys by category.  I do my best to only let them play with 1-2 bins at a time, and then they need to pick up one box before getting out another.  This helps keep the toys organized.
Setting the table and help in the kitchen:  I find that my 4.5 year old is much better behaved at dinner if he played a role in preparing it. He helps me set the table with placemats, napkins and utensils.  And he even fills up cups of ice water for us.
Outdoors:  The boys have a lot of fun when they help me outside: picking up leaves, watering plants, hosing off the patio. We put on their bathing suits and let them get all wet as they work.
Sorting Laundry: This is fun and somewhat educational, lol.  I have Wes help me organize the laundry in piles by color.