Photography: Using the Sun in your Favor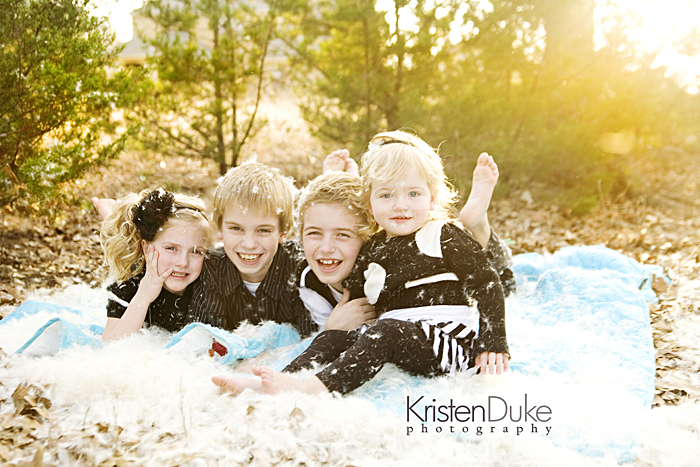 Admit it, you've hoped for an overcast day when you know you are headed outside to take pictures of your kids in an adorable new outfit. Do you wish for an overcast sky so you don't have to "deal with" the harshness of the sun and it's shadows?  This is a scenario I often bring up at the beginning of my photography classes I teach to beginners. I ask for a show of hands, and the majority of the class mistakenly believes that  photographing people on an overcast day is the best light. Let me just say right here and right now, that I DREAD overcast days for my portrait sessions. I'm going to give you tips on using the sun in your favor.
But first…an intro…
Hi there! I'm Kristen Duke, and am over-joyed to be the photography contributor on Ashley's blog. I had the honor of photographing Ashley's sweet family before her newest addition was born, and I'm dying to get out to California to meet that precious bundle!
I am a stay-at-home mom/photographer/blogger in Austin, Texas. My site is called Capturing Joy with Kristen Duke (formerly Kristen Duke Photography). Like other mommy bloggers, I squeeze in my computer time between 9 pm-2 am, and now my youngest' pre-school time. I've got 4 kids (ages 12, 10, 7, & 3) whom I love to smother with kisses and compliments, in hopes they will grow up with solid self esteem. On my blog, I like to share about the importance of Decorating with Portraits, sharing family recipes, home projects, and Ashley even inspired me to write up my Love Story (It's a doozy)!  I've also written a few photography books to help moms take better pictures of their kids. And this week, I've collaborated with 24 other creative bloggers to put together a favorite things gift giving guide (with a giveaway) so lots of fun things over on my site!
Ok, now that the intro is over, I want to talk  about taking pictures. Whether you have a fancy dSLR camera, or mostly use your phone camera, chasing the beauty of the sun is important for breathtaking photography. Yes, the sun is a tricky beast, but when tamed properly, is oh so beautiful. Here are 5 tips to guide the sun to work in your favor.
1. Look for the Light in the Eyes
The twinkle in the eyes are the key to beautiful portrait photography. I focus on my subjects eyes, look for that flicker of light, and I know I'm in the right spot. Also known as catch lights, it makes my images come alive.  I miss this when photographing on overcast days, because the light in the eyes just isn't there.
 2. Search for open shade
There is a big difference between photographing a person on an overcast gloomy day with a blanket of clouds, and a sunny day in the shade. Open shade allows the beauty of the light to brighten the face of your subjects, while using that shade (building/tree/drifting cloud) to act as a diffuser to soften the light. Open shade just means to go to the edge of the shade…just before it reaches full sun. There, you will find the best light. If I'm at home and need a quick shot,  opening my front door (image setting below) or garage lets in great light in the open shade (depending on the time/the direction my house faces).
3. Aim for the Golden Hour
The best light is early morning as the sun is coming up, or just before the sun goes down. This is often referred to as the "golden hour" because the sun is bright and beautiful, but down lower in the sky with softer rays. I try to go to a big field where trees can act as a diffuser as the sun touches just below the treeline. Professional photographers often strive for back-lit shots–there you see why it's called the Golden Hour.
4. Turn a step or two
Sometimes, we don't have the flexibility to wait for the golden hour. If it's full sun right smack in the middle of the day, you can definitely work with the sun at its boldest by turning your subject just a smidgen. A single subject is much easier to work with because you only have to turn one person. Groups are trickier because they cast the suns shadows on each other. I've found that even groups in full sun can be managed by turning them (or you) a few steps to where the sun is slightly behind their heads. If it is in front of them–you'll get major squint-y eyes. If it's to either side of them, you'll get funky shadows, but if its right behind them, you can get them just right–just don't let the sun into your shot. In the image below, you can see the glow of the full sun beaming on the back of her hair. She is turned in the right direction so the above sun doesn't cast shadows on her face, but it also lessens the light in her eyes.
5. Find the Right Location
Depending on the time of day, I know which spots around my home and town are best in the morning, mid-day, and evening because I know which direction the sun falls on them. Whether it's an open field or an urban building, I can find just the right spot when I need to. The sun is trickiest in a open field or beach where you have nothing to work with but turning positions. If you head to an urban setting, buildings can function as a great diffuser,  you just have to look around to find the right spot.
 What do you think? Are you ready to rejoice in the sunny day, and dread those overcast days along with me? Try out these 5 steps, and you'll notice improvement in your photography.
{Please let me know some photo tips you'd like to learn more about for future post.}