After the Surgery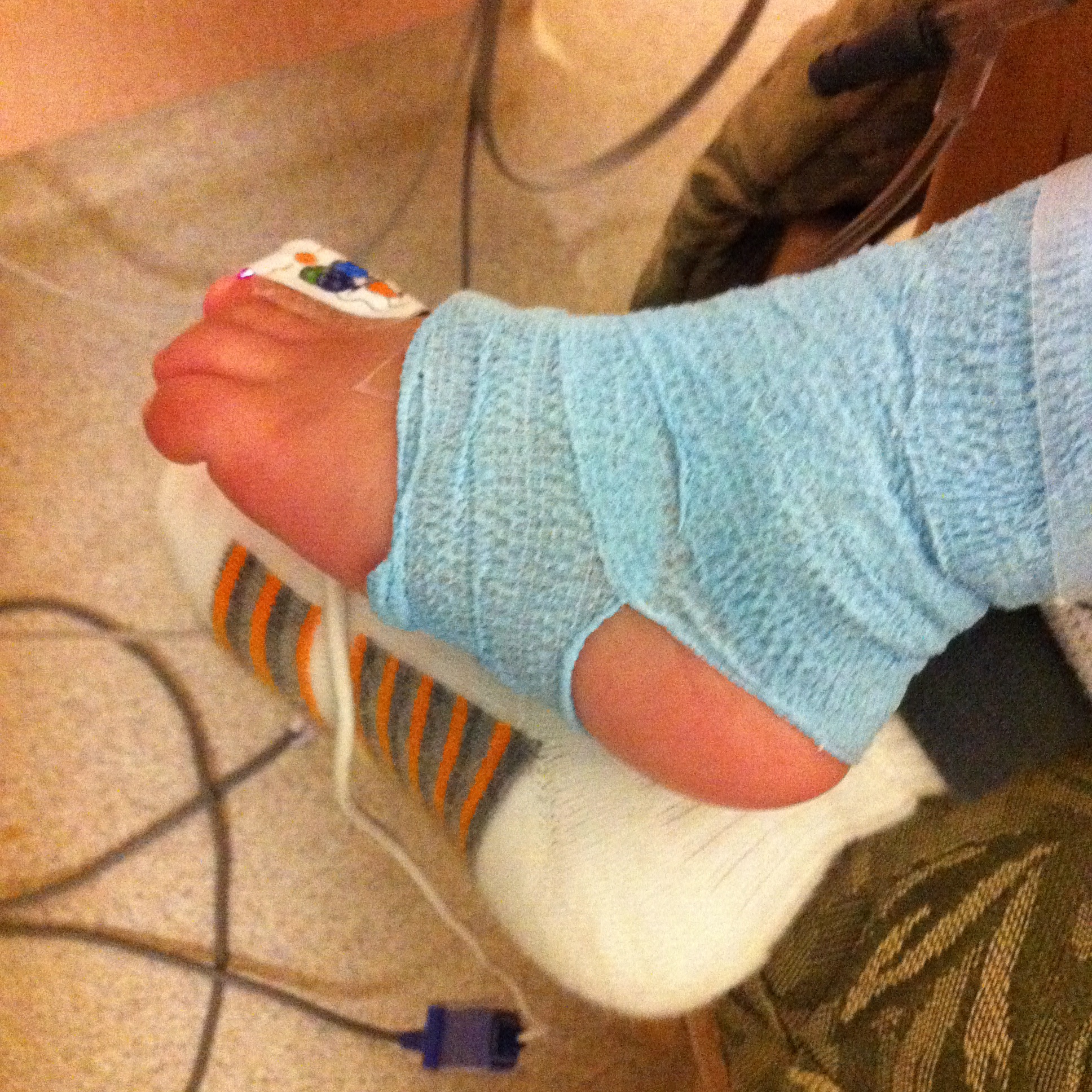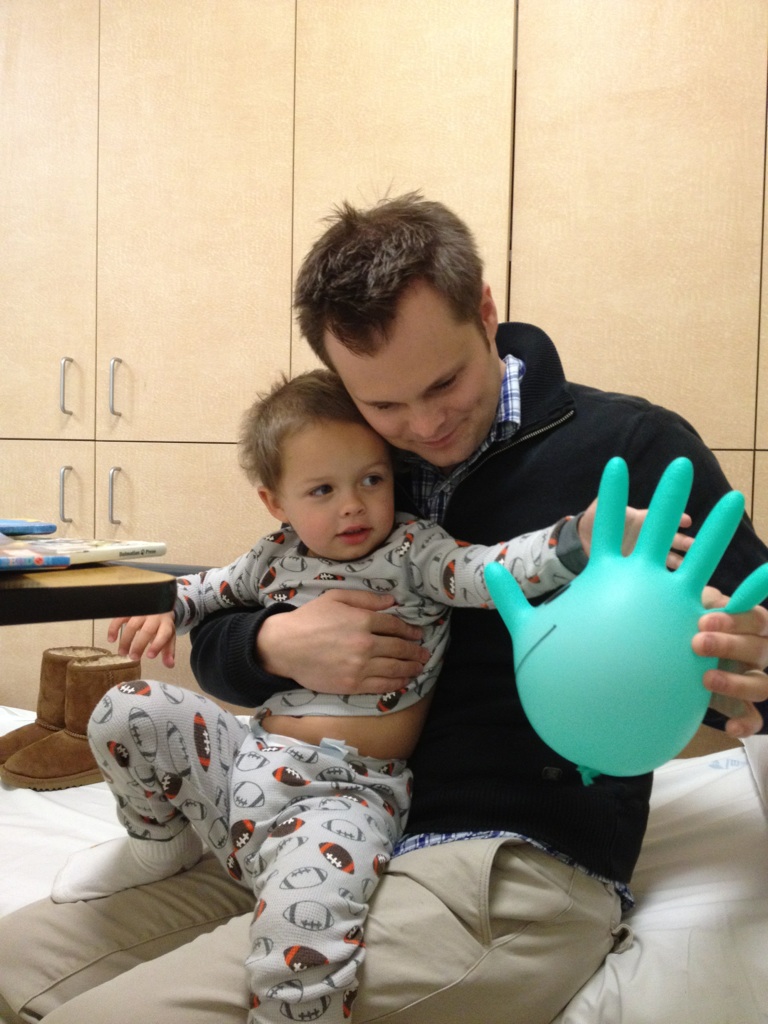 You can read about why Lil W needed surgery here.
Friday was Lil W's post-surgery 10 day check up.
It actually feels more like a year has passed since he had his adenoids removed,
because that's the kind of stressful week we had following his surgery.
For those who have been asking how the surgery went, here goes:
Thursday night we put Lil W to bed at about 9 and waited reluctantly for his first awakening.
You see, when Lil W wakes up (which is often), one of the few things that gets him to go back to sleep is giving him a drink.
But…he had to fast before the surgery–which meant no food or liquid.
Sure enough, Ben spent the entire night before his surgery awake, consoling his endless sobs.
At about 3am he finally fell into a deep sleep. We woke him up at 6 am, and put him directly in the car in his jammies–bed head and all.
We arrived at the surgical center and per our doctors suggestion we sat Lil W down and did our best to explain to him what was about to happen in language he could understand.
Me: You know Mommy  and Daddy love you so so much, right. And we want you to be able to sleep better. Well, today you are going to see Dr. Birns–you know, the guy who talks like Donald Duck.  Dr. Birns is going to take you from Mommy and Daddy for a little bit to help make you feel all better. And when he's done, you will have a very sore throat…It will feel owwweee, but you can have lots and lots and lots of ice cream and popsicles.
Lil W: Ice Cream?
Me: Yep, ice cream!
Shortly after our little pep-talk, we were able to take Lil W back to pre-op where we waited nervously for the doctor to come take our baby away. Dr. Birns greeted us, gave Lil W a fist bump and a high five and then hauled our screaming toddler off into the surgical room.
On the outside, I was composed. On the inside, I was a wreck.
The next 42 minutes felt like an eternity.
I twiddled my thumbs, mindlessly searched through Instagram, and stared at the wall.
I never felt more relief in my life, than when Dr. Birns entered the room with a smile on his face.
I knew, from the look in his eyes, that everything went as planned.
I wondered if they taught him to smile like that that in medical school…
The doctor told us the surgery was successful, that Lil W was in post-op, and that we should expect him to be very cranky when he awoke.
We headed back to post-op and my heart hit the floor when I heard his shrieking cries from around the corner.
He had woken up and we weren't there holding him.
We sprinted to his bedside, where he was choking on his own sobs and flailing uncontrollably.
Our doctor warned us that some younger children have this reaction to the anesthesia, but nothing could have prepared me for what Lil W was going through.
Rather than cuddling our toddler, we spent the next 90 minutes restraining him…stopping him from pulling out his IV and ripping off his bandages.  Eventually he was given morphine and he drifted into a restless sleep. While he slept, his heart rate and breathing stabilized and he was cleared to go home.
The nurse then attempted to remove his IV while he slept.
Fail.
He awoke with even louder and more hysterical fits of screaming, while it took three nurses to restrain him and remove the IV from his tiny foot.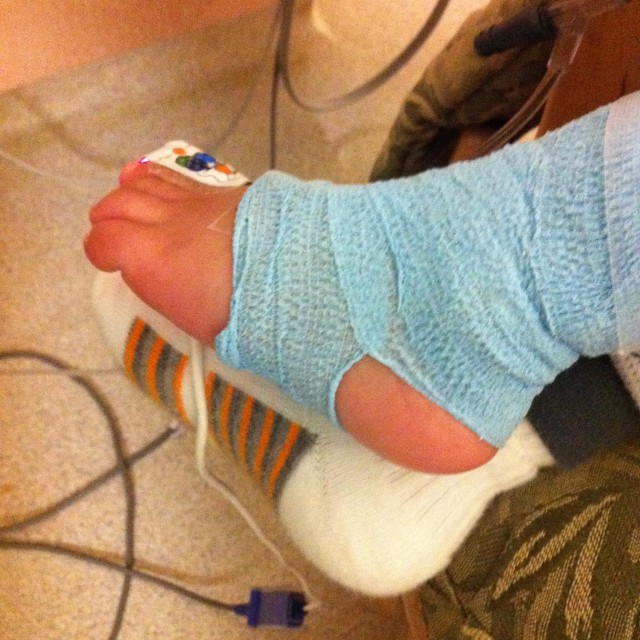 Apparently, they had multiple failed attempts at putting the IV in his arm/hand, so it ended up in his foot.
This broke my heart.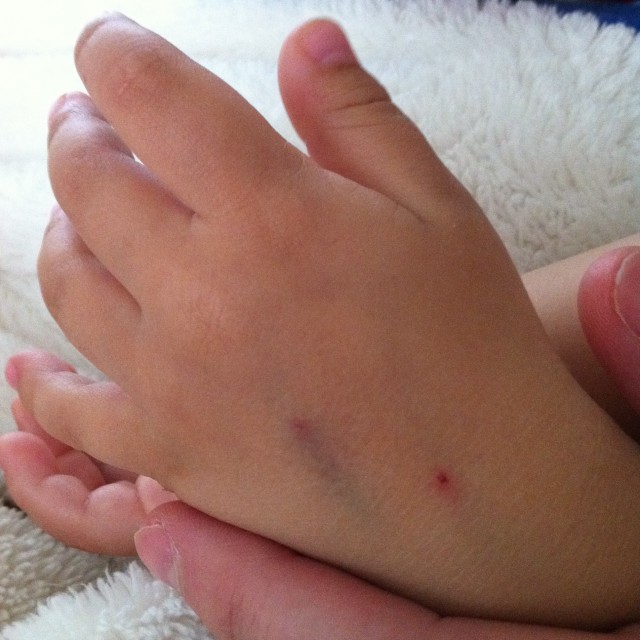 With the IV removed and his vitals checked out, we were clear to go home.
We  strapped Lil W in his carseat, turned on his favorite movie (Curious George), and I buckled in next to him for the 20 minute drive home.
Miraculously, I hadn't cried.
I had kept my cool.
Appeared calm.
In control, even.
But as Ben drove home, and the gravity of what we had just endured began to set in, the room began to spin.
I started to see black spots in my eyes.
And a thin layer of sweat emerged on my forehead  and on the back of my neck.
Me: Pull over. Pull over.
Ben: Now?
Me: Yeeeeesss.
Ben hurried from the fast lane onto the shoulder of the road, where I proceeded to jump out and heave my emotions into a pile on the side of the freeway.
When I was done, I took a deep breath, pulled myself together, got back in the car and mentally prepared myself for the remainder of Lil W's recovery.
The next week was hell. Literally.
Lil W ended up needing only his adenoids removed (not tonsils)–which is meant to be a rather speedy and less painful recovery.
But our little guy was acting as if he had had his legs amputated.
Surely this was not a typical response???
We called our doctor, who told us that unfortunately some children have this reaction, and reminded us that everyone heals differently.
Lil W wouldn't eat.
Wouldn't drink.
Wouldn't swallow his medicine.
And he screamed. All. Day. Long.
The day we brought him home from surgery, he slept for nearly 10 hours.
But after that, he wouldn't sleep for a week.
No naps.
He went to bed at 11:00 p.m. kicking and screaming.
He woke up literally every 20 minutes with hysterical and inconsolable cries.
The only thing that calmed him down was driving…at 3 a.m.
But even then, he didn't sleep…
He was a hyperactive, aggressive, emotional and angry walking-zombie.
I didn't even recognize him as my son.
At this point, I was crying. Everyday. Multiple times a day.
Hysterical crying. Tears of fear–fear that I had made the wrong decision.
Fear that we would never get our happy little boy back.
That he would remain forever angry, and forever afraid of sleep time.
By the following Saturday, we had decided it was time to get out.
Get out of the house, do something to cheer ourselves up, escape all the signs of sickness and recovery that were around us.
We knew it was risky, but we packed up Lil W and drove to the Santa Barbara Zoo.
And on the way, a miracle occurred.
He fell asleep.
And when we arrived at the zoo an hour later, and transferred him into his stroller…he stayed asleep.
And after an hour of walking around the zoo, he continued to sleep.
Two and a half hours into his nap, he woke up not with his usual bursts of screaming…but with a smile on his face saying "Elephant".
He knew where we were and he was happy.
The next two hours were spent talking to the giraffes and elephants,
giggling at the penguins, and squealing with excitement at the lions and tigers.
As we loaded him up in the car to head home, he gave us his dimpled smile and said,
"tank you Momma, tank you Dadda".
And with tears in my eyes I replied,
"welcome back baby". 
Lil W didn't stop talking the entire hour drive home.
Fun with tigers.
Fun with finding-nemos (his word for flamingos).
Fun with popcorn.
Later that evening, Lil W ate his first real meal since the surgery.
He even went to bed without a fight.
And although he didn't come close to sleeping through the night, when he did wake up, it was with minimal tears and he fell back asleep rather quickly.
The sleep apnea–GONE.
The snoring–GONE.
The uncontrollable sweating–GONE.
Our baby was on his way to a real recovery, and a normal life.
At our follow up appointment, the doctor confirmed that in VERY rare circumstances, some children experience extreme emotional trauma from the surgery.
They can become untrusting, scarred and even angry.
They experience separation anxiety at the thought of being taken away from those they love.
And they can even have extreme nightmares–which is what the doctor believes Lil W was experiencing that dreadful week following the surgery.
This week Lil W is back to his old self.
Taking naps. Going to bed without argument. Smiling, laughing and playing.
He still wakes up in the middle of the night out of habit, but as each night passes his wakings become less frequent.
There is hope, and we see the light at the end of the tunnel.
And every day that light gets brighter.
And we get happier.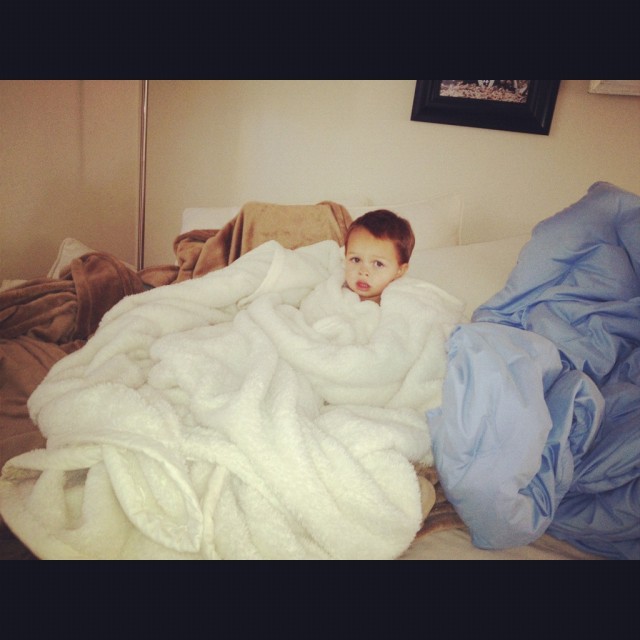 Thank you for all your prayers.
They brought our family much comfort when we needed it most.
Love you all!