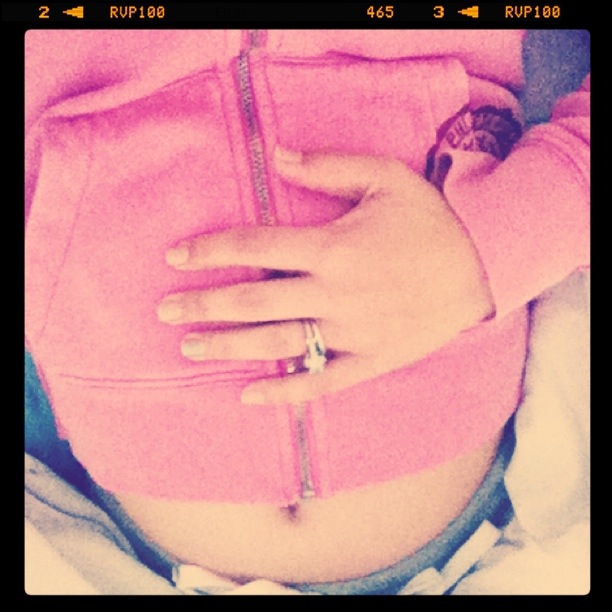 Dear Baby in My Tummy,
I've been meaning to sit down and write this letter to you for a while now…
so that I feel less guilty about my lack of preparation for you.
so that I stop worrying that we still haven't found the perfect name for you.
so that you become more real to me.
and so that you know just how much you already matter to our family.
In the 6 months that you have been growing in my belly, life has been a bit crazy for your Mommy and Daddy.
So crazy, that we haven't spent hours preparing a nursery, or shopping at Babies R Us, or folding and refolding all your precious mini clothes.
I feel terrible about this. As if the time I spend preparing for your arrival somehow equates to the amount of love I have for you.
It doesn't. I promise.
I already love you to the moon and back.
Your ferocious little kicks to my ribs already melt my heart.
Your little turned up nose on the ultra sound already tells me that you'll look just like me.
I already know that you like when I eat sugar and oranges, but you're not a big fan of garlic and onions.
I already know that the sound of your brothers squeals make you lay very still, but your Daddy's voice always gets you kicking.
I have faith that when you get here, you will give our little family the balance it needs…
Help to teach your brother that he is not, in fact, the center of the Universe.
Remind your Momma and Daddy that they are, in fact, not half bad at this whole parenting business.
Soften our hearts.
Renew our Spirits.
Fill our lives with an added measure of love.
I look forward to our quiet nights alone.
I look forward to your mini fingers and toes.
I look forward to your blinking eyes.
I look forward to all the ways you will be just like your big brother.
But I especially look forward to learning about all the things that make you uniquely YOU.
I already forget everything about raising a newborn,
and I looking forward to relearning everything with you–my sweet baby boy.
I love you.
-Mommy
______________________________________
I would LOVE to hear any and all of your baby boy name suggestions.
We need help!
xoxo, ashley