A-Frame Kitchen Remodel Design Plan and Inspiration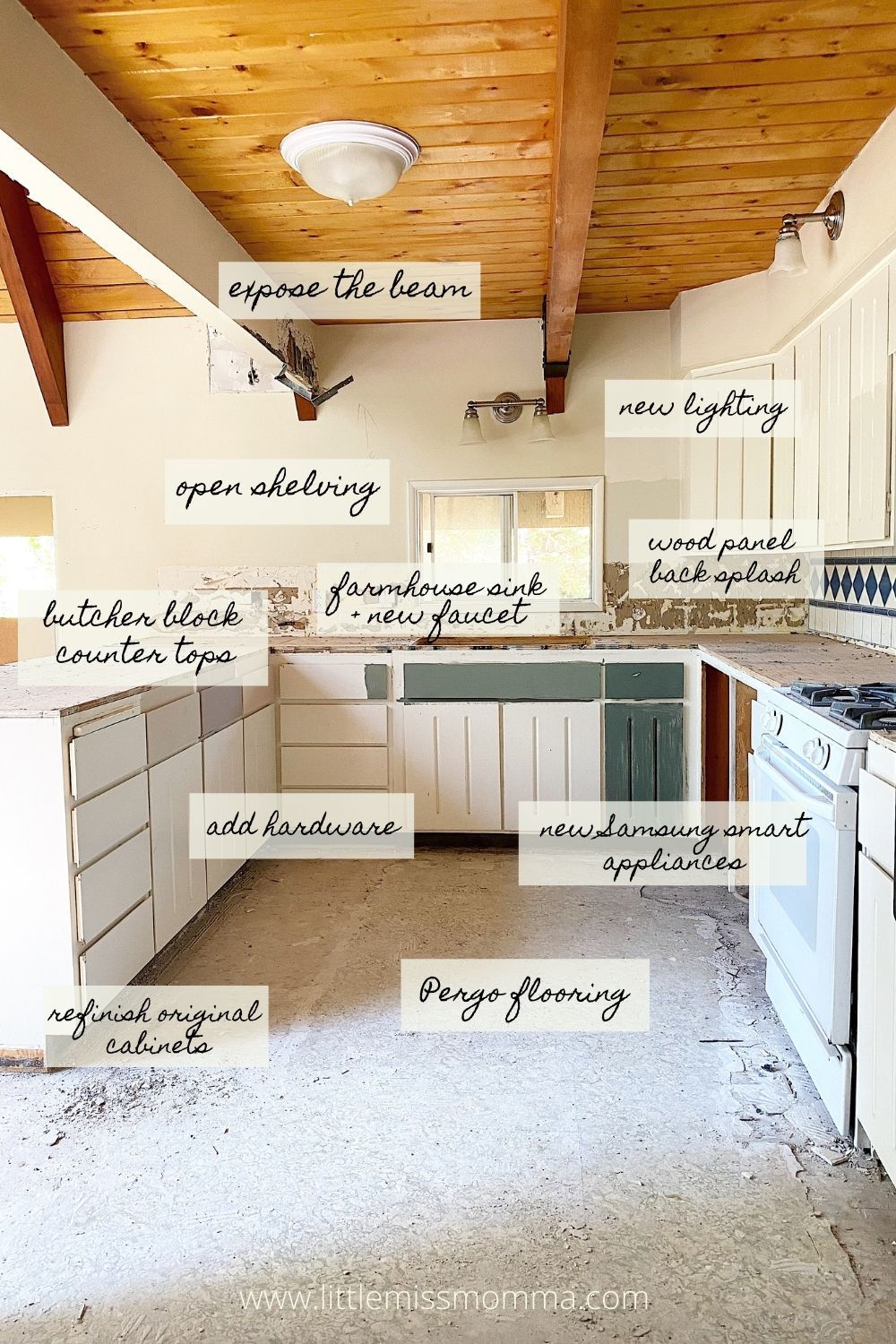 This post and our kitchen remodel project is sponsored by Lowe's. All opinions are my own.
The kitchen is probably the project I am most excited about in our A-Frame renovation.  As I talked about in this post, we are trying to maintain and restore as much of the original "mountain house" charm into this home as possible.  And because there are SO many upgrades we need to make to this home, we are also looking for any opportunity to stay within budget.
We are keeping the budget MIUCH lower by keeping the original cabinets which are in pretty great shape and we actually love their retro-ish, simple vibe. Our plan is to freshen them up with new paint and hardware.
Overall, the design and vibe we are after is a warm, cozy, minimal, organic kitchen.  Colors and tone will be neutral and warm. Textures will vary from wood, ceramic and some surprise handmade clay pieces.
There will be LOTS of wood in this kitchen…which honestly, has me a bit nervous but I'm feeling pretty confident that our ultimate cozy cabin vision will come to life and the wood will all have been the right move (keep reading to see the plan  for all the wood and other materials).
Before I get to the "before" and "during" photos, I wanted to share some of the design inspiration for this kitchen project.  I am so excited to be partnering with Lowe's on this project because they are one stop for all the materials we need to complete our dream kitchen renovation!
First, things first, we are installing butcher block counter tops! This has been a long time dream of mine and it's finally happening! Am I nervous about maintenance? A little bit. But this route is so much less expensive than a slab of granite/marble/quartz and fixing any wear and tear is nothing an electric sander can't solve.  Plus, the look is BEAUTIFUL and exactly what we are going for! Here are some inspiration pictures of kitchens with butcher block counter tops: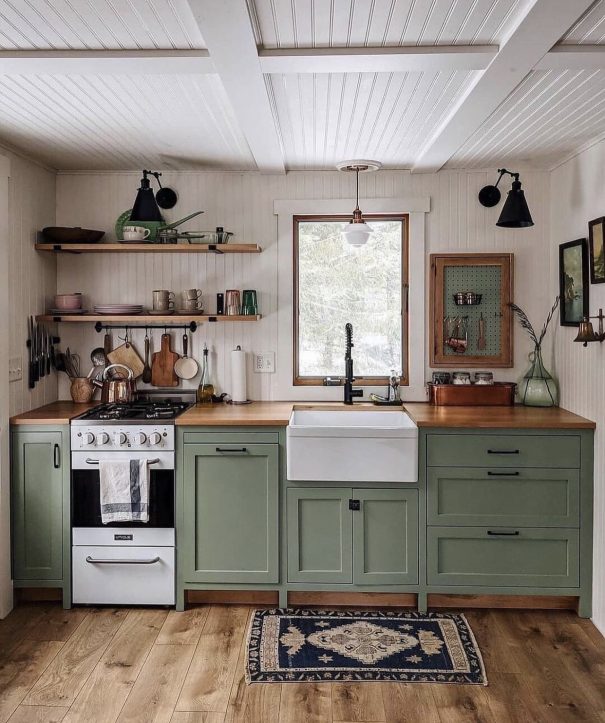 What I'm loving here: This kitchen is a great overall example of what we are going for, because they have also used a TON of wood elements (floor, cabinets, counters, backsplash, ceiling, open shelving) and they made it work!  We are doing paneled wood backsplash as well (we will be painting ours similar to above so it won't compete with the wood countertops).  This kitchen also had us considering going green with the cabinets–but ultimately we decided on a different direction for paint colors that I'll share in another post soon!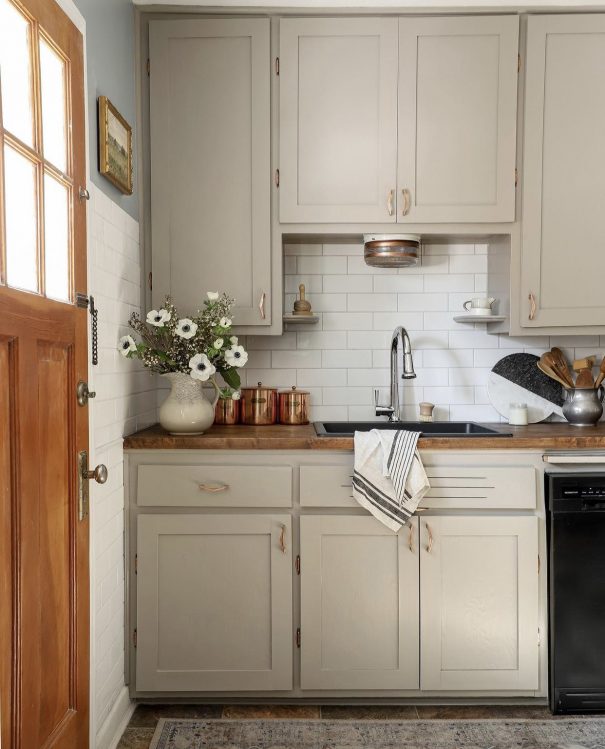 What I'm Loving:  Another example of butcher block countertops.  I included this inspo picture because I looooove the color of these cabinets!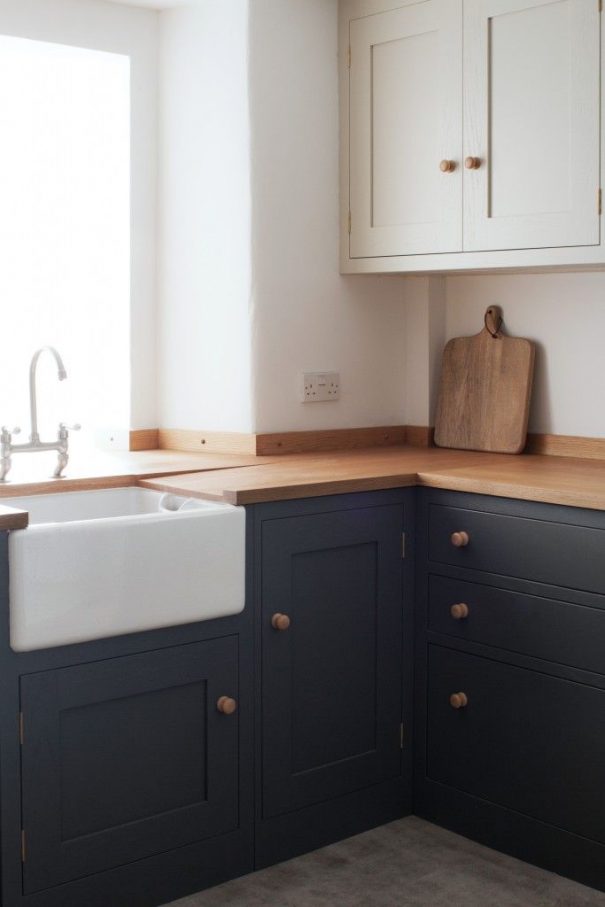 What I'm Loving: Shaker design will always always always be number one in my heart!  This kitchen nails the simplicity!  We are also most likely going with natural wood know hardware as seen here and I'm loving how they didn't paint these and left them as natural wood to coordinate with the counter tops.  And similar to this kitchen, we will have a white farmhouse sink with a beautiful brass faucet.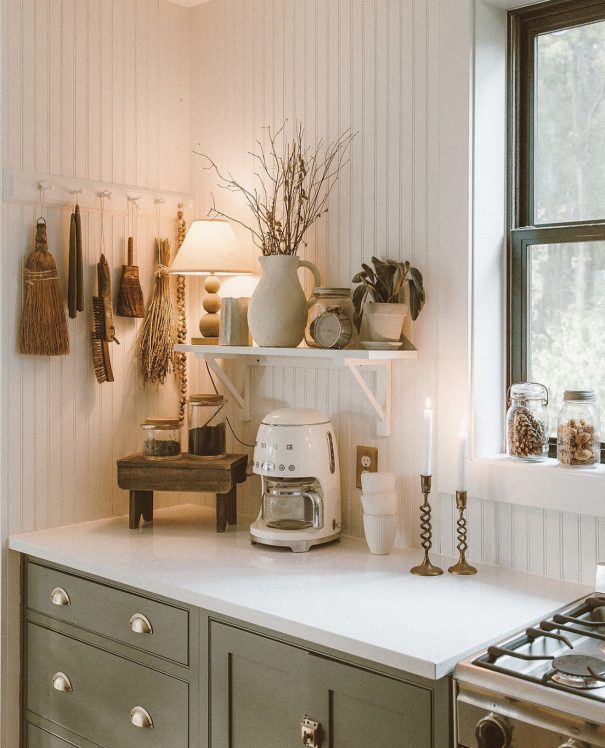 What I'm Loving: Everything. I'm loving everything about this kitchen.  We are keeping the original upper cabinets in our kitchen, but there is one space to the left of the sink that will allow us to include some open shelving and I'm feeling inspired to incorporate some wooden hanging pegs as seen here and below.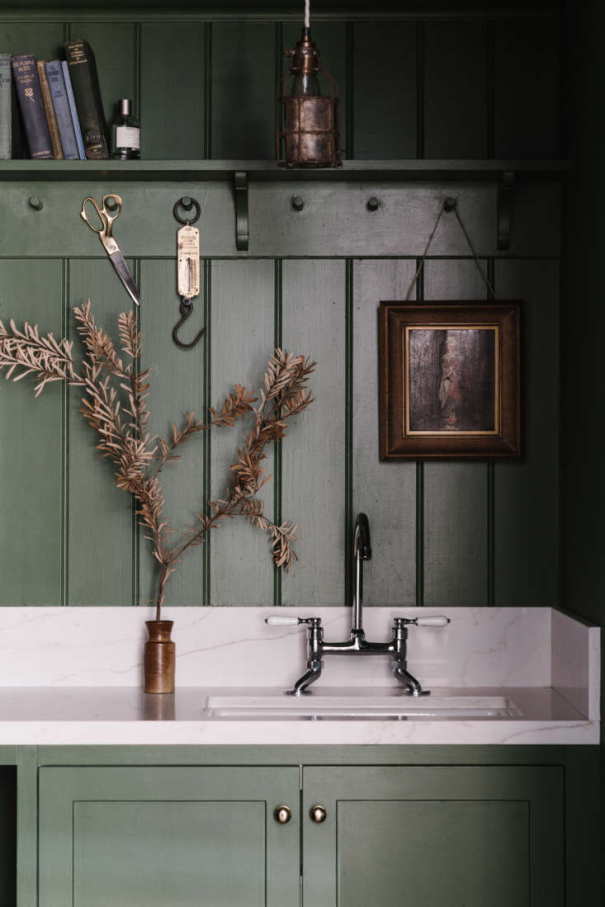 What I'm Loving:  This is actually a mud room/laundry room but it totally has the vibe I'm hoping to bring to our kitchen.  I would love to go this dark with the cabinets and backsplash but we want to keep the kitchen as bright and open as possible.  Specifically, this is on our inspiration board because of the painted wood paneled backsplash and the open shelving that includes the wooden pegs for hanging.  It's clean and crisp while also being cozy and inviting.
What I'm Loving: Another example of wood panel back splash.  I'm including this design because it has been a big debate whether we were going to go all white with the cabinets…ultimately we decided on another direction, but still…this is bright and beautiful!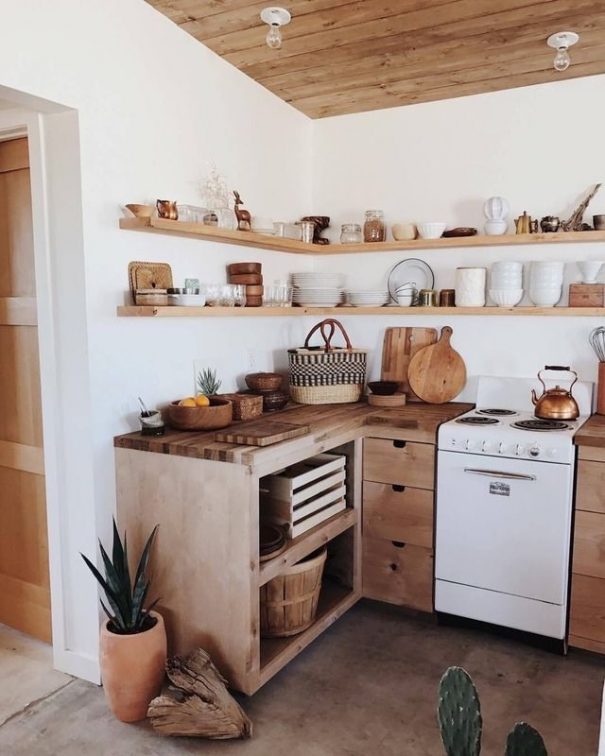 What I'm Loving: I LOVE how organic this kitchen is.  The open shelving, butcher block counter tops, wood ceilings, simplicity and schoolhouse lighting make me happy!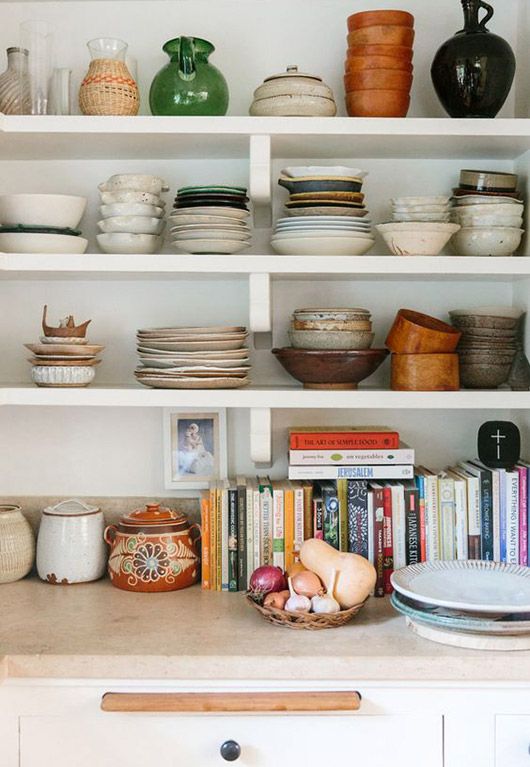 Source: sfgirlbybay
What I'm Loving:  I'm giddy over being able to style open shelving!  If we were re-designing this kitchen from scratch, I'm pretty sure I would have NO upper cabinets and all open shelving instead.
What I'm Loving: Hanging herbs from the garden to dry, are you kidding me?! This is what kitchen and foraging dreams are made of! I'm so inspired by the brass hanging rod and hooks incorporated into this open shelving.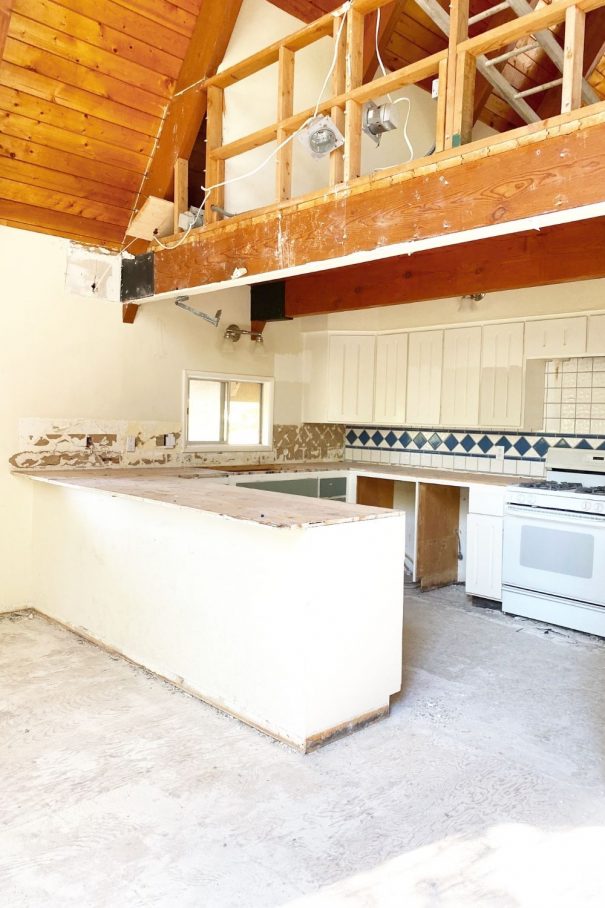 Okay, now let's take a look at what we are working with and all the glorious potential of this kitchen!  First, the kitchen opens to what will be a built in dining banquet (another dream of mine) which is also open to the main living room and fireplace.  We aren't changing the layout of the kitchen at all, just giving it a facelift.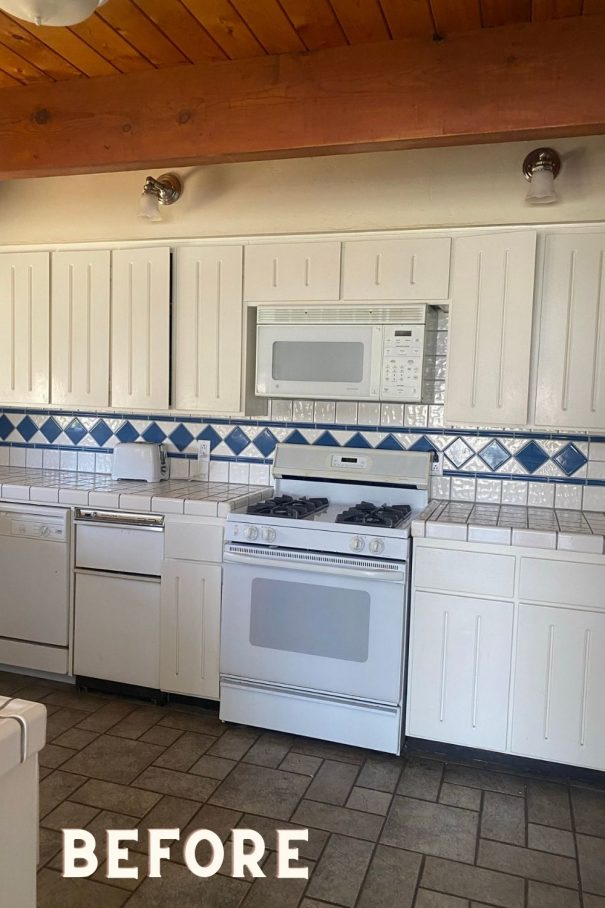 I'm not even mad at these 80's vibe blue backsplash tiles, lol.  But they definitely aren't the look we are going for so they had to go.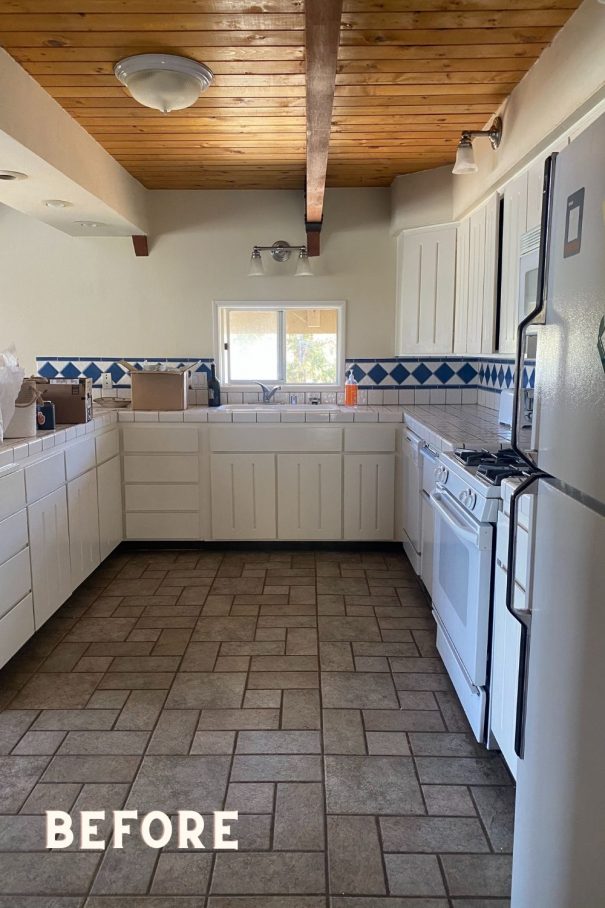 This mystery flooring, sink, faucet, tile countertops, appliances and light fixtures are also all demoed! During the demo process we discovered that this drywall beam is actually covering a REAL wood beam! Such a fun surprise (still curious about what anyone would ever drywall a beautiful wooden beam to begin with).  It's amazing how different it already looks just from some demo.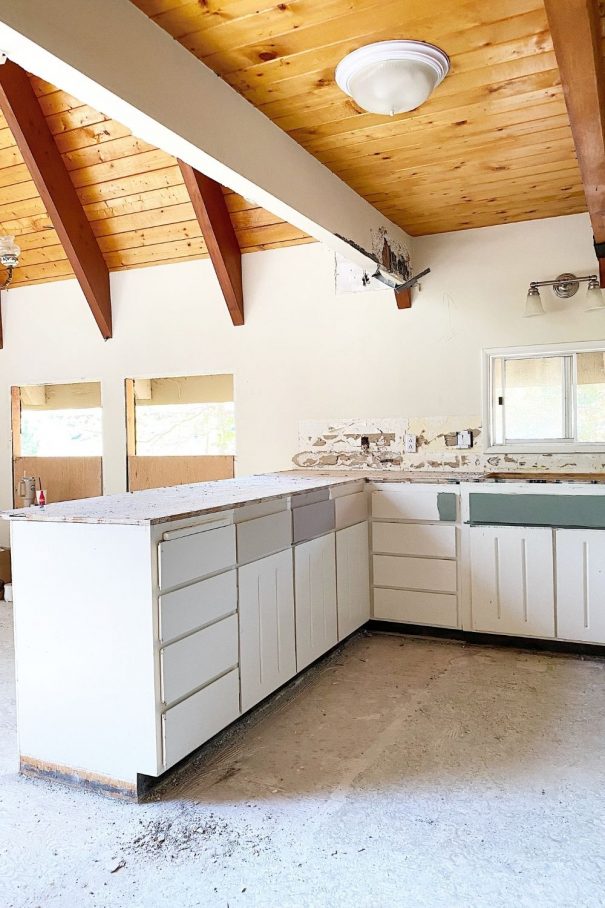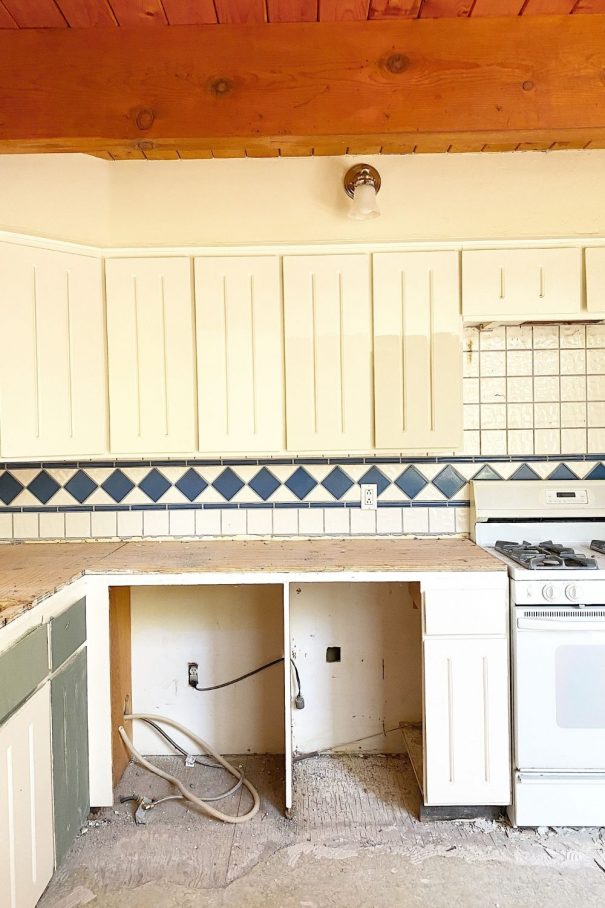 The kitchen was in some serious need for new appliances (oven/range, dishwasher and refrigerator)!  Because we will often be renting out this home to vacationers, we were looking for some added features with our appliances that would allow us to manage them remotely when needed.   Lowe's sent us Samsung Smart appliances and we are so pumped about being able to integrate their features into the management of the home.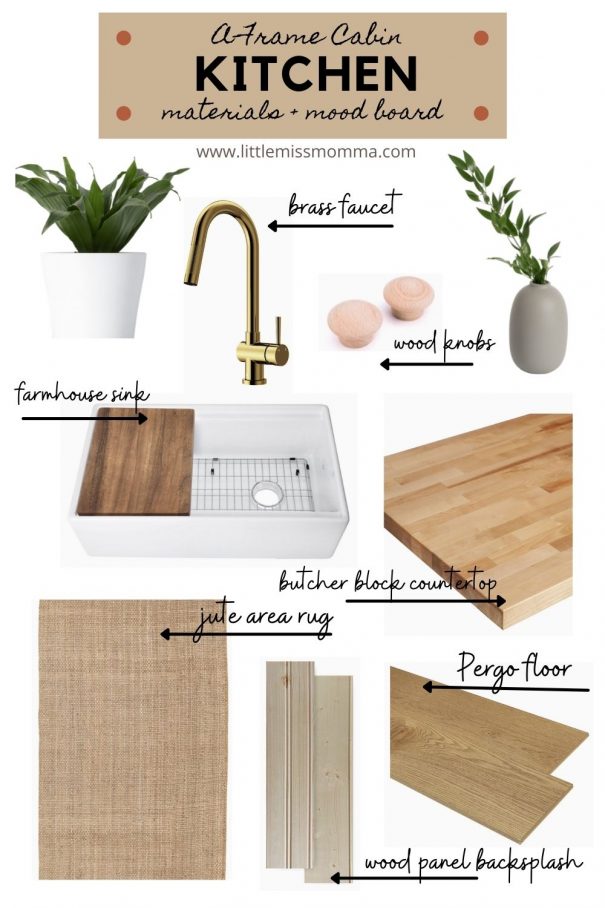 Butcher Block Countertop  // Backsplash  // Pergo Flooring  //  Farmhouse Sink  //  Faucet  //  Rug
Here are the materials we have already ordered from Lowe's for the kitchen.  I'm most excited to see the countertops go in! Next up, paint and installation! Stay tuned!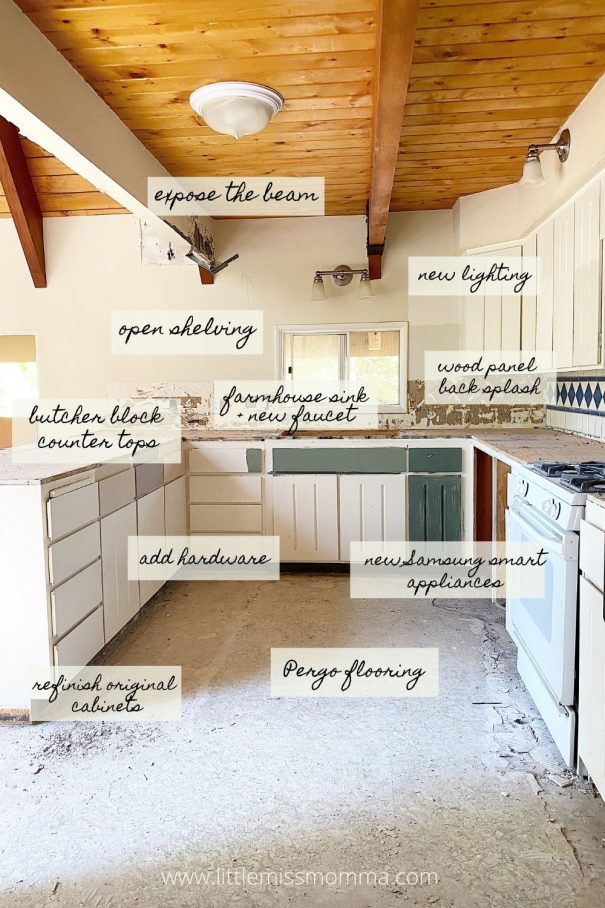 Stay tuned as I will be sharing the remodel process and different projects along the way (including a surprise DIY project that I'm especially excited about).  Remember, while I love to get my hands dirty, make stuff and be creative, I am NOT well versed in the world of renovations, power tools, and taking measurements the correct way.  Which is exactly why this journey should prove entertaining, lol.  My goal, to prove that all of us can be brave enough to start the daunting project and learn as we go!