Lake Arrowhead A-Frame Renovation: the Before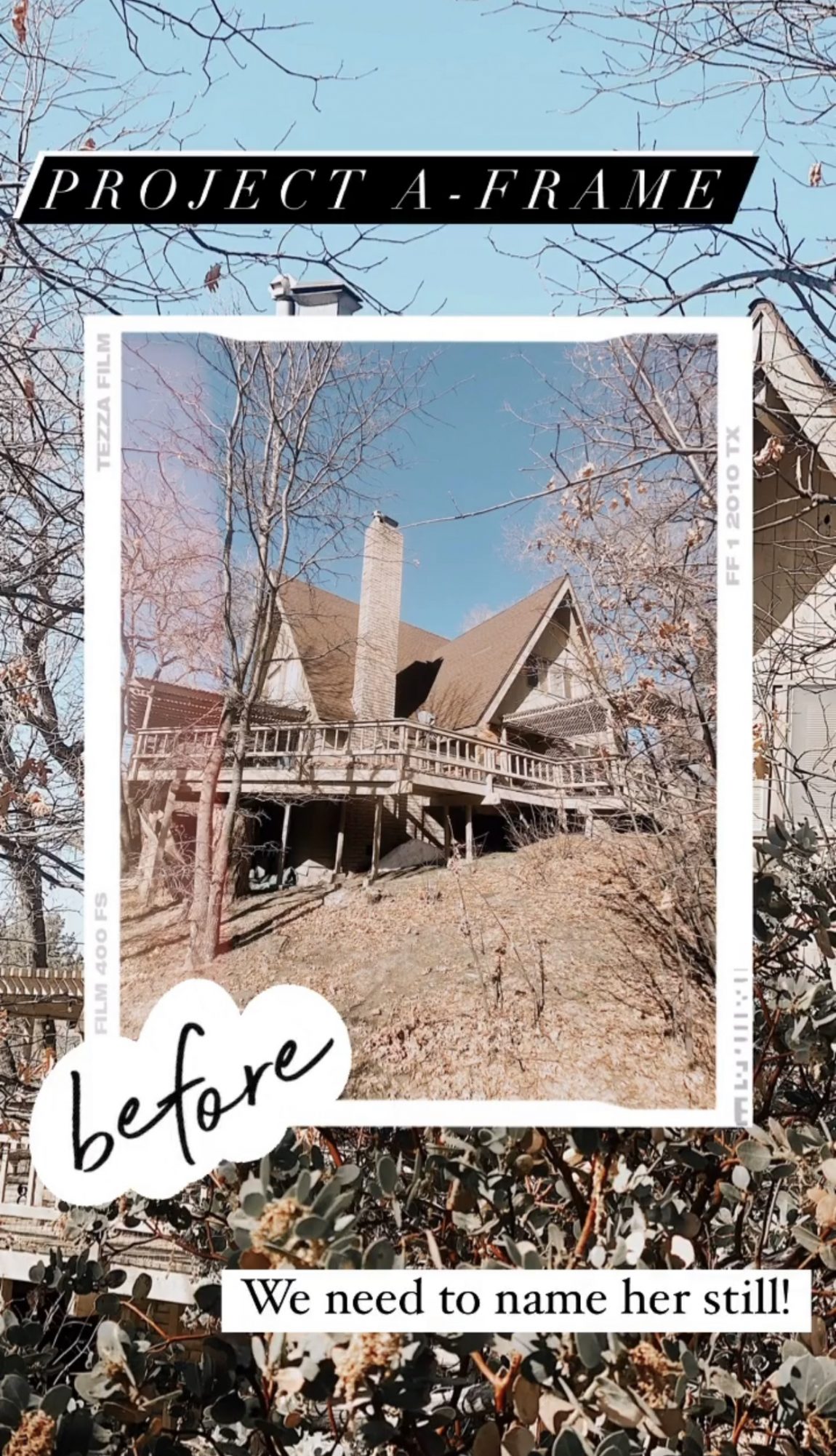 This Spring marked the fruition of a long time dream and beginning of a new adventure for our family.  We are now the grateful owners of a 1964 A-Frame in Lake Arrowhead.  We are doing as much of the work ourselves as possible. I say this with a grain of salt–we're hard workers but not especially handy, so we'll be bringing in the experts all along the way.
We are so excited to share the journey (and most certainly mishaps) along the way!  Our lives and our people are back home, but our hearts are firmly planted in this magical town and the space it has given us to heal and dream again.  To read about are Lake Arrowhead love story, click here. And please, HELP us name the A-Frame, we are stumped!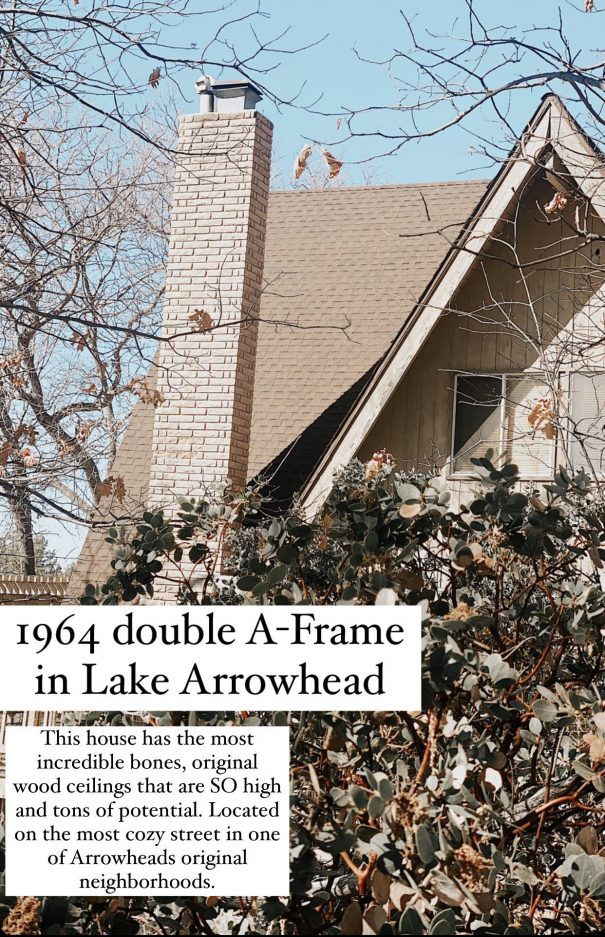 This home has the best bones, open floorpan, sky high ceilings, walls of windows, cabin charm and it's a short walk to the lake in a quiet and cozy neighborhood of Lake Arrowhead.  It just needs a little TLC, and that's exactly what we're going to give it!
The hope for this home: create a cozy retreat to make family memories and for other's to find the same peace and joy that we have experienced here.  This lake house will be available to rent, used for retreats, and enjoyed by our family when renovations are complete. I am so excited to share our home with you!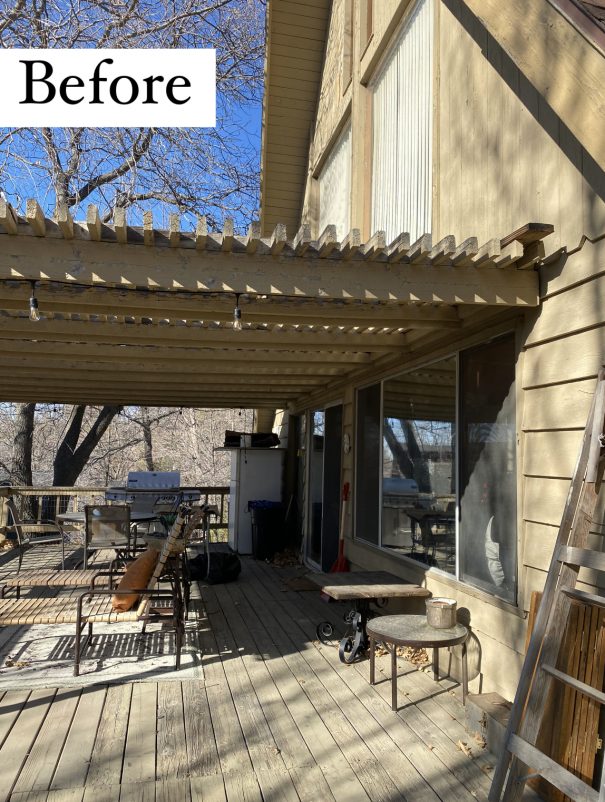 Currently, we are deep into the demo process. Removed all flooring (carpet and tile), ditched the old baseboards and trim, tore down the damaged pergolas, demoed the bathrooms, removed some drywall to open up living room, entry and loft area and have begun the repair and replacement of the exterior siding.
There is SO much left to do. Like SO much! And we are far from being renovation experts. In fact, we have NEVER done anything like this before and are certainly learning as we go. The trickiest part, I'm learning, is having a cohesive timeline.  Timing demo, with design, with ordering materials, with material arrival, with install, with contractors—ahhhh, its been a learning curve for sure.
But we are stepping outside of our comfort zone and have decided that we won't learn if we don't try.  So feel free to join us–whether you're laughing at our glaring mistakes or learning right along with us.
Lessons I anticipate we'll be learning from this project (along with many more unanticipated ones):
Me: Learn to overcome my indecision and procrastination in making home finishing decisions. Learn to bite my tongue and smile when Ben makes design suggestions that make me cringe (full transparency). And last…patience. Oh wait, one more, time management: here's hoping this project teaches me a bit of that! Okay, I have another–sticking to a budget, a very minimal budget!
Ben:  Learn that every time line will take at least 3 times longer and cost twice as much as planned.  Learn that this is way harder than it looks on television and on blogs, like WAY harder.  And sympathize with my inability to make home finishing decisions, because turns out, it's also harder than it looks!
I'd love to hear some of your renovation or home improvement lessons learned in the comments (here's hoping I'm not alone).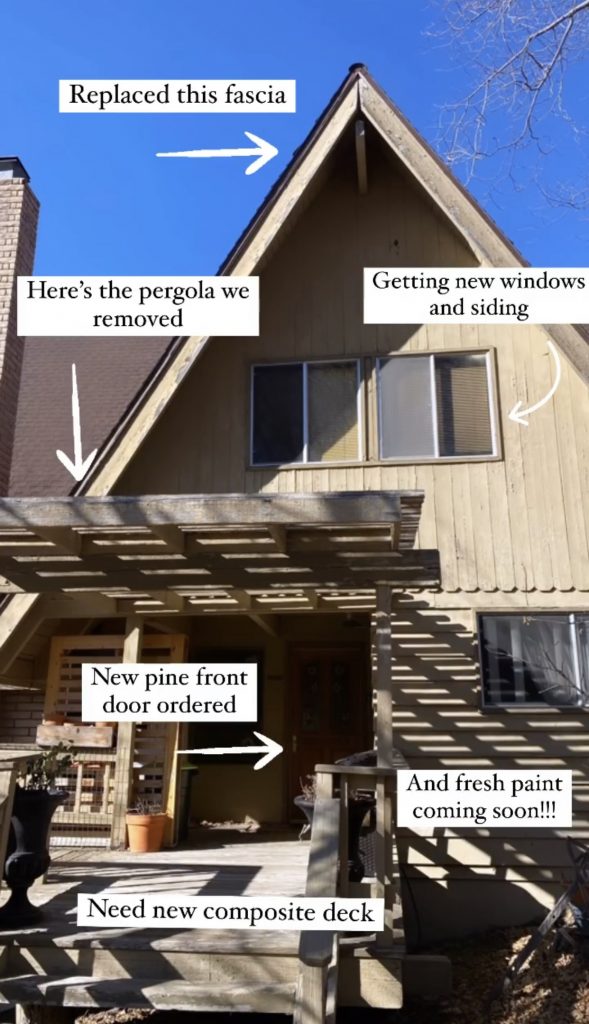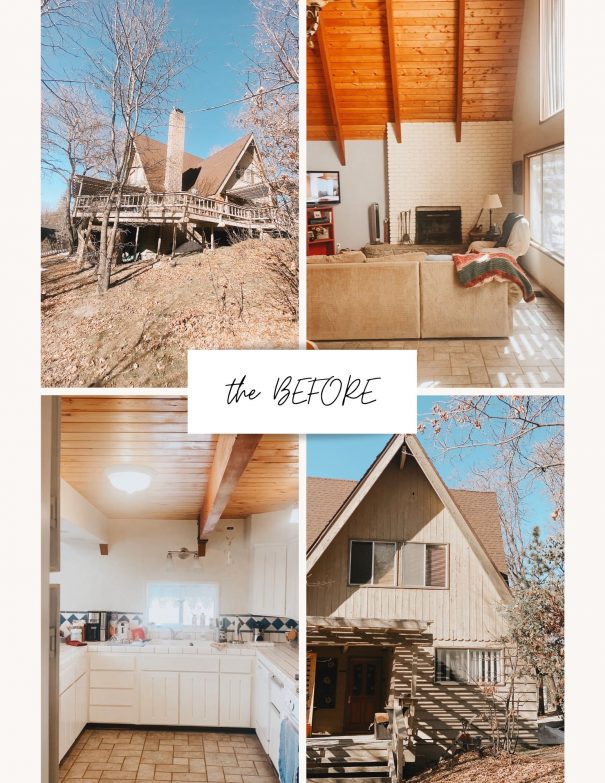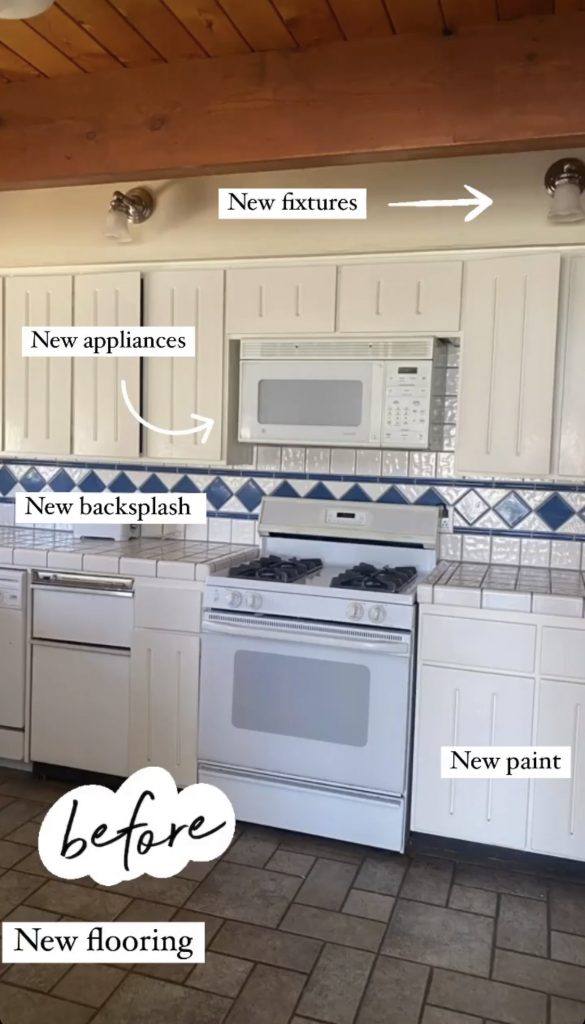 I'm excited about the kitchen because the cupboards are in pretty good shape and we love their vintage charm–this bodes well for the budget! We are currently toying around with different paint ideas, picking out new appliances and fixtures and getting counter tops and backsplash ordered.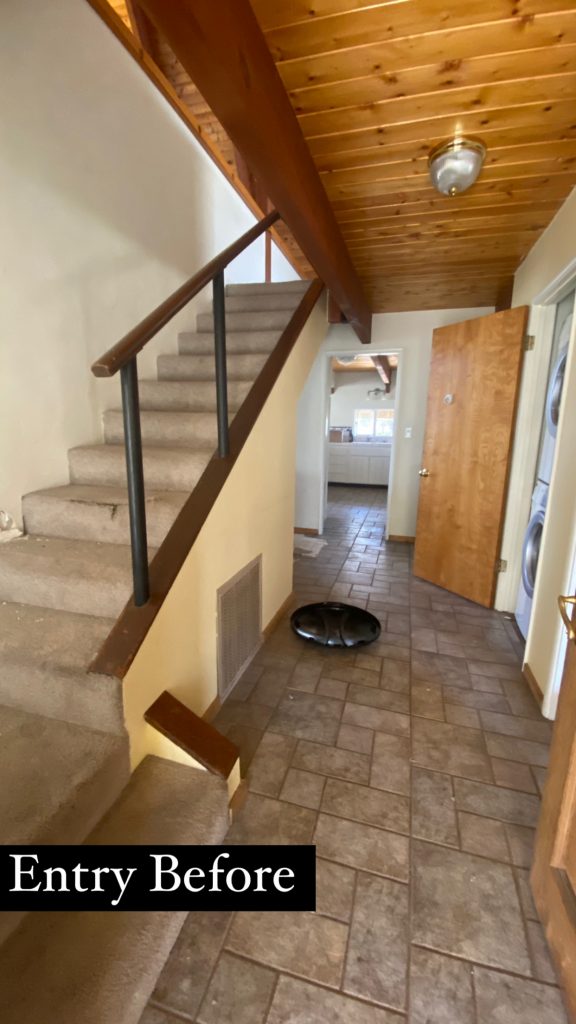 During demo, we also opened up this entry wall. So now, when you walk through the front door, you immediately catch a glimpse of the amazing A-Frame view!  I can believe how much opening up this one wall has brightened up the entire living space.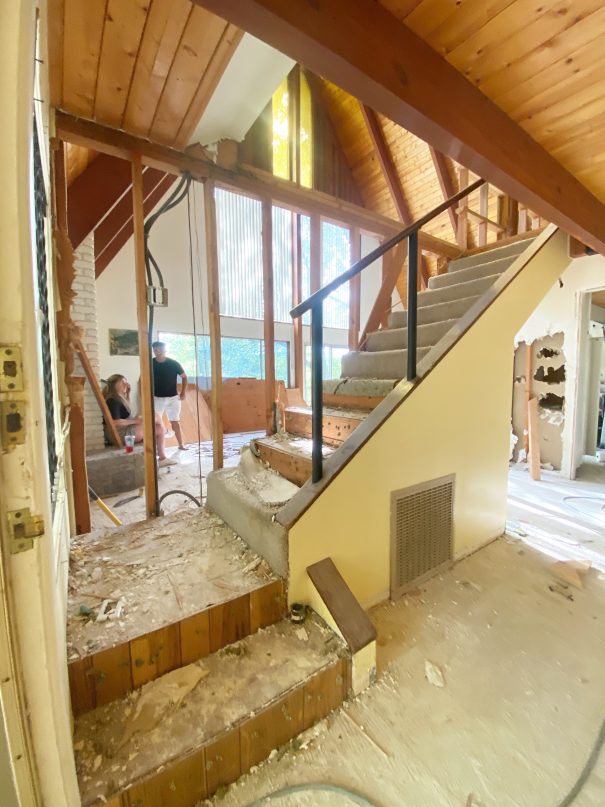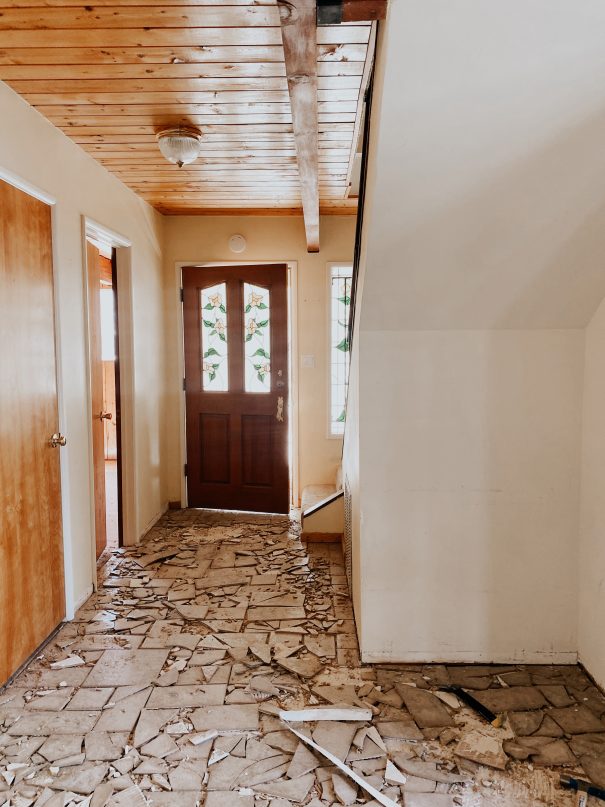 Peace out tile!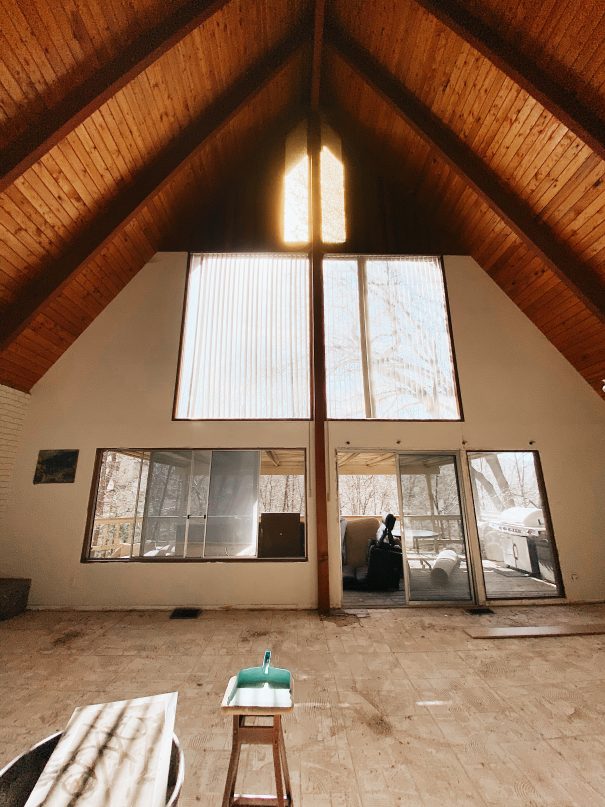 I can't wait to ditch those blinds and install new, fresh windows into this beautiful wall!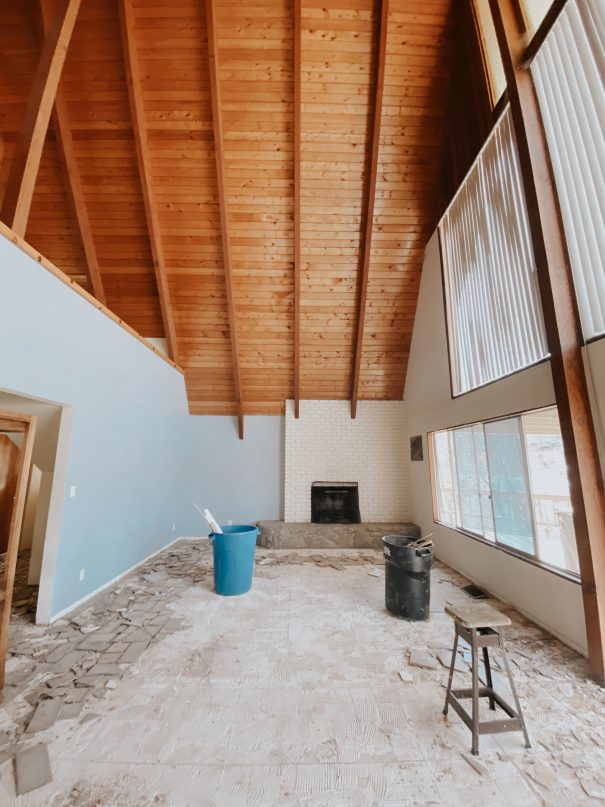 We don't have plans of painting the ceiling because we want to keep the cabin vibe/charm. But I can't help and wonder what it would look like painted white…or sandblasted.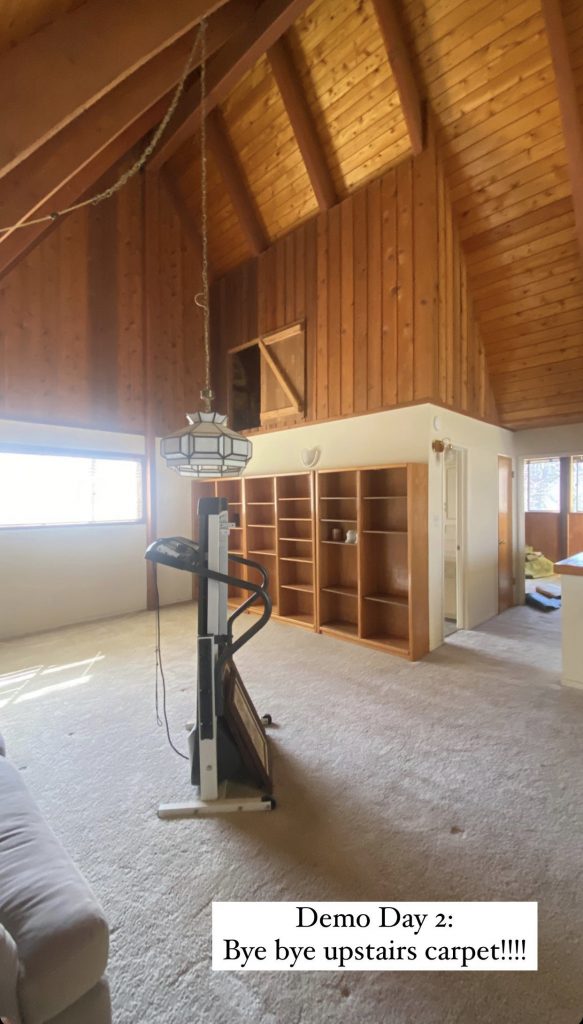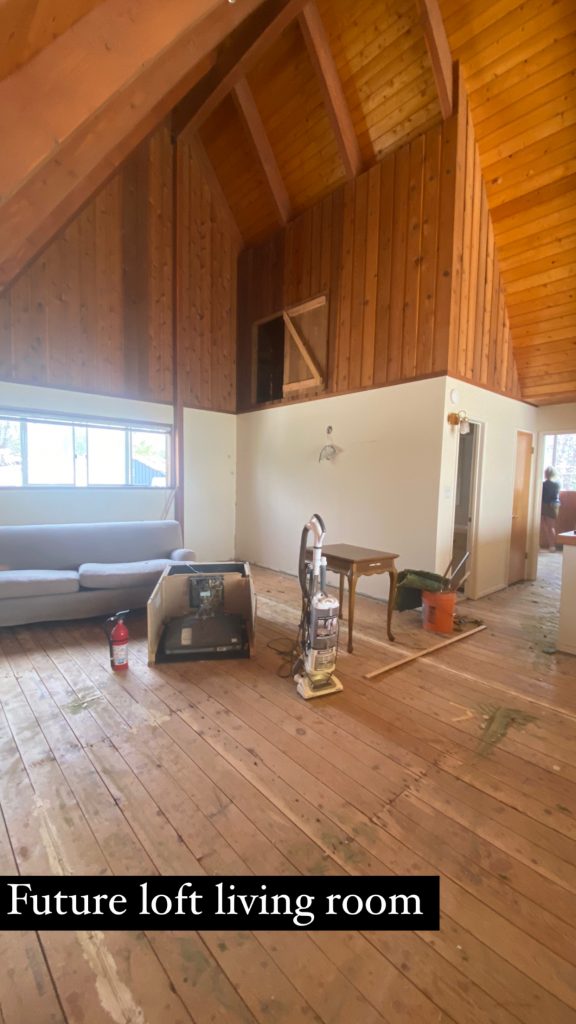 THIS second living space in the loft–we have big plans for the function of this space and I am so pumped for all the memories that will be made in this room! Cool hang out spot, endless games, movie room, reading nook, playroom, kid's hideaway (can you spy that secret trap door nook space in the ceiling) and more!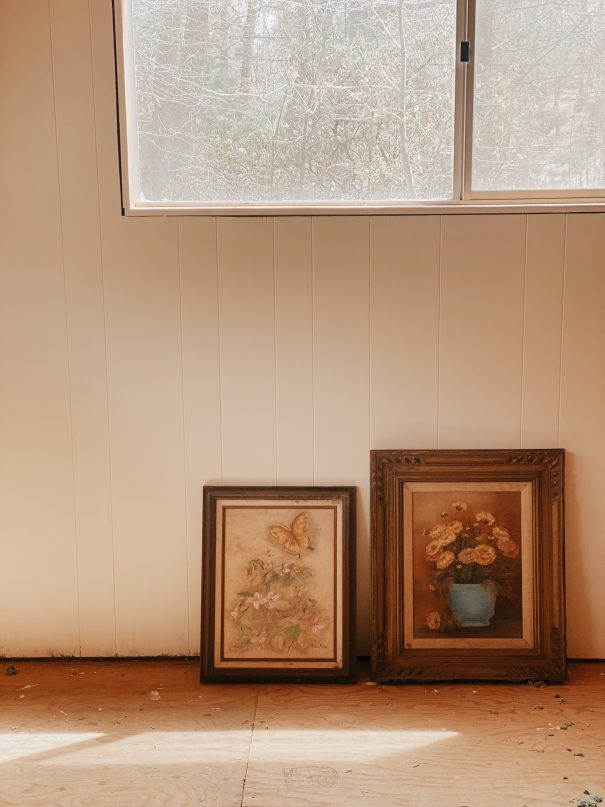 We are also committed to incorporating a bunch of local thrift finds, local artifacts, local artists and original design elements into the renovation.  We want this to feel like the mountain retreat that cozy dreams are made of.  Think Dirty Dancing family summer camp meets Something's Gotta Give Hamptons house meets This is Us rustic mountain cabin vacation house vibes. But I promise, not cluttered or too kitschy or anything, lol.  I'll do a follow up post here sharing some of our inspiration and you'll see what I mean.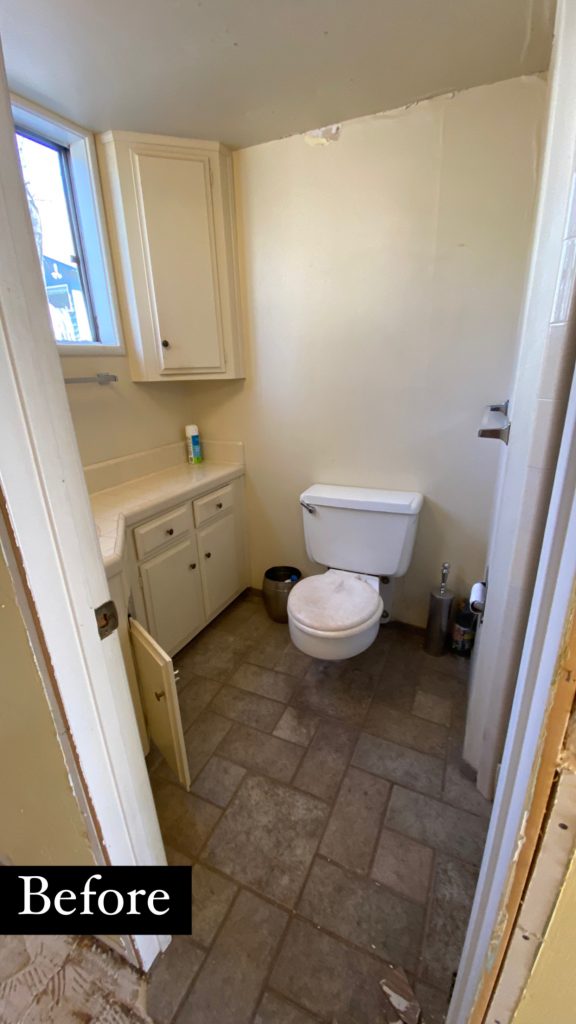 Here are the bathroom befores. We literally took them down to the studs.  Exciting beautiful tile, new fixtures, toilets and lighting are on their way!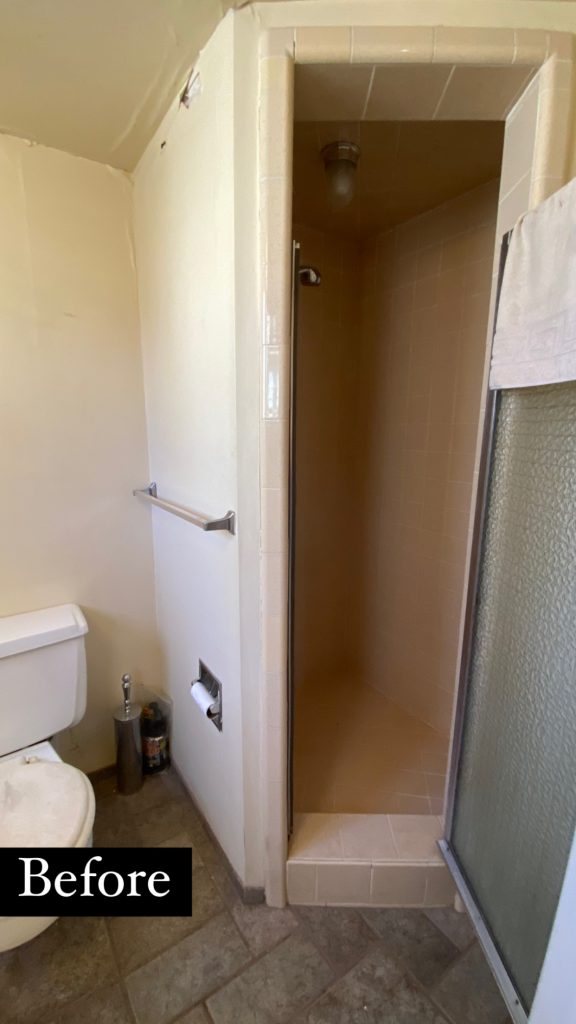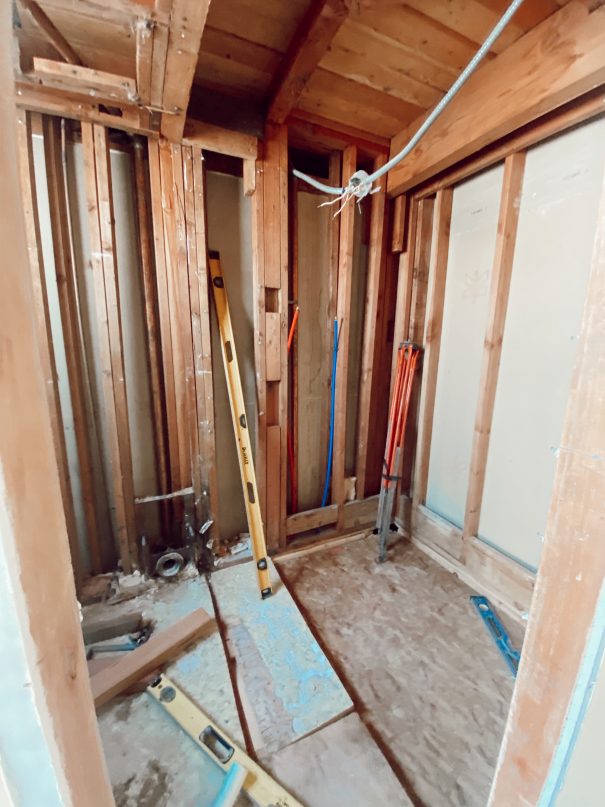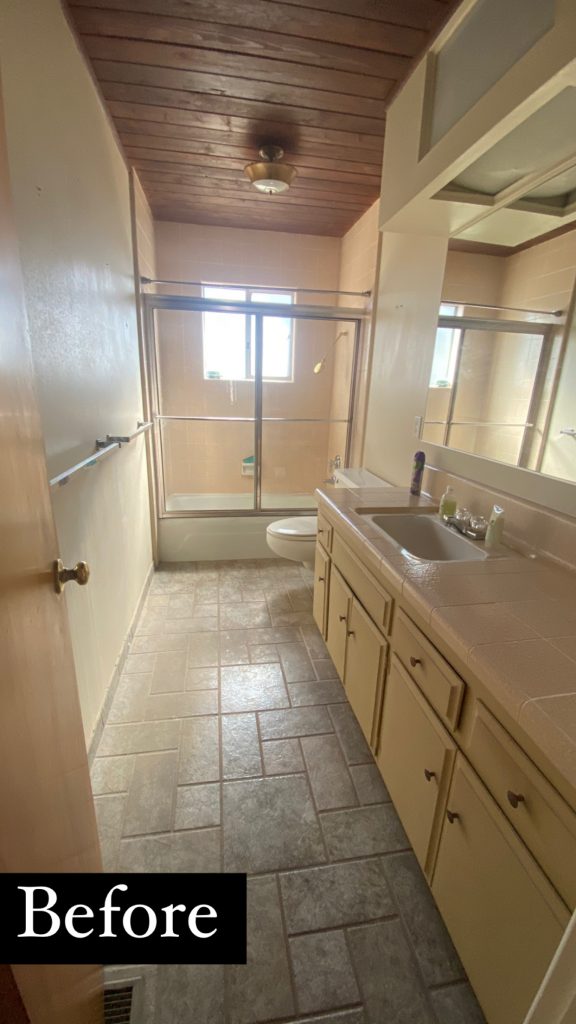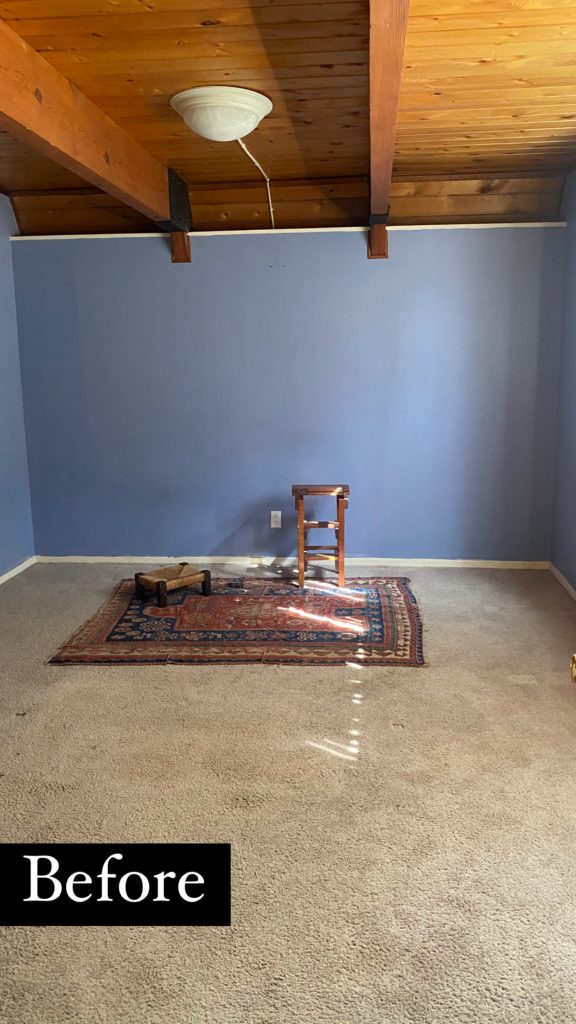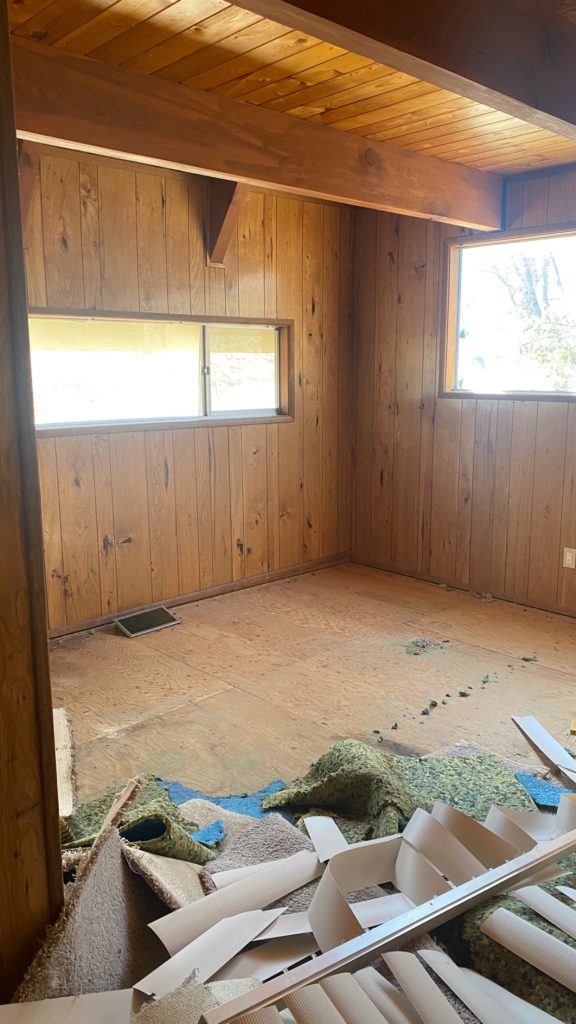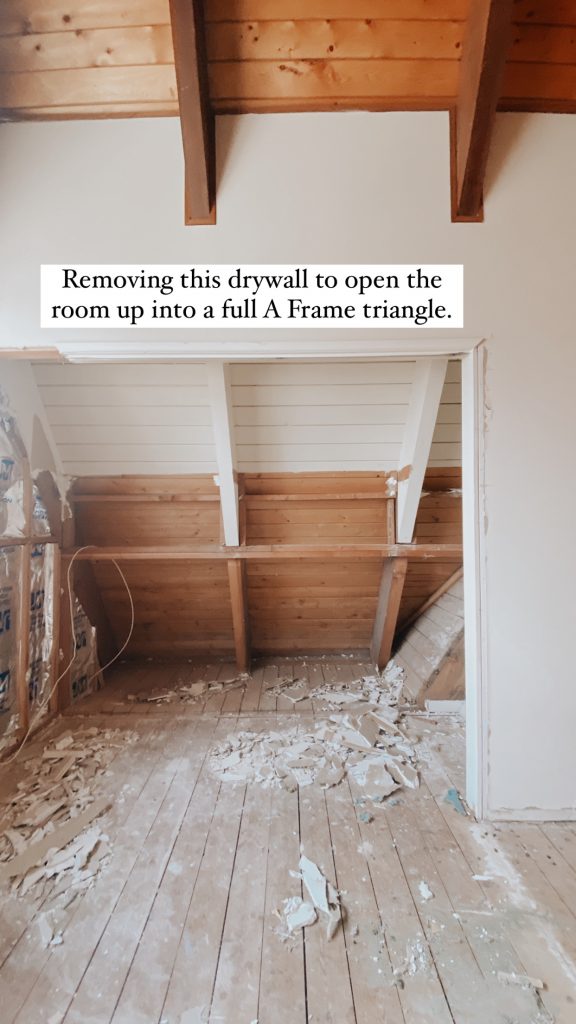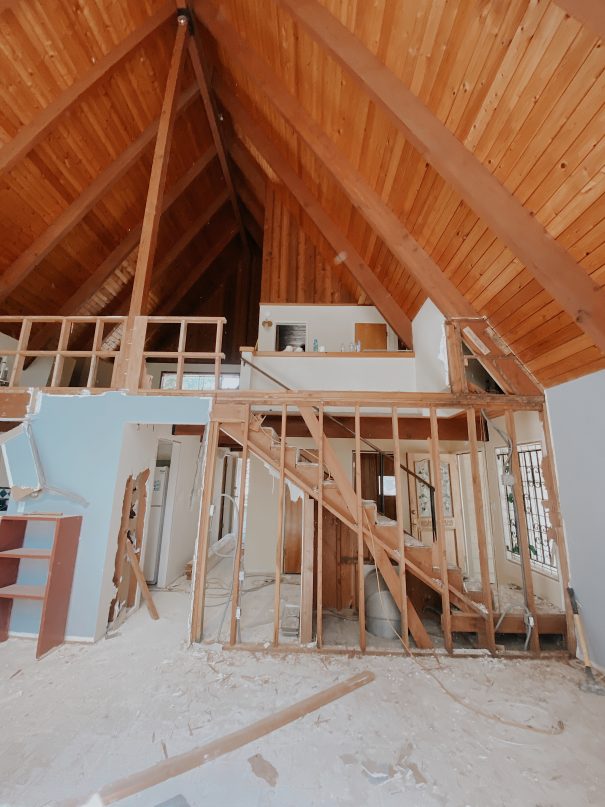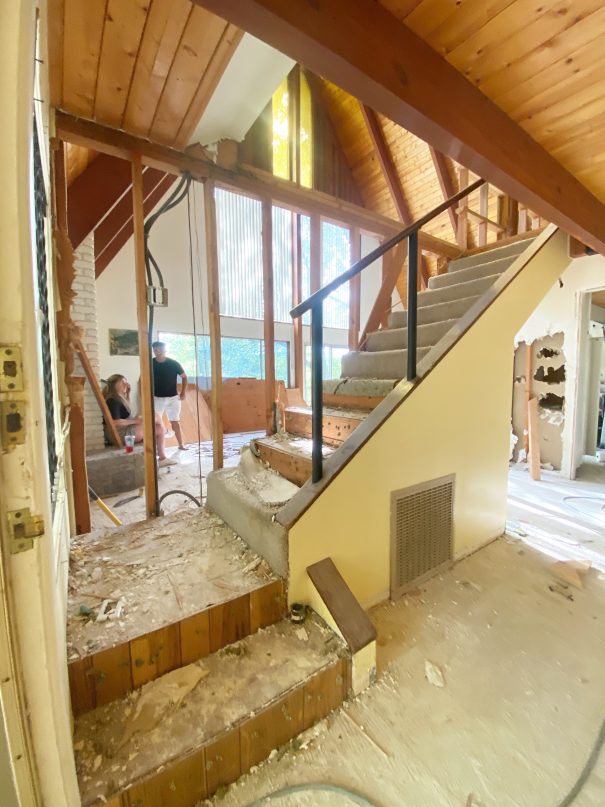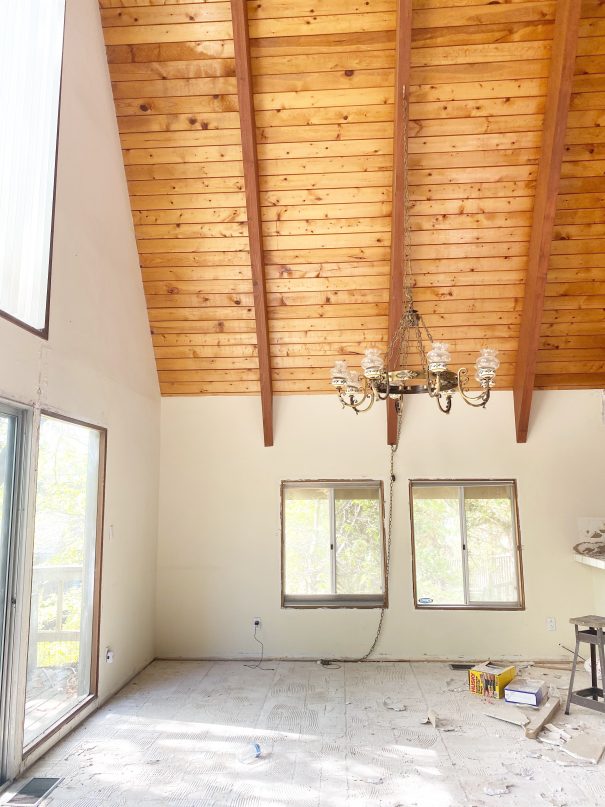 This will be the dining area and we are going with banquet style seating–still deciding on a cool piece of furniture for the L-shape seating or doing a built-in.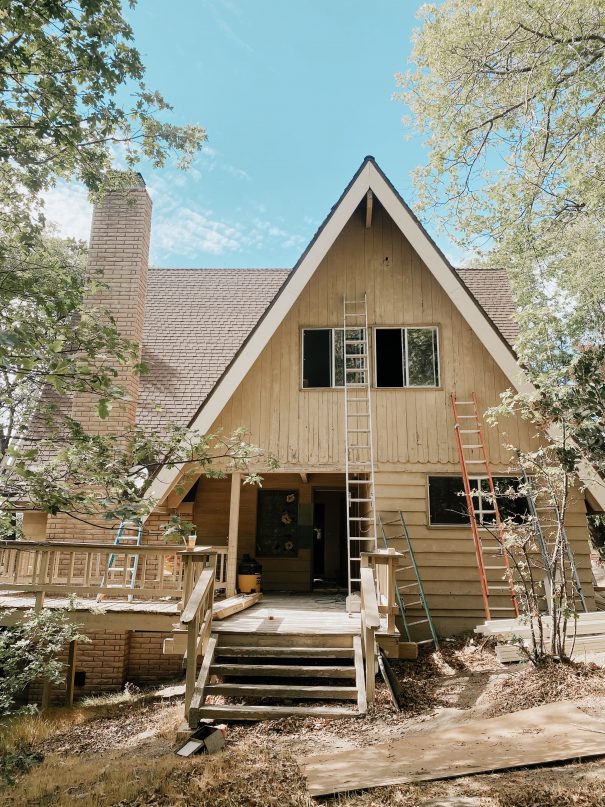 We have so many paint color decisions to make and it's a completely an overwhelming decision. The paint company we are using is going to set us up with a color consultant (how cool that that's a thing!) to help us make decisions about colors that are best for the vibe and lighting and flow of the exterior and interior of the home.  Stay tuned! And if you have any favorite exterior paint colors, I'm all ears!