Chalk Paint Nightstand Re-Do and Bedroom Decor Inspiration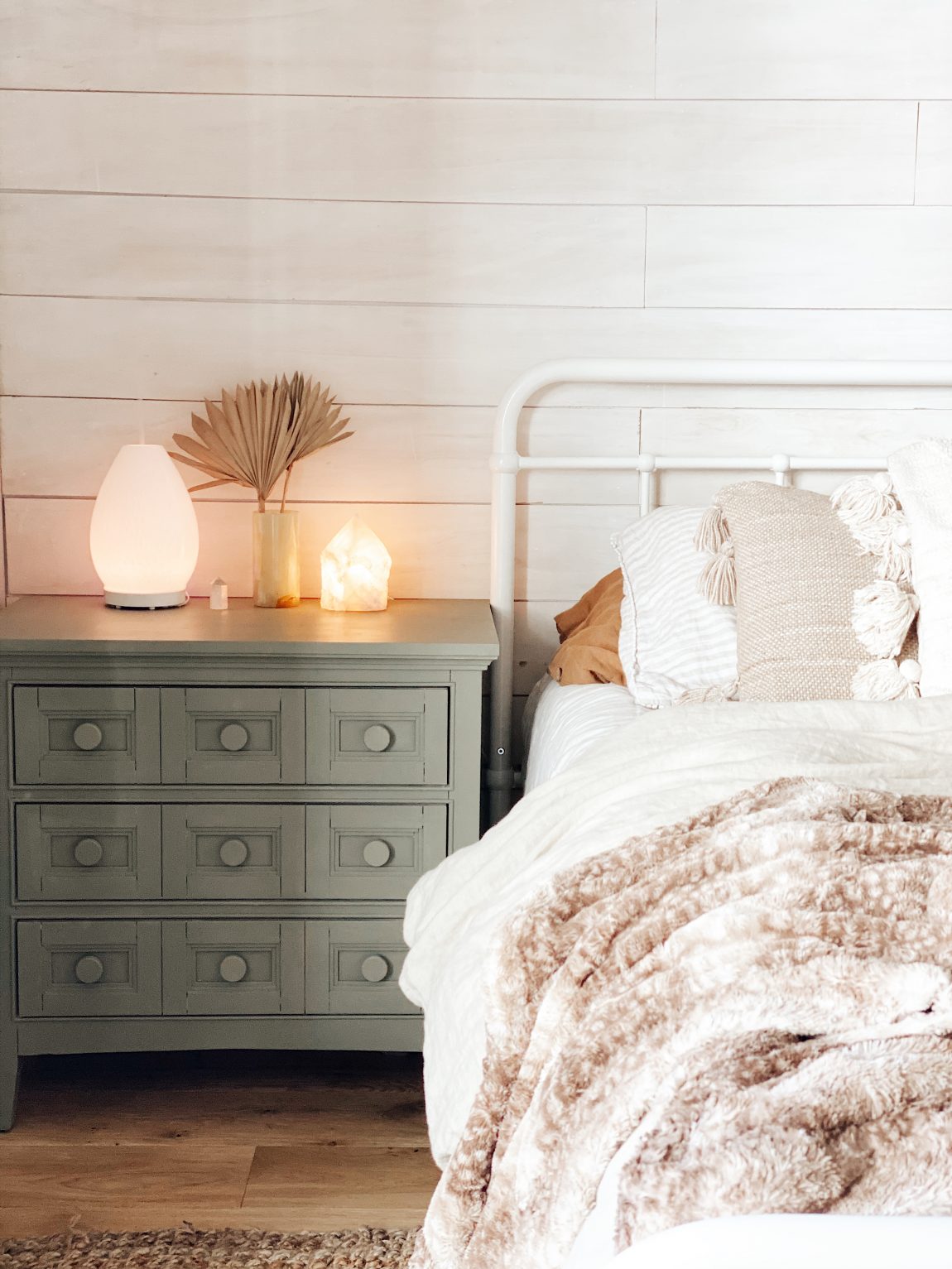 Is it just me, or is the primary bedroom (which is the room we spend the MOST time) always the last room to get put together in a home. The living room, the kitchen, the kids room–all arranged and styled.  But my bedroom has always been a work in progress (and still is).  I have been looking at bedroom furniture for months now and can't quite seem to decide on anything particular (plus, bedroom furniture is so crazy expensive for the pieces I've been liking).
Really, the vibe I'm going for is warm and cozy and homey and personal. I like vintage elements but don't want the room to look like an antique store.  I love modern elements but want it to be warm and soft. And I'm not a big fan of "bedroom sets" where the bed frame matches the dresser which matches the nightstands.  I love an eclectic mix of furniture and decor that all pulls together into a modern cottage vibe.  I have visions of a vintage nightstand, with a classic bed frame and a sturdy, new dresser.  See the below collage for some of my cozy bedroom inspo pics: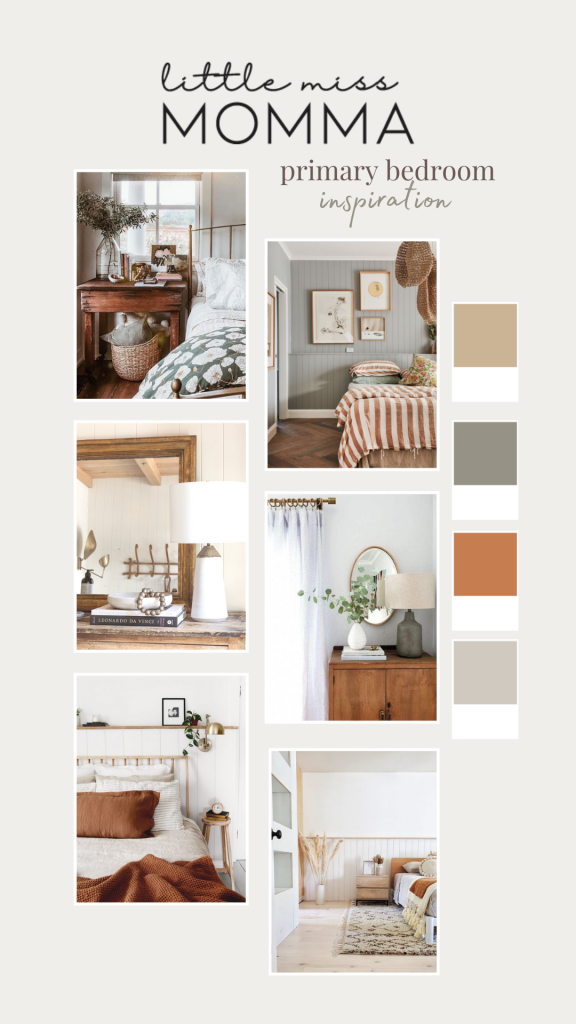 Inspiration pics from my Pinterest saves.
We have had the same bedroom set since we got married 15 years ago and the bed frame recently broke so we tossed it.  For about 3 months we have been sleeping on the box spring and mattress only and the "unfinished" feeling has been making my quality of sleep worse (I can't explain it, but I feel it, lol).  All the beds I fell in love with online (like this one and this one) took forever to ship and were not in a price range that I was excited about when I'm not fully committed to a style.  A week ago I impulsively bought an inexpensive bed frame on Amazon that had good reviews and a classic design. Y'all!!!! It arrived, was SO easy to put together and is SO sturdy and I'm keeping it forever, lol.  It was such a nice surprise to fall in love with something that was such a great price and I thought would only be temporary.  It also comes in black and several sizes! I'm super happy with how our linen bedding pairs with the bed frame.  I also got a simple jute area rug and ordered a new, classic wood dresser from Urban Outfitters (should arrive in a few weeks). If we had room for a chair in the bedroom, this new swivel chair from CB2 would be the one for sure (see below):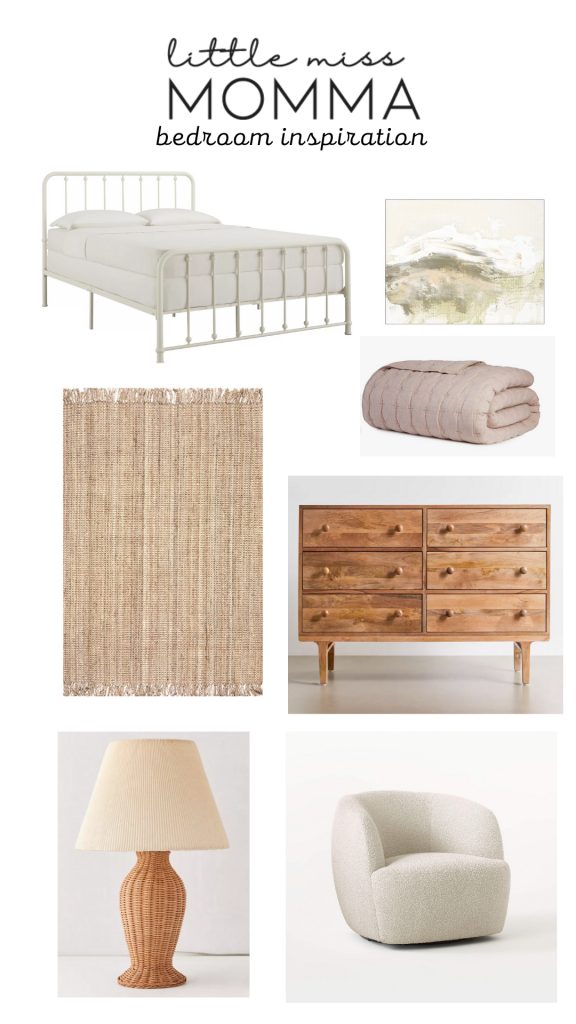 Art via Lindsay Letters

After the new bed frame and rug arrived, I got the itch for more change.  I decided to give my 15 year old nightstands a new look with some chalk paint.  The reason I love chalk paint most, because I don't need to sand or prep the surface I'm painting (i'm a lazy painter). The metal knobs were not the vibe I was going for either and I found some craftsman wood knobs that were just what I was looking for.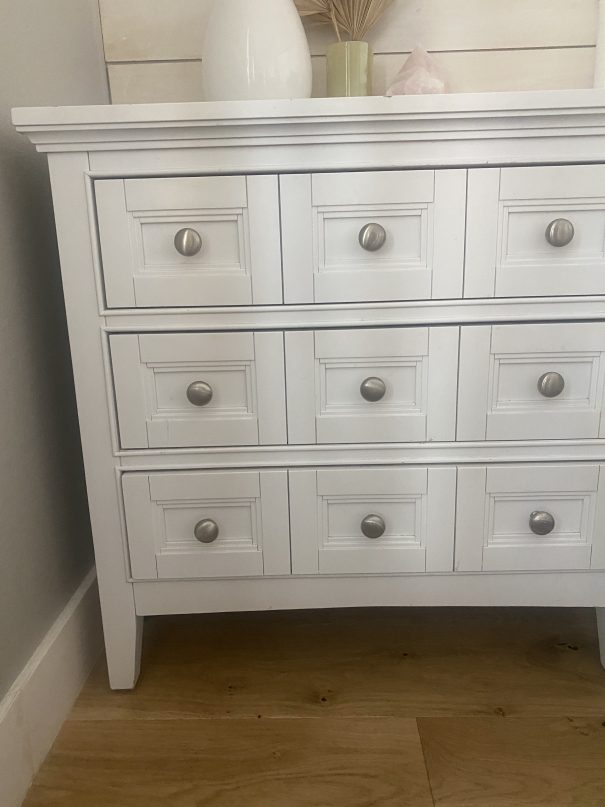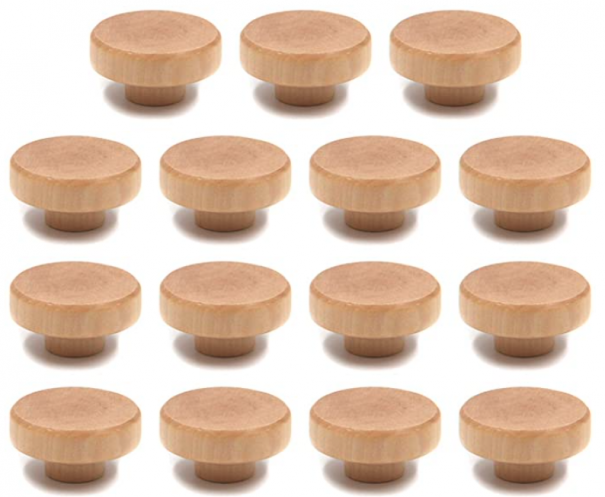 Supplies:
Wooden Knobs
Chalk Paint I used Jolie paint in Sage
Protective Top Coat I used Rustoleum Chalked Top Coat in Matte
Chalk Paint Brushes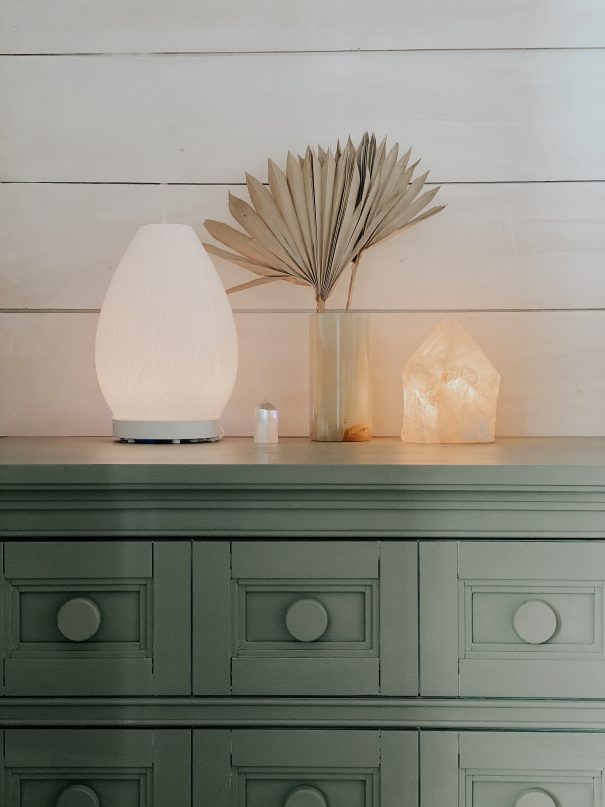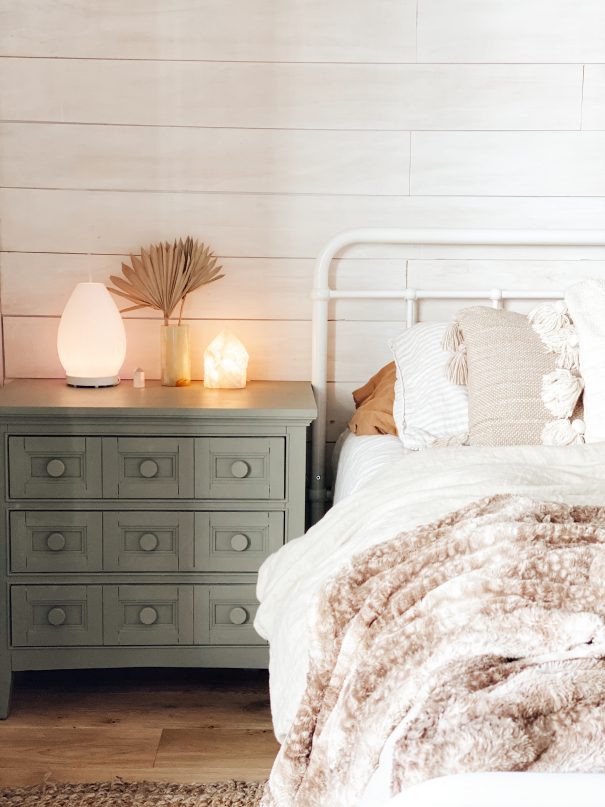 World's most comfortable throw blanket from Keiki Co. 
I am so so so happy with the new look! Totally changed the vibe of the room with a can of paint!  Some things to know about chalk paint:  it has way better coverage than other paint and often requires less coats for full coverage.  Chalk paint also requires minimal prep work.  Even if your piece has a finish on it, you can paint directly over the top of it without sanding! I chalk painted our lacquered piano and it totally worked!  I recommend giving the piece a quick wipe down before painting to remove any dust or grime.  Then, after the paint dries for a day, finish it with a chalk paint top coat or wax to seal and protect the piece.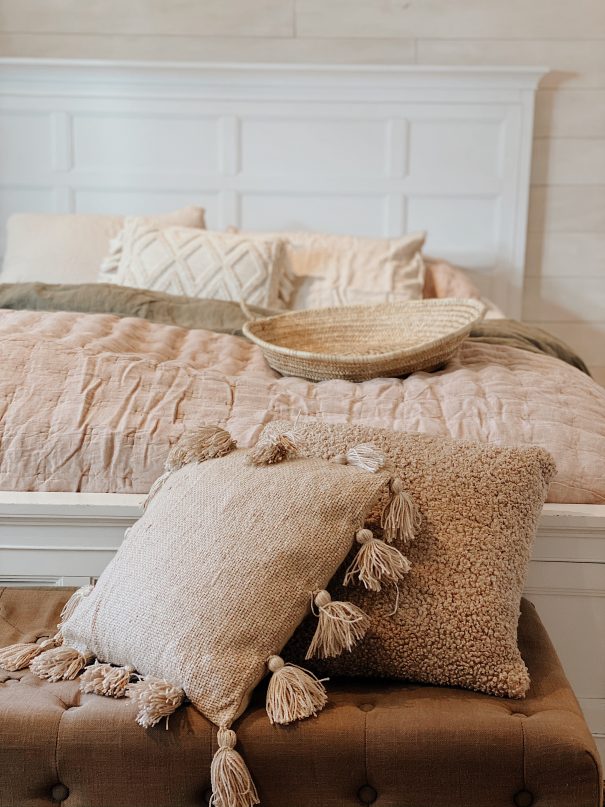 Our bedding is from Parachute and Magic Linen and I'm in love with both sets.  They get softer with each wash and I love the earthy vibes.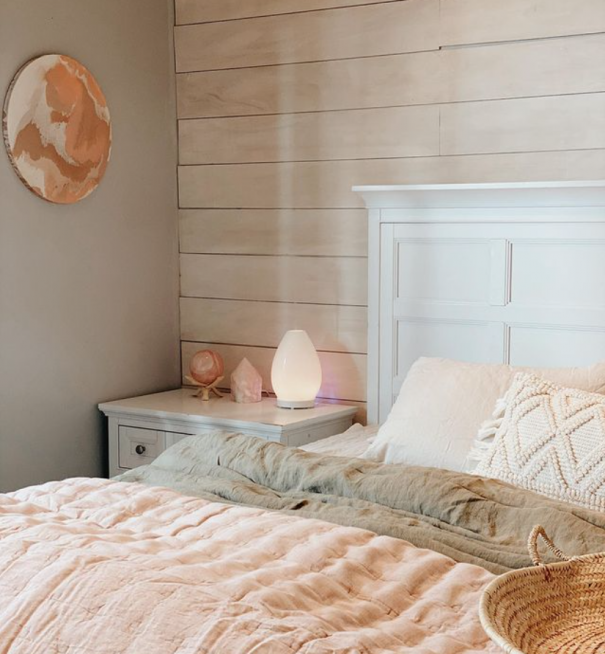 Here's what's left for me to finish in our room:
I need to repair our DIY paneled wall.  The plan is to caulk between the cracks and then paint the entire accent wall white.  Because we have earthquakes in California, it isn't safe for us to hang anything heavy or sharp above our beds, so I have my eye out for something light weight and fun (or I'll just leave it blank).  When our dresser arrives, I am going to style above it–maybe with a fun mirror or some art (or my favorite Frame TV that looks like artwork, if I can convince Ben, lol). Then I want to paint the entire room. I was originally planning on white, but not I'm considering a light cream color or warm white (but I haven't decided).