Friday Favorites: My Most Loved Free People Pieces and Sets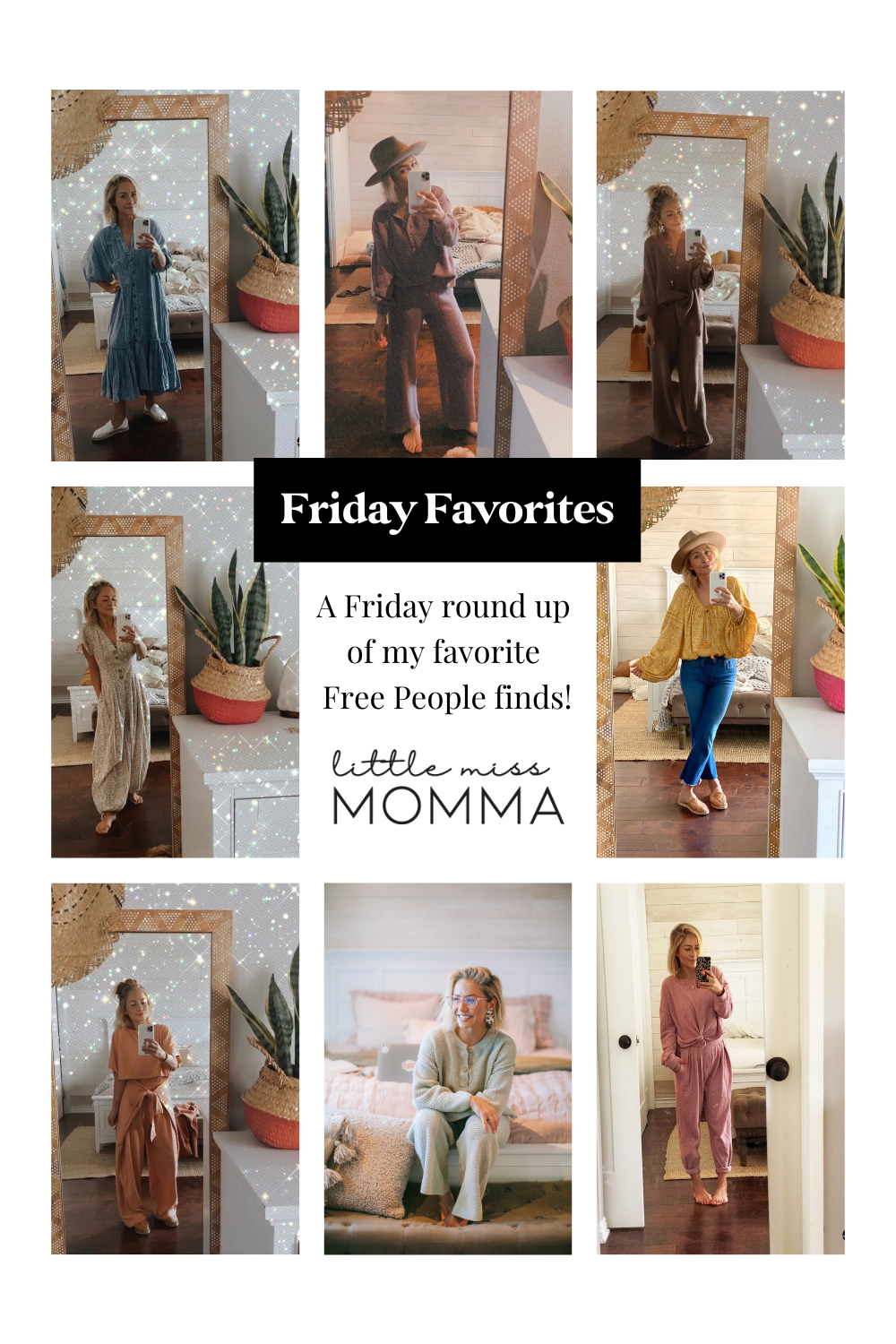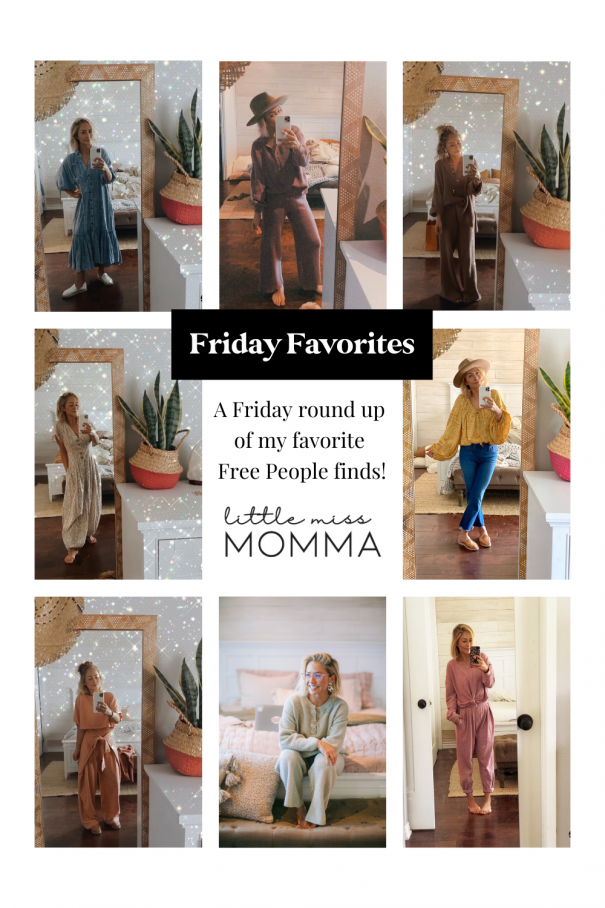 It is no secret that I love all things Free People! But I have also learned that shopping for sizes and fit can be a bit tricky there.  I like to think that I have become a self-proclaimed expert in selecting pieces that will have a good fit and be super versatile (for the record: this is only after years of ordering all the wrong things in all the wrong sizes, lol).  Full disclosure, I am VERY short! So take that into account when you are picking your sizes.  I LOVE that crop pants are in style right now, because it means that I can shop crop pants knowing they will fit me full length without having to get them altered (because I am TERRIBLE at taking my clothing to get altered, I'd sooner take a pair of scissors to the bottom of my pants then take them into a tailor).  Other things to note, I have become obsessed with certain Free people body suits.  I cannot handle a body suit that has a thong and goes up my booty, it's a sensory nightmare for me.  So I have to buy full-booty body suits.  I also like to size up in my body suits so they are skin tight and instead give the appearance of a tucked in t-shirt (that doesn't come untucked all day long because it is, in fact, a bodysuit).  What about underwear lines you ask?  I've noticed that the current trend of Levi's jeans, which are thicker than the previous skinny jeans trend, tend to disguise the underwear lines some full booty body suits may leave.  So if you're like me, and up the bum bodysuits aren't your thang, THESE casual T-shirt bodysuits will be your best friend (and they come in every color).  I also have this baggy version in two colors and love it's fit! These are all great timeless, foundation pieces for any style wardrobe! Now, onto my most-loved Free People pieces and sets–and by most-loved, I mean most-worn (over-worn) outfits.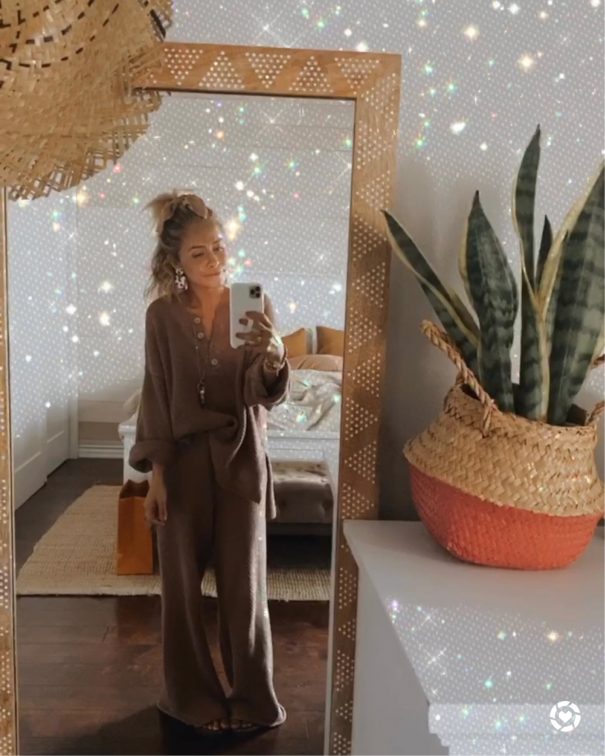 Sweater Set (pants and top) // mirror
I have this sweater set in 3 colors (yes, I'm serious). And I wear them all equally and frequently, lol.  I work from home and want to put SOME effort into getting out of pajamas while still being comfy but creating the illusion that I got ready for the day–and this sweater set is the answer! It's cozy but not too hot.  And yes it's super long on me but it's crop on many of my friends and I think it's cute both ways!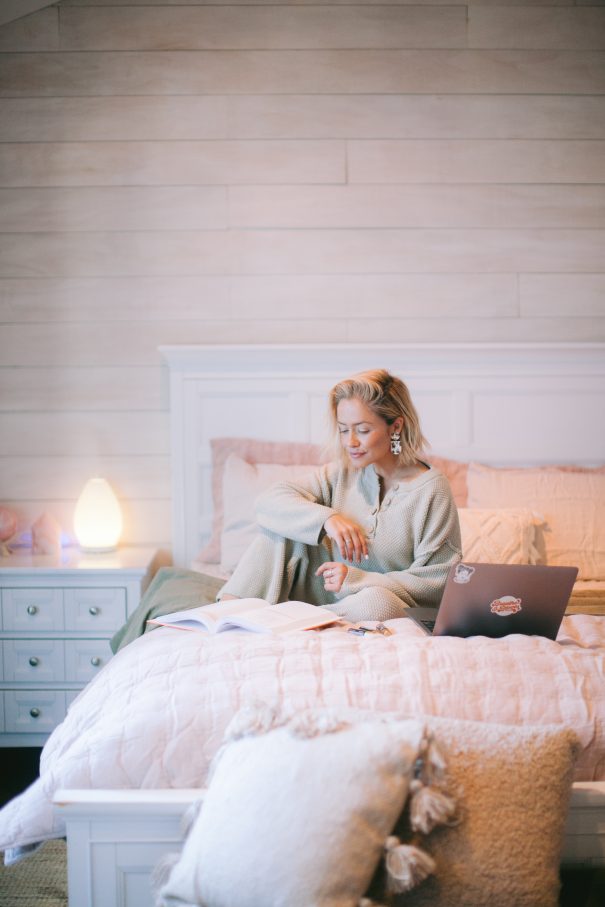 Sweater Set (in another color, lol) // Bedding
Quick sidetone on the bedding (which is not from Free People).  All my bedding pictured here is from Parachute (link above).  I purchased each item individually in the colors I wanted.  We don't like top sheets so I was able to save money by leaving that out of my order.  Forever, I have been eyeing high quality linen bedding and finally decided to take the plunge with Parachute and haven't looked back, best decision ever! And I love picking different solid colors so I can constantly switch out and mix and match the sheets with the duvet with the quilt (and shams too). The pieces all get softer and cozier than they already were after each wash!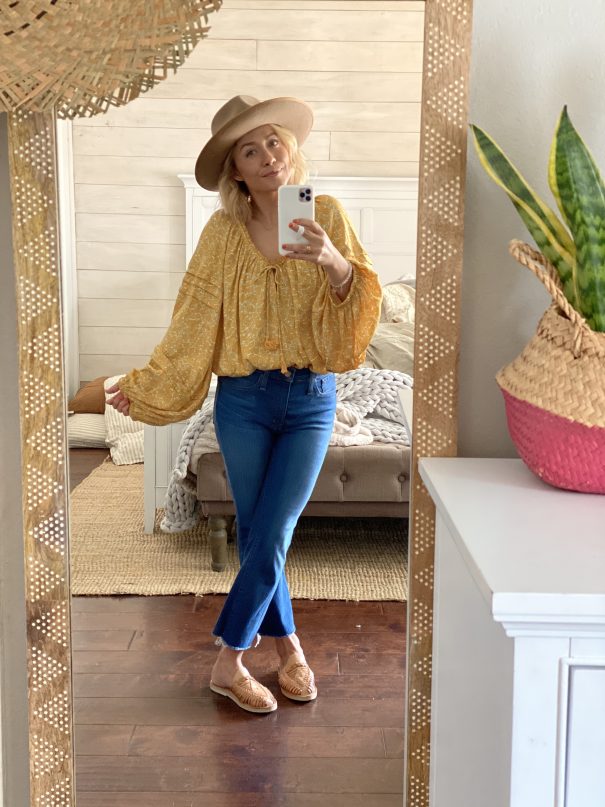 Body Suit // Body suit in other color // Jeans // Hat //  Shoes 
Love this bodysuit because it is super comfortable but also helps me dress up a basic outfit a bit.  It comes in some other fun colors too and it's currently on mega sale in some of the colors and prints!  The denim is by Made Well.  I love made well denim  because they have both petite and tall sizing.  And this hat, it is my best fitting, go-to hat for all outfits (especially on bad hair days)–it is wider brimmed with no flop.
How fun is this high-waisted set! Perfect for Spring and Summer (and yes I wore it in the Fall with a sweater). The top is SUPER cropped so if you have a long torso, expect some belly to show.  I have a short torso and because the paints are so high waisted, I am able to wear these without skin showing.  Whatever you prefer!
This jumper was a risk for me to purchase–I had no idea if I was going to love it or hate it.  Right when I tried it on it was instant LOVE! It is so so so comfy, fun and perfect for lounging in or going to brunch with friends in. I also like that even though it has baggy bottoms, the fitted portion on the top half still allows it to provide some shape.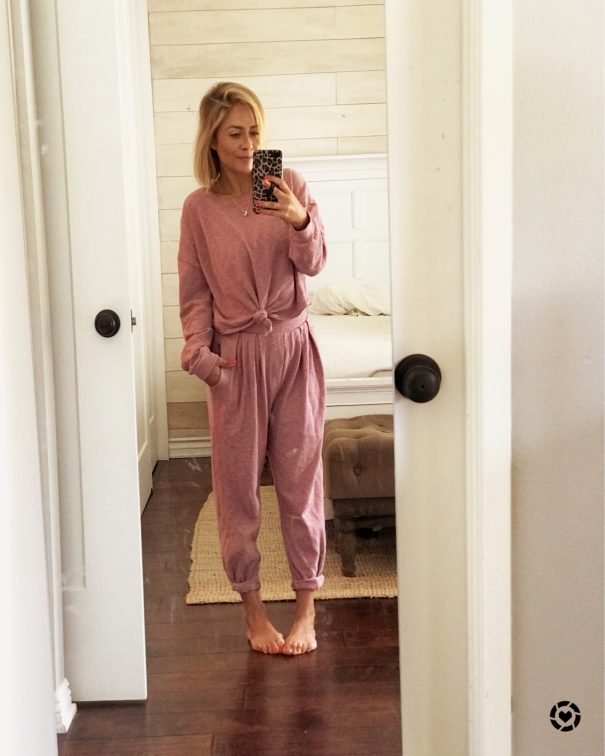 Sweats Set
This photo was taken from a weird mirror that stretches your body that I have since thrown away because I never recognized myself in it.  But for the purposes of this post, it's the only pic I can find of my all time favorite sweatsuit set! This was the first ever set I ordered from Free People.  I have since ordered it in 4 different colors and am happy to say that a couple years later, I still wear every set and FP still carries it in tons of colors (because it is THAT good).  This is another of those sets that is long on me, normal on average height, and crop on taller folks–and it looks cute in all versions! I think it runs pretty true to size but the elastic on the waist band can be a bit more firm so if you like the waist band to be softer, then size up.  Otherwise, just wear them more high waisted for preferred comfort.  The top comes tied in a knot in the front which you can adjust to be looser or tighter depending on if you want it to be cropped or not.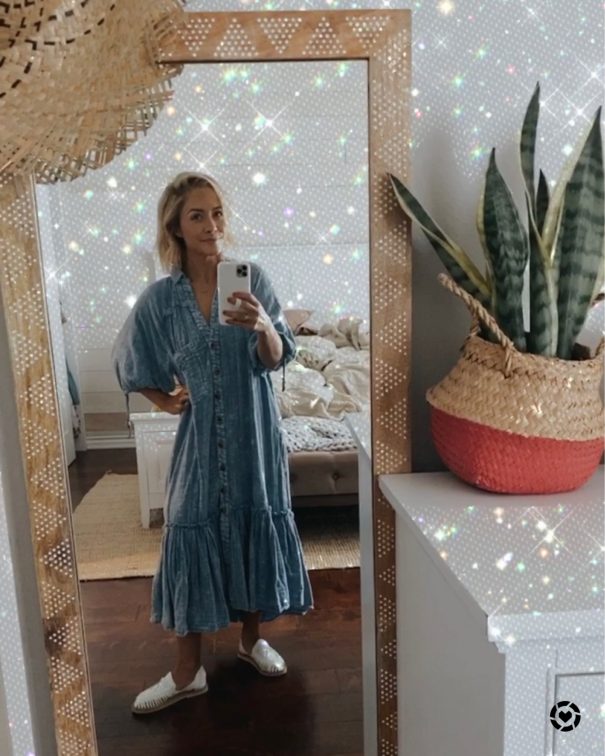 Dress  //  Shoes // Similar Dress/Cardigan that I love
Easiest throw on dress of all time! Perfect for Sunday church OR a beach day!  I have even seen some people wear it unbuttoned as a cardigan over jeans and a body suit.  Comes in other colors too!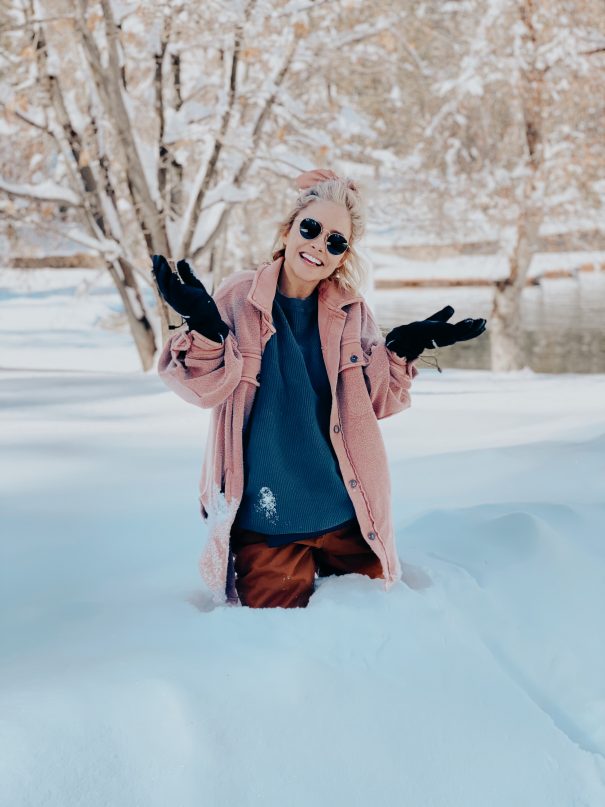 Jacket // Same Jacket in fun pattern // Very Similar Jacket if your size is sold out // Glasses
This jacket, where do I even begin?  It is likely my most worn article of clothing.  It's like a jacket and sweatshirt wrapped into one and I find that I throw it on over everything as I am heading out the door.  It sells out frequently so keep checking back. It also comes in a bunch of colors and runs large so size down (I am swimming in an XS here and normally order a small).
To wrap up, and be sure I covered all my favorites, including those pieces not pictured:
Imogene Sweater Set
Get Away Set
Culver City Set
Picnic Sweater Set
Hailee Sweater Set
Golden Sands 3 Piece Set
Cuddle Up Set
Absolute Heaven Romper
Sorrento Midi Dress
Feeling Groovy Maxi Dress