Easy Beef and Vegetable Rainy Day Soup Recipe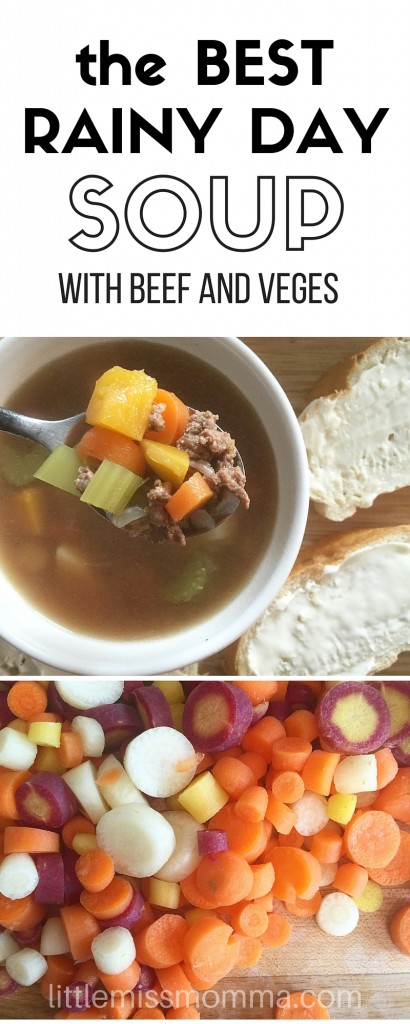 I'm sharing a quick recipe with y'all today per Ben's request–Easy Beef and Vegetable Soup (perfect for gloomy days).  This is his all-time favorite soup.  And it also just so happens to be the very first soup recipe I ever attempted in my "adulthood".  We were newly weds nearly 10 years ago, it was pouring rain and Ben wasn't feeling well.   I started pulling through stacks of paper I had collected with family recipes on them.  I pulled out a Beef and Vege soup recipe that looked promising (because if there isn't meat in the soup, Ben won't eat it).  This soup was one of the few recipes without a name on it so I have no idea who in my family to thank.  I'm not sure if the soup is actually really really good or if Ben and I have nostalgia of those early years of our marriage when we eat it–but one guarantee, it will fill your belly and warm your body!  Also, keep in mind that these ingredients can be switched out for your preferred veges.  I would love to hear about your variations so I can give them a try.  Check out some of my other favorite recipes here.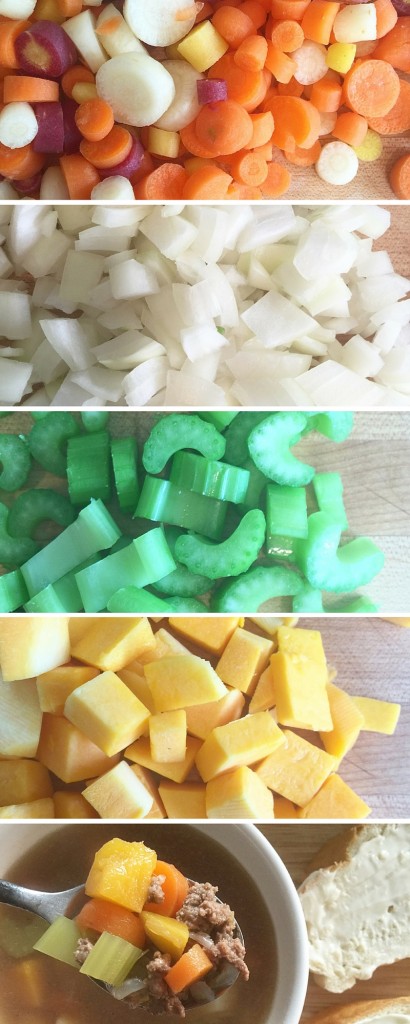 the BEST Beef and Vegetable Rainy Day Soup Recipe
Easy, quick and delicious rainy day beef and vegetable broth soup.
Cuisine:
Beef and Vegetable Soup
Ingredients
1 lb. ground beef
3 russet potatoes peeled and cut into one inch cubes
2 celery stalks chopped
2 carrots chopped
16 oz of canned stewed peeled tomatoes
1 small-medium onion chopped
½ sweet potato peeled and cut into one inch cubes (optional)
1 tablespoon olive oil
32 ounces of chicken broth
2 cups of water
3 chicken bouillon cubes
Instructions
In a soup pop or dutch oven add the olive oil and onions. Cook until onions become translucent.
Add the ground beef and cook until there is no more pink. Drain the extra fat from the pot.
Add the carrots, celery, potatoes, and tomatoes. Mix well and then add the broth, water and bouillon cubes. If you need more liquid, add one cup of water at a time (add 1 bouillon cube for each extra cup of water). Bring to a boil and then reduce heat to a simmer.
Simmer with the pot covered for 30-45 minutes. Check periodically to see if the potatoes are ready (thats when you know the soup is ready). Add salt to taste. Enjoy with fresh french bread.