the BEST Beef and Vegetable Rainy Day Soup Recipe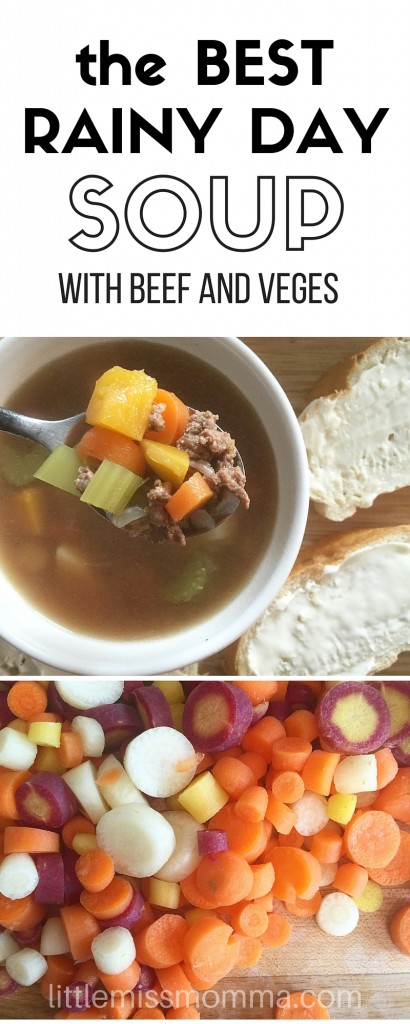 Cuisine:
Beef and Vegetable Soup
1 lb. ground beef
3 russet potatoes peeled and cut into one inch cubes
2 celery stalks chopped
2 carrots chopped
16 oz of canned stewed peeled tomatoes
1 small-medium onion chopped
½ sweet potato peeled and cut into one inch cubes (optional)
1 tablespoon olive oil
32 ounces of chicken broth
2 cups of water
3 chicken bouillon cubes
In a soup pop or dutch oven add the olive oil and onions. Cook until onions become translucent.
Add the ground beef and cook until there is no more pink. Drain the extra fat from the pot.
Add the carrots, celery, potatoes, and tomatoes. Mix well and then add the broth, water and bouillon cubes. If you need more liquid, add one cup of water at a time (add 1 bouillon cube for each extra cup of water). Bring to a boil and then reduce heat to a simmer.
Simmer with the pot covered for 30-45 minutes. Check periodically to see if the potatoes are ready (thats when you know the soup is ready). Add salt to taste. Enjoy with fresh french bread.
Recipe by
Little Miss Momma
at https://www.littlemissmomma.com/2016/02/23269.html