Spicy Turkey Sausage Penne Pasta Recipe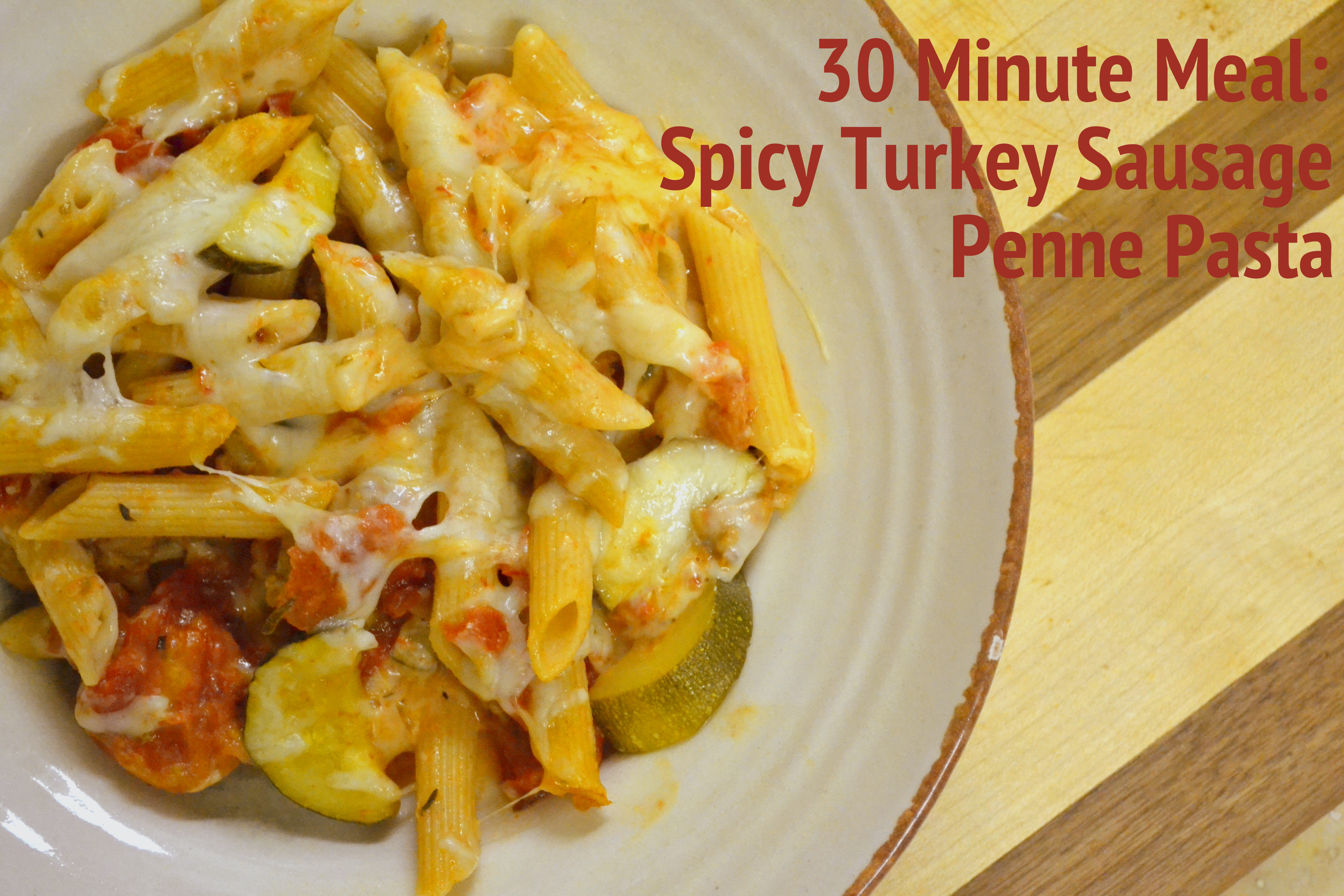 I'm really trying to be better about actually cooking the meals we eat for dinner. I set a goal of making dinner at least 3 times during the work week.  I know many of you will laugh, but for me, this is a challenge.  Which is why I've found I have a better chance of meeting my goal when I use yummy recipes that don't take all day (and every dish in the kitchen) to make.  And this 30 minute meal is just the perfect addition to my homemade dinner rotation.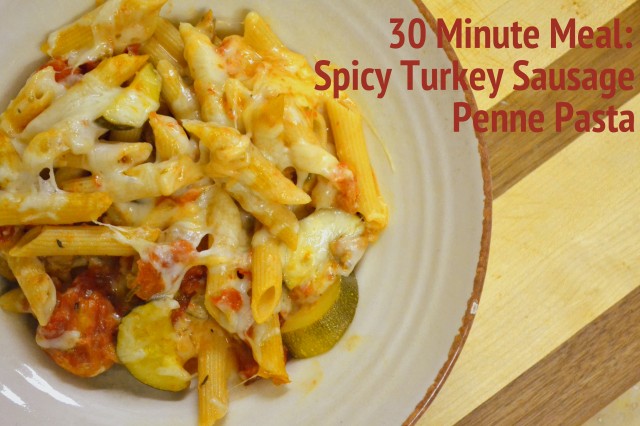 Even though this is a pasta dish, it's rather healthy and low fat.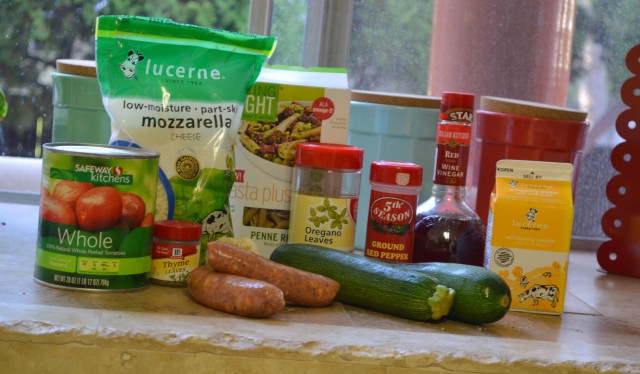 Ingredients:
8 ounces of uncooked penne frigate pasta
6 ounces of spicy turkey Italian sausage with the casings removed
2 medium zucchinis
1.5 tsp dried oregano
1 tsp dried thyme
1/4 tsp crushed red pepper (or more to taste)
3 garlic cloves, minced
dash of sugar
2 tblsp red wine vinegar
1 (28 ounce) can of no-salt-added whole tomatoes
2 tablespoons of heavy whipping cream
Cooking spray
3 ounces part-skim mozzarella cheese, grated
1 ounce Parmigiano-Reggiano cheese, grated
1. Preheat the oven to 375.
2. Cook penne pasta according to package directions. Drain and set aside.
3. Heat a large nonstick skillet over medium/high heat. Add sausage to the pan. Saute for about 5 minutes or until brown and crumbled. Discard excess fat and remove pasta from the pan. Wipe the remaining drippings from the pan with a paper towel.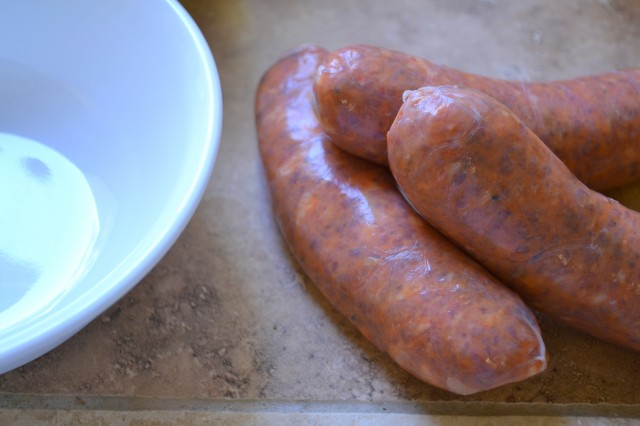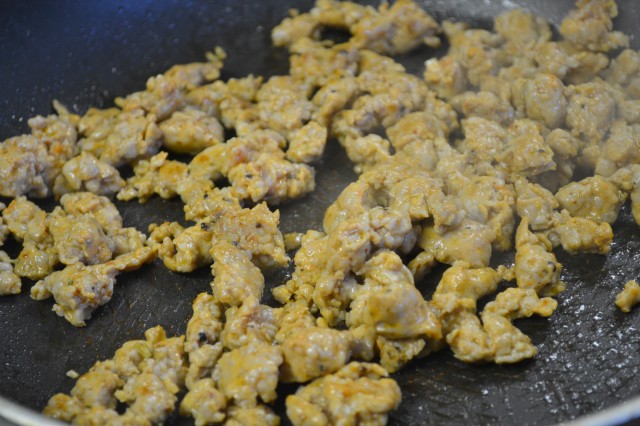 4. Dice zucchini and add it to the pan. Saute 3 minutes or until crisp-tender, stirring the entire time.  Add the oregano, thyme, crushed red pepper, dash of sugar and the minced garlic. Saute for another minute, stirring constantly.  Add the vinegar and cook for another 30 seconds.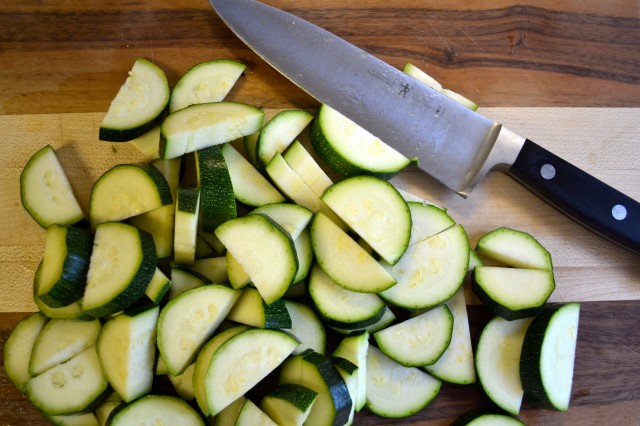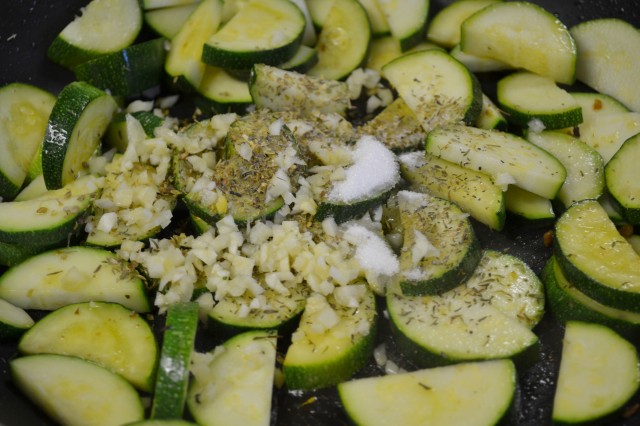 5. Now this part is fun (and messy). Crush the tomatoes by hand and add them to the zucchini mixture.  Pour in about 1 cup of the remaining tomato liquid from the can. Bring to a boil.  Reduce heat and simmer for 5 minutes, stirring occasionally. Remove pan from the heat and stir in the whipping cream.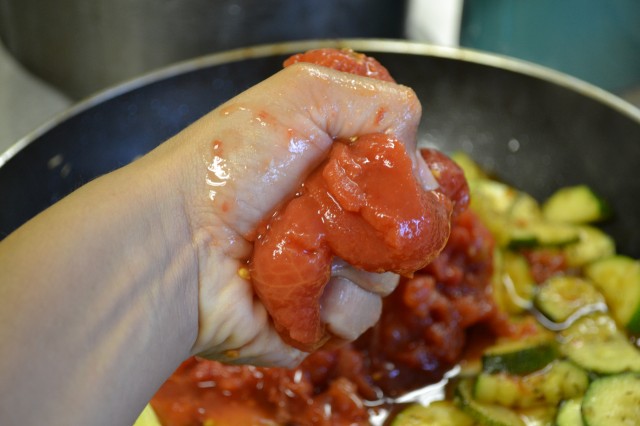 6. Add the penne pasta and the sausage to the tomato mixture.  Stir to combine.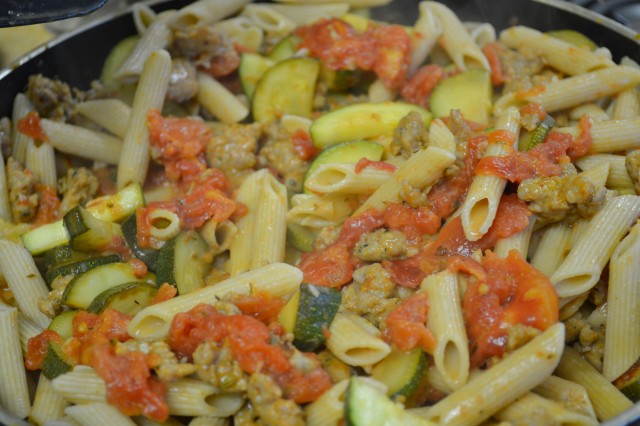 7. Grease a casserole dish (11×7) with the cooking spray. Pour about half of the pasta mixture into the casserole dish and spread evenly.  Sprinkle about one third of the mozzarella and 2 tablespoons of the Reggiano over the top.  Top with the remaining pasta mixture.  Sprinkle evenly with the remaining cheeses.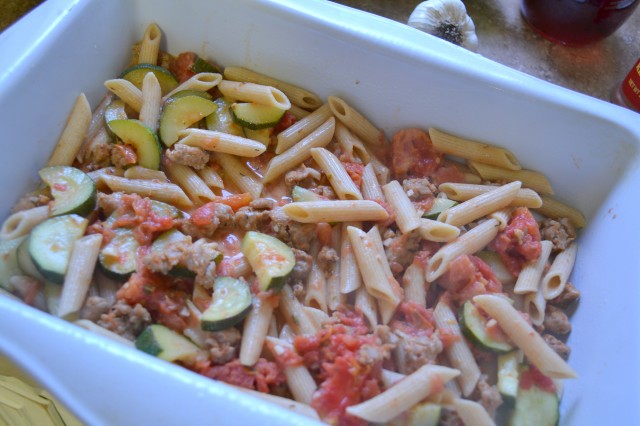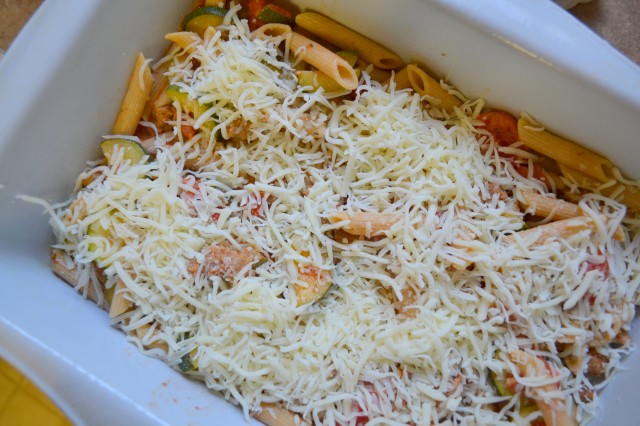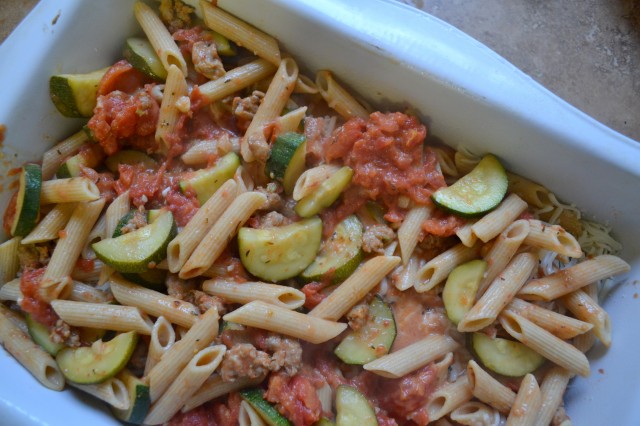 8. Bake at 375 for 20 minutes or until browned and bubbly.  I have a ghetto fabulous oven and it only took 15 minutes.