The Big Day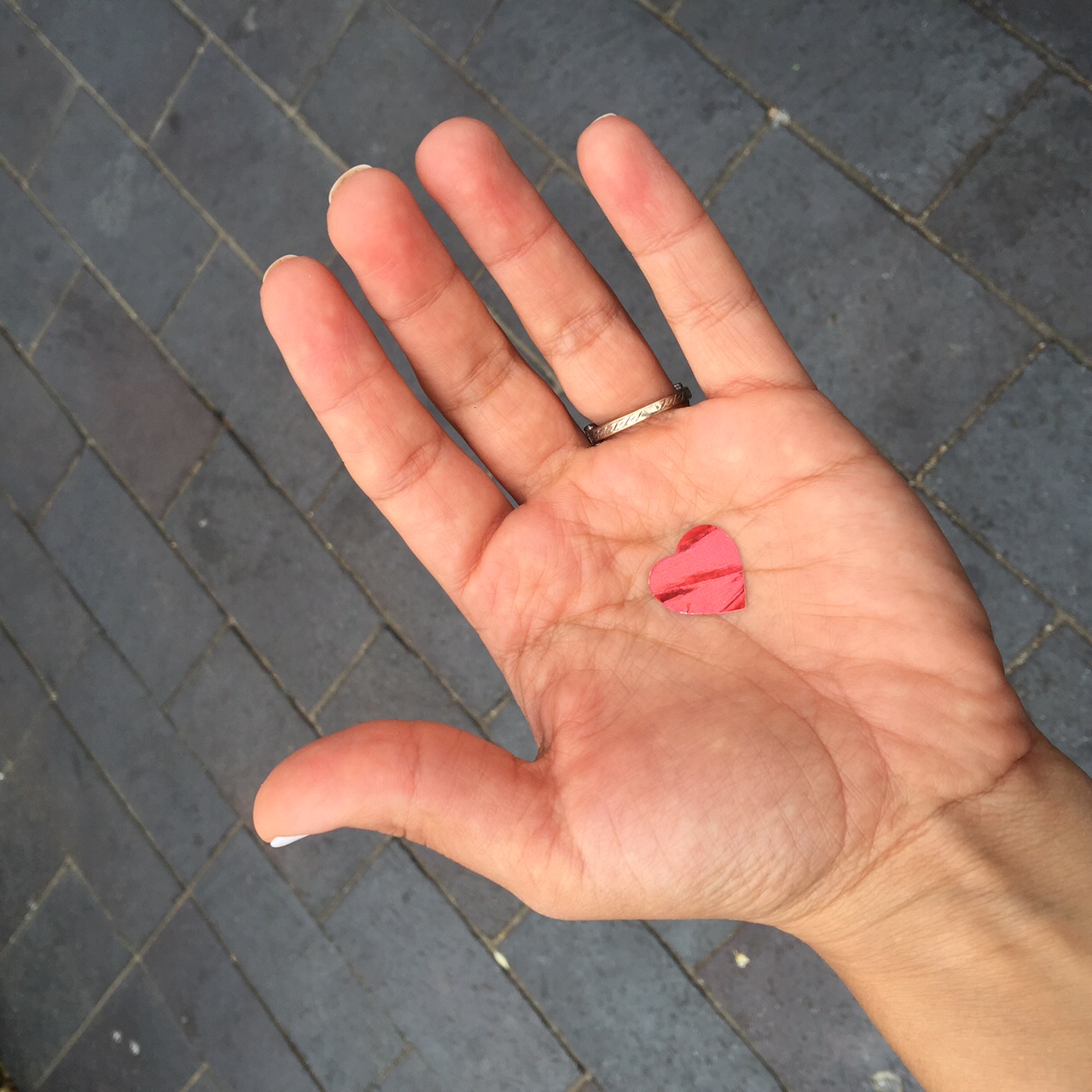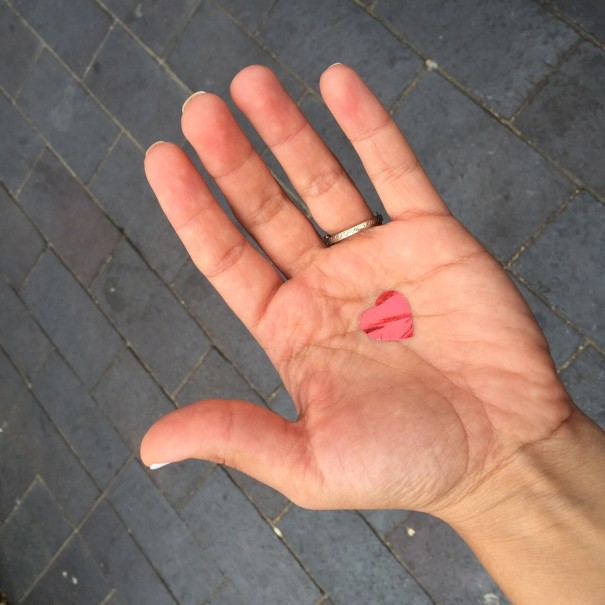 The Kissing Hand.
By Audrey Penn.
Have you read it?
It's a sweet story about a mommy and boy raccoon getting ready for the first day of school. The mommy gives the child a tender kiss in the middle of his hand and reminds him that any time he feels sad at school, he need only open up his kissing hand and his mommy's love will pour out and fill him up. I remember my eyes filling with tears as I stood in the bookstore and turned the pages over a year ago.
I bought it for Wesley last year before his very first day of pre-kindergarten.
The night before school, we got through our evening routine and I crawled into bed with him to read the story in hopes of easing his nervous little heart.
I opened to the first page and began reading.
Wes: Mommy, I want to watch George.
Curious George had been a long time favorite in our home.
Me: Wes, it's resting time and we are reading this special book.
His eyes squinted in the way that indicated he was suppressing a frustrated growl.
I pretended not to notice and continued reading.
From the corner of my eye I watched him looking everywhere around the room BUT at the book. I kept reading.
Wes started to wiggle restlessly.
Wes: Mom, I want milk.
Me: You already had milk. We are reading a story right now.
I kept reading.
Wes started to tap his foot on the underside of the bunk bed where we lay.
As I continued reading, his tapping foot escalated to kicking.
My attempts to ignore his attention seeking behavior seemed futile.
I closed the book, turned off the light, and encouraged his restless little body to go to sleep with a calming prayer. Eventually he slept. And in the year that followed, I didn't pull that book out again.
Today, one year later, we walked Wesley into his very first day of big-boy-real-kindergarten. The day that every pre-school, every occupational therapy, every social group, all ABA therapy had led up to. This moment was what his loving family and countless compassionate teachers and therapists had been preparing him for. The Big Day.
And I wasn't nervous.
Or excited.
I'm almost embarrassed to admit that I was strangely indifferent.
Just another day, is how it felt when I woke up in the morning.
This wasn't Wesley's first "1st day of school".
As a result of awesome "early start" programs we've been able to get Wesley into, he has been going to some form of school for 2.5 years now. And every year it has gone the same. I spend weeks filling with nervous excitement and anticipation about his big day. I do everything Pinterest says a good mom is supposed to do to give our child the perfect, most memorable 1st day of school possible. I have visions of him excitedly going back-to-school shopping and laying out his clothes and pencils the night before.
And then, without fail, all my big plans crumble to the ground and are replaced with tears and tantrums. Each year Ben and I put on our bravest face as we walk into a classroom with the only hysterical child. When negotiations fail and he must eventually be ripped from our arms, Ben and I return to our car with a sick feeling in our stomach, neither of us speaking, both fighting back tears.
Let me be clear, Wes is not tortured at school. He LOVES it, in fact. And he is surrounded by a qualified and loving team of people who encourage him every day. It's just that sometimes "newness" can be overwhelming for my little man. And appropriate coping strategies are something we are working on with him every day.
So this is why I "rearranged" my expectations, and treated this day–this first day of kindergarten–like any other day. Starting with NO Pinterest preparations.
We didn't make a big to-do about picking out an outfit and loading his backpack and taking 1st day of school pictures. Experience had taught us that these rituals only increased his anxiety–keeping our preparation as "casual" as possible was our best chance at a tear free morning.
Everything seemed to be going smoothly as we loaded the kids into the car without protest. Wes even let me put gel in his hair!
We parked in the lot and he hopped out of the car neither excited nor anxious. Like me, he too seemed indifferent. He declined my hand when I reached out and he walked three steps ahead of me the whole way to his class.
Wes: Mom, remember I need to hang my backpack before I can go into class.
Me: Good remembering buddy.
I gave him a smile and an encouraging pat on the back.
Then he hung up his oversized Jurassic World pack and skipped over to an open square on the circle mat in the middle of the room—just like that. I exchanged a surprised glance with Ben but held back my urge to also give him a hi-five for risk of jinxing the whole experience.
Mrs. K.
Sitting in her rocking chair with a book on her lap.
She was noticeably younger than all the parents in the room.
And bubbly in every way a kindergarten teacher should be.
Sparkling eyes.
A sing-song voice.
A flowery summer dress.
And a beaming smile exposing both rows of teeth—my favorite kind of smile.
She was the Disney princess of kindergarten teachers and she put me more and more at ease with each child she warmly embraced.
She welcomed the children, then welcomed the parents and asked us all to stay while she read the class a story. She raised the cover of the book from her lap and revealed the all too familiar cover of The Kissing Hand–and I nearly laughed out loud.
Before she began reading she asked the class to raise their hands if they had read this book before.
To my surprise, Wesley's hand shot straight into the air.
He remembered.
She began reading.
And this time, Wesley listened.
I watched as all those hopes I had for the year before were brought to fruition. Wesley giggled and smiled and focused at all the right parts of the story.
And then, when the teacher gave each child two heart shaped stickers and asked them to place one in the middle of their own hand and one in the middle of their parents…he rushed right over, gave my palm a sweet kiss and placed the sticker inside…
And that's when it hit me…how far we had come.
Not just Wes, but us too.
As Ashley.
As Ben.
As Sawyer.
As parents.
As a family just trying to find their own way.
I leaned my head back, willing the tears not to fall.
Me: Now Wesley, a lot of the kids in your class have never been to school before. Can you please help them to be brave today?
Wes: Yes Mommy.
Me: Because you're the bravest boy I know. And I'm so proud of you.
Wes: I know Mommy.
I ruffled his hair and then gently put his brown locks back into place.
Me: Now go take a seat, baby.
I walked out of the class, took a deep breath, and offered up the same silent prayer I've been saying for years now:
Heavenly Father,
Please, help him be strong.
Help him be kind.
Help him be patient.
Help him be brave. 
Help him be happy. 
And please, help me too. 
Thank you.
In the name of Jesus Christ, Amen.
And then I got into the car and gave Ben a long over due hi-five.
#wesisbrave