Family of Five!!!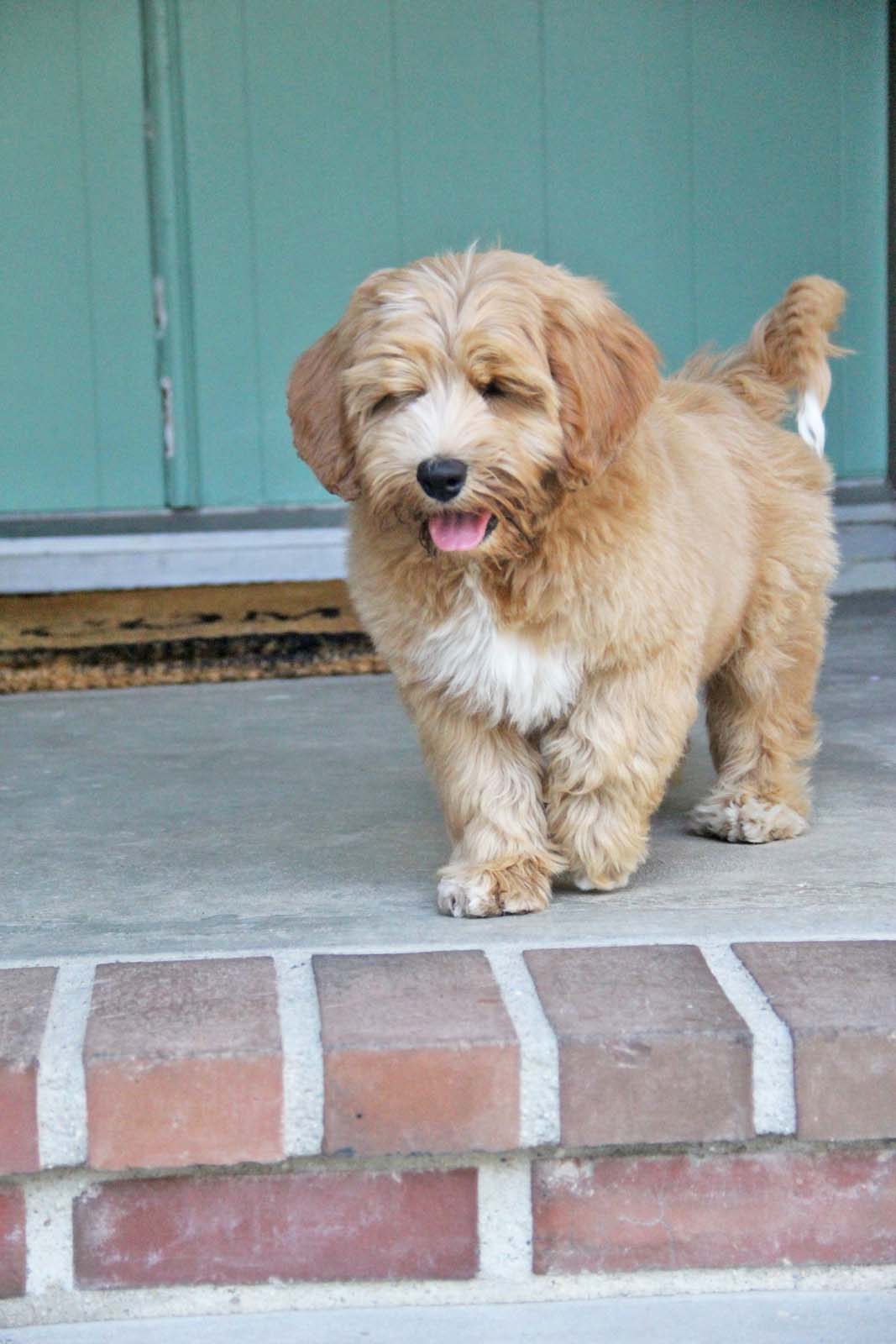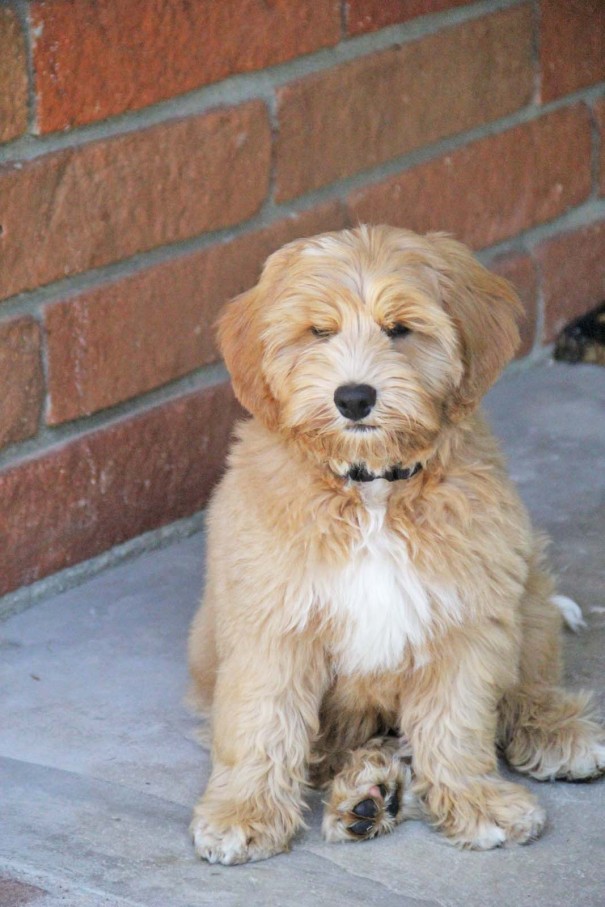 This wasn't an easy decision for us.
We didn't need another toddler to chase around.
Or incessant crying throughout the night. 
Or to worry about choking hazards again.
Or have more poo to clean up.

Most days, by 7:00 pm, we're hanging on by a thread.
Happy and grateful, sure.
But entirely exhausted and sometimes even defeated–counting down the minutes to bed time prayer and night night.
We simply couldn't handle an added element of chaos in our lives.
So to throw a puppy into the mix…
That had not been in the cards for us.
No way. Nope. Nada.
We would not be a dog family.
So we said…
And then something happened. Unexpectedly, as is usually the case.
I was praying. For Wesley. For some guidance. For a way to help him connect. For an opportunity for him to express and receive love without the associated anxiety he can't help but feel.  I prayed that an opportunity of unconditional love would present itself to our family.  Maybe it would be a special friend, or a teacher, or a therapist–whoever it would be, I knew we needed someone by our side in this journey, someone with an alternate perspective.  I just didn't know who. So I prayed. And prayed. And prayed.
We were eating Mickey Mouse pancakes at our favorite breakfast cafe early one Saturday morning when  my heart told me that my prayer had been answered.
Wes: Mommy, mommy, mommy!
Wesley was pulling excitedly at my sleeve, forcing my ear close to his mouth.
Wes: Mommy, I have to tell you a secret.
Me: Yes Wes? I'm listening.
Wes: That's the puppy from my dream.
He pointed over to a labradoodle laying down under a table while his family enjoyed their breakfast.
Me: What do you mean Wes?
Wes: That doggy was in my dream.  He was licking my ears and I liked it.
My arms filled with goosebumps and I shot Ben a look that said "are you hearing this?".
I've told you guys a bit about Wes in this post, but for the purposes of this story you should know that Wesley's most sensory "sensitive" areas are his ears. He doesn't like loud noises. He doesn't like his ears to be touched. He doesn't like getting his hair cut around his ears. And he certainly doesn't let them get wet. So for a puppy to be licking his ears in a dream–well, I took that as a sign.
Me: Wesley, who does the puppy from your dream belong to?
Wes: He's mine. Can we keep him?
He gave us his dimpled smile and shoved more pancake into his mouth, not taking his eyes off the puppy. I looked up at Ben, giving him the do-you-realize-what-just-happened look. He shook his head with a nervous smile and then laughed.  I laughed too, because of course we weren't getting a dog…
But because I'm curious by nature and I sometimes like to play the "what if" game, I went home and did a few google searches.  A few google searches turned into several hours of research that night–which turned into weeks of additional research–which resulted in me feeling convinced that a dog had the potential to give Wes the additional unconditional love and connection he needed.  This could really help. Although he was a bit hesitant, I was able to get Ben on board.  Wesley talked about the "puppy from his dream" every day, and the more he shared about how much he loved that puppy, the more Ben's heart started to soften.
Ben: Okay. Okay. But it has to be the RIGHT dog for us.
Ben's affirmation was just the excuse I needed to let my "crazy" kick into gear.  I became obsessed with the quest for our family dog. I had my heart set on an adult rescue. My obsession turned into dozens of rescue/adoption applications completed, two in-home interviews, at least 50 inquiries about specific adult dogs up for adoption, serious research about service and therapy dogs, the uncovering of a few online scams, in person visits with several dogs, an impulsive decision to buy a pup from craigslist that we had never met followed by a bout of realization that I was acting emotionally and not rationally….and nearly three months later we still hadn't found our new family member.
We hadn't realized how rare it can be for a family with such young children to be approved to rescue a dog–and even rarer still for a dog that is good with young children to become available for rescue.  Apparently, the demand for rescue dogs that are good with kids is very high in our area–which is actually great news for these pups in need of a FURever home. But I felt discouraged about our chances, like a dog might not happen for our family.
A few months into our search and I continued my prayers.  And as often happens when I seek answers with a prayerful heart…my feelings of discouragement were replaced with courage.  The idea of a puppy had scared me. I was looking for an adult dog that could transition into our family, not a puppy who would wreak havoc over our home. But the more I pondered and researched, the more my gut told me that a puppy could teach our boys countless invaluable life lessons–life lessons that would be worth the added work.  Ben and I went over the pros and cons and after we laid it all out on the table we realized we felt brave enough to raise a puppy along side our boys.  We put our search for an adult rescue dog on hold and began looking for a young puppy. I'll spare you the countless details of our new quest and just tell you that our search eventually led us to Maverick. Sweet, sweet Maverick.  The moment we saw him we knew.  He had been waiting for us–I have no doubt of this.
Maverick is a mini labradoodle.  He is 4 months old and he will get about 30 pounds when fully grown.  He loves to have his ears scratched, is already getting the hang of "sit", and is ever-so-patient with the boys.  This pup is a bundle of happiness! And although he has had a couple of poopy accidents and he loves to chew up my nice rug, he has already brought so much joy and hope and peace to our family.  You guys, I can't even believe how much I love him.  And Wesley, oh Wesley–he is positively smitten–their connection is undeniable.  Maverick sits on Wesley's lap on the way to school every day, falls asleep with him at night and serves as an ice breaker for Wes when meeting new people.  It's safe to say Maverick is the puppy from his dreams. And I'm so excited to continue to share more adventures with the latest member of our family!