The Bigger Picture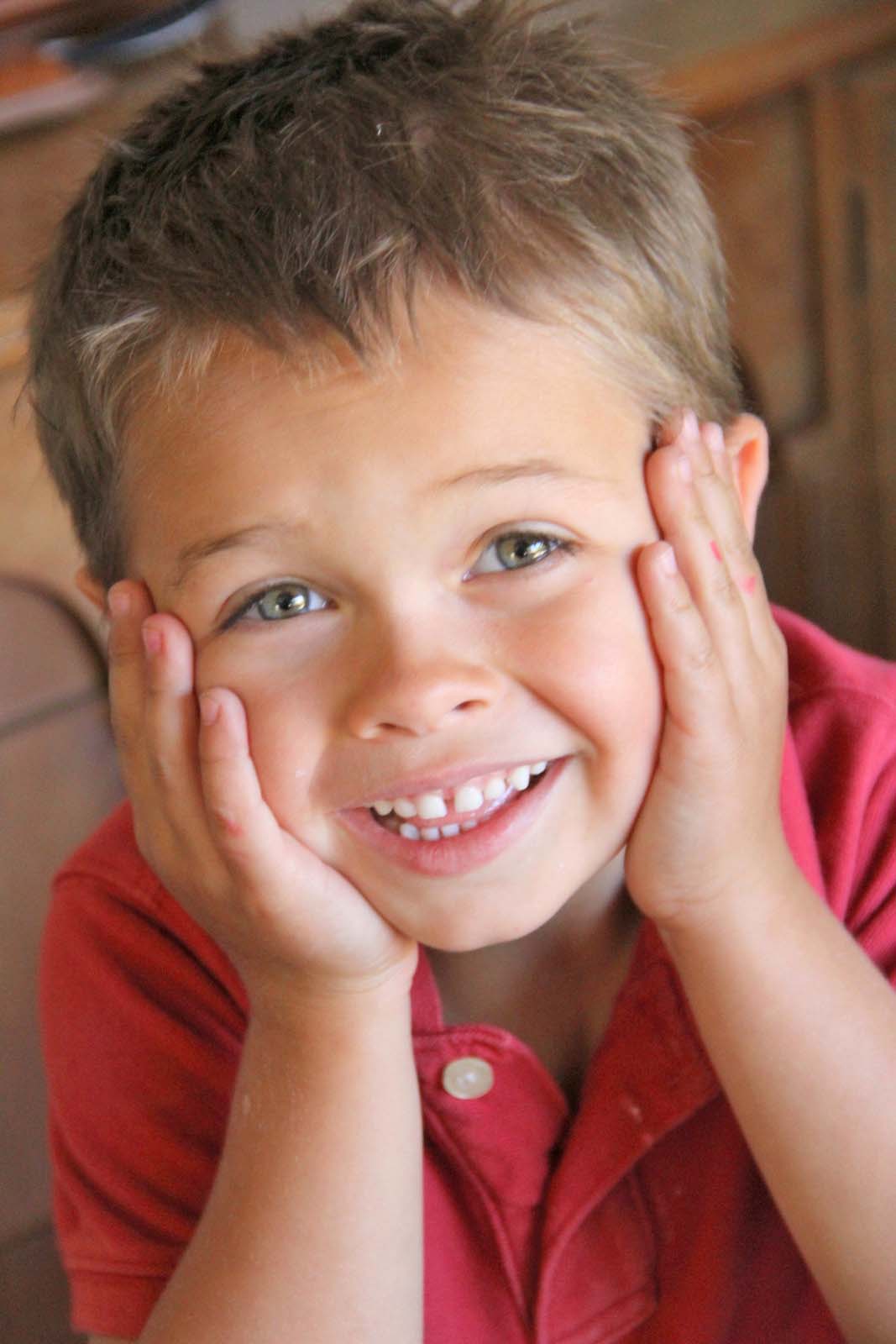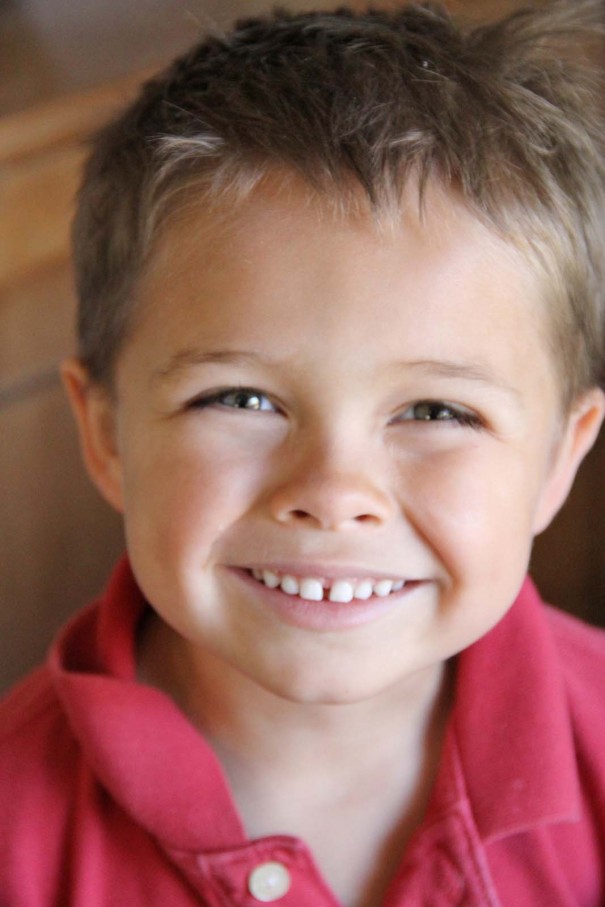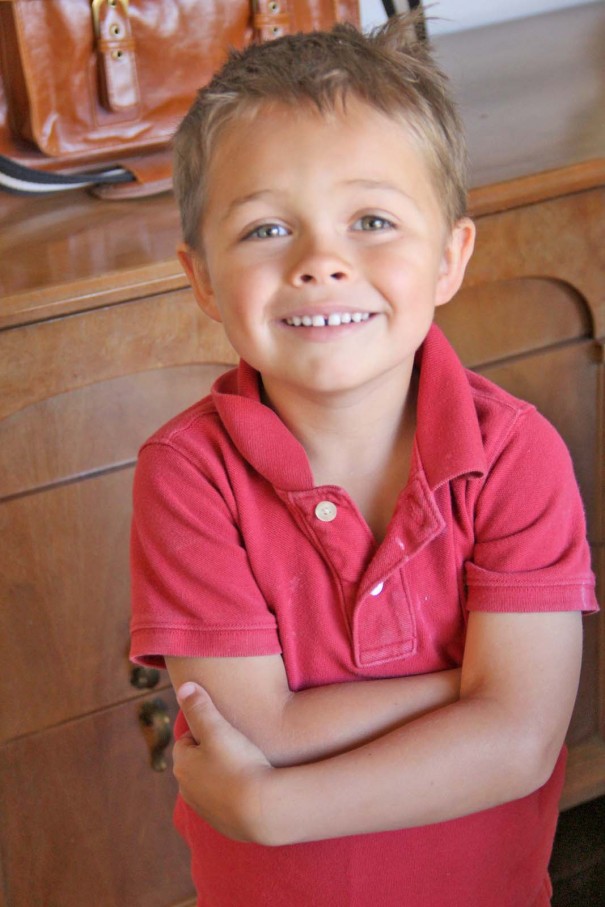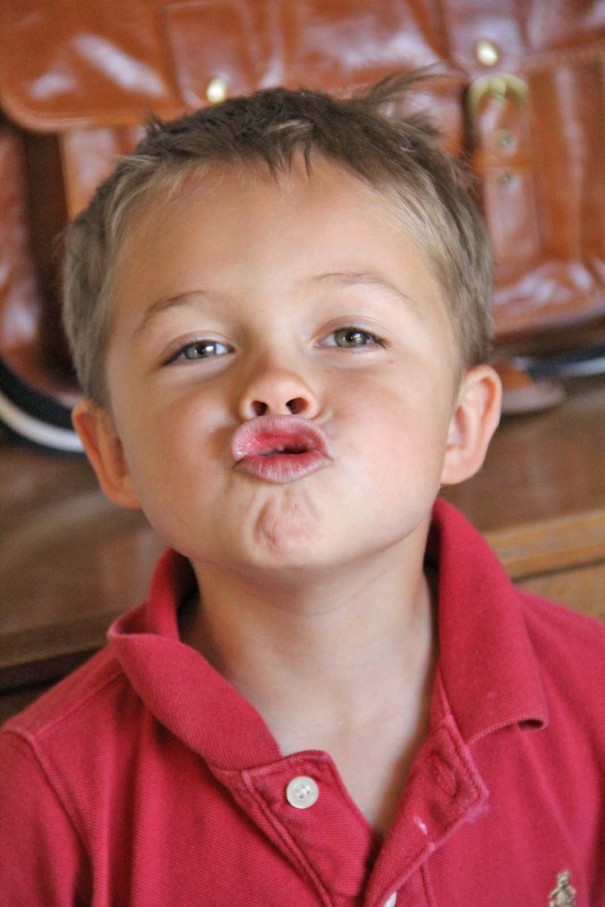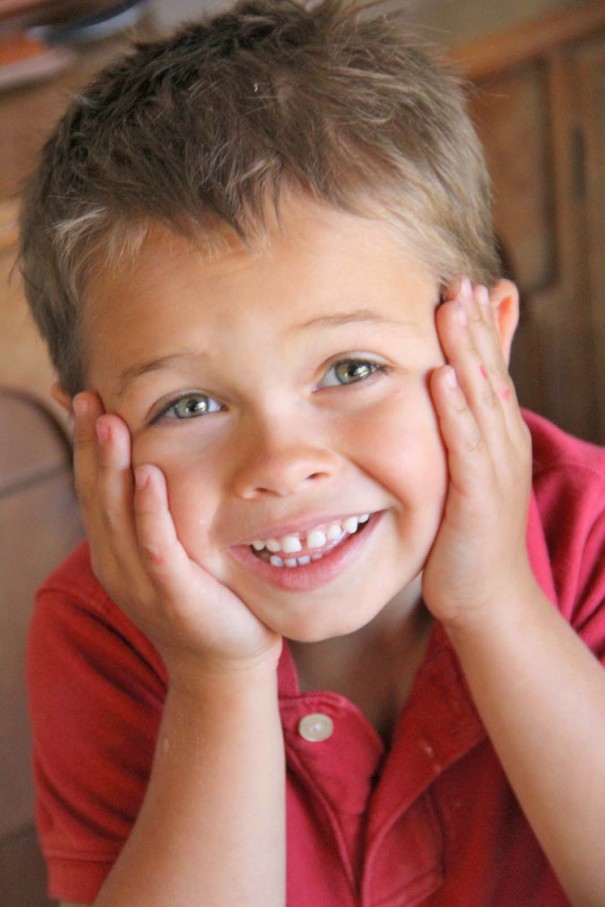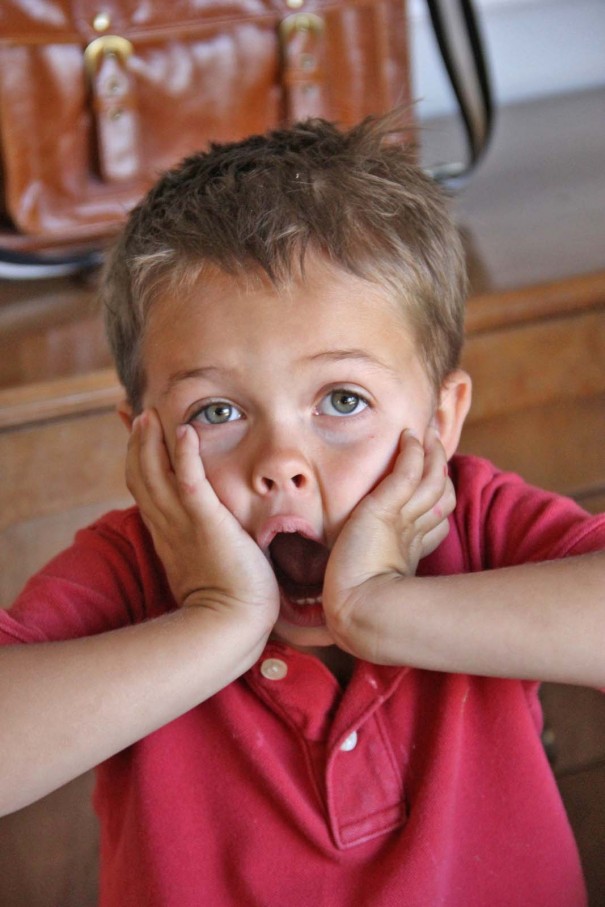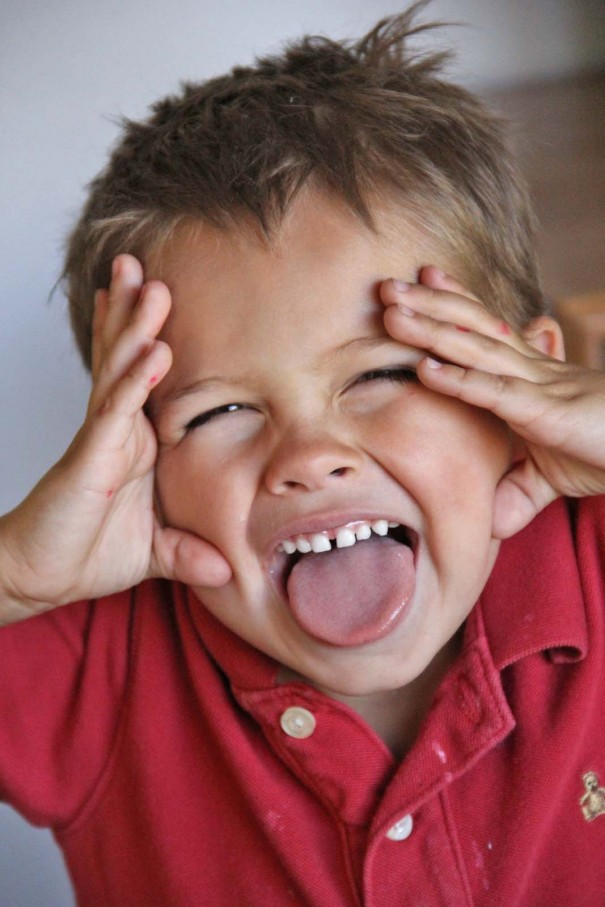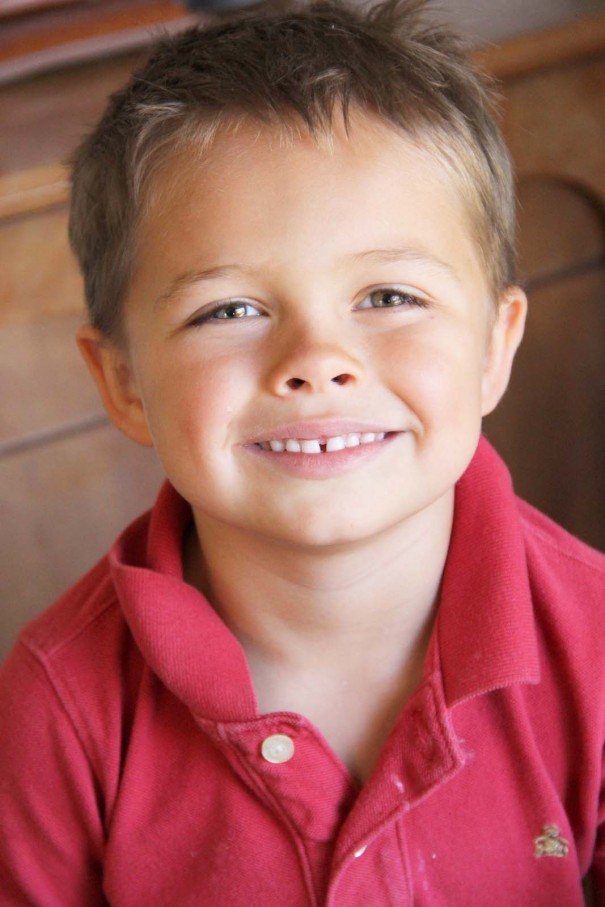 It's bath time and I'm carefully and strategically pouring the water on Wesley's head to rinse out the shampoo–a task that for sensory reasons has been nearly impossible for the last 4 years. But recently he's turned a corner.  And although he squirms and cringes and balls his hands into tight fists with his eyes squeezed shut, he does his best to sit still and let me wash his hair.
Me: Eyes up to the sky, and it won't get in your eye.
I chant the song Ben invented to encourage Wesley to find some fun with this task he dreads most.
I gently pour the rubber ducky bucket over his hair while shielding his eyes from the water.
Wes: Mommy, I'm the bravest boy in the whole world.
He says after I pour the last bit of water.
He smiles his infamous gap toothed smile and I can't help but beam back at him.
Me: Yes you are honey.
It's not said with attitude or arrogance.
He doesn't yet understand those traits.
It's said with conviction.
Because he has been told by someone he loves, and he believes them.
If there's anything I've learned in the last 4.5 years of parenting, it's that this is my job–to champion for my children.  To fill them with love and  hope and confidence. To make sure that when they hear beautiful things about themselves, they believe them–so that when the ugliness in this world tries to crush them, they have the strength to see the truth in their beauty.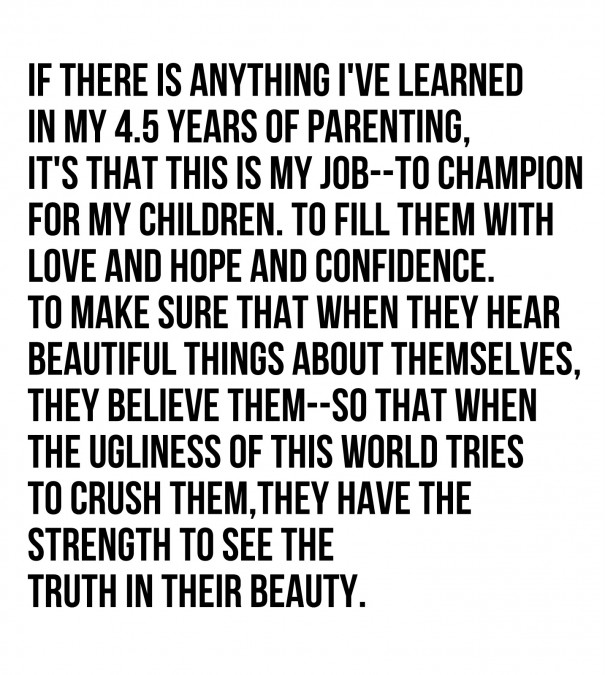 I used to talk about specific obstacles of parenting a lot in this space.
And then, one day I read some advice:
Be careful sharing something with the world that you haven't already worked through yourself.
That advice resonated with me hard.
Too hard in fact.
I created this blog as a safe place for me to work through these life lessons, as a place to share the milestones and meltdowns in the journey of motherhood. But after over analyzing this advice I became scared. Scared that if I continued to share my journey before I crossed the finish line, it might alter my course.
I had been noticing this fear cause a change in my writing for quite some time. A part of me had started to hold back some of my more true thoughts and emotions to avoid the opinions of those who find it easy to see the worst in people.  I was letting the "negative nellies" get to me. I was letting them have a say in the way I chose to express myself.  I was allowing my fear of their judgment to silence me from sharing my truths. And when I read the above advice, I found the perfect excuse to shut off–to protect myself from vulnerability.
Suddenly I wasn't allowing myself to share some of those more personal trials in my life.
Suddenly it was becoming too real. Too raw.
And because I was maybe a little bit broken, I knew I couldn't work through those trials in a space that may not embrace me. So I stayed quiet.  I stopped writing about those more real parts of life and I blamed it on writers block.
I started to think that maybe this season had passed for me.  Maybe it was time to close this chapter.  I've mentioned to you before that I even dedicated an entire afternoon to writing my farewell post.  But I could find little truth behind any of the reasons I was giving for stepping away from blogging–so I didn't click publish and instead I started to fill this space with things that "interested" me rather than things that "fulfilled" me.  I stopped growing here. And when we stop growing we lose our passion.
I spent months, almost a year in fact, sitting down at the computer trying to find new things to write about.  Things others couldn't use against me. That others couldn't use to question my intentions and abilities as a mother, as a woman, as a wife, as a friend. Things that were "safe" from judgment or misinterpretation.
As the days turned into months, and after MUCH self reflection, I eventually realized this had to be bigger than your classic case of writers block–this was fear.  Fear my words wouldn't be profound enough. Fear I didn't have a story to offer that hadn't already been told. Fear of being boring.
But you see, I learned the hard way that fear is a self fulfilling prophecy. Because once you begin to fear something, it almost always inevitably occurs. I was so afraid of over-sharing, of making myself vulnerable to those who wouldn't try to understand me, that I didn't share at all. That I made myself boring–the very thing that I feared most.
Lesson learned: We can't be authentically motivated by fear.
While fear may force us into action, it does not motivate us towards progress–towards peace.
This weekend my friend Lisa said something that stuck: We have to see the bigger picture. And then we have to find a way.
The bigger picture means finding the strength to push through the ugliness and see the beauty in the truth of our purpose.
The bigger picture is knowing that we have succeeded if even one life has breathed easier because of something we created.
The bigger picture is silencing fear and allowing faith to determine our course.
The bigger picture involves twists and turns, and forks in the road and the path least traveled.
The bigger picture means realizing your purpose and finding a way there, even amidst the opposition.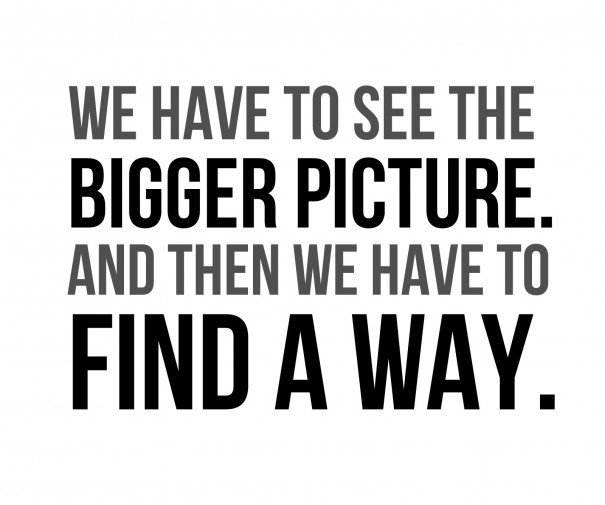 I have a quote doodled in my scriptures that reads:
I never said it would be easy. I only said it would be worth it.
And this is worth it.  Sharing my truth and my experiences and my life lessons is worth it, if even one life has breathed easier as a result.  I can't expect my story to resonate with everyone. I can only be honest with myself. So I choose progress, not fear. I choose kindness and compassion. I choose sharing and connecting. I choose vulnerability.