That Time I Almost Quit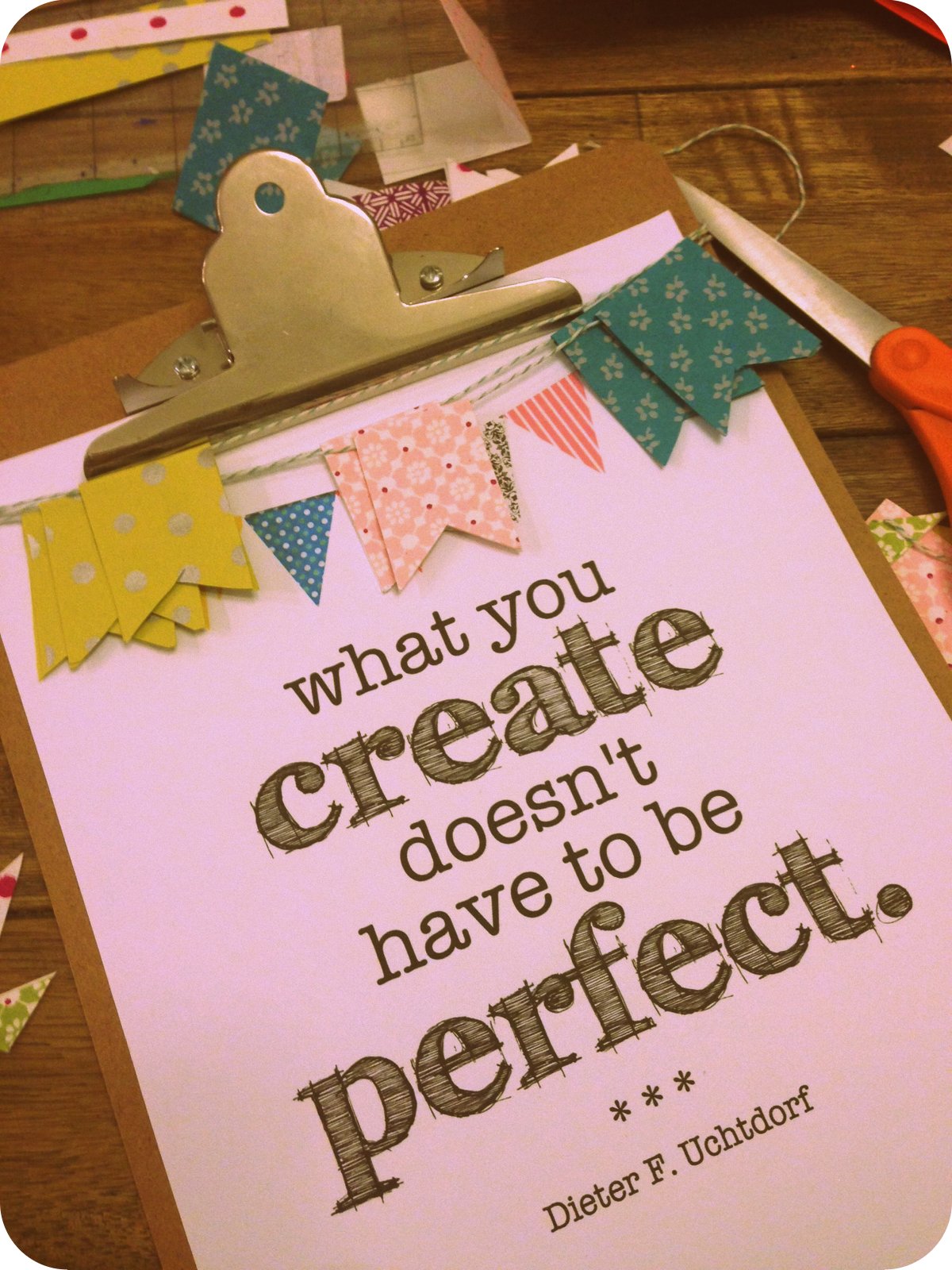 You may have noticed a general theme if you've ever looked through the projects in the craft section of this blog.
My projects are nothing fancy.
Not complicated.
Not exactly intricate.
Don't generally require hi-tech tools.
And often, they're nothing new.
I don't share my projects in hopes of unveiling the next cutting edge craft or introducing the latest and greatest thing to take Pinterest by storm. I leave that to the pros. I share even the most simple (and often self explanatory) of my projects in hopes of reminding others that in fact, You Can Do This.
You can make pretty things.
And you should.
Often.
What you create may not involve craft supplies.
It may be music, or a piece of art, or a service project, or food or…
The quote that welcomes you into the craft section of LMM reads:
"What you create doesn't have to be perfect." -Dieter F. Uchtdorf
And I stand by that.
I learned this important lesson from an artist I had the opportunity to meet at Whatever Craft Weekend earlier this year. She wasn't teaching a "self-help" lesson or anything. Rather her example and her art were the inspiration I needed to begin creating perfectly imperfect art. She helped me realize that in striving for perfection in our craft, we are squashing potential creativity.
We should color outside the lines.
Miss a stitch every now and then.
Spill paint. Make messes.
Take risks.
Try new things.
Have several projects going on at once.
And practice courage when creating.
Not that long ago I shifted my thinking.
And then I tried to force my heart to jump on this new path that my "thinking" was taking me.  I had decided that I wanted my writing to become my form of artistic expression–not my crafts, or decor, or celebrations.  Afterall, my crafts aren't that ground breaking–I mean, what am I really offering this world with my glue gun and a can of spray paint? Nobody really cares. And that was seriously the dialogue I had going on in my head.  Not very encouraging. Or motivating.  But it took me a bit to see that…
So I stopped crafting for a while and sat down to write.
And nothing came.
A few weeks later, still nothing.
A few months passed, nada.
I panicked a little bit–okay, I panicked a lot.
And again, my mind filled with self doubt–this time about my writing. You didn't go to school for this. You're no good. You make grammar errors.  You are NOT a writer, you're an impostor. No wonder you can't find your words. 
I forgot about fabric and mod podge and card stock all together as I became consumed with my inability to put pen to paper. I even went so far as to spend an entire day writing what I had decided would be my final blog post–ever.
But I never clicked publish. 
I decided to sleep on it.
Think about the impact of such a final decision.
The next morning I kneeled down for my prayer.
A prayer full of vulnerability.
A prayer with tears.
A prayer in which I had prepared myself for the possibility that I would receive an answer I wasn't yet ready to hear.
But then, just like that, a piece of my heart whispered back…
CREATE, it said.
Me: But that's exactly what I've been trying to do…
CREATE, I heard again.
The answer was clear.
And it was coming from my heart.
Not my head–the same head that generally functions in overdrive.
So I tried to listen.
I dusted off the card stock and glue gun and twine,
and I spent Sawyer's entire nap time creating…rather than rushing through my list of chores.
My creation was simple.
A staple of mine.
A project I could do in my sleep.
One I knew would bring me joy.
Basic, paper bunting–a tiny pennant banner.
Certainly not magazine cover worthy.
And when I finished, it wasn't like I had suddenly found the inspiration to write the next great American novel.  But I did feel peace replace that usually anxious part of my heart.  So I kept it up. Kept Making.
Over the next few weeks I found that the more I made, the more peace I felt.
And what I learned…was that perhaps the very thing I had cut out of my life so that I could focus on my writing–perhaps that was the very thing that had been inspiring my words all along.
What I create doesn't have to be perfect.
That goes for my writing as well as my crafting.
And allowing this desire for perfection to paralyze my progress,
well that's just a darn shame.
So enough of that.
Get ready for some more B- crafts from a girl who loves to make stuff.
And that whole dream of becoming a "real" writer…yeah, I'm not ready to give that up either.
Photos brought to you courtesy of my iPhone, since my camera wasn't charged for my impromptu craft session.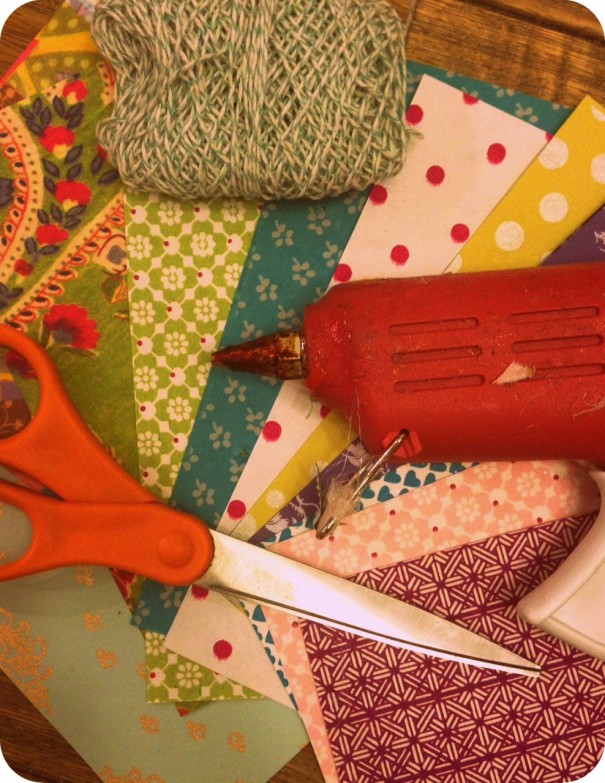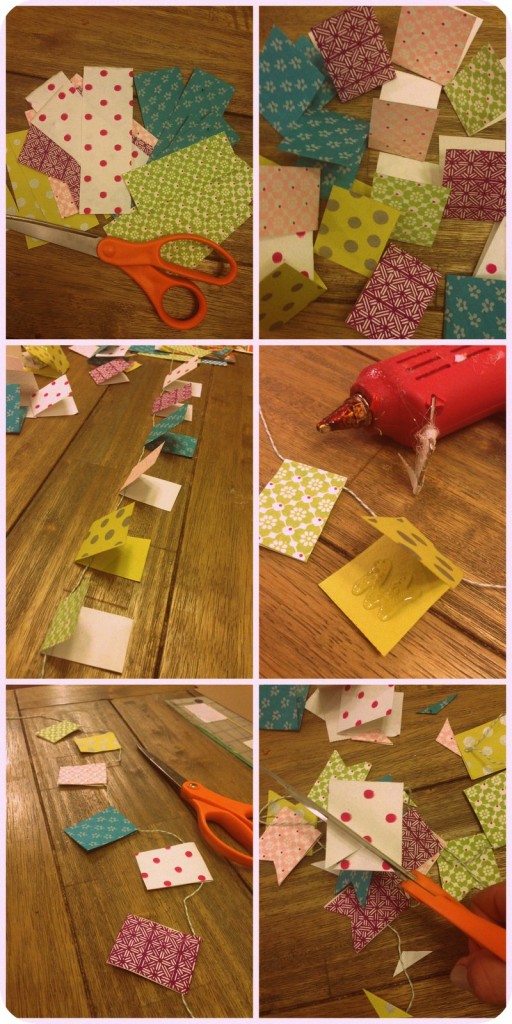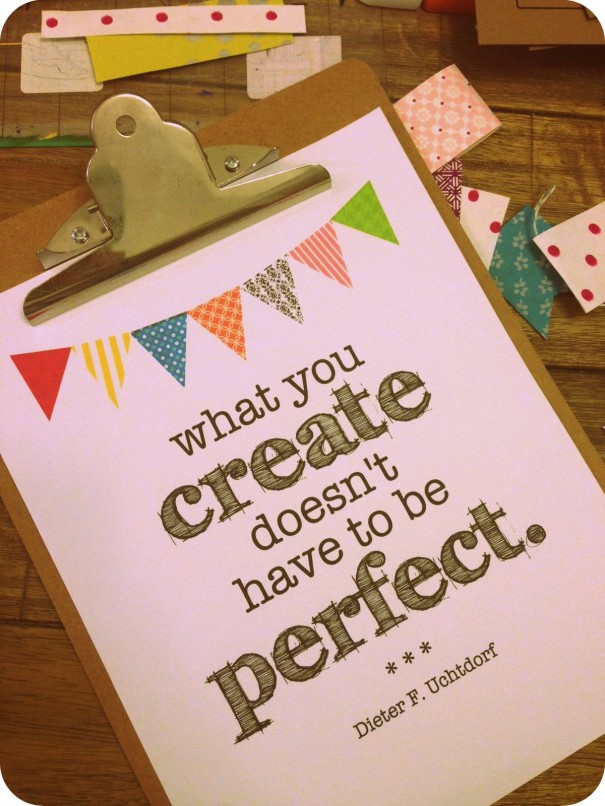 Free printable found here.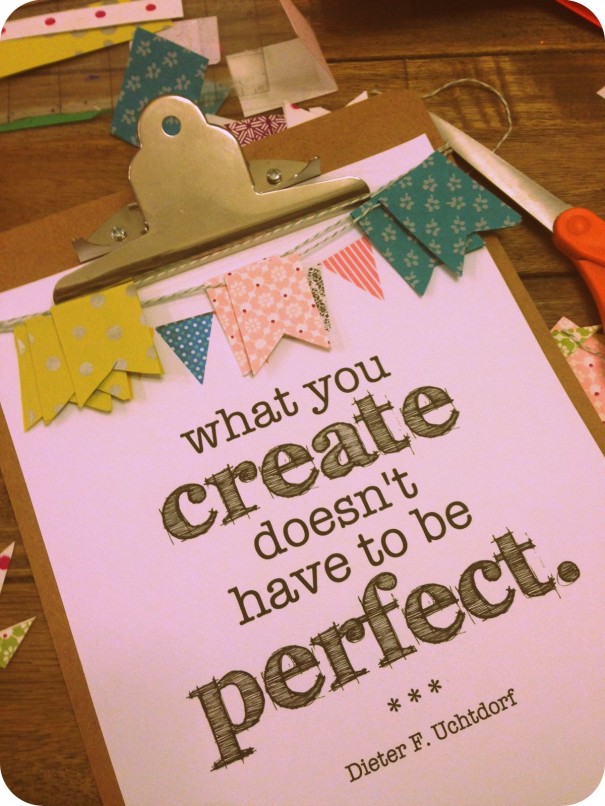 I decided to wrap the mini bunting around this clipboard that held one of my favorite quotes.
Now it's ready to be given to a dear friend (with some yummy treat, of course).