Take It Easy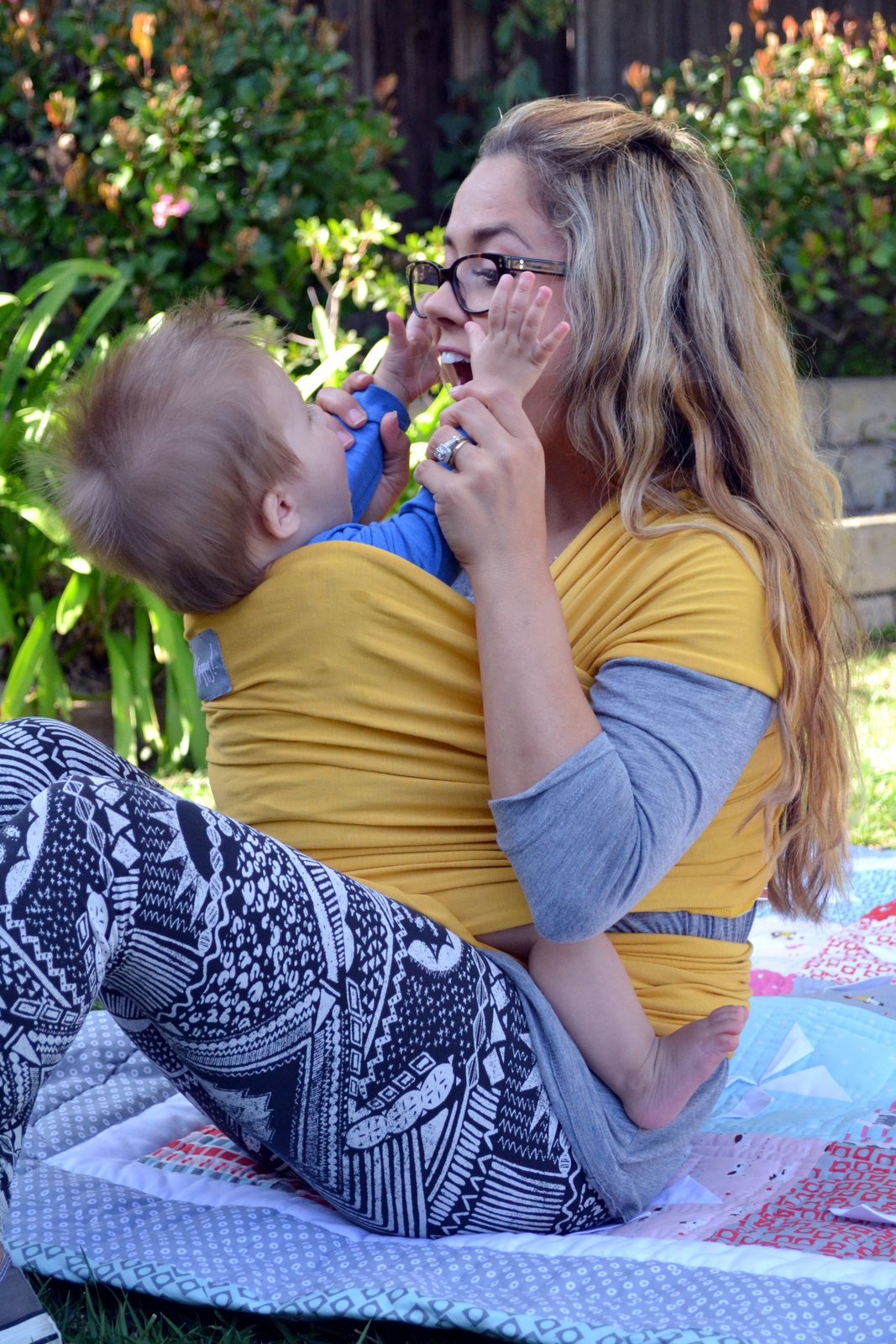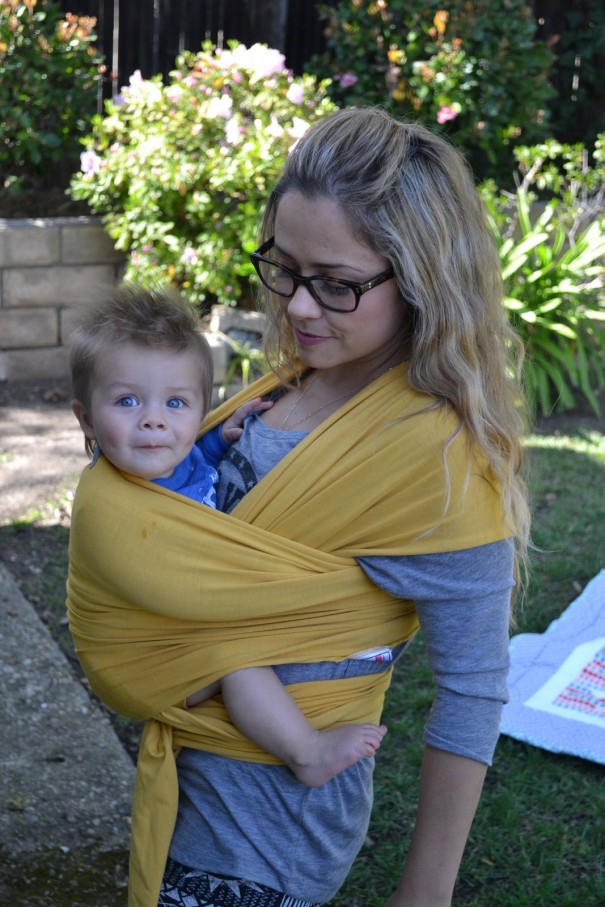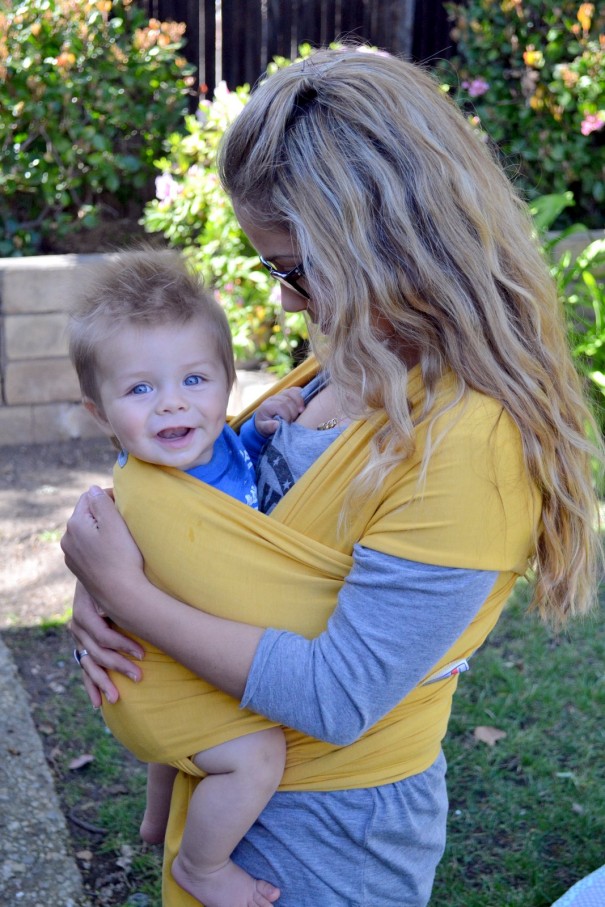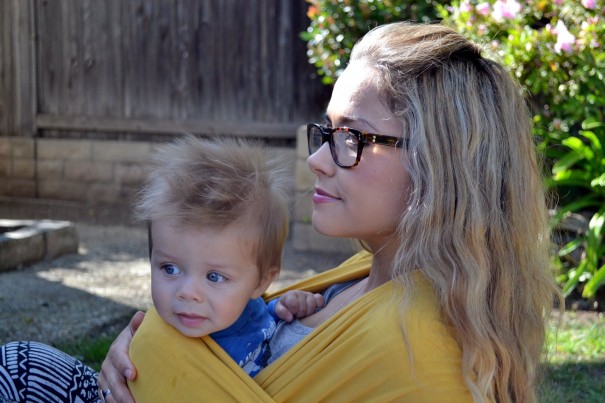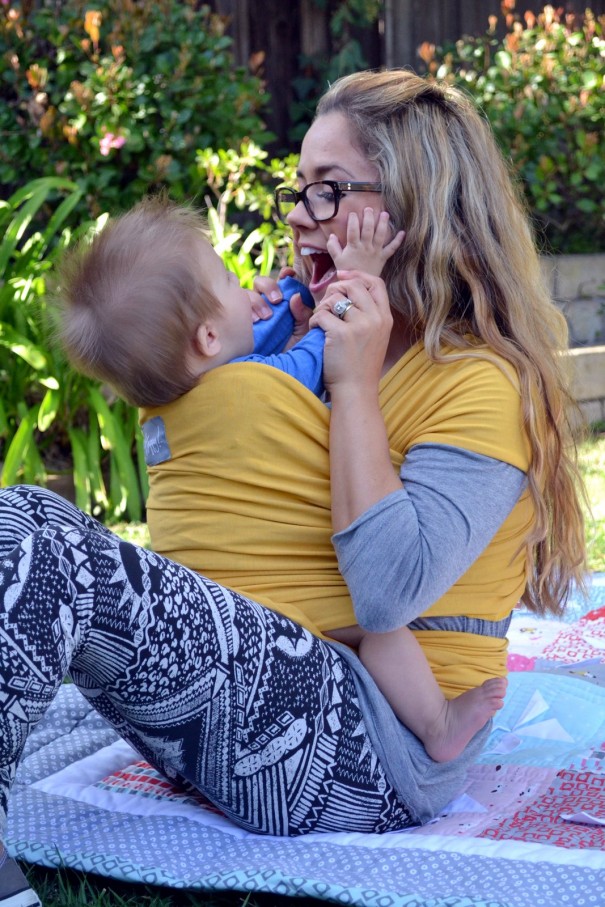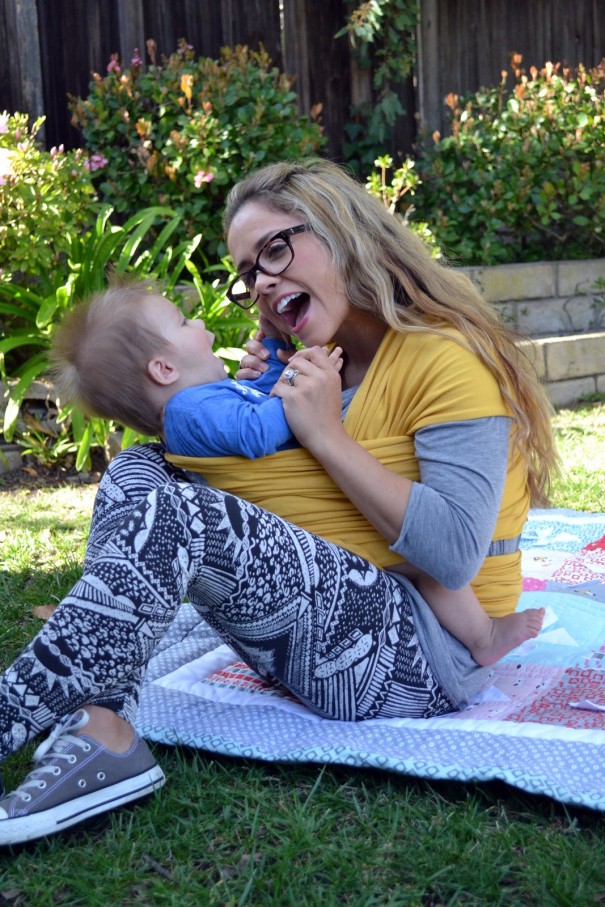 Ouch! Those are my earrings. Said about 1,000 times a day.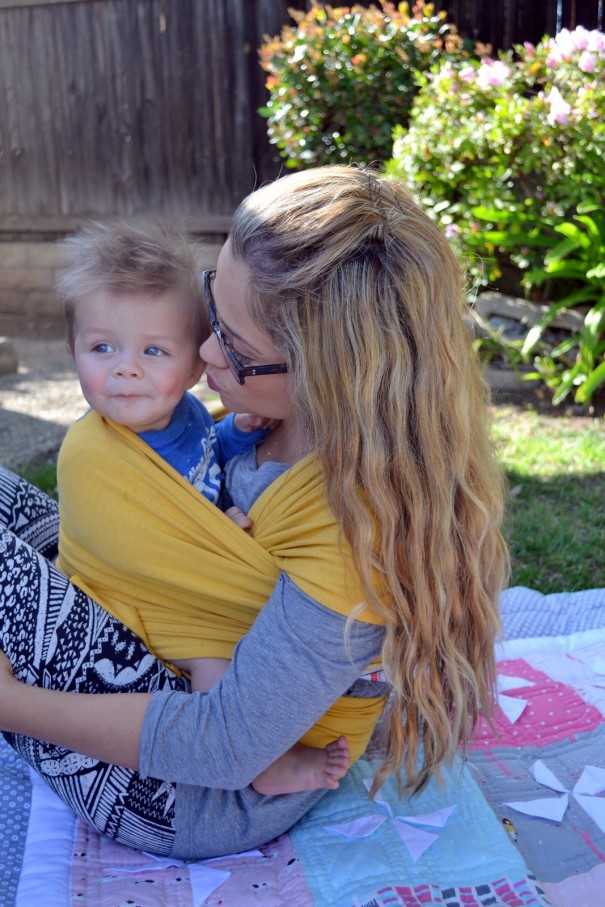 The Happy Wrap in my happy color–yellow. Use the code: LMM to get 20% OFF. You can see me wearing the gray one here.
I've tried every wrap out there–this is the one folks.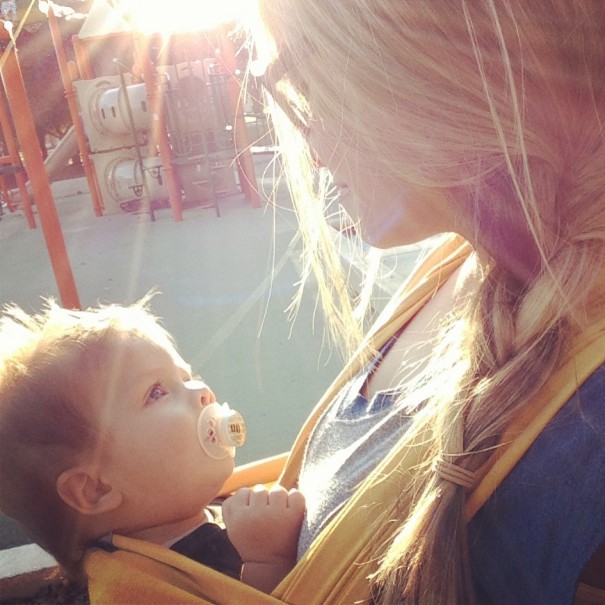 Keep them little.
That's what we try to do.
But as hard as we try, ultimately we learn that time has complete control.
And time moves fast.
Eating up those precious little moments.
Taking away that perfect new baby smell.
My sweet little baby is not so little anymore.
And I thought about that a lot this weekend as I started to introduce slightly chunky food into his diet, as I packed away a tub full of mini clothes he had already outgrown, as I watched his focused little face oh-so-determined to figure out how to crawl across the blanket.
As I watched him inching forward, somewhere between an army crawl and shuffle, it was everything I could do not to push him over…to not to keep him from moving forward…to not try to stop him from his progress.
It was everything I could do to not scoop him up and beg him to stay little forever.
To be mine forever.
To nuzzle into my neck forever.
But I refrained.
And I let him continue his journey, dedicated to the task at hand, without my help.
I wrap him to my chest often these days.
Because when I keep him this close,
he becomes my itty baby again.
And in those moments, I'm beating time.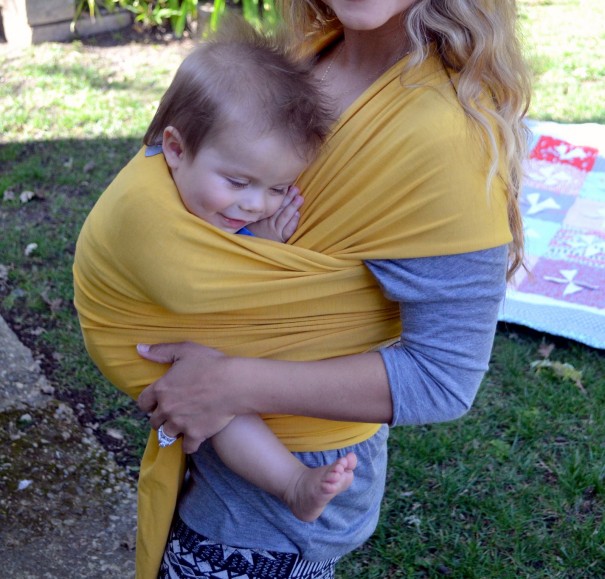 I've written a lot before, about how Ben and I waited anxiously for the arrival of each of Wesley's milestones after he was born.
I can't wait until he can start solids.
I wish he could sit up already.
Hopefully he'll start crawling this week.
It will be so awesome when he can walk.
I think this is perhaps a folly of many first time parents.
And even though I'm confident we took the time to celebrate all of his accomplishments,
I can't help but also feel that our eagerness to move forward rather than live in the present overshadowed these celebrations.
Sawyer's birth taught us this important lesson–to slow down.
To not only live in the moment, but to celebrate it.
I was watching The Today Show the other day with tears flowing down my cheeks as I hung on every word of Ronan's grieving mother–Emily Rapp.  If you haven't heard her story yet, you should. (start here).  My husband has an aversion to sad stories, and especially since becoming parents there has been an unspoken understanding between us both that I am never to subject him to material that will pull at his heart strings too much–that will make every parenting bone in his body ache–his tender heart has trouble recovering.  And as I watched this interview, I felt those very bones ache in my own body as I choked back sobs. While the majority of parents in the world have not lived Emily's heartache, her story is still our story. I knew that when I heard these words:
Excerpt from her article for the Today Show:
Will we be fearless in our pursuit to live a life we consider big and beautiful, no matter what other people might think of our choices and no matter what difficult changes we might have to make? How does this knowledge affect the way we parent? Not knowing what tomorrow will bring, would we be so concerned with our children's "progress" and perhaps more interested in activities that simply make them happy?

What I'd like to say to the parents of healthy children: A child is a person, not a project. Ease up. Chaos will find all of us eventually, but in the moment, how can you be fully present? How can you love your child purely and simply, with no agenda, without a goal, without a net?

When I was in high school, I had a car with an eight-track player, so my musical choices were locked in the 1970s. I loved the song "Take it Easy" by the Eagles. I think of it often as I drive along Highway 14, sometimes crying for Ronan, always missing him, watching the light moving over the desert mountains. Take it easy, I want to say to those parents with healthy children. Enjoy your time now, rest and relax, try to stay in the moment before it's gone. Ease up. Take it easy.
This is one wise Momma, who has battled in the trenches of Motherhood.  And even through her wounds, has discovered her own silver lining–passing on her lessons learned.
As Ben and I cozied up under the covers later that night, I grabbed the TV remote and told him…
There's something I need you to watch.
And it's going to be sad, and you're going to try to tell me no.
But just trust me. We need to hear this.
He looked at me reluctantly as I fast forwarded to Emily's interview and pressed play.
It was even more powerful watching it a second time. And as I stole glances at Ben throughout the interview, I could see him fighting back tears.  The interview ended and I turned off the TV. There was silence. After a moment, Ben leaned over and gave me a kiss.
Ben: Thank you.
Then he got out of bed and left the room.
A minute passed and he still hadn't returned so I crept out of the covers to see what he was up to. As I stepped into the hallway, I could see that the door to Sawyer's room was open and he wasn't in his crib. Standing there, just to the left was Ben, cradling our sleeping baby and whispering words of love and devotion into his tiny little ear. He slowly placed him back in his crib, walked past me and headed for Wesley's room.  I tiptoed behind him and watched as he tucked the blankets tightly around our little boy and softly kissed his cheek and then his forehead.
I was overwhelmed with gratitude watching him.
It was one of those rare moments in life where it suddenly becomes so easy to see your hardships for what they really are…blessings.
But these moments pass, and I knew that as I stood there and watched Ben with our boys.
Tomorrow, when the house is a disaster, the emails are piling up, I have no plan for dinner and kiddos are whining…
Well, let's just say that tomorrow I may not remember this moment, or how it felt.
And I hate that.
I hate forgetting what matters.
I hate being distracted with the hustle and bustle.
So I'm working on it.
Sometimes I write these moments down, like right now.
Sometimes I take a picture, to capture these moments forever.
And sometimes, like that night I stood watching Ben with our littles,
I prayed with every ounce of my being that this moment would be etched in my heart for eternity. And I believe prayer is powerful.
Happy 34th birthday weekend to the man who reminds me what matters most.
You are the best father and husband that I know. And you make me happy every day. love, Lee
We spent Ben's birthday weekend celebrating and living these simple, precious moments with our boys.
Enjoying cake,
playing airplane under a large oak tree,
feeling the grass between our fingers for the very first time ever,
swinging higher than daddy on the swings
enjoying picnics from the comfort of our own backyard,
and taking long, deep breaths during the tantrums and meltdowns that are an inevitable part of our parenting journey.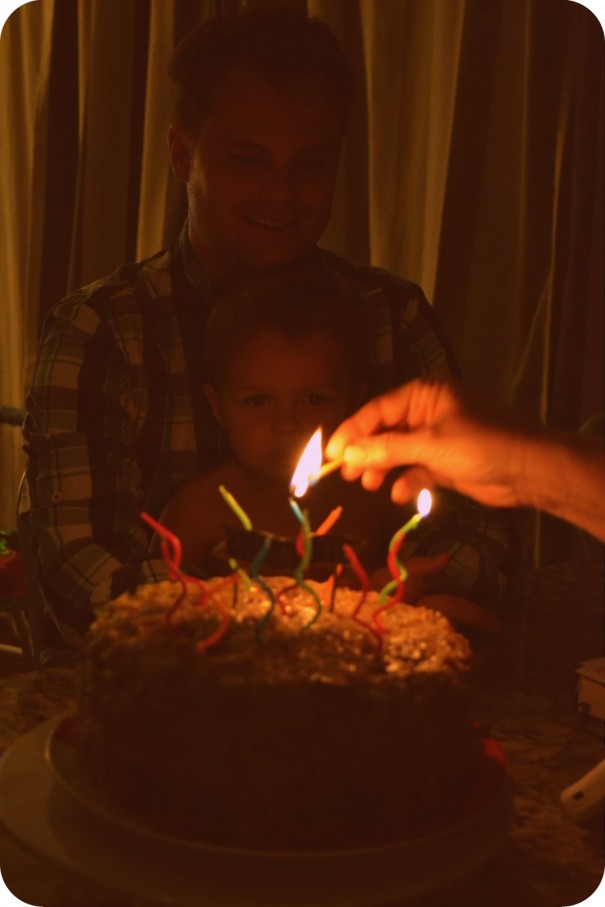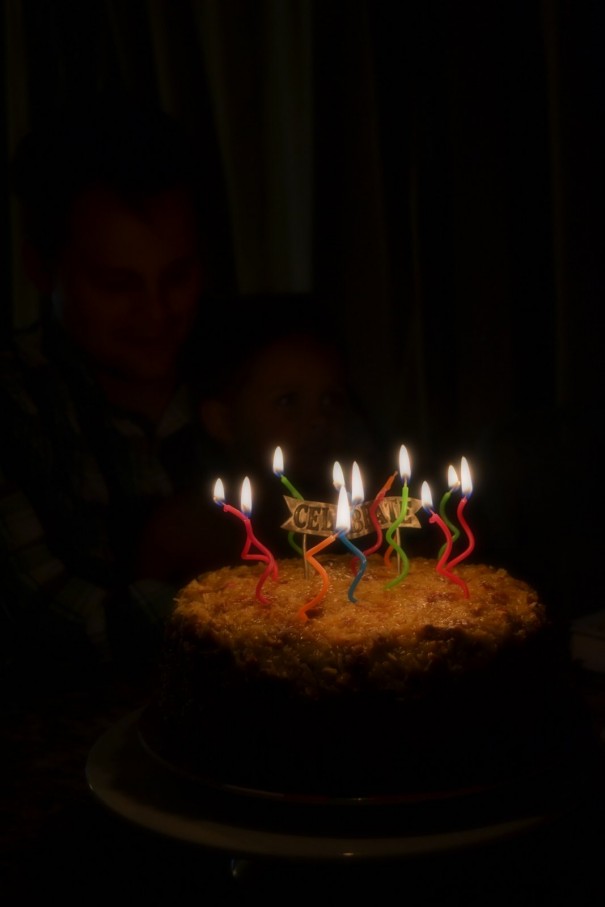 Celebrate Cake Topper c/o: Lisa Leonard