Our Love Story: Part 9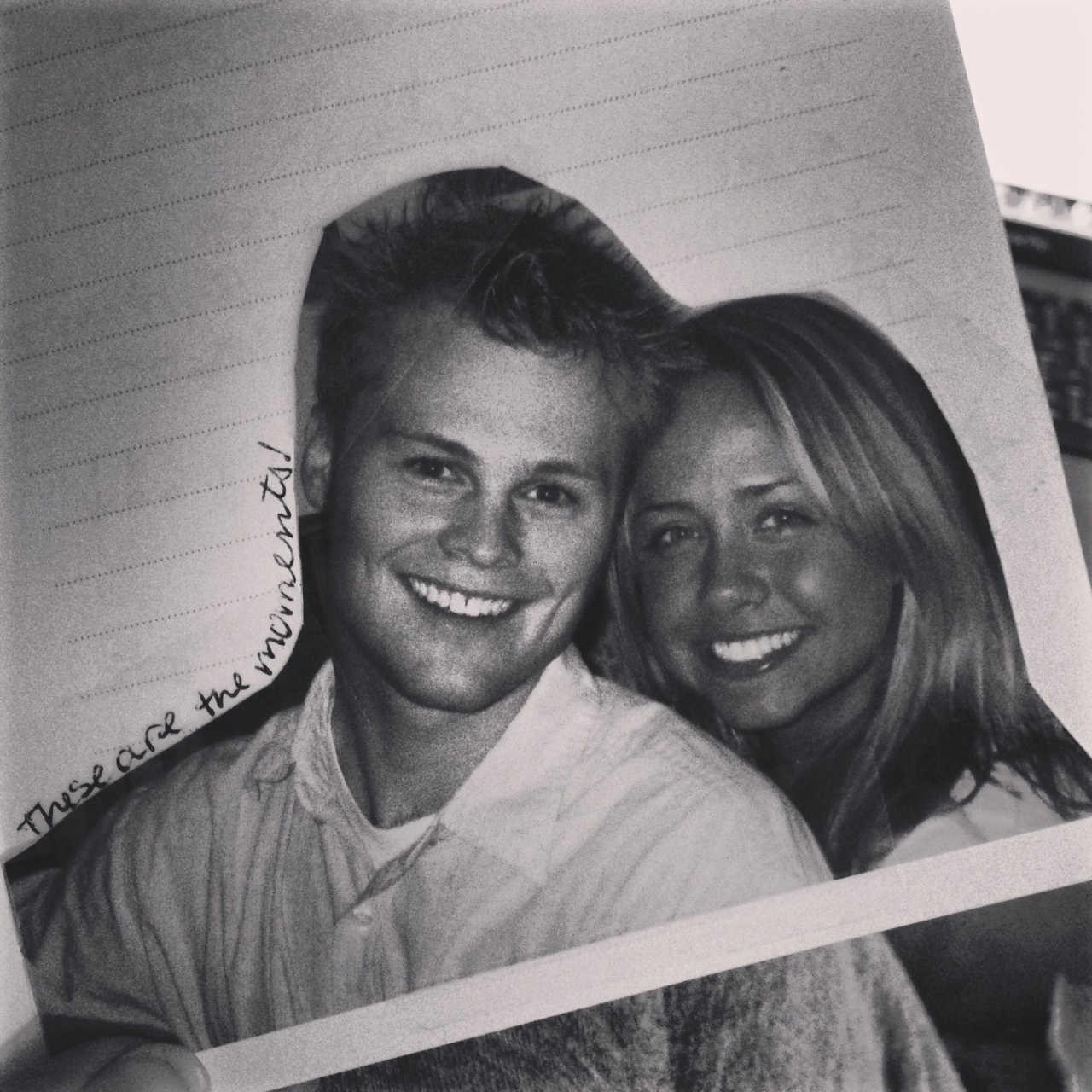 Here's the thing about this love story of ours. It's long. And drawn out. And mushy gushy. And even a bit cheesy. But it's true. And I've decided to take my time writing it, capturing all the special details of those moments I never want to forget. So if mushy-gushy, cheesy love stories aren't your thing, I totally get that. Just know that I'm writing this as a gift—to my family, and my children, and their children—and also, for Ben and me—so that on those days when the kids are screaming, the laundry is overflowing and the bills are rolling in…on those days when it all just seems so hard, we'll have this to remind us of those first moments when we fell in love. And if sappy, detail ridden love stories are your thing, well then you've come to the right place. All previous chapters can be found here.
***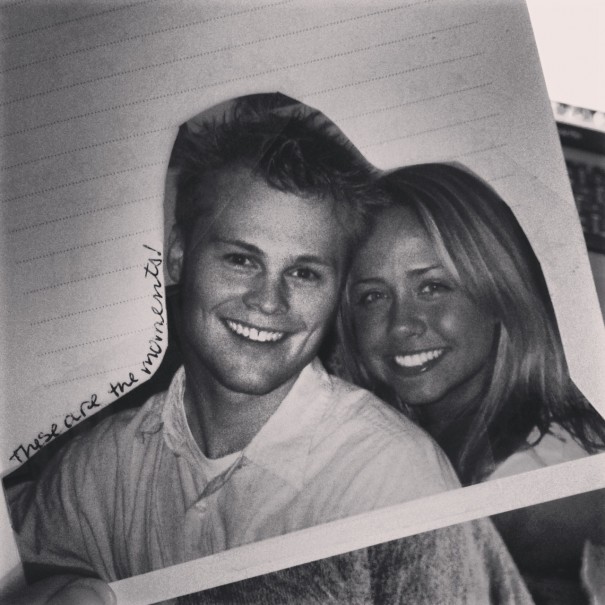 We pulled up to the local sub shop and Ben ran in to pick up a dozen sandwiches that he had pre-ordered for the coaches.
I watched as he walked back to the car rubbing his eye.  He got in the car, pulled down the visor and pulled out a contact lens.
Me: You wear contacts? I had no idea.
Ben: Yep, I'm practically blind without them.
Me: Do you have glasses too?
Ben: Yeah, but I never wear them.
Me: That's too bad. I love a guy in glasses.
He smiled and put his contact lens back in. 
Ben: Ah, there we go. It was in backwards.
Then he started the car and we headed down the road to our next stop–Starbucks. We walked in together and my heart hit the floor as I noticed Bradley sitting at his usual table next to the check out line.
Bradley was this guy…
A grad student.
 And quite attractive.
Muscular build, scruffy semi-beard, perfectly brushed light brown hair, and sometimes blue/sometimes green eyes.
But Bradley was also your classic cheese-ball charmer, which I learned very quickly when he sat down at my study table uninvited just a month earlier and proceeded to tell me all the reasons I would be "lucky" to go on a date with him. Despite his obvious good looks, cheese-ball charmer wasn't my style.  And I let Bradley know this very clearly after nearly a dozen rejections to his offers. But he hadn't stopped trying, and his overbearing attempts to woo me had become a permanent fixture of my Starbucks study sessions.
And there he was, burning a hole right through Ben as he watched us stroll through the door together.  We weren't holding hands, but I'm sure the ridiculously dreamy look in my eyes was enough to make it clear that I was smitten over Ben.
I started to get nervous as I watched while Bradley pushed back his chair, stood up, and made his way toward Ben. No good could come from this encounter, I was certain of it.
Bradley: Heeey Ashley.
But he wasn't even looking at me while he spoke. He was staring Ben up and down.
Me: Hi Bradley. How have you been?
I was polite, but short.
Bradley: Well, I missed you at our regular study dates this week.
I chuckled casually, attempting to brush off his use of the word "date".
Bradley turned he gaze back to me.
Bradley: I even ordered you your usual banana nut bread the other day, but you didn't show.
He was right. Banana nut bread was my favorite and I even ordered a slice every time I studied. But I never told him that, and we certainly never met for scheduled study dates.  I looked back at him confused. And then I made sure the sarcasm was gentle (yet obvious) in my tone when I replied.
Me: I didn't realize we had a scheduled date on the books. I thought I explained my feelings about that clearly last time I ran into you here.
He acted as if he didn't here the biting words I had just said and he turned back to face Ben.
Bradley: Sooo…who's this?
He was smug. Irritated. And he was making it obvious.
Before I had a chance to make an awkward introduction between Mr. Cheese-ball and Prince Charming, Ben stepped promptly forward, held his arm out and aggressively shook Bradley's unsuspecting hand.
Ben: I'm Ben.
Bradley: And Ben…you are?…
Ben: I'm Ashley's boyfriend.
And then I fainted.
No, not really.
But I came about as close to the brink as a person can possibly get before they bottom out and lose consciousness.  I starting seeing black spots, my face turned burning red, the room was spinning and every noise in that Starbucks sounded as if it was being projected through a long tunnel.
I snapped out of my daze when I realized Ben was still shaking Bradley's hand.  And now Bradley's jaw was nearly touching the floor after the bomb that had just been dropped on him.  I gently squeezed Ben's elbow, encouraging him to release his grasp. He didn't.
Bradley: Really? Well, I had no idea.
Ben: That's fine. Now you know.
Then he dropped Bradley's hand, walked up to the counter and casually placed his order.
I stood there awkwardly looking at a blindsided Bradley.
Me: So I guess I'll see you around?
Bradley: Uh…yeah, I guess.
Minutes later we were sitting in the car surrounded by an overwhelming aroma of cold cuts and warm bread. I stared down at the drinks balancing precariously on my lap. We were both silent for what felt like an eternity.  As we turned the corner on the way back to the gym, Ben finally spoke.
Ben: So, I'm sorry about that back there. I'm not usually that forward. But that guy had it coming.
Me: Yeah, I don't imagine he'll be trying to buy me banana nut bread again any time soon.
Ben: I hope that's okay?
Me: I don't know, I reeeally like banana nut bread.
Ben laughed.
Ben: You know what I mean.
Me: Actually, I don't…Boyfriend?
Ben: Well, obviously I'm not your boyfriend.
Me: Obviously…Then why did you say it?
Ben: I guess I wanted to hear how it sounded out loud.
***
Boyfriend.
This was the word swirling around in my head as I made my way up the stairs to my apartment after Ben dropped me off on his way back to the gym.
Boyfriend.
I said it out loud this time. Slowly.
b.o.y.f.r.i.e.n.d.
I liked how it sounded too.
***
This was it.
Our last night together.
And our time would be limited since this would also be Ben's last night to spend with his family…
Before he went home…
Several hundred miles away…
From me.
My mind was racing and I was nearly jumping out of my skin with anxious anticipation of his phone call saying he was coming to pick me up.  I had no idea when to expect the call. No idea how long he would spend having dinner with his family. No idea if his brother was trying to keep us apart on this last night. So I waited.
And waited.
And waited.
***
It was nearly 10:00 before his phone call finally arrived.
He was whispering again.
Apologizing for taking so long to call.
Asking if he could come see me for a few minutes before I went to bed.
I had a lump in my throat as I told him I was looking forward to seeing him.
And then we hung up and I cried real tears for the first time since I spotted the boy with dimples just a week earlier.
I cried for an evening it appeared we wouldn't be spending together.
I cried for how complicated this was becoming in my heart.
But mostly I cried because I knew that this was the beginning of our good bye.
***
The tears were wiped away and I had recomposed myself by the time there was a knock on my front door. My heart was kickstarted again when I opened the door and saw Ben smiling back at me while wearing the sweetest pair of wire framed eye glasses. He must have noticed me staring because the first words out of his mouth were:
Ben: My eyes were getting dry so I thought I should, uh, give them a rest and wear my glasses for a little while.
Mmm Hmmm, I thought. I'm sure this had "nothing" to do with me mentioning earlier that I find glasses attractive.
He wasn't as smooth as he had tried to lead me to believe in the first days we spent getting to know each other, but this discovery had me strangely all the more attracted to him. Besides, he did look ridiculously handsome in those glasses.
Me: Well, I like them. 
He held out his hand, and I took it.
Ben: It's beautiful tonight. Let's go on a walk.
As we strolled down the same path we had walked just a few nights earlier, I couldn't help but feel overwhelmed with familiarity. Even though I had only known Ben for a few short days, and we still had so much to learn about each other…even then, I knew him. My heart knew him.
As we continued walking, the mood was somber.
My heart was doing it's best to soak in this moment.
But my mind knew it was just that–a moment.
And before I knew it, the moment would have passed.