Tips + Tricks for Instagram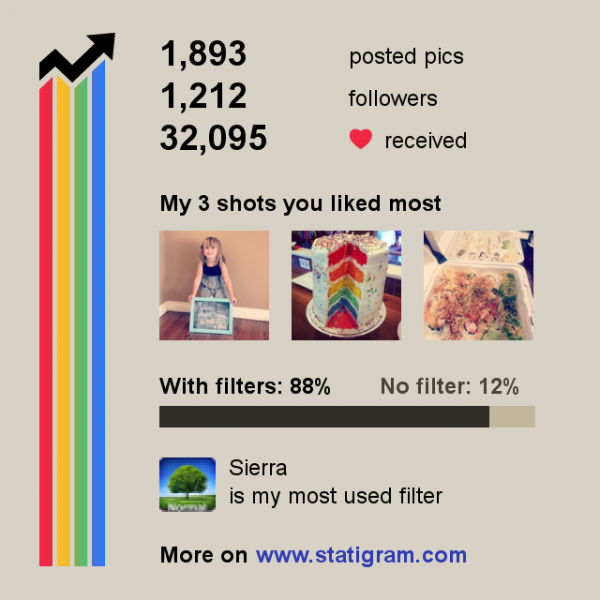 A big welcome to Alissa, our official Biz and Bloggy contributor.
Thanks for putting together this fabulous post on Instagram Tips.
_______________________________
Today I thought I would share with you one of my most favorite social media tools to utilize for my brand, Instagram! Last week Instagram became the most used social media tool. There are more users actively using Instagram than both Twitter and Facebook. How incredible is that?! To be honest, this comes as no surprise to me what-so-ever. I'm sure, by now, many of you are familiar with this social space and all that it has to offer, but if you're new to Instagram or even still trying to figure out how it all works, I thought I'd share some tips + tricks for you that will help you not only utilize Instagram, but increase your following. As you're working to build your brand, understanding Instagram as not only a fun personal tool, but a great tool to grow your brand is important.
I know what you're thinking. It's hard to take a picture in a square box using the rule of thirds. You are correct! It can be difficult to compose a picture using the rule of thirds, so here's a little secret that will help you along the way. I highly recommend using your camera phone or the Camera+ app to take all your pictures. There are two reasons for this: 1. you are able to take as many pictures of your subject(s) as you need so you can load the best one into Instagram + 2. the lighting and the camera work better when you take the picture outside of the Instagram app itself. There are also additional editing features within both your camera phone and the Camera+ app that allow you to make additional fixes to the lighting, etc before loading into Instagram.
Now you've taken 30 pictures of your kids running around and you've found 1 that isn't blurry, you can now load it into your Instagram app and move the picture around to compose it in the most eye catching way.
One of my favorite features Instagram offers is the chance to utilize their filters to enhance your pictures. Do you need to use them, certainly not, however, I've found that sometimes being able to add just the slightest bit of color or extra light to your picture can make it go a long way. For example, in tip one I shared a picture of a chair I recently purchase from World Market for my home without using a filter. Since there is a lack of natural light in my family room, without the help of an additional lighting feature the chair doesn't look a beautiful in the picture as it does in my home.
In the picture above I used the soft light Nashville filter and look at how much better my chair looks in the space. Doesn't it feel as thought it's calling your name? After only being posted for 1 hour, this picture already has over 50 likes and 13 comments. If your goal is to use Instagram as a tool to continue to grow your brand + blog, then you want to put your best foot forward with your images so people will be more inclined to follow, like, comment and visit your blog.
I'm a huge believer that when your building your personal brand that it's a direct representation of who you are, so pictures that you share in your Instagram feed should have a personal touch. Whether you use Instagram for your business or just your personal blog, being open to sharing a glimpse of who you are with your followers goes a long way. I always tell my clients, don't just share pictures of your products, share pictures of you giving away your products, shipping your products or even a family day off from your business. I find that when I share pictures of myself and my family, it helps people get to know the woman behind the screen.
I know it tends to be easier to be the one behind the camera taking all the pictures, but then your followers get to know your family, but they don't really get to know you as well. This is something I have to remember as I'm usually the one behind the lens in my home. For me, the personal connection with the brands and businesses and people I follow keeps me coming back for more!
Now that we've gone over some fun + simple tricks for using Instagram effectively, whether it's for personal or business use, let's talk about ways to grow your following. Similar to Twitter, getting involved in the conversation can help grow your following. Here are four ways you can grow your Instagram following:
Follow others! I know it sounds simple, but most often when you follow someone, they will follow you back.
Like or comment on others pictures often. This shows an interest in who they are and often times will prompt them to check out your feed and follow you back.
Tagging others in your pictures or having them tag you in theirs also helps. When people see a conversation beginning, they are likely to join in and follow all those involved in the conversation.
Use hashtags. Much like Twitter, using hashtags can help people find you when doing a search. Utilize popular hashtags at the end of your post as they will encourage new follower interactions.
A few months back I discovered this great website that allows you to log into your Instagram feed and check your profile stats. You can find everything from how steadily your followers are increasing to the kinds of pictures people enjoy seeing in your feed and the best times of day for you to post, where you get the greatest response from people. If you look at the diagram above, it shows the best time of day for me to post and really be able to interact with a lot of my followers. From this I can determine that mornings between 8am-10am, afternoons around 12 noon and in the evenings around 8pm give me the most interaction. If you are using Instagram as a way to grow your business or brand, knowing these statistics are very important. Just like it's important to keep track of your Google Analytics for your blog as a way to determine the best methods for interacting with your readers, Statigr.am will help you do this for Instagram. With Instagram becoming such a popular and important social media tool, any way you can learn more about how to grow your following is very relevant. Or if you're just a curious person, it's fun to check out your stats and see what pictures you're posting that inspire people to like or comment. You can also have a daily summary sent straight to your email so you can keep track of some of your important stats.
Statigr.am is also great because you can see every picture you've ever posted and directly from that site can order pictures from several third party Instagram websites.
I hope you found these tools helpful. Please come follow along with me on Instagram and email me if you have any questions: alissa [at] ragstostitchesblog [dot] com