Top Five Plugins to Enhance Your Blog & Connect with Your Readers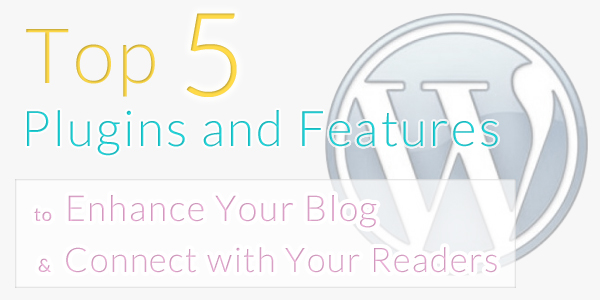 So I'm about to reveal a huge secret…
Today's guest post is written by my secret weapon.
The girl responsible for any and every techy thing behind my blog—because I'm clueless when it comes to that stuff, and well, she's a genius (seriously). She has taken so much stress and work off my plate as I try to focus on the part of blogging I love most—writing. So a big thank you to the sweetest and smartest virtual assistant out there—Cyndi Marie.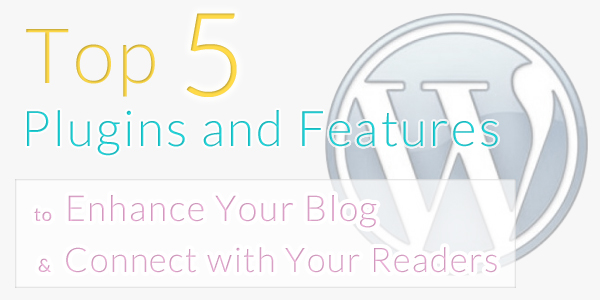 Hi I'm Cyndi from CyndiMarie.com. I am a wife, mother, Virtual Assistant and Blog Designer. As a VA I get to work with some wonderful bloggers, helping them share what they love with the world. I have had the great blessing of being able to work with Ashley, and let me tell you, she is just as sweet and amazing in real life as she is here on her blog.
I am so excited to be able to share some of my favorite WordPress plugins and features with you all today! If your blog is running WordPress, there are so many plugins available that can enhance your blog and your readers' experience. But sometimes it's hard to know which ones will work the best, so that's why I've chosen five of my favorites to share with you.
I could seriously write a book about how great this plugin is. This is THE plugin you want for SEO. Trust me, I've used all the others, and this one is the only one that not only helps you optimize your blog, but also makes SEO easy to learn and understand.
Here are just a few of WordPress SEO's awesome features:
Titles and Meta Templates: Set templates for your titles, meta descriptions, and meta keywords for every kind of post/page on your blog.
Snippet Preview: This is what dreams are made of (at least for us nerdy SEO'ers). The snippet view shows you exactly how your page/post will be displayed in search results. Brilliant.
Page analysis: As you are editing your post, the plugin gives you guidelines and suggestions.
Color-coded status icons: Gives your page a SEO quality score from bad (red) to good (green).
You've probably seen how Google has a recipe search. Ever wonder how to get your recipes in those search results?


This plugin incorporates Google's Recipe View micro-formatting, which essentially makes your recipe SEO friendly and labels them correctly for Google. In addition to micro-formatting, this plugin also displays the recipe in a cute stylized "recipe-card" format, includes a print button with recipe image, and allows for ratings in the comments section.
Everyone knows how beneficial Pinterest can be in increasing traffic and expanding an audience. To make a site super pinterest-user friendly,  I use two Pinterest plugins  in tandem. When set up correctly, Pin It buttons appear on posts and post images to encourage readers to share the content on Pinterest.
If you're looking for another way to engage and connect with your readers, add an Instragram widget to your sidebar. Instagram for WordPress is my favorite because it is customizable, and (since it only displays one Instagram at a time) it doesn't clutter up your sidebar.
Although not a plugin, this is an excellent feature that very few bloggers take advantage of. Thanks to Google's authorship program, WordPress has made it so that your search results can display your author information. It ties your articles to your Google+ Profile, showing your image and author link.  Not only does it make your results stand out because they look super professional, it can also increase your click-through rate, landing more people on your site.
And there you have it, five plugins and features that can enhance your blog and make it easier to connect with your readers.
I would love to answer any questions you may have about these plugins or anything else you think I can help you with! You can contact me through my site www.cyndimarie.com.
~Or~
Follow me on Twitter, check out my boards on Pinterest, add me to your circles on Google+, or follow me on Instagram!