Barn Owl Primitives: Tips to Grow Your Creative Business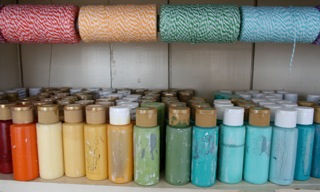 I started this blog in February 2010.
And in the beginning, I remember spending way too much time on Etsy looking to discover my favorite new designer–one that maybe, just maybe would be willing to sponsor a giveaway on my site. That's when I met Kristi of Barn Owl Primitives.
I knew I had to contact her after I found myself hearting nearly every item in her shop. At first, she was hesitant about sponsoring a giveaway AND product review.
She had never done one before.
I pretended to be an expert and assured her that I would use every ounce of my effort to promote her amazing brand and product, because I believed in her shop.
She agreed,
sent me my first BOP sign,
I loved it so much I kissed it,
and from that moment on Kristi and I became friends for life.
Real friendship means you want to see the other succeed. You root for them.
You get giddy when you see them making a difference.
We've never met.
And I can tell you, that even if we never meet, she is the kind of friend I would hop on a plane and fly all the way across the country if she needed me.  She is that awesome, and real and special to me.
Today I not only believe in her shop,
I believe in HER.
She has taught me many important lessons as I have worked to grow my own online business, and today she is guest posting to share some of those tips with you. AND, be sure to keep reading for a never before seen look inside her studio.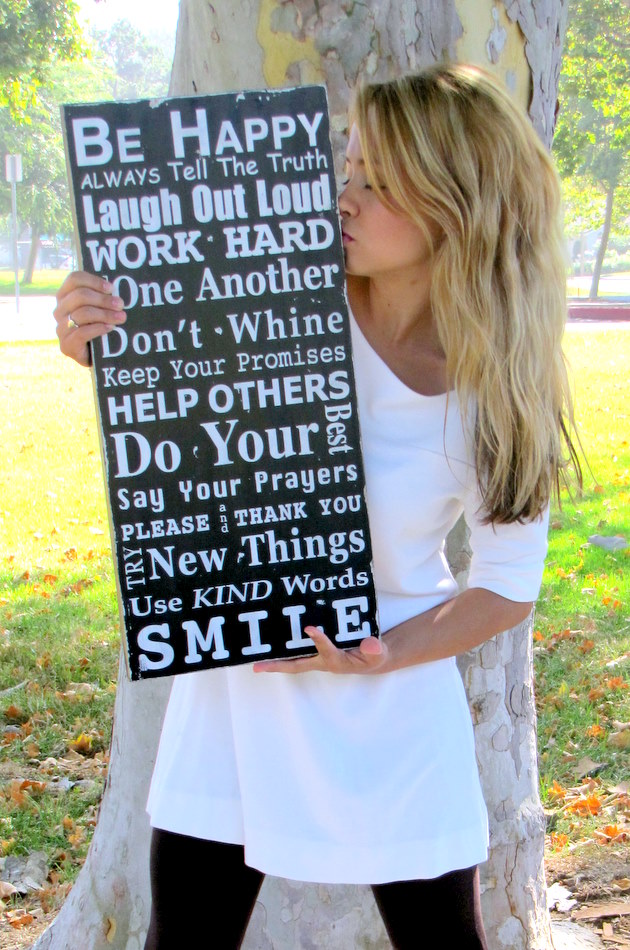 ************************************************
Be Creative
by Kristi Quill
people often ask me where i get my ideas.  how i come up with my designs.
and the truth is i'm inspired. everyday.
i'm inspired by things i see, all around me.  and I'm inspired by things  that i do.
i'm even inspired by things i see everyday in my own home.
this piece of art, which was created by my daughters preschool class and hangs in my studio was the color inspiration for my summer fun piece.
i normally do not use that much color in one piece, but I was inspired and it reminded me of all the the fun summer activities that we love so much, the activities i listed on my sign.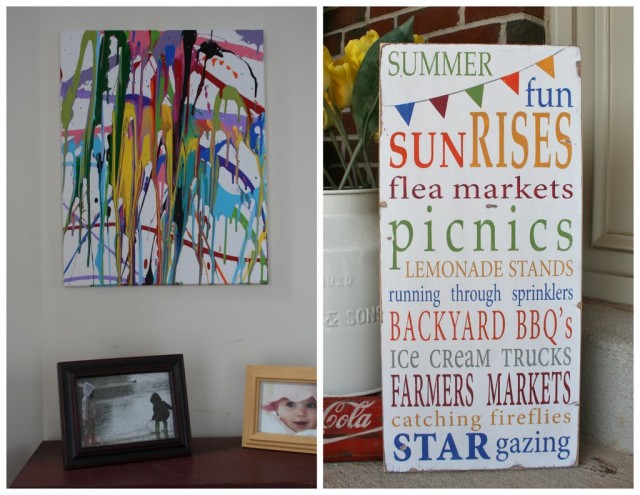 i'm inspired by things i find on pinterest .
and it is ok to go and make your own version of art inspired by what you might find.  (please note, i did not say copy it.)
As an artist, it's very important to know the difference between a copy and an inspiration.
cop·y [kop-ee] –noun
1. an imitation,
reproduction, or transcript of an original
in·spi·ra·tion [in-spuh-rey-shuhn]
–noun
1. an inspiring or animating action or influence: I
cannot write poetry without inspiration.
2. something inspired, as an idea.
And as an artist, it's most important to embrace creativity.
cre·a·tiv·i·ty[krēāˈtivitē] – noun
1.  The use of the imagination or original ideas, esp. in the production of an artistic work.
so go and create something new.  something different.  something as special as you are.
we are all capable of so much more than we think.  you must believe in yourself and your ability.
and the more you believe in yourself,
the more people will see your genuineness and your originality
and the more people will want to own what you create.
be real.
be courageous.
be creative.
be awesome!
And here are some tips to help grow your creative business:
Create Your Brand
It is very important that you create a brand for your shop or company.  and it's even more important that you reinforce that brand consistently in all your touch points with your customers. Ask yourself: What are my touch points? Your business cards, thank you notes, labels, note cards, logo, facebook, avatar, blog buttons, shop banner, etc.  You need to develop a message and  make sure that no matter where people see "You", they know it's you. Don't use one logo in your etsy shop, another on your facebook page, another as your blog button and another on all your printed material unless they look very similar and people will recognize them as your brand.
And you don't need to spend a lot of money, I promise.  I purchase all my printed material from Vista Print.
They have these cute little owls as a standard design on their site.  Perfect!!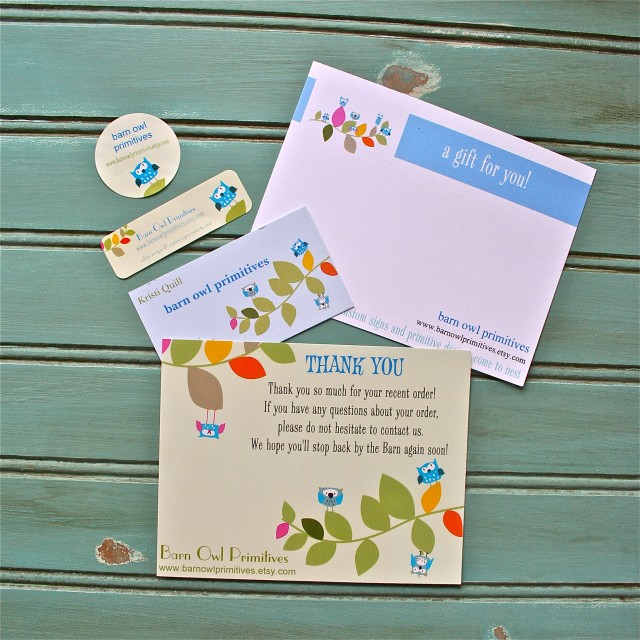 Since they often offer free products, I didn't want to make a big investment in having to custom order all my printed material.  Instead, I contacted a talented graphic designer, Tracy of Tracy Ann Digital Art , shared these products with her and asked her to design all my digital art for me!  She used my printed products as her inspiration, and she created all these fabulous, fun and consistent art pieces for me.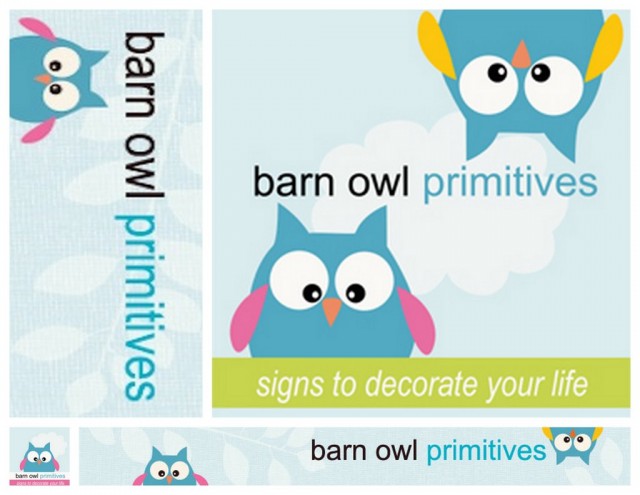 LOVE!!
So, as you can see, I have options and different things to use in different locations, but there is no mistaking that it's the barn owl primitives brand.
And I feel like I need to share the inspiration behind the upside down owl.   I asked Tracy to incorporate that because I'm often crazy.  and barely hanging on. but mostly, I like to have fun!  and be different.  it's important to be different too!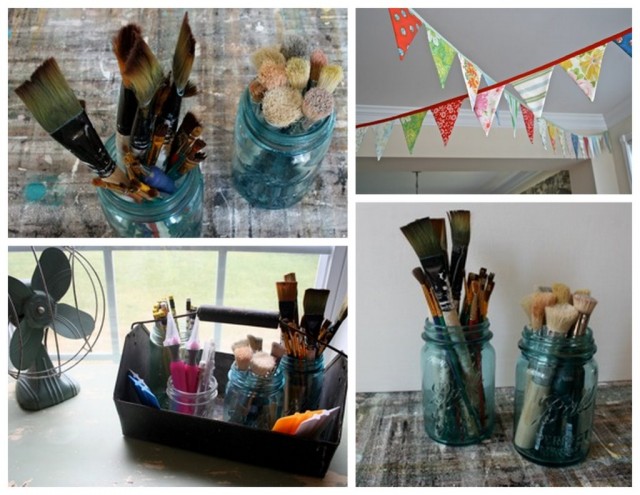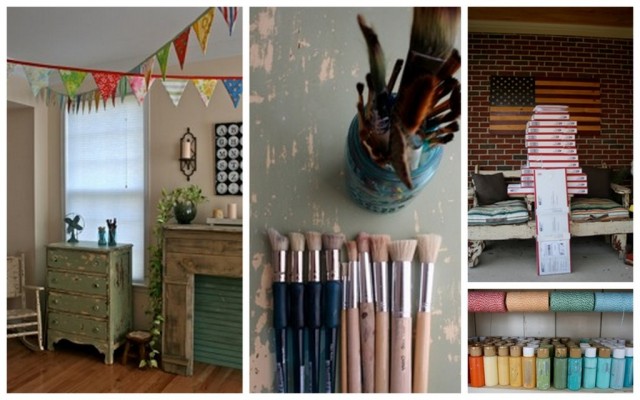 Be sure to check back tomorrow for Barn Owl Primitives LARGEST giveaway yet!
Like, take how large you're imagining and double it…it's a BIG one, literally!