Summer to Fall Fashion Post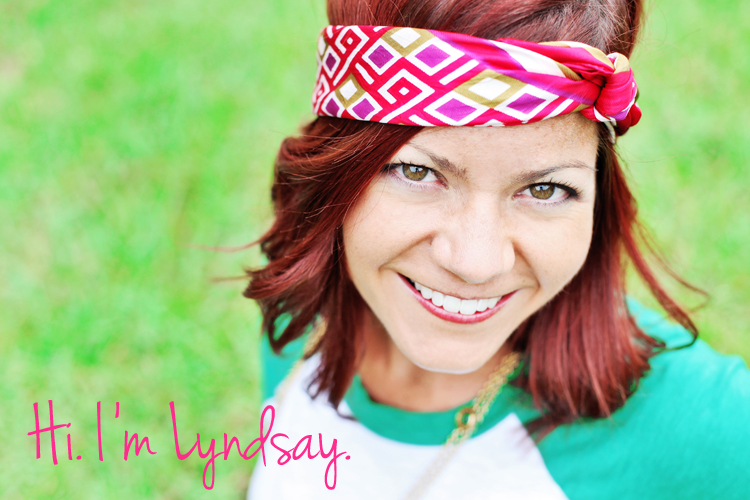 Hi LMM readers! I'm Lyndsay Almeida, a lifestyle photographer based in sunny North Florida, and I'm so happy that Ashley is letting me hijack her space on the web today. When she asked me to write a guest post I tried to be really cool and say something like, "Oh yeah, sure. I'll see if I can fit that into my schedule." But what came out was more like, "What? Are you serious? Um, give me a minute here to collect myself." So… yeah. I'm just a little bit excited to be chatting with you! My blog (Pink Coffee Photo) is full of photoshoots, crafty projects, outfit posts, photography tips, and rambles about my personal life. And I decided that I should share something with you that most of us girls enjoy: a fashion post! With fall right around the corner (I refuse to rant here about how Florida literally has no fall. I mean, we just skip right on over it. But I will not tell you how much that annoys me), it's time to start digging though the 'ole closet and looking for pieces that might transition well from summer to fall and even winter. Pairing cheapo thrift store treasures with higher end pieces is pretty much my everyday style, so I picked a few of my favorite summer outfits and played around with some ways to keep wearing them for a few more months!
Dressy Shorts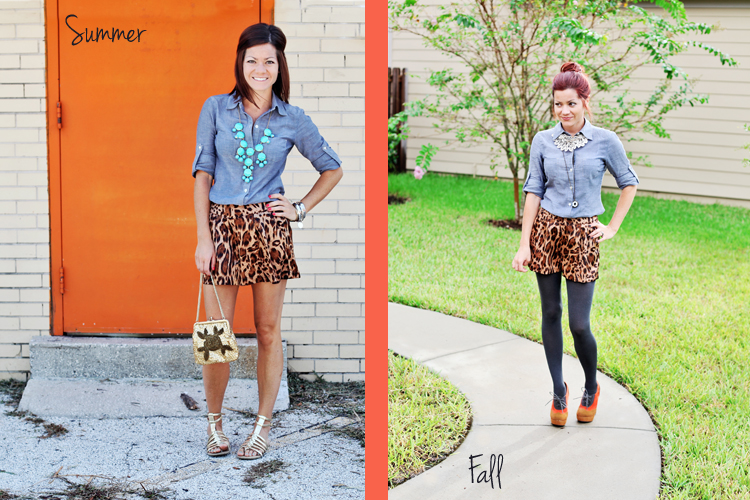 I wear this style a lot and love that they can be dressed up or worn a little more casual. I've worn these shorts for date night and just running errands too. Side note here: I don't really run around town in sweats and stuff. (Most of the time. I do have my days!) My Mom taught me that when you look good, you feel good! So I try to make a little effort even when I'm just dashing to the grocery store. Now that I've said this I will run into everyone I know in my ratty sweats at Target. Yikes! Anyway, to keep wearing these shorts in cooler months I just added some tights and suede shoes.
Fall look- Chambray shirt: Target. Leopard shorts: Windsor. Tights: TJ Maxx. Shoes: Spotted Moth. Necklaces: F21 and etsy.
Sporty Stripes


Stripes are everywhere this year, and they're still going strong for fall! This cotton dress is so versatile. To transition, I just layered it with a scarf, blazer, tights, and boots. I would wear this for a casual weekend: a ball game or hanging with friends around a bonfire.
Fall look- Dress: Thrift Store. Blazer: Aeropastle. Scarf: Target. Tights and Boots: Target.
Black and Gold


This is one of my favorite dresses. I love the ruffle around the waist! When I read that black and gold are hot this season I decided to put a leopard print blouse under the dress. Then I added fishnets and a pop of color with the shoe!
Fall look- Leopard blouse: Thrift Store. Dress: Anthropologie. Fishnets: Victoria's Secret. Shoes: JC Penney.
Writing this post is making me excited about fall! And just think, I only have to wait until Christmas for the weather to cool down a little bit around here. 🙂
If you'd like to become blog friends come on over to Pink Coffee Photo. And if you're really ready to commit(!) you can also follow me on twitter and Bloglovin too.