My Make Over with Mary Kay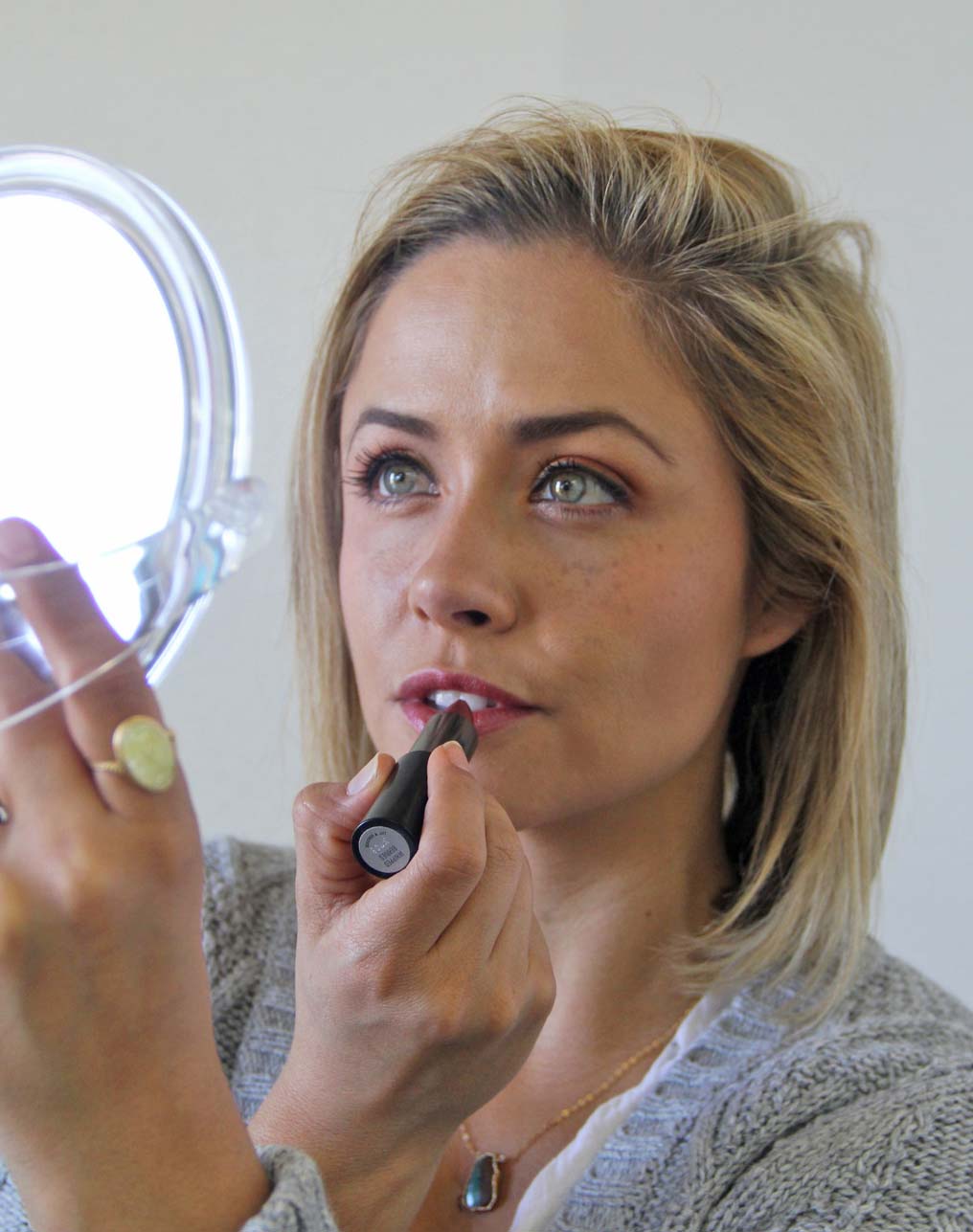 Scroll down for an awesome giveaway!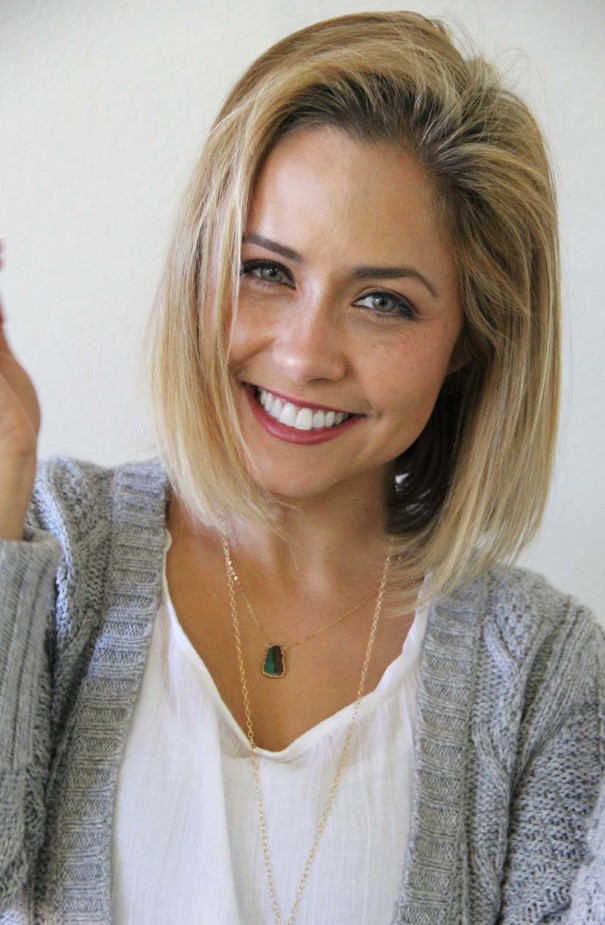 I'm the worst when it comes to makeup.  Never having learned any formal technique and often overwhelmed by online tutorials, I've become complacent just getting by with basic skills.  My recent obsession with lip stick, however, has left me wanting to learn more about fun ways makeup can give my style a boost. This week I was given the opportunity to try out a bunch of fun Mary Kay® products to create a festive and flirty look.  For me, flirty makeup means date night makeup–and generally, the only time you'll see me attempt eye liner and eye shadow is for date night.  A look that made my eyes "pop" was what I was hoping to achieve for this post.
Because I have no idea about what I'm doing, I decided to turn this into a learning experience for me while also showing you guys what I found out about these products and techniques.  I had my best friend come over and literally talk me through each step of the makeup application in detail.  I didn't make a move without her direction.  By following her instruction while also going through the motions myself, I learned so many techniques that are going to help me learn to put on makeup like a grown up now.  I can't wait to share what she taught me for any of you out there who are complete novices like me.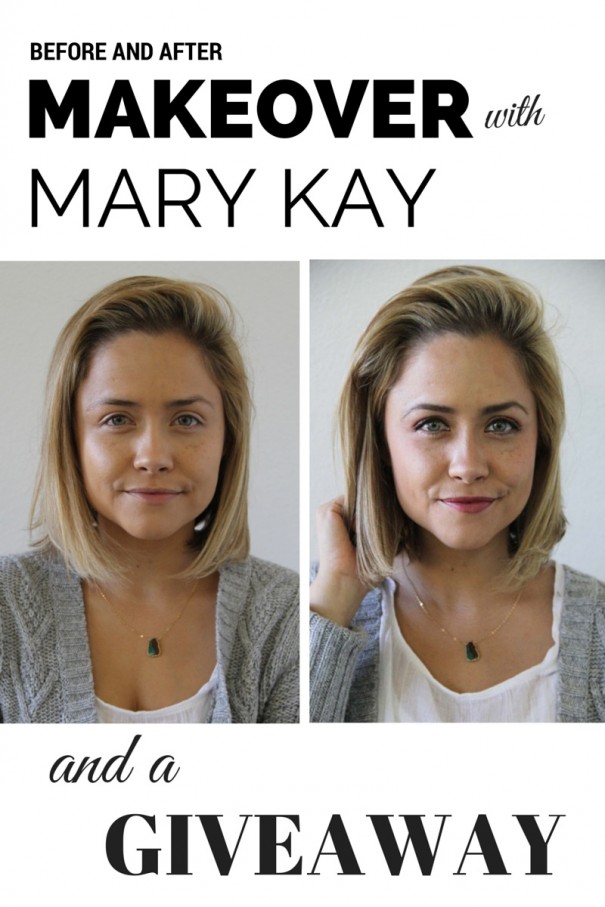 It's amazing how "tired" I look in that before picture!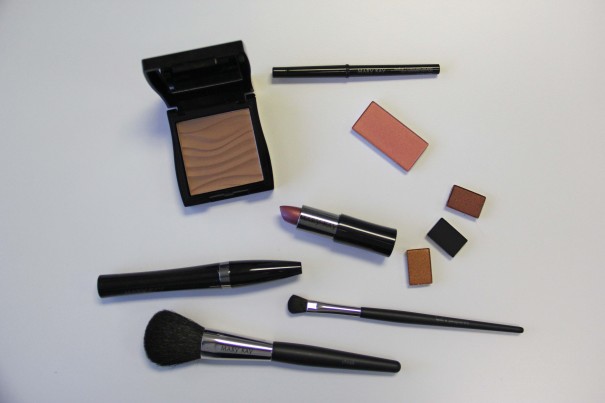 Mary Kay® sent me all these goodies to take for a spin:
Mary Kay® Mineral Eye Color in Amber Blaze, Copper Glow and Coal Mary Kay® Eye Crayon in black Mary Kay® Creme Lipstick in Whipped Berries Mary Kay® Cream Blush Mary Kay® Bronzing Powder in Clair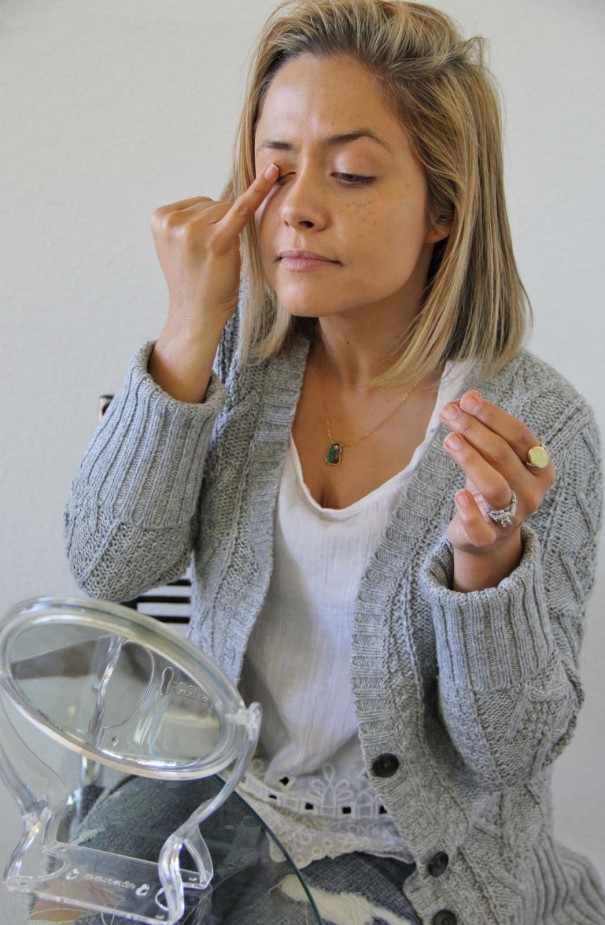 Jewelry found here.
I began with a primer, concealer over problem areas and a light foundation so freckles still poke through.  Then I got started on my eyes.  Lacey explained that sometimes we can get more precision if we use our pinky finger to apply the shadow in the corners of the eyes rather than a brush.  It felt super awkward at first but I quickly got the hang of it.  I applied the lightest of the colors (Amber Blaze mineral eye color) to the inner corners of my eyes and across my lower lid about 1/4 of the way across. Note where my pinky finger is in the photo above, and that is how far over I went with the Amber Blaze. Next I applied the Copper Glow mineral eye color to both sides and the tip of an eye shadow brush.  Lacey taught me to tap off the excess powder using the side of my hand so that there isn't a bunch of residual shadow in places it shouldn't be on my face.  Such a simple tip, but something I had NEVER thought to do before–and it made a big difference.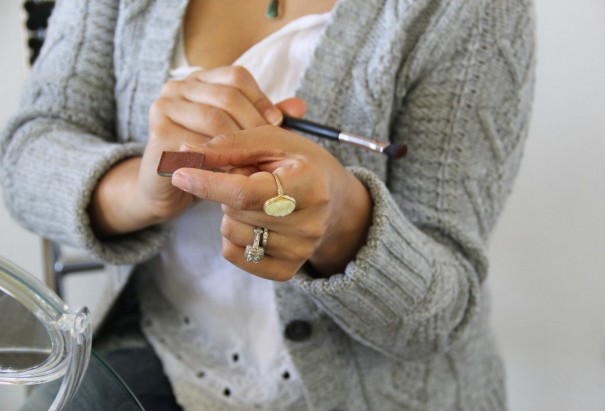 I applied the Copper Glow to the remaining 3/4 of my lower eye lid (below the fold).
It didn't have to be perfect because I knew I could do some touch ups at the end. Also, let this photo serve as a reminder about how important an eye brow pencil can be, yikes!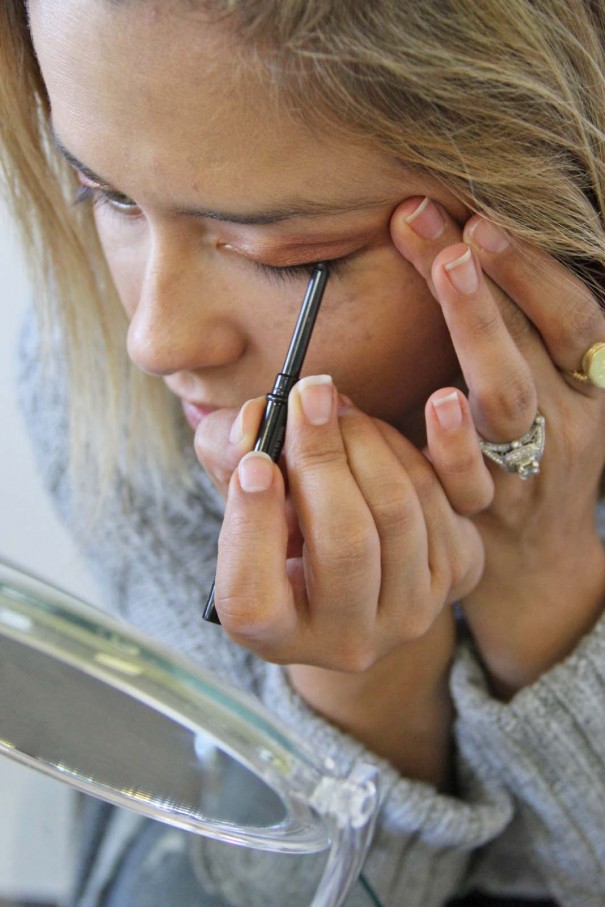 Next was eye liner time–the part that always stresses me out.  But Lacey walked me through each step and suddenly it didn't seem as overwhelming.  This Mary Kay® eye liner crayon also made the job way easier.  It goes on perfectly smooth and has a built in sharpener to help you always keep the tip at a perfect point.  I pulled my eye lid sideways (see above) and began with a thin line–starting from the inner corner and working my way out.  Lacey said that the thickness you decide to make the liner can often reflect the occasion or time of day.  Thinner eye liner is perfect for day-to-day wear. Thicker liner towards the outer corner of the eye can be great for date night and a nice dinner.  Because I was wearing this look during the day to run errands with the kids I decided on a thinner line.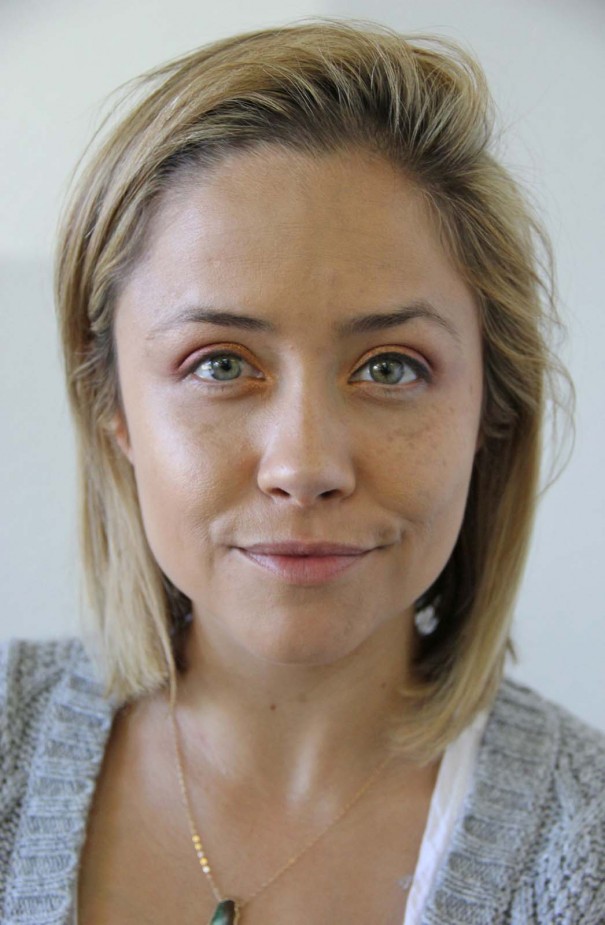 You can already see the difference the liner is making to help my eye pop (one eye has the liner and the other doesn't).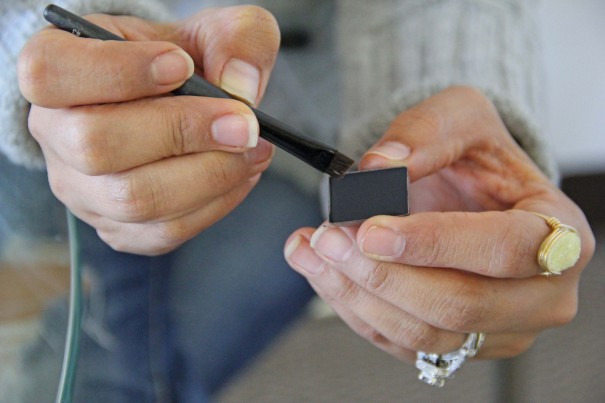 Next I took a liner brush and applied the fabulous Coal mineral eye color exactly over the eye liner on my lid.  This was a brand new step for me and the secret I had been missing out all these years.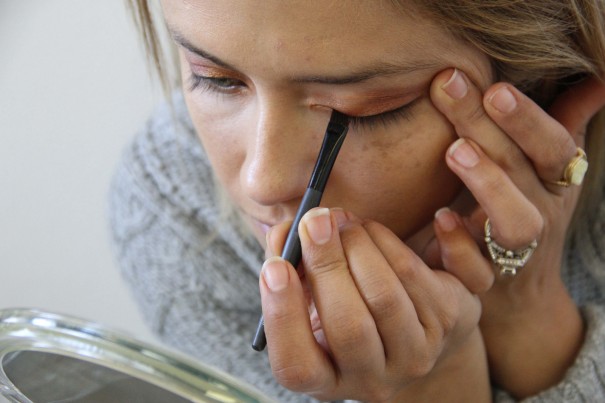 Next is smudge brush time–this is fun! Take a smudge brush and gently blend the liner and Coal together so the eye liner no longer looks like a perfectly drawn line. This really doesn't have to be too perfect either because you can always take a q-tip to any mistakes.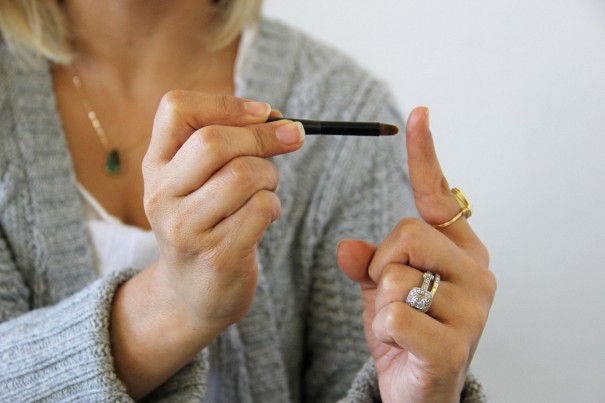 Then I drew in my eye brows.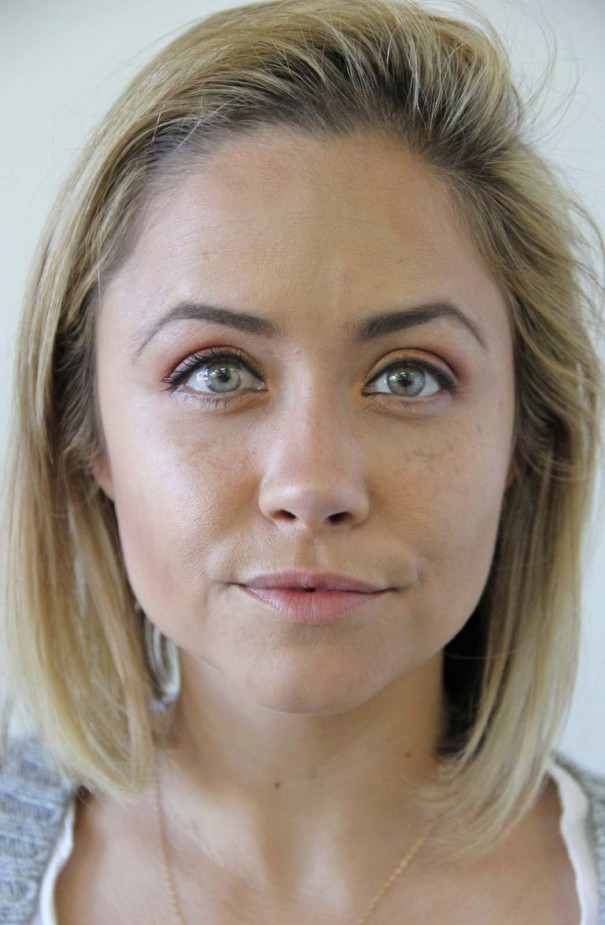 Even subtle eye liner can make a big difference in giving the eyes a pop.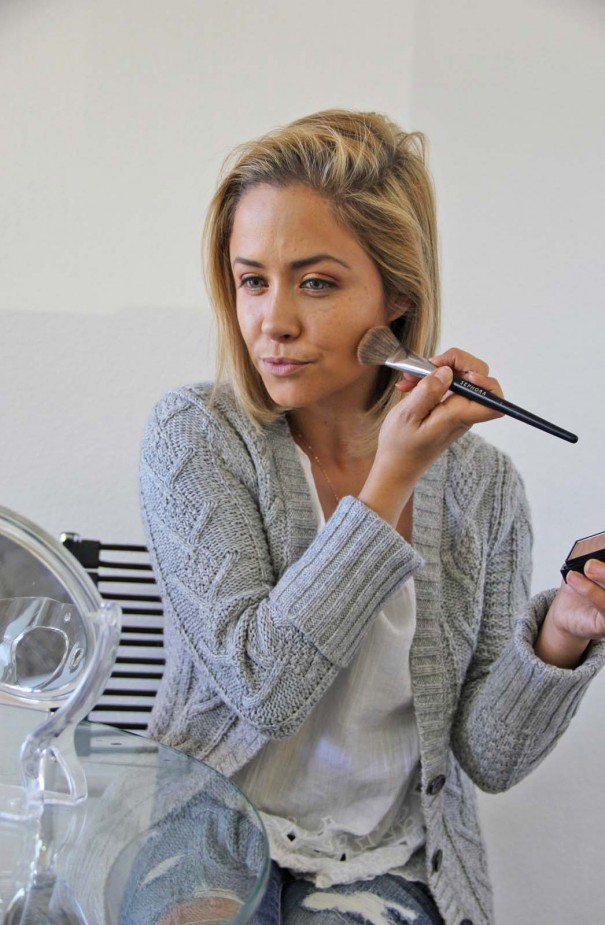 Then I added the light-medium bronzing powder in Claire just below my cheek bones, jaw line and my hairline.  I found this Mary Kay tutorial for applying bronzer and it was SUPER helpful! This bronzer was perfectly subtle while helping to give my chubby cheeks some definition giving the illusion of cheek bones. I also used the Mary Kay tutorial for applying mascara and learned how there are actually 3 steps to putting on mascara.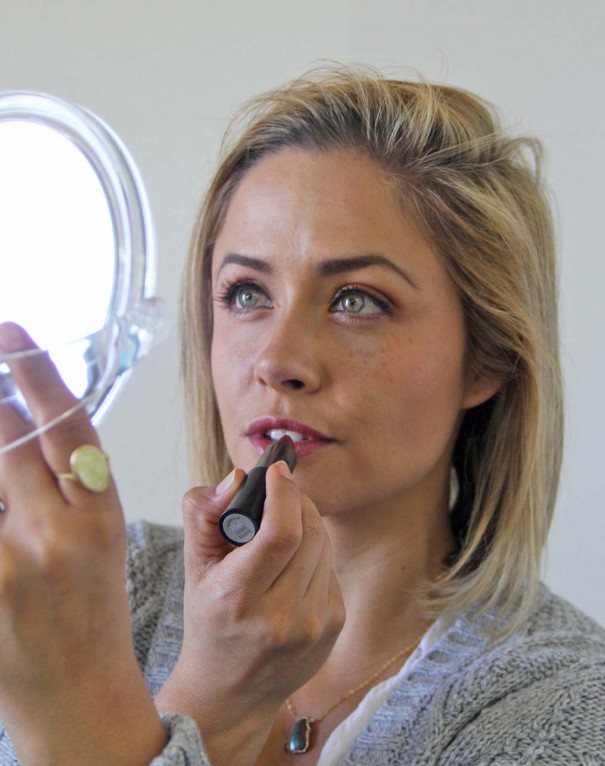 And last, the lip stick–my favorite! I'm a sucker for Mary Kay® lipstick–and this Whipped Berry was just the pop of color my face needed.  And just like that, I look awake and refreshed!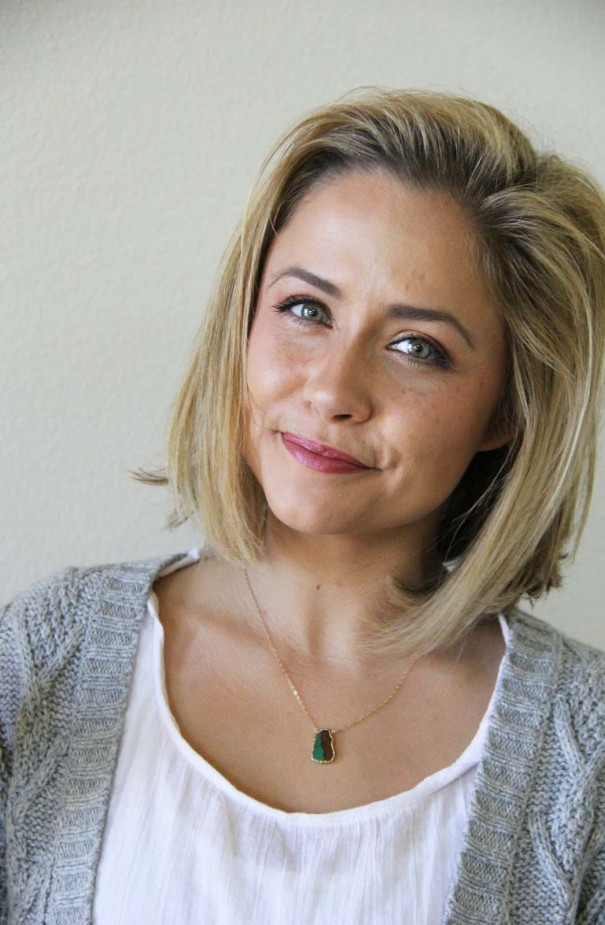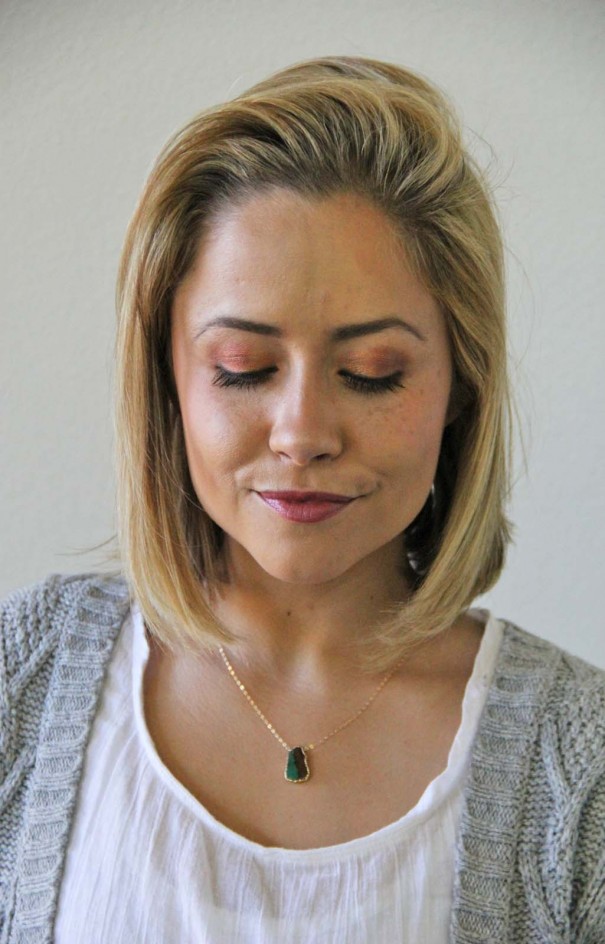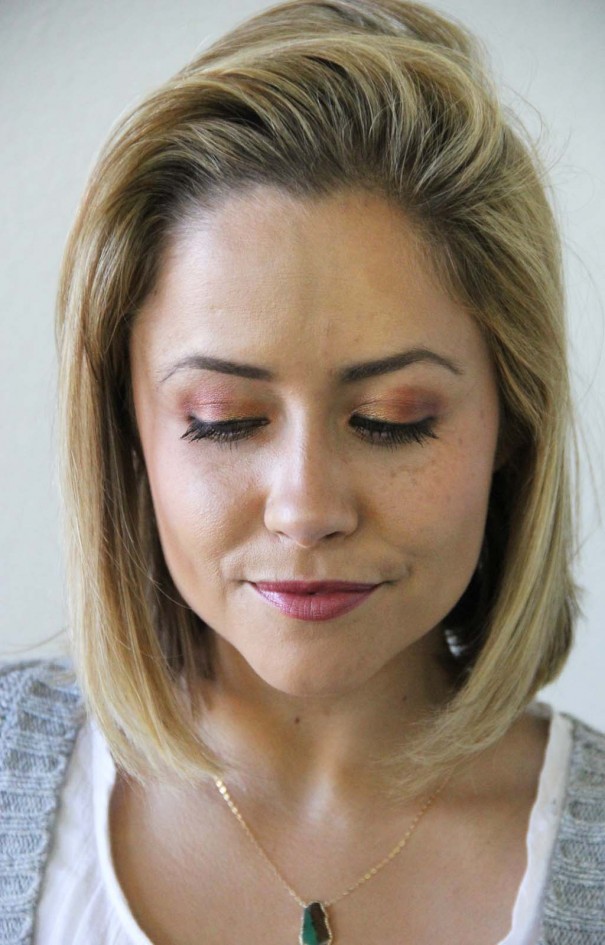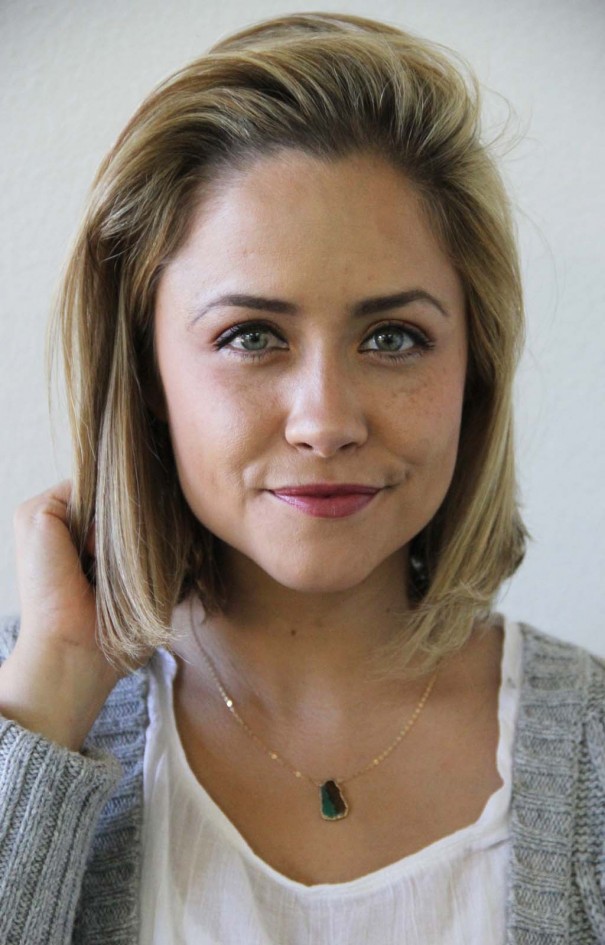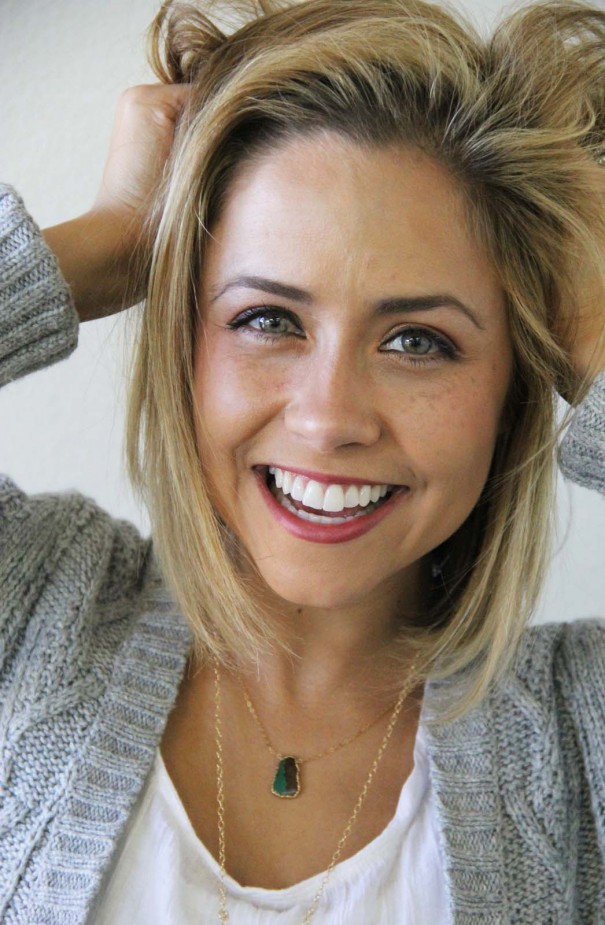 For being a total make up novice, I was totally pleased with how the look turned out.  I never would have thought to buy these eye shadow colors but I LOVED how they turned out so it looks I need to be a bit more brave in my future color selections.  I really want to try this liner next–totally out of my comfort zone but so beautiful!
GIVEAWAY TIME! BlogHer is hosting a Sweepstakes where you can be entered for a chance to win $100 VISA Gift Card, plus A collection of Mary Kay® products + some beauty essentials!! All you have to do is post a comment and let me know what holiday look will you go for this holiday season?
You can also visit Mary Kay® on Facebook, Youtube, and of course, their website for more videos, tips, and ideas! 
Sweepstakes Rules:
No duplicate comments.
You may receive (2) total entries by selecting from the following entry methods:
1. Leave a comment in response to the sweepstakes prompt on this post
2. Tweet (public message) about this promotion; including exactly the following unique term in your tweet message: "#SweepstakesEntry"; and leave the URL to that tweet in a comment on this post
3. Blog about this promotion, including a disclosure that you are receiving a sweepstakes entry in exchange for writing the blog post, and leave the URL to that post in a comment on this post
4. For those with no Twitter or blog, read the official rules to learn about an alternate form of entry.
This giveaway is open to US Residents age 18 or older. Winners will be selected via random draw, and will be notified by e-mail. The notification email will come directly from BlogHer via the [email protected] email address. You will have 72 hours to respond; otherwise a new winner will be selected.
The Official Rules are available here.
This sweepstakes runs from 11/17/2014 – 12/21/2014.
Be sure to visit the Mary Kay brand page on BlogHer.com where you can read other bloggers' posts!