Birth Story and a Change of Heart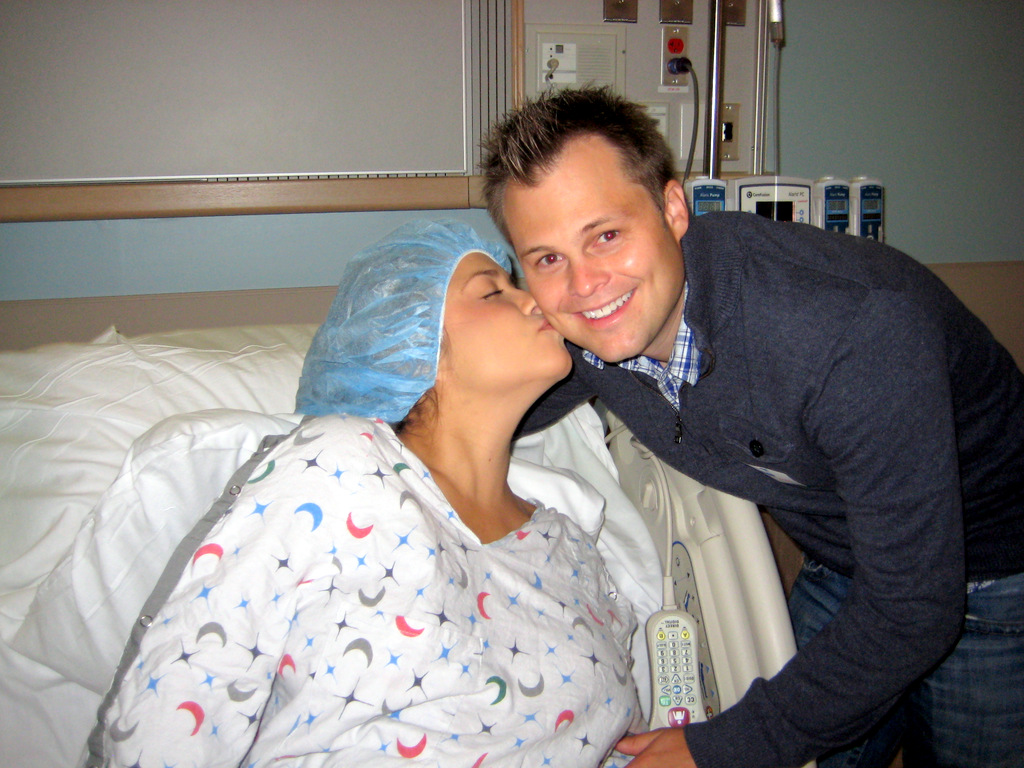 WRITING PROMPT FOR YOU: Write about your birth story and share a link with us in the comments section.
WARNING: This post contains a few graphic photos of my delivery. Nothing too crazy, but just wanted to give you a heads up.
**********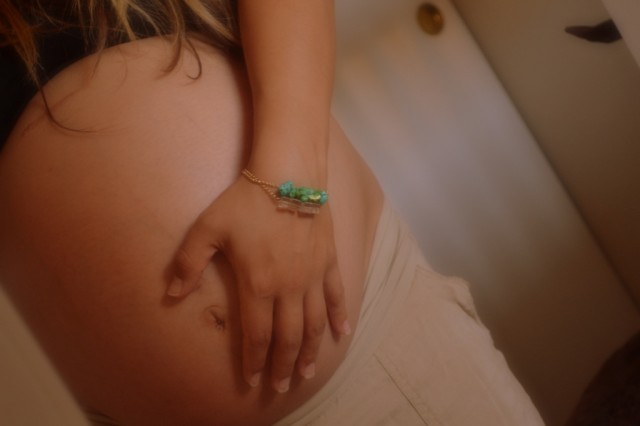 It's no secret that pregnancy is about my least favorite experience ever.
I spend the entire pregnancy counting down the days until I get to hold my precious bundle in my arms and put the misery of the previous 9 months behind me.
And for those of you who have been keeping up with my blog (read here),
then you've gotten an ear full about how Sawyer was likely my last pregnancy…
An earful about how I couldn't imagine spending another 9 months hunched over a toilet, with a severe migraine, repelled by the smell of my husband and too sick to play with my kids.  Pardon my french, but those conditions basically equate to my idea of a living hell. And I've lived it, twice.
Even on the day that I walked into the hospital for my scheduled c-section…
Even on that day, I was adamant that this would be my last pregnancy.
Only one kid into this whole business of parenting and I was already tired.
Happy. Grateful. Humbled. But tired.
And adding another little to the mix certainly wasn't about to increase my energy level.
I remember feeling guilt for the first few weeks after Ben and I discussed this being our last baby.
Guilt that I was being selfish in this decision.
That if only I could suck it up for 9 more months,
then Ben and I could have that growing family we envisioned during those early days of our engagement and marriage.
Eventually the guilt dissolved as I focused on what I thought was best for our little family.
And what I knew for certain…was that my family needed me.
Needed me present and participating in life…in their lives.
Not slumped over on the couch wishing the minutes away.
Not depressed despite the growing miracle in my tummy.
They needed me happy, healthy and engaged in their lives with a smile on my face.
So it was decided.
Sawyer = last baby.
And we were going to embrace it.
****
Now enter day of Sawyer's birth.
(excuse the rather long and detailed account of his delivery)
My mom picked me up at 5:30 am while Ben dropped Wesley off at a dear friends house for the day.
I hadn't slept a single minute the night before.
Having a c-section is a bit different because you get to prepare.
You get to shower, blow dry your hair, put on some makeup and then stroll into the hospital fairly relaxed and ready to go.
I had already been through this experience when I had Wesley 3 years earlier, so my emotions were purely excitement rather than nerves.  I knew what to expect from the surgery, and I knew I could handle it.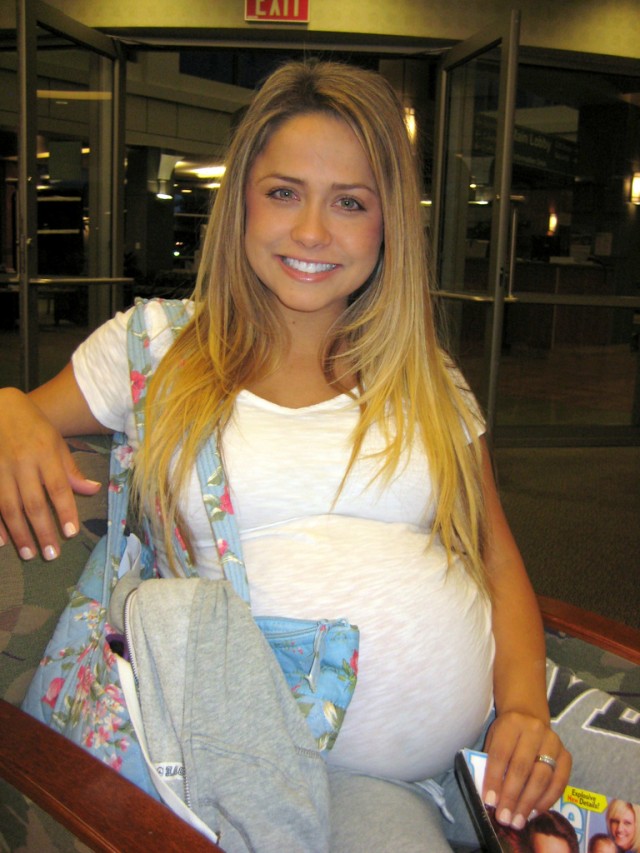 After checking in with admitting, we headed upstairs to Labor and Delivery so they could get me prepped for surgery.  At this point I have been fasting (no food OR WATER) for 12 hours. I'm uncomfortable and cranky and more thirsty than you could ever imagine.  You see, I have this random condition called "diabetes insipidus"—which pretty much means that I need to drink mass quantities of water all.the.time or else I get faint, dizzy, have hot flashes and pretty much become a miserable person to be around.
I was to that miserable-to-be-around stage of thirst and all I wanted was to get that IV of fluids in my arm.  But I was scared. After a terrible experience during my delivery of Wesley involving lots of blood, a blown vein, and 4 different nurses—I was not looking forward to getting this IV put in.  Lucky for me, I had the world's most delicate nurse who put it in before I even realized what was happening. I nearly kissed her–really.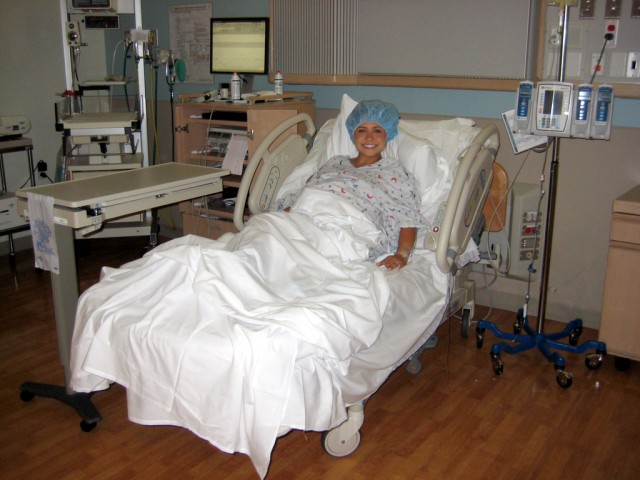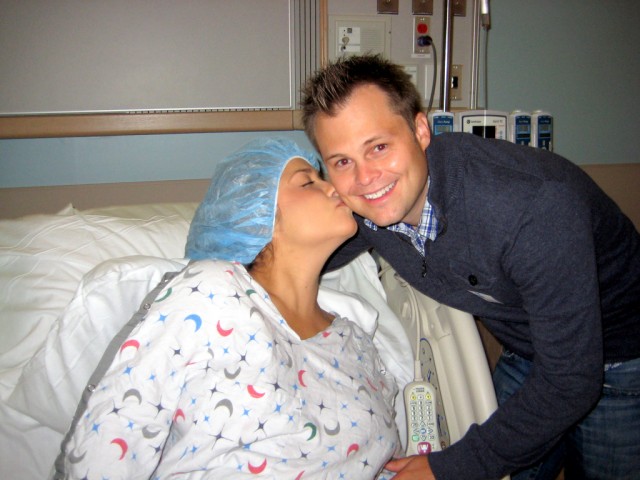 Ten minutes into the IV and I began to relax as I felt the fluids calming my urgency to drink water.
Now I could focus on the excitement of having this baby.
Before I headed into surgery, my doctor and the anesthesiologist went over all the details of the procedure.
Again, I knew what to expect, so I wasn't nervous.
I remember being shocked when I delivered Wesley, because they had him out of my tummy only 7 minutes after we had entered the surgical room. My doctor explained that this time it would take a little bit longer since this was my second surgery and there would likely be scar tissue that they would need to work around.
My Mom and Ben got dressed in their scrubs while the anesthesiologist took me back to get my epidural.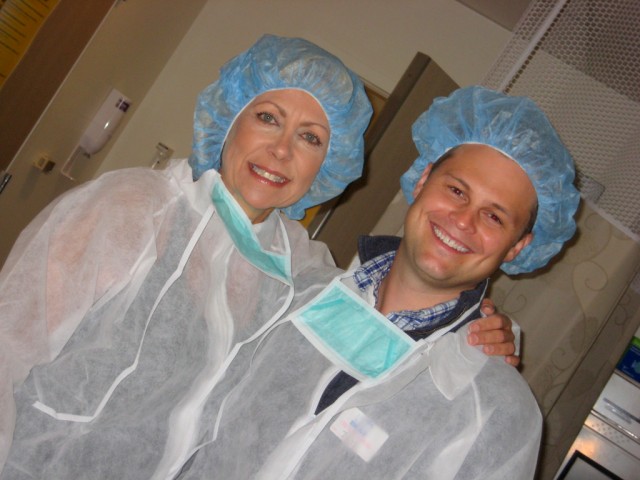 Major props to the anesthesiologist, because I hardly felt the mondo needle enter my spine.
And an added thanks to my surgical nurse for letting me bury my head in her chest and squeeze her hands with a death grip as I anxiously anticipated what I thought would be a painful experience.  Seriously, I would take the pain of the epidural over the pain of getting an IV any day.
A minute later the nurses placed me on my back (since I was already losing the function of my lower body at this point), and they started to drape the surgical curtains around my body–you know, those curtains that ensure I can't see them removing vital innards from my body and setting them on a cold metal tray while they deliver my baby.
So now I'm laying on my back.
I'm taking deep breaths as I feel the numbness begin to swoop across my body.
The anesthesiologist places an oxygen mask over my face and tells me to relax.
But I don't remember this oxygen mask from my last c-section.
I wasn't prepared for this, and for some reason I feel like the mask is smothering my face.
I attempt to adjust it several times, but with each adjustment I feel like it is becoming more difficult to breath.
Me: Is this mask necessary? I really feel like I'm getting more oxygen with it off…
Doc: Yes, its VERY necessary. You will need to keep it on.  We can switch to the tubes that go up your nose if that would be more comfortable.
My thought: how could tubes up my nose be more comfortable and less suffocating???
Me: No, I think I'll stick with the mask.
So I suck it up.
Focus on relaxing my breathing.
Next starts the pinching.
Where the doctors pinch different parts of my body to see what I can still feel before they make an incision.
Now…there's always a bit of anxiety for me at this portion of the surgery.
As if there is going to be some part of my body that doesn't go numb, but is also exactly where they will need to cut me open.
And to compound my anxiety, they're pinching me while I have a suffocating mask over my face.
Ben and  my mom are still in the hallway—not allowed in until right before the first incision is made.
The pinching continues as I very assuredly tell the doctors that I CAN still feel all their pinching.
Me: Shouldn't I be completely numb by now?
Doc: You should, but sometimes it can take a bit longer. We'll lean you back to help speed things up.
And with that, the anesthesiologist sets the surgical table at a reverse incline.
Before I know it, my feet are pointing towards the sky and I can feel the numbness rush through my body and towards my face at the speed of light.
I begin to silently panic.
I feel like an elephant is sitting on my chest.
I certainly don't remember feeling like this last time.
What's going wrong?
I start pawing at the mask on my face as I try to tell the doctor that I'm really having trouble breathing–but no words are coming out.
Where's Ben? I want Ben.
Before I know it, my mask is off and replaced with the nostril thingies.
Ben is by my side, holding my hand and talking to me about planning a dream vacation in Hawaii.
And my Mom is smiling over his shoulder.
I catch my breath.
Close my eyes.
And calm down.
I turn to Ben.
Me: I think I was having a panic attack.
Ben: I know. But you're okay.
Me: How did you know? Did it last a long time?
Ben: I just knew. And it was only for a minute. You're gonna be fine now.
Me: Well, it felt like an eternity.
Ben gives my hand three gentle squeezes.
1. I
2. Love
3. You
I mouth, I love you too.
****
I had never had a panic attack before.
And let me tell you, it's pretty scary.
I imagine it's about as similar a feeling to thinking you're dying as one can get.
Seconds feel like hours as you struggle to regain control over your body and your thoughts.
Lucky for me, my doctors recognized my reaction before I even had a chance to say anything.
They brought Ben in early to give me comfort, altered my oxygen and removed me for the reverse incline position.
I was calmed now and ready to have this baby.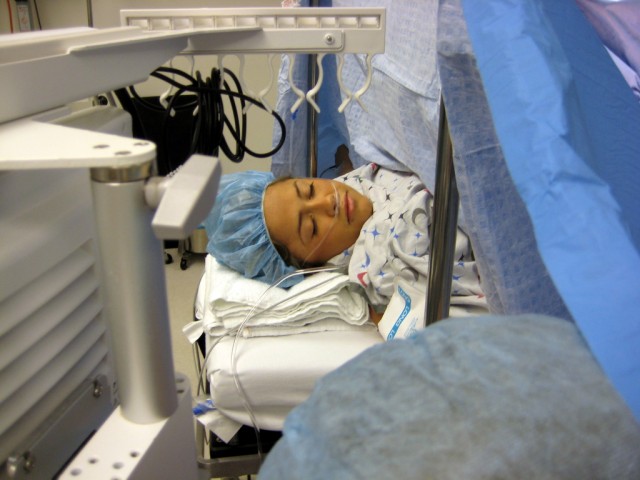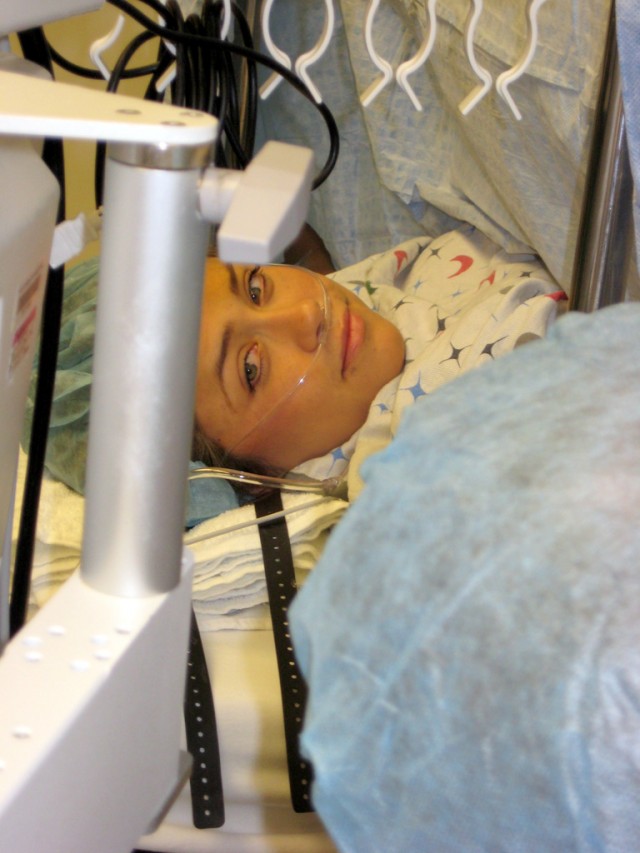 These are my bloodshot panic attack eyes.
****
I knew the first incision had been made when I saw the woozy look on my Mom's face.
It made me smile as I watched her attempt to hide her nerves by snapping photos of the experience.
I was getting anxious and excited now as I knew I was only moments away from meeting my son.
There was tugging, and cutting, and a bit of pushing.
And then…there was that moment.
That moment when I knew he had been pulled from my tummy.
The moment where you wait for those first cries and simultaneously feel more relief than you could ever imagine feeling in your entire life.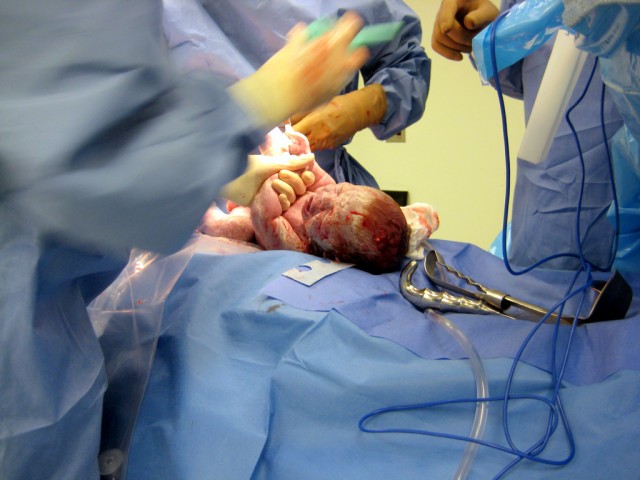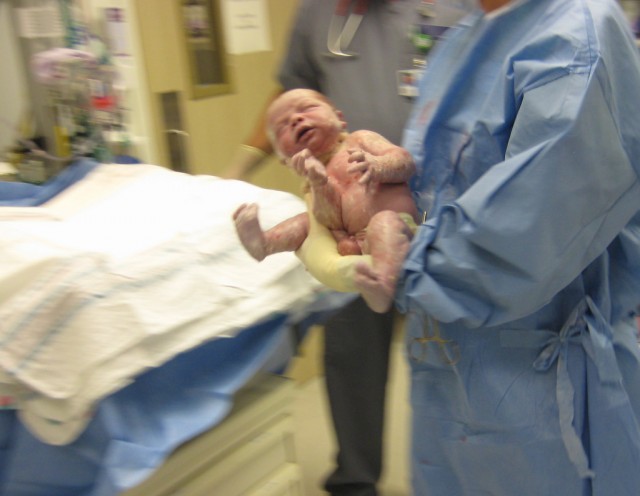 And while I was certainly overcome with relief when I heard those first cries,
I was also completely overwhelmed with another emotion.
Right then, in that moment, when I heard my new son's voice, when I heard his call to the World…
I knew I would be doing this again.
I knew, even before I held him in my arms, I knew I wanted to do whatever was in my power to give him another sibling.
To grow this miracle of a family that we have created.
Ben was still holding my hand as he looked across the curtain at Baby Sawyer.
Ben: He's beautiful Lee. Absolutely beautiful. I'm so proud of you.
I started to hysterically cry.
Like shoulder shaking, nose running hysterics.
This time felt different than with Wesley.
I was more aware.
More appreciative.
Perhaps wiser.
Me: Go be with him. I'll be alright.
He gave my hand three more quick squeezes and rushed off with a smile on his face.
For many planning to have a c-section, this is the hardest part…not getting to hold your baby immediately after giving birth.
And perhaps it's because it's the only way I know, but I actually enjoy these post-delivery moments.
It's in this time that Ben bonds with our son.
Holds him for the first time. Kisses him. Is right along side him through their Apgar testing.
I know my baby is in good hands as I lay there for the completion of my surgery.
And while sure I'm anxious to have him in my arms,
I take this moment to process the last 9 months.
To take it all in. To give thanks for my blessings. To feel grateful. To say a prayer.
To imagine life with this new little person in my home and in my heart.
These moments are precious and sacred to me,
and they are only made that much more special when Ben walks over and places my son in my arms.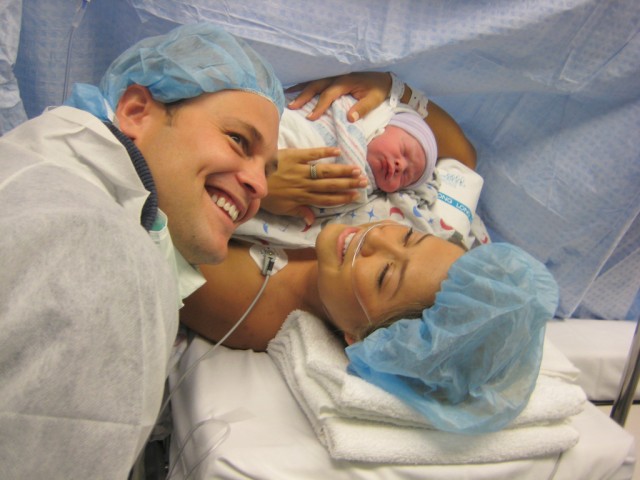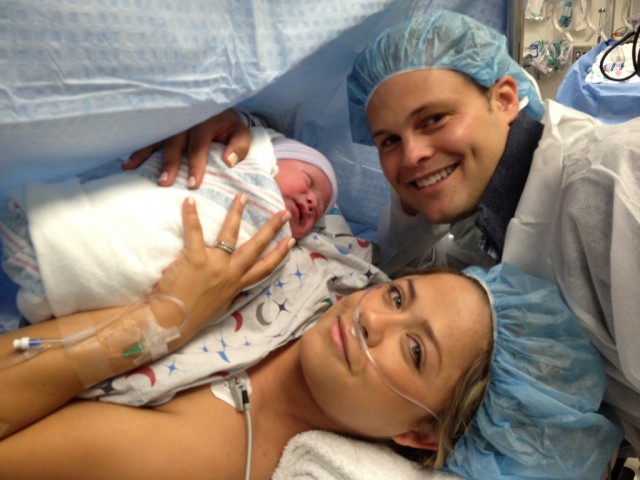 He's perfect.
And I wish time would stop. I wish I could enjoy this next minute for hours–days even.
Because in these 60 seconds, I am meeting my son. Kissing his lips. Taking in his sweet smells.
And completely realizing that my joy in this moment is far superior and overpowering to the misery I experienced while pregnant.
Totally worth it.
And I would do it all over again. and again.
I WILL do it all over again–God willing.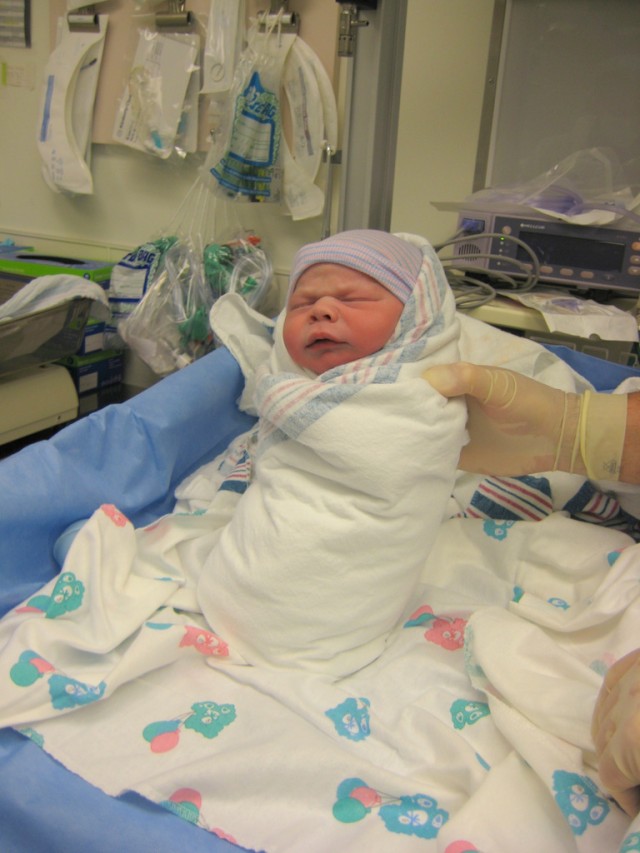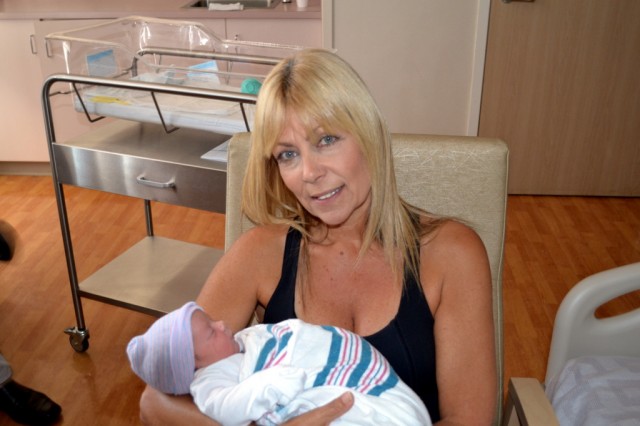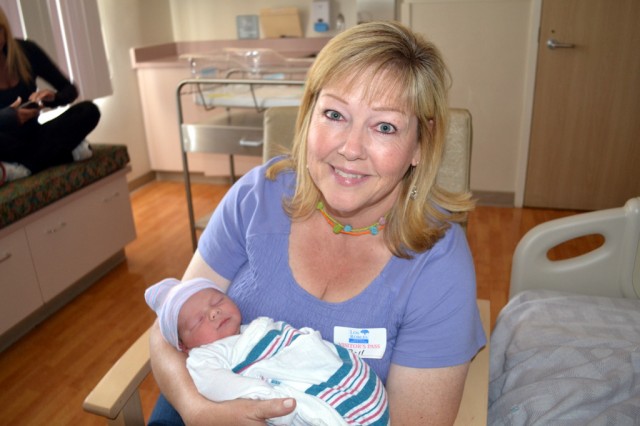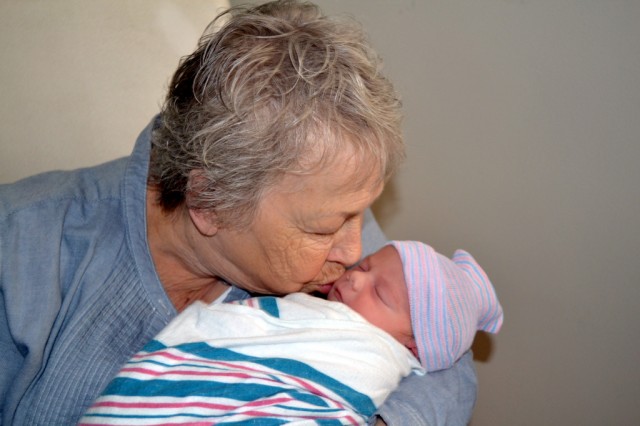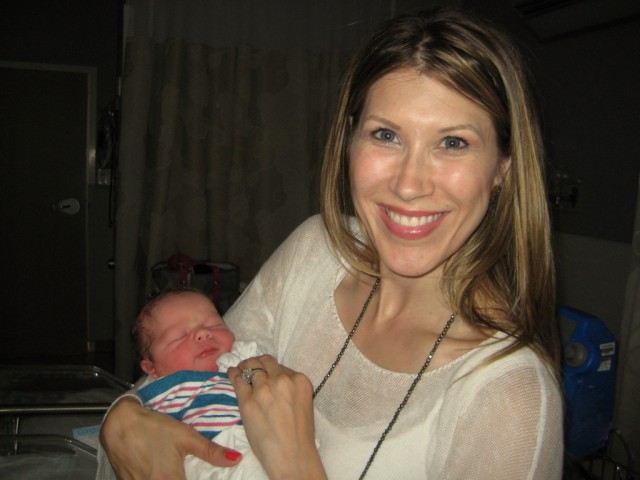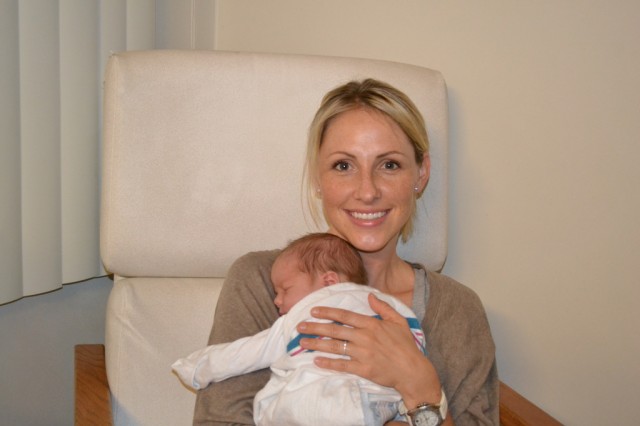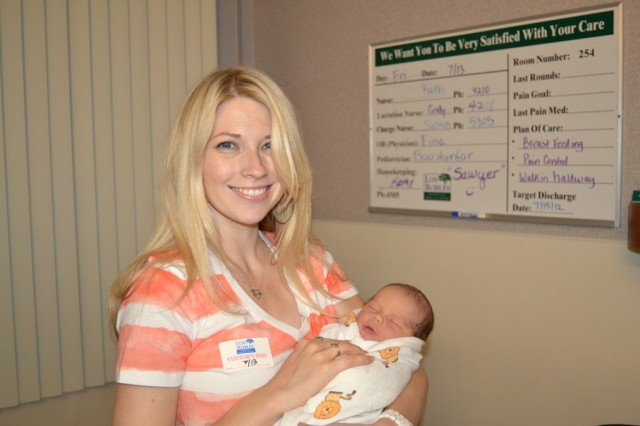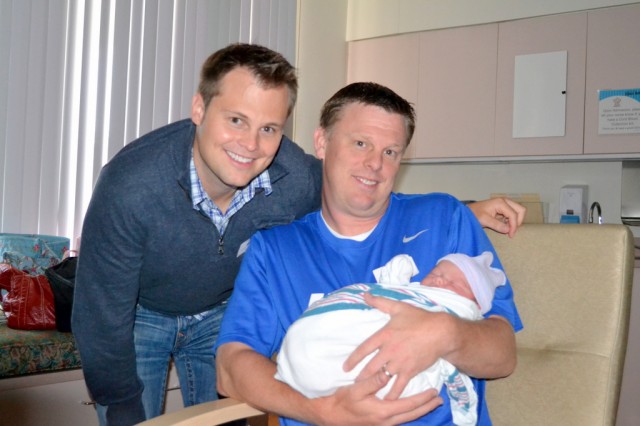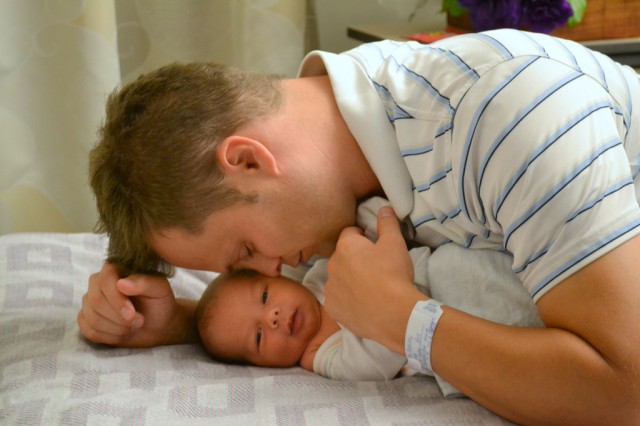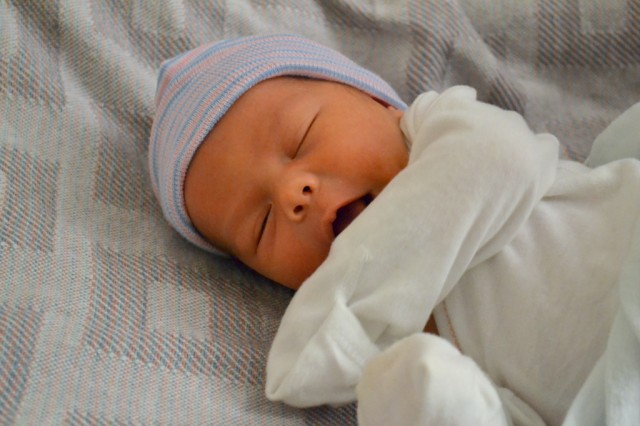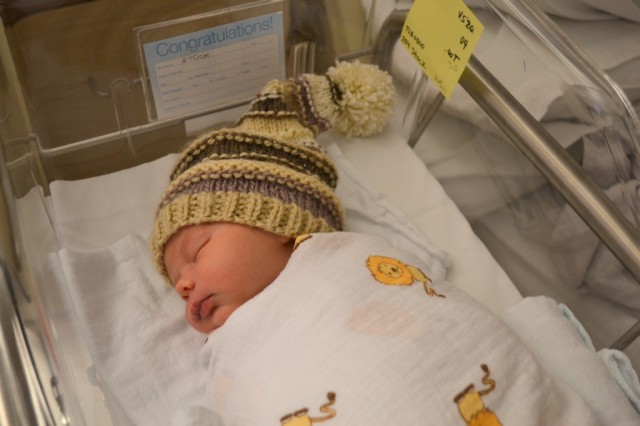 ****************
Congrats to the winner of the River & Bridge giveaway!
Kara from Mine for the Making, you WON!
As far as the announcement I selected, with your help, I've narrowed it down to these two: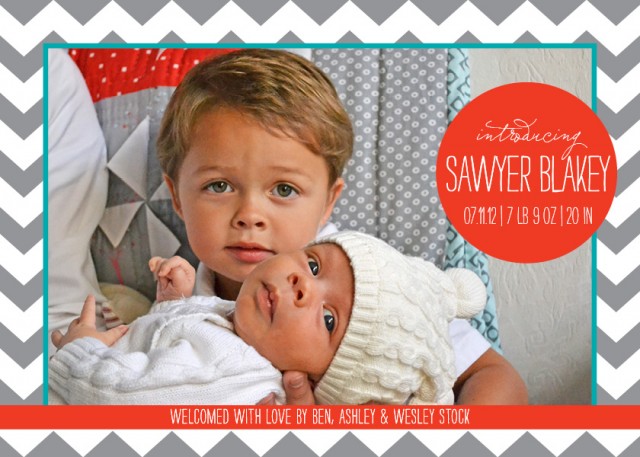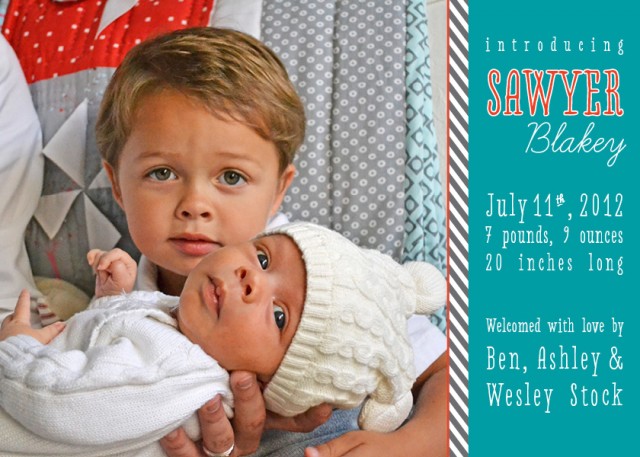 ************
Also, for those looking for a great deal on a Silhoeutte, I've got one for you!
Use the discount code: LMM
The discount gets you 1 CAMEO, 1 Silhouette scraper, 1 Silhouette hook, 1 Silhouette spatula, and 1 $25 download card for the Silhouette Online Store for $269.99
If you already have a CAMEO, they can get a bundle with 1 Silhouette scraper, 1 Silhouette hook, 1 Silhouette spatula, and 1 $25 download card for $29.99!
Offer valid through August 22, 2012.
**GO TO THIS LINK TO USE THE DISCOUNT**
I can totally vouch for these awesome vinyl tools! I used them to make this fun new sign. I used the vinyl to create a stencil for those rad chevrons in the background.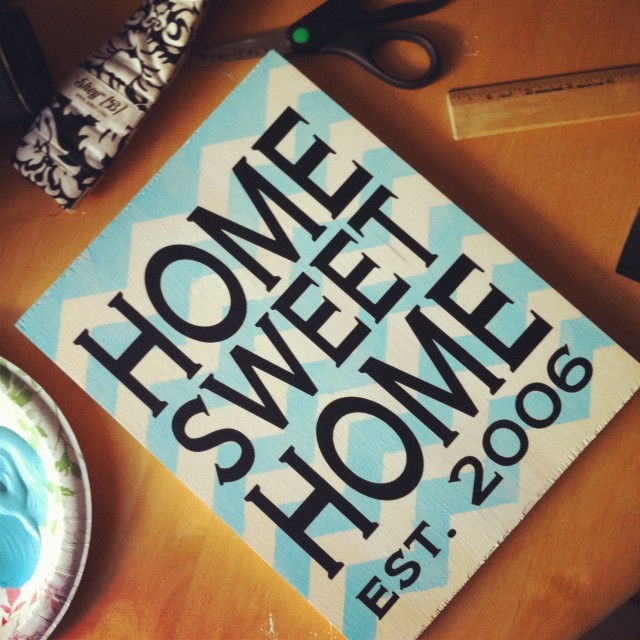 Tutorial coming soon.
Bottom line: I love my Cameo Silhouette, and you would too!