Cinnamon Brown Sugar Donut Recipe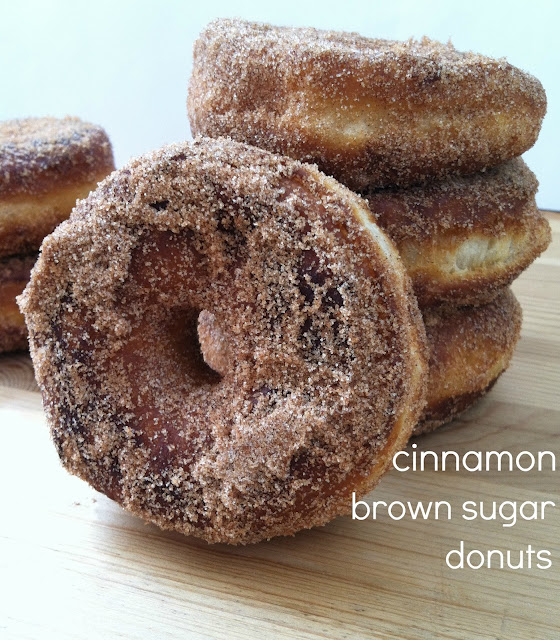 Hi LMM readers! I hope you have been enjoying your summer. I know we have, and it is hard to believe that it is nearly over! I'm happy to be here today to share another crazy awesome recipe! I'd like to start this foodie post with BRACE YOURSELVES PEEPS….this one is about to rock your world! If you follow me on Instagram or Twitter you know that donut dates are a weekly event in our household. Donuts are not something we take lightly and one time we had them for dinner. I've been known to lick my toddler's left donut crumbs off his Toy Story plate…honestly I have issues. However, that is another blog post for another day.
———-
I've come to realize that most things are better smothered in chocolate. I've started dipping my spoons in chocolate and storing them in the freezer. I pull those sweet suckers out and stir my hot chocolate and coffee with them. Anyways, my love for chocolate has extended it's self into breakfast. It has morphed into muffins. Here are step by step directions to achieve chocolate greatness come morning time. Didn't someone once say breakfast is the most important meal of the day? Well now it's the best meal of the day. Follow along friends…this one is a goodie.
This recipe is beyond easy and super fun to WOW your family, friends, guests…whomever really. Bottom line is they are to easy NOT to make. Get your kiddos in the kitchen with you on a weekend morning to create the "Best breakfast ever momma!!".
Cinnamon & Brown Sugar Donuts (with Maple Glaze)
What You Need
(I used all natural and organic ingredients, but use whatever you have or whatever is easiest)
`1-2 cans of biscuit dough (You know the Pillsbury kind? We found ours at Whole Foods, but they are at every store possible)
`1 cup of brown sugar
`1/4 cup cinnamon
`2 1/2 cups canola oil
`1 cup powdered sugar
`4 tbs maple syrup
Directions
`Begin by heating the oil in a small skillet (deep enough for the oil) The oil should be at 360 degrees to cook the donuts through.
`Cut holes in the biscuits…and make them into donuts. (fry the holes for some seriously delish donut holes…I call those chef perks. Because I eat them before anyone has a chance)
`Mix the cinnamon and brown sugar
`I fry one donut at a time. To keep the oil temp high, and mostly because I am not coordinated enough to do much at one time.
`Try and fry each side to a golden brown. For me that's about 2 minutes on each side. But keep an eye on them. They brown quickly, and you might have to adjust the oil temp a bit to get it right.
`Once they are golden brown, dunk them straight into the cinnamon sugar mixture. Coat well. Continue until all the donuts are fried.
`For the glaze, mix the powdered sugar and maple syrup together. If it is to thick add more syrup. If it is to thin add more powdered sugar.
`Once the donuts are warm enough to eat…Enjoy!!
If you enjoyed this recipe and would like to see others check out our blog Baby Boy Bakery.
Or click here to see her fabulous Chocolate Banana Hazelnut Muffin Recipe.
Or here to see her mouth watering Lemon Blueberry Scones Recipe.
——-
My name is Jacqui and I am the author of Baby Boy Bakery. Over in my neck of the woods I'm the 'health nut' who bakes a ton of desserts. I usually eat the majority of them…sometimes more than once a day. But who's counting? (My butt probably!) I do have a passion for eating organic and keeping leafy greens a daily staple in my family's diet. However, lets face it…I make desserts for a living and a girl likes to indulge every so often. (Key word being often) So, I bake with only organic-all natural ingredients and call it even. I've come to realize I just like to eat. Period.
You can follow Baby Boy Bakery here too:
Facebook  /  twitter  / pinterest