Our Love Story: Part 6, After the Kiss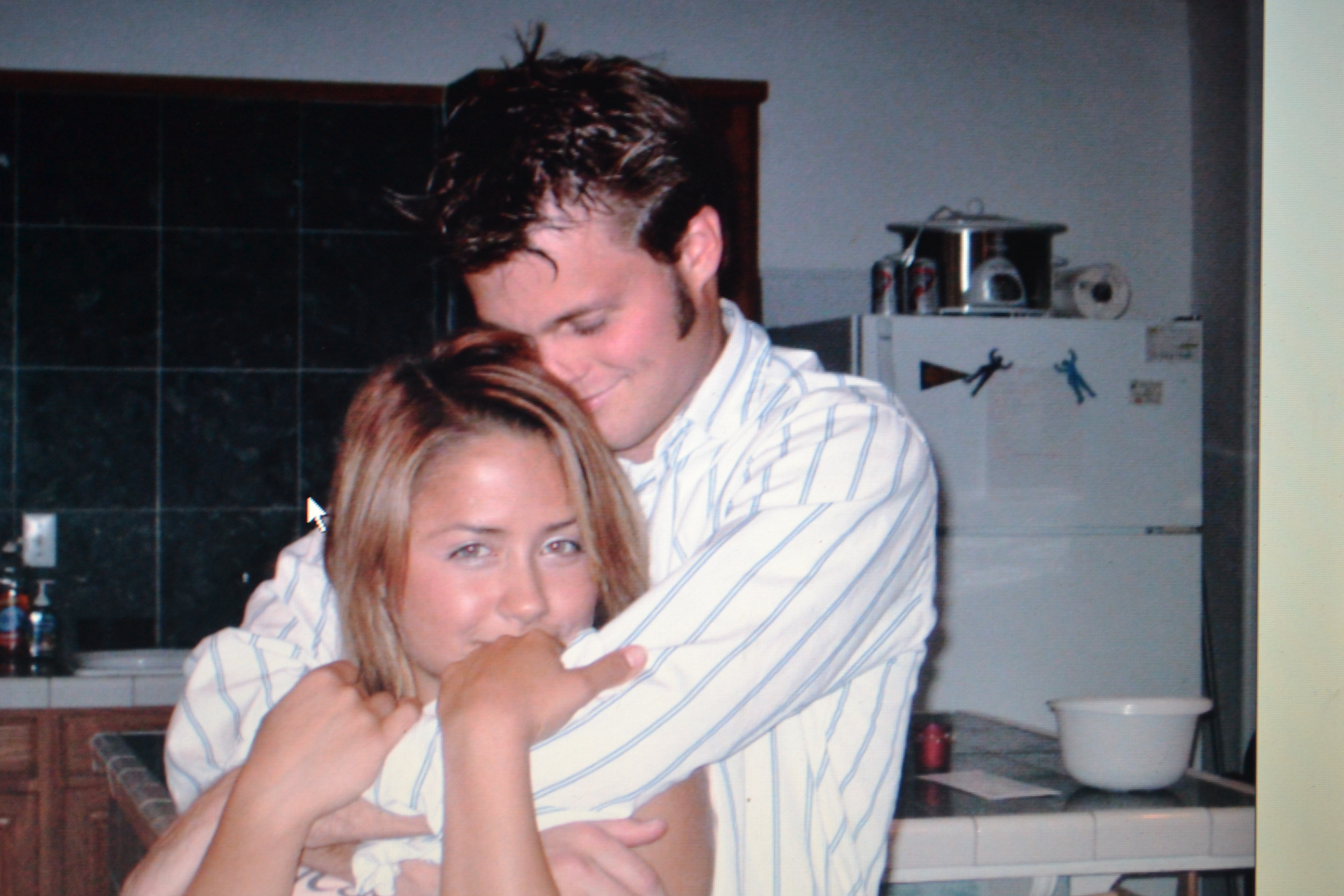 Here's the thing about this love story of ours. It's long. And drawn out. And mushy gushy. And even a bit cheesy. But it's true. And I've decided to take my time writing it, capturing all the special details of those moments I never want to forget. So if mushy-gushy, cheesy love stories aren't your thing, I totally get that.  Just know that I'm writing this as a gift—to my family, and my children, and their children—and also, for Ben and me—so that on those days when the kids are screaming, the laundry is overflowing and the bills are rolling in…on those days when it all just seems so hard, we'll have this to remind us of those first moments when we fell in love. And if sappy, detail ridden love stories are your thing, well then you've come to the right place. All previous chapters can be found here.
I've always believed that there is a lot to be said for a first kiss.
There's the build up–the anticipation.
Will it be like I imagined?
Will sparks fly?
Will he be sloppy?
Or, worse–a lizard kisser?
Or will he kiss like the guy of my dreams?
The kind of kiss that is so perfect, so magical, that you're certain you won't need to kiss any other guy ever again…
In a way, it can make or break the progress of the relationship.
You don't really recover from a bad first kiss.
It's not exactly like you tell yourself, "Eh, it's ok, we can work on that".
It kinda just needs to work on its own.
So you can imagine , as I went up on my tip toes and closed my eyes…
just how badly I wanted this first kiss to be everything I had ever hoped for.
It felt like an eternity that I was up on my toes waiting for his lips to meet mine.
But when they did…
My heart bottomed out.
My knees became weak just as I got a simultaneous shot of adrenaline.
It was the kiss that put all other kisses to shame.
No practice necessary–perfect on the first try.
We pulled apart and I came down off my toes, rocked back on my heels, and had to make an extra effort to not fall over.

Me: That was nice.
Ben: Yes, it certainly was.
And before I could say another word, he wrapped his hands around my waist and pulled me in for another, longer, even better kiss than the first.
Ben: I'm sorry, I don't know what came over me.
Me: Don't apologize.
We both smiled, knowing he wasn't really sorry.
Ben: I should probably be heading back–my brother expected me home a while ago.
Me: I had a really good time.
Ben: Me too. I'll see you tomorrow?
Me: Yep, I start work first thing in the morning.
Ben: Perfect.

He gave me a soft kiss on the forehead, turned and walked out the door.
I smiled and closed the door gently behind him.
Perfect, indeed.
______________________________________________
Sunday:
I didn't sleep Saturday night.
Not even for a minute.
I was too busy reliving all the details of our date–eager with anticipation to see him the following morning.
At 7:00 a.m. on the dot, I jumped out of bed, freshened up and reluctantly put on my frumpy work attire.
At least our date was his proof that I did in fact own a normal wardrobe.
I gave an extra spritz of my Ralph Lauren Romance perfume and headed out the door with a hot chocolate in hand.
The butterflies were alive and fluttering in my tummy as I walked to work that morning.
It was everything I could do to keep from sprinting. Or even squealing with excitement.
I pushed through the gym doors with a sense of triumph—this was going to be a good day, I just knew it.
And I was right.
***
Aside from my supervisor, D, I was the first one into work that morning.
You could still hear the buzz from the massive overhead lights as they flickered into full brilliance.
D looked at me over his shoulder as he wheeled out the basketballs.
D: Sooo.  How was last night?
Me: What do you mean?
But I couldn't keep the smile from forming on my face.
D: You know exactly what I mean. All the coaches were talking about it after you left.  He asked you out, didn't he?
I nodded enthusiastically, but pushed my lips together in an effort to keep from spilling the beans.
D: I don't need details. It's written all over your face. Just be careful, don't forget he leaves soon…and I'm not looking forward to those tears.
Me: I won't cry. I'm looking at this for what it is—a Summer love.

Even as I said it, I knew it was a lie. And D's reminder of Ben's impeding departure was like a knife in my side.
D: Yeah, sure. Well, enjoy the final days of your Summer love.
***
About 30 minutes later I spotted Ben's brother, Matt, across the gym going over some papers on his clip board.
That meant Ben was here too, and I was going to find him.
After searching the entire bottom floor, I finally found him upstairs taping down the court boundaries.
He was hunched over, back to me, focused on the work at hand.
Three other coaches were spread out over the gym floor working on the same project.
Looking back, I am completely unsure of what possessed me to do what I did next.
I suppose love will, in fact, make you do silly things.
In a matter of seconds, I had tip toe/sprinted across the gym floor until I was standing directly behind him.
I leaned over,
tapped him on the shoulder,
and as soon as his unsuspecting face turned around…
I planted a kiss right on his lips.
Right there, in the middle of the gym.
I could feel his cheeks turning red as I held our kiss a moment longer.
And then I pulled away, smiled,
and as quickly as I had run up behind him,
I turned and skipped off.
Clearly I had been watching too much Dawson's Creek.
***
12:00 p.m.
I sighed loudly and shrugged my shoulders as I slumped into the chair next to D's desk.
D attempted to ignore my dramatic entrance, but after my third consecutive sigh he gave in.
D: What is it?
Me: Well, I thought we would have lunch together today. But I haven't seen him since I ki…I mean, uh, since I said hi to him this morning.  It's like he's disappeared.
D: I think his brother has had him running errands around town all day.
Me: Yeah, and I can't help but feel like that's deliberate.

D shifted his chair ever so slightly in my direction.
D: I think you might be right.
I was caught off guard. I didn't expect him to agree with my wild theory.
Me: Wait. You do? I thought I was imagining it. Do you really think his brother has been keeping him away from the gym on purpose?
D: I think his brother doesn't want to see him get hurt.
Me: But I'm not gonna hurt him…
D: Sweetie, you can't help it.
***
Sure enough, the entire day had passed, and other than our impromptu morning kiss, I hadn't seen Ben all day.
At this point, minutes and hours were all we had left together, and as each one passed a part of my heart began to crumble.
Feeling a bit down, I moped into the deserted conference room to start taking out the trash before my shift ended.
Lower your expectations Ashley, be realistic–I told myself as I dumped the bin into my industrial garbage bag.
I was heading to the next bin when I heard the door open behind me.
It was him.
Ben: Well, there you are!

Before I could say a word he swooped me up into the cradle position and gave me a quick yet perfect kiss.
Our faces were only inches apart.
Ben: I need to see you tonight.

I certainly wasn't going to argue with him.
Me: What did you have in mind?
Ben: I'm having dinner with my brother and his wife, but I'll call you after?

I tried not to look disappointed that we wouldn't be having dinner together.
Me: Sounds like a plan.
Ben: I'll call you.
And with that, he set me back on my feet, gave his customary kiss to my forehead and left the room with a dimpled smile.
I stood, staring blankly as the door closed behind him.
Oh boy.
I was in trouble.
In my mind this was nothing more than a week long fling—a Summer love, as I had explained to D.
But my heart knew better.
It was preparing to get broken…
***