Life Should Be A Party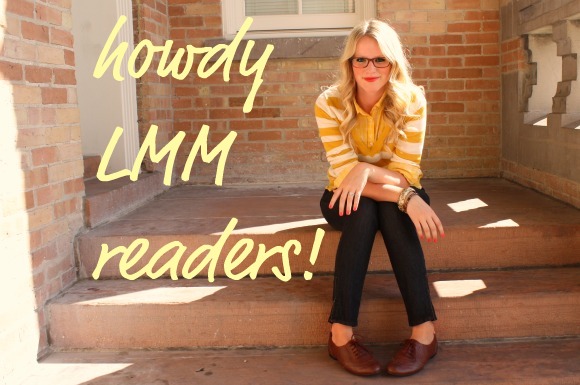 You
must
meet Alycia. She's blogging with us today and she's about the prettiest gal ever. And she wears lots of yellow, which means we are destined to be besties. Be sure to stop by her
blog
. She's in the middle of a 30/30 challenge (where you pick 30 items from your closet and you can only wear those items for the next 30 days) and I am totally inspired–I just might have to do it next month…
And here's Alycia:

What on earth do you blog about when someone like Ashley from LMM asks you to do a guest post?! I have had NO IDEA?! haha But I am beyond tickled to be here that's for sure.
Yes I just said tickled.
So firsts things first, I guess there should be an introduction. I am Alycia, the hubberz name is Trevor.  You can learn more about us
here.
Like most blogs, mine was started to document our life.  We think life should be a party by the way… hence our blog title,
Crowley Party
. Since then my blog has grown into a creative outlet where I can share the things I love 🙂 food, fashion, crafts & anything else life has to offer me!So what should I share with you?! I figured there is nothing LMM readers love more then a fun craft. This craft is SUPER easy… maybe even too easy to actually call it a craft. It is more like a simple refashion. So anyone out there who doesn't think they can do creative things
(what bogus by the way!)
here is something fun and super simple 🙂
I love the direction jewelry has taken the last several years. Instead of just the cookie cutter pieces you could pick up at different department stores, jewelry has evolved into something so much more creative! I am constantly seeing new innovative ways to wear things. While I was home last year I was rummaging through the drawers in my old bedroom. I still have odds and ends left in that room, and stumbled across some old jewelry I had from the pre-teen years. I found this fun bracelet made of different colored bobble balls. Then I thought about how I could possibly turn it into a necklace. 

So here you all go, an easy peasy way to turn an old bracelet into a necklace… 
Bracelet Necklace
What you need:
 1. Bracelet that has two open hooks/holes on the end of it.
 2. Ribbon (whatever size you prefer, mine was a thicker ribbon.)
 3. Scissors.
What to do:
Do I even really need to explain this? Well here you go…
 1. Make sure bracelet is unlocked from hook.
 2. Take ribbon and weave through one loop (my ribbon was thicker so I folded it in half)
 3. Make it as long as short as you like, and then cut. Take this piece and create another strand  of   ribbon to equal length.
 4. Loop each strand of ribbon through a loop at the end of each bracelet.
 5. Put the now necklace around your neck and tie a bow with the ribbon to secure the necklace
 VOILA!
 You can use all kinds of things… don't have a bracelet around?
How about another necklace?!
Here is how I did it with my pearl necklace.

& the beauty of it is, you can still take it apart and use your bracelet or necklace if you want to!
So go dig through your jewelry and be creative 🙂 I would love to see all of your takes on this!
Thanks for letting me stop by today!