Dear 22 Month Old Baby W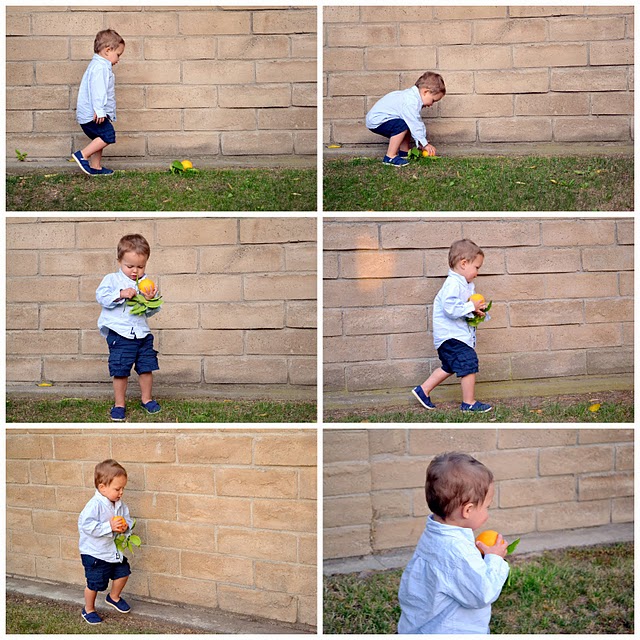 Dear 22 Month Old Baby W,
For Mother's Day this year I got you a present.
I guess that's how this whole parenting thing works.
Even on holidays focused on Momma,
you are the one who ends up getting all the goodies.
But you know what,
getting you presents makes me happier.
Usually.
So this time, best of both worlds…
I got us matching presents.
Yours are blue, mine are red.
The day they arrived in the mail we took them out for a test spin
on your daily adventure walk.
It's safe to say you love your new TOMS.
And there's something I want you to know about these new kicks,
aside from their perfect fit and
how scrumptiously adorable they make your pudgy foot look.
I want you to know that wearing these shoes means you are making a difference,
for other kiddos out there who aren't as lucky as you.
Because for every pair of TOMS we buy,
TOMS gives away a pair to a child in need.
One for One.
And its important to make a difference.
A part of me has always had a soft spot for little ones
who don't have the simplest of luxuries.
clean water. roof. bed. a parent's unconditional love.
And then, as soon as I became your Momma
my heart grew about 10 sizes
and now I find myself shedding random tears
all. the. time.
as I think about all the babies who aren't rocked to sleep at night,
or read to, or bathed, or fed, or given a decent pair of shoes.
Parenthood will soften your soul,
you'll see one day.
I trust that you will always have a kind heart.
That you will recognize when others are in need
and you will reach out to them with open arms
even when they aren't asking for help.
I already see the beginnings of qualities within you that make me so proud.
I try to remember that those things that drive me crazy at times,
are likely to develop into some of your strongest
and most positive characteristics.
Because, apparently your Daddy was quite the handful as a baby too.
And now he is the kindest,
most patient,
gentle,
loving
and thoughtful man I know.
Your goodnight kisses and morning cuddles
assure me that you are following in his footsteps.
I have big plans for you, my little man.
I don't need you to be rich and famous.
I don't need you to be on the cover of a magazine
or inducted in to the Hall of Fame.
I just need you to be happy.
And to be kind.
And if you are both of those things,
you will certainly make a difference of your own.
Love, Momma