When I met Ben, there were two meals he considered himself an expert at making.
Spaghetti and Foil Dinners.
The first time he cooked for me, he made his Spaghetti.
In all honesty, there was MUCH to be desired. And I remember choking it down with a smile on my face.
The second time Ben cooked for me he made his foil dinner.
From the looks of this meal, I was going to have trouble even faking a tolerance.
Imagine my surprise, when his super simple recipe turned out to be one of my favorite meals–even 6 years into our marriage.
Please note, this meal tastes waaaay better than it looks–I promise!
It's quick, simple, cheap and even perfect as a camping meal.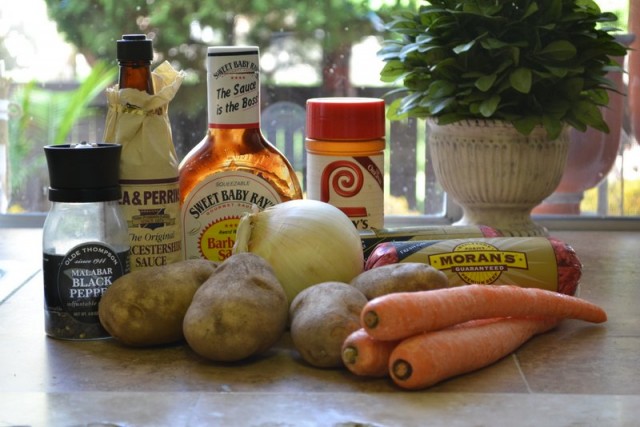 Ingredients (serves 4 people):
1 lb lean ground beef
3 carrots
4 medium Russet potatoes
1 medium yellow onion
Worcestershire sauce to taste (approx 2-3 tablespoons)
Your favorite BBQ sauce to taste (approx 1/4 cup)
Ground black pepper to taste
Lawry's seasoned salt to taste
Cooking spray (such as Pam)
*Optional additions that are also super yummy: zucchini, green peppers, cherry tomatoes, squash, etc.
Step One: Peel and slice your carrots into small bite sizes (see photo for reference).  Dice the onion. There is no need to peel the potatoes–simply finely slice them as if you were making potato chips. It is important to cut all the veges thin so that they cook all the way through on the grill. Set aside.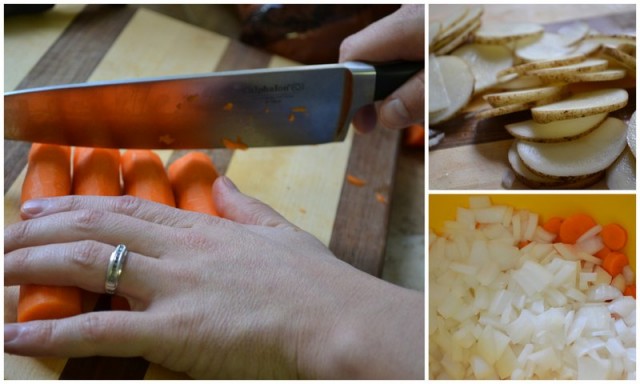 Step Two: In a separate bowl, combine the ground beef, Worcestershire sauce, BBQ sauce, pepper, and seasoned salt.  We use our hands to smash all the ingredients together.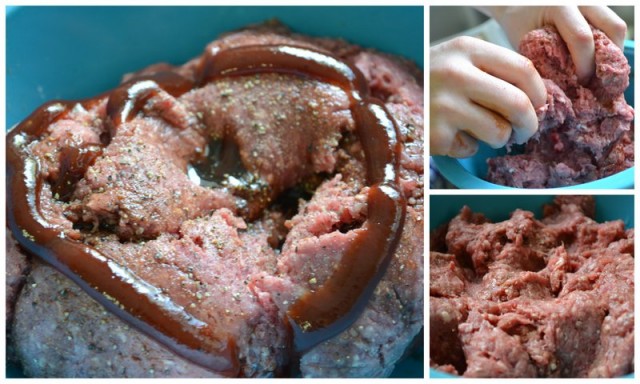 Step Three: Break off 4 sheets of foil, at about 18 inches each.  The four foil pieces will contain each individuals meal, so you can customize the ingredients you include (in case someone doesn't like onions, etc).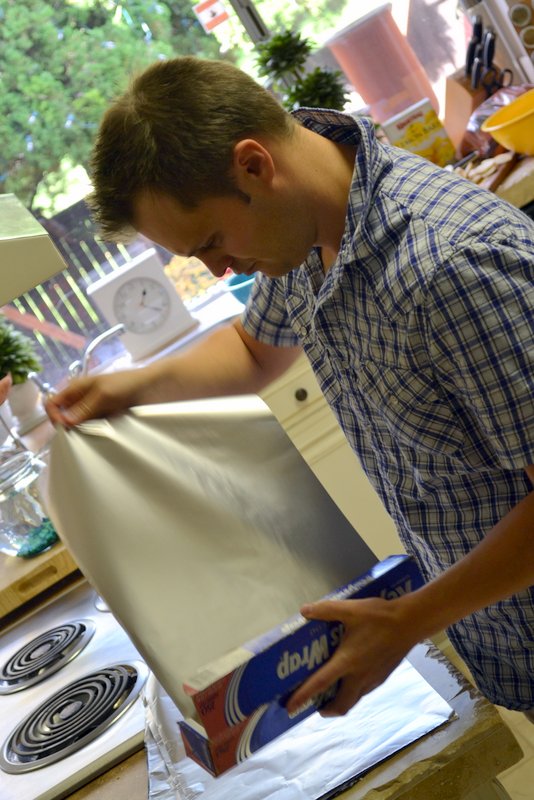 Spray one side of the foil with the cooking spray. Then place about 1/4 pound of the beef on the bottom.  Add the additional ingredients on top.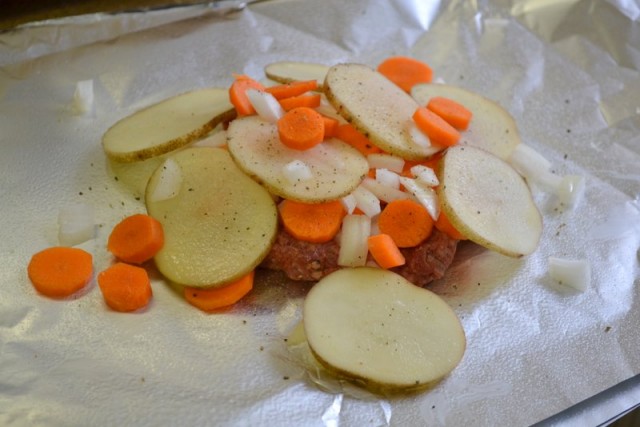 Step Four: Wrap each of the foil dinners as shown below.  If you created different variations, I suggest labeling the outside of the foil with a Sharpie.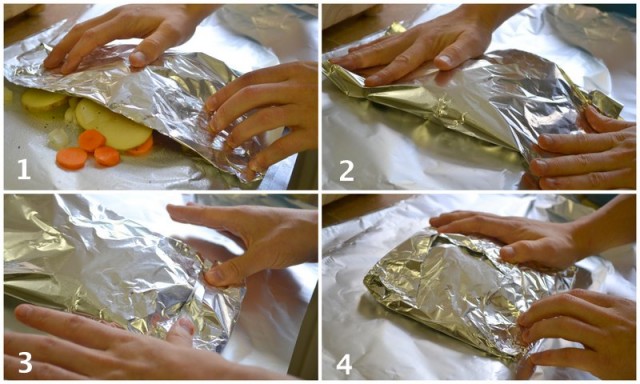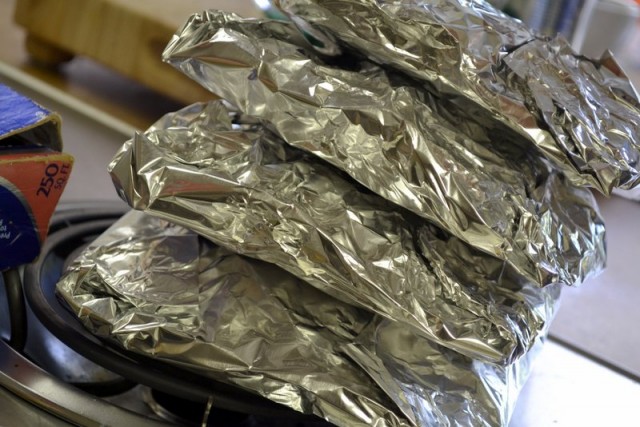 Step Five: Place each of the foil dinners on your already hot grill. Close the lid and grill on medium heat for approximately 8-10 minutes. Flip all the dinners over and grill for another 5-8 minutes.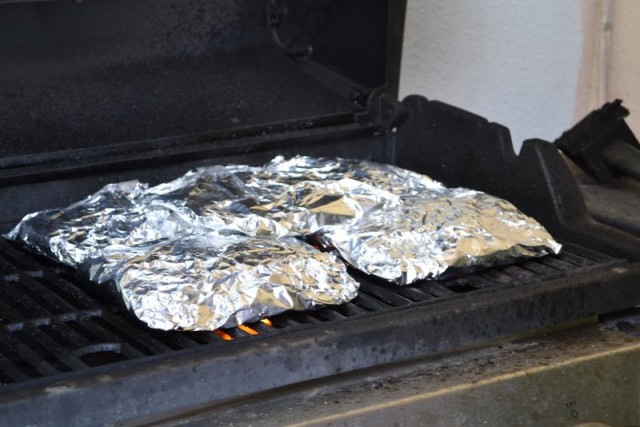 You can open one of the dinners to check for "doneness". You should be able to put a fork through the veges easily.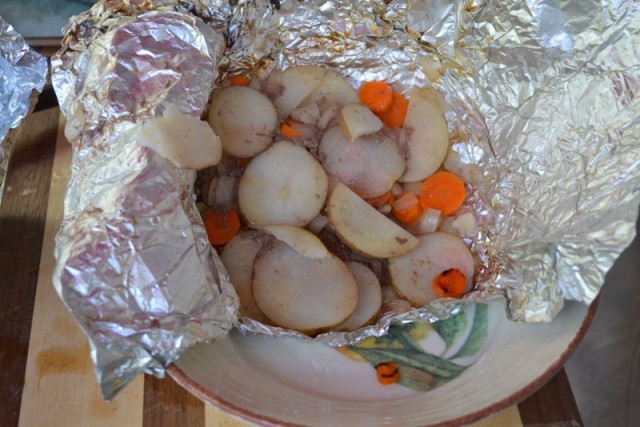 Again, let me assure you it tastes way better than it looks.
I like to add sour cream and A-1 sauce to mine.  Ben adds BBQ sauce to his.
These also work wonderful over a camp fire, for those fun Summer-time cook outs.
Ben doesn't like zucchini, but it is my FAVORITE addition to this meal!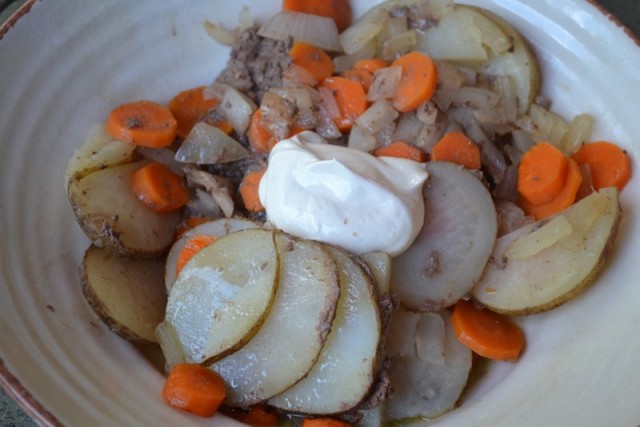 If you end up creating a variation of this meal, I would love to hear about it in the comments section. And if you blogged about it, leave a link.
Click here for other yummy recipes.
Happy eating!
[easyrecipe id="12423″ n="0″]
I'm Ashley. Sometimes I craft, occasionally I cook, everyday I write, and I'm always Momma. This is my blog. I keep it real while still seeing the rainbows and butterflies in all of life's lessons.
Latest posts by Ashley Stock (see all)