Fun Gift Wrapping Ideas and Inspiration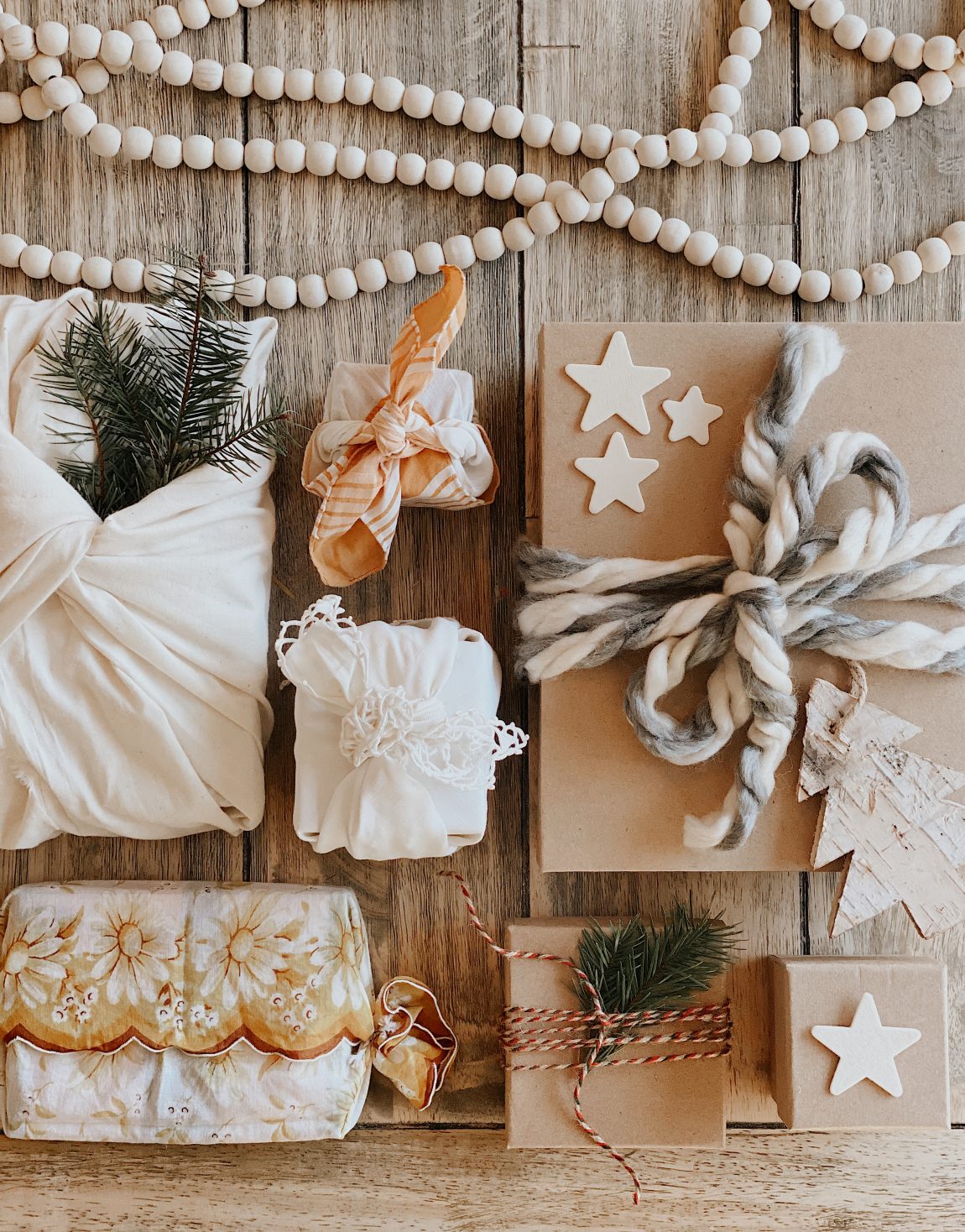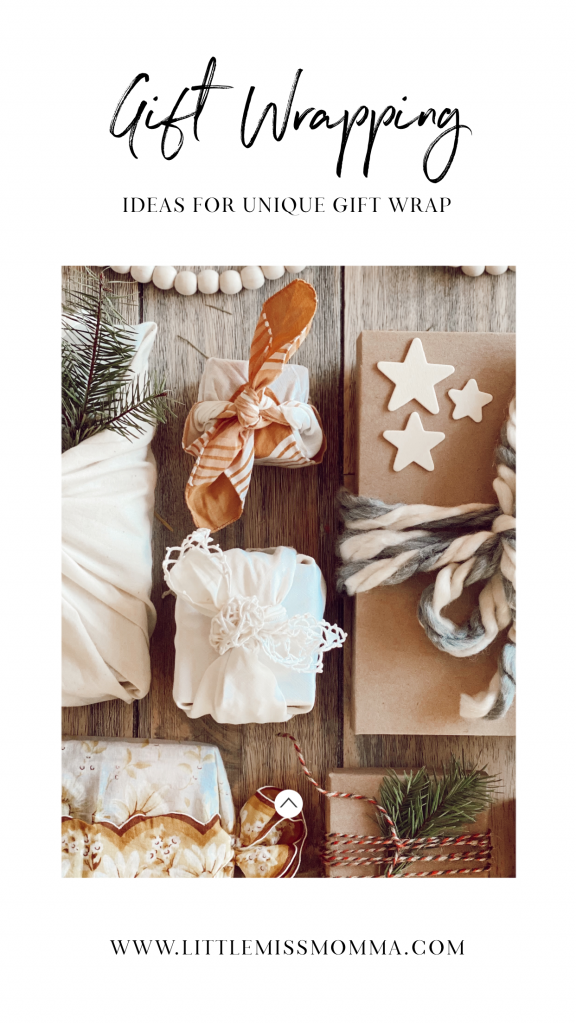 I am excited to share some of my favorite, unique, gift wrapping and packaging ideas with you! From eco-friendly, to DIY gift wrap, to personalized wrapping, to my new favorite furoshiki wrapping methods–I'm loving getting creative and pouring more love and effort into the packaging of gifts for our loved ones. Below are some wrapping ideas, as well as some tips for easier and more efficient wrapping methods.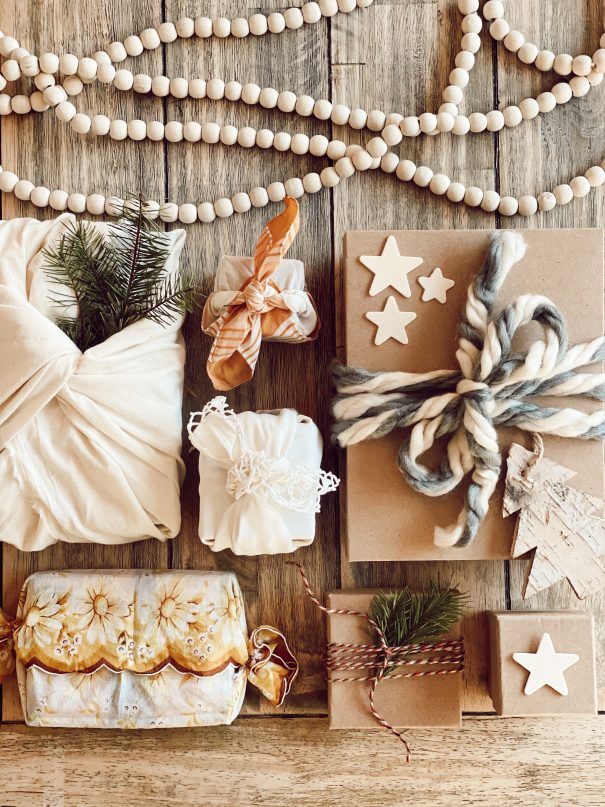 When I'm aimlessly searching Pinterest late at night, one of my favorite boards to add to is my "packaging and wrapping ideas" board.  I love to see all the creative, unique and eco-friendly ways people are wrapping their gifts these days.  This year I wanted to share some of my favorite wrapping methods as well as some tips that have become creative favorites as mine and have saved so much time!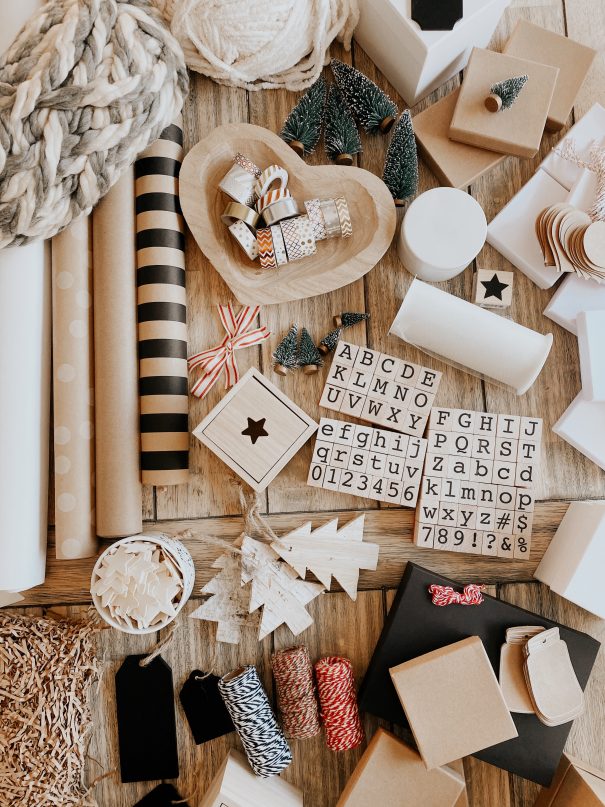 Some of my favorite unique wrapping ideas:
+ using yarn instead of ribbon (yarn tends to be better priced for a larger quantity and I love the vintage parcel vibe it creates).
+ buy a large bulk roll of Kraft paper used for postal packages (this is WAY cheaper than wrapping paper and can be purchased from amazon or your local office supply store).
+ use alphabet stamps instead of gift tags to address recipient.
+ use scrapbooking alphabet stickers to address gift recipient right on the package.
+ use old fabric scraps as ribbon.  I love to rip off strips of my extra fabrics to use as ribbon for my gifts.  Muslin is a great fabric for this, but most fabric options will work awesome!
+ you can also get plain white Kraft paper in bulk to use as wrapping paper. Again, its way cheaper and you can make it cute with some fun stamp patterns, splatter paint, or even some water colors.
+ washi tape is a fun and creative alternative to basic clear tape.
+ my all time favorite wrapping tip, and something I learned only this year on accident: create a wrapping station in your home that also doubles as decor.  This way it doesn't make you crazy to look at wrapping clutter all season, and you will have no problem leaving your wrapping stuff out all season for quick, as-you-go wrapping (see end of post for what I did this year).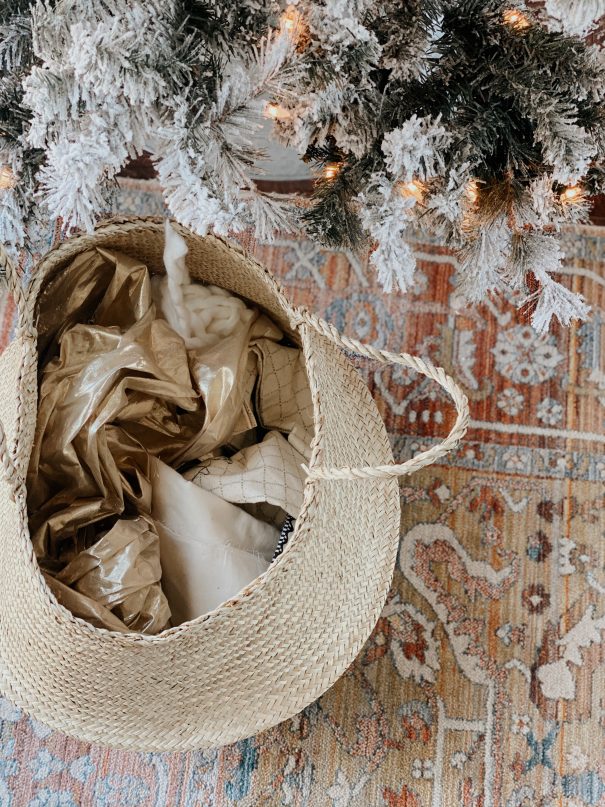 I like to keep fabric scraps in a basket near by so i can tear strips into ribbon or use an entire piece of fabric to wrap the gift.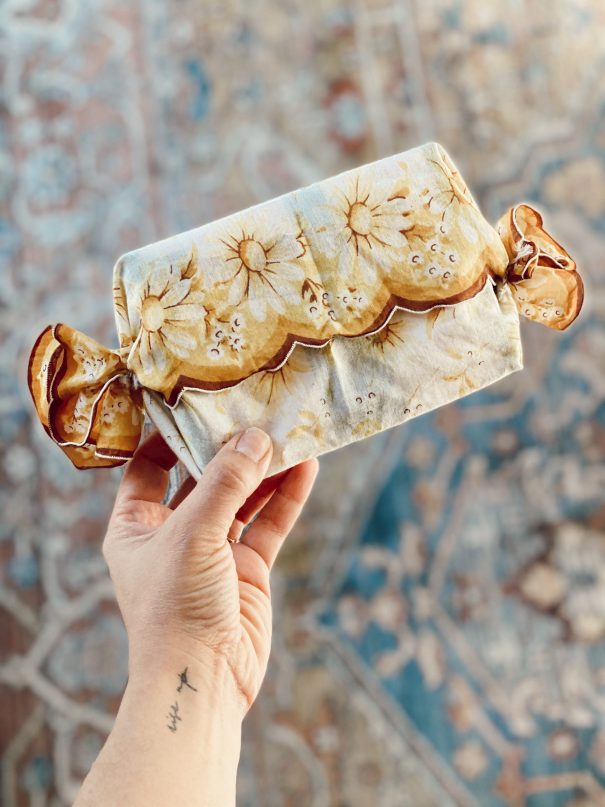 This is a vintage handkerchief from my collection. I just twisted and tied the ends with twine.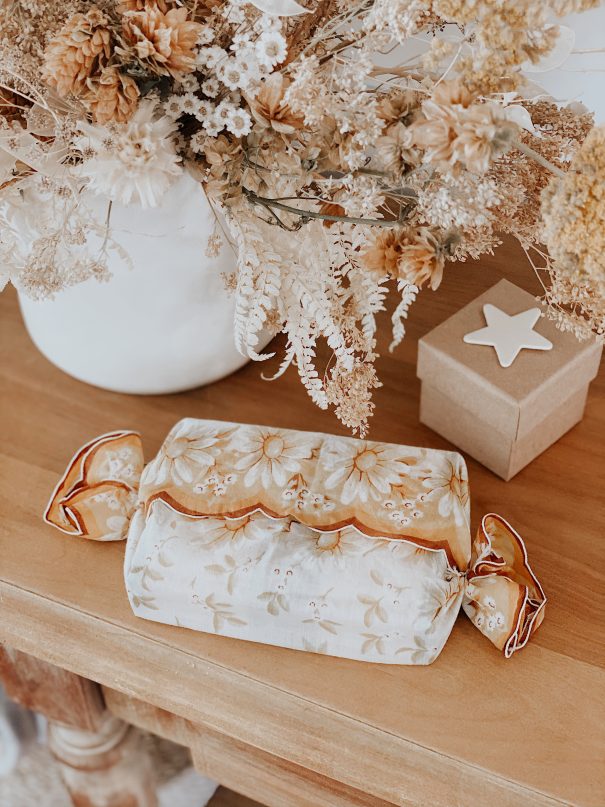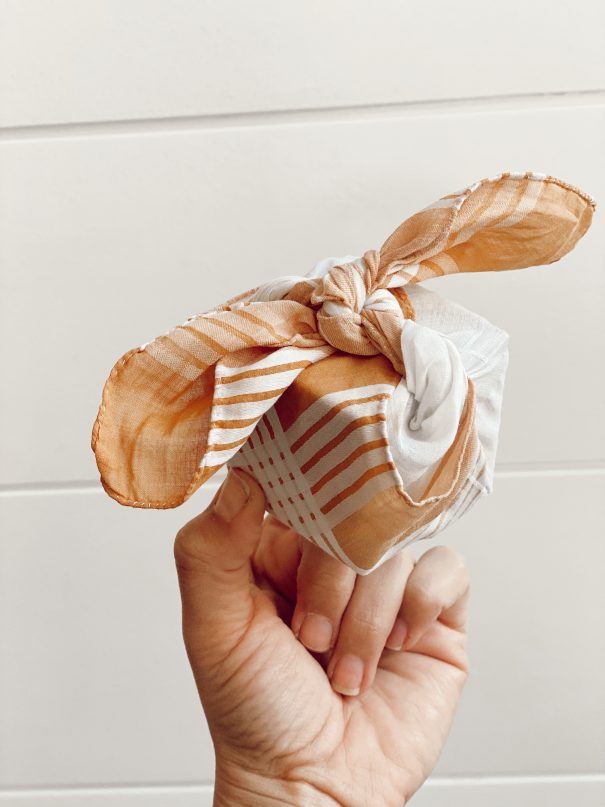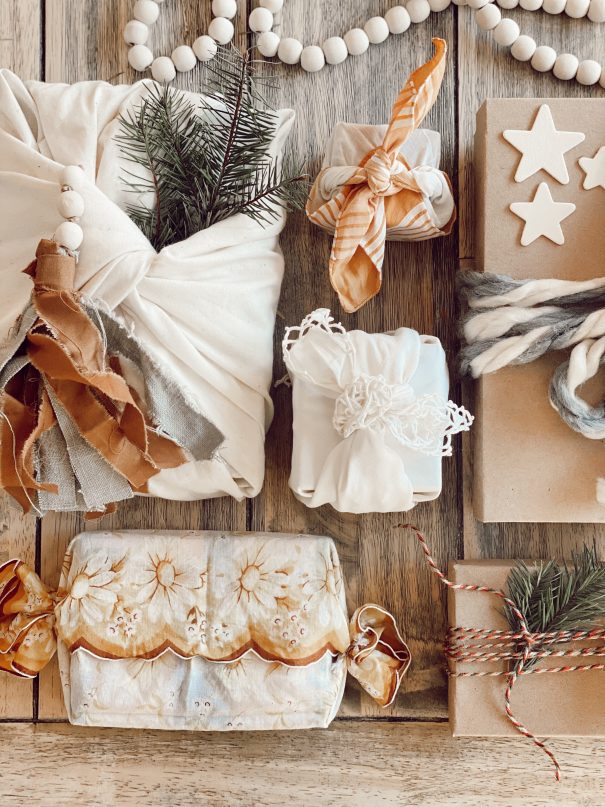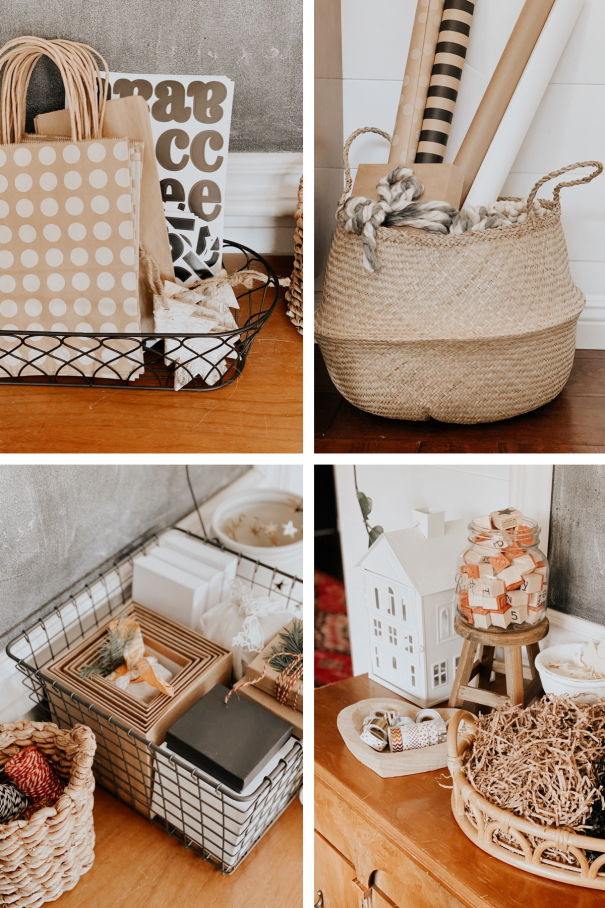 I had the idea to turn our dining room buffet into a wrapping station so I could leave it out all season and wrap gifts as needed.  I did baskets for gift boxes and bags, tissue paper, washi tape, twine and yarn, gift tags and more. Now it looks cute but is also super functional and encourages me to not wait until the last minute to get my wrapping done (gone are the days of staying up til 2am on Christmas Eve).