Sunglasses Style: My favorite looks with Maui Jim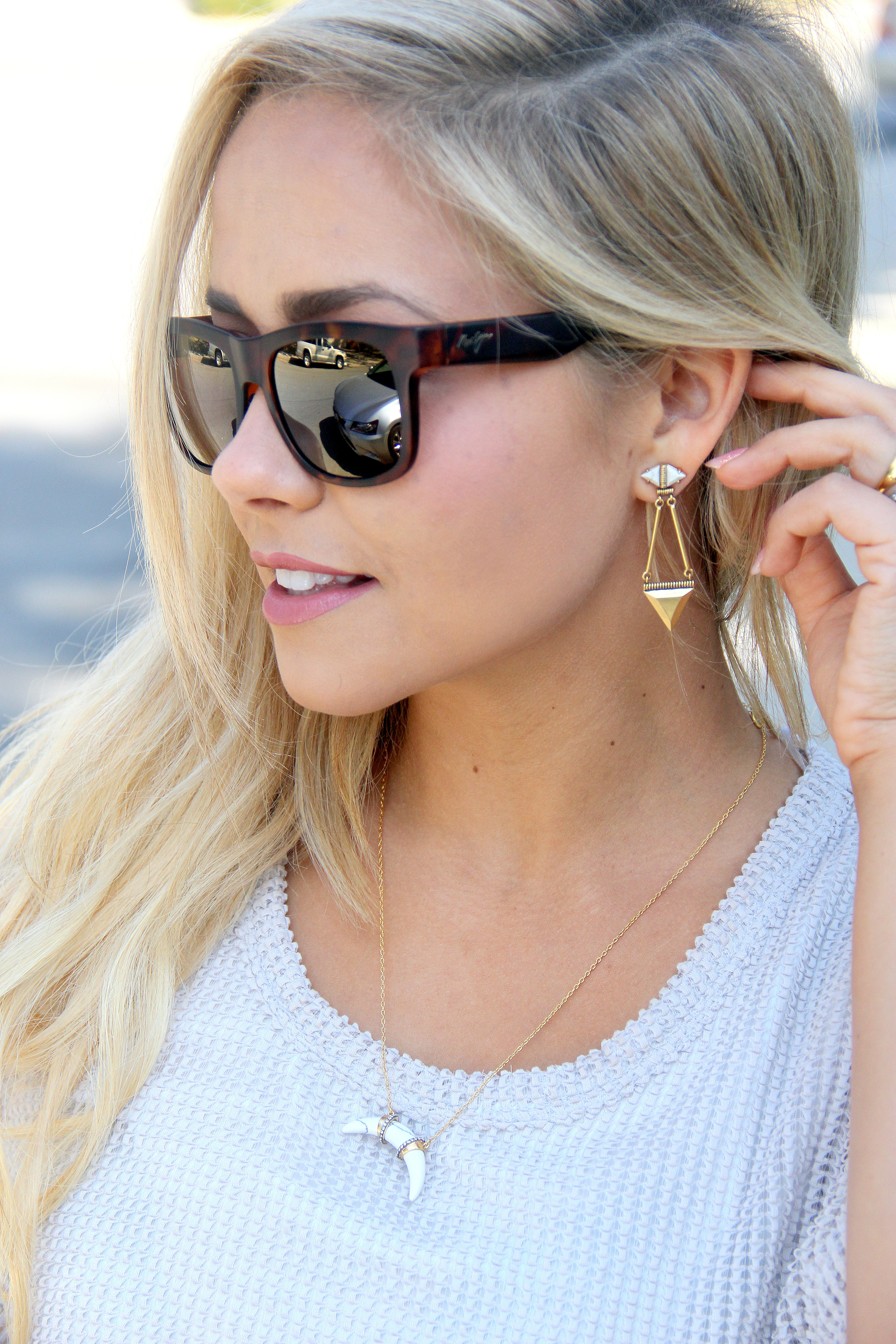 Thank you for supporting the sponsors who help support this blog.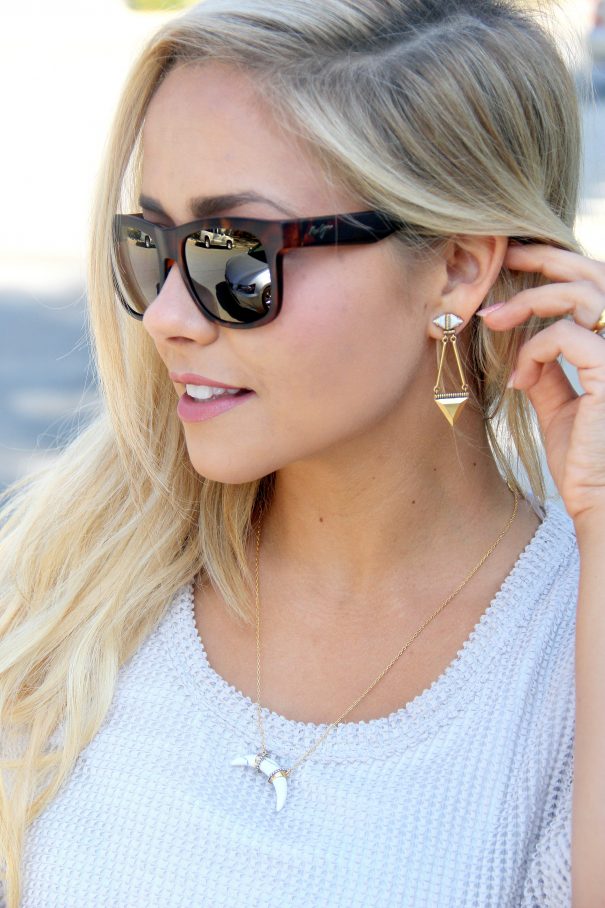 I'm sort of a cheap sunglasses junky. I can almost guarantee that if you go fishing through the bottom of any of my bags you're bound to find an entire collection of $5 sunglasses floating around next to crumpled up receipts and gum wrappers. They're usually scratched or have a loose screw. They are often too narrow for my head and they most certainly always make my nose sweat. Not to mention that I find myself actually taking them off when I'm driving because the glare makes it difficult for me to see clearly–pretty sure that defeats the purpose of sunglasses all together. My optometrist recently gave me a lecture about wearing quality sunglasses when I'm out to protect my eyes from harmful UV. I've been having some trouble with my right eye and the sun tremendously exacerbates the condition. I walked out of the appointment and knew it was time to toss all my drugstore glasses in exchange for some quality lenses. Function AND fashion–I was on the hunt for a pair of glasses that protected my eyes and matched my style. I had the opportunity to test out three different pairs of Maui Jim sunglasses and I must say that I'm equally obsessed with all three of them. Every pair is designed with patented lens technology and the second you put them on the quality becomes obvious.
Eliminates 99.9% of glare

UV protection

Color enhancement from PolarizedPlus2®

lens technology
The moment I put them on my view of the world was transformed. Everything felt brighter, bolder and more crisp. Not to mention that all three pairs were completely light weight and felt like air (no more nose sweat or migraines from wearing narrow glasses). I wore all three pairs this week and loved that they were able to fit with my differing day-to-day styles: date night, Sunday church and my mom errand running uniform.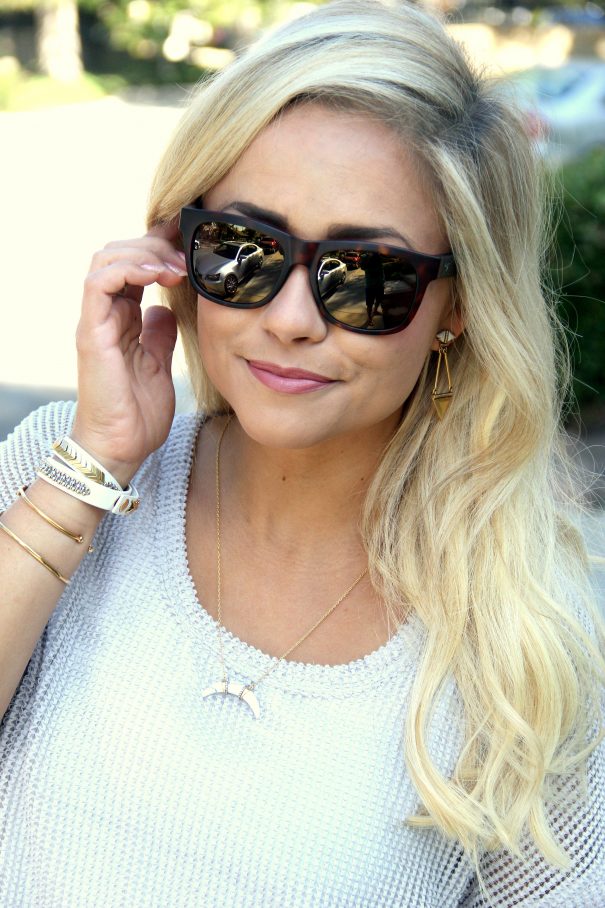 Earrings  //  Necklace  //  Bracelet
These are the Maui Jim Snapbacks in Matte Tortoise, a classic wayfarer style and amazing color enhancement and protection. Every girl needs a class wayfarer in her arsenal and I would say these should be at the top of your list!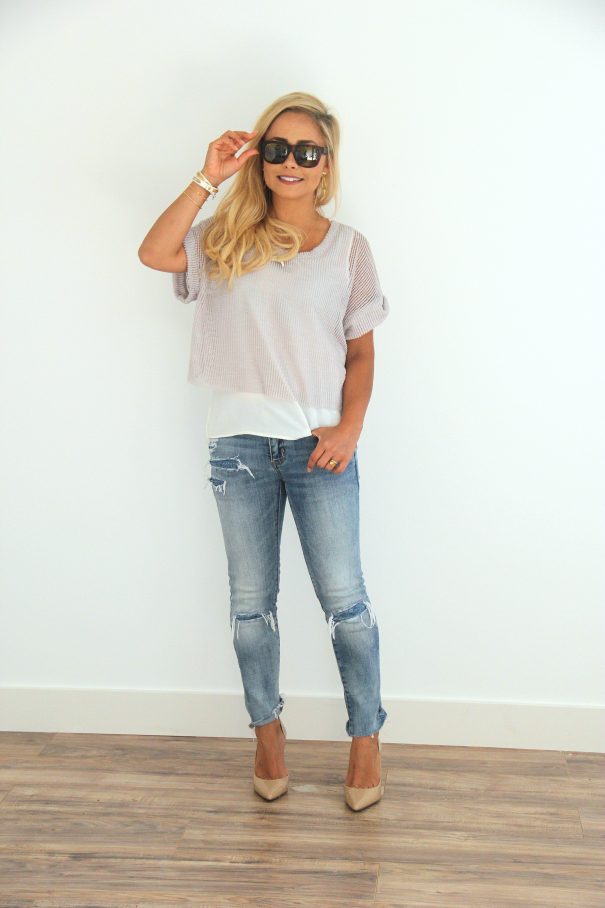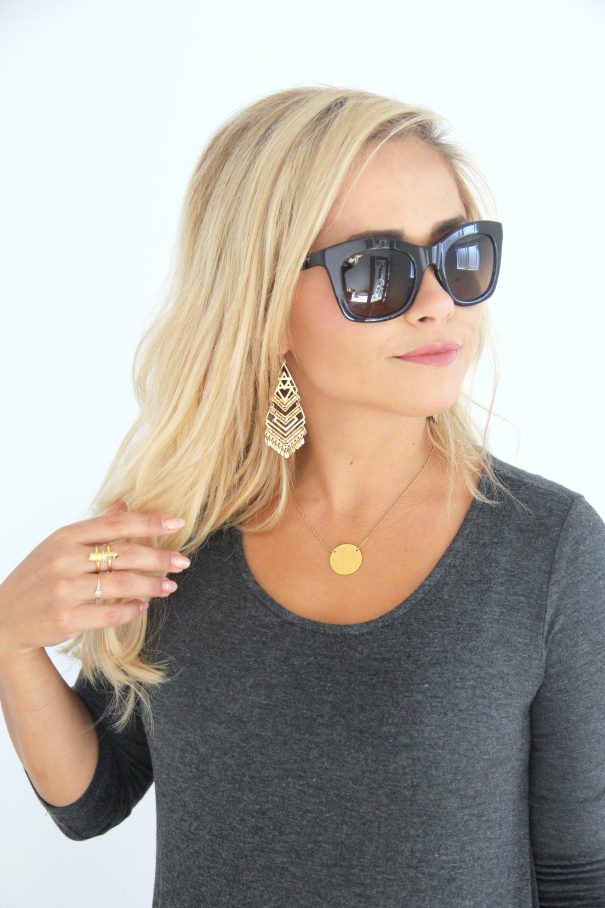 Earrings  //  Necklace  //  Ring  //  Dress
These are the Maui Jim Coco Palms in Gloss Black and I'm obsessed with the high fashion look and vintage frame style. They were perfect paired with my Sunday best.
These are the Maui Jim Cliff House aviators in Silver with Blue Hawaii lenses. I love me a good aviator and these are hands down the best I've ever owned. The color pop when I wore these was unbelievable and they are the most lightweight glasses I've ever worn.
So basically, lesson learned: quality lenses make a HUGE difference. Thanks Maui Jim!
Check out the latest styles and learn more about Maui Jim PolarizedPlus2® lens technology on their website. Or connect with Maui Jim here: