Fit and Healthy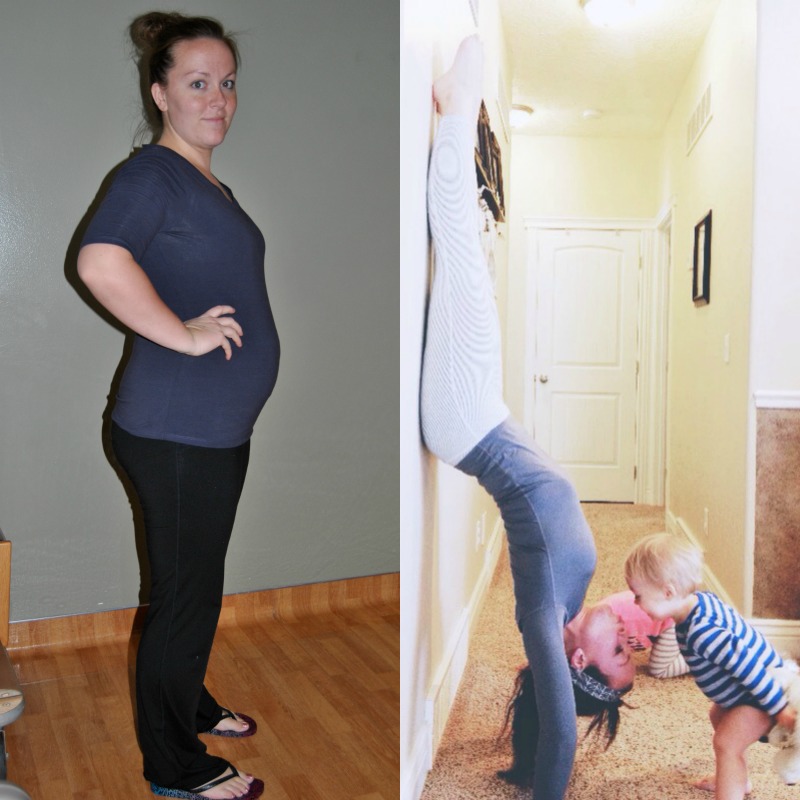 I've been sharing a bit about my new "healthier living" journey with you guys. And for the most part it's been going great. I've lost 10 pounds, felt increased energy, clearer thought and an overall happier disposition. But the past couple weeks I've been in a slump–making every excuse to not go on a run, eating way too much chocolate and even taking the occasional fast food run. I've started to slip into my old ways and I can already feel the negative impact it is having on my health. Today's guest post is by a bloggy friend of mine, Sadie Jane. She is sharing her health and fitness journey with us–she's incredible and an inspiration.  A busy mom, wife, career gal and church leader–and she found a way to make it happen, so I can too. Thanks Sadie, for being just the kick in the butt I needed to get back on track!
photo credit: (AARON ROBINSON PHOTOGRAPHY)
BRA, TANK and SHORTS: ALBIONFIT.COM
I have to start this post by saying how thrilled I am to be featured on LITTLE MISS MOMMA! I just adore Ashley and I am so excited to be featured on her blog again! This has been on my BLOG BUCKET LIST for a long time and I feel so lucky to be able to share a little bit about me on this beautiful mommy blog!
I am Sadie Jane, author of SIMPLY SADIE JANE. I am just a simple lifestyle blogger raising my minion circus in the Idaho sticks! From family to fitness and DIY to WIW! L&D nurse turned mother warrior child tamer!
photo credit: (JESSAKAE PHOTOGRAPHY)
Today I am talking all about fitness! AND more specifically how to stay fit with your busy schedule. I figured the best way to explain my background and why this topic is so true to my heart would be to share this video!
(video credit: trueatelier.com)
Like the video stated…I was 200 pounds after having my little boy and I was busier at that point in my life then any other! Nurse, wife, mother, Primary President, blogger and superhero by night…
I didn't have the time but I also was out of excuses!
LIFE IS ALWAYS BUSY…
No matter what excuses we make.
I know that it seems impossible sometimes…
But, I am here to help you figure out where to start!
And to be honest…exercise isn't even where you start…
Jeff and I have based our healthy living off of the CrossFit manual and have read it many times.
With that being said…we've learned and can testify from experience that the FOUNDATION for a fit lifestyle is NUTRITION!!
NUTRITION IS FUEL and if you're not fueling your body with the proper nutrition, you will not be able to get the most out of your workouts!
To learn more about nutrition and to find some great healthy meal and snack ideas click HERE!
Now, onto exercise!
It's pretty easy for us to look at our list of things we have to get done and think, 'I have NO TIME for a workout today!'
I used to use that excuses ALL THE TIME!!
It didn't take me long to realize that excuses got me nowhere, so I started taking 30-60 minutes a night, out of my typical "kids are in bed so I'm going to sit here and veg all I want" routine and used it to workout instead!
photo credit: (AARON ROBINSON PHOTOGRAPHY)
Before I tell you all about what I do for my workouts, let's talk about the WHY!!
WHY DO YOU WORKOUT??
*RELEASE ENDORPHINS: HAPPINESS
*PREVENTS CHRONIC DISEASES
*RELEASE ANGER IN A GOOD WAY
*CHALLENGE YOURSELF
*HAVE 'ME' TIME
*SLEEP BETTER
*BE A BETTER YOU
So, now that we've established that it's necessary to workout…when will you?
In the MORNING?
At NAP TIME?
At BEDTIME?
At 11 PM?
Jeff and I have tried it all.
After years of juggling schedules and kids…we've realized that the only time that truly works for us is RIGHT AFTER we put our kids to bed!
Do we get to workout every night?…DEFINITELY NOT!
I'd be lying if I said I get out to my garage more then 3 times a week BUT I DO IT!
photo credit: (AARON ROBINSON PHOTOGRAPHY)
Sometimes I miss out on a girl's night or an event happening or I don't get something else checked off my list that day…but it's a sacrifice you NEED to be willing to take!
You make time to go grocery shopping, (just to name one example)
You can make time to workout!
We've MADE the time…but how do you become motivated?
Sometimes that is just as difficult to find!
Jeff and I sat down with each other years ago and discussed our 'health plan'!
We found commitment in EACH OTHER!
We knew that working out in a gym full time wasn't going to work for our budget nor our schedule so we came up with a plan to make a CrossFit 'inspired' garage gym and hit up our families gym when we were in town.
We knew we would need to motivate each other to get off of the couch and work out together.
Sometimes I want to duct tape his mouth shut…
or slap him…
but he does push me…and that's something everyone needs!
REMEMBER to HYDRATE, SLEEP and SET OBTAINABLE GOALS, HAVE PATIENCE, and DON'T COMPARE!
(I wrote a post just on why those 5 goals are so important…CLICK HERE TO READ IT)
YOUR SUCCESS WITH OTHERS AROUND YOU!!!
You others for inspiration NOT MOTIVATION…NO ONE WILL MOTIVE YOU…YOU MUST DO THAT YOURSELF!!!
You must find that motivation deep in your heart and soul.
Find it and hold on tight…because you can only go UP from there!
At the end of the day…you should be proud of what you've accomplished PHYSICALLY…
As well as spiritually and mentally!
You deserve it
Your body deserves it
It will change your life…even if you just TRY
Take the time for yourself
"YOUR FITNESS IS 100% MENTAL!
YOUR BODY WON'T GO WHERE YOUR MIND DOESN'T PUSH IT!"
YOU DECIDE!
photo credit: (AARON ROBINSON PHOTOGRAPHY)
I just finished posting a 6 WEEK AT-HOME CROSSFIT INSPIRED WORKOUT program that all you busy women out there will LOVE!!!
Check it out HERE and I CHALLENGE all you LITTLE MISS MOMMA readers to try it out!! They only take about 30-45 minutes a day but it will add that fitness into your life that you've been looking for!! I am so blessed for my health and for this blog that has been my instrument for reaching out to other women. I have found so much inspiration through readers emails as they share their fitness journey's with me! I would love to hear from you as well! We can help each other get the most out of this wonderful life by enjoying our bodies to the fullest!
Email me @[email protected] if you have any questions! I would love to hear from you!
XOXO
Sadie Jane