Dating Our Children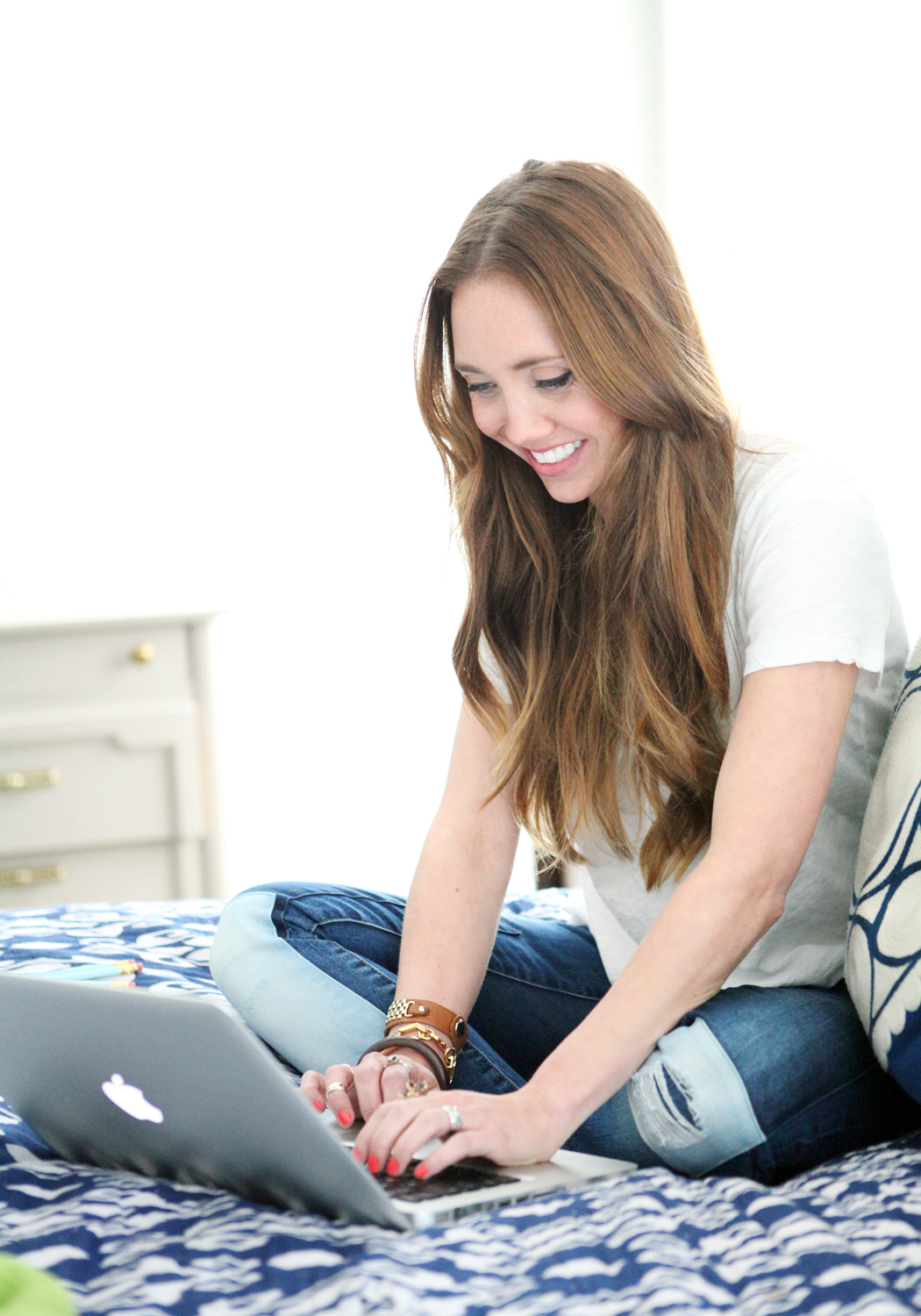 It's extra special for me when I get to share my real life best friends with you–the gals who I'm lucky enough to see on a regular basis, whose kiddos play with my kiddos, who meet me at Anthropologie when we both just need to get away, who I text with waaay too late into the night, and who listen when I need a shoulder to cry on.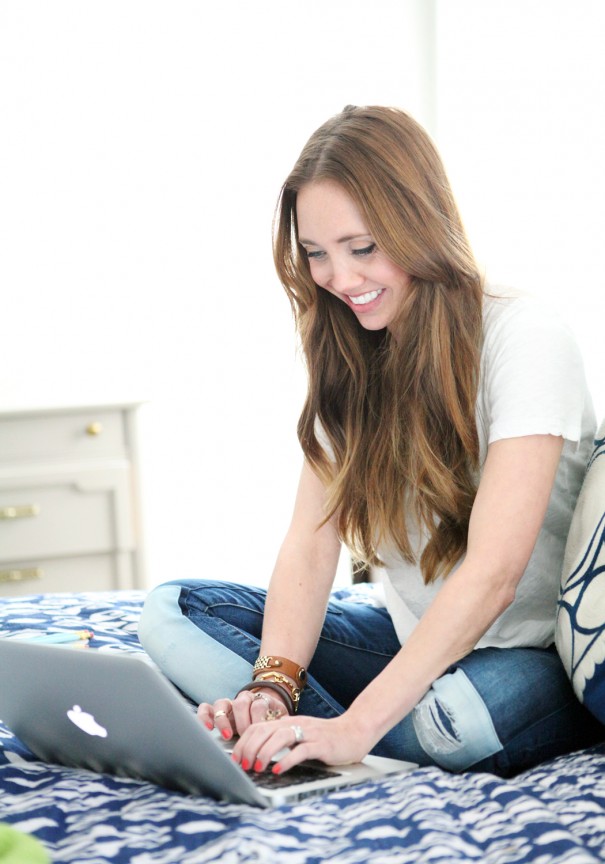 This is Cassaundra.
And I don't think she quite realizes how grateful I am to have her awesomeness in my life.
Cassaundra writes a style blog that will knock your socks off–The Blue Closet.
And while it would seem a lot more natural for her to come here and share the latest hot swimsuits, or her favorite beauty products, or where to find the best deals on cute boy clothes–today she will step a bit out of her comfort zone to share some incredibly tender thoughts on motherhood.
This girl is a super mom–the kind of super mom who has found a way to completely embrace the uniqueness of her 3 children, who has found a way to give each of them the part of her she knows they need most–something I am trying to learn how to be better at.  I read her words this morning and cried.  Maybe I'm extra emotional right now, but her words found a place in my heart and resonated.  I hope they'll do the same for you.
******
hello. i am cassaundra. mama of three. Miles age 8, Ruby age 6 and Leo, age 3. Well 3 1/2 according to all 3 year old boys everywhere. I write a style blog, The Blue Closet, where we talk mama fashion tips and beauty tricks and products, kids style and life with bits and pieces of my home ideas coming soon. Writing over here with Ashley is a slight departure from what i am used to writing daily. Today I am getting a little deeper and a little more "into it" then usual.
My kids, like your's, are everything. My relationship with them surpasses all and I don't mean just any old "how was your day?" relationship. I mean let's get in the trenches. Let's hash this out. Let's snuggle and cry and laugh under the covers until we fall asleep from exhaustion. Let's do cannonball contests into the pool. Let's watch animal planet and then google the anatomy of crocs to figure out what is inside of their bodies because you are obsessed with answering the question "why?". Lean on me. Throw yourself into me. Throw yourself into my life. I can take it, I am your mama.
Each of our three beebs are so unique and one size parenting does not fit all. It has been an interesting journey and  it will continue to change and shift as they do. We have found that by dissecting and studying the personalities of our children with the intent of finding out what invites peace into their lives, we can better help them feel OUR love for them. By doing this we have begun developing deeper relationships and our children feel a greater sense of belonging and acceptance. Our connections have become more meaningful and I have seen through my children's eyes the peace of knowing that their parents know them and understand them.
Now for the record. I am not doctor. I am no family blogger specialist person. I am just a mom who is deeply connected to her children and I have a couple of things that so far have worked for us. just ideas.
Let's start with Miles or "Myes" as we call him. He is an intense boy. He is fiercely loyal to me and idolizes his dad. Miles' is a very physical child who thrives by using his body to interact with the world and sort his thoughts. I will often replace the word "love" with "peace" when considering ways to help my children feel my love for them. I ask myself "What makes our children feel loved or peaceful?" because I believe that when they feel peace in their hearts and in their souls their bodies are ready and open to feel the love.
Miles feels most peaceful when he is being physical. He loves to surf, skateboard, play baseball, swim and jump on the trampoline. Spending time together engaged in these activities helps him feel connected to us while feeling peace and love. Our dates often include going to skateparks. Recently for his birthday the hubs and I took him out of school early and set off for Venice Beach. It is a famous skatepark where the art of skateboarding originated. "Dogtown" is what they call it. It is a unique place, filled with people from every walk of life. Going to Venice gives us an opportunity to talk to him about different cultures and life choices and what our family believes in while he is thoroughly engaged in what he loves, skateboarding. He feels peaceful and which helps him to open up more.
Myes practiced trick after trick until he was sweaty and filthy. He was cheered on by fellow skaters and helped up by them when he bailed. He watched smaller children shredding like they were born skating and he saw bigger, cooler teenagers falling on their faces and brushing themselves off to get up again. Whenever we ask Myes what he would like to do it is always, "go skate at Venice". It may seem strange that an eight year old boy would feel peace on a date in a touristy, rather dodgey city on the beaches of California but we have developed no greater connections to him then on those dates.
Other times I need to deliver Myes a message without any distractions, maybe after we have argued for example. I write in a journal to him and leave it on his bed. I origninaly heard this idea from a friend and then saw it on pinterest. By writing in our "Miles and Mama" journal (which is literally a $.50 composition book) we are free to talk about feelings that are normally hard for Myes to articulate. This journal contains some of my most precious memories and moments I have shared with my boy. He is at the age where he does not want to hug or kiss me goodbye at school. Yes that is my heart shattering that you just heard. I was sad about it until I was determined to find a way to deliver such an important message to each other while not embarrassing him. We have a signal. It is simple. We hold up three fingers. Each finger has a different meaning. 1. i love you. 2. good-bye and 3. I would come over there and kiss your face off if it wouldn't embarrass you, but I won't. He loves the title of number 3. Our bodies are filled with understanding, peace and respect in each one of these scenarios.
Now Ruby, or "Missy James" as I call her, is active and tomboyish and silly and darling and sweet with a heart of gold.
She loves horses and dogs and arts and crafts. It was very clear and very easy to identify right off the bat what fills Ruby with a sense of peace and love in her soul. It is quality time together. She is not picky about what we do, although arts and crafts are her favorite. We cook, we bake, we color in coloring books, we paint, we get our nails done together, occasionally. Missy is really easy to please, so easy in fact that she often gets overlooked as we focus our energies on the more "intense" children in our home. She goes with the flow and rarely makes a fuss. Then in those moments when she does actually becomes upset by something I think "how did I forget you needed me?" Ugh, my heart breaks. Mama guilt overwhelms me and I immediately think of something we can do together to send her a quick message of love and acknowledgement. One day we got out my box of crafting supplies, you can read about the "scary room" where I keep her craft box here. We turned on the Frozen soundtrack and her favorite song "Who Will Stop the Rain" by Creedence Clearwater and we painted away. Ruby and I sit and chat as we paint. It is a time where she feels peaceful and free and most importantly, heard. The venting begins as she describes the boy who relentlessly teases her at school and all about the girls who make clubs on the playground. She tells me how she is in the clubs but doesn't want to be so she goes to play handball with the boys. And she beats them. It is in these moments together Ruby is filled with peace. Her thoughts are clear and concerns are real and she shares them all with me like releasing water from a dam. It is refreshing and healing and infinitely bonding for us.
Finally we have Leo or "Ello".
He is silly and stubborn and obsessed with nature and animals. Even as a baby he would bury his face in the sand at the beach and just giggle with happiness. What six month old will just lounge right there on the warm sands of Malibu? This kid. He spends most of his days outside with our three rescued desert tortoises, jumping on the trampoline or riding his balance bike. He NEVER stops talking. It is like a running commentary on every thought that pops in his head, big or small. I have a hunch that "words of affirmation" will be his love language. He wants you to answer every question that has ever entered anybody's brain about animals. Here is a glimpse of what a typical car ride sounds like:
"Who would win mom, a lion or cheetah? A T -Rex or a crocodile? How strong is a zebra? Why do Water Buffalos go in the water where the crocodiles are? If I wear my zoom shoes will I go forty miles an hour? Can dad run faster then a motorcycle? Is dad stronger then a bear?" It literally never ends. When we are alone in the car together and the others are gone I try to take the chance to just let him talk… and he will. If I can get him to the beach and talking he has never been happier. As we drive through the beautiful Santa Monica mountains towards the beach we talk about the trees and how "workers" made tunnels through the mountains. He wonders if "there are waves". He asks how waves are made and how many dolphins he thinks we will see that day and if daddy ever fights sharks when he is surfing.
Our greatest dates are when all the family is happy and in their place of peace which happens on our outings to the beach. We love going when it is chilly all bundled up in sweats and with a thermos of hot chocolate but when the weather warms up you can find us there a few days a week. Ruby lays next to me on the towel or we collect shells together, Myes and Daddy surf and Ello digs for sand crabs.
This year we picked a family theme, Hulls are Brave. We have spent the school year talking all about our ancestors and what makes us a brave family. You can read more about that here. We thought we would end our school year with a trip back to our roots, England. However, after much consideration, and thinking about how our kids feel love we decided to postpone the trip until they are a little older. Instead we are going to place that everyone will love, the surf resort of Tavarua in the Fiji Islands. Be sure to follow along on my blog for all the details, including how to travel internationally with little ones. On Mondays I post "rad deals" which is my version of splurge vs. steal. Check out our splurge vs. steal packing list for our trip here.
so tell me, what are your favorite dates you do with your kids?