Candy Covered Marshmallow Pops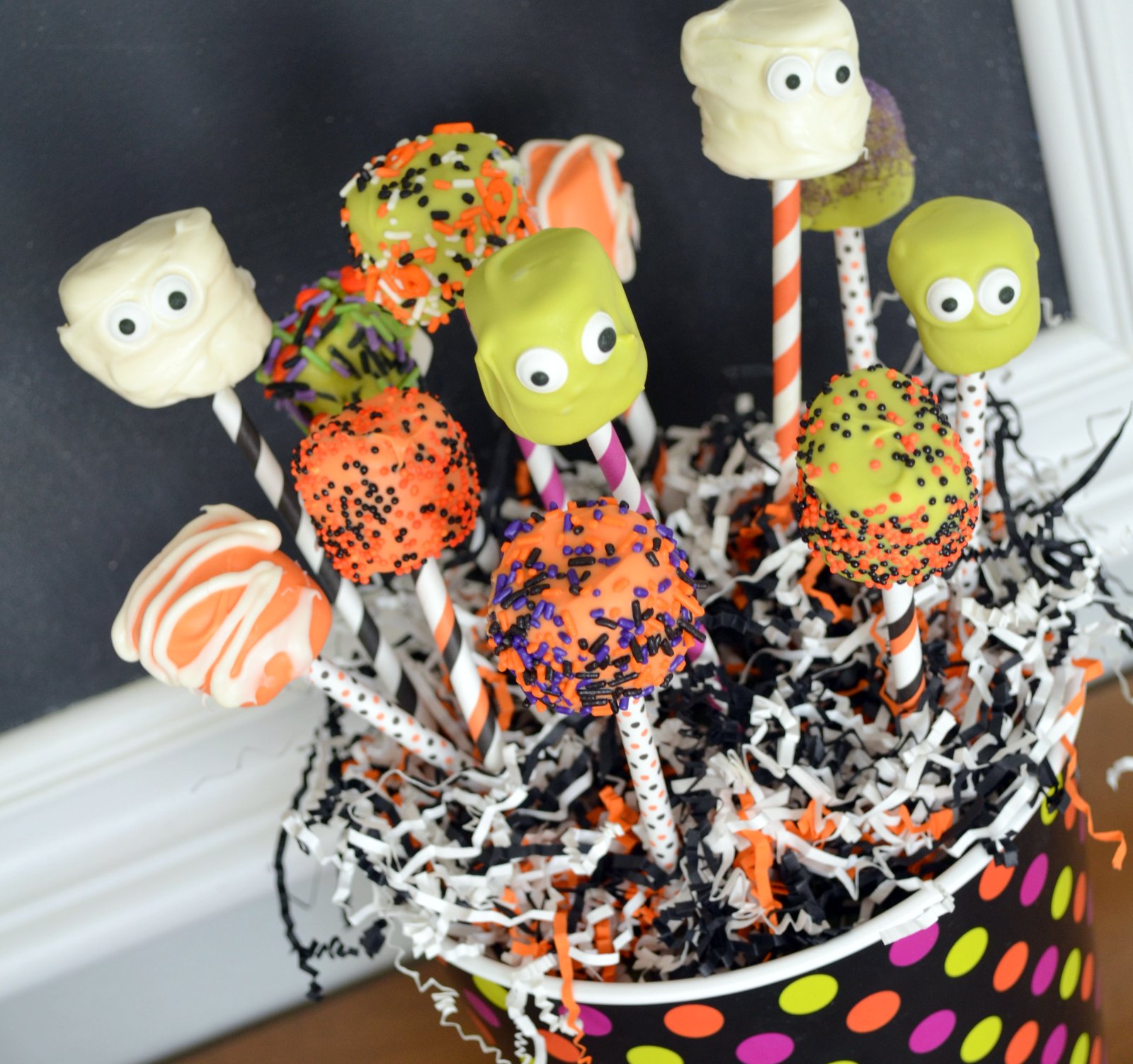 It's the 10th of the month again! That means we're back with 10 projects from 10 bloggers you love. Today we will be appealing to your naughtiest sweet tooth, because this month's blog hop is all about CANDY: candy crafts, candy recipes, candy printables… candy, candy, candy! So, pull up a seat and get ready to have your cravings triggered by 10 original posts, provided by 10 delicious bloggers. Pin your heart out, my friends.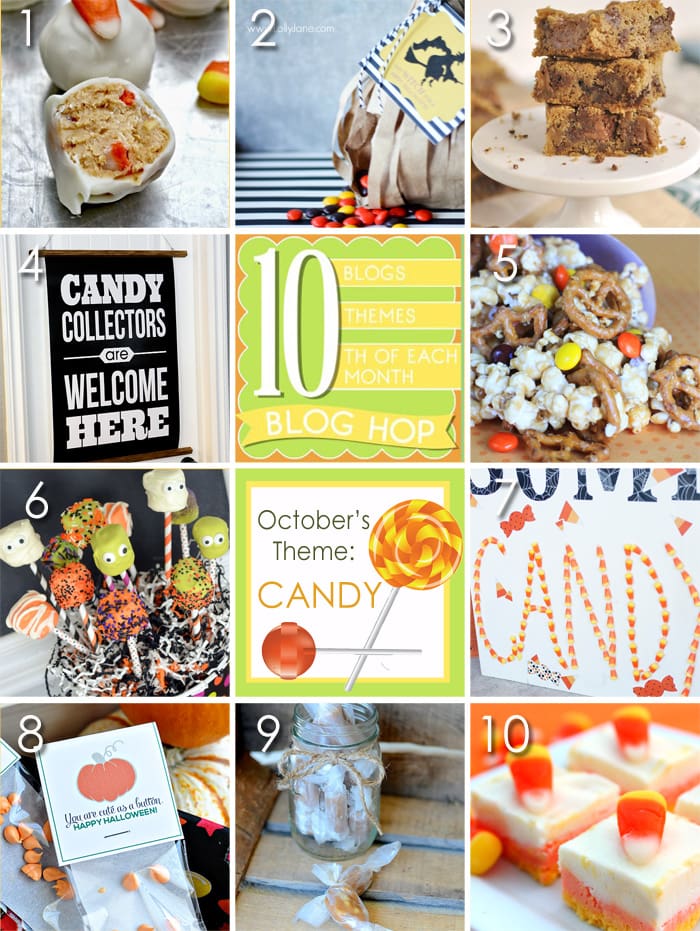 1. 'Or so she says…' sharing White Chocolate Candy Corn Buckeyes
2. Lolly Jane sharing Witch's Broom Candy Bag and Printable
3. Your Homebased Mom sharing Milky Way Bars
4. Eighteen 25 sharing Candy Collectors Halloween Printable
5. Landeelu sharing Reeses Pieces and Pretzel Popcorn
6. Little Miss Momma sharing Candy Covered Halloween Marshmallow Pops
7. Capturing Joy sharing Halloween Candy Porch Sign
8. Thirty Handmade Days sharing Halloween Candy Buttons and Printable
9. Simply Kierste sharing The Best Homemade Caramels
10. Six Sisters' Stuff sharing Candy Corn Fudge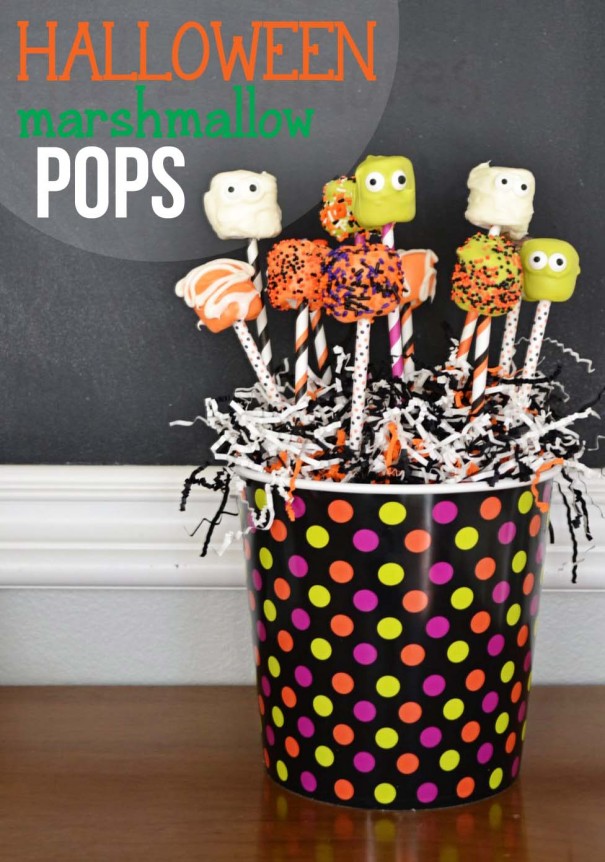 These marshmallow candy covered pops are super easy and quick to make. I wanted to figure out a treat that was fun and festive to bring to Wesley's class Halloween party this year.  Usually I make cake pops–but those take more time then I know I'll have come party time.  I was at a baby shower this weekend and my girlfriend made the cutest pink and white marshmallow pops.  I knew they would be perfect for Wesley's class–so thanks for the inspiration Bridgett! These offer the same cuteness and yummy taste for the kids.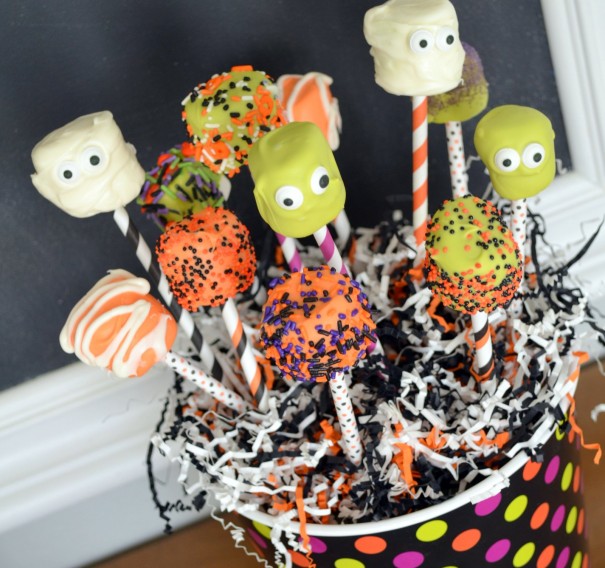 Ingredients:
1 package of large or jumbo marshmallows
Wilton's Candy Melts in the color of your choice
Sprinkles
Candy eye balls
lollipop sticks or paper straws
Styrofoam
Festive container to present the finished pops
Decorative paper gift basket filler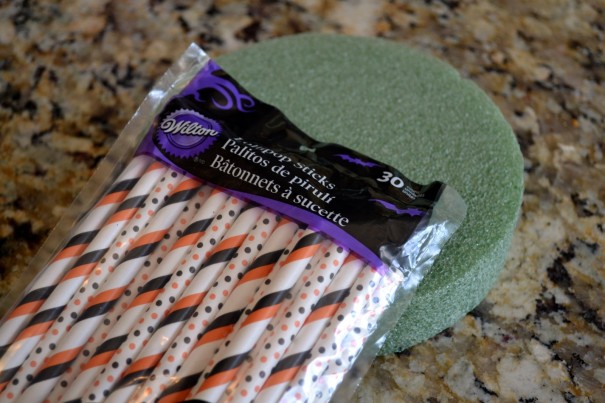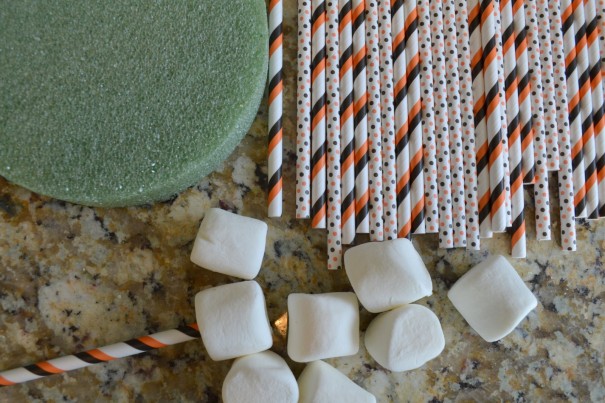 First, attach the marshmallows to the sticks/straws by gently pushing the end through the center of the mallow.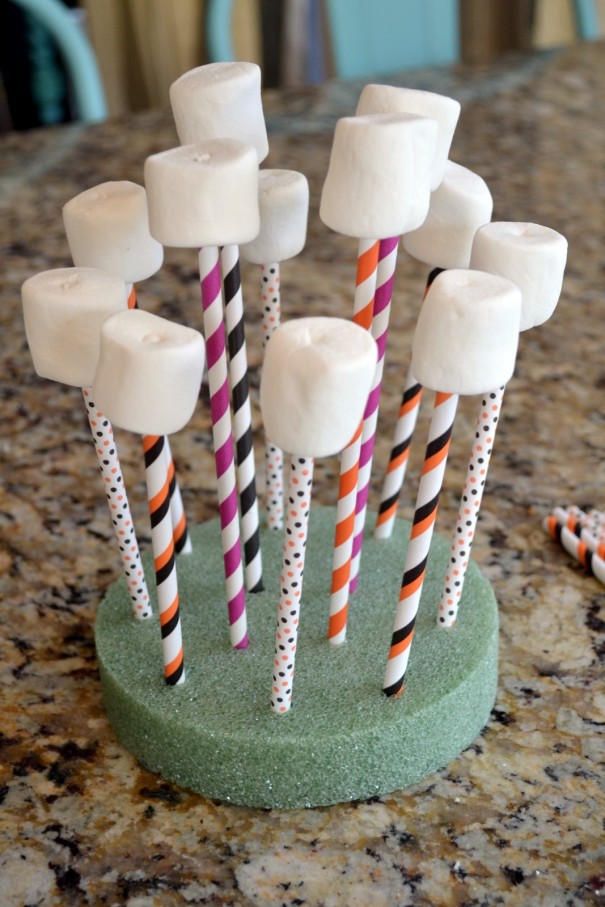 I also like to poke the sticks/straws into the styrofoam in advance so that there is less chance of me making a mess doing it after the pops have been dipped in candy.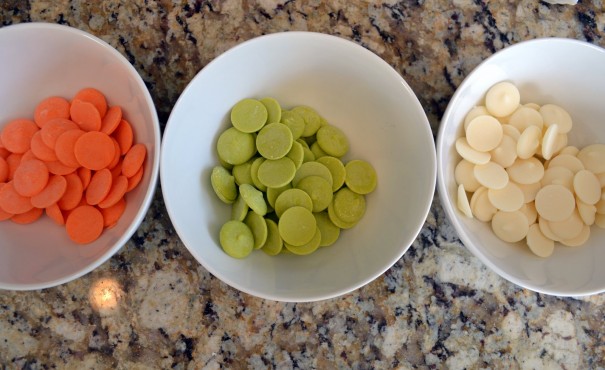 Microwave the candy melts according to the directions on the bag. Only use one color at a time, as the chocolate will begin to harden quickly. When dipping the marshmallow into the melted candy, use a spoon to help cover the marshmallow completely.  Apply sprinkles or additional candy pieces while still wet. Then place in the styrofoam to dry. These adorable candy eye balls can be found at Michaels.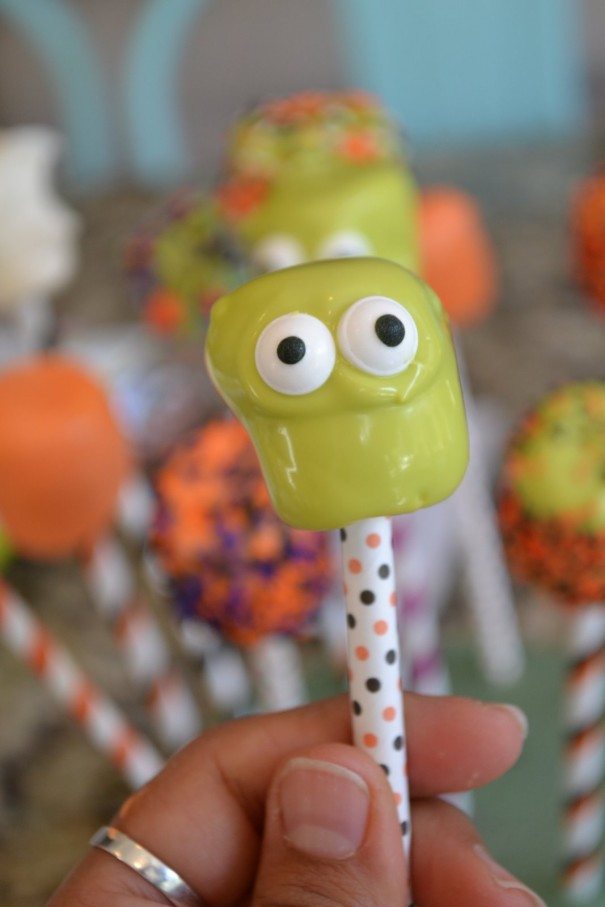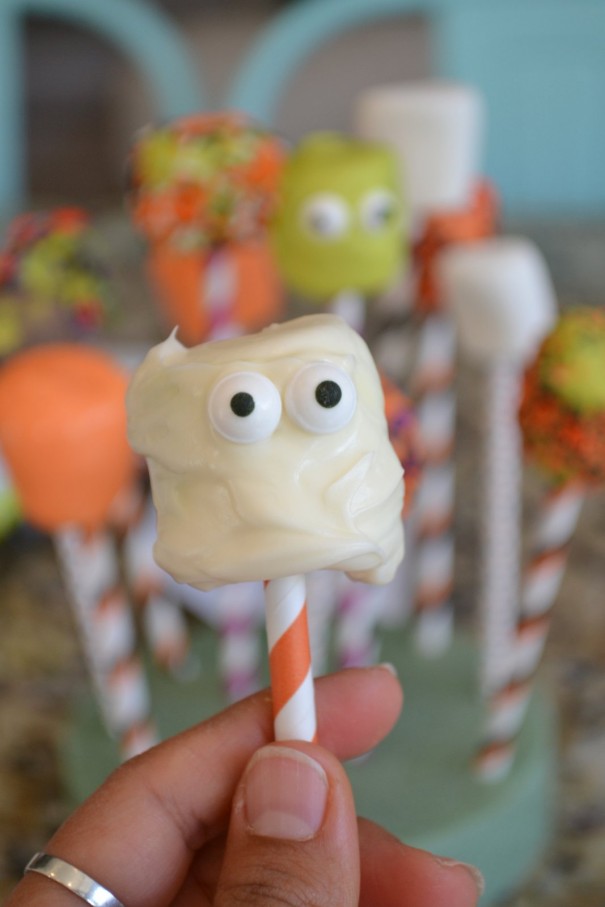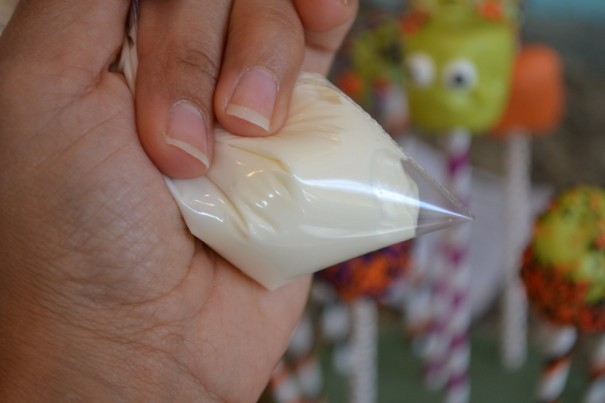 I like to put any leftover melted candy in a bag, snip off the tip and apply candy stripes to some of the pops.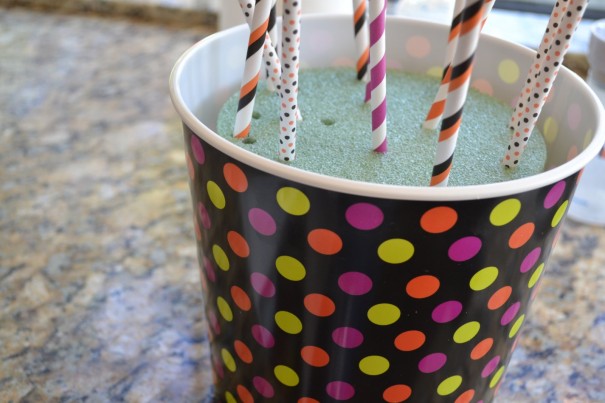 My bucket was too deep, so I filled the bottom with paper towels and a paper plate for additional support in order to prop the styrofoam up higher. Then cover the ugly foam with decorative paper. M&M candy would also be cute.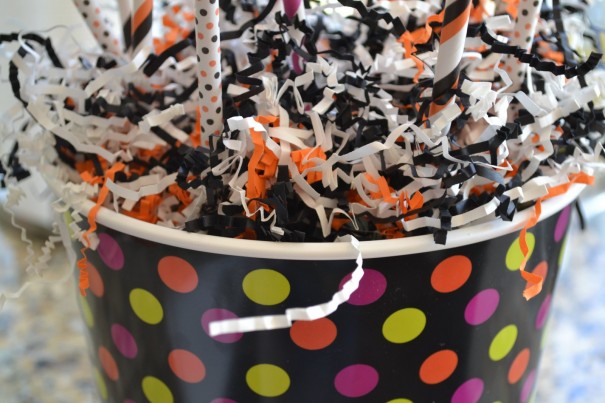 If your kitchen isn't this messy afterwards then you aren't doing it right 😉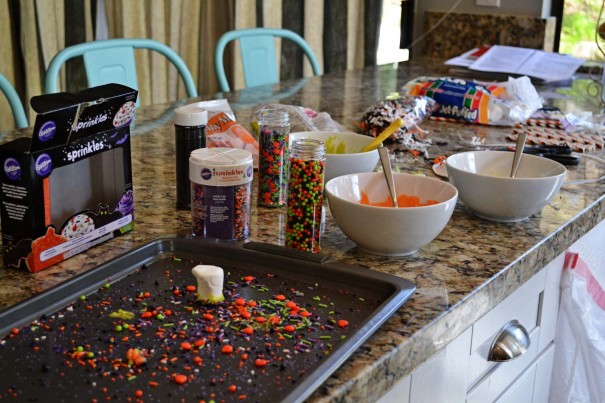 So it was a total fluke that some of the pops looked like Mummies.  I simply used the white candy melts and was a bit more "sloppy" when dipping the marshmallow–which created the mummy look. They are my favorite.